Words: Heather Onderick      Photos: Monica Tindall
Poseidon is often known as the protector of the seafarers, and inevitably, for restaurants like Poseidon Caviar & Seafood Bar in Desa Park City to exist, we would need this god on our side to gather the beautiful seafood treasures this team has unveiled.
Poseidon Caviar & Seafood Bar, Desa Park City
Let's start with the space. If you are craving beach chic, think the recently upgraded Barcelona summer designed chiringuitos with jazzy Indie music, Poseidon Caviar and Seafood Bar is worth investigating.  It's thematic of a simple seascape design with rich teal tiles, five shades of grey and sand-colored modern coastal Danish furniture, and to finish it off some deceptive but aesthetically pleasing chrome black cutlery, which is as light as everything else in the restaurant. For oenophiles, there is a glass wine cellar, housing a wide range of exclusive Champagnes ranging from Pol Roger to Perrier Jouet and shelves with a variety of famous winemakers, including Mclaren Vale, Leeuwin Estates, Bordeaux and some emerging producers from the New Zealand Marlborough region.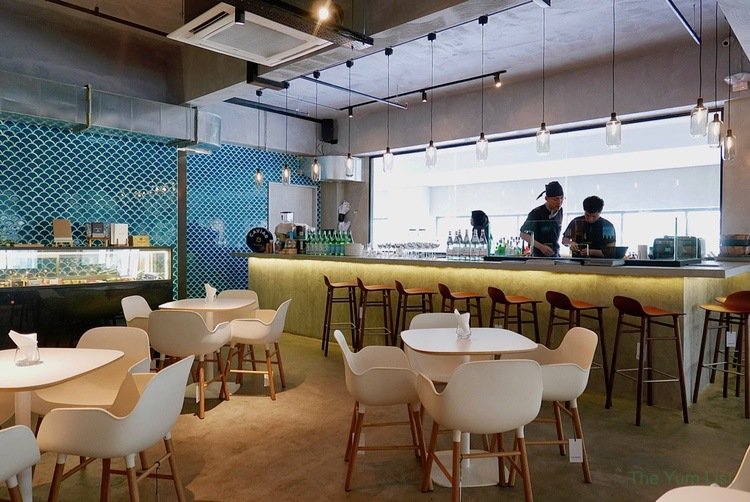 Poseidon Caviar & Seafood Bar Menu
Our marine culinary exploration begins with light, clear, Fine de Claire Oysters (RM 36 for 3). Paired with a Reserve Chardonnay from Rama Negra Estate, the rich, lively oyster with this buttery and lightly floral chardonnay is a stimulating start to the journey.  I am left wanting more high-quality seafood.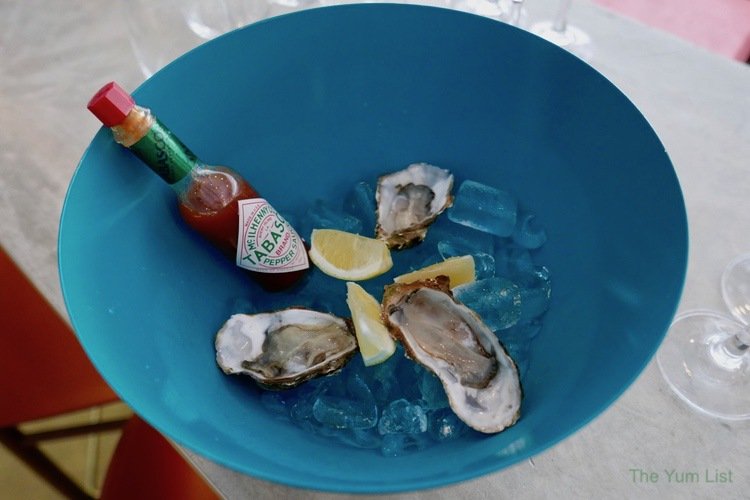 Within minutes, my cravings are satisfied, when some of the most spectacular smoked salmon I have ever had arrives. This smoked salmon is certified good, with a Royal warrant, or stamp from Queen Elizabeth and proudly, Poseidon adds it is the only restaurant in Kuala Lumpur to receive such a stamp. The Scottish Salmon (RM 29) is smoked with leatherwood for 72 hours, topped with a dollop of caviar, and the cuts of salmon are thick and luxuriant.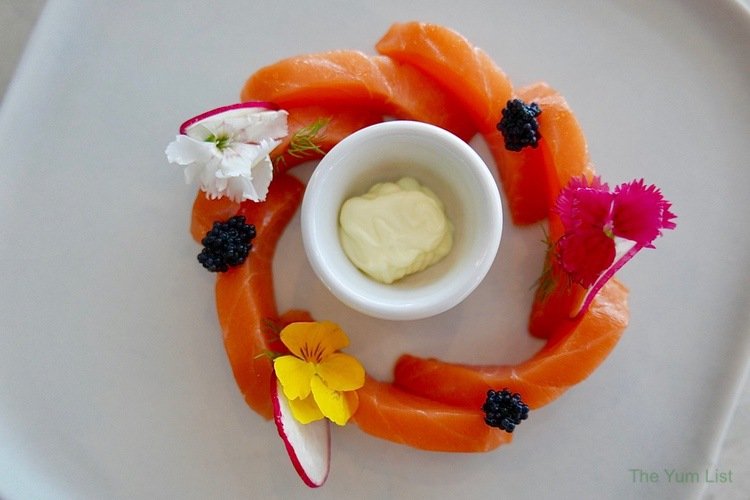 I barely have time to process the quality of the salmon before another plate is upon us; this time, Smokey Mussels from Scotland (RM 38). These mussels are smoked with oak and beech wood as well as thyme, rosemary, sea salt and other herbs. These mussels were packed with robust flavors; think smokeout, marine, and a chewy then melting texture. Poseidon aims to serve the best seafood in Kuala Lumpur and plates like these will make it a good contender for that goal.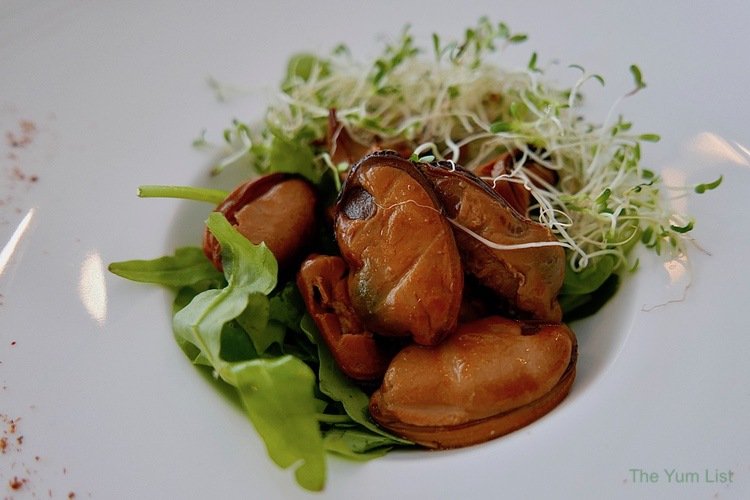 Looking for something a little bit bigger to sink your teeth into, Poseidon offers Blushing Prawns (RM 45) from Sandakan, served simply, boiled with salt, in an ode to the sea. Proof that you don't need to mess with premium produce – let the natural flavors speak for themselves.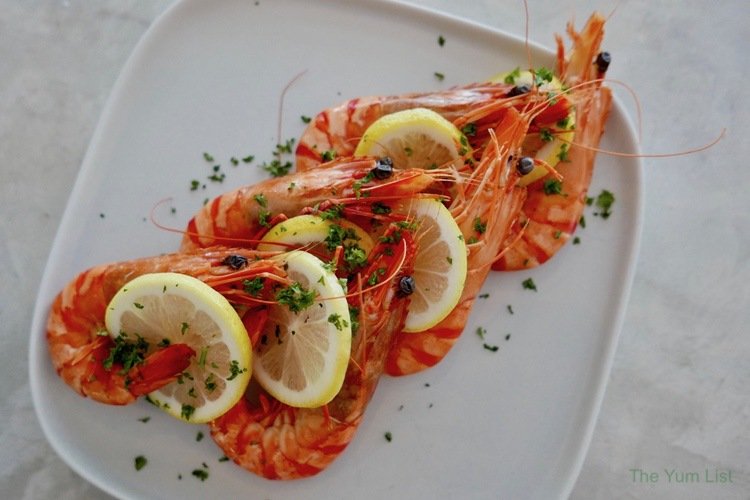 Chef continues his maritime showcase with a Spanish inspired, Squid Ink Pasta (RM 27). He achieves magic by maintaining similar textures between the squid and the pasta and with the playful addition of a perfumed wasabi caviar from Paris, he makes this a plate that you will remember and be energized by.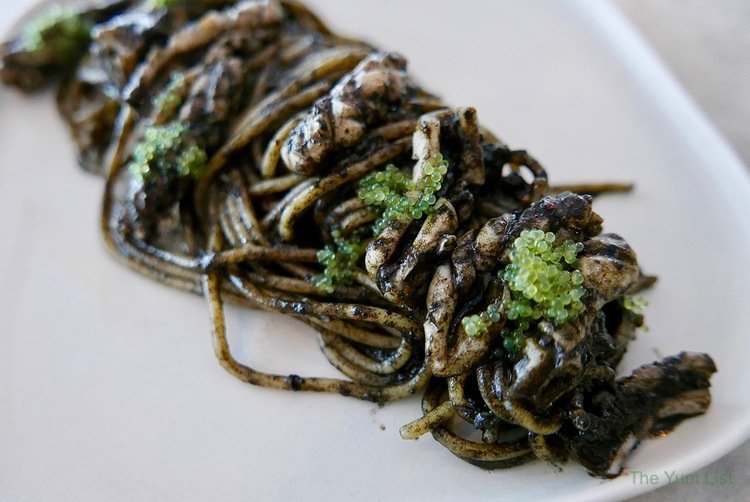 Perpetuating playfulness, our next experience is a new one for me in my culinary adventures. Gul, the manager and head waiter, tells us the story of the Russian Caviar, harvested from Sturgeons of between 11-15 years of age. After the ageing and curing process, it is canned and must be served within a couple of months. Gul scoops a spoonful of caviar on top of my hand, instructs me to first take in the aromas, then lick it off, press the caviar up to the roof of my mouth and let it permeate. I do so and enjoy the flavors of buttery ground almonds filling every corner of my mouth. It's a splendidly unique experience and adds a candor to high-end dining that I haven't experienced in awhile.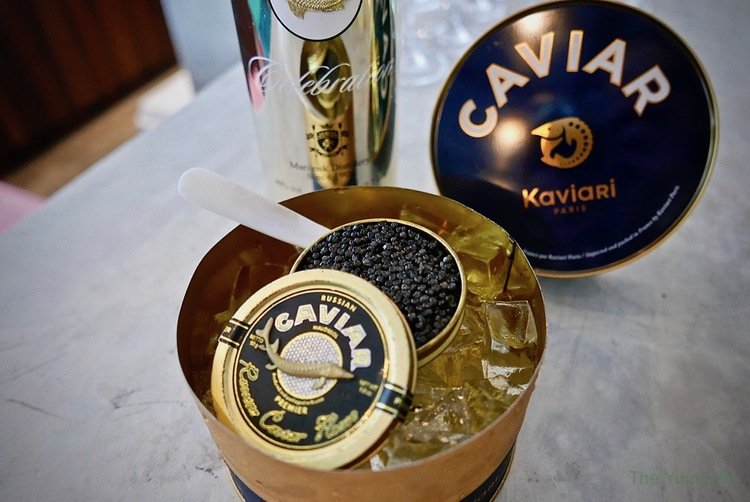 The final showcase takes us to Boston; a fire-engine Red Lobster (RM 128), served with Italian baby potatoes and asparagus. The head is deep-fried in oil and the tail blushed in boiling water. It is served with an addictive sauce, made with heavy cream, carrots, celery and a medley of Italian herbs. Those who love lobster but not the mess will appreciate that the lobster is shelled and easy to eat.  No finger bowls needed.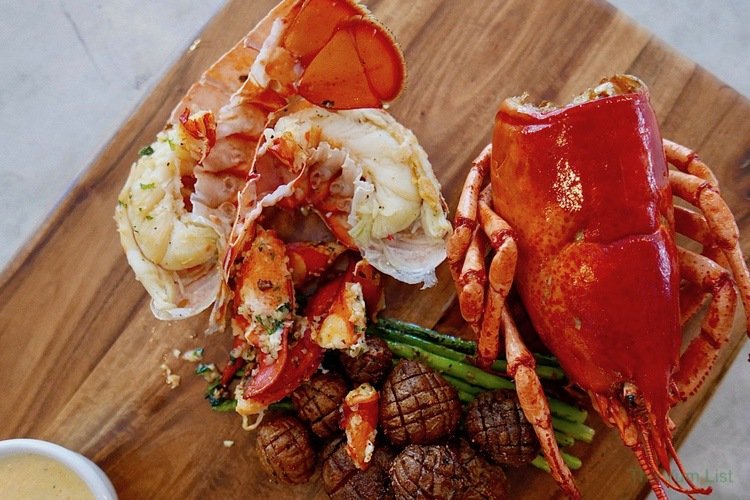 Finale Poseidon Caviar & Seafood Bar, Desa Park City
Gul brings out some Gin and Tonics to refresh our palates and I feel like we have had a wonderful adventure. "One more." He winks cheekily.  I see a plate with bread-like items and I wonder "fish cakes?" Gul informs us this is one of the chef's wicked creations and he is slowly beginning to infuse stimulating items like this into the menu. The plate is called Not So French Toast (RM 20). This original dessert is crusty on the outside, creamy with a cheesecake filling on the inside and the fact that we get to eat it in two bites with our fingers makes it even more satisfying.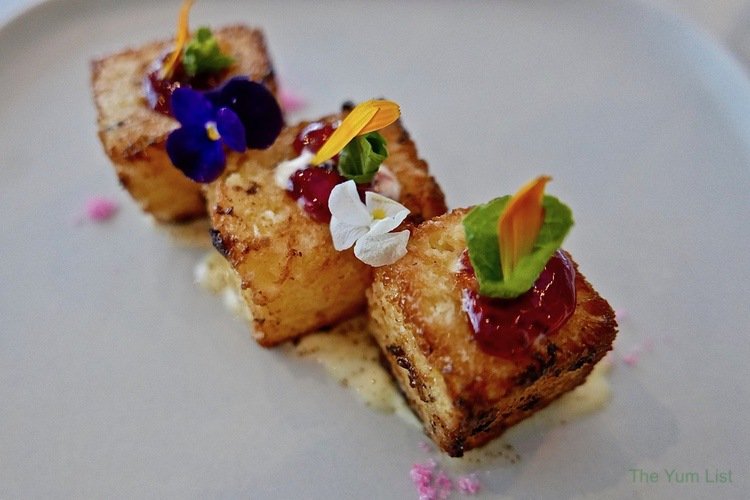 Poseidon Caviar & Seafood Bar has well-priced quality seafood and simple recipes that are tantalizing for your tongue and healthy for your body and soul. Its slightly speakeasy feel makes it a good sight for a romantic dinner before you enjoy the colorful live music scene in Desa Park City.
Reasons to visit Poseidon Caviar & Seafood Bar: Scotish smoked mussels that will make you contemplate buying your own smoker; an easy to eat lobster with a sublime sauce, and an unlikely ending with the Not So French Toast that blends crunchy, creamy and slight subtle sours with a strawberry compote.
Poseidon Caviar & Seafood Bar
Jalan Intisari, Desa Parkcity,
52200 Kuala Lumpur,
Wilayah Persekutuan
+6 03 2711 3679
Poseidon Caviar & Seafood Bar Opening Hours: 12-3 pm ; 6-10 pm