Monica Tindall
I can't believe our luck as we nab a table by the window. Already with a glass of Spanish wine in our hand, it's five o'clock Friday afternoon and we have one of the best views in Kuala Lumpur. This is a promising sign for a staycation at one of KL's most popular hotels, Traders Hotel, Kuala Lumpur.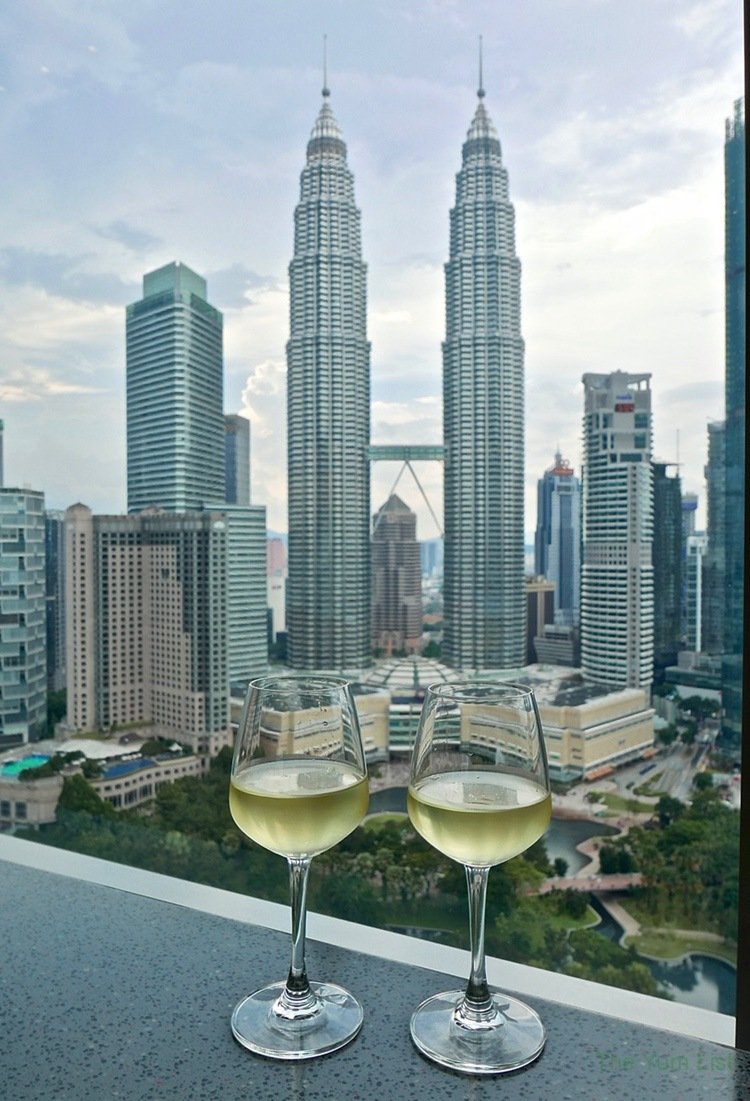 The hotel is indeed well-liked; so much so that it has not undergone the rebranding to Jen, which most other Traders properties have undertaken. Located in the same complex as KL Convention Centre and on the edge of KLCC park, it has unobstructed views of the Twin Towers viewed from the Club Lounge, famed SkyBar, certain rooms and the signature restaurant of Gobo Upstairs. For visitors and residents alike, it's a hotel where you truly appreciate the location.
Bucked Out Seafood Buffet at Gobo Chit Chat
Having had pre-dinner drinks in the Traders Club Lounge, we head downstairs to Gobo Chit Chat for the Bucked Out Seafood Market. The buffet offers a magnificent display of creatures from the sea alongside a good international spread. Fresh seafood cooked to your liking is the highlight: diners literally fill their buckets with their favourites, choose the sauce style, then have it cooked to order before it's dumped on a silver tray at the table. The concept has been so well-received that it's a full house every weekend. Read more here.
Traders Club Executive Twin Towers Rooms & Suites
Immensely satisfied with the start to our weekend we retire and fall asleep with the magical vision of the KLCC Towers sublimely framed by our room window. The best rooms in the house are the Traders Club Executive Twin Towers Rooms and Suites. With postcard-perfect views of the Petronas marvels, you could spend hours capturing them change in the varying light over the course of a day. Can you imagine watching the New Year's Eve fireworks from here?!
Besides spectacular vistas, rooms are complete with full amenities; electronic safe, hairdryer, mini-bar, tea and coffee making facilities, TV, desk, high-speed Internet (it truly is – not one interruption in connection during our visit), robes, slippers and so on. Lots of power points allow our devices to all charge at once and, although we don't need them here, we note the detail of built-in international adapters.
The bed is supportive and the linens of high quality. The shower too is high-pressured and boasts instant hot water. The separation of bathroom and bedroom with a solid wooden door is much appreciated, allowing our early and late rising tendencies to not disturb the other.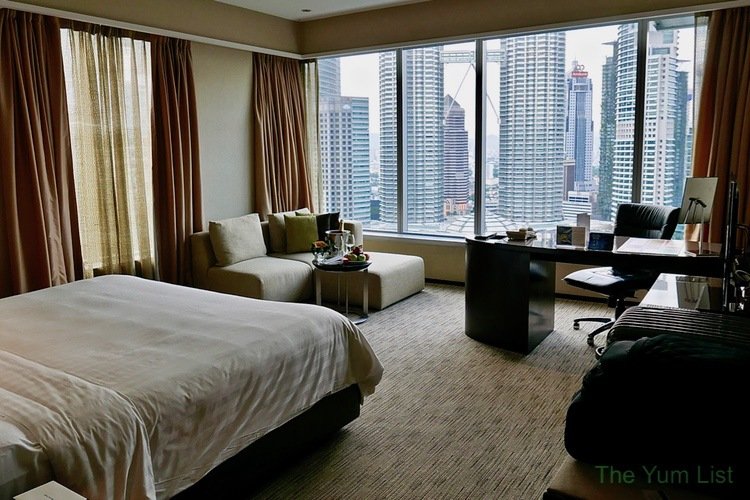 Traders KL Gym
Awakening to the skyline lit with the morning sun is an inspiring beginning to the day. Followed up by more views from the fitness centre it only gets better. It's easy to get some intense cardio, strength and stretch training in early as the panoramas act as motivation. A comprehensive range of machines, free weights and a dedicated aerobics and yoga room ensure there is no excuse for not attending to daily wellness needs.
Traders KL Club Lounge
Brekkie in the Traders Club Lounge keeps our spirits high. We feel welcomed into someone's home with friendly service and an intimate environment. Again, we're fortunate to have a window seat but with floor to ceiling glass, just about anywhere is good. A compact buffet spread is backed up with an a la carte menu of eggs, pancakes and waffles. Poached eggs for me, an omelette for hubby, sided with fresh fruit, crusty bread and numerous coffees makes us happy. Here we can continue to get non-alcoholic beverages and personalized service throughout the day, ending with evening cocktails and a light smorgasbord.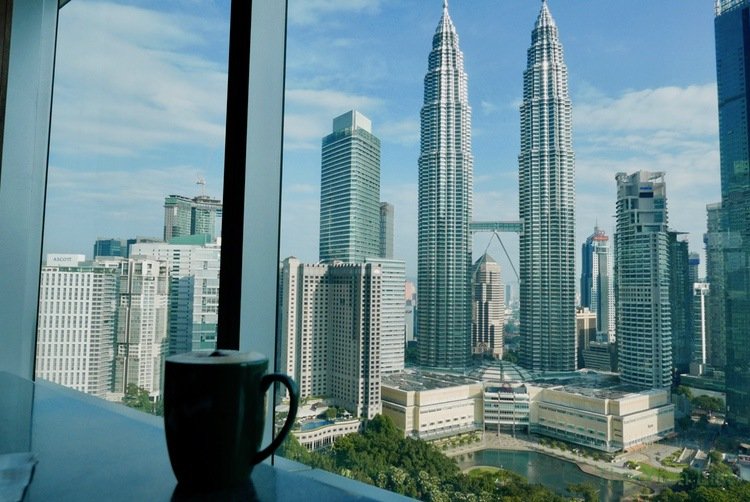 Traders KL Pool Time
The rooftop pool is ideal for doing a few laps or for lazing by it with a book. Covered with a sunroof it's all-weather proof so can be enjoyed sun or downpour (rare to find that convenience in a hotel). As we dip and dry, dip and dry, the hours pleasantly pass.
Food comes from the room service menu and consists of a variety of local and western recipes. There's a decent vegetarian section that I'm delighted with and make a lunch of quinoa, kidney beans, corn, parsley, tomatoes, avocado and olive oil. Hubby thinks highly of the classic beef burger featuring Aussie ground beef, cheddar cheese, lettuce, tomatoes, gherkins, onion rings with fries and coleslaw on the side.
Lunch and a cocktail thrown in and soon it's mid-afternoon and with the temperature rising, a good time to seek some indoor entertainment – a visit to the spa.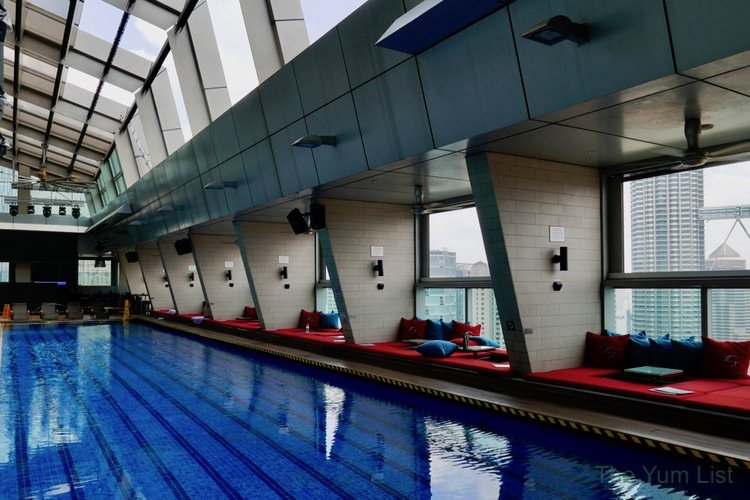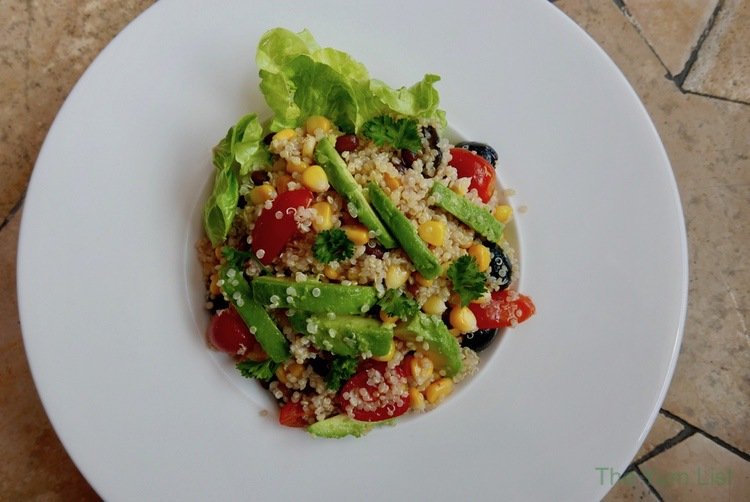 theSPA at Traders Hotel KL
Situated a level up from the pool we don't have far to drag ourselves for a spa treatment. We opt for a Freedom Massage (60 minutes RM280), which allows us to customize to our individual preferences. For me, it's deep tissue pressure with the heels of hands and thumbs digging into tight back, neck and shoulders that I most desire. Hubby wants his feet and legs to be the focus; post-tennis therapy he calls it. Peaceful surrounds and highly skilled therapists leave us drifting off, relaxed, for the rest of the afternoon.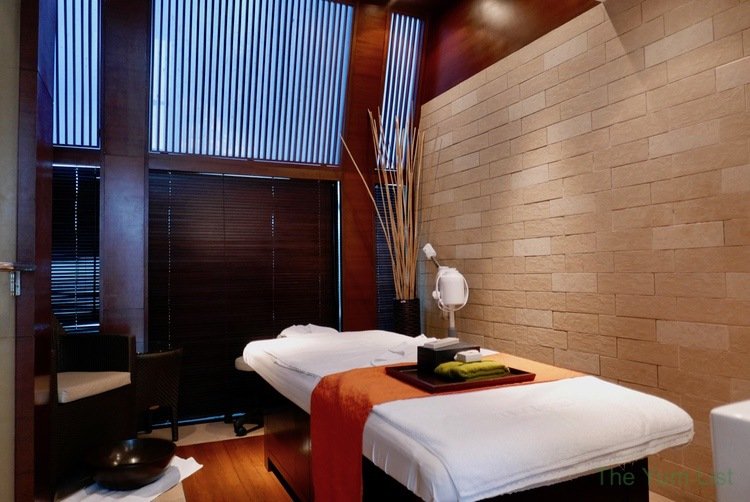 Cocktails, Dinner and Dancing
And, just like that, the sun begins to fade and signals cocktail time at the Club Lounge. Two red and two white wines, alongside a selection of bottom shelf spirits are there for guests to self-pour and we find the occasion an ideal segue to dinner at Gobo Upstairs.
Gobo Upstairs Restaurant Traders KL
If you're looking for a little romance, Gobo Upstairs Lounge and Grill is a flawless location to bring a date. The stylish lounge is backdropped by the city skyline and a superb spot to share an aperitif before dinner. Moving over to the dining room, the menu is a meat lover's dream with prime cuts grilled to perfection. Hubby is in all his glory with a rib-eye charred around the edges and strikingly pink in the middle. Read a comprehensive review of Gobo Upstairs here.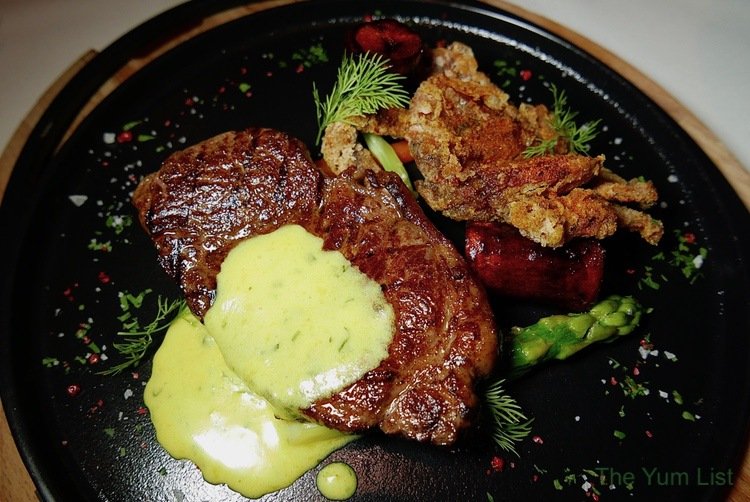 Traders Hotel Kuala Lumpur SkyBar
It is Saturday and the night is still young so we head to one of KL's most renowned and possibly longest running rooftop bars, SkyBar. A comprehensive drinks menu – beer, cocktails, wine and spirits – is backed up by those stunning city scenes and some highly-respected DJs. Some of the top music spinners from both KL and internationally play here and as the night progresses the tunes heat up too. The area beside the pool is soon a dancefloor and the crowd continues to gain energy until the wee hours of the morning.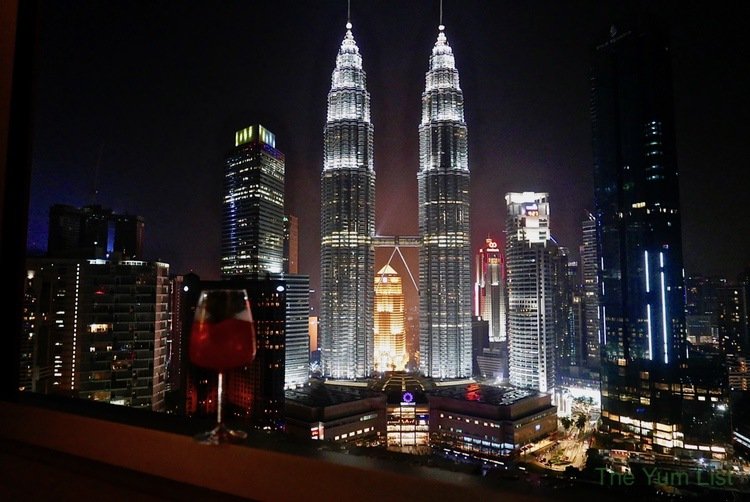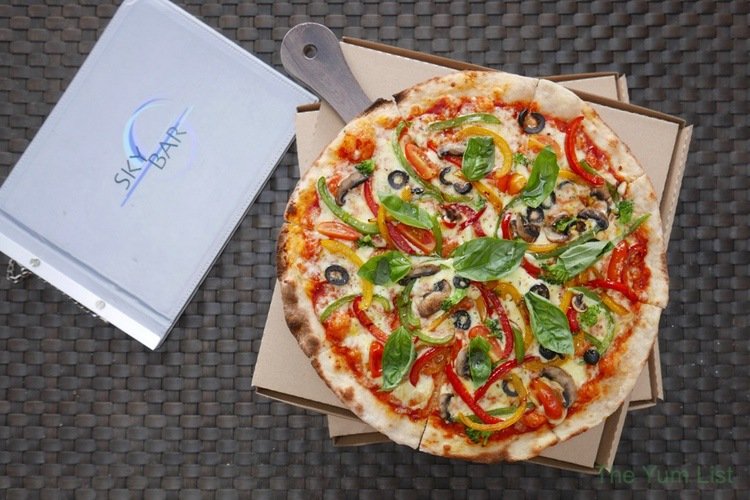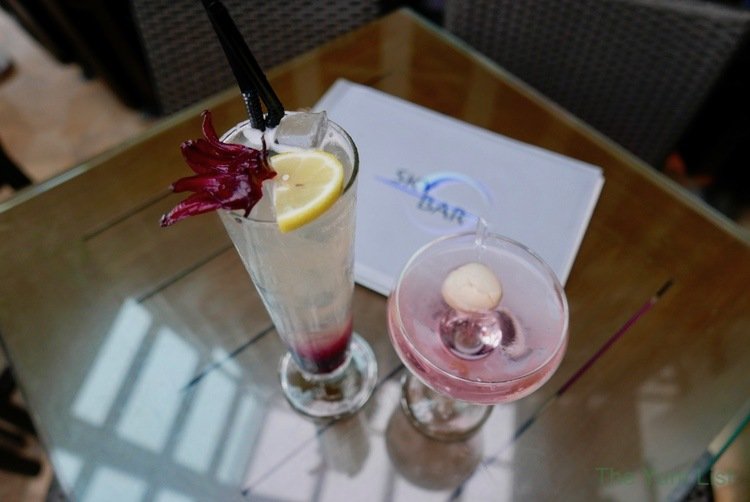 Traders KL Check Out
Despite a late night, I'm up again early, this time for a run around the green lung of the city, KLCC park, just footsteps out of the hotel's front door. Another dip in the pool, a late brekkie and all too soon our staycation has ended. It's been a great combo of relaxation, good food and fun – all set to the striking backdrop of KL's finest icons. Traders Hotel Kuala Lumpur, thank you for a terrific stay and we hope to see you again very soon.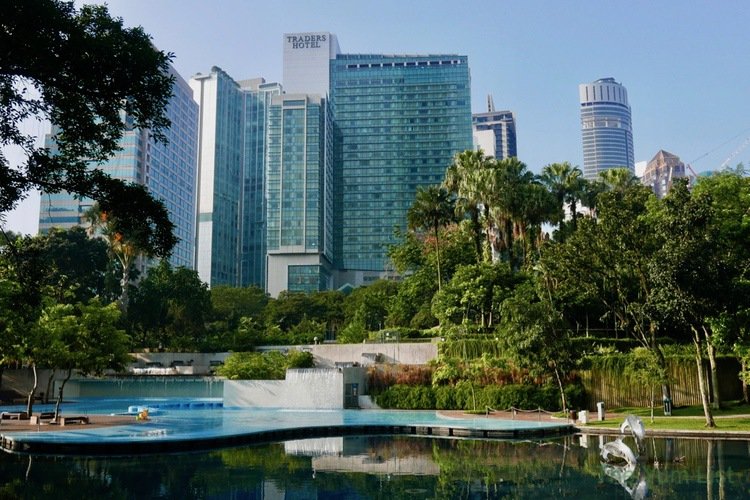 Reasons to stay at Traders Hotel, Kuala Lumpur: superb KL city centre hotel with incredible views; excellent club lounge also with spectacular vistas of KL; Twin Towers room; friendly professional service; good food and beverage options; well-equipped gym; fantastic location; and even if you're not staying at the hotel, a visit to SkyBar is a must.
Traders Hotel, Kuala Lumpur
Persiaran KLCC
Kuala Lumpur City Centre
50088 Malaysia
+6 03 2332 9888
www.shangri-la.com/kualalumpur/traders/