Words: Chris Moore     Photos: Monica Tindall
Tucked away on the third floor of DC Mall is Kikubari, a relatively new restaurant to the Kuala Lumpur dining scene. Combing the concept of small plates meant for sharing, think Japanese tapas, this restaurant is not to be missed. Everything about Kikubari epitomizes that Zen approach that is so rooted in Japanese culture. From the glass-bottomed floor covering a raked sand garden to the Japanese art that adorns the walls, to the elegant and balanced décor and open-air kitchen, every last detail has been considered in order to elevate your dining experience.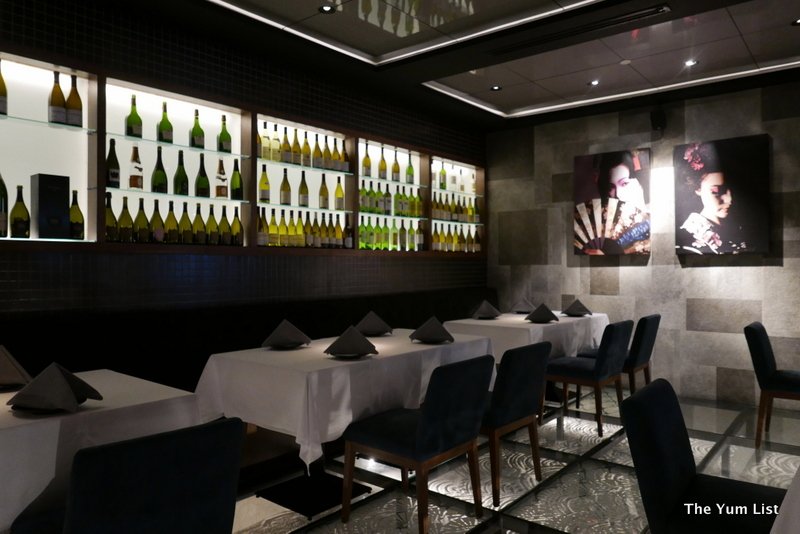 For centuries, Japanese cuisine has been grounded around tried and true culinary principles and techniques. Dishes and presentations are designed to highlight both the freshness and the quality of the ingredients that are used in their preparation, and it is with the same approach that those at Kikubari tackle each menu item. Led by the imagination and guidance of Chef Jun, the menu at Kikubari for 2018 is described as 'progressive Japanese' – meaning that even though the ingredients and presentation may not be traditionally Japanese in nature, their preparation is rich in the country's history and traditions.
Drinks at Kikubari
One of the many defining features of Kikubari lies in its drink menu. With one of the most extensive wine menus available anywhere in Kuala Lumpur, plus over 20 different varieties of Champagne and more than 40 different variations of sake, it may seem daunting to decide exactly what to drink, and when to drink it. Thankfully, Kikubari employees two full-time sommeliers, both of whom possess a great depth of knowledge in the various types of libations available. Either Yuhei or Danny can offer recommendations on the pairing of wine, Champagne or sake with each of the distinct menu options, and fear not because you don't necessarily need to order the full bottle – many of Kikubari's choices are available by the glass as well.
The house Champagne at Kikubari, the Bruno Paillard Premier Cuvee (RM70/glass, RM360/bottle) is a spectacular offering from a relatively young Champagne house by French standards. A very palatable non-vintage, the premier Cuvee is smooth yet complex, with the perfect amount of carbonation. Should you be in search of something a little less bubbly, the Joseph Drouhin Pouilly-Fuisse 2015 (RM40/6cl; RM70/12cl; RM320/bottle) is not your traditional French chardonnay and is a perfect compliment for the variety of flavours and choices found throughout the menu. With bold notes of peach and apple, the Joseph Drouhin has the slight oaky characteristics of a traditional chardonnay without the overpowering sweetness. Another option is the Oremus Mandolas 2015 (RM280/bottle) from the lesser-known Tokaj-Heygyalia region of Hungary. Traditionally famous for its sweet white wines, the Oremus Mandolas is light and crisp and incredibly refreshing.
However, in dining at a Japanese restaurant, one would be amiss to not drink the traditional Japanese liquor, sake. The variations found throughout the sake menu are astounding – and ask any connoisseur – sake is not all the same. In creating sake, the classifications given to the drink tell the story of its production. The 'junmai' classification means that it is created entirely from rice, and a 'gingo' label requires that in the production a minimum of 40% of every single rice grain be polished away. The polishing process removes the outer layers of the kernel and leaves the flavourful and sweet centre to ferment.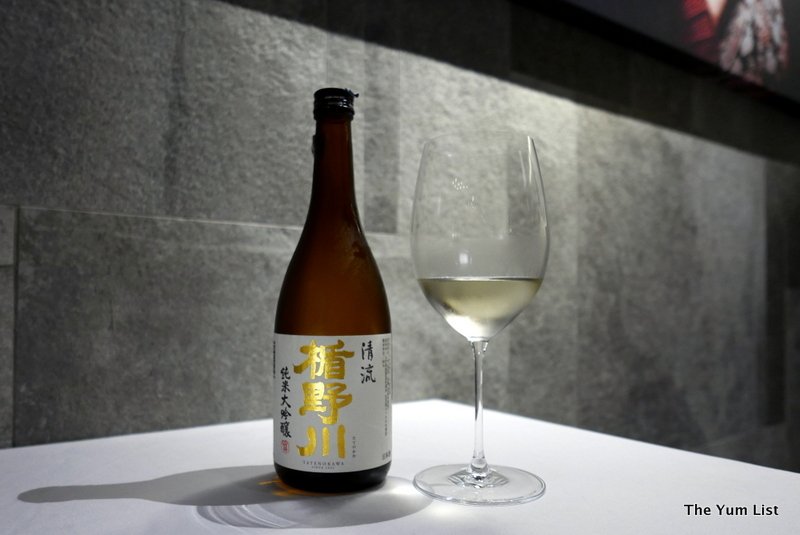 The Kuragokoro Junmai Ginjo (RM23/6cl; RM60/12cl; RM230/bottle) is from the Hizen region of western Japan but uses rice from the central prefectures of the country. With a polishing level of 50%, the Kuragokoro is smooth, sweet and brilliant and presents a robust nose of pineapple and citrus. In much the same way as one would do with wine, the aromas of the sake are amplified by the chilled wine glass that it is served in. The Yamagata prefecture in Japan is much like the Bordeaux region of France, in that these areas produce the most sought-after drinks of their kind. The Tatenokawa Junmai Daigingo "Seiryu" (RM250/bottle; RM550/1.8L) from Yamagata is downright magnificent. Whether paired with food or sipped on its own, the fruity and complex nature is smooth and delicate, and it comes as no surprise that this isn't offered by the glass because you likely wouldn't be able to stop at just one. To finish off the evening, the Benichu 20° (RM35/glass; RM300/bottle) is the perfect digestif served chilled over a few cubes of ice. The sake based plum liqueur at 20% ABV produces bold notes of cherry and stone fruit and perfectly compliments the tangy flavours of the fermented plum.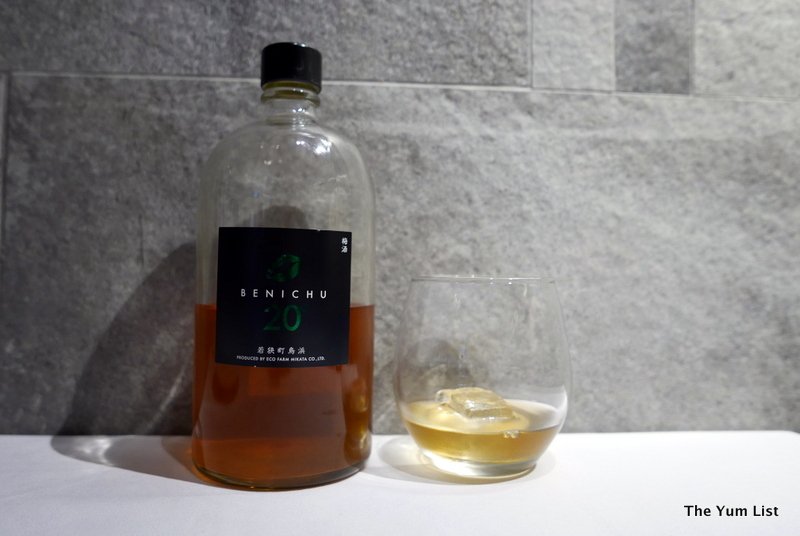 Culinary Offerings at Kikubari
The food options at Kikubari mirror the diversity found throughout the drinks menu. Based upon an unconventional concept of 'nose to tail' culinary preparation, Chef Jun and her staff creatively use ingredients and parts that are normally discarded because they've been perceived to be cheap and non-edible offcuts. This mentality comes from a lack of experience however and not truly knowing what something tastes like, or more importantly, how to properly prepare it. Take my advice, Chef Jun knows what she is doing and you will not regret trying some things that you've never had, or even heard of before.
Elegantly presented in a Japanese bento box, the Sweet Corn Tartlets with Foie Gras Mousse (RM33) are a trifecta of flavours and textures and is the perfect dish to share to start the evening. Buttery and flaky pastry shells are filled with creamy duck liver mousse and topped with sweet and crunchy kernels of corn. In keeping with the sharing and decadent theme, the Wagyu Fat Fried Potato Wedges with Grated Truffles (RM52) are a must. Thick cut steak wedges are slowly fried in rendered Wagyu fat and finished with a mound of Tibetan black truffle shavings. The result is a crispy exterior and perfectly soft interior, bursting with the meaty notes from the beef fat.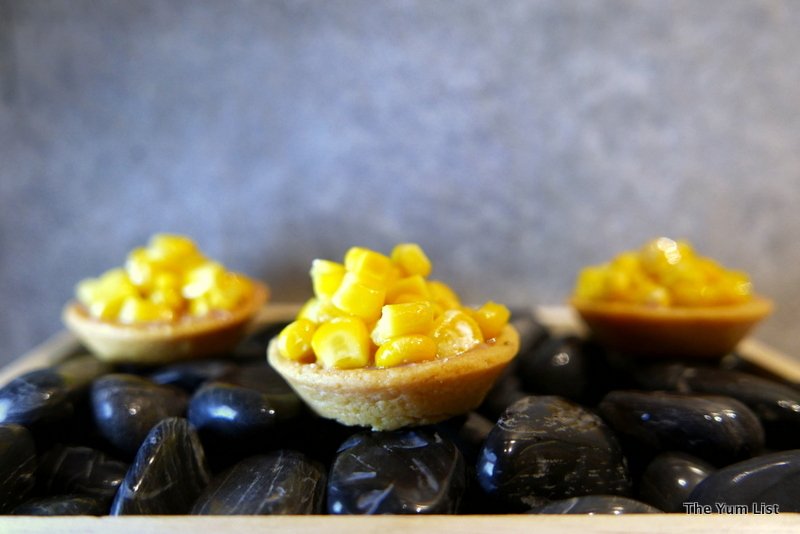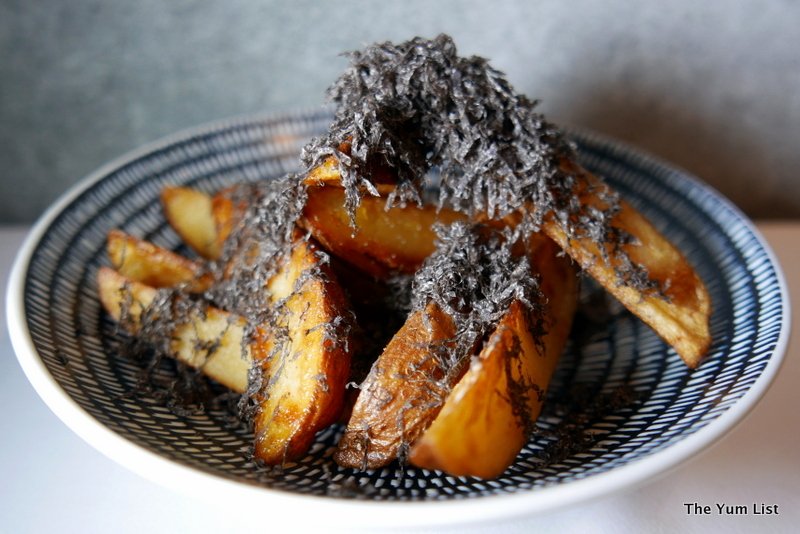 If you are a little bit worried about spillage, then I recommend taking extra precaution with the Mentaiko Toast with 63C Egg (RM36). Designed to be a casual and fun dish, traditionally fermented cod roe with red chillies, Japanese cucumber, trout roe, and diced shallots are layered atop a slice of fresh bread and then topped with a perfectly cooked soft-centred egg. Don't worry though, the dish is meant to be a mess as the egg yolk is pierced and the golden liquid spills out over the bread and toppings. While I don't recommend trying to eat this with your hands, I do strongly recommend eating it.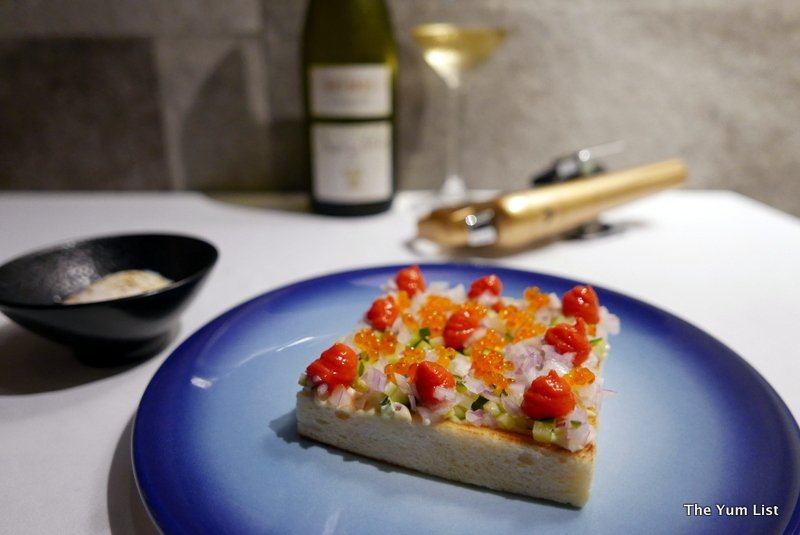 But also make sure you save room for arguably the most glorious sandwich you might ever try. The Ebi-katsu Sandwich (RM48) is like a lobster roll on steroids and so eloquently described by Caning as "a journey to the sea on a boat of toasted bread." I hate to admit it but he couldn't be any more accurate. Minced prawn meat and lobster coral is formed into a patty and fried 'katsu' style and then topped with a pickled red cabbage slaw and wasabi mayo. The result is a spectacular combination of sweet and briny flavours and crunchy textures from the coating and slaw. This quite possibly might be one of the ultimate sandwiches, ever!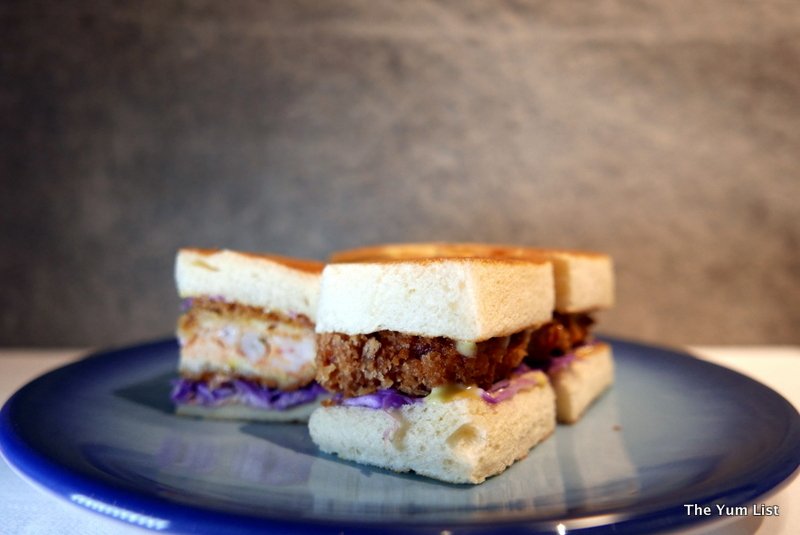 As a special offering from Chef Jun and not normally on the menu, the Lamb Carpaccio (RM52) has an incredible depth in its level of flavours and aromas. Paper-thin slices of lamb are served raw and drizzled with yuba (fermented bean curd) infused olive oil and topped with sakura ebi (deep friend Japanese river prawns) and sprigs of fresh dill. The flavour profile of the dish is amazing, with the lamb, prawns and dill balancing each other perfectly.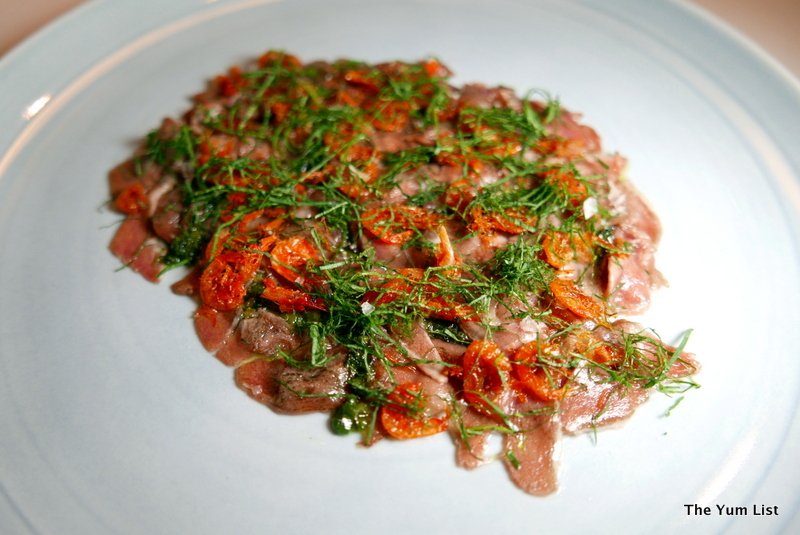 With Japanese cuisine being so heavily influenced by creatures of the sea, it comes as no surprise that Kikubari has a plethora of menu options available featuring fish or crustaceans, any of which would pair magnificently with any of the sakes listed. The Flame Grilled Alistado Prawns with Nori Butter (RM88) is a briny and robust dish consisting of South American prawns, butterflied open and served with coral and a savoury nori butter sauce. The coral is sweet, creamy and rich and matches well with charred flavours from the grill. Additionally, the Grilled Seasonal Japanese Shellfish (RM88/piece) is a dish that changes by the season. Our offering was a massive Hokkaido surf clam, cooked over an open flame and served on the half shell with a drizzling of white butter sauce and sprinkled with julienned seaweed. Arguably Chef Jun saved the best fish dish for last with the Plate Sized Seasonal Japanese Fish (RM158). Another dish that changes based on the season and ingredient availability, we were fortunate to sample a fillet of Ito-yori served atop a bed of grilled asparagus and diced leek. The Ito-yori, which in English is a species of bream fish, is a delicate white fish, pan seared with its skin on and drizzled with a burnt butter sauce. The magnificent buttery flavour pairs spectacularly with the fruity and sweet notes of sake.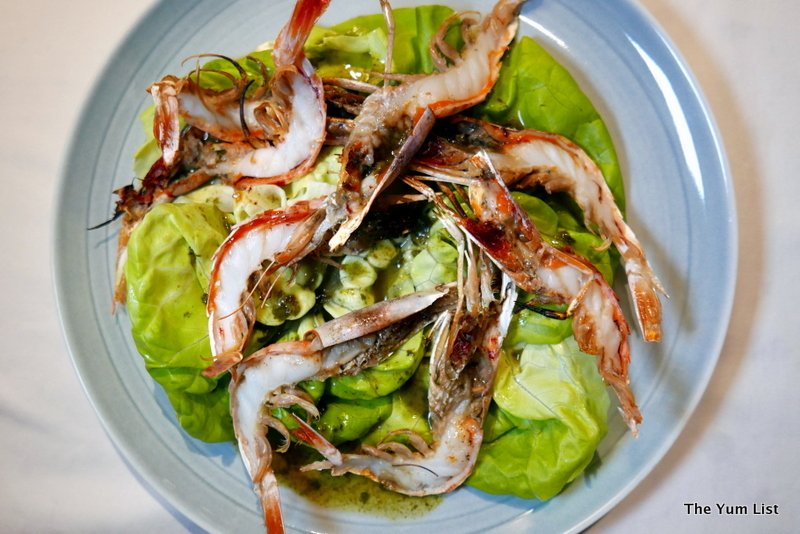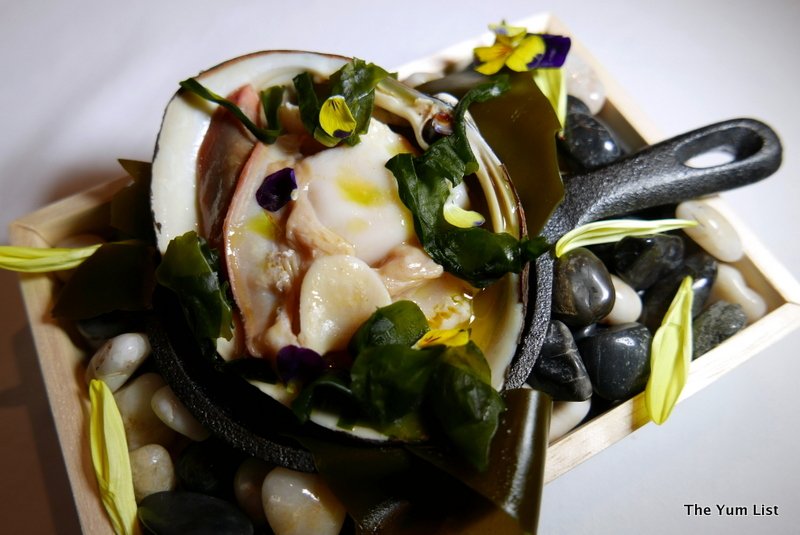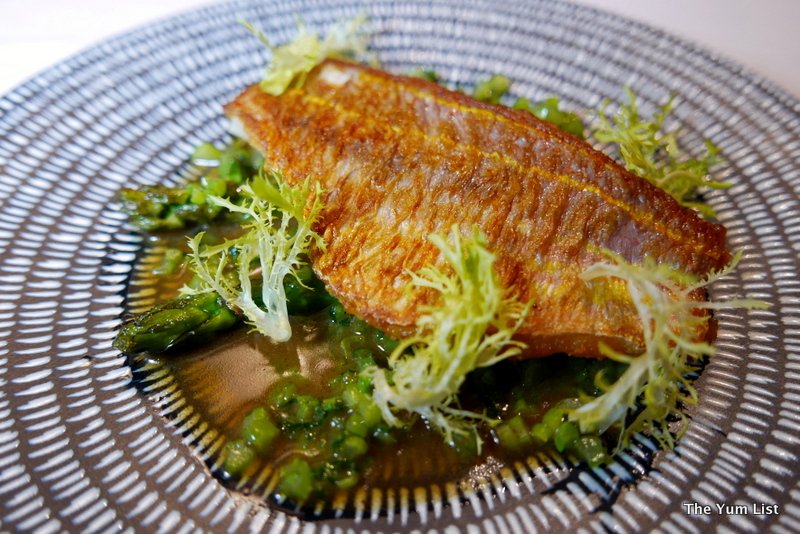 Desserts in Japanese cuisine are not the traditional sugary confections that they are in the Western world, as their presentation and preparation are meant to bring a balance and closing to the meal. With that said, I do not recommend leaving Kikubari with at least sampling some of the traditional dessert options they have. The Miso Shingen Mochi (RM16) is a Japanese raindrop cake made with agara-agara (halal gelatine) and looks almost otherworldly. Clear gelatine suspends kinako (soy-bean flour), kurumitsu (Japanese brown honey) and green tea liquor, and is both light and delicate. Though it is not your standard dessert and most likely not like anything you have ever had before, it is definitely worth a try. The Yuzu Curd Tart (RM26) on the other hand is not otherworldly and is an incredible finisher to the meal. The tart citrus flavours of Japanese yuzu pair brilliantly with the sweet and airy mascarpone chantilly cream and the buttery creaminess of the pastry crust.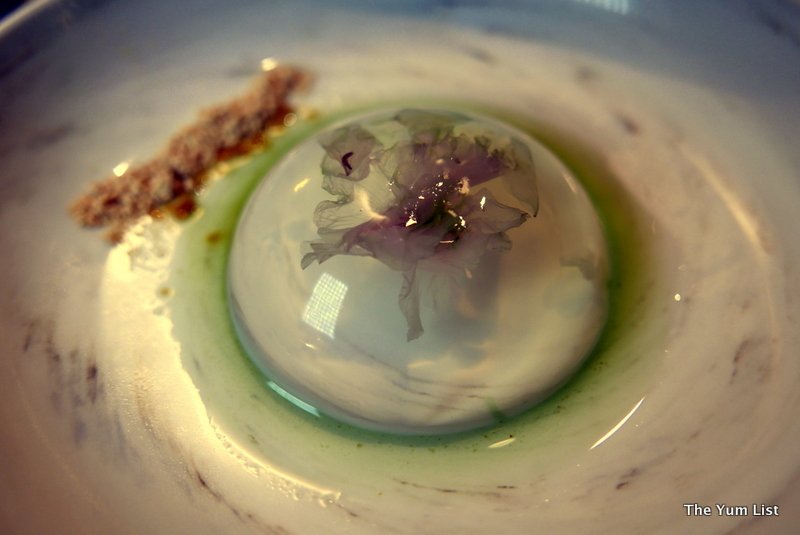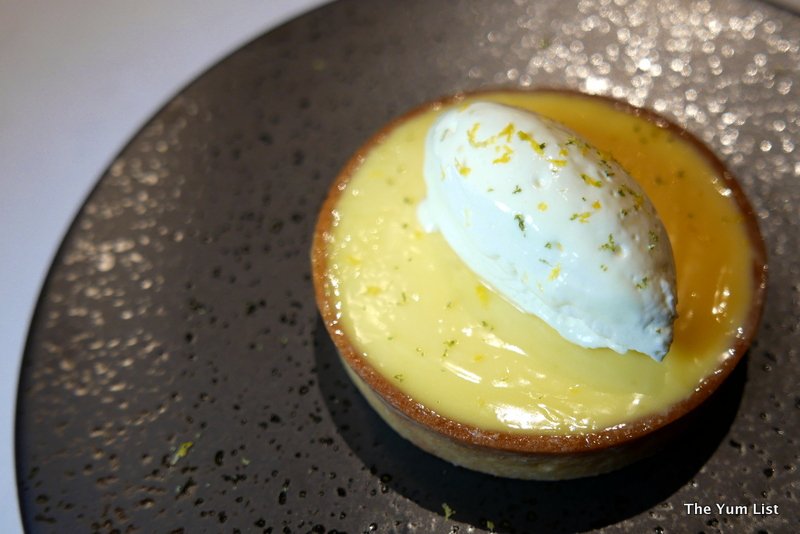 Reasons to visit: Pairing sake with food brings out the amazing flavour notes of an understated and lesser-known liquor; Chef Jun is amazingly creative and talented and deserves to be recognized for her vision and skills; the Ebi-katsu Sandwich might be one of the best things you eat in 2018; french fries are always good, but french fries cooked in beef fat and mounded with truffle shavings are unreal.
Kikubari, DC Mall
L3- 01A, Damansara City Mall, Jalan Damanlela
50490 Kuala Lumpur
Malaysia
+60 3 2011 8200
[email protected]
www.kikubari-dc3.com