Monica Tindall
Upscale French brasserie-style cuisine on one side, authentic regional Vietnamese fare on the other; Square One at Park Hyatt Saigon woos and comforts in all in one sitting.
Our visit, less than a month following Square One's renovation, sees tables fully booked with guests dressed to fit the setting – well-heeled, well-groomed and well, rather good looking. Wood, leather, stone, iron and vibrant art pieces compose the multi-textured and intimately arranged space. Given the brief, "colourful, contemporary and striking," famed design company Super Potato achieved the restaurant makeover with dazzling style and attention to detail. Everything feels smooth and polished, including the service and food presentation.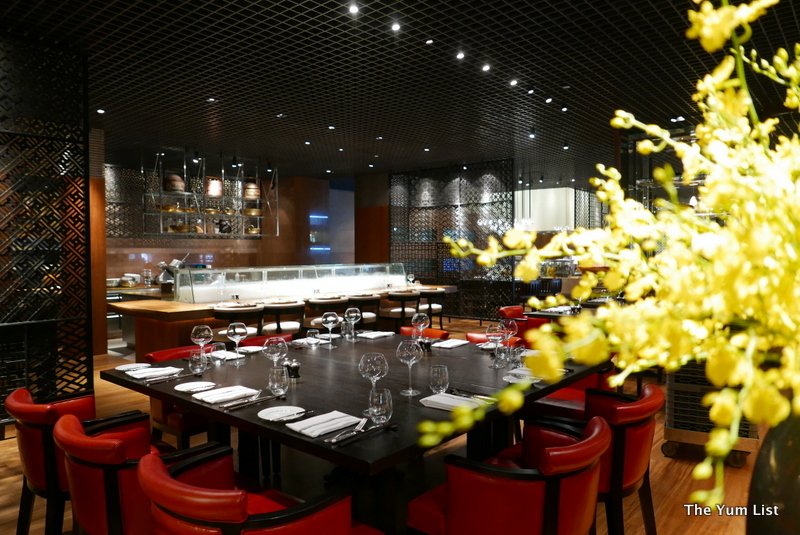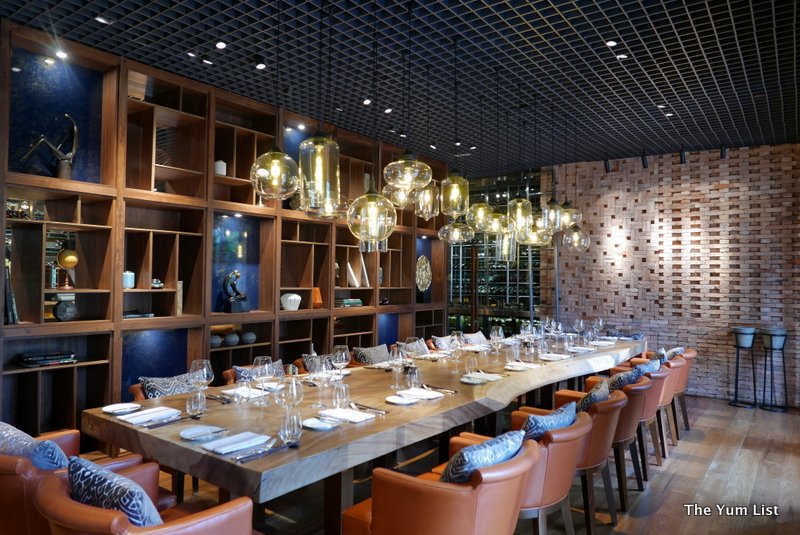 Cocktails at Square One
The bar acts as a divider between the French and Vietnamese kitchens and this is as good a place as any to begin. Carrying over the concept, cocktails are also separated into French and Vietnamese. The French mixes are classics, while the Vietnamese are inventions of the local bartenders challenged with the task of creating classy cocktails with local ingredients.
We begin with a French 75 (VDN 360 000) made with Veuve Clicquot Champagne, gin, lime juice and rock sugar; and a French Martini (VDN 290 000) combining Belvedere vodka, Cointreau, Chambord liqueur and pineapple juice in an old-school martini glass garnished with a skewer of raspberries. The first offers a good kick and punch of sour, perfectly suited to my tastes, while the latter is sweet and fruity, in line with hubby's preferences. We could happily order another beverage at Square One's bar but we've heard sterling comments about Park Hyatt Saigon's wine menu so sensibly switch gears and move to our dinner table.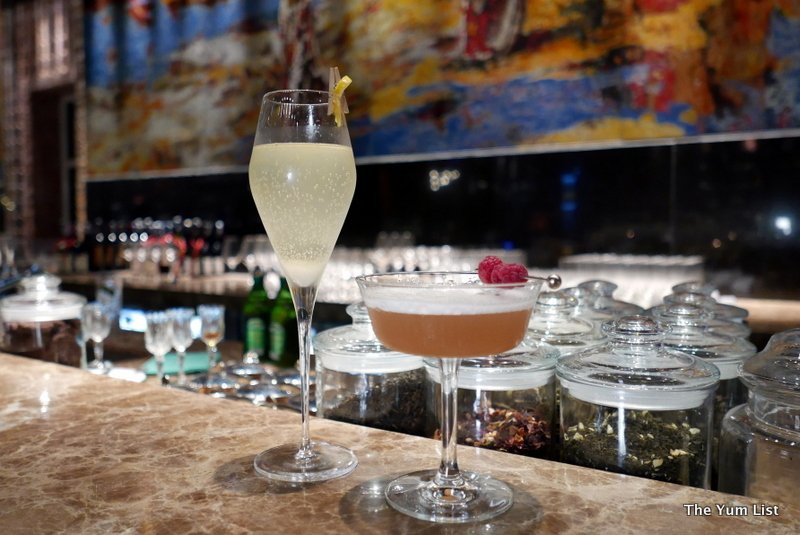 Wine List at Square One
A few wines are offered by the glass and close to 200 labels by the bottle with roughly 60% of them coming from France. A handful of premium wines are made available with the Coravin device, and additionally, the Vin a la Ficelle system (wine by the measure created by Gaultier in Saint-Pourcain, France in 1487) offers guests another 20 options. The mid-range wines are placed on the table and poured at will by guests. The amount to be paid is calculated by noting where the remaining level of wine reaches on a leather string marker, which divides the bottle into thirds. It's a little bit of old-school fun and makes it convenient to shift varietals with each course.
We try the Vin a la Ficelle system with a bottle of Pascal Jolivet Sancerre from the Loire Valley, France. This wine is a typical expression of sauvignon blanc from the region and should go well with our seafood starters. It's full of citrus flavours, has shades of minerality and acidity, and a departs with freshness.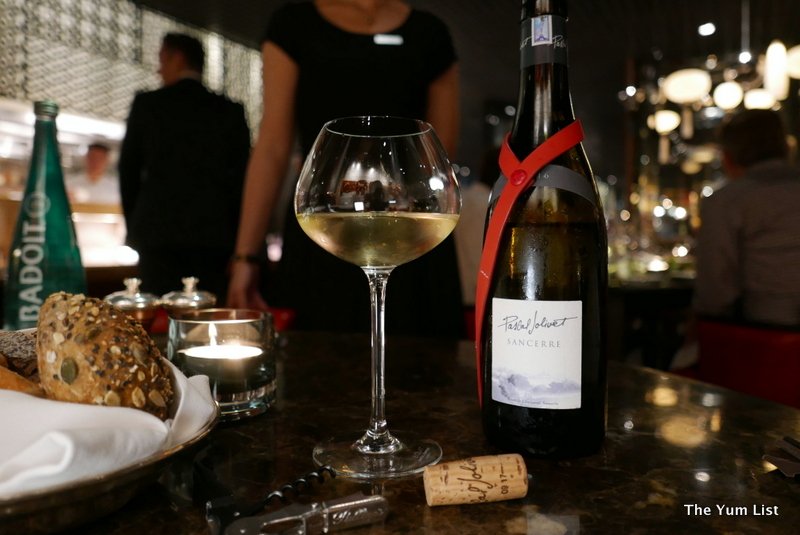 Food Menu at Square One
Thirst quenched, we browse the page of regional Vietnamese recipes on the left of the menu and another of contemporary French on the right. With a little assistance from the very knowledgeable staff we do our best to get a mix, starting with Vietnamese, following up with French mains, and a go a little cross-cultural with the desserts.
Starters at Square One
Crispy Soft Shell Crab (VDN 310 000) is magnificently crisp on the outside and moist within. It's cooked with onion, garlic, dried shrimps and chilli rock salt. As with most Vietnamese fare, the sweet chilli sauce is an essential component, elevating an already good dish to "wow."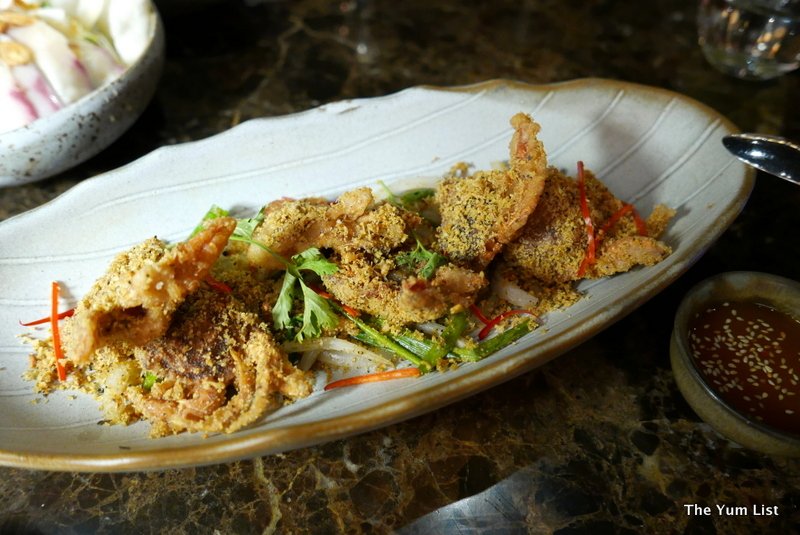 Lime Marinated King Fish Salad (VDN320 000) is a lip-smacking recipe with young coconut, red onion and daikon radish. The fish is superbly fresh, as are the bean sprouts and other veggies that base it. It leaves the mouth with a nice smack of ginger. Literally, we can't put our forks down.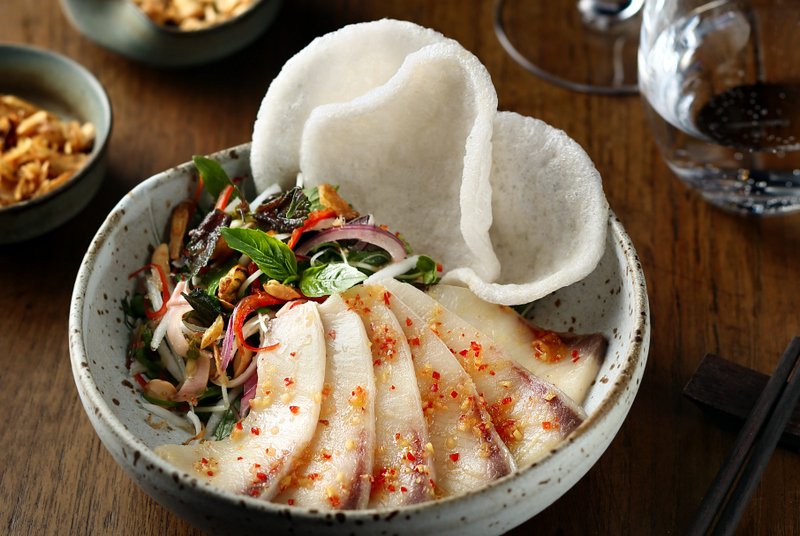 We get a taste of Europe with Gratinated Oysters (VDN 540 000) topped with a fabulous Champagne Sabayon. In contrast to the Vietnamese starters, they're distinctly French – rich, creamy and high hits on the calorie counter.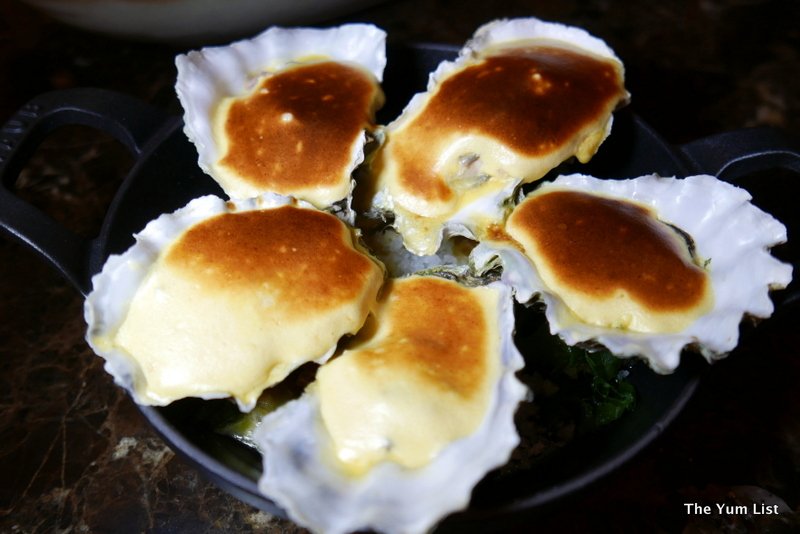 French Mains at Square One
We swap wines for the mains and a Pinot Noir from Joseph Drouhin, Cotes de Beaune, Burgundy, France (VDN 800 000) is a lovely balance for our fish and lamb. It's deep purple in the glass with aromas of berries on the nose. Soft tannins slice through the lamb and the elegance in the finish does well with the fish.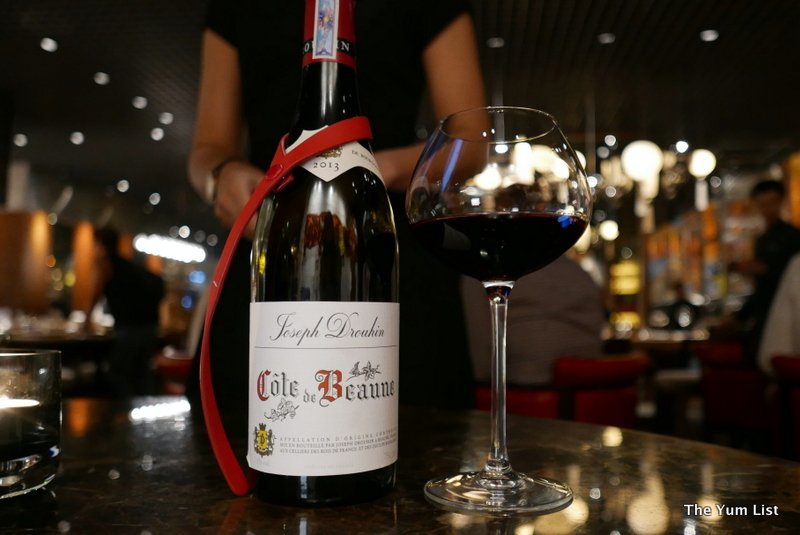 Whole Atlantic Dover Sole Meuniere Style (VDN 1,500 000) arrives on a candle-warmed tray and the sauce is poured over the golden-seared fillet just before serving. Potatoes surround the dish and the brown butter, parsley and lemon drizzle enriches the recipe. Square One at Park Hyatt Saigon is the only restaurant in Ho Chi Minh City to serve Dover sole and they do it well, very well.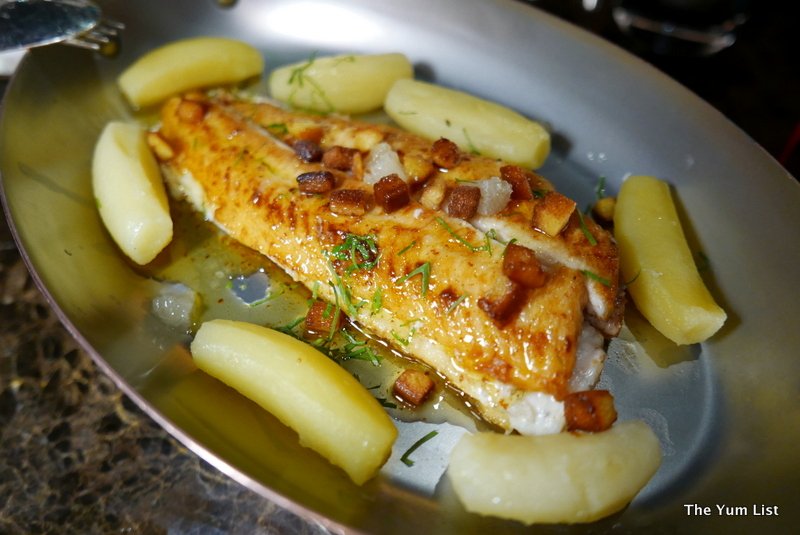 Confit Lamb Shoulder (VDN 750 000) comes with Provencal vegetables in herb Jus. It's glorious in its execution. The lamb couldn't be softer and the vegetables are finely cut yet remain firm to the bite. Fork of lamb. A sip of wine. Foodie heaven.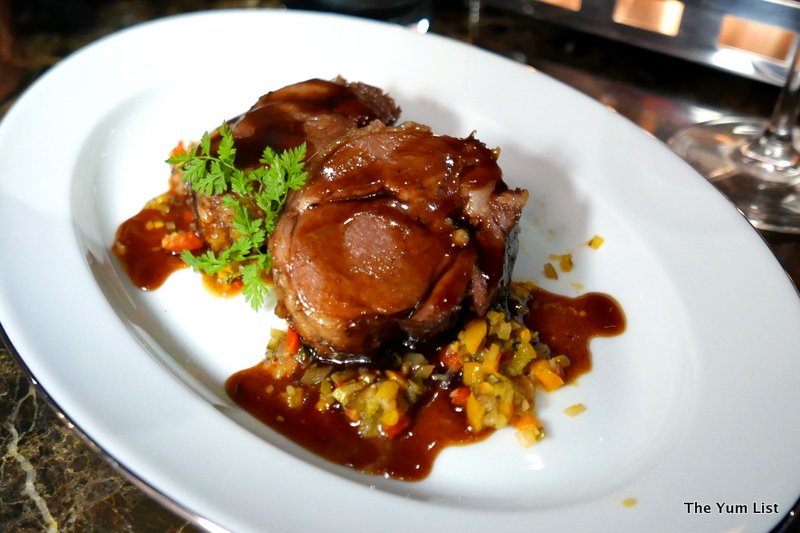 Desserts at Square One
Evidently, there are two signature desserts, so what's a gastronome to do but order both?
Celebrating superb local produce, the Whole Roasted Pineapple (VDN 420 000) is marinated overnight in a lemongrass caramel sauce and oven roasted just before serving. It comes with a hand churned coconut sorbet that is simply divine. Impressive in its entirety, the pineapple is sliced tableside and then dished up atop another candle-warmed platter. The fruit is sweetly caramelized around the edges, the flesh is succulently juicy and the velvety sorbet is a flawless partner. It's almost as if slicing into a magnificently cooked tenderloin with juices oozing at the touch of the knife. I think this could be comfortably shared among four people.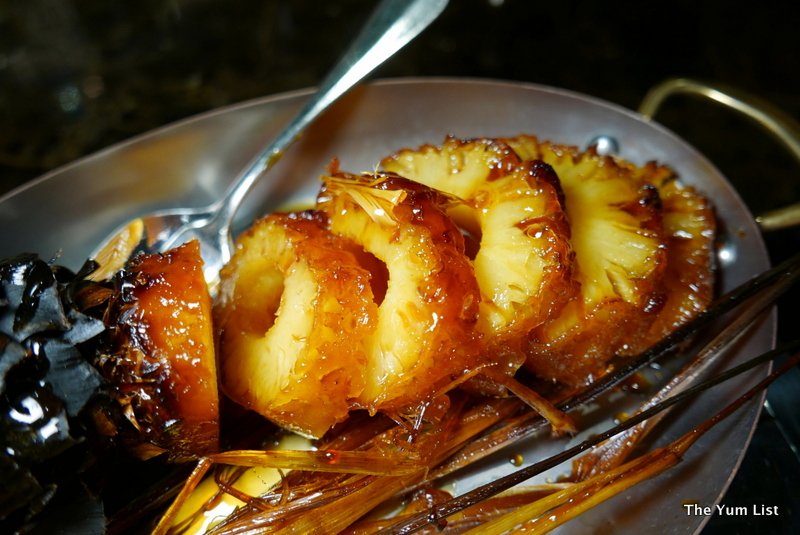 The second must-have is the Grand Marnier Souffle (VDN240 000). What French restaurant deserving of the classification could possibly go without? Ensconced below a puffy pillow lies a moist centre smacking of liqueur – who needs alcoholic popsicles (current bar trend) when you can have booze-drenched soufflé? Hand-made vanilla bean ice cream, when scooped together with the warm soufflé, melts over each spoonful giving the impression of eating petite bites of billowing vanilla-orange clouds.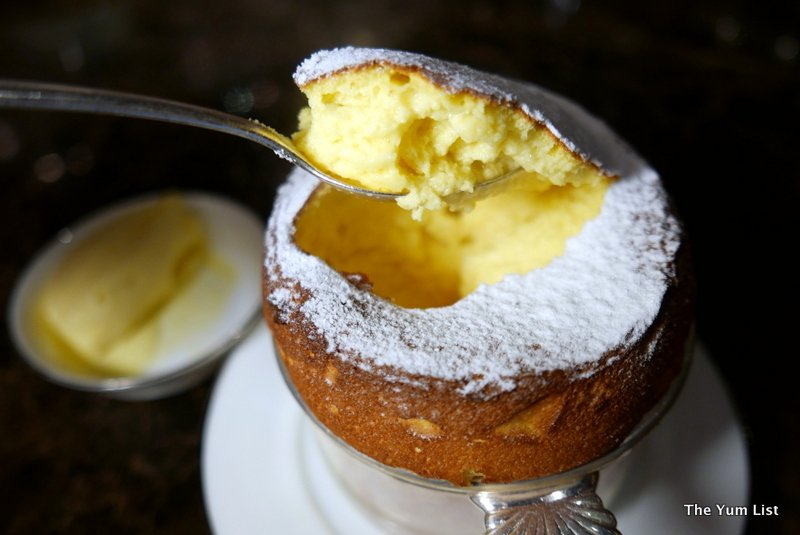 To End
As we're recalling the meal over the last skerricks of sweets, a bottle of rum infused with vanilla, cinnamon, star anise and orange is placed on the table. Besides supplying a delectable digestive, much like the Vin a la Ficelle system with the wine, it enhances the feeling of comfort as if we're guests in an old friend's home. And, if this is the way diners are always treated, I'll be sure to visit this old friend again.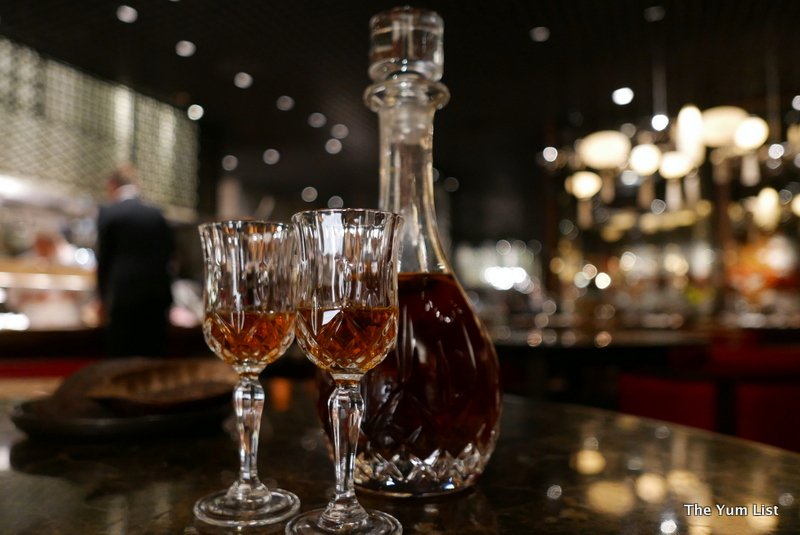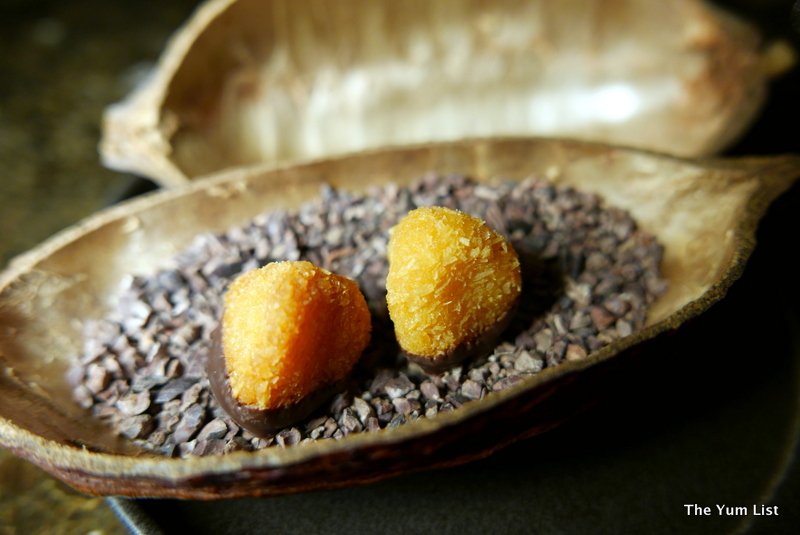 Reasons to visit: stylish and contemporary setting; open kitchens; the freshness of Vietnamese cuisine and the opulence of French recipes; don't miss the lime-marinated kingfish, the lamb, Dover sole or the soufflé; good wine list.
Square One, Park Hyatt Saigon
2 Lam Son Square, District 1
Ho Chi Minh City (Saigon)
Vietnam
+84 28 3824 1234
saigon.park.hyatt.com