Words: Monica Tindall
Photos: Rich Callahan
Every now and then I come across a gem that makes me wonder what took me so long to find it and soon becomes a regular feature on all of my 'best of' lists. Isabel Restaurant and Bar in Jalan Mesui is one such love and I hope that my words and Rich's photos can do its beauty justice.
Firstly, a plant-lined courtyard greets guests filled with potted herbs (a sign of what's to later be found in the recipes). Sliding open the glass doors, we find a long bar as the centrepiece of the restaurant and with its well-stocked shelves, shiny countertop and rattan lampshades, it is worthy of attention. Marble-topped tables, black and white mosaic-tiled floor and fabric with a tropical print all lend themselves to feelings of nostalgia.
No detail has been left unaccounted for. From gold and bone cutlery to the stylish coasters, from the classic playlist to the rattan diamond pattern on the ceiling, everywhere we look enhances the sense of care that has gone into the design of this restaurant.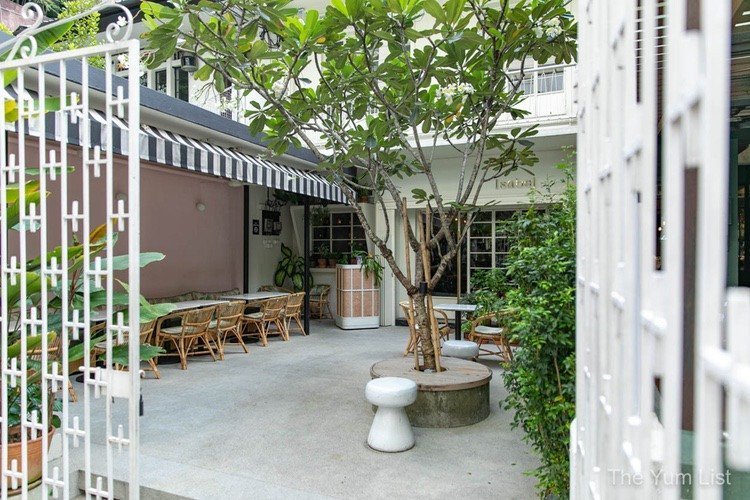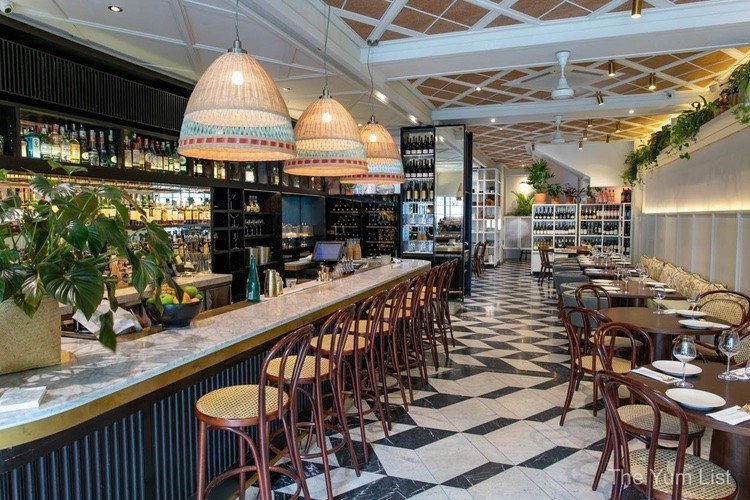 Isabel Restaurant and Bar Menu
The team at Isabel Restaurant and Bar focus on the freshest of produce and bring regional flavours from across South East Asia to the table. The bar backs up the menu with elegant cocktails both classic in nature and a few detours from original recipes with local ingredients.
Isabel Menu – Small Plates
A regional dish, Laotian Style Chicken Larb (RM28), kicks off our food tasting with strong flavours of Indochina. Pieces of corn-fed chicken are tossed together with shallots, snake beans, four angle beans, coriander, dill, mint and toasted coconut. Many are familiar with the Thai version of larb, yet this Laotian version is so much fresher. Love it.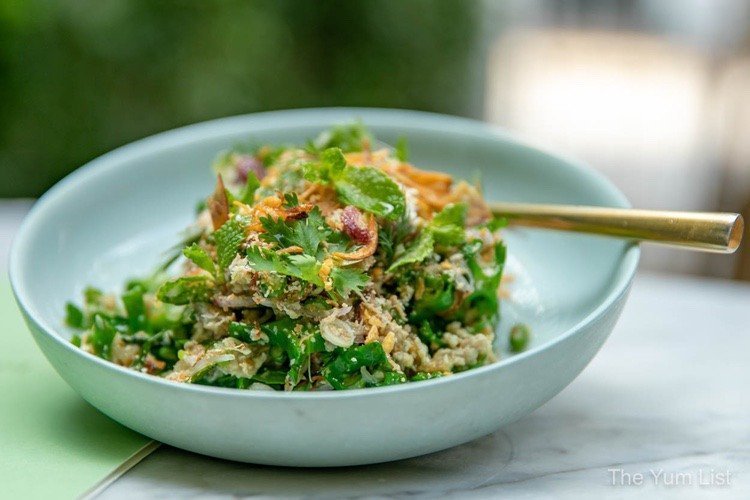 The second starter heads a few clicks west to Thailand for a recipe of steamed seafood, Hor Mok (RM29). Spanish mackerel and prawns come together in a rich Thai curry custard with betel leaves. Coconut cream puddles over the top with strips of red chilli, kaffir lime leaves and Thai basil acting as both garnish and flavour partners. The whole thing is wrapped in a pretty parcel of banana leaf. You unwrap it and then scoop up the goodness from the leaf. The balance of textures is superb and the gentle spice addictive.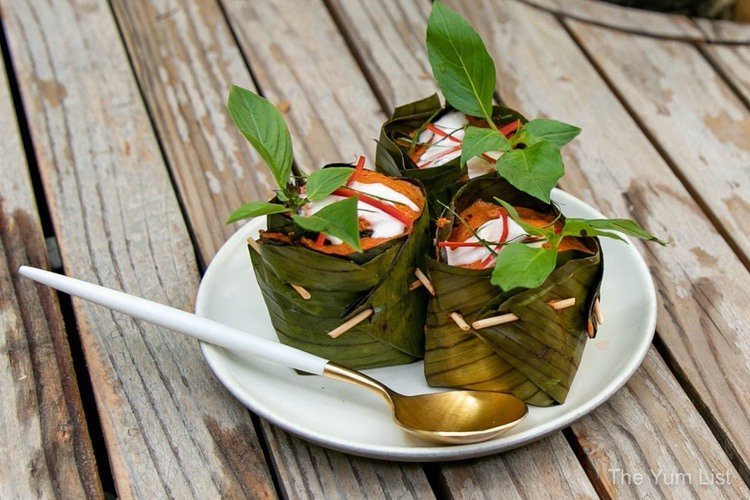 Heading to Vietnam this time, the Tambun Pomelo Salad (RM29) features pomelo (from Ipoh reputed for the best pomelo in the country) tossed together with dried krills, perilla, Vietnamese mint, sweet basil, peanuts and fried shallots. On a side note, remember the mention of the herb garden at the entrance? Here you see the benefits. The strips of carrot and radish are lightly pickled contributing a lovely sweet and sour to the profile. The salad is superbly fresh and a hit amongst all of us.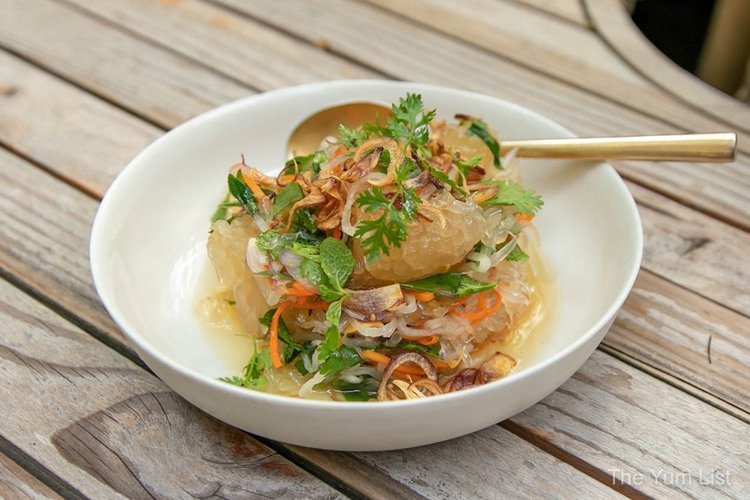 Isabel Menu – Grill
Hot off the grill arrive Grilled Tiger Prawns (RM58). They've been butterflied, widening the surface area for the topping of scallion oil and peanuts. On the side is a small bowl of Sarawak white pepper, lime, salt, fermented fish sauce, sugar and soybean sauce for seasoning to taste.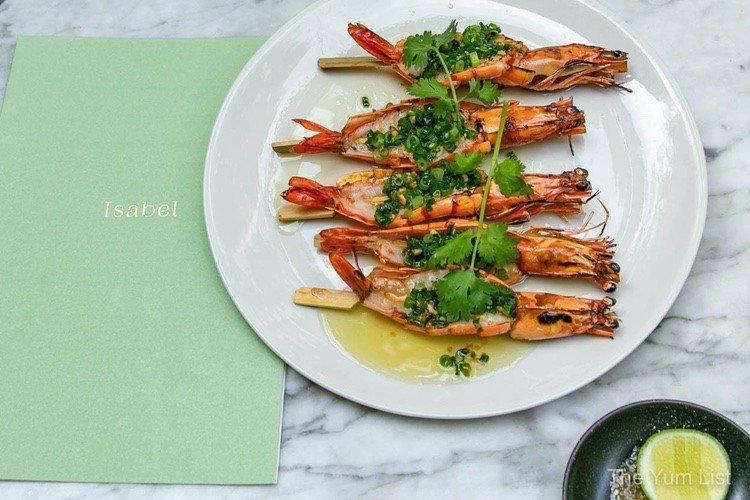 Isabel Menu – Big Plates
A whole threadfin is used for the Thai Fried Fish (RM125). Accompanied by young mango, melinjo leaf, makrut lime, coconut shavings (delish) and crisp basil leaves, this is a meal for a family (or a very large eater). Although it appears as a whole fish, it has already been filleted and piled in the middle along with a load of fresh herbs. It's beautifully and conveniently presented. The sauce is sweet, spicy and sourish – that balance that Thai cuisine so well defines. Once hubby has had a taste of this, he is head down for the rest of the meal even munching away on what we thought of as garnish; the deep-fried backbone and head of the fish. We don't hear any intelligent thought from him for the rest of the meal apart from consistent, "mmms" of approval.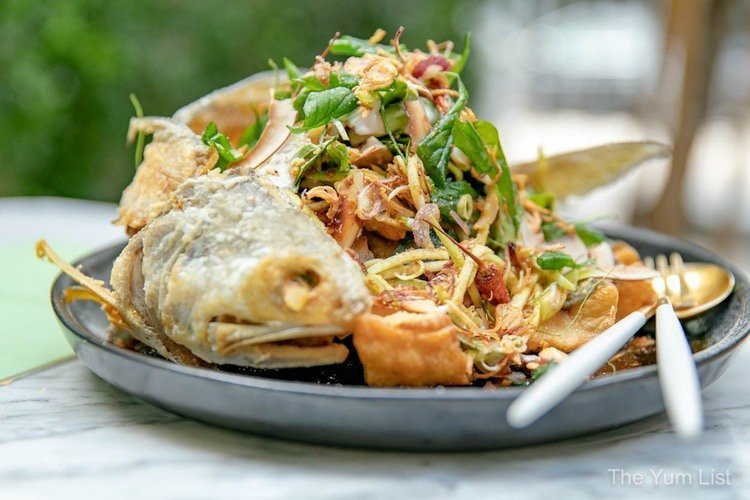 The modest-looking Crab Curry (RM88) is surprisingly their signature dish. Although it appears unmemorable, the first spoon proves immediately tempting with its rich coconut cream red curry. Aromatic blue swimmer crab is luscious in the sauce with betel leaves and sweet basil further enhancing the bouquet. The recipe is indeed delicious but what is equally attractive is that the shell has already been removed, meaning we can just scoop back in again and again minus the hard labour of deshelling.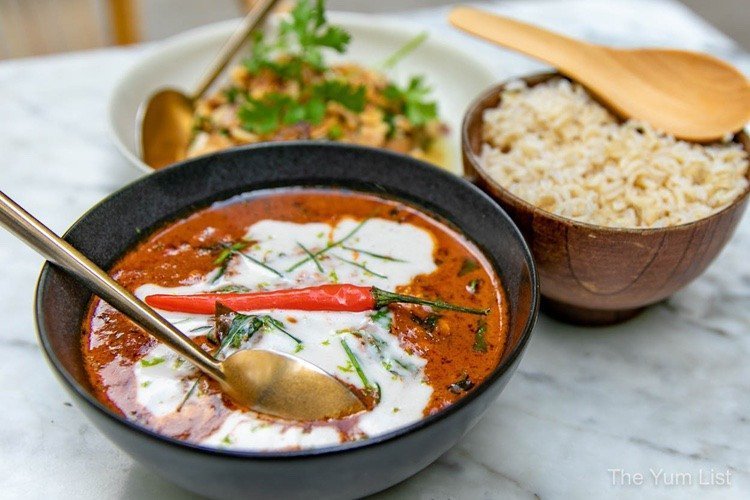 Lamb Massaman Curry (RM85) is an easy win for me being a long-time favourite from the south of Thailand. Rich with peanuts and shallots, it begs for every drop of sauce to be soaked up with rice or even just scooped up solo by the spoonful. A lamb shank is garnished with whole pieces of cinnamon and star-anise reminding us of Christmas and also reckoning deep layers of complexity in the overall profile.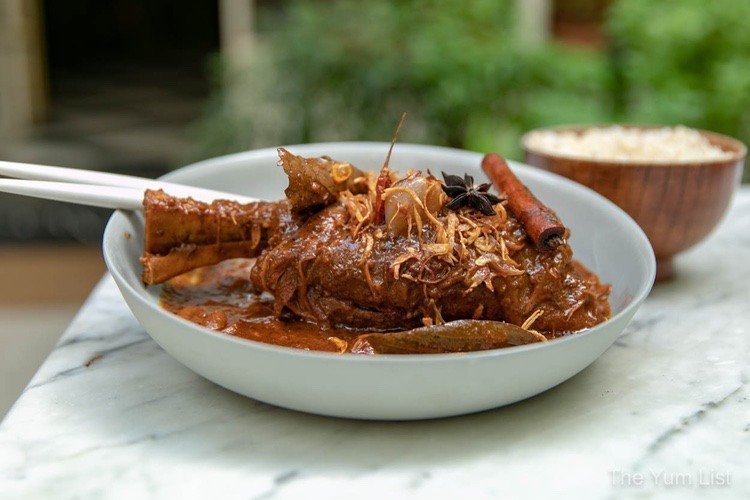 Vietnamese Grilled Eggplant (RM25) is another popular dish and we immediately taste why! It is so wonderfully smoky, coming hot off the charcoal grill. The skin has been charred until it blisters but then removed leaving only the flavour of ash in the flesh. An abundance of roasted almonds, red onions and herbs act as a crown. Even the two carnivores at the table rank this high on their top-dish list.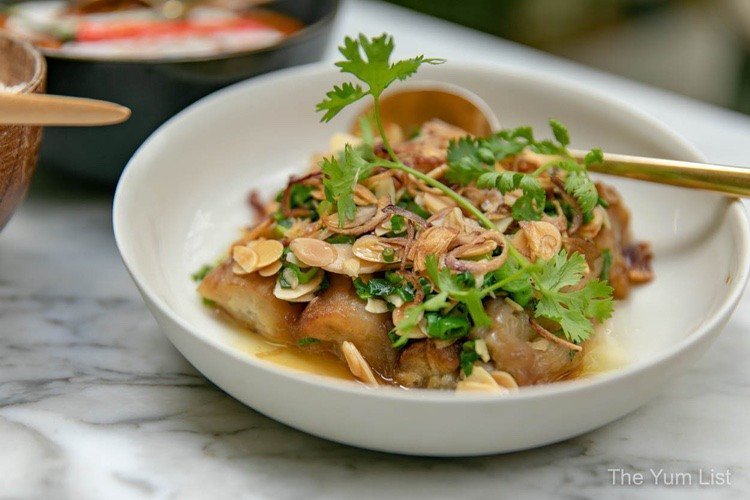 The last of our mains looks towards home for the recipe of Gulai Tumis Oxtail (RM62). Featuring Malay-style braised Australian oxtail with spicy assam stew this dish is crested with torch ginger flower and daun kesum. I do have a little addiction to ginger torch so am instantly attracted to this dish. The sauce is intensely rich and sweet though so I am grateful for the two male stomachs with me as I can only make it through two spoons before reaching overload.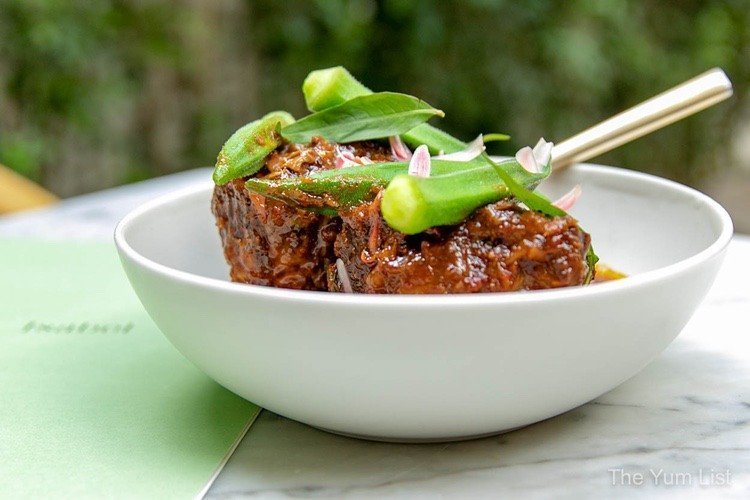 Isabel Restaurant and Bar Menu – Dessert
Despite a declaration of limits reached, I amazingly still have room for the Banana Fritters (RM22) and Ciku Ice Cream (RM15). The fritters are coated in a thin batter and rolled in sesame seeds. Homemade gula Melaka ice cream is velvety smooth and banana cylinders that have been brûléed on the top dot the plate. Lastly, crushed peanuts are sprinkled around the base. It's recommended to take a little of everything in one mouthful to get the ultimate pisang goreng experience. Enamoured by the house-made gelato, we also get to try a scoop of the Ciku Ice Cream (RM15). Hubby had only just stopped, mmming following the fish and now it seems that the mmmms will continue. This tropical fruit, sapodilla, matches the dairy in its creaminess yet also provides a refreshing contrast with its fruitiness.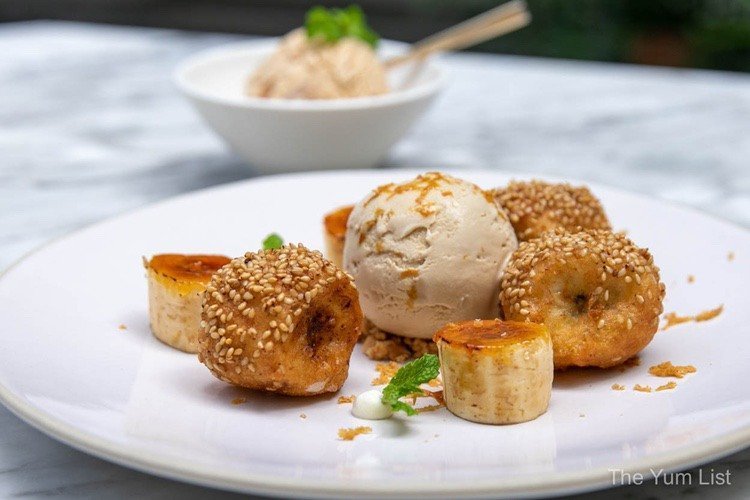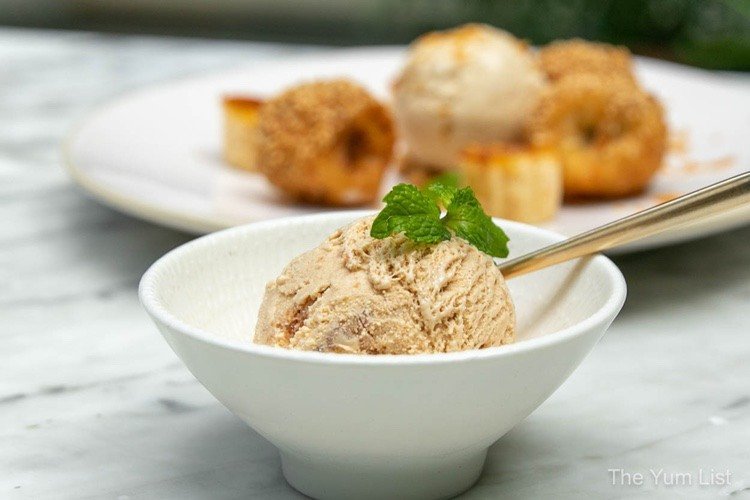 Isabel Restaurant and Bar Menu – Cocktails
The core of the cocktail menu is founded on the classics with a handful of twists on tradition in their signatures. Bartender Anand appeals to my rum-loving tendencies with white rum, spiced rum, fresh pineapple, lime and house-made chai spiced syrup (nutmeg, clove, cinnamon and star-anise) in the Borneo Dreams (RM45). It's Isabel's adaptation of a pineapple daiquiri, shaken together with a slice of lime and served in a coupe glass. It is a beautiful drink both to behold and to imbibe.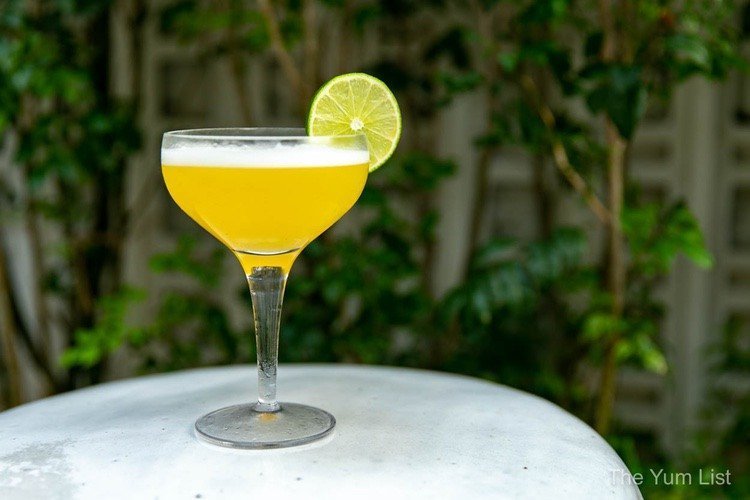 Old Malaya (RM45) is another cocktail that speaks my language with dark rum, spiced rum, over-proof rum and gula Melaka: Isabel's version of a Rum Old Fashioned. Topped off with chocolate bitters, it sounds sweet on paper but in the mouth it is quite enjoyable, not cloying at all. The orange peel garnish is also used to rim the glass and spray zest across the top leaving a fresh aroma and a slightly bitter entry. Poured over a cube of ice (frozen and hand-cut in house) in a rocks glass, this rum girl is thrice as happy with three dark rums. It's round, smooth, and goes down oh-so-easy. Superb. Anand, please another!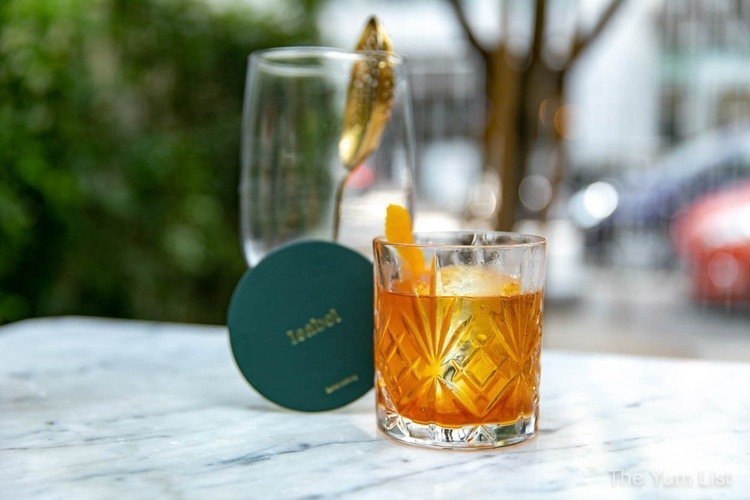 Isabel Restaurant & Bar Review
The team at Isabel Restaurant and Bar aim to showcase the best of the region, honouring local ingredients and inspiring pride in traditional recipes. The setting, service, food and cocktails certainly elevate the experience with South East Asian cuisine. I think it is a noble showcase of just what is possible when such care is given to the details.
Reasons to visit Isabel Restaurant and Bar: a truly beautiful restaurant celebrating both the flavours and design inherent to South-East Asian culture; if you're a rum-lover both the Old Malaya and Borneo Dreams cocktails are excellent choices; from the food menu you must try the Laotian Style Chicken Larb, Tambun Pomelo Salad, Vietnamese Grilled Eggplant, Crab Curry and do check out their homemade ice creams for a sweet conclusion.
Isabel Restaurant and Bar KL
21, Jalan Mesui, Bukit Bintang
50200 Kuala Lumpur, Malaysia
+6 03 2110 6366
www.facebook.com/isabel.kualalumpur
Isabel KL opening hours:
Tuesday – Thursday: 12 pm – 3 pm & 6 pm – 12 am
Friday: 12 pm – 3pm & 6 pm – 1 am
Saturday: 12 pm – 1 am
Sunday: 12 pm – 12 am