Words: Nathaniel Jay  Photos: Monica Tindall
The uninitiated to Changkat are often lured by the song of the hostess sirens, forever singing, "Happy hour. Buy 3 get 3!" or whatever the promotion is that week. Too often a passerby will crash into the metaphorical rocks and find themselves washed up into the bar doldrums, forever drinking swill and wondering if there is anything more?
But there is more! Pisco Bar is on the cool side of Changkat, just a short walk down the hill on Jalan Mesui. On any given night, the vibe is one of happiness and cheer with the crowd (a perfect mix of trendy locals and expats) often spilling out into the street. The sound of eclectic beats pumps into the air from a DJ or a small band.
You will not see a hostess standing out front with a menu in hand, singing that sad old song, trying to lure guests inside. This is Pisco Bar, this is the place to be! The many regulars at Pisco Bar KL attest to its popularity and continued success.
Pisco Bar KL Menu
The menu at Pisco Bar KL is a little mixture of all things Spanish, but not necessarily only from Spain. Tonight we are here to eat a sample from Peru, Spain and something from Mexico, which is new on the menu.
Pisco Bar KL Menu – Cocktails
The evening began with a cocktail called Pop and Rock (RM38). This little bevvie is served on the rocks in a collins glass. A melange of ingredients including lemongrass, chilli, passion fruit syrup, vodka, calamansi juice, rockmelon cordial, chia seed and soda. What a mouthful! Pun fully intended. The cocktail is light and pleasantly balanced, making it great for sipping during a light meal.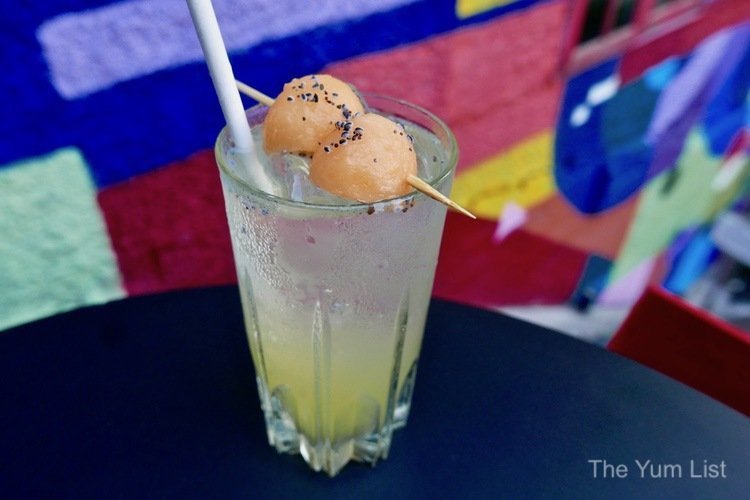 Pisco Bar KL Menu – Food
Pargo Cebiche (S RM21, L RM44) is a traditional Peruvian style cebiche. Locally caught barramundi fish is quickly marinated with lime juice, onions, chillies and coriander. The acidity from the lime juice denatures the fish, giving it an opaque, white color and a firm texture. The fish marinade, affectionately called leche de tigre (tiger's milk) in Peru, is served over the fish. The barramundi cebiche is piled high on top of a bed of lettuce and served with sweet potato and beetroot chips. The mild lettuce tastes great with the tiger's milk, making the garnish as exciting to eat as the fish.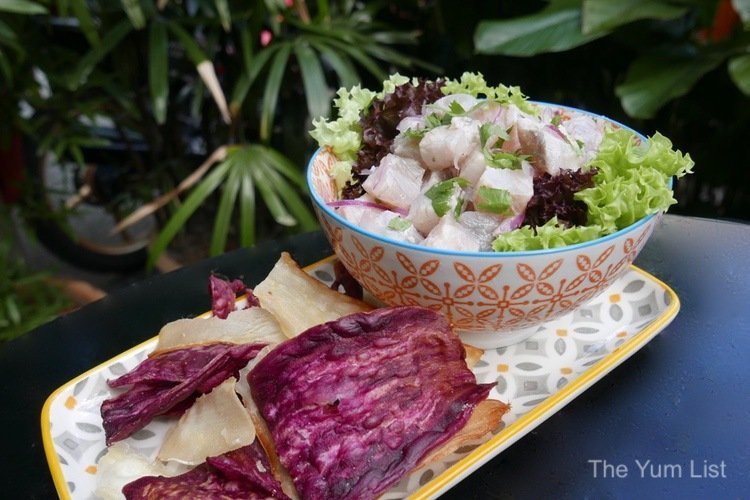 Tacos de Carne Asada con Salsa de Mango (RM30) crosses the border into Mexico. The minced beef is heavily seasoned and lightly topped with crema and sweet mango salsa. The beef tastes more Spanish than Mexican and did not stir up memories of abuelita's cramped kitchen outside of Chicago. But the non-traditional taco does taste great. The minced meat was moist and maintained a soft texture. The tacos are well-seasoned, but not spicy. And the mango salsa works well because the chef found just the right of amount of sweetness without dominating the overall profile.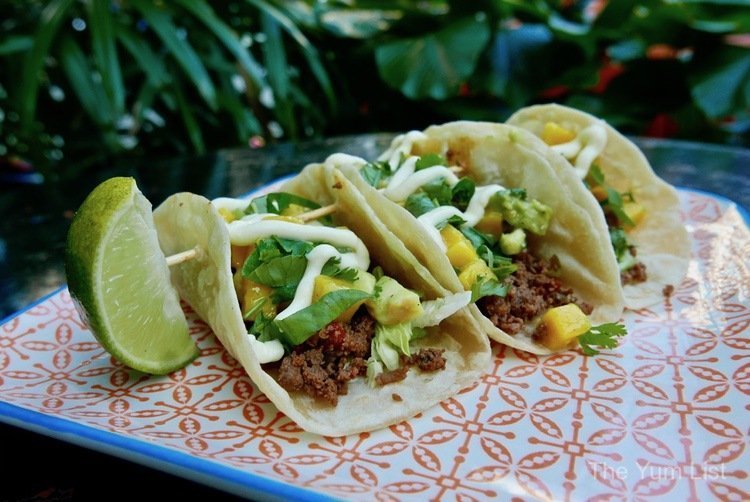 Drinks at Pisco Bar KL
Bella Ciao (RM45) mixed with Aperol, lemon, raspberry, Crème de Mûre, prosecco and soda is another refreshingly light cocktail. Aperol is an acquired taste because of its bitter orange flavor but in this low-alcohol spritzer, the taste is very mild. The combination and balance of all the ingredients make this a go-to cocktail for people looking for something that is very easy sipping.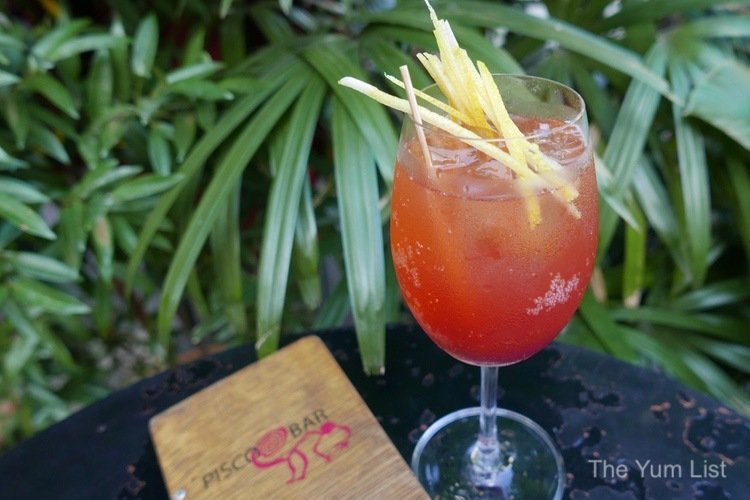 Food at Pisco Bar KL
Secreto de Cerdo Iberico con Escalivada (RM89) features the "secret cut" of Iberico pork. The meat is located between the shoulder blade and the loin and is highly praised for both its taste and texture. I'm going out on a limb here and I will compare the secret cut to wagyu beef, having a generous amount of intramuscular fat that self-bastes during cooking. The presentation of the pork was simple. It was sliced paper-thin and layered delicately on a wooden board, being seasoned only with a touch of salt and pepper.
The accompaniment, escalavida is traditionally roasted over burning embers. The version at Pisco Bar KL is oven-roasted aubergine and red capsicum with a touch of miso paste and olive oil. The slightly salty, tender vegetable salad is served at room temperature and truly elevates the best of the pork. The beauty of this dish is that the quality of the ingredients is allowed to shine through thoughtful and intentionally simple cooking. Simple is better in my opinion.
Dessert Pisco Bar KL
Strawberry Cheesecake Chimichanga (RM26) is a deep-fried flour tortilla filled with strawberry cream cheese topped with powdered sugar. This is a fun play on a traditionally savory recipe. The dessert is simple, a little bit fun and sinfully sweet. Skip the Instagram pictures for this dessert and get busy eating because this is best eaten while hot and the strawberry cream cheese filling is still oozing out of its crisp shell.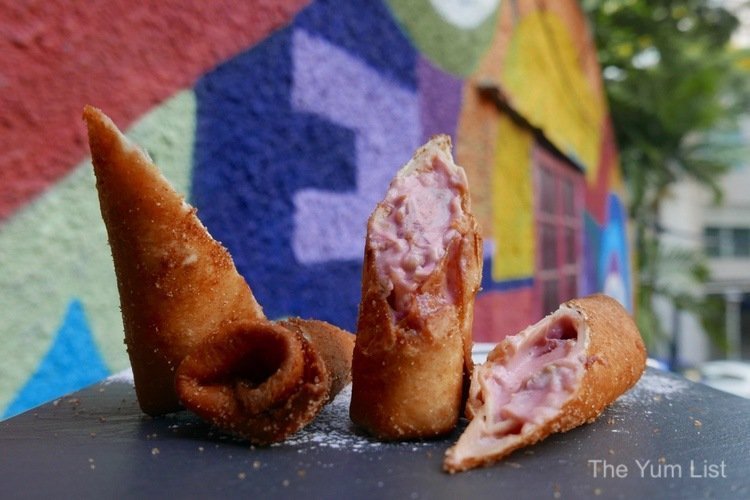 Reasons to visit Pisco Bar KL: besides having a great product – welcoming setting, tasty menu and value-for-money drinks – the extraordinary hospitality of the owners make Pisco Bar a must-visit. Gracious in their service, Nico and Yvonne, are respected names in the food and beverage industry and the reason many people return again and again.
Pisco Bar KL
29, Jalan Mesui
50200 Kuala Lumpur, Malaysia
+6 03 2142 2900
www.facebook.com/piscobarkl
Pisco Bar KL Opening Hours
Tuesday to Sunday 5 pm until late.