Words: Karen Callahan Photos: Rich Callahan
High expectations abound when I hear the phrases "fresh seafood" and "luxury dinner" paired together. A slice of doubt though appears when the word buffet is introduced. I assume that the food will be stagnant and stale. However, the Taste of Ocean at Kwee Zeen far exceeded my expectations. The restaurant is located in the luxurious Sofitel Kuala Lumpur Damansara. As a Friday evening special, the restaurant is running a seafood buffet offering fresh shellfish, sushi and creative fish dishes. The brilliance of this dinner was in the details. From the modern soft lightening to the attentiveness of the staff, this dinner is one to put on your personal Yum List.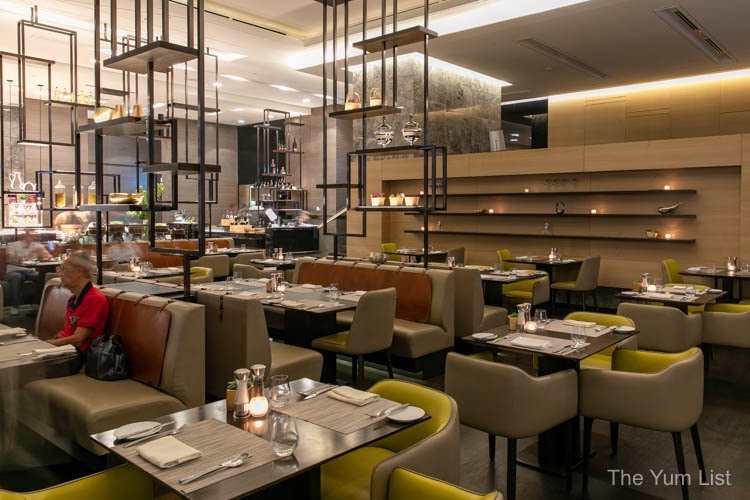 Seafood Buffet Sofitel KL – Wine
First things first: the wine! Taste of Oceana has a unique set-up to display their wine by the glass (a separate charge from the buffet… but a girl can dream right?). Eight red and eight white wines greet patrons at the start of the buffet: the white already chilled on ice, and the red tempting guests nearby. Since Monica and I would be indulging in the tastes of the sea, we decided to go with white. I like a fresh wine that lingers on the tongue, the wine should melt with the meal, especially a buffet! The Peter Yealands Sauvignon Blanc was the perfect light, fresh choice for me. Monica was equally pleased with the William Fèvre Chablis; a sunny wine and classic pairing with seafood.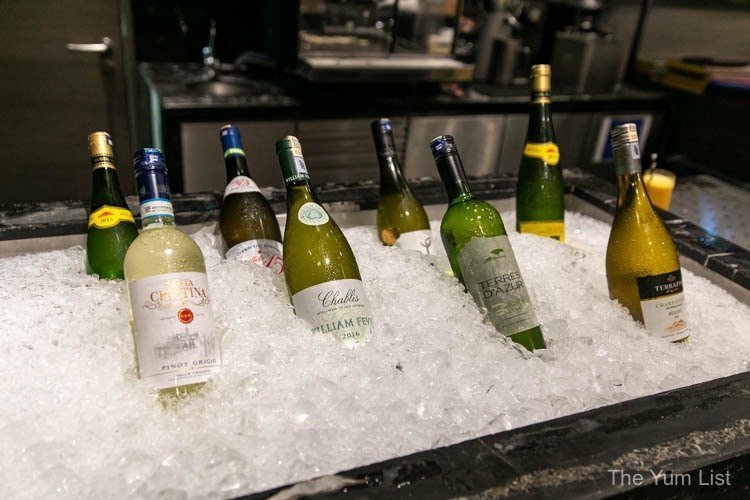 Seafood Buffet Sofitel KL – Taste of Oceana
On Friday evenings, the buffet is a seafood lovers' delight. Scattered up front, I wandered through shelves of seafood on ice. Piles of tiger prawns, clams, mussels, slipper lobsters and blue swimmer crabs stopped some guests in their tracks causing them to not venture much further for the rest of the meal. My personal favorites were the mussels. Again my fear of overcooked buffet food made me hesitate in putting them on my plate, but the mussels were creamy, smooth and cooked to perfection.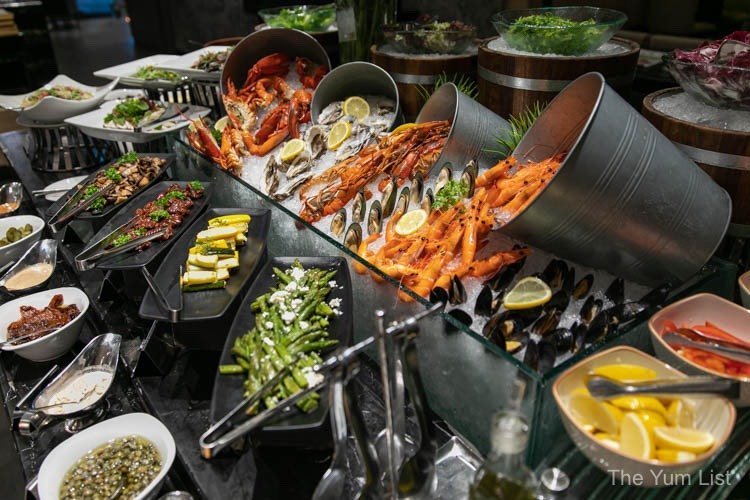 An assortment of whole fish backed up the crustaceans. Whole steamed salmon and sea bass were certainly eye-catching. Both flaked at the touch of a fork and got repeat visits from our table. Sushi, salads and a delicious risotto (cooked to order), also held aplenty of the featured seafood.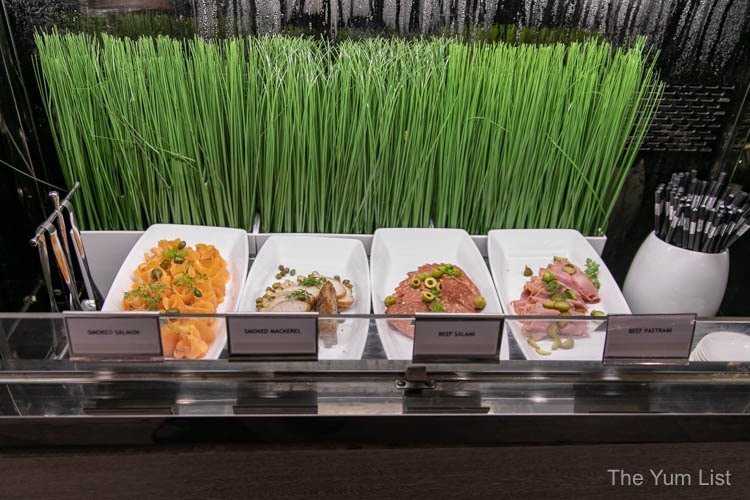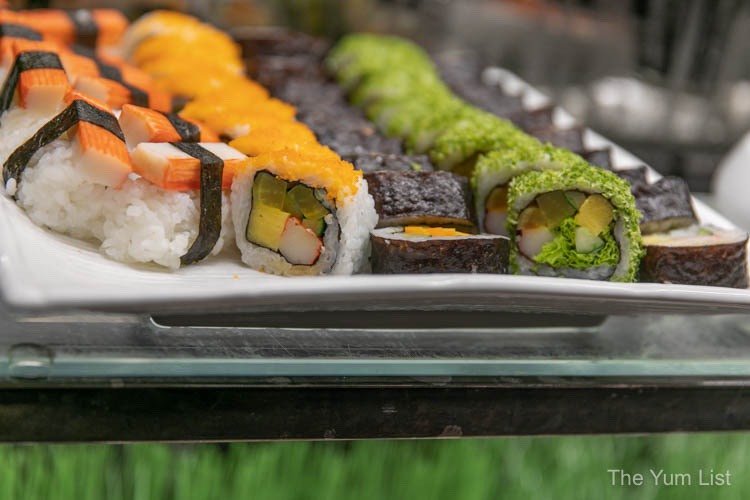 Sofitel KL's Buffet
Don't worry about bringing that friend (no names mentioned) who refuses to eat seafood as there is more than enough from the land for them to indulge. Braised chicken and beef goulash are two of the most popular recipes and items made a la minute from the grill and pasta bar are also hot tickets. And to ease the divide between carnivores and pescatarians, there is a wide range of fresh vegetable, salads, and fruit. I think the asparagus with goats' cheese is a must-try.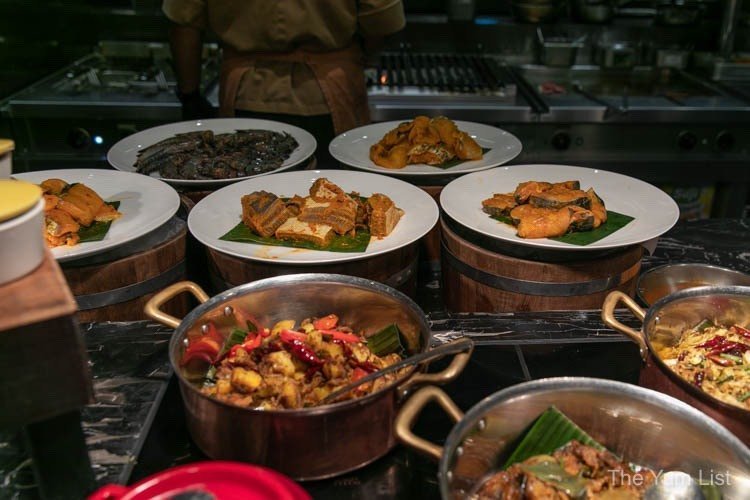 In chatting with the restaurant manager Hanafi, he tells us that even with all of these specialities people still come back time and time again for the tom yum soup. Rich vibrant and yes, SPICY (in full disclosure, I am a certified spice wimp). The curry bar is another popular station. The pineapple prawn curry was most satisfying, balanced between sweet and tangy. I would go back for this dish alone!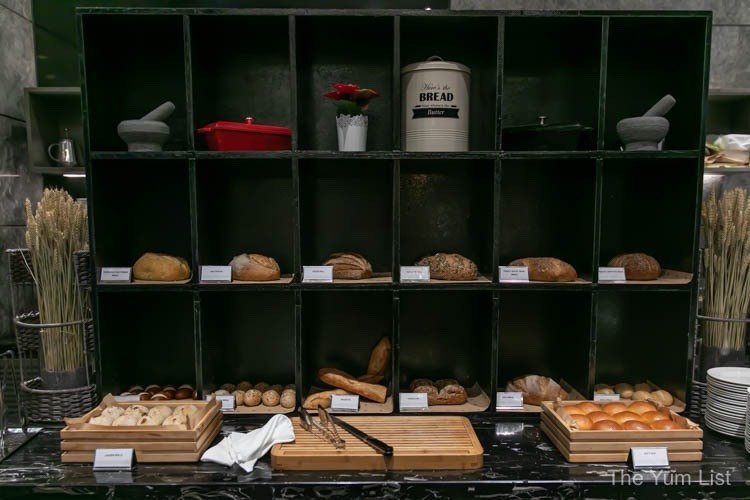 Of note too, is a section of gluten-free items with loaves of bread, cakes and desserts furnishing wheat-free alternatives. Additionally, around this corner, you'll find cheese platters with matching condiments.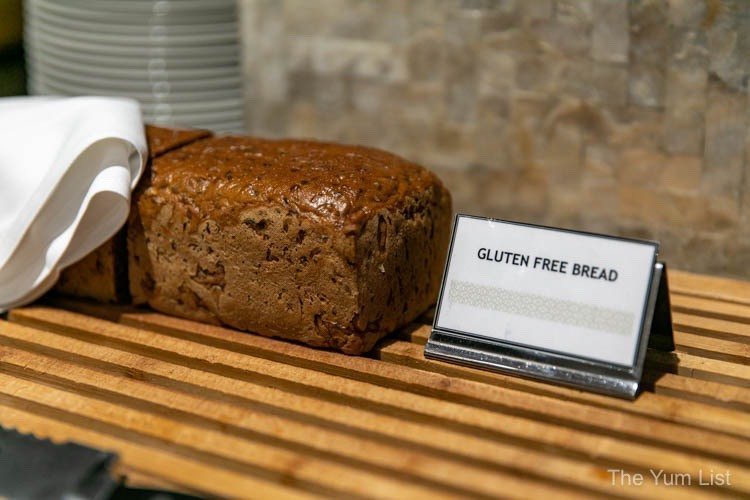 Seafood Buffet Sofitel KL – Taste of Oceana – Desserts
As with any remarkable buffet experience, after you have overfilled your belly, there is little convincing to do about a trip or two to the dessert bar. Stacked high with sugary dreams are arrays of black lemon éclairs, blackberry pavlova, tiramisu, pannacotta, ice cream, assorted cakes, and pastries. On another table, there is an assemblage of fragrant local treats with pandan, gula Melaka and tropical fruit in abundance. My pick of the sweets was the chocolate cup combining hard, soft and creamy chocolate all in one petite mouthful.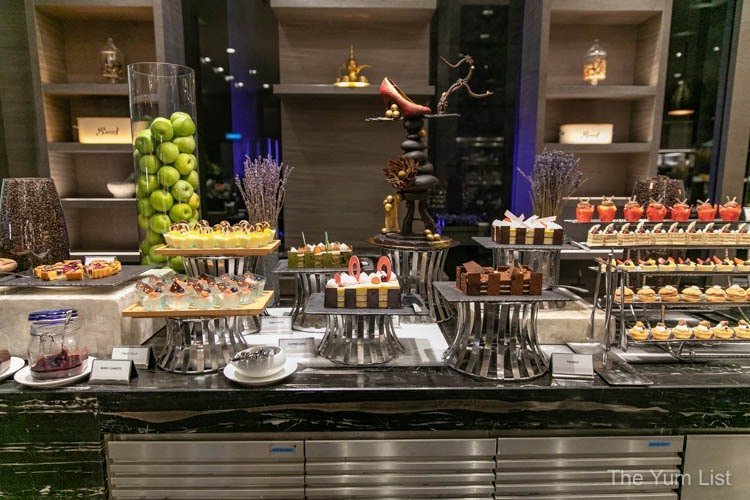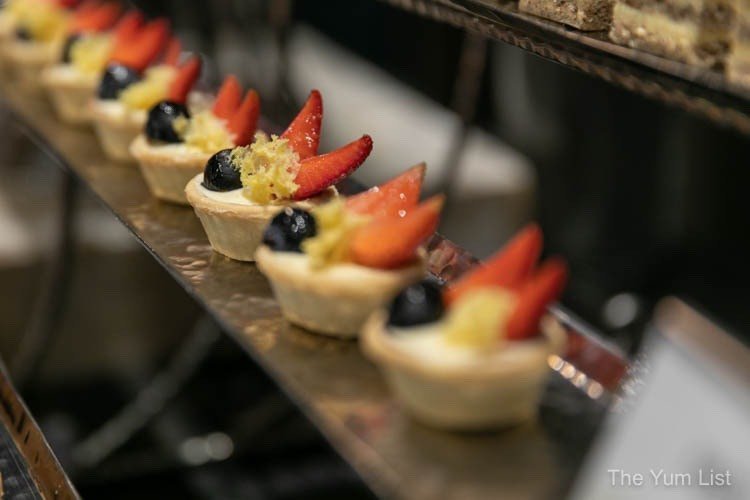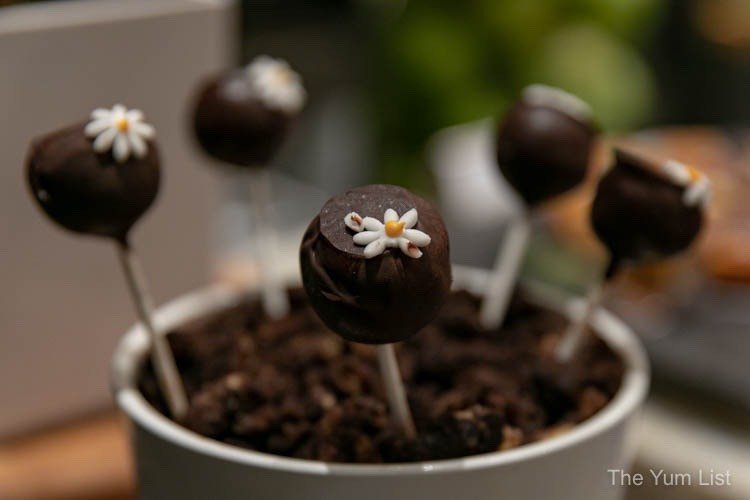 Seafood Buffet Sofitel KL – Taste of Oceana – Review
Walking out of seafood buffet at Sofitel Kuala Lumpur Damansara, Taste of Oceana, my stomach was full, and any reservations about a "luxury" seafood "buffet" were erased. The seafood was fresh and offered enough variety to please the pickiest of eaters. Taste of Oceana is available at Kwee Zeen every Friday from 6.30pm to 10.30pm and is priced at RM158.00 per adult. Children between seven and 12 years old dine at 50% off adult price. Children six years old and below dine for free.
Reasons to visit the Seafood Buffet Sofitel KL – Taste of Oceana: a good quality buffet experience; definitely one for seafood lovers but a good variety of other dishes too to suit many tastes.
Seafood Buffet Sofitel KL
Taste of Oceana at Kwee Zeen
Sofitel Kuala Lumpur Damansara
5 Jalan Damanlela, Bukit Damansara
50490 Kuala Lumpur, Malaysia
+6 03 2720 6688
[email protected]
www.sofitel.com
Seafood Buffet Sofitel KL Opening Hours
Friday: 6:30 pm – 10:30 pm
Find more KL buffets here and more seafood restaurants here.