"Experience the Exceptional"
Monica Tindall
The Edison George Town Penang was introduced to me by a friend saying that it is the "hottest luxury hotel on the island AND they have free wine in the afternoons." That didn't take too much convincing for us to book a stay!
Not only are the two above statements true but we soon find out that there is much more to The Edison George Town than wine and style-cred alone. A central location, ample parking, club-lounge-esque benefits, connection to local culture and amiable service tick more than enough boxes to make it one of the top boutique hotels in Penang.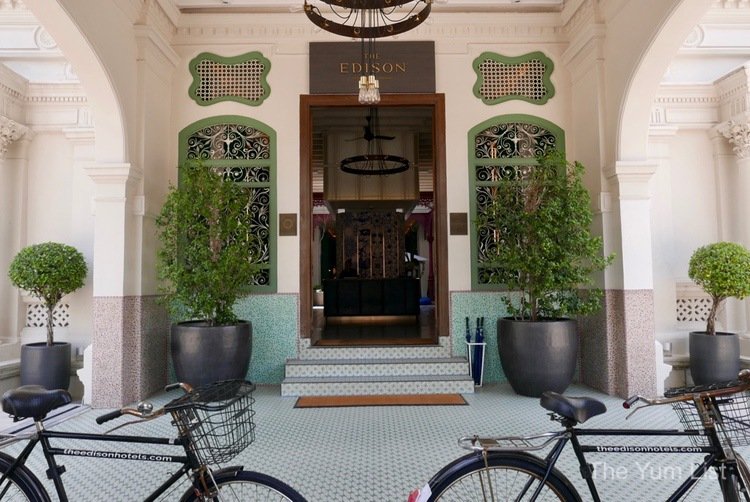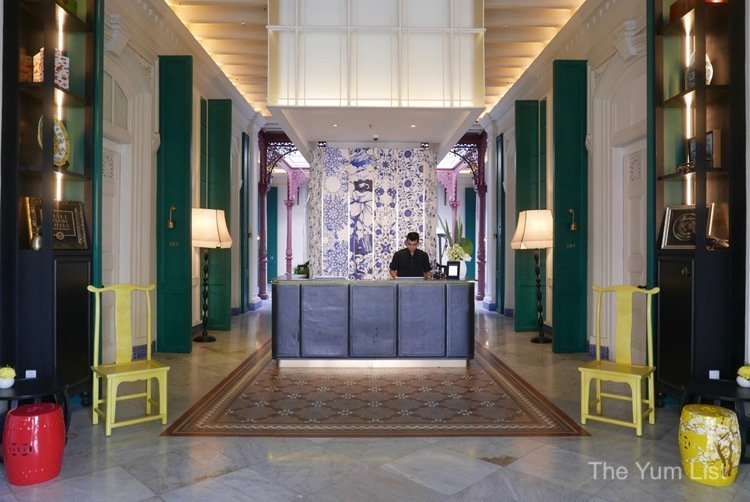 The Edison George Town – Location
Founded on Lebuh Leith, the same street as the iconic Blue Mansion (Cheong Fatt Sze), The Edison Penang has a rich and vibrant history. From being residence to a wealthy tycoon, lost by the son due to a gambling debt, being occupied by the Japanese army during World War II and later home to a hotel abound with rumours of some questionable activities, this is one case where, "if walls could talk," they sure would have a lot to say!
And, I bet one question they would have heard repeatedly is, "Have you eaten?" Sure Penang has beaches, shopping, arts and culture, but I think the number one reason many visit is undoubtedly the food! The Edison George Town is in the hub of it all. From street food to cafes to exquisite fashionable dining – it's all footsteps away. One of the oldest remaining food courts to still showcase live music, the Red Garden, is directly across the road. Famous 50-year old hawker stalls are housed in back streets just a block or two away and a host of new cafes, hidden bars and restaurants are within a 20-minute walk or 5-minute drive too.
The Edison George Town – Luxury Boutique Hotel Penang
Restoration work began in 2014 combining the timeless beauty of the past with contemporary touches breathing a renewed sense of life and hospitality into the Anglo-Colonial mansion. Besides the rooms, a pool, courtyard, cabanas and library are incorporated into the property. My immediate impression is a sense of elegant sophistication given warmth by a team offering generous service. Later I continue to uncover collaboration with the local community giving this Penang boutique hotel the "extra" that larger hotels are often unable to offer.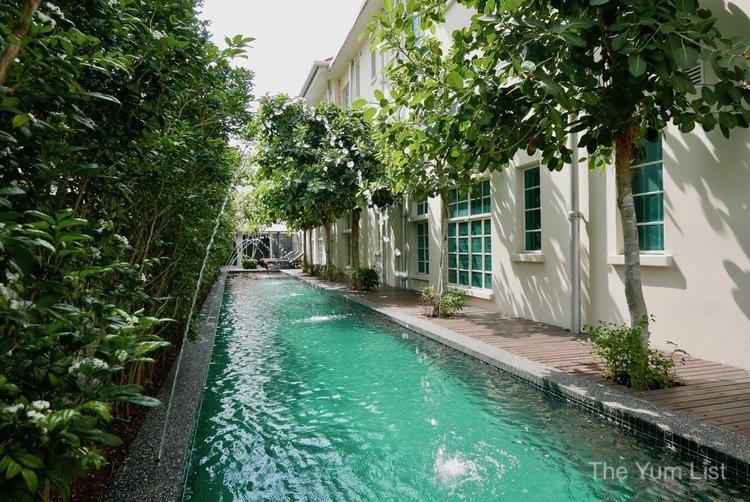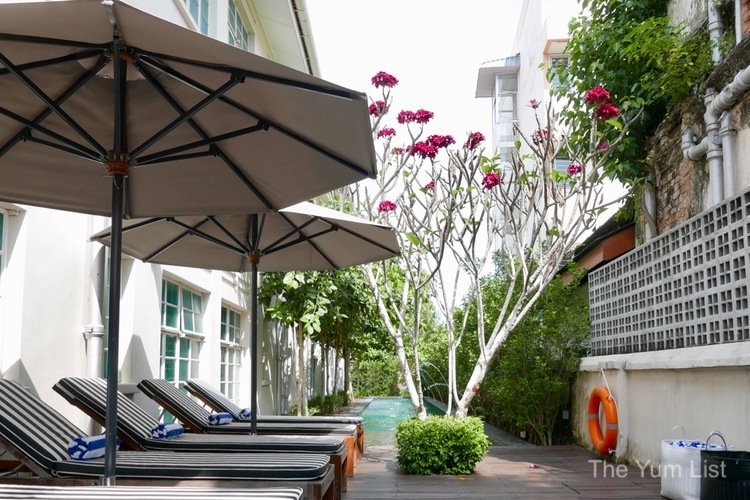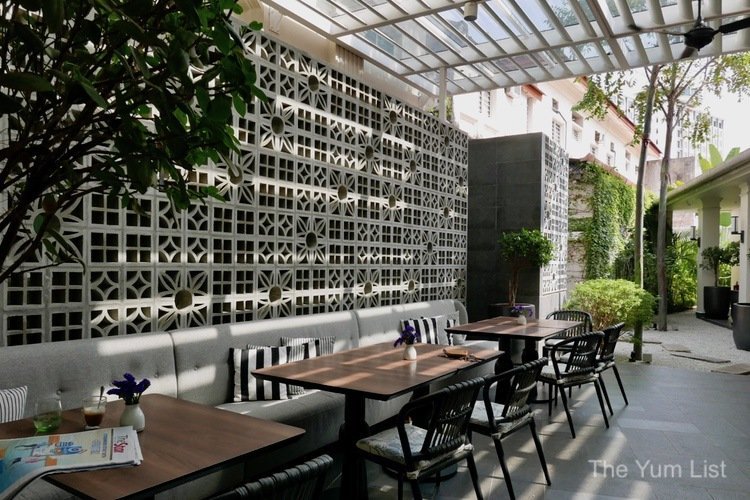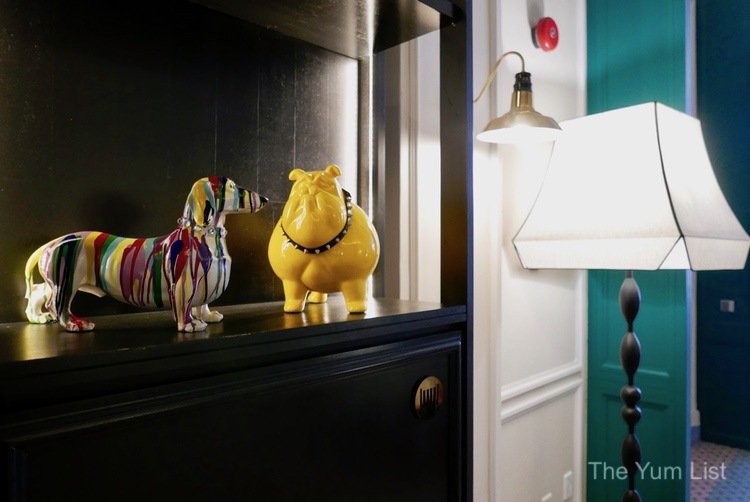 A member of "Small Luxury Hotels of the World," the allure is in the details. The Edison George Town's cream façade is distinctive with emerald green shutters and a water feature marking the entrance. The symbol of power, strength and good fortune, the dragon, centres the fountain reminding visitors that even though the architecture is famously colonial, its roots are firmly planted in Penang.
The connection to culture continues to be uncovered throughout our stay. Local sweets, kueh, offered during afternoon tea come from Li Er Kafe. Gourmet marshmallows placed in rooms as part of the turn-down service are supplied by Huey&Wah. Baked goods and a mountain of tea-time treats are also sourced by some of Penang's most iconic providers. Even the functional decorative pieces in the rooms, such as the tissue box and stationary tray, are hand-crafted locally.
Another link gifting guests with an authentic feel for George Town is a street food tour provided by Delish Asia. Certain packages at The Edison include this delicious way to literally get a taste for the surrounding area. A guide personally escorts you down narrow alleys, through back doors of kitchens and navigates the market, curating an epicurean adventure of (g)astronomical proportions.
The Edison George Town Penang – Rooms
Despite the fantastic location, we meet with a number of fellow guests who have decided to soak up the hotel facilities for the weekend, choosing to spend most of their stay in the house.
Thirty-five rooms at The Edison George Town provide three different categories: Deluxe, Deluxe Premium and Suites. All have similar features, only each is slightly bigger than the previous category ranging from 19 sqm to 61 sqm in size. All offer tea and coffee making facilities within the room and the suite adds in a mini-bar as well as a bathtub. Showers with both rain and hand-held nozzles feature strong pressure and instant hot water. Bed linens are luxurious, pillows soft and mattresses firm and supportive.
While the design foundation was established in the past, there is a modern feel to the spaces enhanced by clean lines and luxurious bath products (Apelles – beautiful). Neutral hues covering upholstery, rugs and curtains are given cheer with bright splashes of aquamarine blue found in the trimmings. In general, the streamlined plan and lack of clutter give the room a mood of peace and relaxation.
Wi-Fi, of course, is provided throughout the hotel and the bonus of complimentary local landline calls is a nice touch.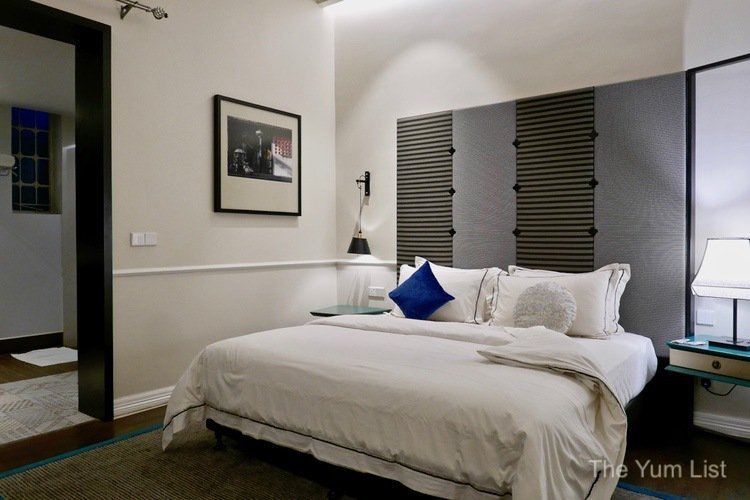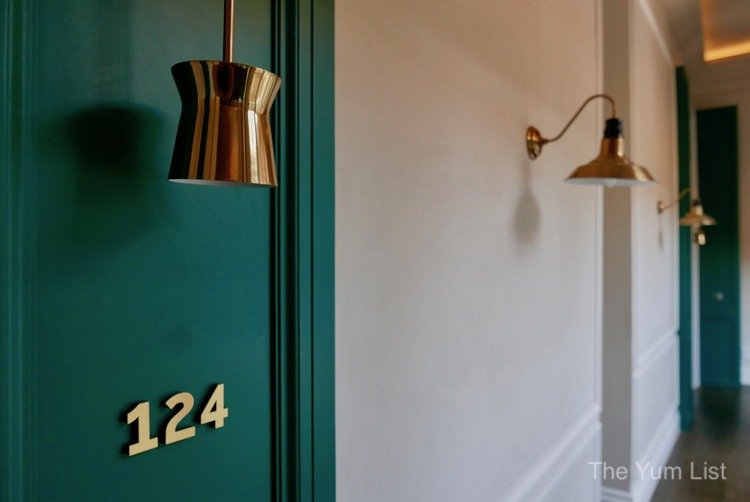 The Edison George Town – The Lounge
Besides its stunning architecture and interior, perhaps the thing that sets The Edison George Town most apart from other boutique hotels on the island is The Lounge. Basically, every room comes with what are usually considered 'club benefits' in large 5-star properties – round the clock access to the lounge. All day snacks and non-alcoholic beverages along with jars and baskets of local sweets and snacks are available anytime. Breakfast is provided in the morning, and the evening sees red and white wine served alongside small cheese plates just before sunset. We were impressed that the staff were so gracious to even bring us a couple of glasses poolside.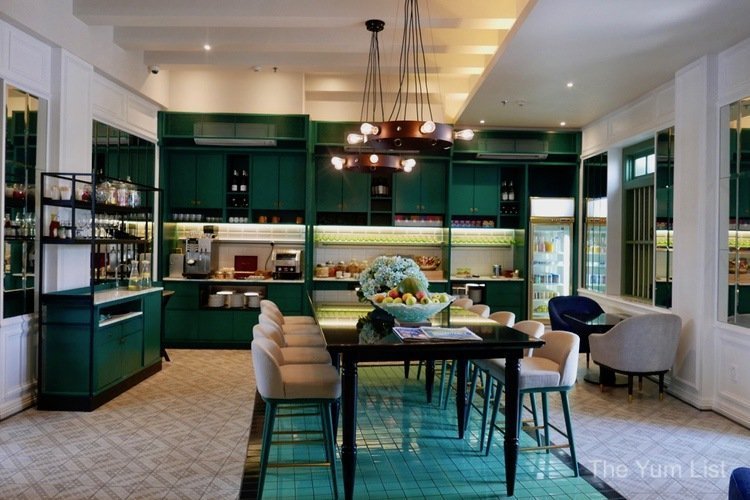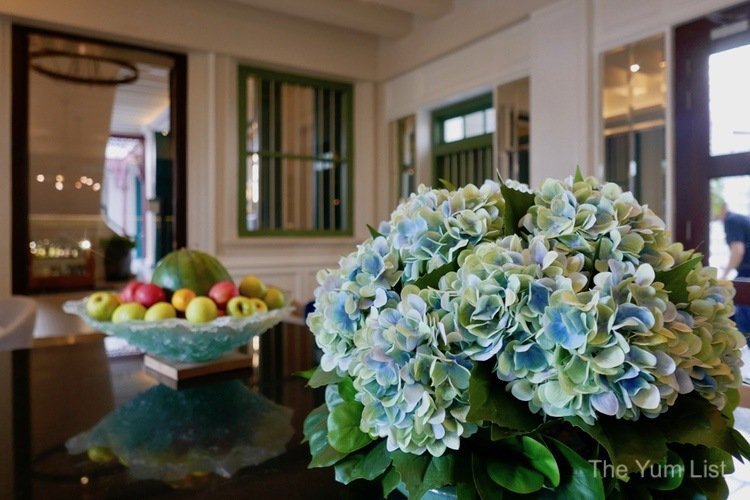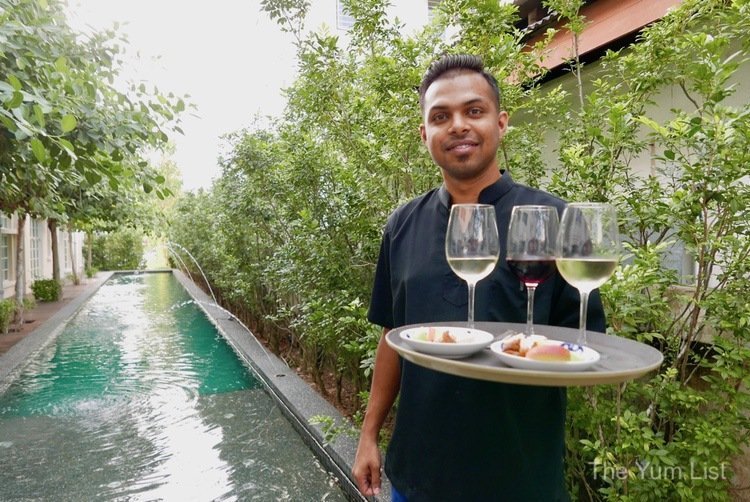 Breakfast The Edison George Town
A Continental breakfast is open to all hotel guests including the standards of bread, pastries, cereal, yoghurt, fruit, juices, tea and coffee. The team go a little beyond the definition though by offering eggs made to order and a number of products by local artisans. Take note of the jams with local flavours such as pineapple and cinnamon and papaya and nutmeg. Here you can also make it local with nasi lemak (package of coconut rice wrapped in banana leaf with a half-boiled egg, anchovies and spicy sambal) or kaya (coconut egg jam) toast with a half-boiled egg.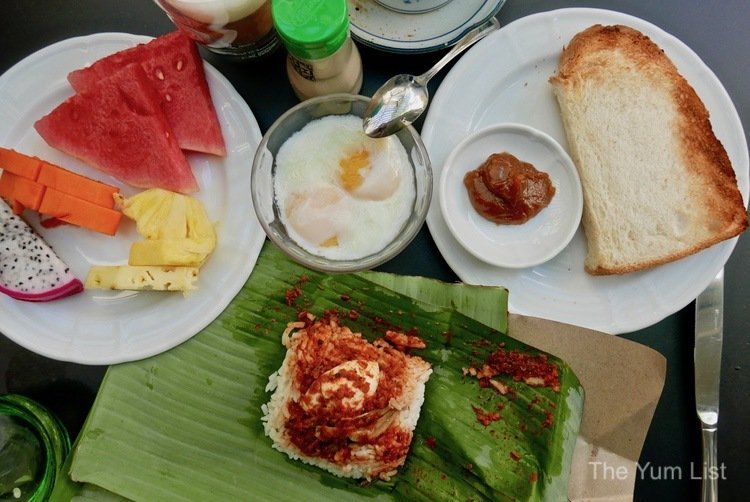 Reasons to visit The Edison George Town Penang: stylish boutique hotel conveniently located in the heart of George Town; club lounge benefits usually associated with the club floor of 5-star hotels; connection to local in both service and facilities; ample parking.
The Edison George Town Penang
15 Lebuh Leith, George Town
10200 Penang, Malaysia
+6 04  262 2990
theedisonhotels.com