Words: Kitty Noble    Photos: Monica Tindall
The team at Fat Olive Food Garage, run by Stacee (a former producer) and Kike (life-long chef), has started serving breakfast… and pizza! Known for their mouthwatering tapas, scrumptious paellas, and home-baked sourdough, the team are brightening mornings with a little bit of Spain (and lunch with a whole lot of sourdough). Their leafy green patio and industrial yet stylish interior are fantastic spots for enjoying breakfast in Mont Kiara.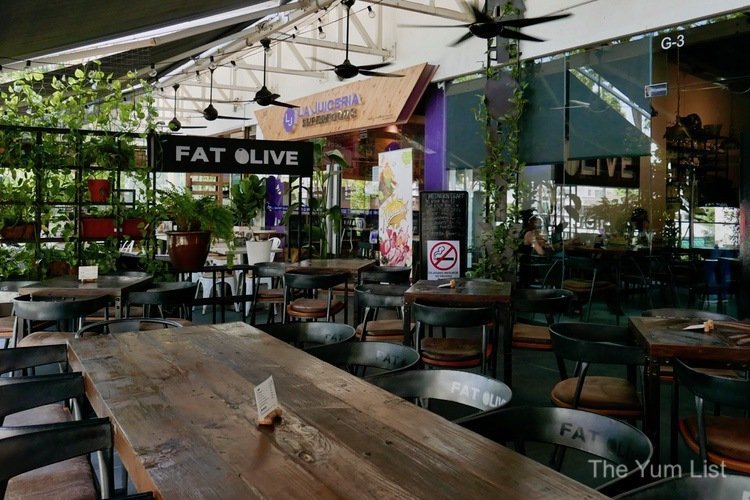 Breakfast in Mont Kiara at Fat Olive Food Garage
The Softies to Begin
As soon as we walked in, we were hospitably offered wine, but being just midday, we opted to start with juice and coffee. Kiki insists on the Brazilian coffee being fresh and locally roasted. (Cortado RM 11), served the traditional Spanish way, with just a splash of milk is creamy, fresh and elegant in a Turkish style glass. The Long Black (RM 9) was smooth with just the right hit of bitterness, whilst the flat white (RM 10) was exactly to Monica's taste. Fresh juices (RM 13) or a mix (RM 16) are squeezed or pressed on demand and come as they are, with no added sugar.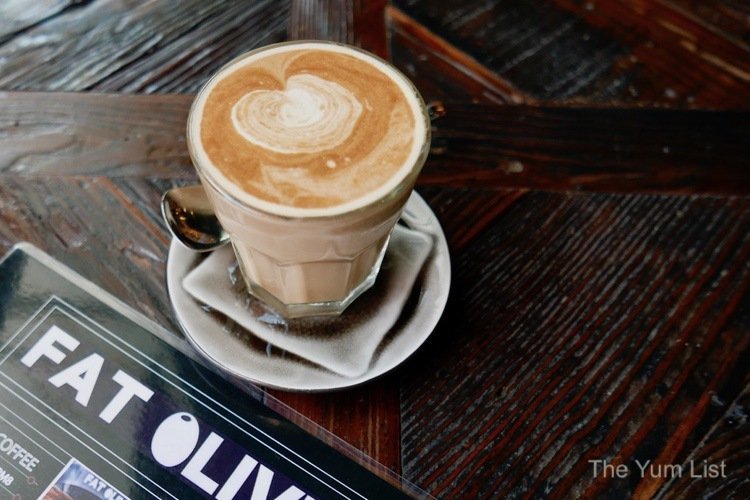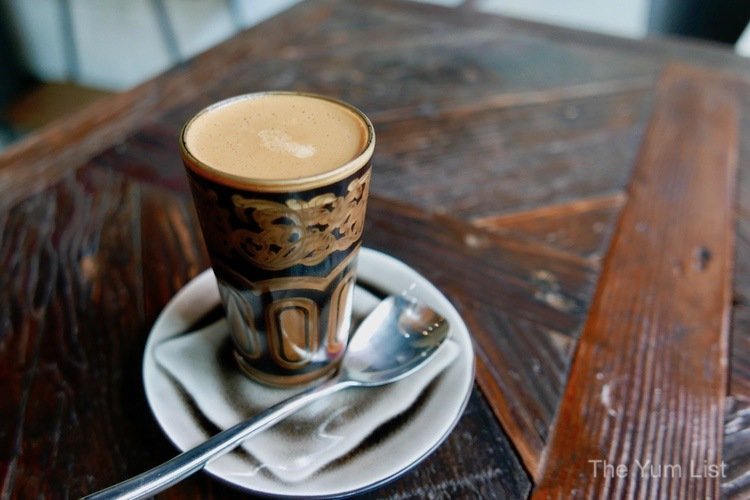 Fat Olive Food Garage Breakfast Mont Kiara
Bread is homemade, a fresh daily offering, light and airy using a high-protein flour, is a soft sourdough style, adapted for local preferences.
Baked Beans with Eggs and Homemade Pork Sausage (RM26), served in an iron skillet, is completely made from scratch. Sausages are made from the finest quality pork, using lamb casing from Australia and simply flavoured with fresh herbs. The sausages were literally the nicest sausages I have found in KL, in no way fatty, but neither were they dry. Sadly, they are only made for in-house use otherwise I'd have been taking those babies home for my own freezer. The baked beans were unlike any I had tried before and practically a meal in themselves, comprising haricot beans, kidney beans and black eye peas, although I had the impression that the exact ingredients were also likely to change at a whim. A light and airy sourdough using high-protein flour come with most dishes and acts as a perfect mop for ensuring no drop of sauce ever goes to waste.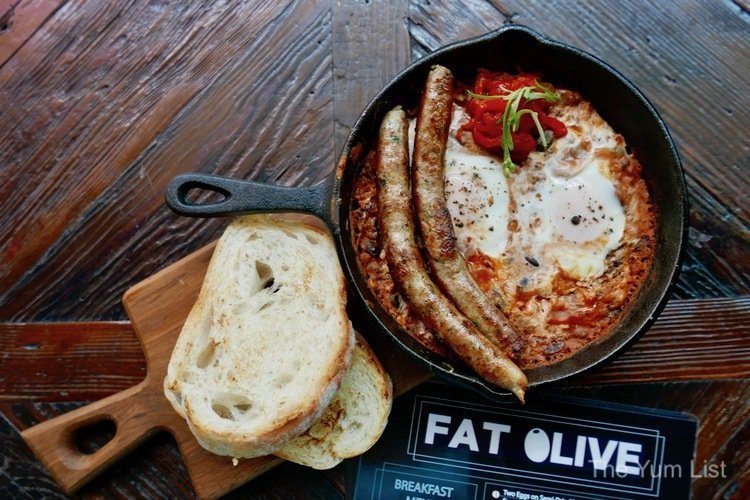 Poached Eggs on Avocado Toast (RM 24) and SD tomato sauce was a great lighter option (something I would probably choose if I didn't already know how amazing the sausages were). The avocado was smashed with lemon and finely chopped onion and slathered over the ever-present homemade bread. Topped with poached eggs, it's a healthy option, also suitable for vegetarians.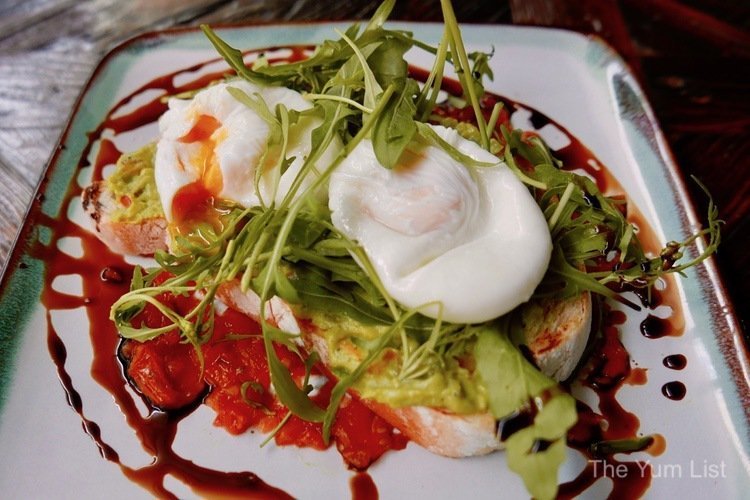 Eggs Benedict on Tomato Sauce on Toast with Home Beet-Cured Salmon (or you can choose the ham option) (RM 28) is very photogenic. Fortunately, it takes delish too served with jalapeño aioli rather than traditional hollandaise sauce. This adds a lightness of touch, with a spark of spice, to a dish which, otherwise, can be cloyingly heavy. Wilted spinach hid underneath the perfectly poached egg, drizzled with a balsamic reduction. The salmon was amazingly fresh, with 40-hour curing in beetroot, salt, sugar, lemon and herbs.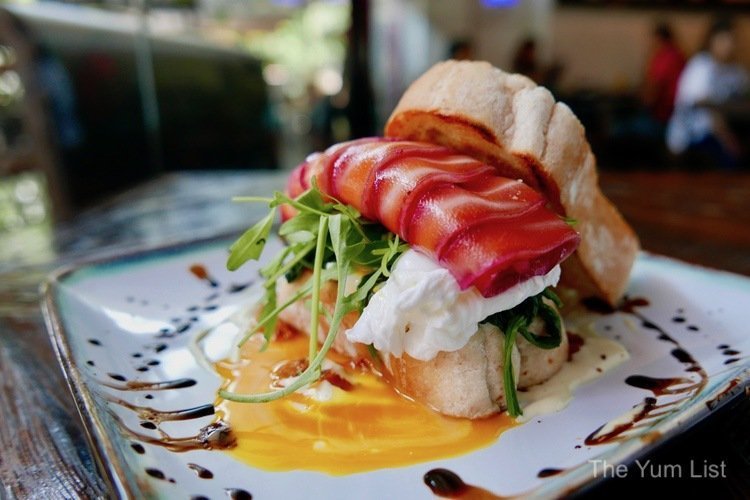 Fat Olive Food Garage Pizzas
Iberico Chorizo Pizza (RM 32), as with all of their pizzas, is based on their homemade sourdough. It's a super light and fluffy base topped with rocket and plenty of juicy chorizo slices. It was evident that the chorizo was of exceptional quality. The pork supplier they use even turned up to dine with a friend whilst we were there. Apparently, he likes the way in which they treat the ingredients so much and considers Fat Olive Food Garage the best place to find authentic Spanish cuisine in KL.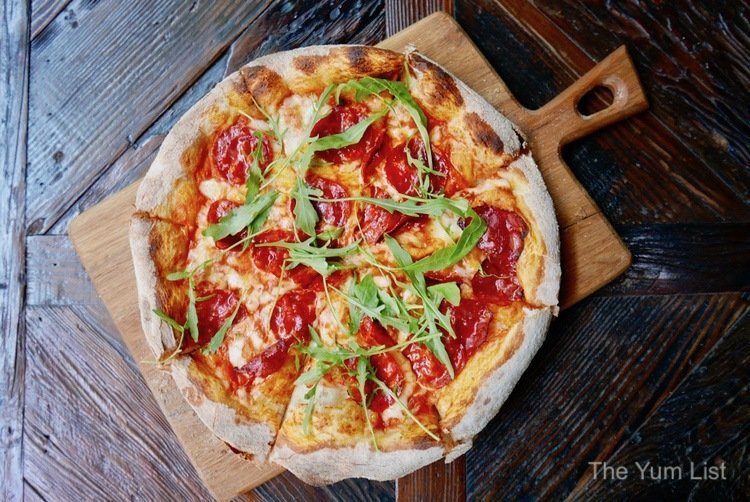 Bacon and Egg Pizza (RM 32) had a flavour of the Heston (although I'm not sure how that would work as an ice cream…), where again the pizza was topped with some of, if not the, nicest bacon I've had the good fortune to get my chops around since being in KL. So good was it, that by the time that Mon got back to the table from photographing the next dish, Caning had inadvertently polished off the lot!! (Sorry Mon). For my money, and not a great fan of pizzas generally, this is one of the best pizzas I have found in KL and have since returned for more!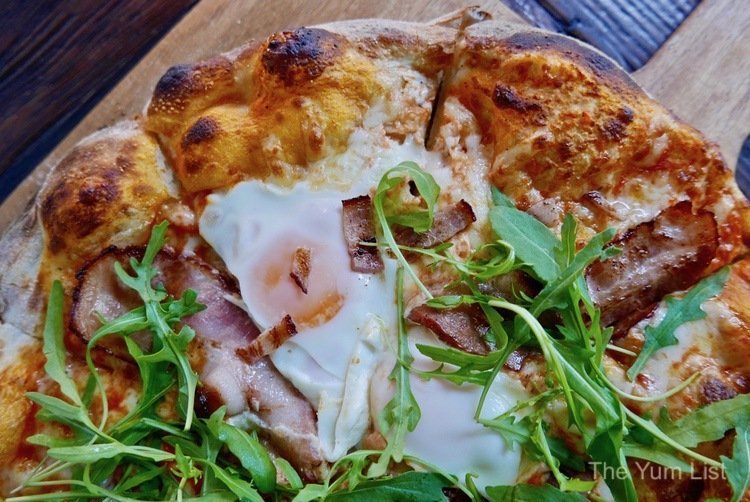 Caning's Sneaky Extra for "Brekkie"
Whilst we were there for the breakfasts and pizza, the Beetroot Risotto with Mixed Veggies (RM 26) caught Caning's eye. It was a beautiful beetroot colour with crunchy vegetables including green beans, cauliflower, broccoli and black cracked black pepper. A really fresh, yummy dish.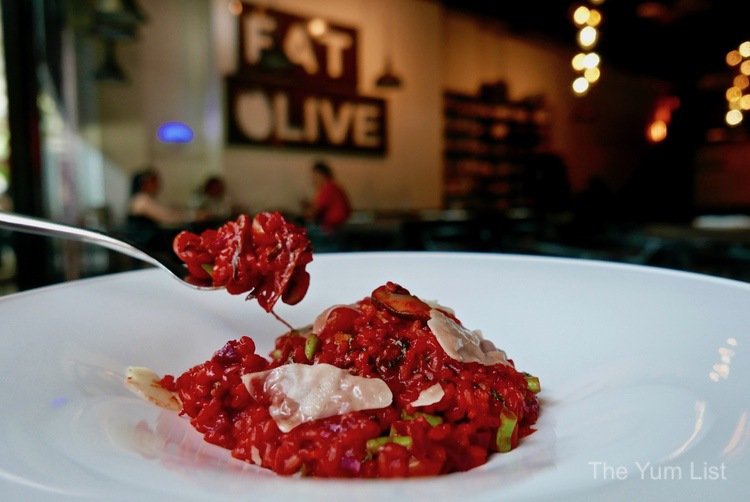 Booze with Your Breakfast in Mont Kiara
Fat Olive Food Garage offers two house pouring reds and two whites. The rest of the wines are sold by the bottle, to ensure their integrity. As expected, we were served a Spanish wine in the shape of El Coto Rioja (RM 130) by the bottle. This is a regular go-to as it's reasonably priced and what I would consider a good 'session' wine, with rounded fruits and a touch of minerality.
The Spanish red, Beso de Rechenna Tinto Crianza, Bobal 2015 (RM180), showed bright cherry, some leather from the French oak and carried a bit of tannic weight. It was a gorgeous red that I would quite happily have polished off on its own. It went particularly nicely with the meaty pizzas.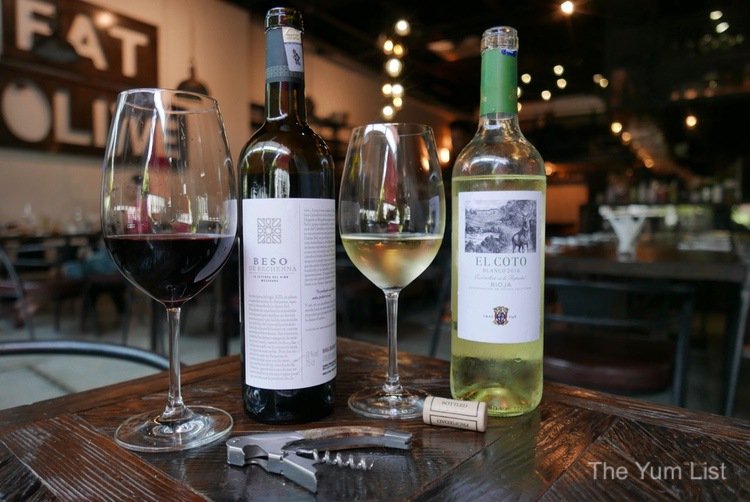 Being a Spanish restaurant, and with the fashionable rise of gins, only Spanish gin is served. Featured as perfect brunch companions are the De Picos, Xoriguer and Siderit. All were specifically chosen as you are unlikely to readily find them in the shops. Served in balloon glasses with large ice spheres (so they melt more slowly) and tonic, we tried three of the gins.
The As De Picos Original (RM 32) portrayed lots of citrus fruits, including lemon, grapefruit, tangerine and orange, alongside some more traditional botanicals. So soon for such a new gin, it boasts a number of gold and silver medal accolades to its name. The As De Picos Tropical (RM 32) had flavours of pineapple, grapefruit, lychee and raspberry, enticing memories of a beach island and probably the favourite for all of us. Gin Xoriguer (RM 28) was a more traditional, navy style gin, appealing to those who don't like their gin too messed around with.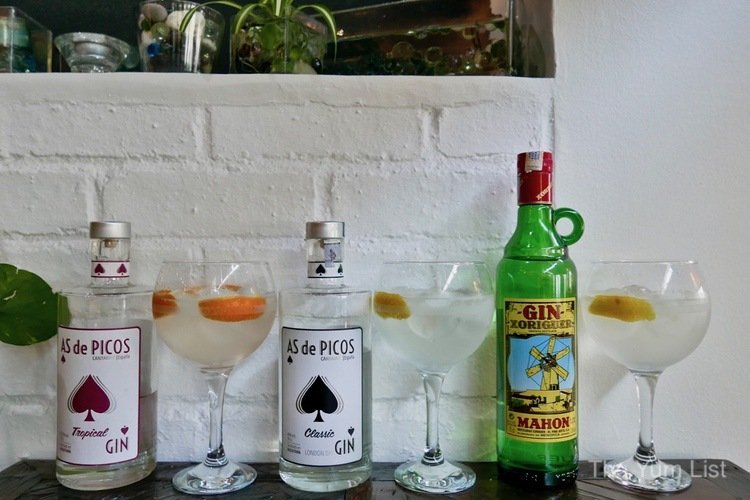 Breakfast Mont Kiara at Fat Olive Food Garage
Fat Olive Food Garage has a lovely feel to it, coupled with great food, all lovingly sourced and made from scratch. The introduction of breakfast and pizza to the menu only enhances their already excellent tapas menu. To put my money where my mouth is, I have already returned twice since starting the review!
Reasons to visit Fat Olive Food Garage for breakfast in Mont Kiara: contemporary cool vibe; fantastic pizzas; the best sausages (IMHO) in KL; authentic Spanish flavours; eggstagrammable brekkie dishes 😉
Breakfast Mont Kiara @ Fat Olive Food Garage
G-3, VERVE® Shops
No 8, Jalan Kiara 5, Mont Kiara,
50480 Kuala Lumpur, Malaysia
www.facebook.com/fatolivefoodgarage
Fat Olive Food Garage Opening hours:
Daily 10 am-10 pm
Breakfast served until 2 pm
Find more places for breakfast and brunch in Kuala Lumpur here.