Burger on 16
Words: Charlotte Donvang & Monica Tindall   Photos: Rich Callahan
I haven't had a burger for ages! Having a craving for one was not the problem. The difficulty lay in not knowing of any place that served a decent burger in KL. Well, that has now been fixed as Monica introduced me to Burger on 16 in a quieter back street of Bukit Bintang.
Burger on 16 KL
Calling this place a burger bar doesn't really do it justification. The phrase "burger bar" gives me memories of greasy joints smelling of cooking oil and over-fried, overly processed meat. Burger on 16 is a different story altogether. An outdoor terrace is welcoming with murals of icons from pop culture and an air-conditioned interior continues the theme with tables and bench-seating alongside a sofa dressed with burger cushions! The patties and sauces here are all made in-house from scratch. There is not a whiff of grease tinging the air. The setting is fresh and clean.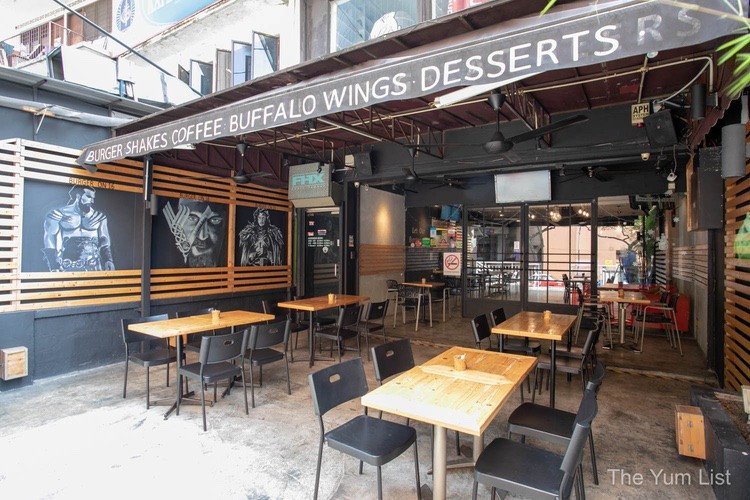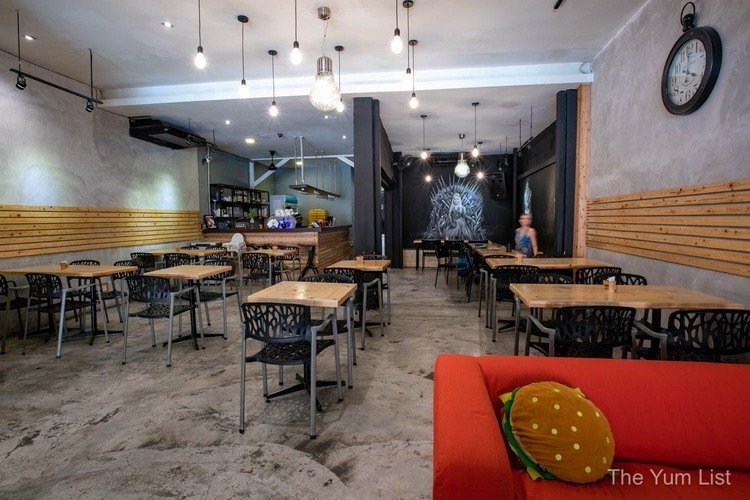 Burger on 16 Menu
The menu at Burger on 16 is heavy with beef selections. There are a decent number, however, of chicken burgers too and they have not one, not two but three vegetarian options. Decisions are clearly going to be challenging!
Beef Burgers
The owner of Burger on 16 loves beef and it shows, not only in the number of beef burgers on the menu but in the quality of ingredients used. All patties are made from scratch from Australian beef and a chargrill helps maximize the natural flavours.
The Mad Cheese 200g (RM24.90) is the closest to the most original of burgers. The clean taste of good chargrilled beef is packed together with lettuce, tomato and sauce in a great bun. Like any good burger, there must be cheese and this one has a special surprise: it's packed inside the patty as well as on top! The Mad Cheese is perfectly seasoned and charred, well-balanced and, most importantly, it's juicy… so much so that I completely overlook the accompanying sauce neatly set out on the light wooden tray that every burger is served on. This burger needs no extras.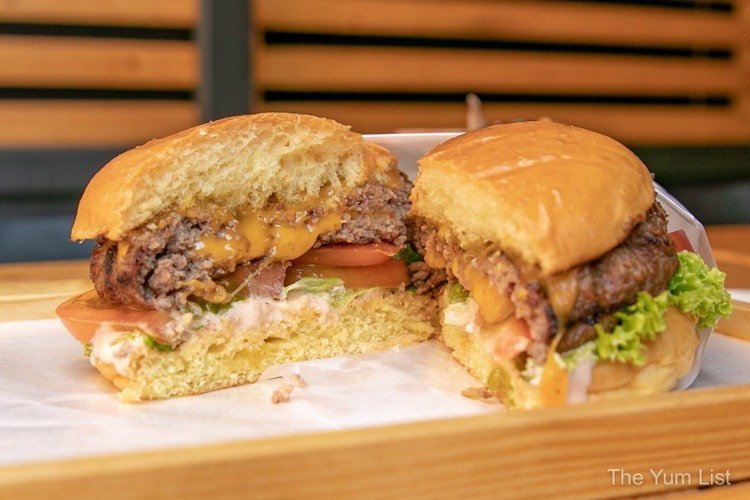 When the California Cheese Skirt (RM25.90) arrives I'm thrilled to see a new visual take on the burger. Like a ballerina, it's strutting its skirt around the waist. In this instance, the skirt is made of cheese. As I bite into this burger, my delight takes no end. The crunchy yet chewy cheese gives an extra experience with its texture and flavours. Jalapeño peppers mixed with the sweetness of the caramelized onion, the freshness of tomato and lettuce, the comfort of melted cheese and the gentle bite of the sauce is caressing my taste buds!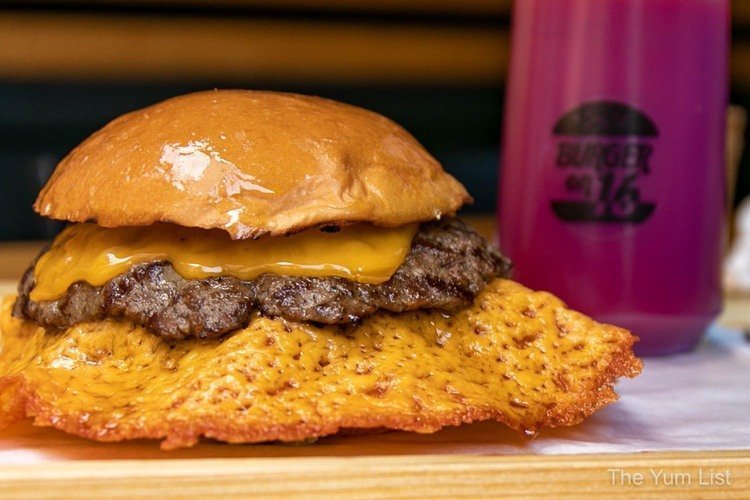 Another hot seller is the Double Smash Burger (RM21.90). This beauty features a duo of beef patties that have been smashed in the frypan and topped with crisp beef bacon, two slices of sharp cheddar cheese and Burger on 16's cheeseburger sauce. The bacon offers something a little more to chew on, the smashed patty a slightly different texture to the preceding burgers and generous amounts of cheese and sauce furnishes a deliciously melted and moist finish.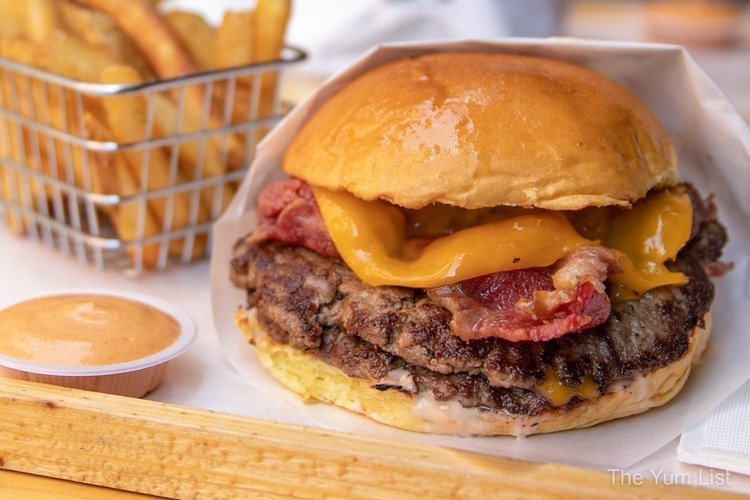 Chicken Burgers
Of the five chicken burgers, the Inferno Chicken (RM17.90) is a firm fave amongst regulars. A tasty filling of coarsely minced chicken is topped with jalapeño peppers, lettuce, tomato and cheddar. This chicken burger is a great choice for non-beef eaters. The spicy sauce enters deceptively mild but finishes with a mighty kick. It's easy to see why locals would love this recipe.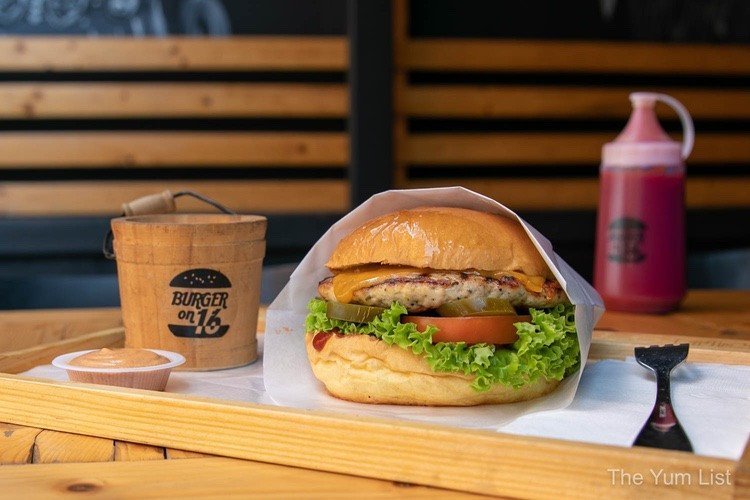 Shakes
Still gently warm from the Inferno Chicken, the Nutella Chocolate Milkshake (RM12.90) makes a timely arrival. Sweet, thick and topped with a small mound of whipped cream, it does well taming the fire.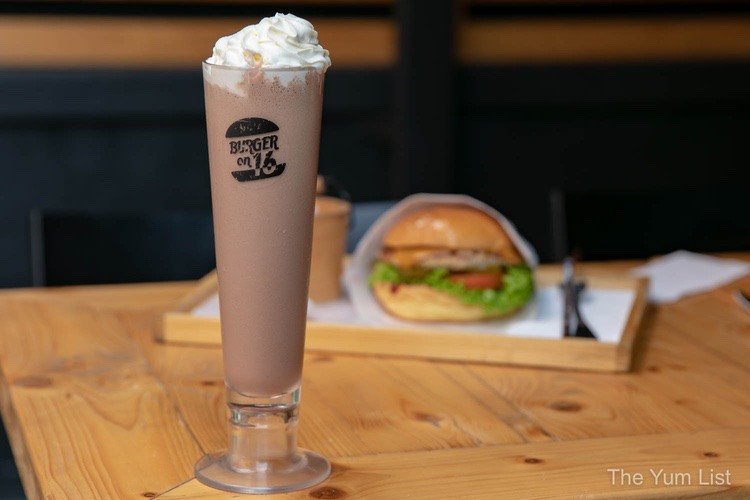 Vegetarian Burgers
We're impressed that Burger on 16 has three different vegetarian burger options. Two with a variety of beans and the third, our choice, a Spinach Burger (RM18.90). The greens are seasoned with nutmeg, black pepper and garlic and have a wonderful texture. I can taste the spinach as it mingles nicely with the homemade basil pesto and fresh lettuce and tomatoes. This veggie burger holds together nicely and is a big delight!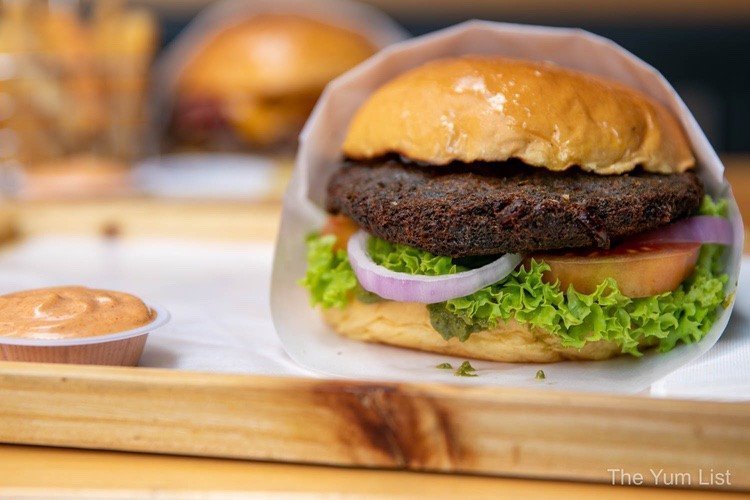 Sandwiches
The sandwiches at Burger on 16 are different from the normal 'content between two slices of bread' standard. Here, the sandwiches have their bulk cuddled into a soft mid-length baguette-shaped bun. The Philadelphia Cheese Steak (RM23.90) is made with yummy ribeye steak cut into slices (not too thin, not too thick). The natural fat content of the ribeye makes the meat succulent and tasty. With onion, capsicum and melted cheddar cheese, this is a little piece of heaven.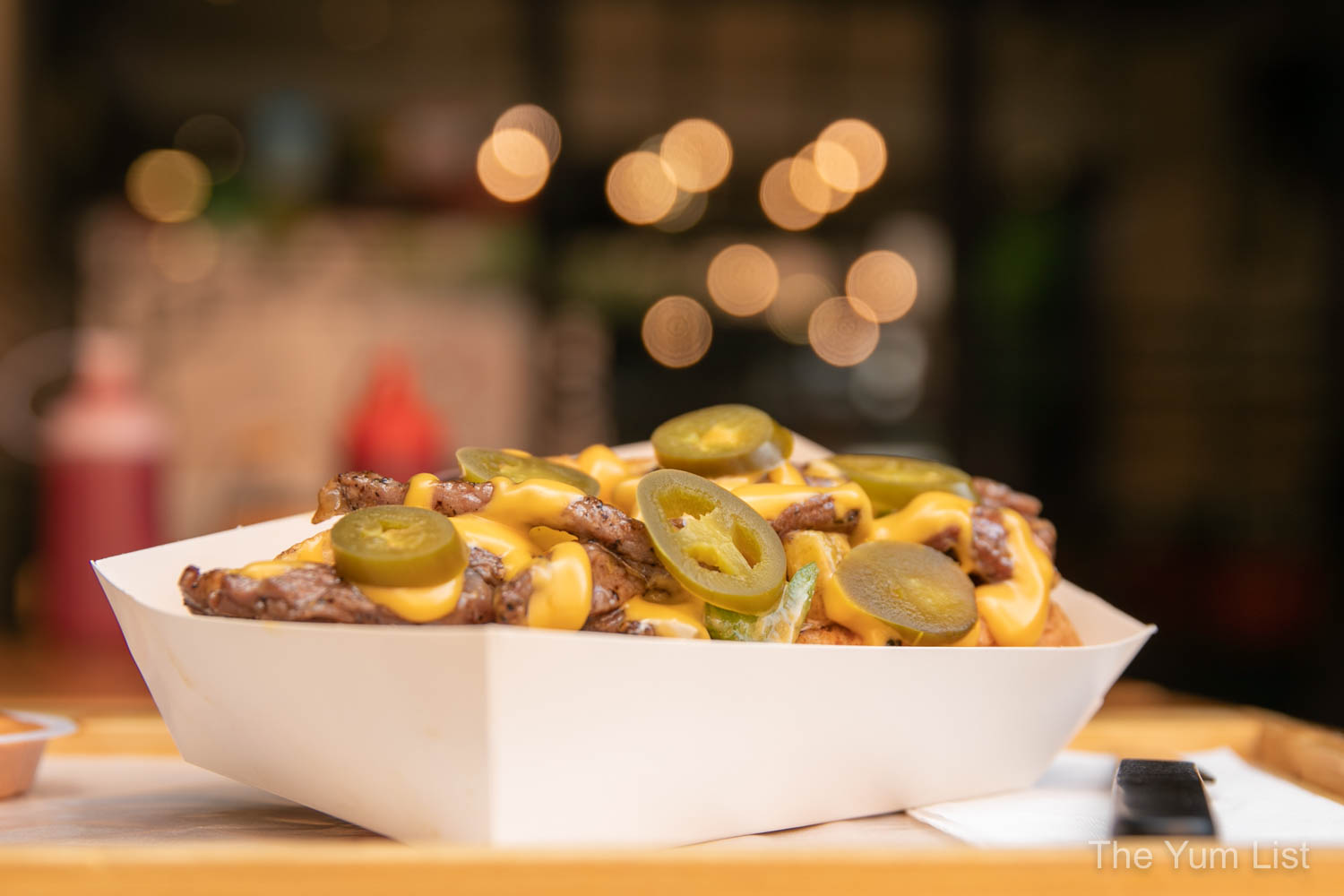 Fries & Snacks
Listing an extensive choice of fries and snacks there's also something for the less hungry… I thought! But when our order of Cowboy Fries (RM13.50) arrives I feel happy there are three of us to share them. This one is a meal in itself. A heartening mix of decently-sized beef cubes and fries are mixed with jalapeño peppers and topped with melted cheese. It's best eaten hot! (Try not to take too long Instagramming that stretchy cheese!)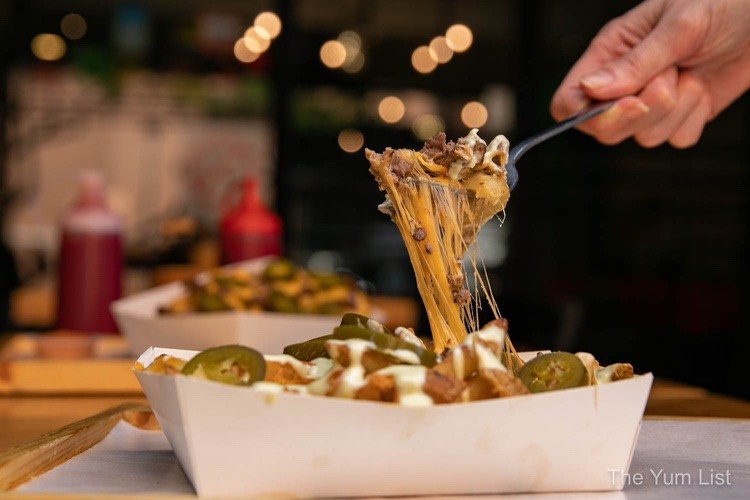 Burger on 16 Menu – Dessert & Coffee
I always love something sweet after a meal, even after a heavy one, as it rounds off everything for me. As a lover of dark chocolate, the Chocolate Molten Cake with Ice Cream (RM13.90) is too irresistible not to add to the order. It is oh-so-pretty when it arrives and I can't wait to tuck in my little spoon to see it flowing. That it doesn't flow like hot lava doesn't matter too much after I taste it. The cake is absolutely delish and the perfect round-off for this meal.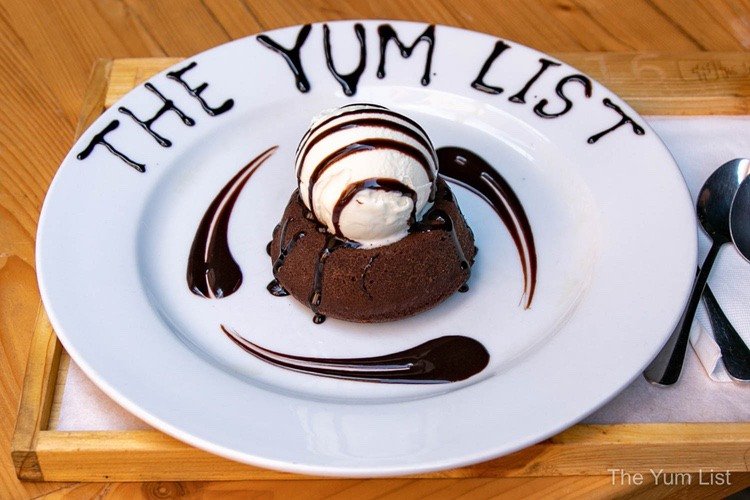 We're surprised to find excellent coffee to complete our experience. It turns out that the owner not only loves beef but is a serious coffee fan too. A flashy double-boiler and locally roasted South American beans make a mean Latte (RM9.90). With a slightly chocolatey finish, the beans go well with milk and the barista makes a good attempt at latte art with a well-textured foam.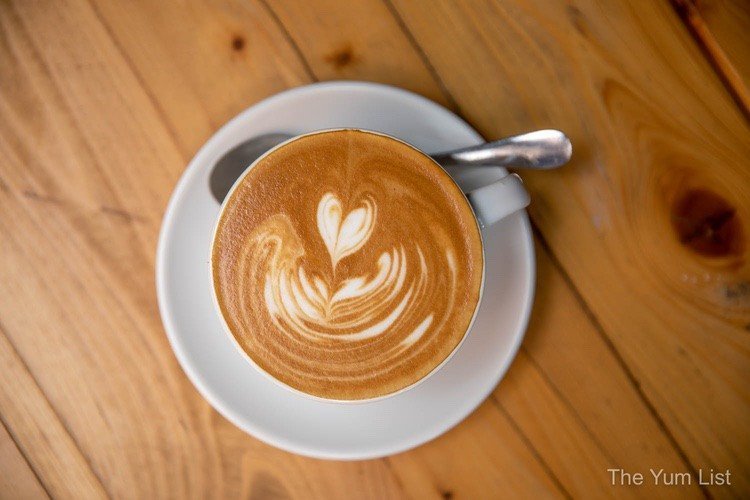 Burger on 16 Review
Burger on 16 offers quality burgers and a comprehensive menu offering beef, chicken and vegetarian options. Making patties and sauces in-house clearly pays off. A range of sides and good quality coffee is a bonus.
Reasons to visit Burger on 16: a welcoming setting with pop art on the walls and simple furnishings; superb choice of quality burgers with beef, chicken and vegetarian options; the Cheese Skirt and Spinach Burgers are particularly scrumptious; homemade patties and sauces; good coffee.
Burger on 16
(behind Times Square, near the entrance for parking)
16 Lorong 1/77a, Imbi
55100 Kuala Lumpur, Malaysia
+6 03 9224 2117
www.facebook.com/BURGERon16
Burger on 16 opening hours
11 am to 1 am
* Parking is available in Times Square but this part of town is often better reached on foot, with the use of public transport or a Grab.
* *Food delivery available through the usual Food Panda, GrabFood and so on.
Catering for parties also available with advance request.
Find more restaurants in Bukit Bintang here.