Words: Kitty Lang  Photos: Monica Tindall
Did you know the phrase 'Dutch Courage' originated during the war? Folk from the Netherlands would down a sizeable amount of gin, then run out to war, with a considerable, if not misguided, courage to fight. I'm not sure whether to be afraid of or admire its potency.
Over the last few years, there has been a huge resurgence in craft gins, with the UK and Netherlands expanding their already large repertoire, but new countries throwing their hats in the ring too, including Malaysia.
MariGin – New Gin Bar KL City Centre
Anyone who knows me, knows I am a huge ginophile, so it was with zero hesitation I accepted an invitation to try out some gin cocktails at MariGin, a new gin bar in KL.
Our enthusiastic mixologist boasts 15 years in F&B and started with the Mother Ship, Marini's on 57, on the day it opened seven years ago. Whilst Marini's on 57 has a great cocktail bar and whisky room, they wanted a spirit bar to complement their whisky lounge, hence the inception of MariGin.
Tucked behind the Marini Café, a pool table marks the entrance of MariGin, leading into a decadent, 30's feel bar. A converted former restaurant, the plump leather sofas, chandeliers and wine library give an unctuous feeling of a good, old-fashioned smoking lounge, with '80's rock livening the atmosphere.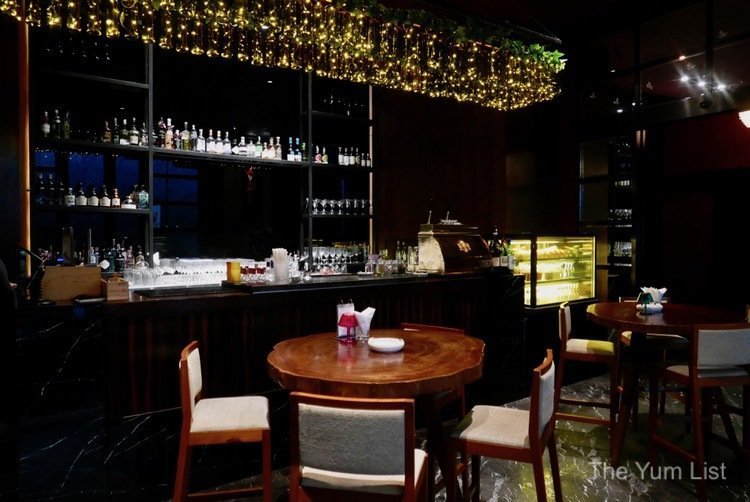 MariGin Cocktails
For opening, our mixologist has started simply with six gin and tonics, six infusions and sic cocktails. Gin and tonics and infusions are all served in ball glasses, with the cocktail glasses being as individual as their contents. All of the infusions and syrups are conceptualised and created in-house.
Archaeologin (RM40) is a reminder of a very British afternoon tea. Imagine finger sandwiches and scones being served with your 'tea with a twist'. Gin is infused with earl grey leaves and whole oranges, absorbing the flavours for eight hours, before being strained and combined with Three Cents Aegean and served with cucumber. It's very refreshing and dangerously non-alcohol tasting, immediately appealing to us all.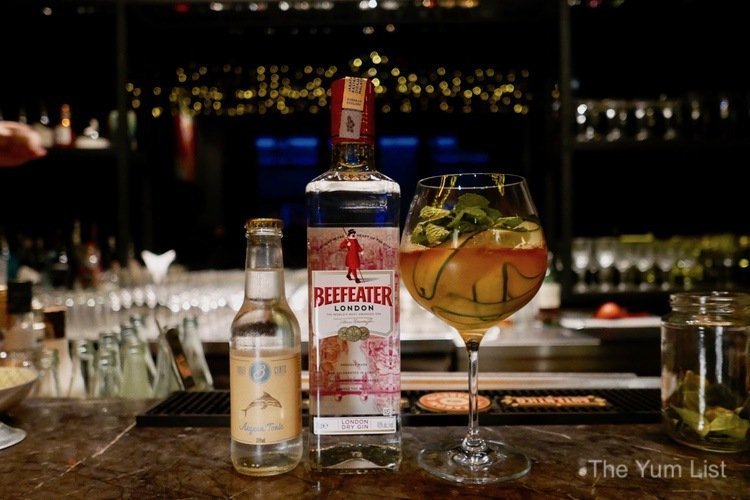 For the Kat Chai Suen Gin (RM 40), gin is infused using assam boi and kedondong (we very much kept ourselves amused by repeatedly saying the fruit name out loud). This having been the first time of trying kedondong, I found it slightly astringent and dry. Served with calamansi and Three Cents tonic again, but this time the lemon variety, this is certainly a beverage suited to sweeter palates, where the sweet, sour and saltiness of the assam boi really came to the fore.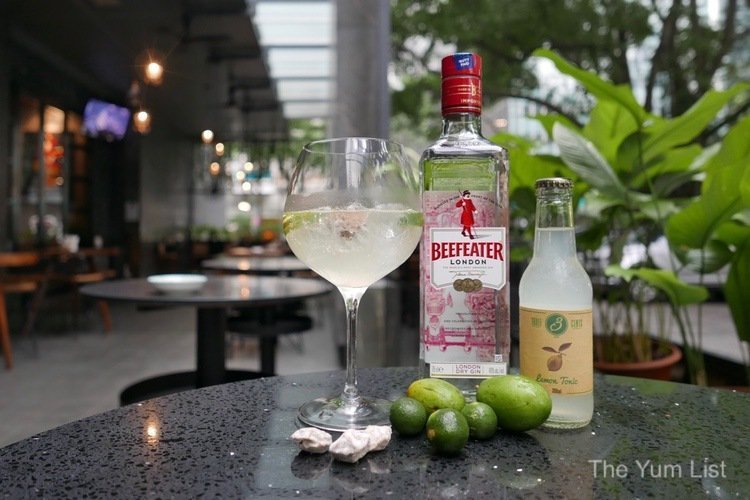 Padrino (RM 56) is one of the straight-up gin and tonics, where Coffey gin is married with East Imperial tonic and served with coffee beans to highlight the toasty, bitter flavours. It's a more savoury G&T where the coffee hits the nose, before the palate, and great layers develop to a lengthy finish. Sometimes, simple is best, to highlight elegance and depth.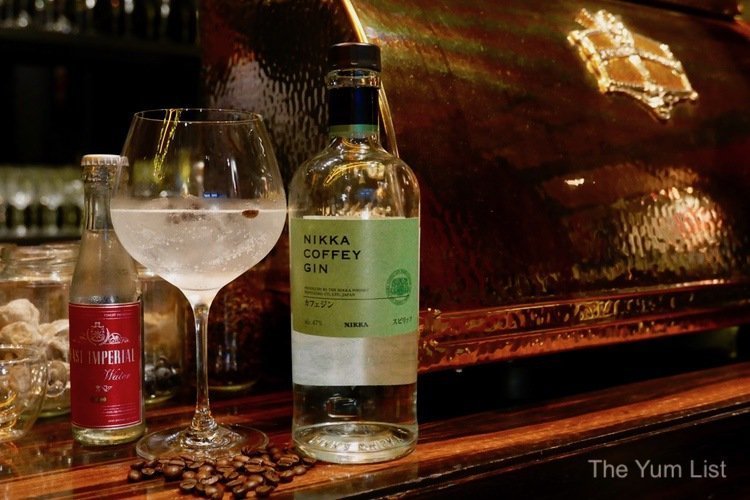 Gong Xi Fatt (RM 40) is served in an old-fashioned glass and has a creamy appearance thanks to egg white. Decorated with a pretty flower, Ford gin is combined with apricot brandy and kedondong again (ambarella fruit). It's a surprisingly dry cocktail, given its composition.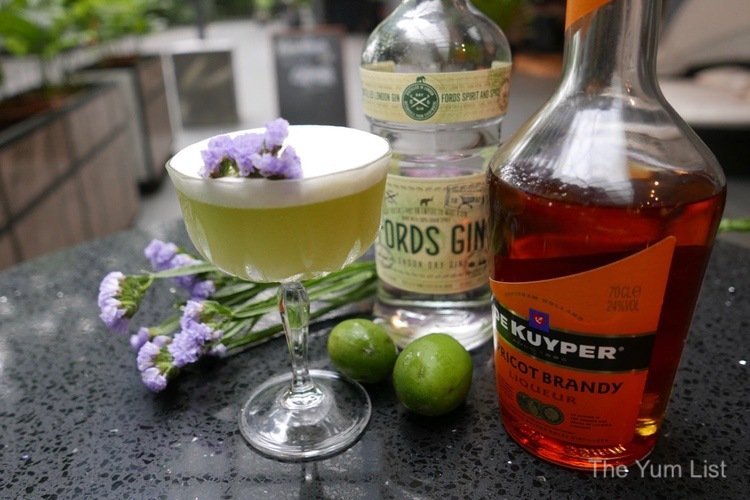 Jungle Gin (RM 48) is very much based on a Jungle Bird but replacing rum with gin as the key spirit. William Chase Sloe & Mulberry gin would ordinarily be sweet but the Campari and lime balance this along with the sweetness of pineapple juice. It unexpectedly struck a perfect balance with blueberries and pineapple completing the picture.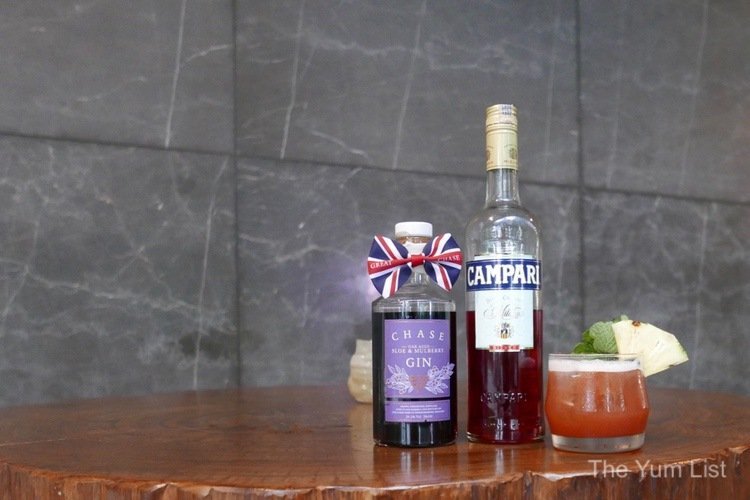 Ginasium (RM 40) on paper, sounds like something that really would not be up our street; oh but how wrong one can be. Think posh piña colada, where kaya (coconut and egg), Citadelle gin, Malibu, coconut water and homemade spiced syrup (cinnamon, star anise, cardamom, pepper) all meet grapefruit, for a refreshing and delicious cocktail. We surprised ourselves in finding this was our favourite.
Continuing the fun wordplay, Ginius (RM40) infuses all of my favourite Thai ingredients into one cup. Kaffir, lemongrass, lime and galangal are macerated together with this gin. Paired with Fever Tree Aromatic, the angostura bark made for a delicious, flavoursome mix.
MariGin Happy Hour
Happy hour at MariGin is from 5 pm until 9 pm, where it is barman's choice for the Cocktail of the Day (RM 28) or G&T (RM18). When we visit, it's Chi Xin Gin (normally RM 48) as the cocktail of the day. Lychee, lemongrass and kaffir lime leaves mesh with Tanqueray 10 and lime juice to make a refreshing, fruity and too easily drinkable beverage.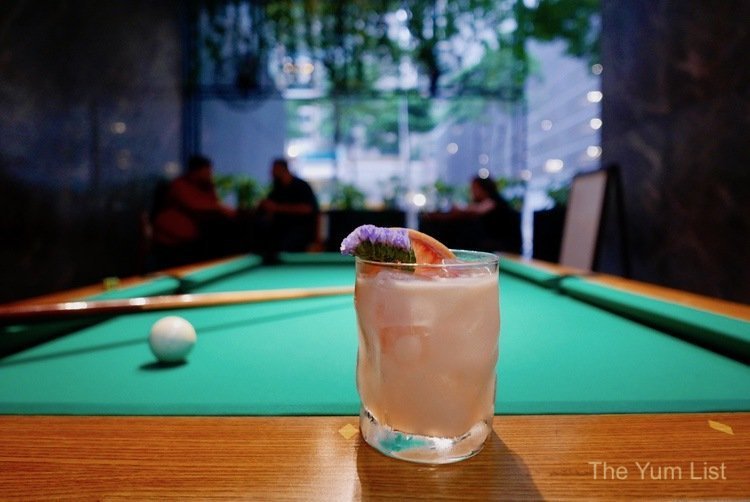 MariGin Light Bites
A handful of light bites go well with the gin menu. Smoked salmon pizza (RM 40) has a paper-thin crust, briny capers, excellent smoked salmon and creamy mozzarella. It's a light, delicate pizza with a great combination of flavours. At weekends from 11 am to 11 pm, selected pizzas are half price.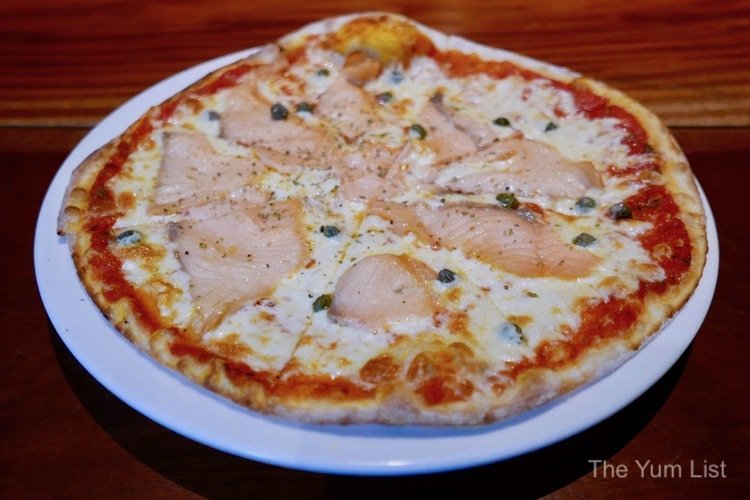 Beef crostini with goat cheese and jalapeño (RM 48) was just divine, with perfectly cooked morsels of steak atop crispy toast with creamy goats' cheese adding an extra tang.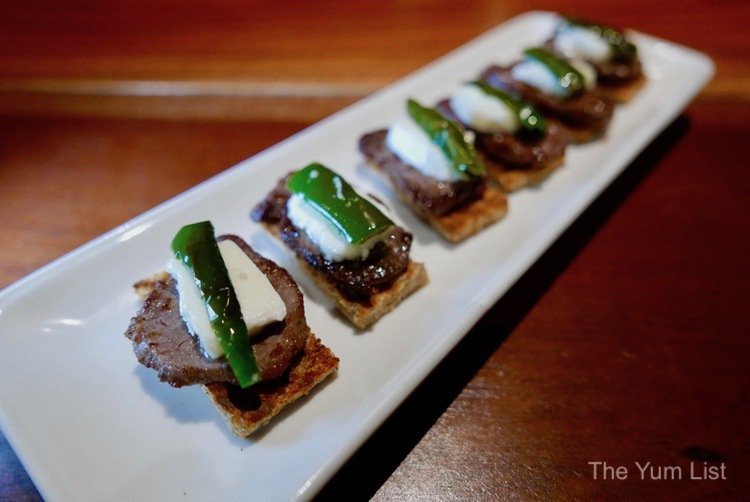 Crispy baby shrimp (RM 12) are lightly coated in flour and served in a bucket, making great beer munchies if you want to take a break from the choice of 57 gins.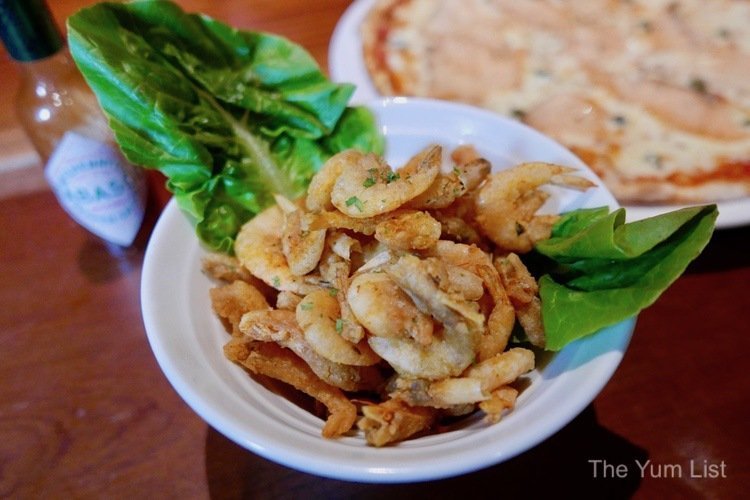 MariGin Review
MariGin really does live up to its juniper-inspired theme, in creating an imaginative and creative repertoire of concoctions. It's a relaxing place to contemplate and get away from the madding crowd, whilst sipping on a unique gin beverage.
Reasons to visit MariGin: Gin – 57 of them! House-made infusions and syrups; knowledgeable and passionate bar staff.
MariGin – Gin Bar
Ground Floor
One KL Jalan Pinang
50450 Kuala Lumpur, Malaysia
+6 0323866030
facebook.com/Mariginbar