Words: Anna Chew   Photos: Monica Tindall
What do you bring with you when you enter Le Petit Chef's lair? Probably a sprinkling of cynicism and a dash of excitement all rolled into one little package of expectation. If you're in for a quirky and creative meal combining technology and food, this dinner would be for you.
Conceptualized by Skullmapping, a Belgian company, this 3D projection mapping was an experiment to show restaurants the possibilities with such a concept. Over 50 restaurants worldwide later, Le Petit Chef finally arrives in Malaysia, brought in by Michelin-starred Chef Jeff Ramsay in Elements KL at TREC. This combination alone should set anyone up for a night of enchanting surprises.
Le Petit Chef – What To Expect
Le Petit Chef tells the story of a small animated chef who "cooks" dinner in front of the diners and onto their plates. The actual course is then served at the end of each segment, four courses served in total, each carefully crafted by Chef Ramsay to bring to life the animated segment.
Open on Tuesdays to Sundays, there are 2, 3 or 4 sessions depending on the day. Each session is a 90-minute dining experience and diners are recommended to call in for reservations and to be early so you can be ushered to your seats on time. We noticed a surprising number of latecomers. Be warned that the show goes on regardless, and each animated segment is no more than 2.5 minutes and will not be repeated for an individual diner who is not punctual.
Diners wait in a lounge area prior to service and are encouraged to have one of their signature cocktails. We had the Jungle Bird (RM49) and the Sabai Sabai Tea Punch (RM49), the former with a pineapple Campari base and hints of kaffir and the latter more for the sourish palate, balanced out with a sweet vermouth base and Thai tea.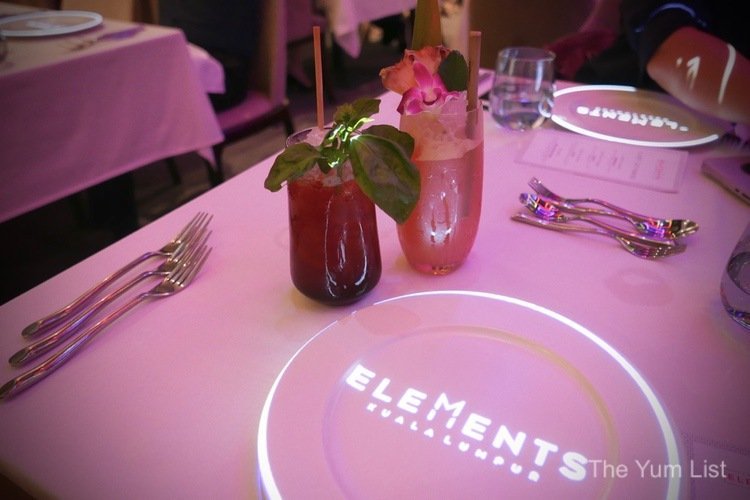 Le Petit Chef – Menu and Presentation
For the night, we had the Chef De Partie menu (RM299), while diners have the option to upgrade to the Sous Chef menu (RM499) which gets you an additional glass of cocktail/mocktail by World Class Country Winner Osmund and a RM50 voucher for use in their outlets, while the five-course Le Grand Chef Menu (RM999) comes with the add-on of a glass of Champagne, a welcome platter of three canapes, a RM100 voucher and the first course of Chopped Premium Fatty Tuna Belly Topped with Osetra caviar.
First Course – Le Petit Chef KL
After we were all seated, the show began with Le Petit Chef in shorts appearing on the plate and fishing in an ocean landscape. You can't help but let out a little laugh at his antics, as the chef is simply too cute for words. He makes little noises throughout each segment and I'd be the first to admit to wanting to squeal and to video the whole process with the obtrusive mobile phone. Usually unacceptable behaviour in a Michelin chef's establishment, but hey, this is Le Petit Chef, so live a little! We have clear proof no diner was spared the first world curse of wanting to document the whole experience.
At the end of the first segment, we were presented with Bouillabaisse, loaded with sea bream, scallop and mussels and more seafood, with a ridiculously delicious crab and prawn bisque that left us hoping that Le Petit Chef wasn't as modest with the bisque.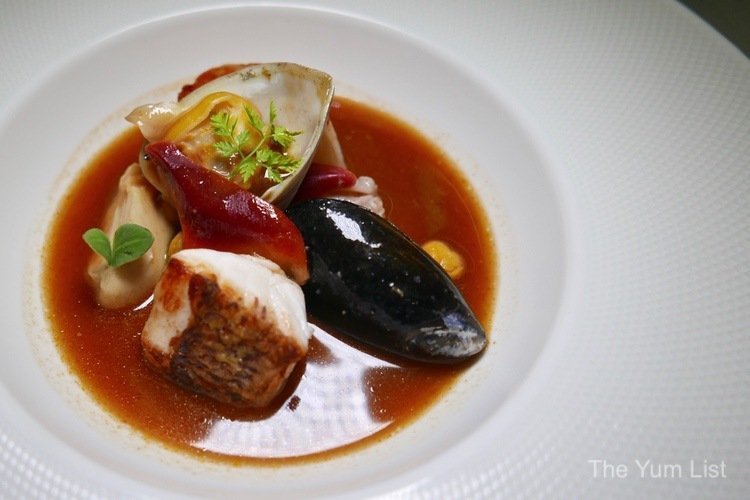 Second Course
Le Petit Chef gets more entertaining course-by-course but we're leaving the surprise be since the presentation is a huge part of the dining experience. The second course is the Tail Spin, with a crustacean being featured in both the dish and the animation.
A wonderful dish accompanied by caviar and corn polenta cake and lemongrass sabayon to cut the creaminess of the prawn. The rare sea asparagus makes an appearance while looking like tiny asparagus, its taste gave away its sea origins. Crunchy and salty, the sea asparagus is found near brackish water at the edge of the ocean.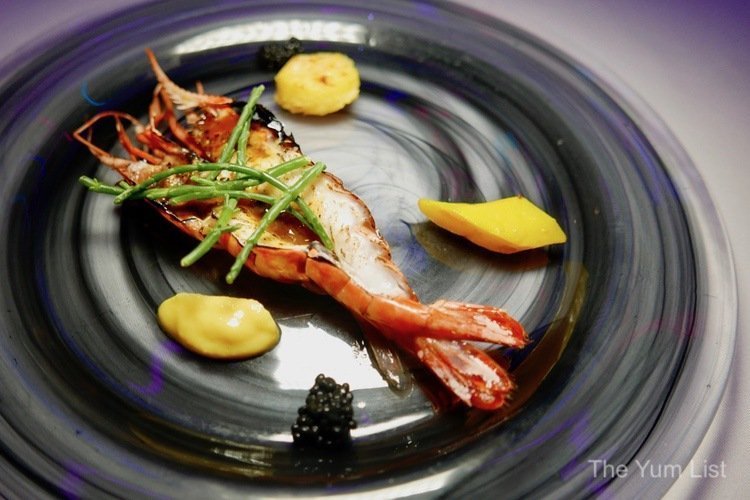 Main Course – Le Petit Chef Malaysia
Heading to the main course, we can't help but feel pity for Le Petit Chef's disastrous cooking adventures. Thankfully, we soon forgot all about it when the main course was served. Diners have options of beef (Le Beouf), chicken or vegetarian. The beef not only complements the animation but the Bordelaise sauce comes together so well with the thick and juicy cut of tenderloin so we recommend it as your main choice. Not to run afoul of anyone wanting the other option, the Aged Chicken Breast is served with truffle chicken jus and vegetable Pot Au Feu but without a corresponding animation.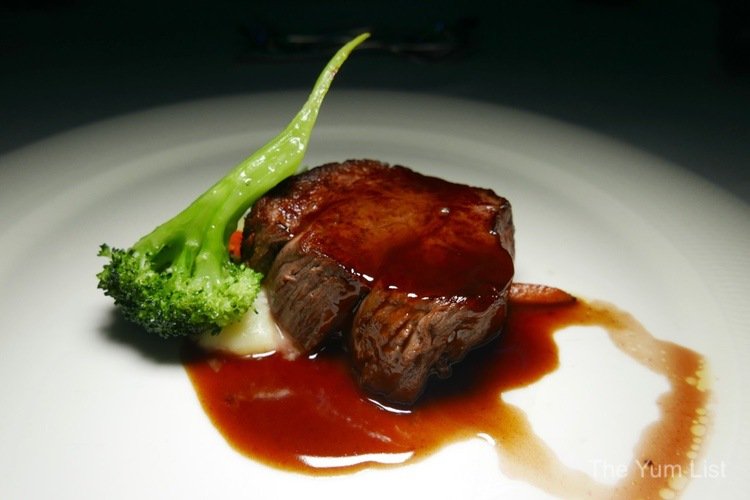 Dessert Le Petit Chef Kuala Lumpur
Dessert is always a wonderful end to a delightful meal. Le Petit Chef was so pleased with it, he actually lets out the cutest "tadaa" prior to service, followed soon after by another catastrophe. No culinary disaster from Chef Ramsay who showcases his signature with the crew coming out to scoop smoking aerated Valrhona 70% dark chocolate for the Milk and Caramel Fantasy. Malted vanilla ice cream with caramelized milk, strawberry, orange blossom sauce and the aerated chocolate, I swear I heard the "tadaa" once again!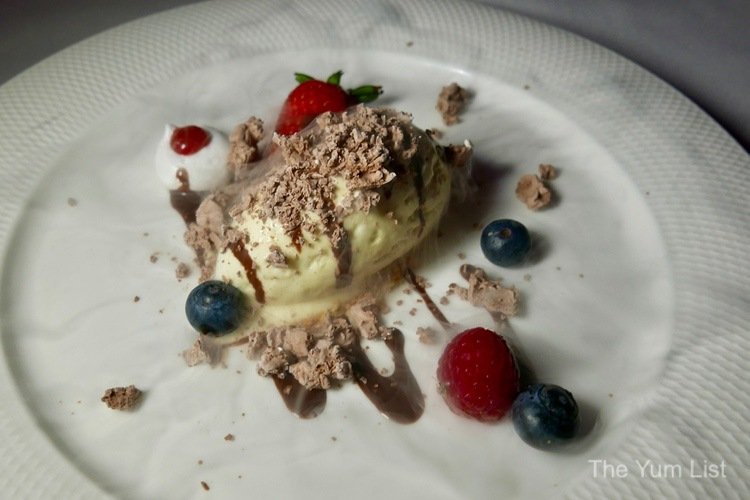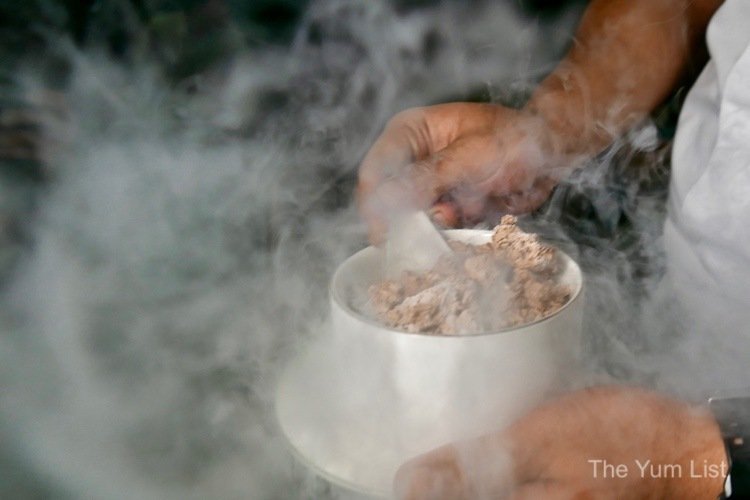 One can't help but be a wee bit happier at the end of such an immersive dining experience.
Reasons to visit Le Petit Chef KL: It won't leave you short-changed but might even leave your friends with a tiny bit of envy when they see your Instagram videos. A unique dining experience, especially for the creative at heart. Special mention to the attentive staff who provided us with an emergency power bank.
Le Petit Chef KL
Elements KL Sdn Bhd
Hive, Unit H-G-11, Trec, 438,
Jalan Tun Razak, Kuala Lumpur
+603 2282 6413
[email protected]
www.elements.my/le-petit
Le Petit Chef Kuala Lumpur Opening Hours:
Tuesdays to Sundays (Closed on Mondays):
Two sessions every Tuesday to Thursday (7:00 pm | 8:30 pm)
Three sessions every Friday (6:30 pm | 8:00 pm | 9:30 pm)
Three sessions every Sunday (5:30 pm | 7:00 pm | 8:30 pm)
Four sessions every Saturday (5:30 pm | 7:00 pm | 8:30 pm | 10:00 pm)