Monica Tindall
The Dining Room at The Datai Langkawi serves as a cheery location for breakfast for hotel guests and a relaxing spot for a bite of lunch during the day but at night it transforms into a modern fine-dining restaurant. European cooking techniques with contemporary innovations are complemented by an excellent wine list and candle-lit, white-clothed tables are attended by gracious staff.
Tonight we're here for dinner and have thankfully remembered the smart dress code (long pants and collared shirts for men) and are more than just a little excited to check out their newly introduced walk-in wine cellar. Directly importing wines themselves, the team at The Datai has a curated list that even the most well-travelled oenophile will be at least a little envious of.
The Dining Room Langkawi Menu
Everything on the menu looks delicious. No kidding. We're having great difficulty deciding, so take the easy option and go with the degustation menu by Chef Jerome Voltat. The six-course menu (RM380 per person) can also be enjoyed with wine pairing (RM630). I bet you can guess that we had the latter. Decisions made, we get that tour of the walk-in-cellar, which turns out to be pretty fabulous. See if you recognize some of the labels in the short video below.
Back in our seats, our waiter passes around a basket of freshly cooked bread. White rolls, mini baguettes, nuts and fruit are all choices. A Parmesan and mushroom slice takes my fancy, which is surprisingly moist and has a wonderful balance of savoury and earthiness.
Amuse Bouche
In fine-dining custom, the amuse bouche entertains our palates with salmon gravlax wrapped in zucchini and spooned over with corn puree. A petite white flower acts as sole adornment. Fresh. Yum. Let's continue.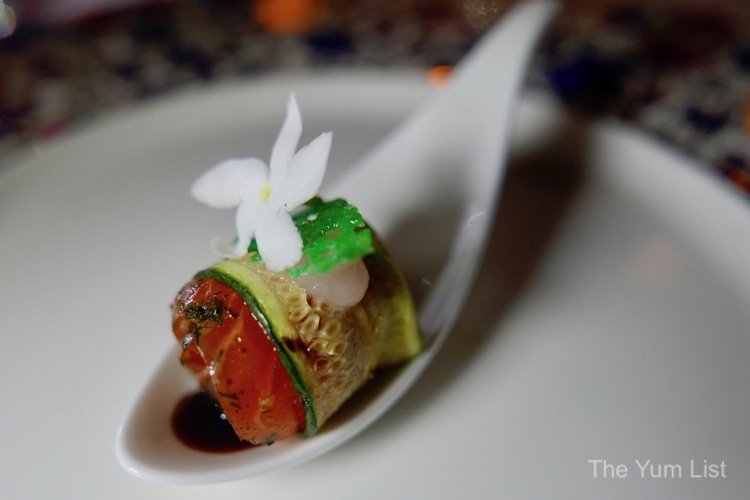 First Course
Cucumber Gazpacho features a vibrant-green chilled cucumber soup given a taste of the tropics with coconut milk and peppermint. It's smooth, yet thick and strips of toasted coconut add texture. It's absolutely delicious and while I'm a fan of the Spanish tomato tradition, this creation sure gives the classic a run for its money. Jacquart Mosaique Rose NV is a pretty partner adding a lovely shade of pink to the scene. The bouquet is faintly fruity and follows through in the mouth with more fruits until panning out to a fresh savoury conclusion.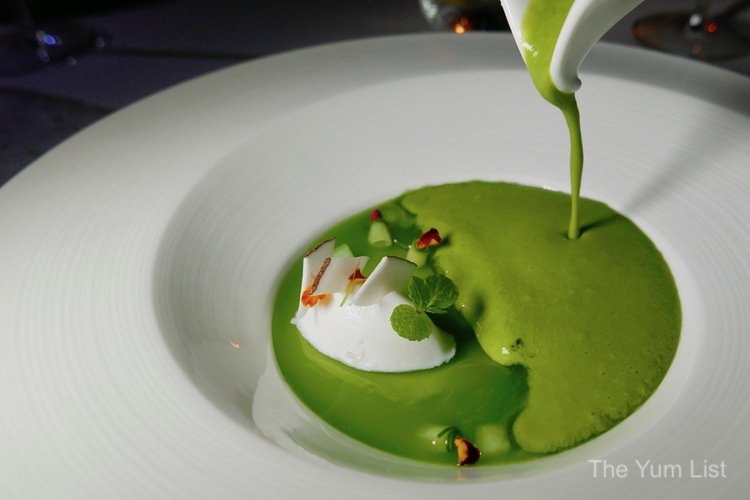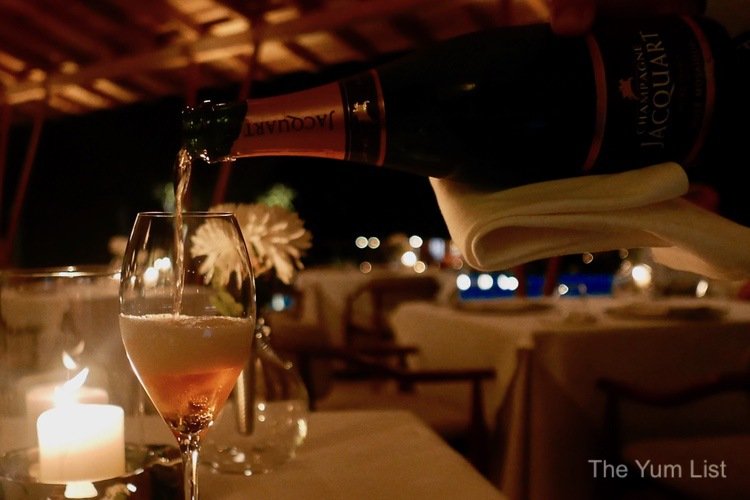 Second Course
The second course follows with a Hokkaido scallop with fennel and pomelo salad. This looks like a simple dish prettily decorated with various bits and dots but these specks of condiments contribute greatly to the overall profile. Capers, pegaga (centella asiatica) and micro greens have hubby declaring its merits before I've even picked up my fork. The Sancerre, Domaine De La Perriere, Loire, France 2018 plays up the citrus notes in the seasoning of the scallop. This sauvignon blanc is aromatic and well-balanced offering both crispness and roundness in the same mouthful. It not only does well with the tangy notes in the dish but is very friendly with the seafood as well.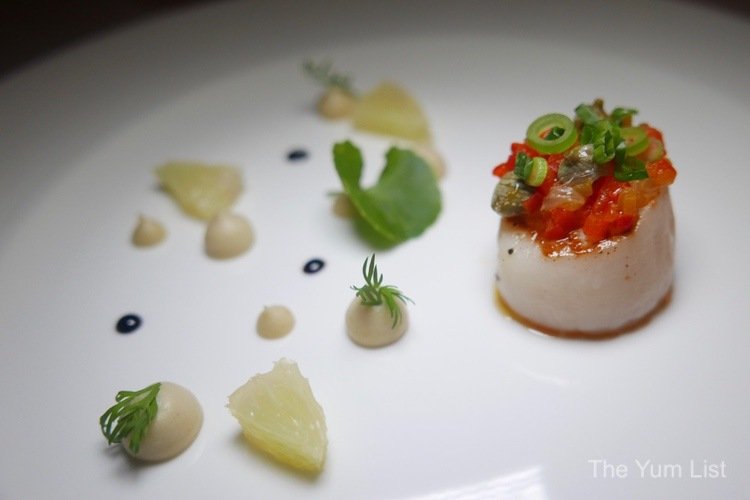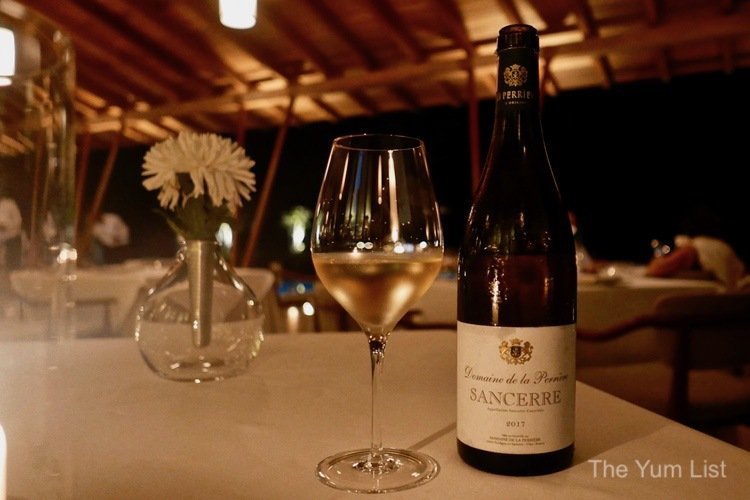 Third Course
Grouper, a fish caught just off-shore in the Andaman sea, comes with braised fennel and those local flavours shine again with a turmeric and coconut sauce. The fish is just as it should be – flaky and moist and the condiments, while furnishing their distinctive character, allow the fish to maintain the role of protagonist. Clearly, the person choosing the wines for this menu knows his stuff. This is the third pairing that perfectly complements the cuisine. The Chablis 1er Cru Vaillons, Domaine Séguinot-Bordet from Burgundy, France 2015 is a rich wine with a fine minerality, whispers of citrus and an attractive component of stone fruits. It's slightly creamy in texture but ends with vivacity. This chardonnay manages to mirror the creaminess of the coconut while cleansing the palate of it shortly after.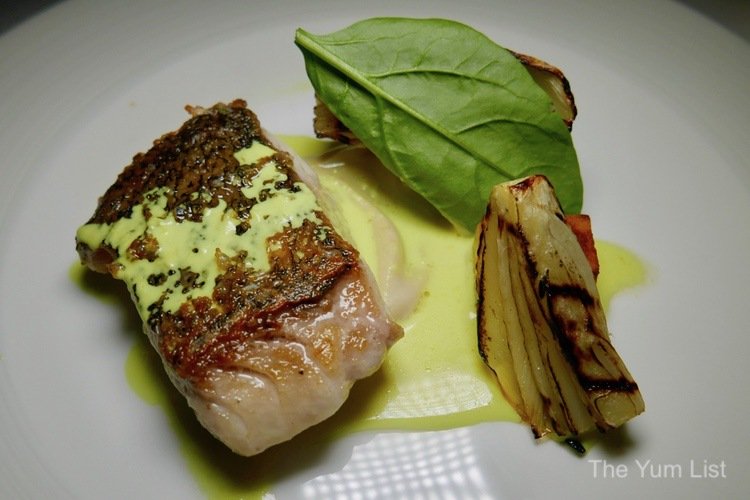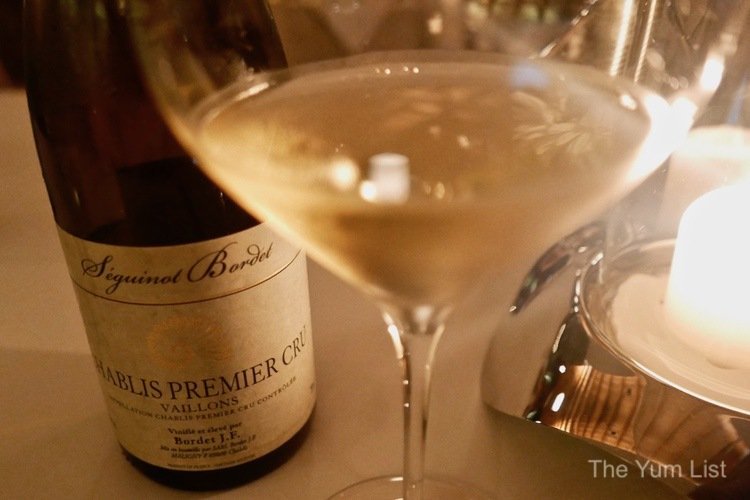 Fourth Course
The main is a magnificently tender beef short rib. Black Angus is braised for three hours until, in full cliche fulfilment, it literally falls off the bone. It's accompanied by mashed potato and crispy shallots. It's a savoury dish and so together with the fruit in the wine mate shows just how well wine and food can work together. A glass of Barolo, Piedmont, Cordero di Montezemolo Monfalletto, Italy 2013 is the graceful match. Deep and dark in the glass, with flowers and spice in the bouquet, this wine offers fine tannins, a full body and polished finish.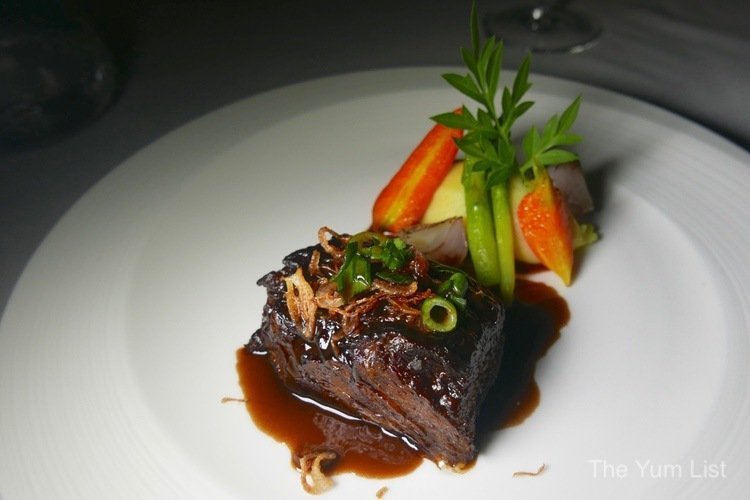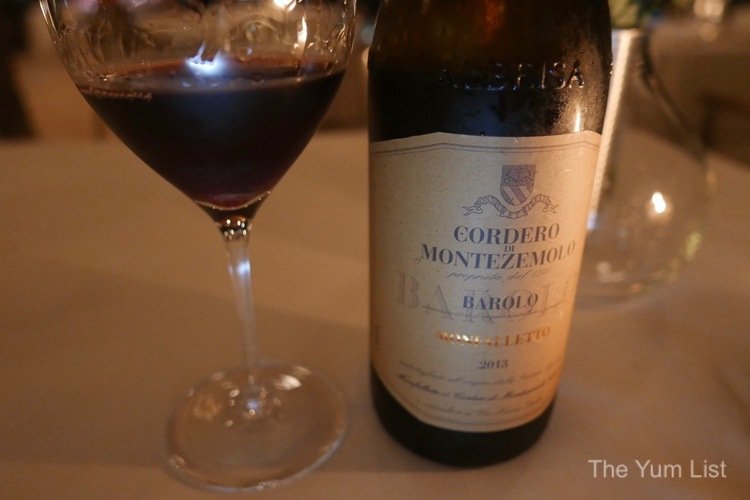 Fifth Course
The French style of eating would not be complete without a cheese platter between the main and dessert. As such, our penultimate course sees a selection of Roquefort, Tomme De Savoie and Brie de Meaux sided with fruit and nut biscotti, fig jam, dried apricot, walnuts and grapes. The final sips of the Barolo also do well with the cheese, so remember to save a mouthful.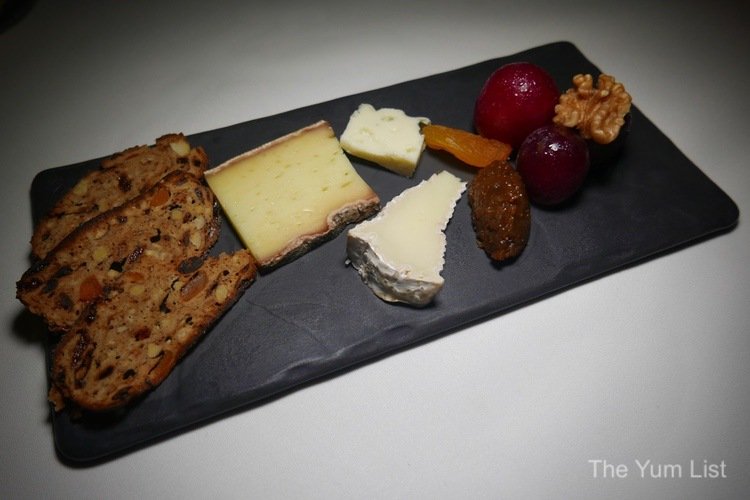 Dessert
There's a choice of two desserts and the benefit of dining as a duo is that we get to try both. Citrus & Saffron Garden is bright with tang with a yoghurt lemon tart, marinated orange and grapefruit and yoghurt saffron sorbet. If you are to only choose one though, you can't miss the chef's signature soufflé. It does take 20-minutes to prepare so be forewarned if you leave ordering desserts until last. It is a first-rate rendition of the classic, incredibly airy, moist and gently sweet. Ice cream with fresh strawberries and shaved stewed rhubarb balance the smooth creaminess with a note of tart.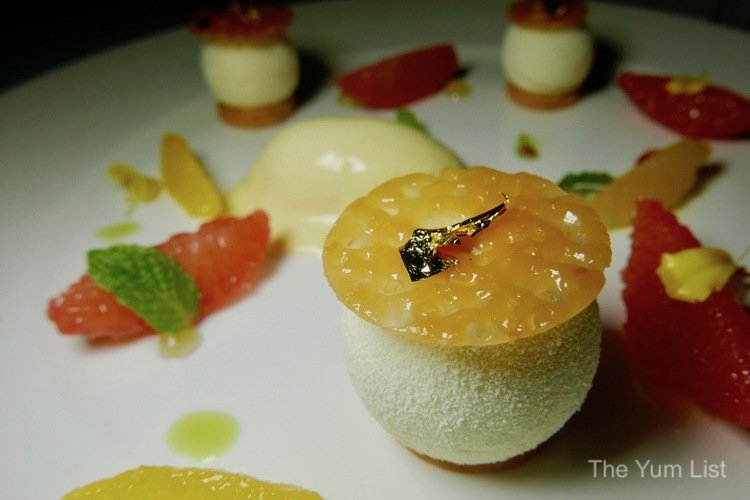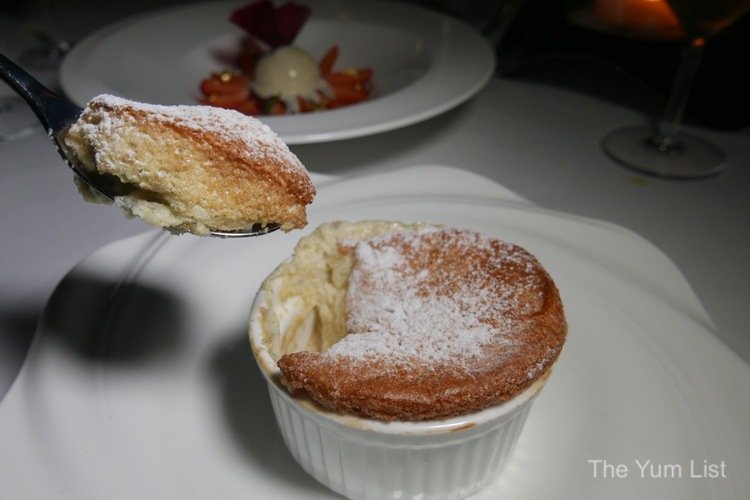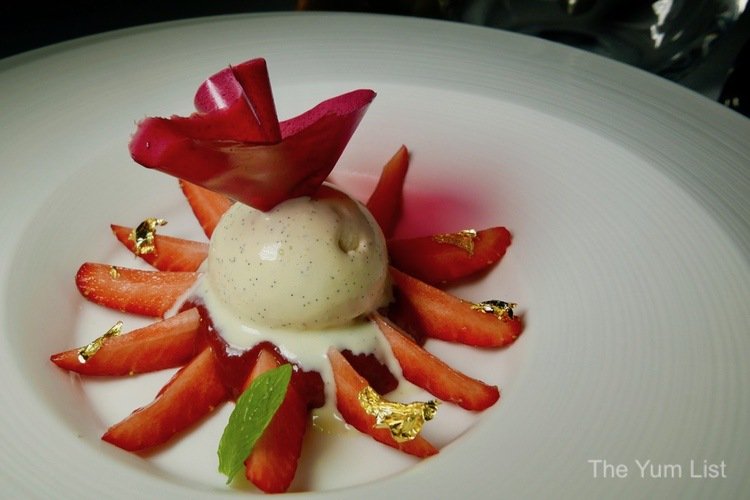 I'm rather excited to see Chateau de Beaulon, Pineau des Charentes, from France as the partner. You don't often see this in Malaysia and I first discovered it on travels through Cognac three years back. Known as the little sibling of Cognac, this eau-de-vie is often paired with foie gras or well-chilled as an aperitif. Its richness of dried fruits, honey and vanilla though means that it could also easily replace dessert. In this case, we get both dessert and this lovely fortified wine. At least, we thought that was what we were getting…
It turns out, that I'm not the only one excited to see Pineau des Charentes on the menu and it has sold out! A 2015 Sauternes by Louis Eschenauer replaces it. Offering a similarly sticky profile from the noble rot that has infected it, it's golden-yellow in the glass and goes along with the standard expression offering both sweetness and acidity in a single sip.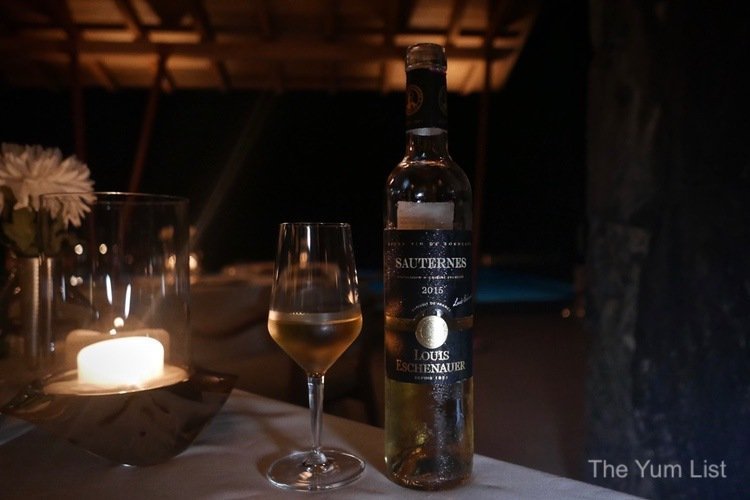 The Dining Room The Datai Langkawi Review
The dinner experience at The Dining Room has been exceptional. Besides the opportunity to dine in the delightfully-fresh well-oxygenated air of the rainforest, we've had the chance to savour world-class cuisine with the infusion of delicious local ingredients. A walk through the wine room is a definite highlight, and lovers of fine-dining would be well advised to take the degustation menu with wine pairing.
Reasons to visit The Dining Room Datai Langkawi: pretty location cooled by fresh tropical air; an exceptional selection of fine wines; to get a taste of the chef's skills try the degustation menu (highly recommended to enjoy it with the wine pairing).
The Dining Room
The Datai Langkawi
Jalan Teluk Datai
07000 Pulau Langkawi
Kedah Darul Aman, Malaysia
+60 4 9500 500
www.thedatai.com
The Dining Room Opening Hours
Daily 7 am – 11 am
Lunch 12 noon – 6 pm
Dinner 7 pm – 11 pm
Find more on the luxury travel and gourmet scene in Langkawi here.