Monica Tindall
If the eyes are the window to the soul then the eyebrows are the frame – I read that somewhere amongst the many articles I researched when deciding whether or not to give microblading KL a try (if the words are yours, let me know and I'll link you here). It's a catchy phrase and so very true. A picture is hardly finished without a frame and just the right proportions can enhance or take away from the focus. As such, just the right shaped brow can improve or impair your appearance.
Unsightly or Barely-There Brows
Apparently, my natural brow shape is a bit sad and droopy (clearly not a good frame), or so make-up artists told me a couple of decades back when I was modelling quite a bit. They plucked and picked and shaped and redrew until I was left with barely a brow at all (scroll down for the shocking before pic). I guess that was fine when there was someone there to do my make-up for me but these days, adding volume to my brows is an extra five minutes in the morning routine that I just don't have to spare.
Microblading Malaysia
Enter microblading to the KL beauty scene and there just might be a fix for my years of struggle. A current hit with the stars and a much more refined technique than the "tattoo" brows of the past, microblading holds hope for those of us who are not gifted in the brow department.
Despite desiring care-free brows I was a little hesitant to try microblading. My brain had been scarred with images of over-plucked, super-thin unnatural looking lines of years since past and those of eyebrow tattoos where one sweeping area had been filled in resembling the path of a thick Artline marker.
What is Microblading?
Basically, microblading is a semi-permanent tattoo. It differs in appearance to what some of you might imagine in that tiny lines are made in the direction of the hairline almost mirroring exactly the natural hairs of the brow. The technician cuts tiny lines into the skin and puts pigment in the open wound – much like a tattoo, only microblading will fade in 12 to 18 months.
In my investigations, I came across a whole bunch of stuff online outlining the process and showing images of perfectly groomed brows. What stood out most amongst the articles though was the importance of finding the right technician. A reputable artist will only use high-quality pigment, ALWAYS uses a new blade and spends a good part of the time first outlining the brow and consulting with the client to achieve the desired shape.
Microblading KL at Eka Roots Bangsar
After a considerable amount of research, I found Christine of PhiBrows who just so happened to be starting to work with my favourite hair salon Eka Roots in Bangsar. If they had chosen Christine as a partner, I felt sure I would be in good hands.
Christine first creates a brow outline based on Phi – The Golden Ratio (also known as the Divine Proportion). Using a series of strings mapping out points in line with my nose, inner and outer eye and so on, a form was constructed specifically for my face. I was able to consult with her and give feedback before the actual microblading began.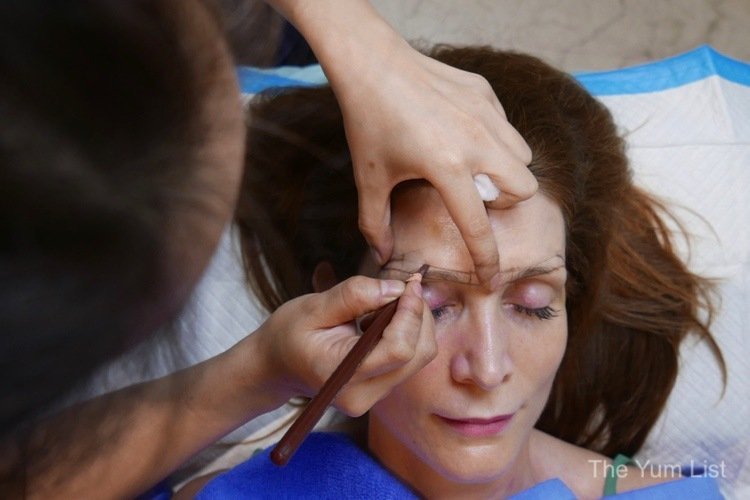 Does Microblading Hurt?
The brow area is cleaned and a numbing cream is applied around 20 minutes before the start of the procedure. I felt a bare scrape during the first round; no pain at all. (Incisions are made once and then another round is made to fill in the brow completely.) For the second round, Christine asked if I'd like a liquid anaesthetic that can be applied on the open wounds. I, not very wisely, said I'd give it a go without. MISTAKE! It was so painful that I felt as though I could actually feel stress hormones shooting through my body. Christine was quick to stop and ask again if I'd like the liquid pain relief. YES! The initial application stings a little but once it has dried the process of microblading went back to being pain-free. My advice – go with the topical anaesthetic!
How Long Does Microblading Take?
The process can take up to three hours for the initial session. A month later you go back for a touch-up, which is a little less time intensive, but you should still allow up to two hours to be sure.
Microblading KL Results
I have to admit that I was in shock when I first saw my brows. I had been used to having just about nothing for so long that these furry caterpillars (in my dramatized thoughts) above my eyes were not what I expected. The area was slightly red but settled by the following morning. It took me two days to get used to the new shape and I was soon getting comments about how well-rested I looked. No one actually realized that it was the new arch in my brows that had lifted my appearance. Day three onwards… I loved them! Five minutes of my morning routine had been wiped and I didn't have to worry about touching up during the day either.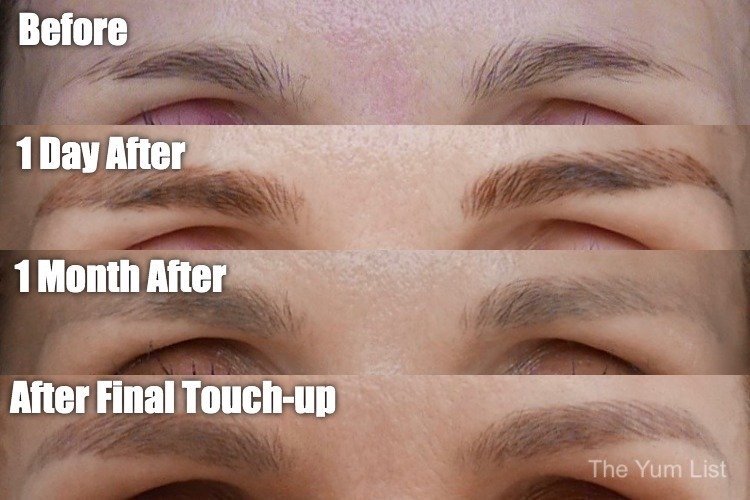 Microblading Post Care & How Long Does It Last?
The day of the procedure my brows were a little red. Within 24 hours, however, the redness had disappeared. It was recommended to keep the brow area completely dry for at least a week or more – until the area had healed 100% and the tiny scabs had disappeared. Christine gave me a cleanser for the brow area and instructed me to wash them three times a day with purified water. Then to dry them immediately. Saunas, steam baths, intense exercise, swimming and so on are to be avoided – basically anything that could moisten the area should be circumvented until the brow is fully recovered. Further on, it's recommended to protect the brows with sunscreen to prevent fading. Well-taken care of brows should last up to 18 months.
Best Microblading Kuala Lumpur
I can personally recommend Christine from PhiBrows and her workspace at Eka Roots Bangsar for microblading in Malaysia. Christine really tried to understand what I wanted and was only a What's App message away if I had any questions. Christine takes the time to craft the perfect brow and I feel that she has given me a gift that both saves me time and boosts my appearance.
Microblading KL Price
The price of microblading at Eka Roots Bangsar is RM1188 inclusive of one touch-up.
*** The Yum List readers, however, receive a RM100 discount on this price as well as a free brow shaping and trimming. Just mention The Yum List when making a booking. This offer if available until the end of July 2019.
Reasons to try Microblading KL: perfectly shaped brows that look natural; no need for brow make-up for up to 18 months; a second chance for those of us who are not browly-gifted.
Microblading KL
Eka Roots, 123 Jalan Maarof, Bangsar
59000 Kuala Lumpur, Malaysia
www.facebook.com/ekaroots
www.ekaroots.com
+6 03 2856 0775
Find more reviews and recommendations for spas and beauty treatments in Kuala Lumpur here.