Monica Tindall
You don't need to sacrifice luxury to dine in the rainforest canopy. The Pavilion at The Datai Langkawi has managed to build a gorgeous restaurant high in the forest. There are no rustic tree houses here but rather a stunning open-walled structure surrounded by nothing but clean air and leafy green.
The Pavilion Langkawi Location
Sitting 30 metres above the ground, this Thai restaurant brings authenticity to the table with a focus on fresh local ingredients. Local? You might say. We're in Malaysia. Well, yes, but we are actually closer to Thailand than the Malaysian mainland here (you can even see Thailand seemingly less than a few kilometres off the beach of The Datai) so the native produce is indeed well-suited.
The Pavilion Menu Drinks
We arrive just as the sun has set and find the restaurant warmly lit with lanterns and candles. Our corner table seems to float in the air as we look down on the understory and forest floor. This time of day begs me to order a glass of wine (don't you hear it too?). I choose the Marius Peyol, Côtes de Provence Rosé (RM32 per glass) in part because I think rosé is a versatile pairing but I also can't resist testing out the description presented on the menu. The wine list says it's "floral, pungent with ruby/pink grapefruit, peach tea and a little bit of whiteboard marker…" Tell me you wouldn't want to try it too! The body is medium with lots of stone fruit, citrus and a hint of spice rounding out to a chamomile finish. I'm not getting any marker but wonder if it's the citrus the reminds the reviewer of drawing on whiteboards. Either way, it's a good wine by the glass and does well across my courses. In fact, I order another glass to savour dessert and am happy with that match too.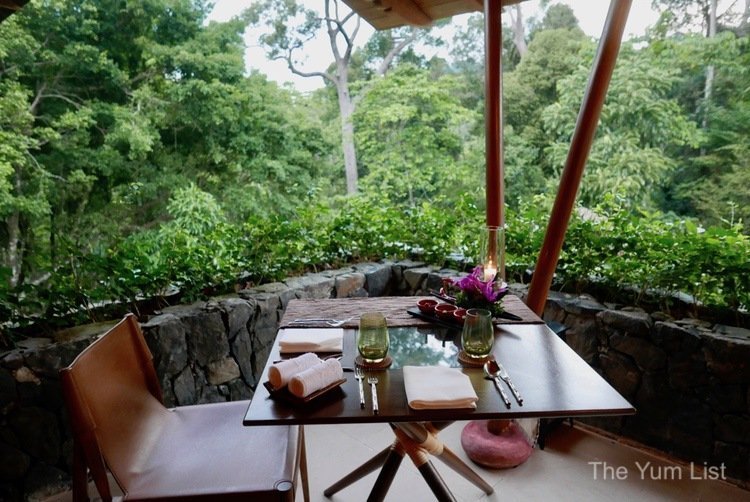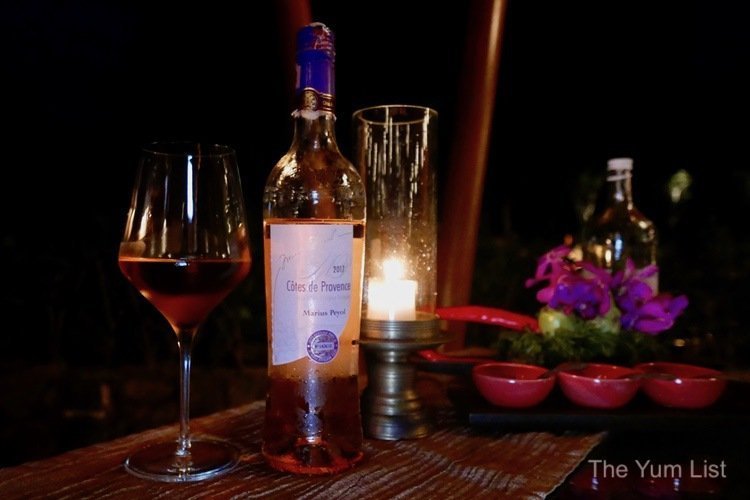 Amuse Bouche
An amuse bouche of chicken salad is presented offering a good zip of chilli and reminder of the cuisine style we are about to indulge in. Chef has kindly catered to hubby's spice-free requirements by providing a spring roll with no sauce and no chilli too.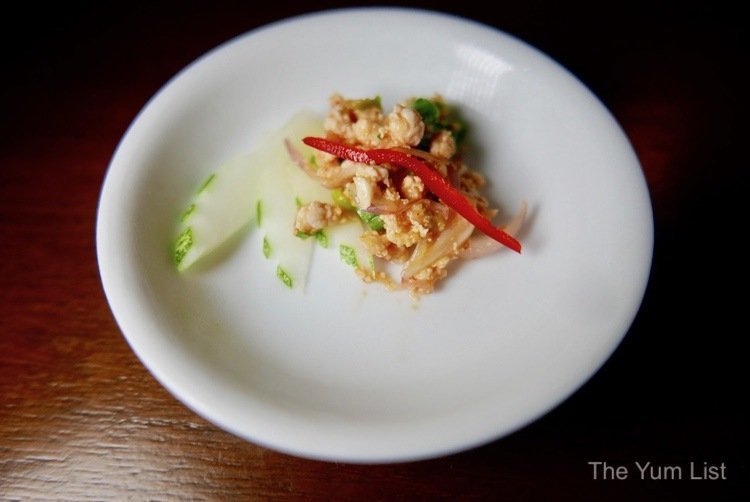 The Pavilion, Thai Restaurant Langkawi, Menu – Salad
I am such a creature of habit when it comes to Thai food. I have favourites and order them every chance I get. Once such love is Yam Som O Gai Kap Goong (RM60). Here at The Pavilion Langkawi, this herbed pomelo salad is one sumptuous version with slices of chicken breast atop and chunks of succulent prawns mixed in. In true Thai fashion, it's attractively presented in a cabbage leaf with additional greens (that I highly recommend mixing in). The kitchen team are happy to adapt the level of spice to individual preferences but even this mildly spiced salad leaves my tongue pleasantly tingling. It's fresh, crisp and very, very yum.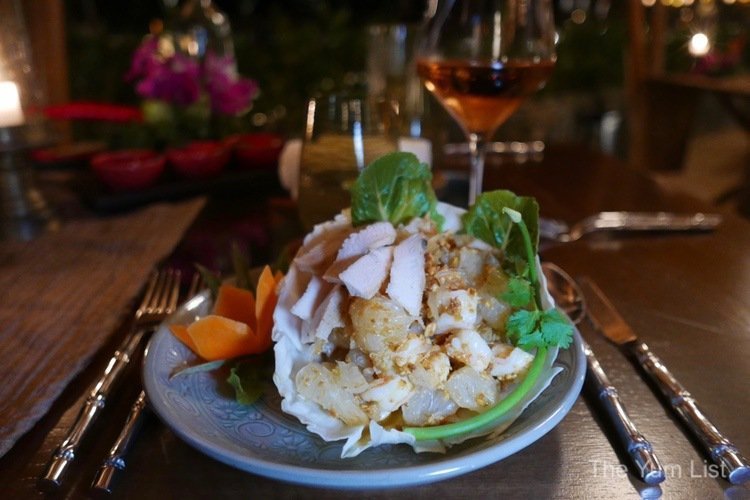 Thai Restaurant Langkawi, The Pavilion Menu – Curry
Before the mains arrive, hot plates are delivered to our table. It's a thoughtful touch that more restaurants would do well to take note of. Kaeng Khiaw Wan Gai (RM90), green curry with chicken is supported with eggplant and long beans. The curry is plentiful and offers a slow burn mainly focusing on the tongue and lips. Repeat orders of steamed rice allow me to continue to mop up the sauce even once the chunky ingredients are all gone.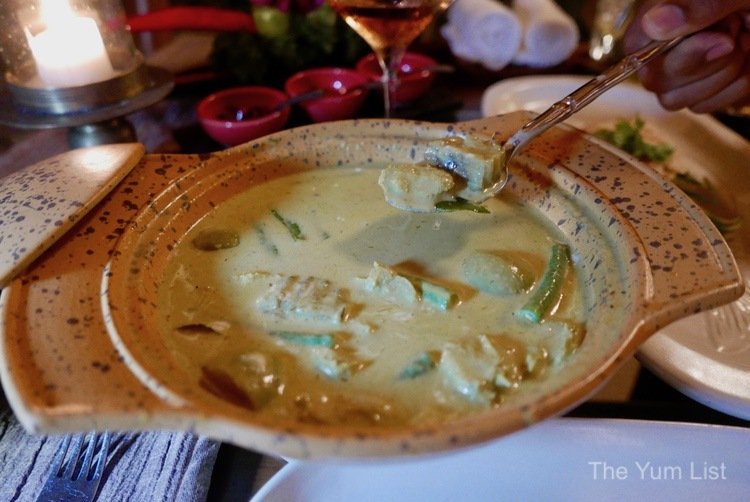 Fish
Hubby's having stomach troubles and Thai spices would not be a particularly good choice. The chef kindly obliges an off-the-menu request and grills up fillet of sea bass (RM110) simply seasoned with salt and lime. He's happy with this rendition and, upset tummy or not thinks he'd enjoy it in full health as well.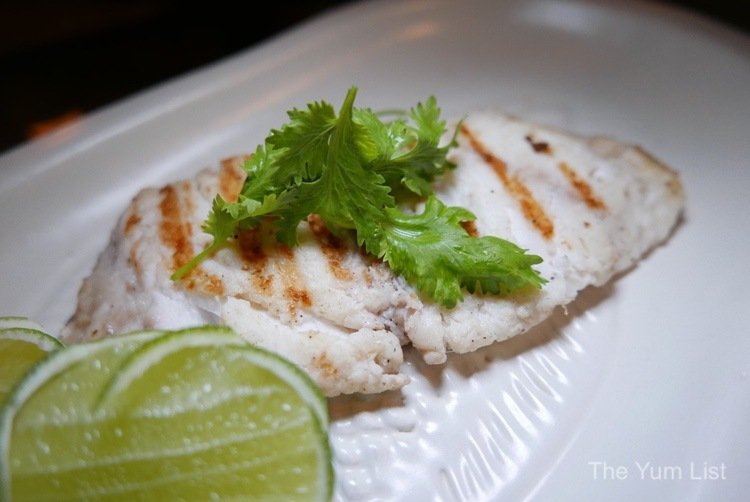 The Pavilion Langkawi Dessert
I bet you can already predict my sweet ending – Mango Sticky Rice (RM32)! I could eat this for breakfast, lunch and dinner. It's the combination of chewiness, tanginess, creaminess and touch of saltiness that does it for me. On their own, each component is good but put together, it's something special.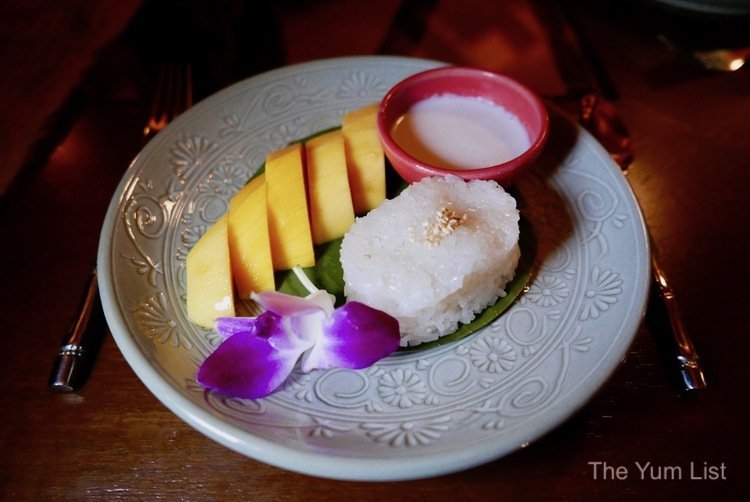 The Pavilion Thai Restaurant Langkawi Review
The magic of the rainforest comes to life at The Pavilion with its treetop position. Arriving before the sun has completely set is the best time to visit to appreciate the true beauty of the location. While the recipes offer authentic flavours of Thailand, the kitchen team are happy to accommodate personal preferences and are particularly aware of varying tolerances for levels of spice. The Pavilion offers an exceptional dining experience in Langkawi.
Reasons to visit The Pavilion Langkawi: stunning rainforest canopy location; authentic Thai flavours adapted to individual preference; friendly and professional service.
The Pavilion Thai Restaurant Langkawi
The Datai Langkawi
Jalan Teluk Datai, 07000 Pulau Langkawi, Kedah Darul Aman, Malaysia
+60 4 9500 500
www.thedatai.com
The Pavilion Thai Restaurant Langkawi Opening Hours
Daily: 6:30 pm to 11:00 pm with last order at 10:30 pm.
Check out more gourmet and luxury travel experiences in Langkawi here.