Monica Tindall
For a truly unique experience on Langkawi island, dinner at The Gulai House is unforgettable. Set in a kampong house in the middle of the rainforest, its open walls allow diners to connect with nature as they dine on scrumptious Malaysian cuisine.
The Gulai House Location
It really is a magical setting. No air conditioning is needed as the wall-less shelter invites the crisp oxygenated air of the jungle to cool and refresh. No music playlist is required either as the symphony of fauna rises and falls in natural crescendos and diminuendos providing a far more enticing background. Fish traps acting as lampshades mute a warm glow over tables and a fresh seafood counter invites interaction with chefs.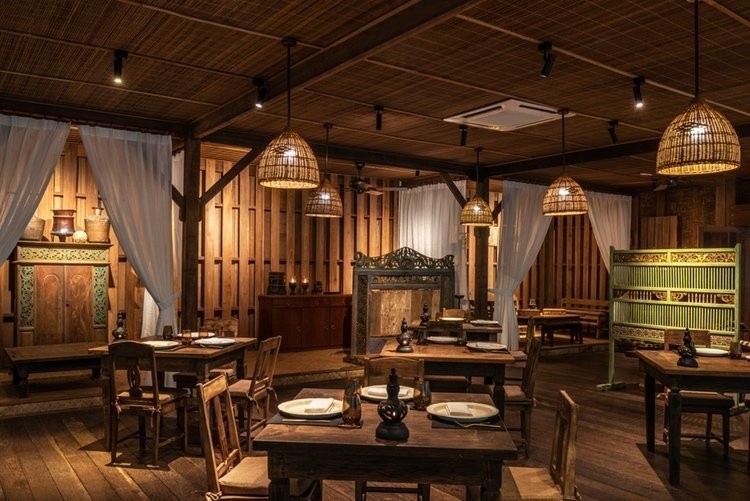 The Gulai House Menu – Drinks
The drinks menu has a solid grounding with a good selection of base spirits, an excellent collection of wines and a handful of craft cocktails. We, of course, want to try their original creations so begin with two of the house recipes.
Kumin Margarita (RM70) is rich with local spices with a cumin and turmeric syrup over a base of Corralejo Reposado Tequila and Cointreau. The cocktail offers a solid kick with cayenne pepper (a good perk-me-up after our flight from KL) and a pleasantly sour finish thanks to the citrus. LangKooler (RM70) is hubby's pick and much smoother in profile than my choice with lemongrass-infused rum, lemongrass, kaffir lime, mint, citrus and soda.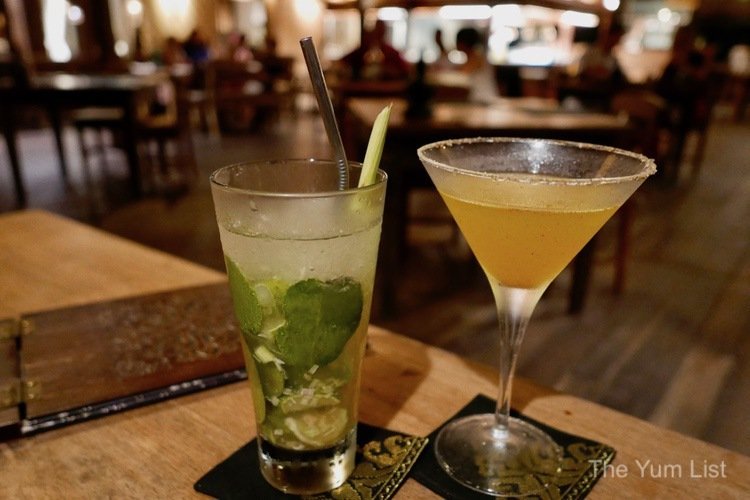 The Gulai House Menu
The Gulai House menu is an easy-to-navigate booklet with tastes from around the country. Specialities are highlighted and the region from which each dish originates educates somewhat on the diversity of Malaysian cuisine. Various dietary preferences are clearly marked noting gluten-free, vegan, vegetarian, dairy-free and items containing nuts.
Dinner at The Gulai House
An amuse bouche of prawn and mango salad is served on spoons for mini bites of seduction. Both are tangy and both do their job of awakening our palates for the rest of the meal.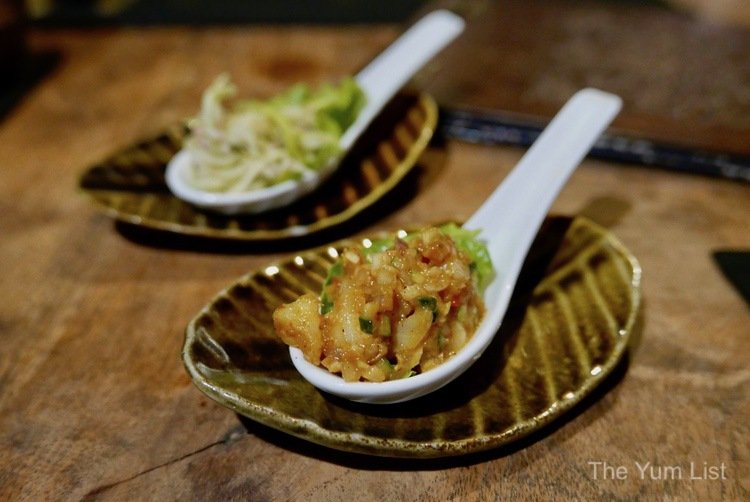 The Gulai House Malaysian Cuisine – Langkawi
Despite the delicious-looking mains menu, we're seduced by our seaside location and are swept up by the fresh seafood counter. Guests can take their pick of the catch of the day and request it steamed, grilled and with any number of sauces of their choosing.
We're fans of quality ingredients and savour the natural taste of prime produce. As such, we choose sea bass and prawns to be grilled with simple seasonings. One with chilli honey and one with salt alone. Both arrive tasting fresh from the sea, generous in portion and cooked enhancing the quality of the flesh.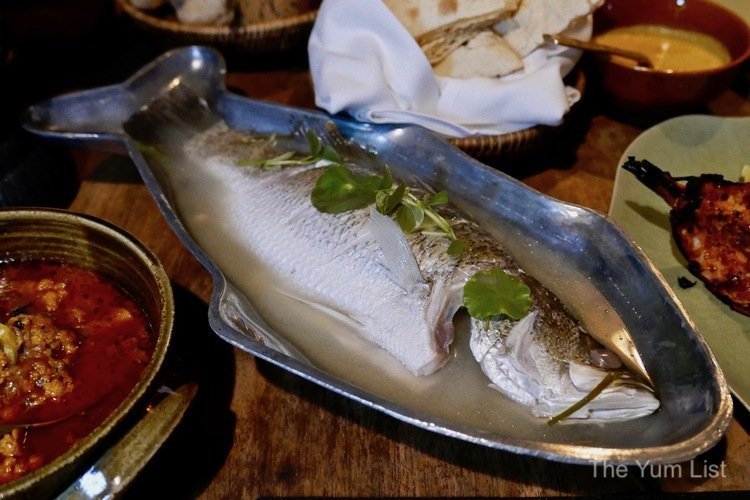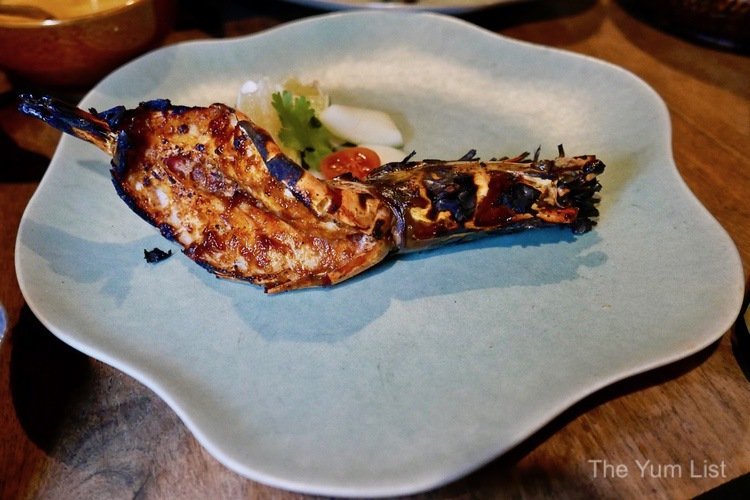 I move on to wine with the meal and the Gustave Lorentz, Riesling Reserve from Alsace, France (RM39) fits the bill. Light straw in hue it offers a bouquet of citrus and flowers. It enters with a vibrancy on the palate, offers refreshing acidity and departs with a clean, savoury finish.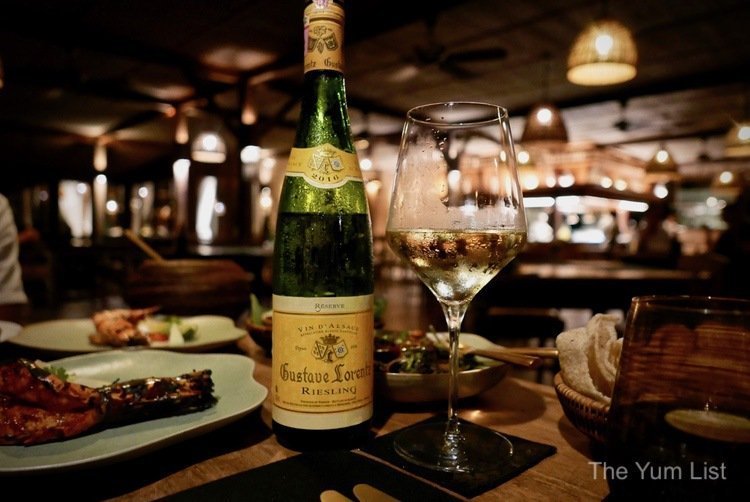 Sides at The Gulai House
Kangkong (RM53) offers some green with morning glory wok-fried with chilli shrimp paste. Gobi Masala provides a taste of Indian flavours with cauliflower masala. The white veg is sauteed with onion, ginger and chilli. Although both have chilli, they are mildly spiced offering authentic flavours of the region without the heat – a gentle introduction to newbies to the cuisine.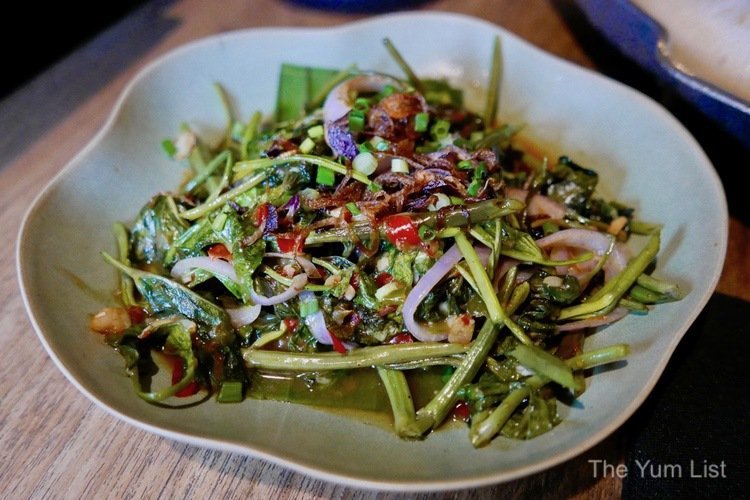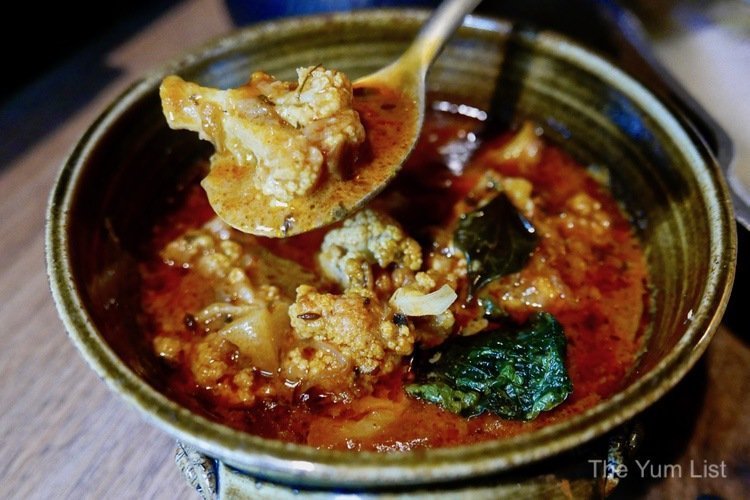 Carbs
To soak up those sumptuous sauces, we have Plain Naan (RM19) and Steamed Rice (RM18). Although there are much more exciting recipes on the menu such as biryani rice and dosa with chutneys and curry, the simplicity of these are perfect for soaking up the rich sauciness of other dishes.
The Gulai House Desserts
After such a meal, large portions of dessert would be too much. Fortunately, The Gulai House dishes up sweets in comfortable sizes. Hubby has more of a sweet tooth than I and the Sago Gula Melaka (RM28) is well-suited. Sago pudding is thick in coconut milk and sweetened with the local palm syrup. Yum! My finale preferences are for the lighter and fresher with a scoop of house-made Calamansi Sorbet (RM18). Presented in an ice bowl, the appearance is striking and the natural tartness of the citrus lingers in the mouth in a pleasant farewell.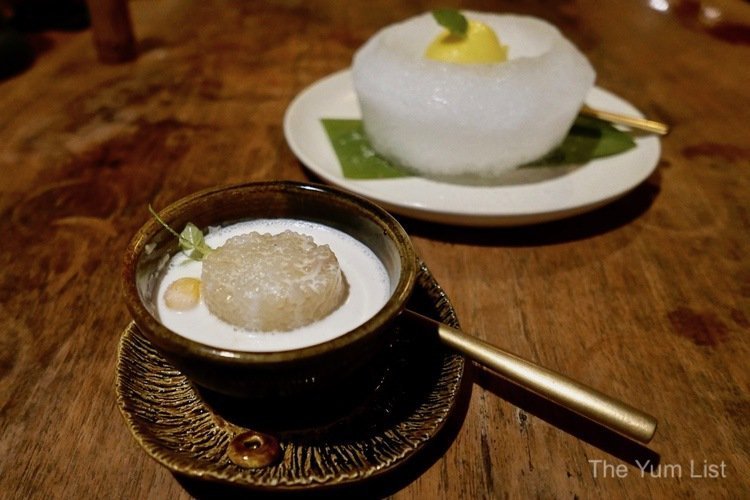 Reasons to visit The Gulai House: absolutely enchanting setting in the middle of the rainforest; a gentle and quality introduction to the flavours of Malaysian cuisine; excellent wine and beverage list.
The Gulai House
The Datai Langkawi
Jalan Teluk Datai
07000 Pulau Langkawi
Kedah Darul Aman, Malaysia
+60 4 9500 500
www.thedatai.com