Words: Patricia Podorsek   Photos: Rich Callahan
A new destination has opened for Drifters. Yes, that refers to those of us who love to shift our gaze from one shiny new place to the next, but it also refers to those foodies in the city that have become fans of Drift Dining and Bar, Drift Wine Delivery, and/or Drift Away Catering. I first heard about Drift a couple of years ago, as Changkat was spilling over into neighboring streets and expanding our waistlines as it moved. At least mine, anyway! The city was ready for Drift's contemporary Australian fusion that blended diverse international flavors in whole new ways.
Drift and Flow Bangsar
Their new outlet, Drift and Flow, sits nestled into the Telawis near Bangsar Village, near to many of our favorite small eateries in the city. Proprietor Rob has learned that successful restaurants are built with an eye to attracting not everyone, but just one person that you know intimately. The concept of Drift and Flow was designed with his own younger self in mind, a nomadic traveller looking for a community of kindred spirits with each new stop on his journey. The space aims to be welcoming, friendly and comfortable in both ambience and menu.
Drift and Flow Bangsar Menu
We settle in with a couple of cocktails, noticing the Levantine influence of the menu right away with the name of the first, Lebanon Calling (RM35). Anise-infused gin is shaken with orange juice, lemon juice, simple syrup, and egg white to make it nice and frothy. The drink is a lovely marriage of licorice and citrus, with the distinct aroma of star anise at the beginning.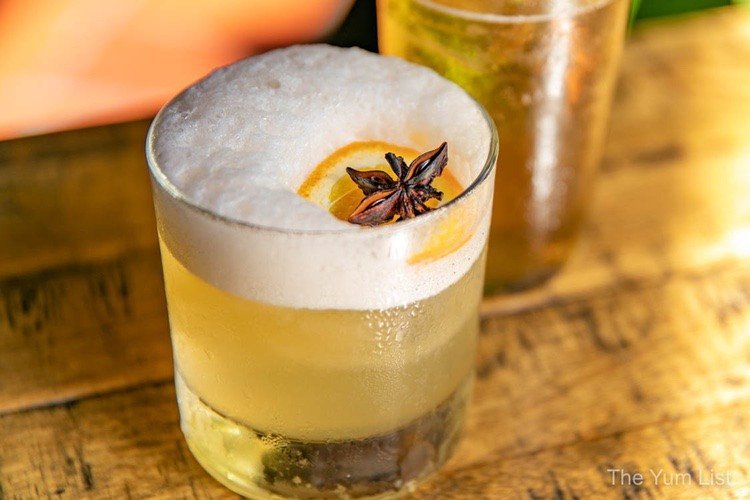 The Marrakesh Minty (RM25) blends black tea with just a little simple syrup and mint-infused gin, giving Morocco's specialty beverage a little teeth. The flavors are clean, crisp, and cold, perfect refreshment on a hot afternoon.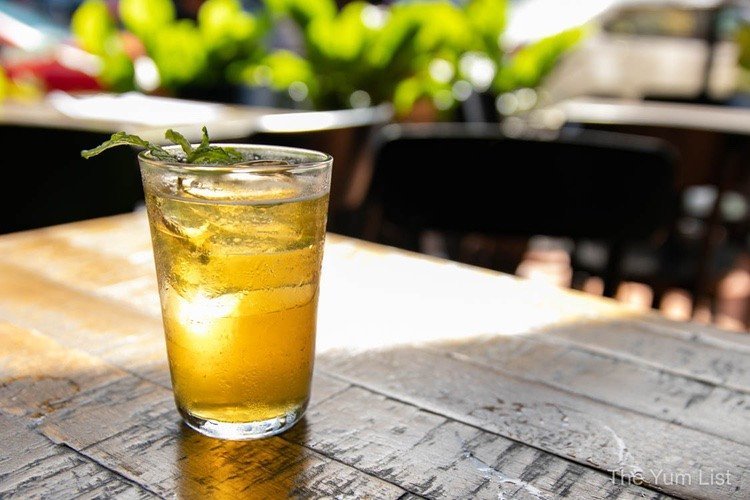 Drift and Flow Bangsar Lunch Menu
Just opened in the past few months, Drift and Flow will now be open for lunch, daily from 12:00 – 3:00 pm. Several lighter items line the lunch menu, such as the Truffle Scrambled Eggs (RM29). Thin slices of Cecina top fluffy eggs, accompanied by thin slices of brioche with olive tapenade. The truffle is subtle, enhanced by the spike of arugula and shredded cabbage.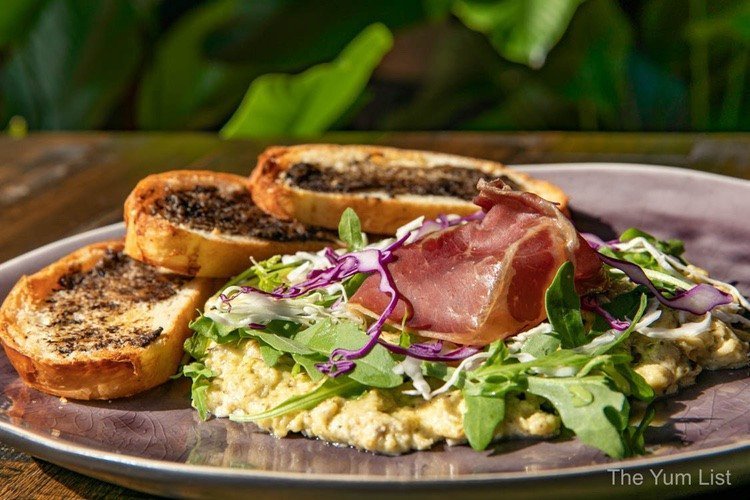 A second brunch-style item is the Turkish Poached Eggs (RM25). Flaky brioche is topped by spicy relish made from caramelized eggplant that is so sticky, I find myself wondering whether dates are somehow rolled into the recipe. I am assured they are not. I don't mind. It is easy to let my mind linger over the subtle notes of fennel and cumin instead.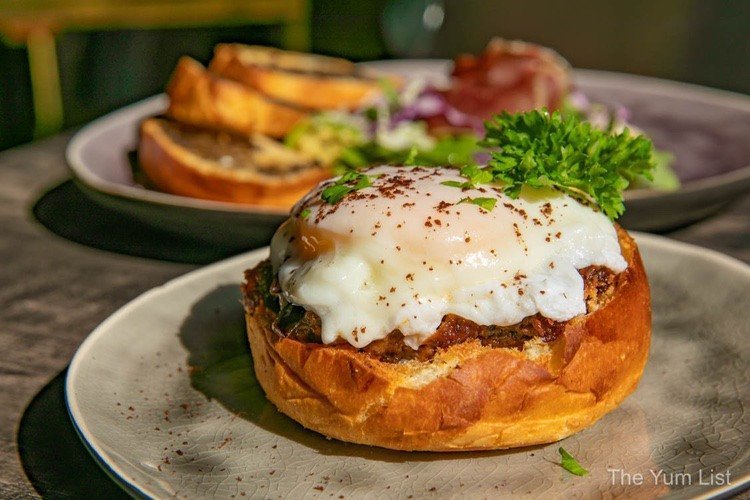 Bigger lunch appetites will appreciate the tenderness of the Spring Chicken (RM32). Half a chicken is first brined overnight in rock salt and brown sugar, then roasted until cooked through, and finally finished in a hot pan with anchovy butter for a salty seal. Served on a bed of capers, olives, onions, and tomatoes, this meal is bursting with flavors of both the meat and its complements.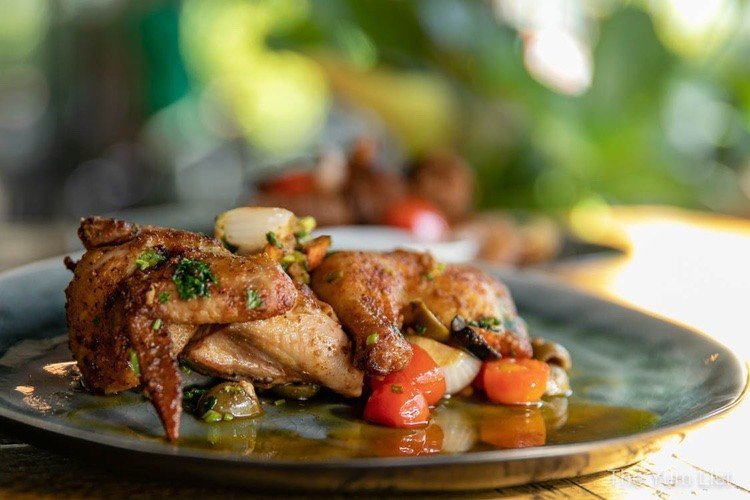 Cocktails
These types of salty dishes can make a girl thirsty! This time the bartender sends over a Pomegranate Cosmo (RM35), a cold and colourful cocktail with a fruity flair. I am always reminded of the glam TV show Sex in the City when I drink a Cosmo, and the pomegranate adds a Middle-Eastern twist to this big-city classic.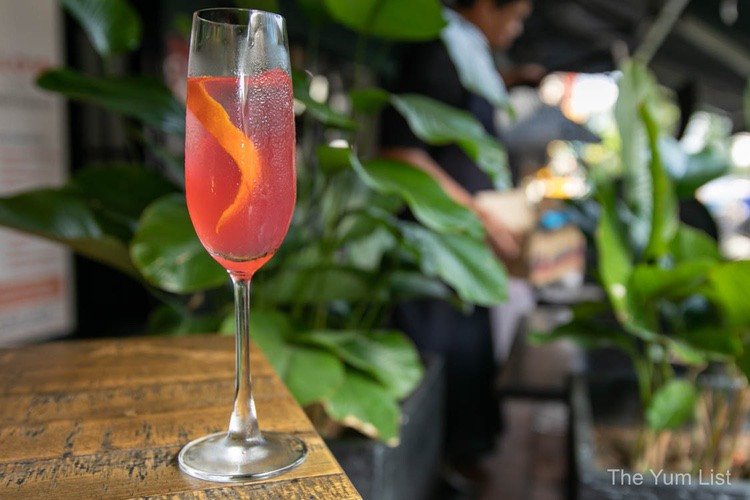 Upon request, the cocktails at Drift and Flow can be ordered without sweeteners. We try an unsweetened O.P.S! (RM38), a variation on a Pisco Sour with deep aromas of both orange and lemon. Without the sugar, the drink is all bright citrus with a slightly bitter twist of orange rind at the end. Very refreshing.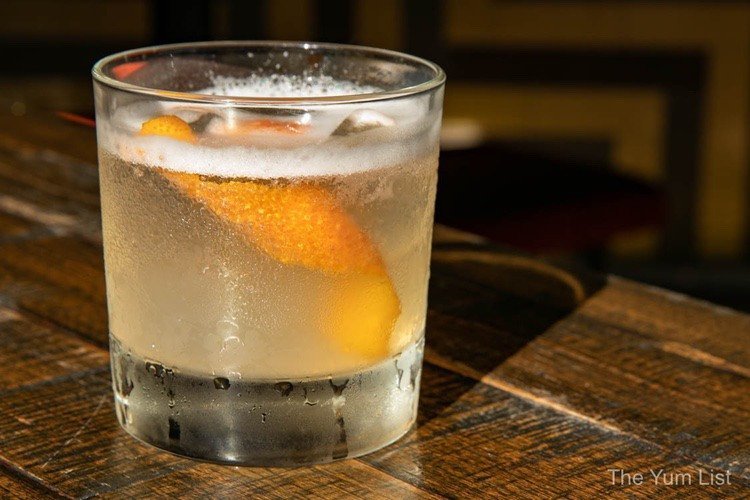 Dinner
Drift and Flow's main menu includes snacks to side with the drinks. The Mediterranean focus continues with the Grilled Halloumi (RM33). Salty strips of this cheese are sauced with tahini and served with melty, slow-cooked Turkish eggplant spiked with pine nuts and hints of cumin.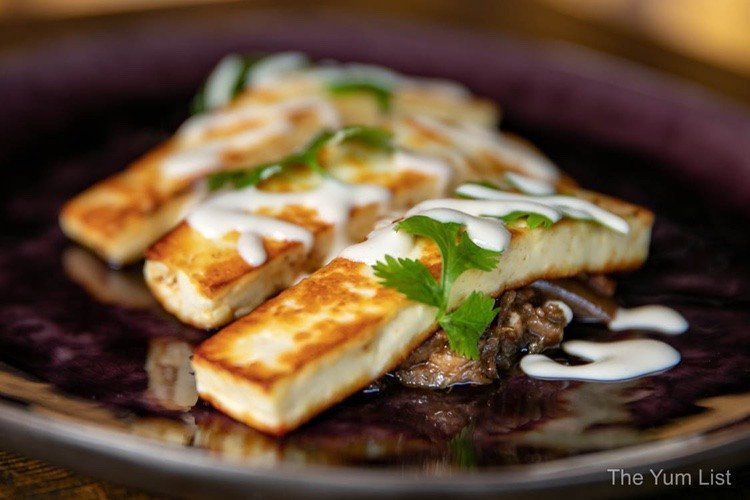 The Dukkah Tiger Prawns (RM32) are pan-fried with housemade dukkah seasoning that includes the crunch of sesame seeds and edges of basil. These are excellent, well-woven flavors of seafood, olive oil, and garlic.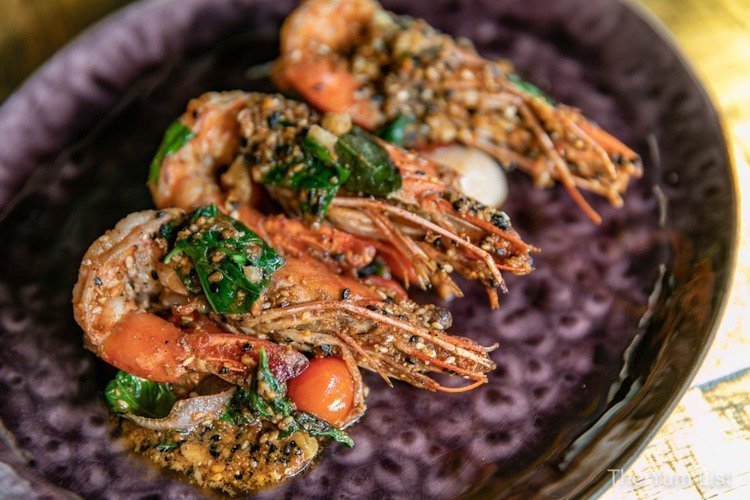 Both the house red and white are bottles by Spanish winemakers Castillo Rodafuerte. The white is a 2017 bright medium-bodied Airén that sparkles with citrus before ebbing to oak notes. The red is a 2017 Tempranillo where fruity aromas ease into soft tannins. Both are light and agreeable.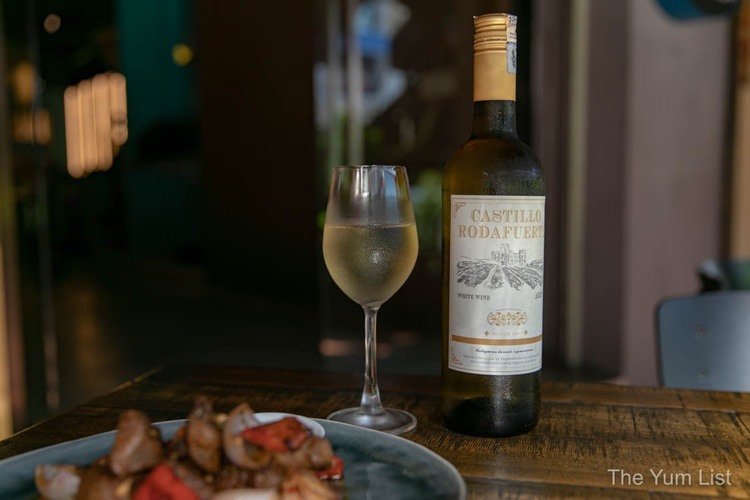 From the Larger Plates, we try the Spiced Lamb (RM45). Marinated in a dried herb rub, tender chunks are roasted with garlic and olive oil and laid on a bed of capsicum and shallots. Dipped into tzatziki laced with yogurt and dill, I am transported to the Middle Eastern neighborhoods of my childhood! Hints of lemon add a nice acidity on the backside creating a very well-rounded and flavorful meal.
Dessert
Never one to ignore my sweet tooth, I am happy to indulge our hosts in a sample of their desserts. The Chocolate Baklava offers a nice twist on the Levantine classic. Loads of cinnamon convey a creamy chocolate and walnut filling stuffed inside of filo pastry tubes. With a side of freshly whipped cream, this dessert is like that line from a childhood nursery rhyme: sweet and spice, and everything nice!
Winning the prize for the most beautiful item of the evening is the Pavlova. Like a sculpture, a round of pavlova is elegantly topped with cream, pomegranate seeds, and pomegranate puree in a gorgeous contrasting display of red and white. The pavlova cracks into a soft pillow of meringue and chocolate chips, and the pomegranate lends a tart intensity against the sweet cream. This is a beautiful looking and beautiful tasting finish to the evening.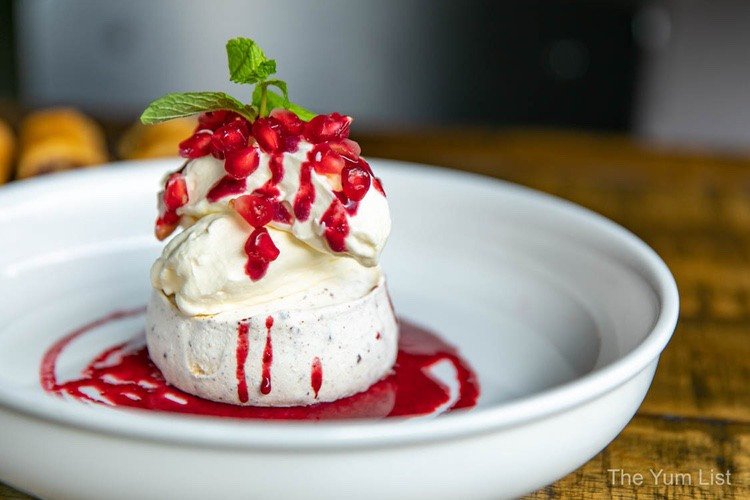 Drift and Flow Bangsar Review
Our experience at Drift and Flow Bangsar lives into its name and the whole concept of Drift: A slow continuous movement from one place to the next. We have moved from Lebanon to Spain, from Turkey to Australia, all within the flow of the evening. This is a place that Drifters will savor.
Reasons to visit Drift and Flow Bangsar: More of the comfortable fusion cuisine that we have come to expect from Drift Dining. Don't miss the Dukkah Tiger Prawns, the Spring Chicken, and the Grilled Halloumi.
Drift and Flow Bangsar
16-G, Jalan Telawi 2
Bangsar, 59100 Kuala Lumpur
013-811 2079
myebbflow.com
Drift and Flow Bangsar Opening Hours
Tuesday – Sunday from 12:00 – 3:00 pm for lunch, and 5:00 pm-midnight for dinner and drinks.
Find more on contemporary dining spots in Kuala Lumpur here.