Words: Aileen Dee   Photos: Rich Callahan   Video: Monica Tindall
"Meet me at 5.30 pm at Potions in Chinatown," was Monica's message to me.  Oh yes, it's easy to get to Chinatown albeit Petaling Street which was exactly what I thought until I realized Potions wasn't in that part of the world! It was right smack in the financial district and just under a kilometre from me.
Anyway, made my way there with my trusted Grab driver as I wasn't sure where exactly it was, and I got dropped off right in front of what looked like brown shutters in a very old shophouse.  One look at the building, you would think it was going to fall apart at any time. It's a derelict looking 50 – 60-year-old shop lot housing different businesses to be precise. Look for Timothy, a cafe and walk through it toward the restrooms was the precise instruction on the website.  The only problem was Timothy was shut for the Hari Raya holidays! Faithful Google out again, I looked for a contact number and called. Timothy Cafe belongs to the same folks as Deceased and Potions along with the Mingle Hostel next door. I was led through an unlit cafe toward the back and was shown a flight of stairs going up.
Potions Bar KL, Another Hidden Bar Near Chinatown
At the top of the stairs, what looked like an old almari (wardrobe in Malay), was actually the entrance to Potions – think Chronicles of Narnia. As I walked in, something brushed my head – a bra! There were some clothes in there actually! Pushing aside the black curtain anticipating Aslan on the other side, I was transported into an old school chemistry lab to Paul Anka's "Put Your Head on My Shoulder."  Lab equipment lined the walls, and there was also a wall full of beakers of different shapes and sizes.  Vintage eclectic furniture scattered around, along with an old gramophone and a black and white box TV.  The walls and ceiling looked incomplete but that adds to the nostalgia.  In walks Steve, the owner with a grin and immediately I felt comfortable and at home.
This review would not be complete if I didn't mention the two lads behind the bar – Lawson with a cheeky smile and Tarun the bashful one. Mon and the rest arrive, and we were whisked to the front by Steve.  Sitting on an old vintage settee, with chilled Chang Beer (RM18 a bottle) served in a bucket of ice we talked about Potions. A lab concept with a touch of fantasy serving daring cocktails with Asian spirits that opened its doors just over two months ago. Fittingly, the cool little coasters were made of the wire mesh used on the bunsen burners in the lab.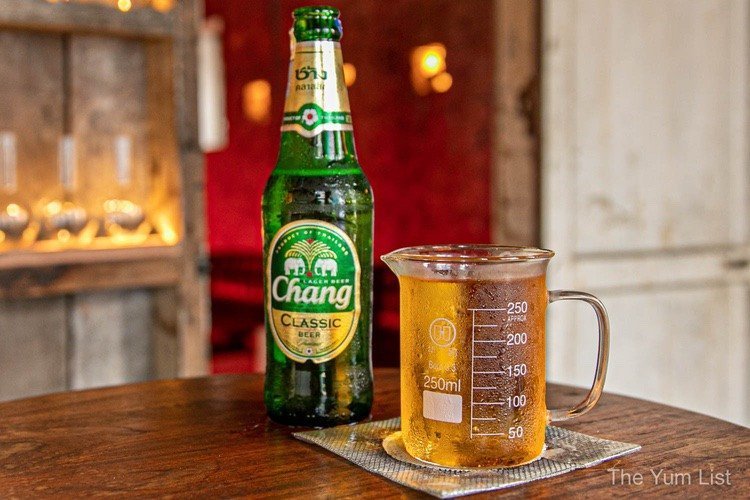 Potions is a sister company of Deceased, another hidden bar, and another daring concept. Catering to the busy office folks in the financial district, the atmosphere here spells out RELAXATION!  A chilled place to wind down after a hard day's work.  It's a full bar with food prepared downstairs in Timothy.  Unfortunately, today the chef and staff were off for the Raya holidays.  A fusion of Western, Indian and Chinese, otherwise is served on regular days.
Steve showed us around and took us through the neighbouring hostel which also belongs to the group. Boasting 10 private rooms and dorm-like accommodation and get this … a nice sized lap pool too, no wonder it's a hit with the young travellers.  Other spaces still progressively being renovated are the private room for meetings, chill attic and the roof garden.  All in all, there are three levels.  Oh, and a note to the ladies – high heels a no-no especially stilettos!
Creative Cocktails
Now for the important business…  the drinks of course!
Rich was served with a Secret Potion, a mocktail made with ingredients catering to the customer's taste and in this instance contained the juices of lime, pineapple and orange with a touch of yuzu and garnished with rosemary and cherry.  These ingredients can change depending on taste.  A little refreshing and a little sweet and sour.  And the price is a secret too!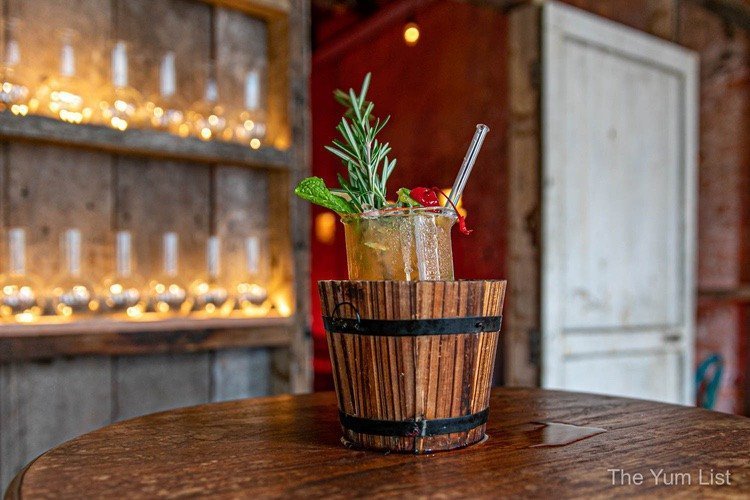 Tarun then entertained us to the Gin Flight (RM60).  First of was the Sakurao Dry Gin from Hiroshima.  This was served in a hollowed-out green capsicum as opposed to a glass with a cylindrical ball of ice sans tonic first. Made of the best ingredients from Hiroshima, you think of cherry blossoms, yuzu, cypress and fresh citrus. Tonic was served on the side in a round-bottomed beaker.  A touch of tonic made for a refreshing drink and with a bite of the capsicum, the spiciness of the gin was enhanced.  Then came the Iron Balls Gin from Thailand in a yellow capsicum.  This gin is made using cracked coconuts and pineapples with hints of juniper, ginger and lemongrass. It's a yummy refreshing gin. The third in the flight was the Jaisalmer Gin from the pink city of India – Jaipur.  India is known for its spicy cuisine, and naturally, this was served in the spicier red capsicum, which brought its spiciness to another level. I now want to add these gins to my collection.  The gin infused capsicum can be used in a salad later perhaps? Just a thought. It was a delightful flight with amazing gins and interesting presentation with edible tumblers.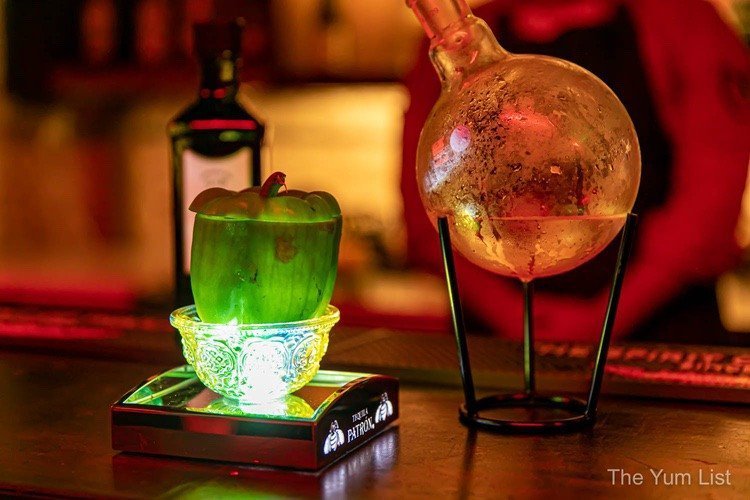 A snake (albeit Lawson's snake) was whipped out and Nagini's Venom (RM39) was concocted served in a beaker with the rubber snake wrapped around. Its head in the beaker, it looked like it was spitting venom into the drink.  It's a mixture of sake, Campari, yuzu puree and lime juice injected with CO2, and as the cheeky bar lad said, "a mouthgasm from awesome Lawson's Nagini." Very refreshing with a tad of bitterness and not very sweet made it a crowd pleaser.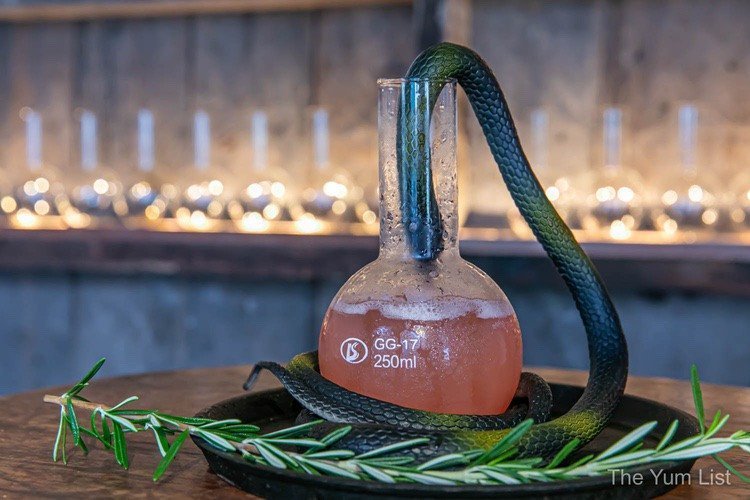 Tarun had a gas mask on and we got a bit worried wondering if the building was having a leak somewhere… Ah, that was in preparation of the Carbon Monoxide (RM45), which was a composition of tequila, pear syrup, juices of lime and grapefruit and the secret ingredient – black charcoal powder served with a burnt sprig of rosemary and a slice of lemon.  And the reason for the gas mask?  This composition was then placed in a glass dome enclosure, and smoke from peppermint wood chips was infused.  As Lawson puts it… it's a "smokegasm" of a drink.  Presented in the glass dome with a World War II gas mask over the top, this was a smoking refreshing drink with a touch of sourness from the lime. Another favourite. Oh yes, Caning and I had a go at the mask!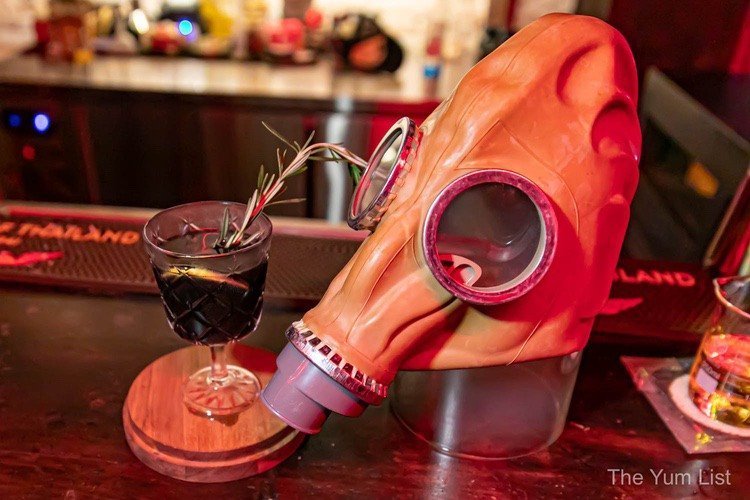 Did we hear Cannabis? Yes, Cannabis (RM42) ala gin, Campari and blue Curacao in test tubes and served with orange juice and orange peel syrup sitting on dry ice in a beaker was a sight to behold.  All we needed was a lab coat!  The elements were poured into a glass full of ice and with a good stir, we had Cannabis.  The bitterness from the Campari and the sweetness from Curacao balanced very well with the orange juice making this an enjoyable cocktail to drink.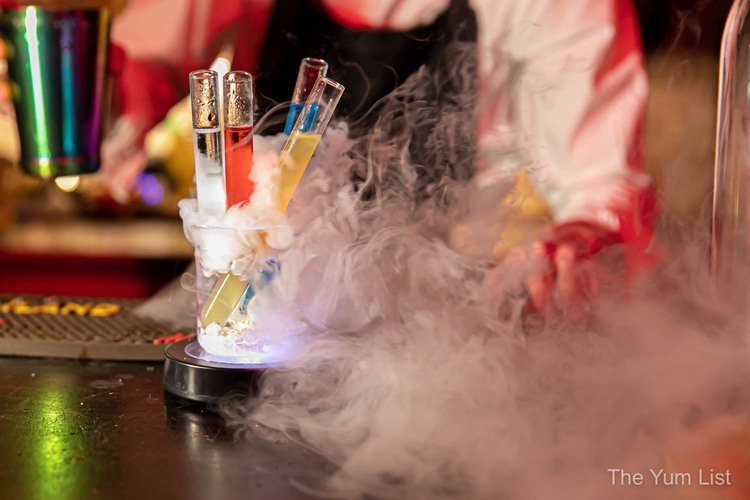 And true to our Malaysian roots is the Ramuan (Malay for recipe – RM39).  And in the typical coffee shop method of takeaway for drinks, this was served in a plastic "tapau" bag, a glove with one rubber finger in it.  With gin, Thai tea syrup, calamansi and lime juice drawing its inspiration from "Teh O'Limau" (Iced Lemon Tea), this was really an easy drinking refreshing cocktail.  This was my favourite and I can see myself drinking this all the time!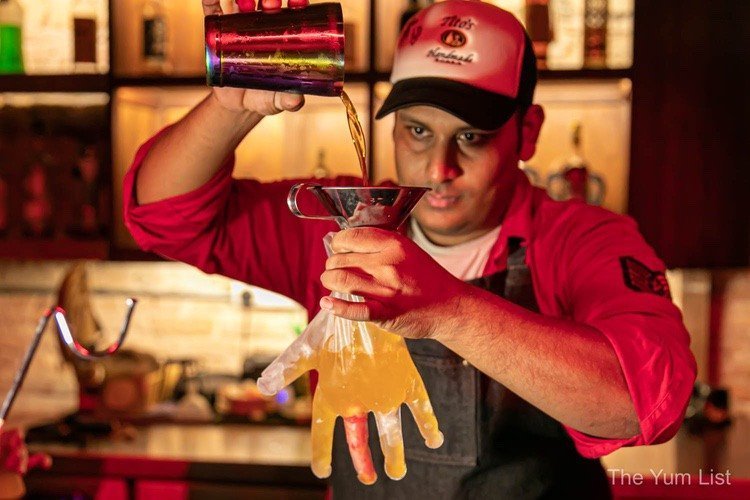 Last but not least, was Allow Me To Die (RM42) with a blend of whisky, longan and jujube red date extract, lime and calamansi juices, orange juice and egg white. A reverse dry shake method was used for that perfect foamy egg white. It was served in a beaker atop a nest with two eggs to signify a chance to be reborn after death. And the burnt rosemary apparently helps us with our memory by 75%! Good, now I can remember what to write about!  Another lovely drink served in a beautiful cone-bottomed tumbler, the taste reminded me of whisky sour.  A delight to the palate.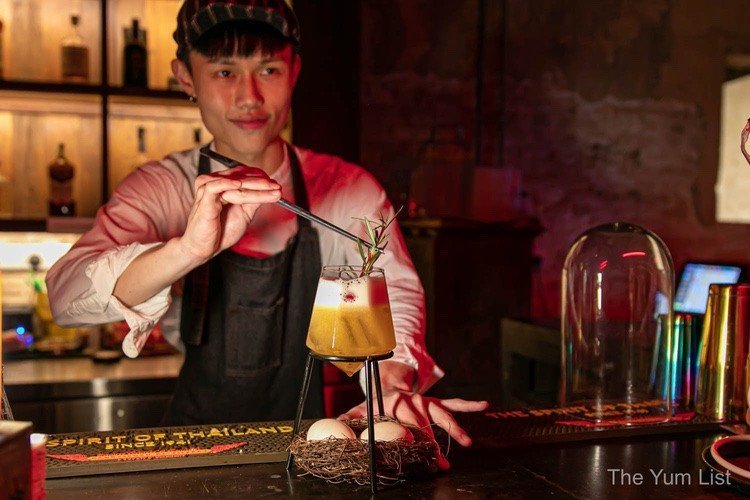 By now we had had our fair share of alcohol and were ready to leave when our generous host Steve, in the spirit of Gawai (East Malaysia's Rice Harvest Festival) treated us to a shot of Tuak (rice wine) from Sarawak and Mekhong Rum from Thailand with the OOH HA toast to good health.  A lovely entertaining arvo!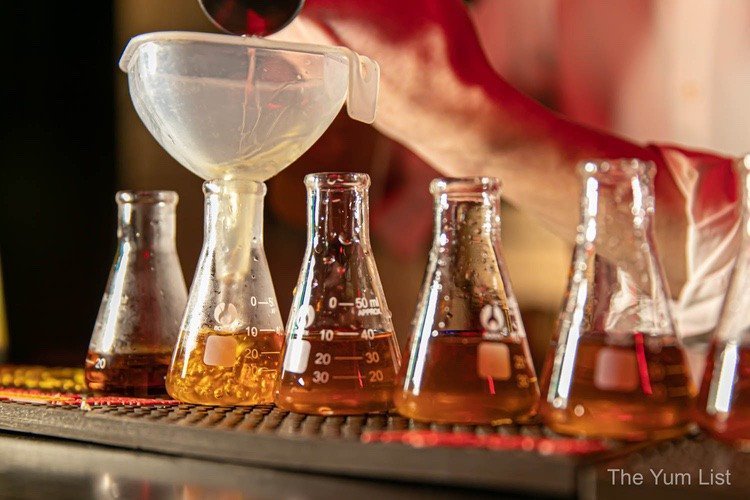 Potions Bar KL Review
Yes, the setting of Potions is reason enough to visit. As is the presentation of the drinks. But both of these visual attractions are 100% backed up by excellent cocktails and fun and lively service. It's a great bar. You should visit!
Reasons to visit Potions Bar KL: a down to earth chill-out space for anyone needing to relax; walk in your shorts and slippers and nobody will judge you; the mixologists are entertaining and will instantly wash away your troubles or stress; the cocktails are not only well-presented but well-balanced too – excellent preparations.
Potions Bar KL
24A, Jalan Tun H S Lee, City Centre
50100 Kuala Lumpur
+6 012 781 8851
www.facebook.com/Potions
Potions Bar KL Opening Hours
Monday to Saturday from 6 pm until late
Closed on Sundays