Words: Anna Chew Photos: Monica Tindall
This trip unearthed some hidden gems in Langkawi, one of which nestles itself amidst jungle canopies. With a fantastic view of the sea, beautiful moments are provided when the sun begins to set, but any time of day brings a sense of awe at Rimba. Part of the Ambong Pool Villas, a rainforest retreat, Rimba serves delicious local food, influenced by the traditional Malay, Chinese and Indian kitchens of Malaysia. (Western dishes are also on the menu, but today we focus on getting local.)
Non-villa guests are allowed to dine but call ahead for a reservation since the intimate dining area has limited seating. The restaurant is a stunner. Each table enjoys sea views or greenery, and a bar (operated by a friendly bartender) centres the interior. Lounges invite casual conversation and open walls encourage a gentle breeze. The moment you cross over the canopy bridge, you enter the calm of Rimba.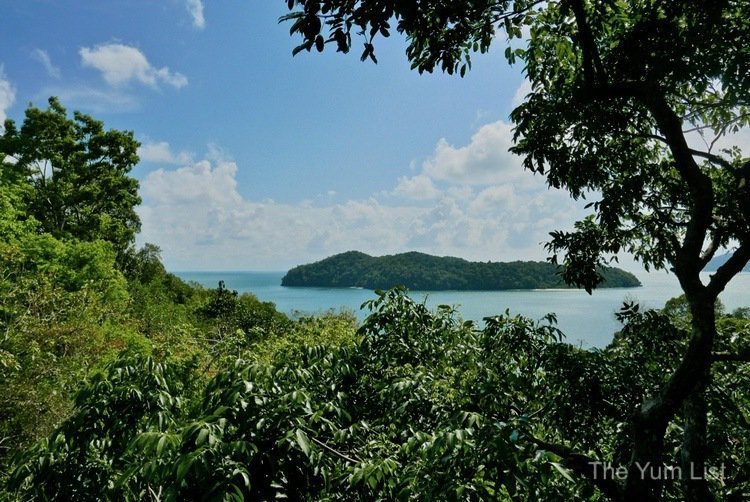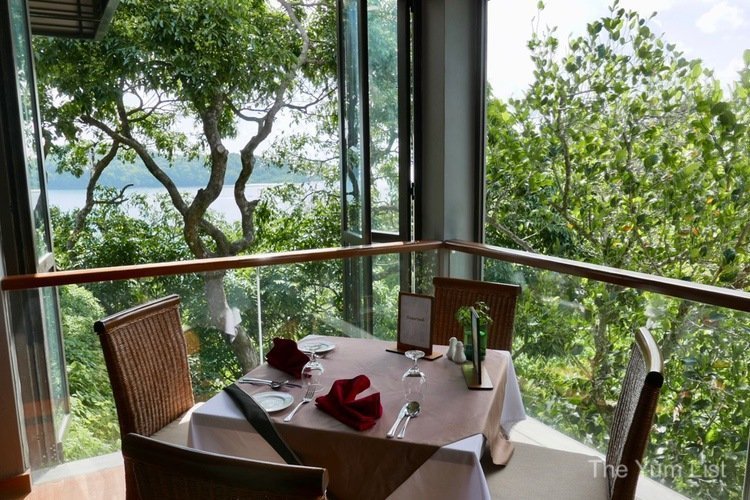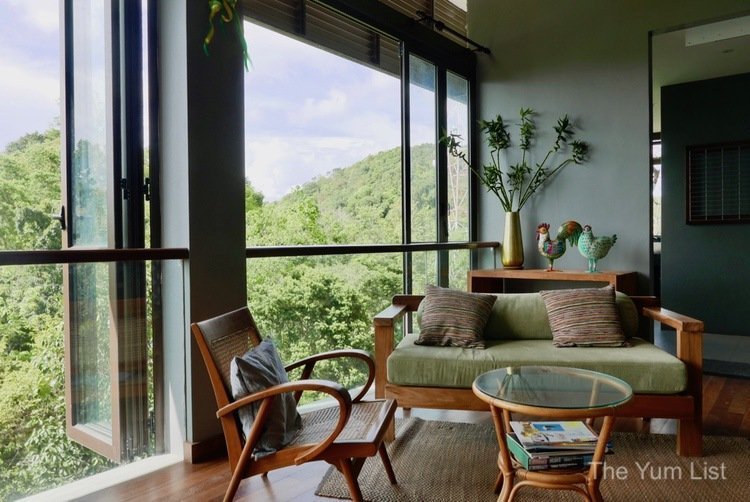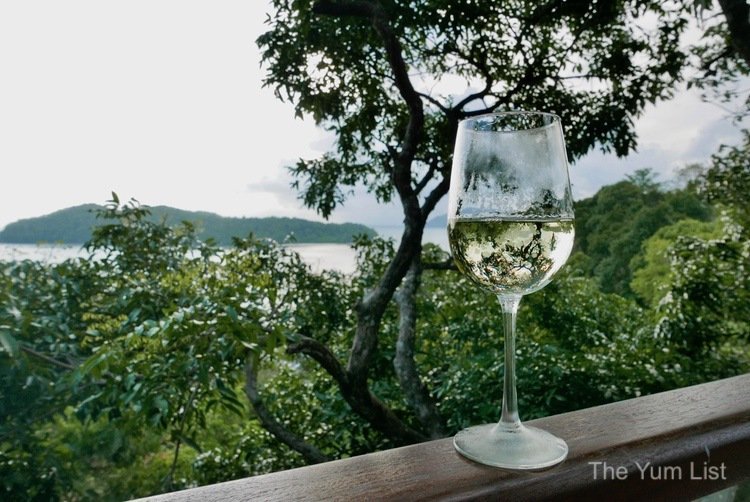 Rimba Langkawi, Ambong Pool Villas Restaurant – Drinks and Starters
The setting called for a cocktail. We were recommended the Spicy Thai Daiquiri (RM22), which came strong with a base of rum and vodka and zing was provided by ginger and galangal. Rimba also has classic cocktails and a selection of beers and wines by the glass. All are reasonably priced under RM30.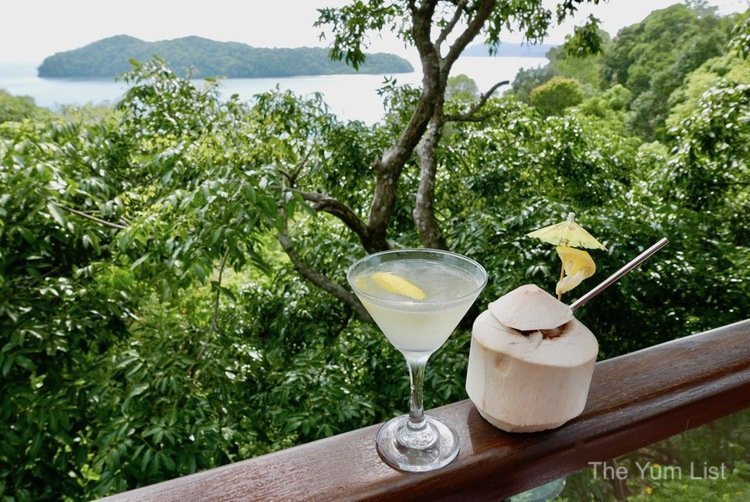 For starters, we had the Gado Gado with Andaman Prawn (RM40), a type of regional salad served with a heavy and tasty peanut sauce. A mix of green beans, beansprouts, carrots, potatoes, jicama, cabbage, tofu and tempeh is eaten with the peanut sauce and topped with a seared lemongrass prawn and crunchy emping crackers. The perfect dish to start the meal, it was nutty with a hint of smokiness, and it is not spicy.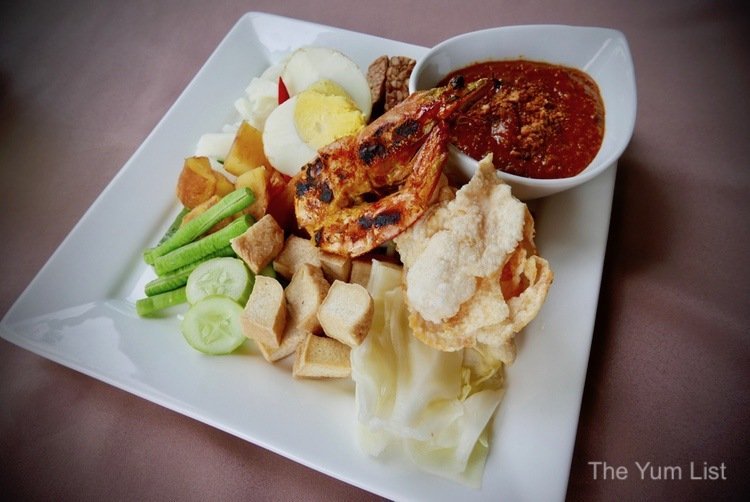 Oxtail Soup with Caramelised Bone Marrow (RM40) was next. With a squeeze of lime, the hearty broth came alive with magnificent flavours! Stew-like, dig into a chunk of the melt-in-the-mouth oxtail with carrots and potatoes or the creamy marrow. Superb aptly describes this dish.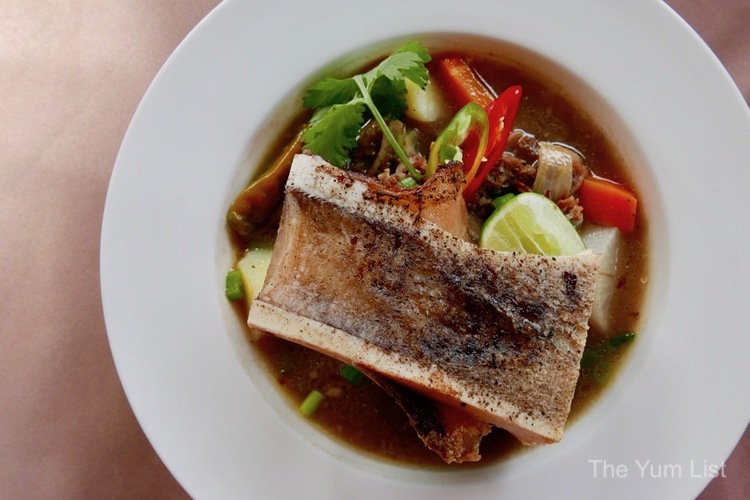 Ambong Pool Villas Langkawi Menu
Udang Masak Lemak with Blackened Pineapple (RM48) is a must, for those wanting to try a local curry dish. It is served with jasmine rice, a local cucumber salad and fresh mixed herbs to be eaten with delicious sambal that was mildly spiced. The creamy coconut cream curry base is seasoned with turmeric and cooked with pineapples to provide a mild sweetness and freshness to cut the cream.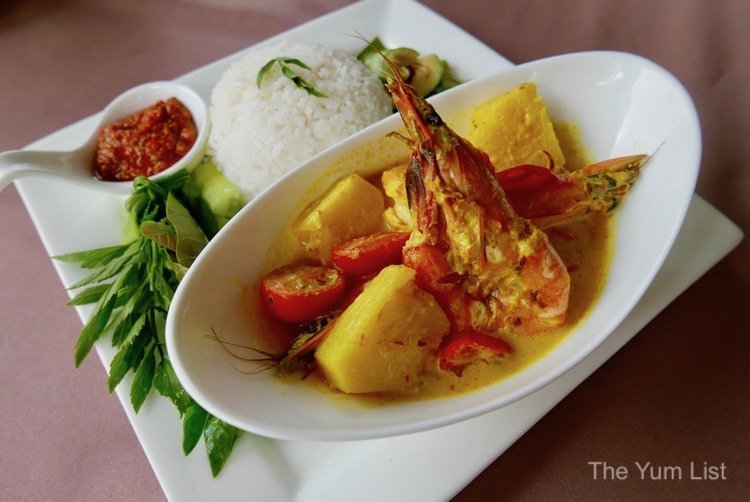 Whole Fish Bakar & Air Asam (RM58) was so mouth-watering, we picked it right down to the bone! The fish of the day, in our case the golden pomfret, is seasoned with lemongrass and turmeric then charcoal-grilled. Served with rice cooked with coconut cream, the fragrant rice provided an excellent pillowy base to be eaten with the fish and tamarind sauce. Fresh mixed herbs and a mango salad accompany the meal.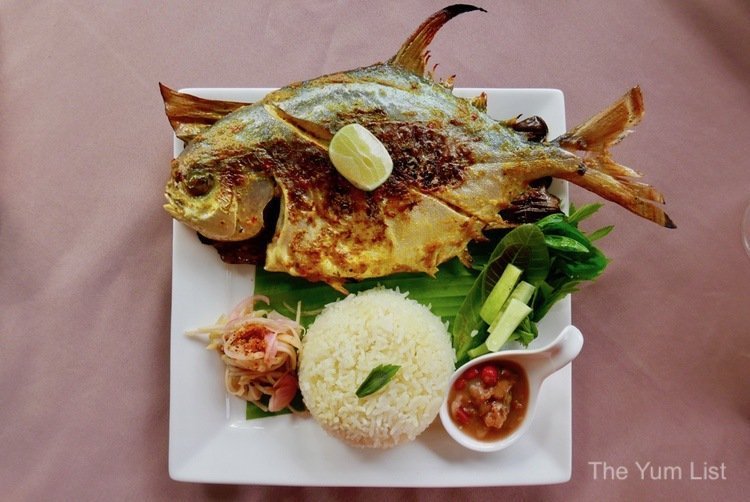 Rimba Restaurant Ambong Pool Villas – Dessert
Given how delicious the food was, desserts were, of course, a must! Local desserts were the highlight, so we opted for the Sago Gula Melaka (RM22), an excellent excuse to have palm sugar syrup. Overall the dessert is not too sweet and blends perfectly with the fresh coconut cream and tapioca pearls.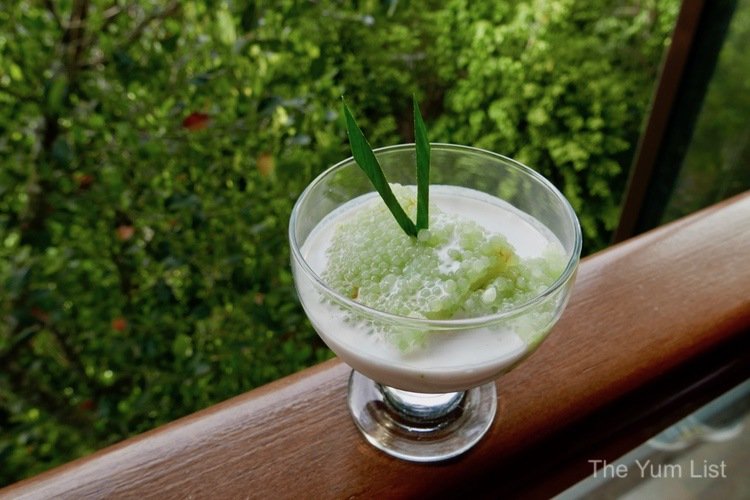 Pulut Hitam Mangga (RM26) was their rendition of mango sticky rice with a twist of a black glutinous rice base. Eaten with thickened sweet coconut cream and ripe mangoes, the meal ended in perfect unison with the lighting of the sky.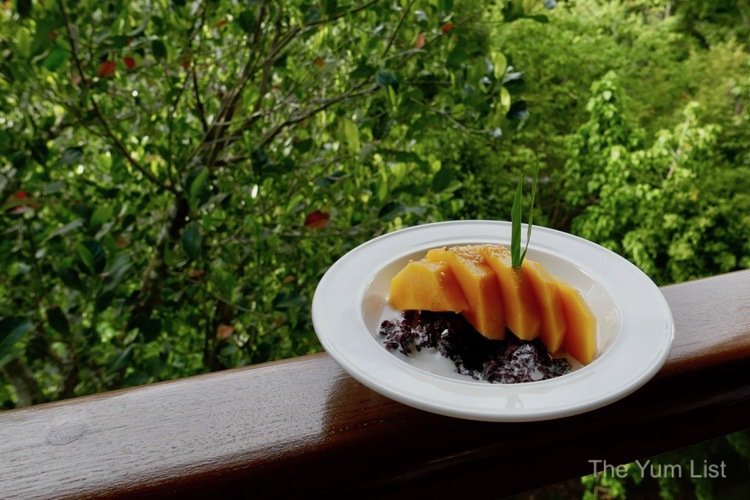 Reasons to visit Rimba Langkawi at Ambong Pool Villas: the local recipes are delicious; a great introduction to flavourful non-spicy regional food for visiting guests and also reasonably priced – almost a steal when you see the stunning sunset and greenery around you. Friendly and attentive service and a welcomed connection to nature.
Rimba Opening Hours
Daily 8 am – 11 pm