Semenggoh Nature Reserve Tour
Monica Tindall
The most intelligent non-human primates, orangutans, are the top of any highlight list for travel in Borneo. These beautiful apes are native to the rainforests of Borneo and Sumatra, but sadly their populations have declined rapidly in the past two decades. A half-day trip to Semenggoh Nature Reserve with BORNÉO À LA CARTE, allows you to see these majestic creatures up-close and also contribute to their continued survival.
Semenggoh Nature Reserve
Meaning person of the forest in Malay, all three species of the orang-utan are endangered, making the work of the team at Semenggoh Nature Reserve all the more important. Habitat loss, as well as poaching for the illegal pet trade, pose as threats to their survival.
The team at the reserve have been training young orangutans who have been captured or rescued from captivity for over 20 years. As a result, the surrounding forest hosts a thriving population. The work of rehabilitation has since been moved to Matang Wildlife Centre, but this reserve is still home to its successful graduates and their babies.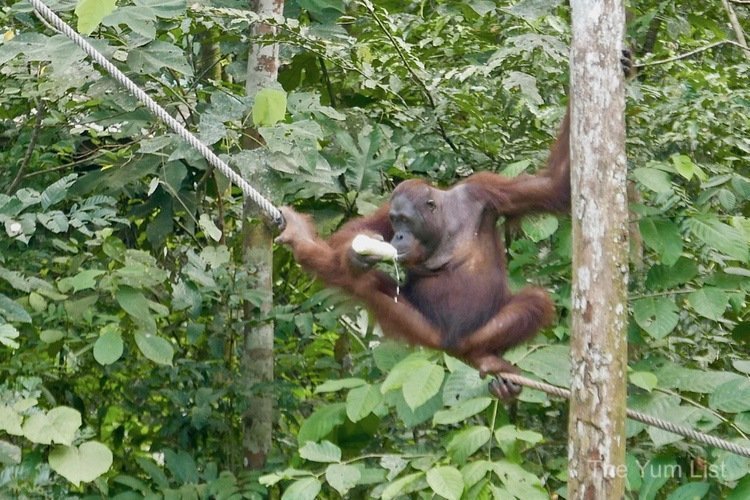 Semenggoh Nature Reserve Feeding Times
Of course, the ultimate goal is for the orangutans to live independently in the wild. Being semi-wild, however, the orangutans often return "home" for a free meal. Feeding times are 9 to 10 am and 3 to 4 pm and hence the most likely period for you to see one or more of these apes. If the forest is abundant in fruits, there might not be an appearance on the day you visit. That is actually good news as it means the program has achieved its goal of teaching the animals to survive on their own in the wild. Perhaps disappointing for a tourist in the short-term, but considering the near loss of these animals, it's an ideal scenario.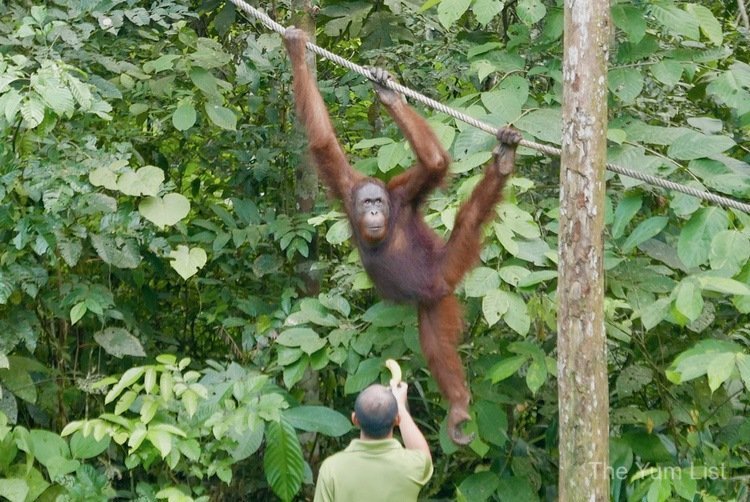 What If the Orangutans Don't Show?
Without a doubt, a sighting of the apes is the highlight and only reason many would venture this far from Kuching. Besides seeing them though, there is an Orangutan Gallery, Interpretation Area and Botanical research centre where you can learn more about the animals and their habitat.
Those determined to get some wildlife shots can at least be placated with gibbon and crocodile enclosures. Although I'm not sure how they fit into the objectives of the centre or if they have purely been constructed to appease poorly educated tourists.
Alternatively, bring your binoculars and try some bird watching. There are a great number of tropical species here. Yellow-rumped flowerpeckers, long-billed partridges, red-bearded bee-eaters and Sunda frogmouths are just a few.
Getting There with BORNÉO À LA CARTE
BORNÉO À LA CARTE offers both group and private tours to Semenggoh Nature Reserve. They recommend leaving Kuching around 8 am to ensure you're there in time for the morning feeding. It's a half-day tour and most return to the city around 11 am.
A guide picked us up from our hotel lobby and transferred us in a comfortable air-conditioned vehicle. On the way, the informative guide shared with us the history of the reserve along with some interesting facts about orangutans. The trip lasted about 40 minutes.
Walking from the ticketing office to the feeding area takes around 10 minutes at a slow pace. Take a moment to ponder at the great biodiversity that makes this forest particularly special. Here there is a mix of primary lowland mixed dipterocarp forest with patches of old secondary and kerangas forest. It's recommended to stay for the entire hour as sometimes the orangutans are not so punctual.
We were in luck on the day of our visit treated to the appearance of the oldest orangutan (48 years old) and two youngsters (11 and 13 years old).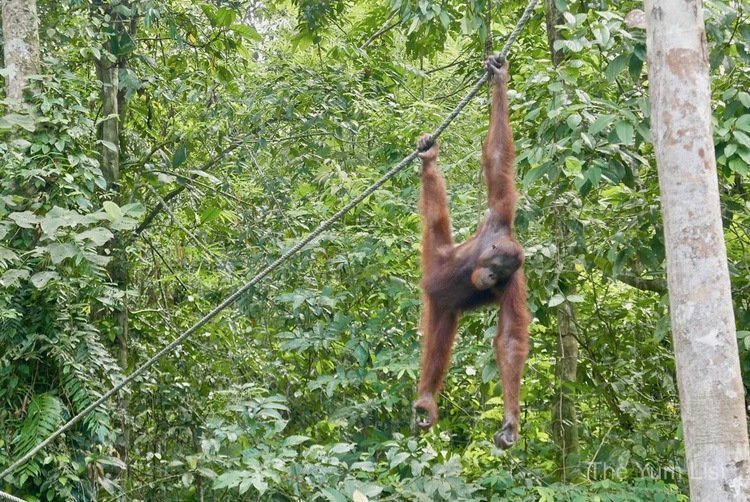 Semenggoh Nature Reserve Tour Price
The price of the tour depends on the number of people signed up, if you prefer a private tour, or don't mind going with a group. Details at the end.
Reasons to visit the Semenggoh Nature Reserve with BORNÉO À LA CARTE: one of the highlights of any trip to Borneo; a well-organized and information tour.
Semenggoh Nature Reserve
Orangutan Sanctuary Kuching
BORNÉO À LA CARTE
93100 Kuching, Sarawak
+6 082 234 126
www.borneoalacarte.com
Price
The price of tours is RM 115 per adult and based on a minimum of two pax and maximum of eight pax.
Children (below 12 years) accompanied by a minimum of two adults enjoy discounted rates. There is also a reduction in price for teenagers (aged 12 – 17 years).
Discounts are provided if a travelling party of three or more adults book together.
Private tours are available upon request with a surcharge.