King Somm
Monica Tindall
In the quieter neighbourhood of Bayswater, Perth, we find a delicious surprise: an excellent wine bar focusing on lesser-known labels and a fantastic food menu to match.
Heading a little out of Perth's centre rewards diners with more affordable prices and a friendly neighbourhood feel. We're told that nearly half the regulars to King Somm are from the suburb itself, many just a short walk away. The other 50%, however, are foodies (and wine-ies) in the know. Word has spread quickly about the menu here. Gourmands from all over the city are making the trip to discover new wines, craft brews and dine on a tasty list of comforting recipes.
King Somm is a collaboration between friends and family; Alana, Dion, Simone and Matt
They all live "just up the road," and wanted to create a business together – a place where they themselves would like to hangout. Their goal is to offer affordable wine; wine that a sommelier would drink in their own lounge room. By focusing on smaller producers, they've made it easy to get a good bottle from around $45. Despite none of them having previous hospitality experience other than enjoying eating and drinking, they seem to have filled a missing niche in the market.
King Somm Bayswater
King Somm is composed of a wine store, a dining room, a bar, beer garden and, in warmer weather, alfresco tables on the street. We're in the beer garden for the natural light. If I weren't concerned about photography, however, my chosen spot would be a seat at the high table in the wine store at the front of the outlet.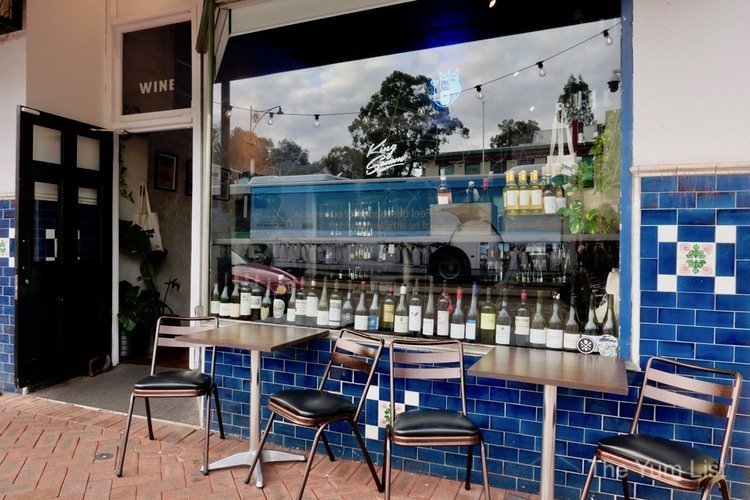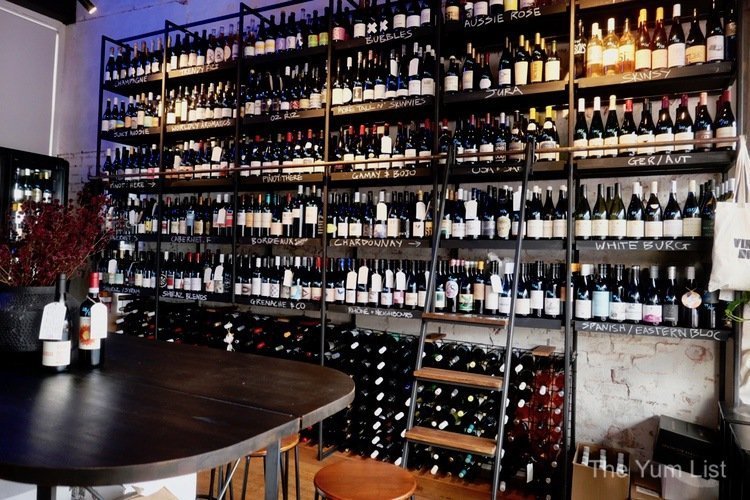 Menu
Today we try a few dishes paired with wine and beer from the King Somm menu.
Milky white Buffalo Mozzarella ($19) comes from the East coast of Australia and contrasts brilliantly with a green pea puree. A tangle of watercress tops it and is decadently sprinkled with strips of Manjimup black truffle. The greens break up the creaminess of the cheese, and the odd whole pea pops in the mouth. It goes fantastically well with bread ($8) from the wood-fired oven, which is puffy, sports the char of the grill and is seasoned with thyme and oregano. A chilled glass of Fiano/ Slankamenka by Amato Vino, Riverland SA 2016 ($8 glass) is a stellar match with its white-peachy, citrusy freshness and pleasant minerality.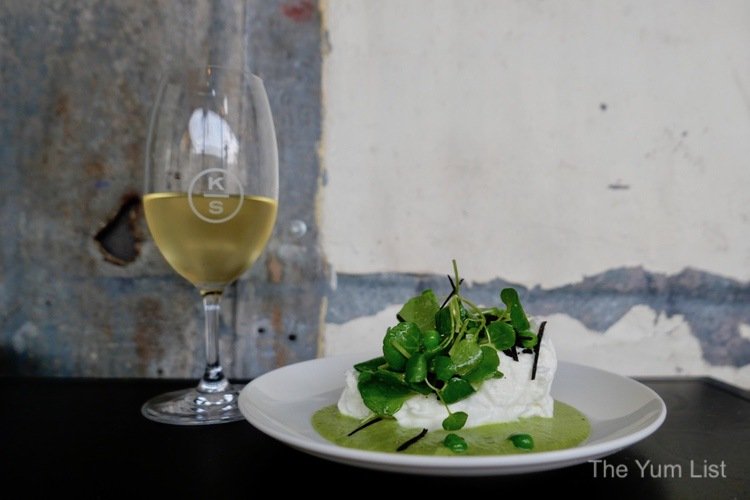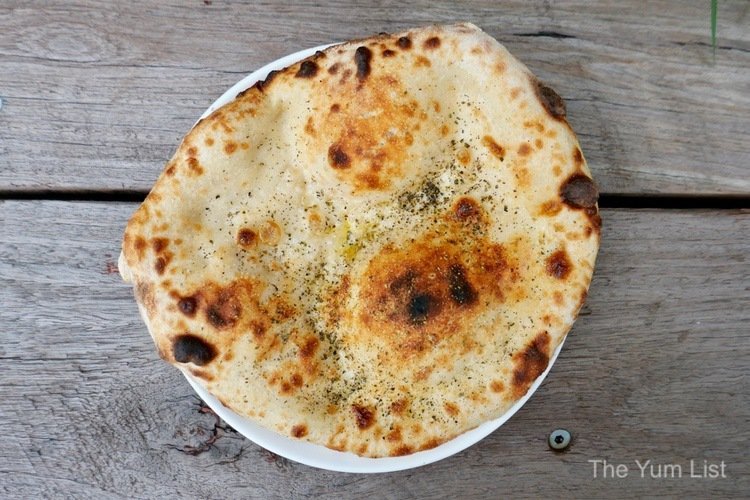 Next, Ox Tongue ($16) is not something I would have ordered myself from the menu, but I'm happy to have my palate pushed with a suggestion from the staff. They have taken this secondary cut and turned it into something exciting, pairing it with a well-textured Romesco sauce, baby capers and shaved horseradish. I often find the grain of tongue off-putting. Here though the crisp edge and full-bodied sauce work well together. The red, a Nebbiolo Blend GD Vajra, ITL 2017 ($12 glass) gifts a "small hug from Piedmont." It's bold and welcoming, a plump fruit-driven blend that's delicately complex.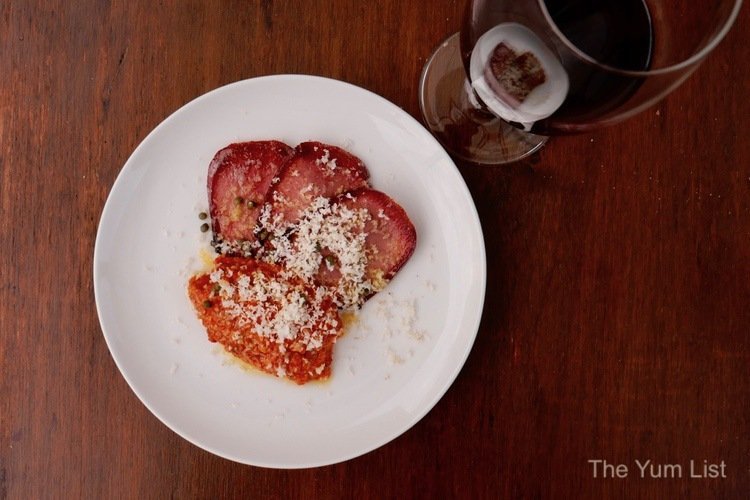 Our last pairing today hales from Italy's south with Fregola ($21) – tiny balls of Semolina cooked with a rich tomato-based sauce. Lamb, olive oil, silverbeet, shaved garlic, white wine, finely diced carrots and onions make a comforting winter dish. The last drops of the Nebbiolo do well with this recipe but so too does one of King Somm's beers-on-tap – the Double IPL Beerfarm from Metricup WA ($11). This is a potent (7.8%) brew. It's clean, balanced and robustly hoppy.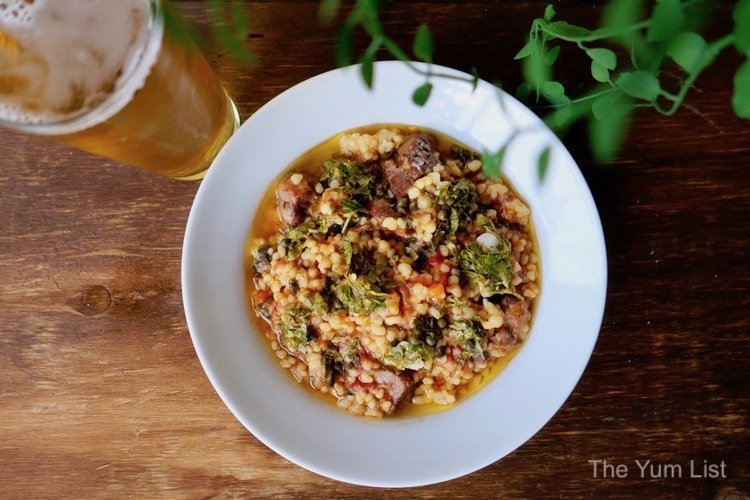 King Somm Review
We've had a delicious experience at King Somm today. The service team are friendly, the food is delicious, and we loved the selection of boutique wines on the shelves. It's a spot to put on your to-visit list.
Reasons to visit King Somm: friendly neighbourhood feel; excellent selection of wines by smaller producers and a decent craft beer menu too; comforting food that pairs well with wine and beer.
* Child-friendly, dog-friendly
King Somm Opening Hours
Wednesday & Thursday 4:30 pm – 9 pm
Friday 4:30 pm – 12 midnight
Saturday 12 noon – 12 midnight
Sunday 12 noon – 10 pm