Garum Perth – Fantastic Lunch Deal
Monica Tindall
Garum, at The Westin Perth, came up a handful of times when I asked Perth foodie friends and chefs to recommend the hottest places to eat in the city. Headed by chef Mario Di Natale, and conceptualized by chef Guy Grossi, the restaurant focuses on the spirit of ancient Rome in its recipes and techniques while showcasing the freshness of Western Australian produce.
The setting is stylish. A large dining area is made more intimate with bench seating and garden dividers, and well-placed lighting gives a gentle pop. A bar down one end offers a fantastic aperitif from 4:30 – 6 pm with Italian beer from $4, wine from $5 and cocktails from $8. At the other end, the open kitchen allows guests to feel part of the action as chefs work with precision and flair.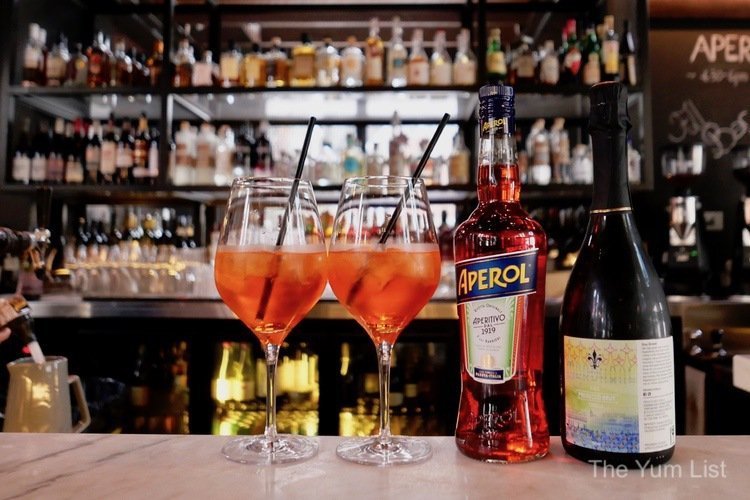 Love Italy Set Lunch
While the a la carte menu is inspired by the culinary traditions of Rome, the Love Italy set lunch takes guests on a journey around the country. Two courses ($39) or three courses ($49) includes a glass of wine, coffee AND free valet parking (on weekdays)! What's more, it's not only available Monday to Friday but also on the weekends. The menu changes regularly following the freshest of seasonal produce, and there are three choices to pick from for each course.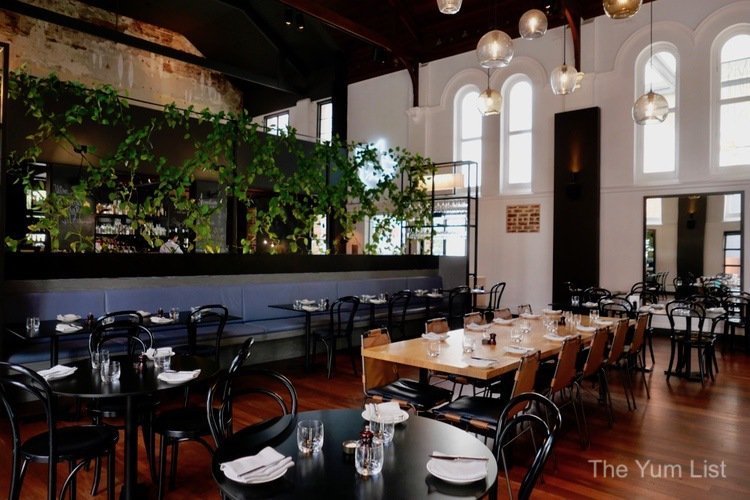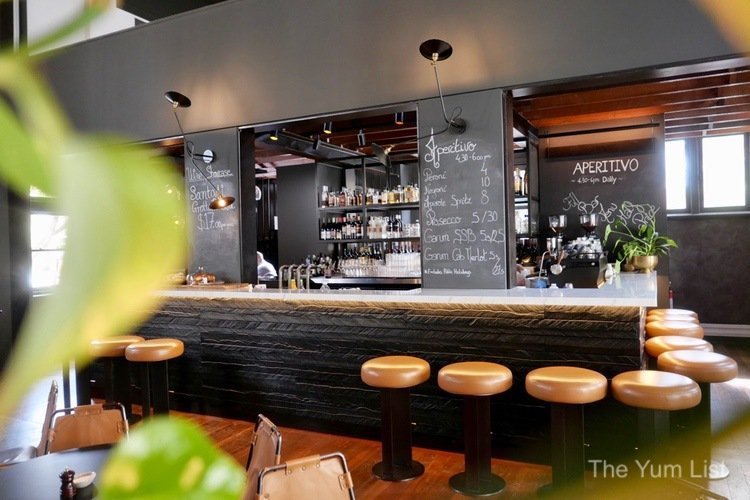 Bread
Even before it's served, we can tell that the bread is going to be exceptional at Garum. Chunky browned loaves are lined up along the kitchen bar: they have to make extra as so many people request to take one home. Made with a mother yeast that is 10 years old, the sourdough is developed for 48 hours before baking. This makes it easy to digest. Do note the shape of the bread. History buffs might recognize it as similar to artefacts found in the ruins of Pompeii. Marked for slicing into six pieces, they are displayed on top of each other, just as they were in ancient times.
The bread is wonderfully crusty on the outside and spongey and moist within. It is so good that my dining companion can't help but offer a little clap in appreciation. On its own, it's fabulous but with a smudge of moretum – a Roman dip of ricotta, celery, coriander, parsley, garlic and chardonnay vinegar – it is carb temptation to the max.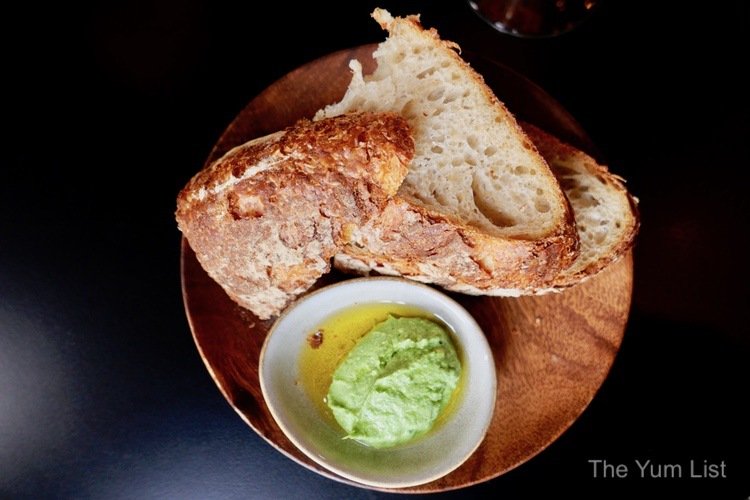 Starters
Dining as two is great at Garum, but dining as three would be better. That way, you could order every choice from each course enabling you to taste the complete trio. We wage our bets based on the detailed descriptions from our exceptional waitperson, Alessia. We figure 66% odds of picking well with a hot tip from an insider is pretty good.
Our starters see choices from Campania and Veneto, and we appreciate the former's rich aromas as it arrives. As I'm photographing the second starter, James (my famous jazz singer dining buddy) confirms the deliciousness of the Rigatoni all Genovese Veal Parmigiano. "Oh my gosh," he gasps on the first forkful. The veal has been slow-roasted and is combined with finely diced carrots, onions and parsley. It takes the chill off the chilly day, warming our tummies and bringing more smiles to our faces.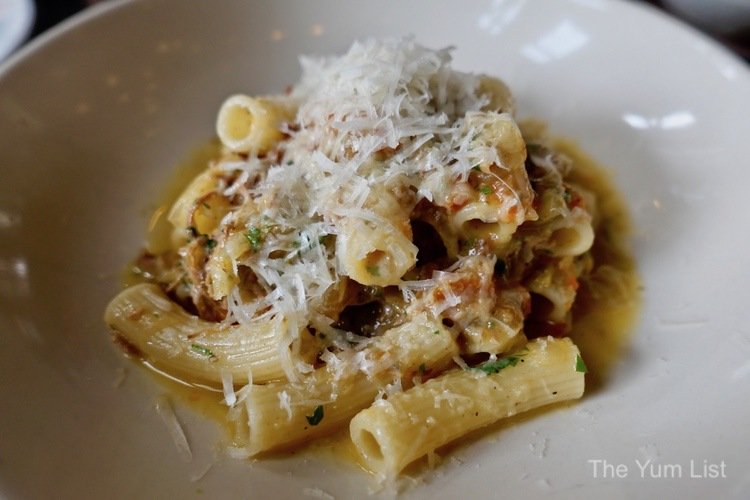 While the pasta is a comforting winter dish, the Baccala Mantecato Crudites from Veneto is light and fresh. Baccala is a traditional preparation of preserving fish by drying it in salt, often found in communities who live a distance from the sea. The dried fish is mashed with potatoes and butter to create a spread; a flawless mate for the thin crisp toast. Beautiful on the plate, the bread and spread are layered with raw vegetables of radish, fennel and parsnips. Italian parsley, dill and salsa verde both adorn and add flavour.
Although we've only just finished the starters, our conversation turns to plans to return to Garum again soon. First impressions are terrific.
Mains
The last sips of our Aperol Spritz have disappeared and, like clockwork, the bowl glasses are swiftly replaced with wine glasses. A 2017 Semillon Sauvignon Blanc and a Cabernet Merlot by Voyager Estate in Margaret River have been made especially for GARUM. Both are easy-drinking, offer good body and lingering finishes. I would be happy to sip on either alone; though both do excel with food.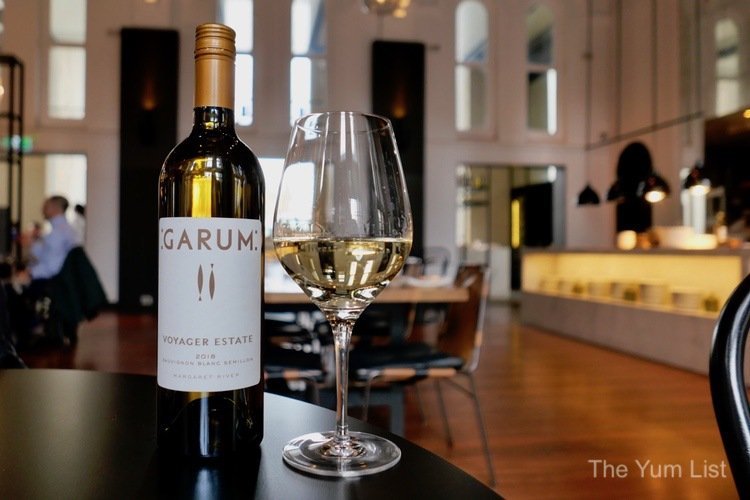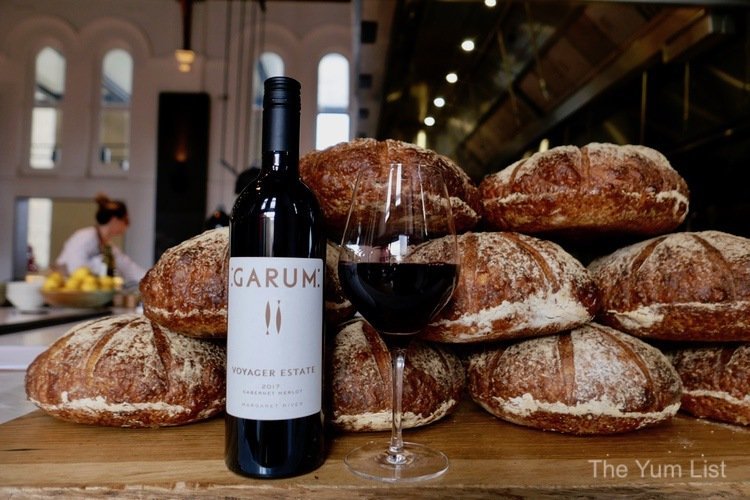 The mains take us to the regions of Apulia and Tuscany with roast lamb and fish stew. The chunky meat pieces of the Agnello al Forno fall apart with the touch of our forks, and the deep character of the tomatoes and herbs permeate the dish. The Cab Merlot couldn't have been better suited.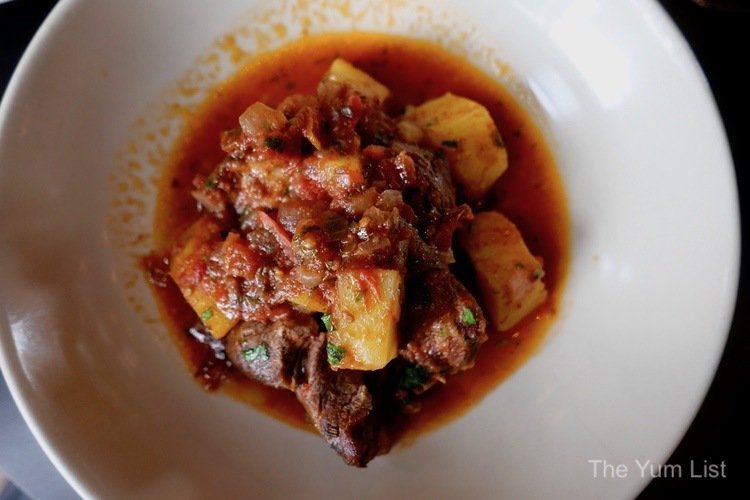 Cucciucco Livornese is similarly rich in flavour with tomatoes and herbs, finely chopped onion and garlic. It's packed with the fruits of the sea, and I find myself continuing to lift my spoon; not because I'm hungry but because I don't want to waste a single drop of the sauce. Alessia arrives just in time with another plate of bread. "For the scarpetta," she says – an Italian tradition of mopping up the last moments of joy from a tasty meal. And salvage those final licks of pleasure we do!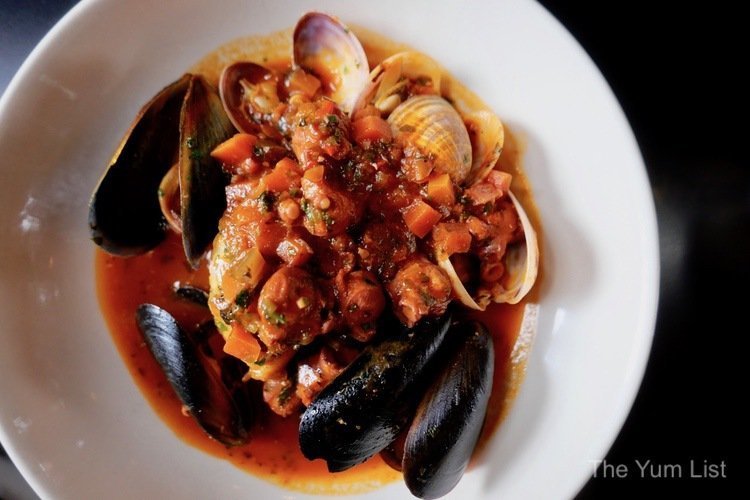 Desserts
To end our meal at Garum, an interesting dessert from Sardinia, the Seadas Pecorino Ravioli comes highly recommended. It's basically a deep-fried cheese-stuffed pasta round drizzled with honey and served with vanilla ice cream. Sweet and savoury, hot and cold; the contrasts are distinct.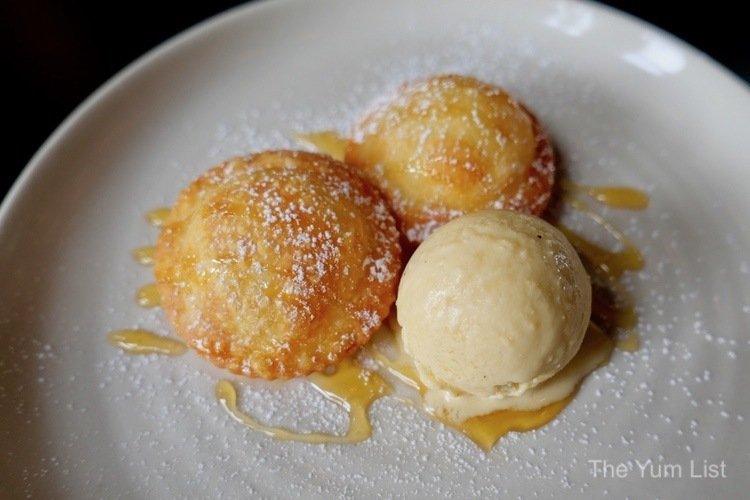 Our second sweet, Cassata, is a pretty layer cake from Sicily. The base is vibrant green pistachio marzipan, followed by sponge and a choc chip ricotta cream, before being enclosed again by the same nut paste. It's drizzled with chocolate sauce and washes down well with our coffee finish.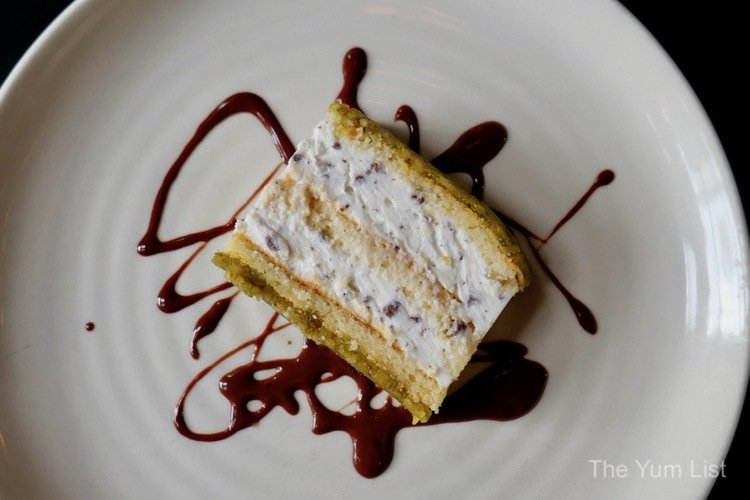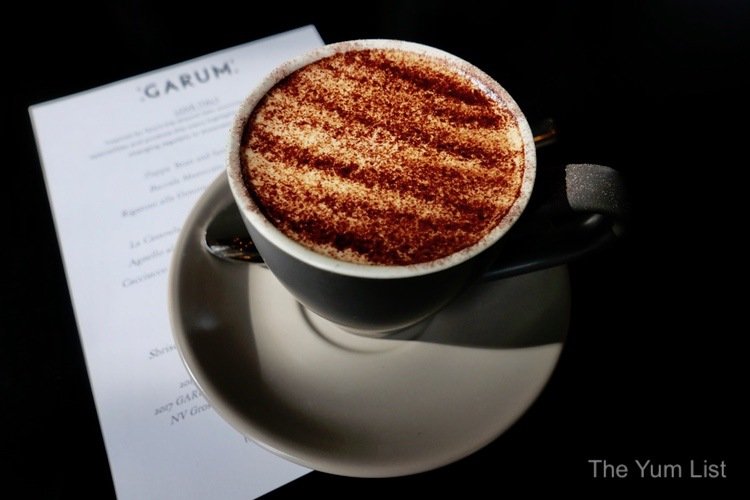 Reasons to visit Garum Perth: good-value lunch menu available every day of the week; stylish setting; good wine and beverage list; unforgettable sourdough; exceptional staff.
Garum Italian Restaurant
The Westin Perth
Hibernian Place, 480 Hay Street,
Perth, WA, 6000, Australia
+61 8 6559 1870
[email protected]
www.facebook.com/Garum-Perth
Garum Opening Hours
Mon – Fri, 6am – late
Sat – Sun 6:30am – late
Find more recommendations for gourmet travel in Western Australia here.