Perth Accommodation Charming Air BnB
Monica Tindall
If you are staying in Perth (anywhere in Australia really) for more than a couple of days, the way to go with accommodation is renting a room from a service provider such as Air BnB or Stayz. Offering the comfort of a home, and often the personal touch of a local host, guests benefit not only from the conveniences of a personal residence but also the expertise of a native. I found a fabulous property with Air BnB in Perth recently. While I usually write about luxury hotels and resorts, this one-bedroom getaway made such an impression I thought it worthy of its own article on The Yum List.
Perth Accommodation – A Home Away from Home
Trudy's Air BnB – Location
Located in a charming street in East Perth, Trudy's Air BnB is surrounded by a pristinely groomed neighbourhood. Footpaths don't see even a cigarette butt on the pavement yet alone a discarded piece of trash. Gardens are meticulously manicured and the roads all roll down to green lawns and parkland and eventually drop down to the river.
You can't help but enjoy the great outdoors here. Bicycle and pedestrian paths wind for kilometres around the river's edge. They're frequently shaded by mature trees and dotted with installation art pieces. A footbridge takes you directly to Optus Stadium making this Perth accommodation ideal for catching events. Claisebrook Cove, filled with restaurants and cafes, is a block or two away and a row of shops is just up the road.
Of note for foodies wanting to explore the area is Whipper Snapper Distillery, just a block from Trudy's Air BnB. Serving and distilling Australian craft whisky, visitors get to taste the product and also take a look at where it came from. The team at Partisan Perth make a darn good coffee, which you can enjoy on a table by the river. Italian food fans would find it hard to go past, Gioia, a new kid on the block with homemade gnocchi that fulfils the cliche of having the texture of little clouds. There's even a brewery for those who like a craft beer or two – Bright Tank Brewing Co – again, a leisurely stroll from the front door.
All of the above is easily accessed by foot and the Claisebrook train station and free CAT bus service make getting into the city centre and further afield to tourist destinations such as Fremantle, Cottesloe, Swanbourne and Leighton Beach a breeze. There's even a ferry to Crown Casino from Claisebrook Cove for those feeling lucky. Trudy's Air BnB is less than 20-minutes to the airport. My Uber cost $22 and this included the $3 airport pick-up fee and taxes. I think that's pretty reasonable for the convenience.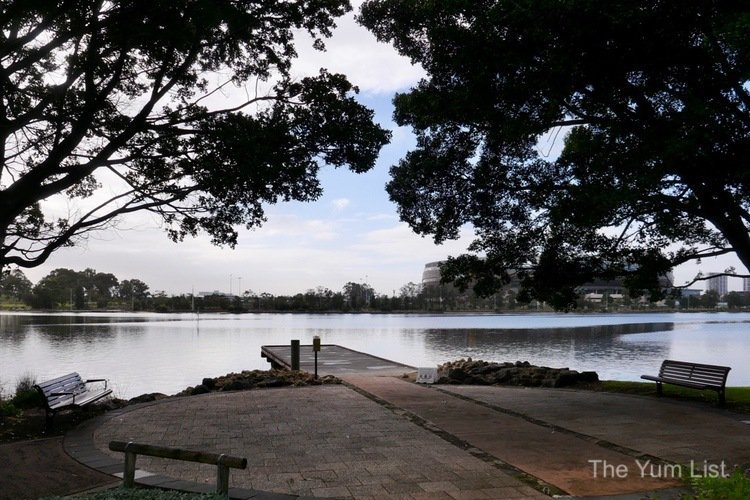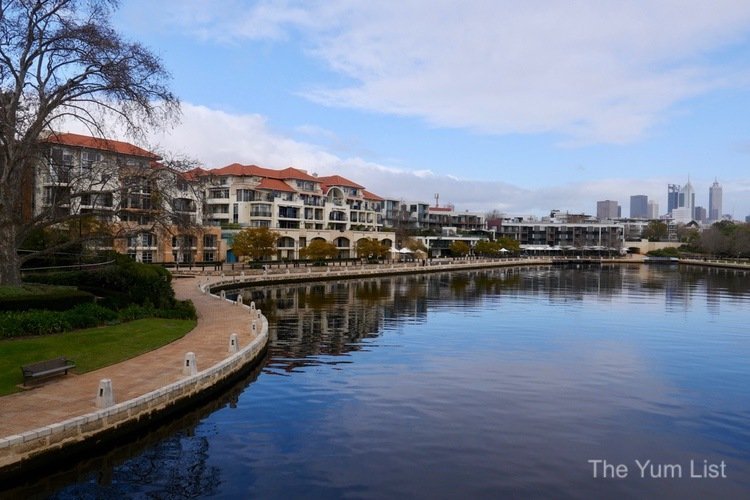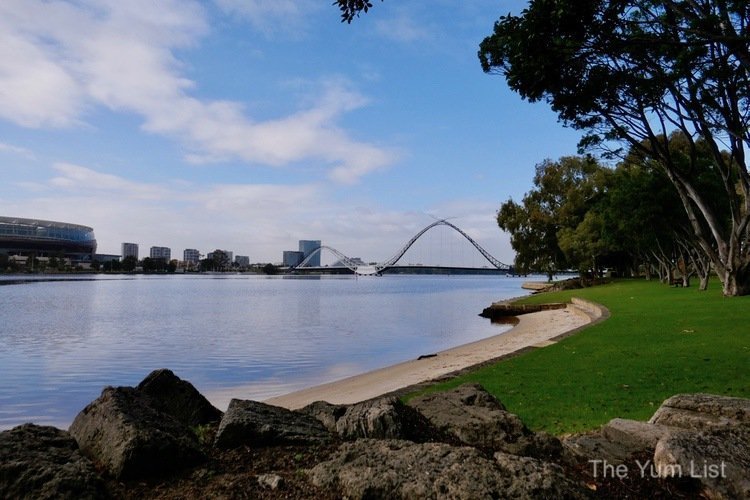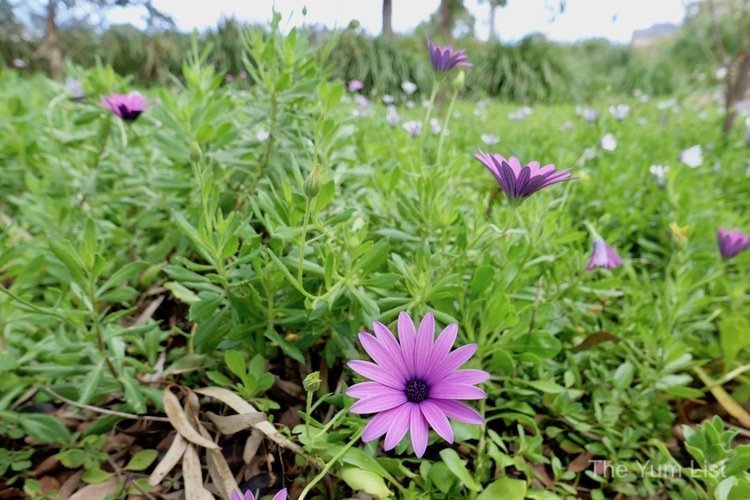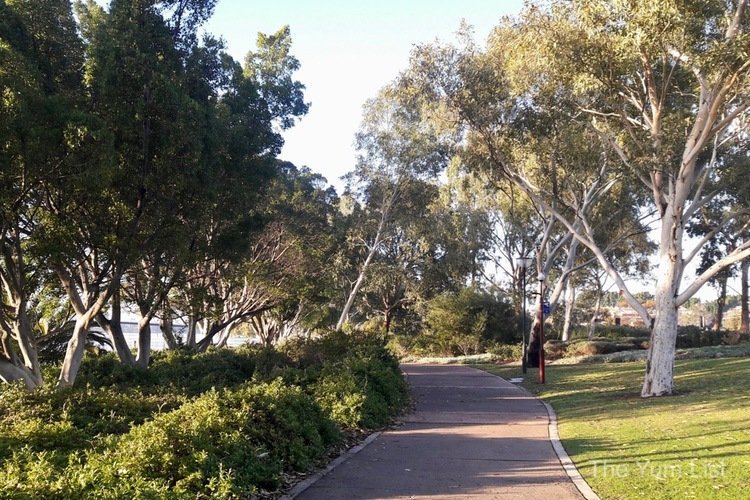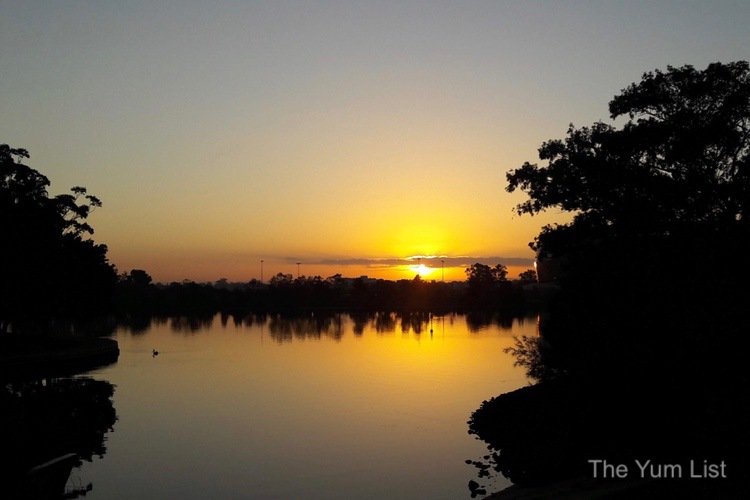 Room
Once in East Perth, I find that Trudy's Air BnB is composed of an outdoor courtyard, bedroom and bathroom. Guests have their own separate access to the room from the street ensuring complete privacy. Now that's a bonus!
I get an inkling of the quality of the experience inside as I enter the courtyard of this convenient Perth accommodation. It's prettily furnished with a garden table and chairs accompanied by a number of perfectly placed potted plants.
The entry is floor to ceiling glass, privatized by plantation shutters and once I'm in, the room expands into a stylish nook. A feature wall of black and white floral wallpaper is immediately attractive and an entire mirrored-wall enlarges the space even further. A white table and chair set sides it and a single vase of white flowers make subtle adornment. The bed is king-size and covered with a quilt set and pillows that looks as if it has just completed a photoshoot for a chic interior design magazine. Later in the evening, I find that it's not all show. The bed is superb with a pillow top mattress and high thread count cottons. It's officially the most comfortable Air BnB bed I've slept in.
Adding to the style of this Perth accommodation are chunky wooden bedside tables, woven rugs, a painting, another flower vase, a rack to hang clothes and place shoes, a leopard-print chair and elegant lamps. Attention to detail is evident wherever I look.
The bedroom is furnished with a large flatscreen TV and there's a kitchenette too. A mini-fridge, espresso machine, milk frother, toaster and kettle go along with cups, bowls, plates and glasses in sets of two. A continental brekkie is provided in the room with fresh fruit, yoghurt, a loaf of bread, an assortment of cereals, your choice of milk (almond or cows), and, of course, tea and coffee.
In the bathroom, I find a compact vanity, toilet and shower in this Perth accommodation. There's plenty of shelf space and hooks for hanging clothes and towels. Again here I find the owner's careful consideration of the finer points. Organic body wash and shampoo are provided and the hairdryer is powerful – salon grade.
When I note the superior cleanliness of the room, it's no surprise to learn that the owner is a former hotelier. As such, the procedures for hygiene are intensive. Going beyond the regular cleaning and washing routines, beds are aired, vacuumed and sprinkled with baking soda and On Guard frequently. I don't find a speck of dust in the room. All is in tip-top shape.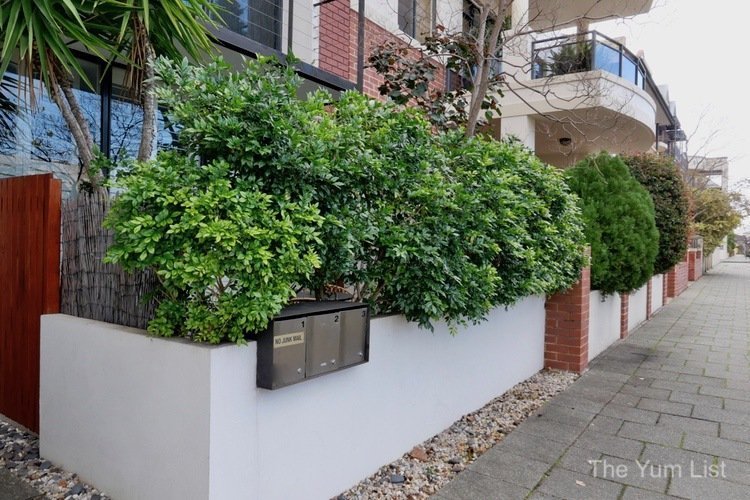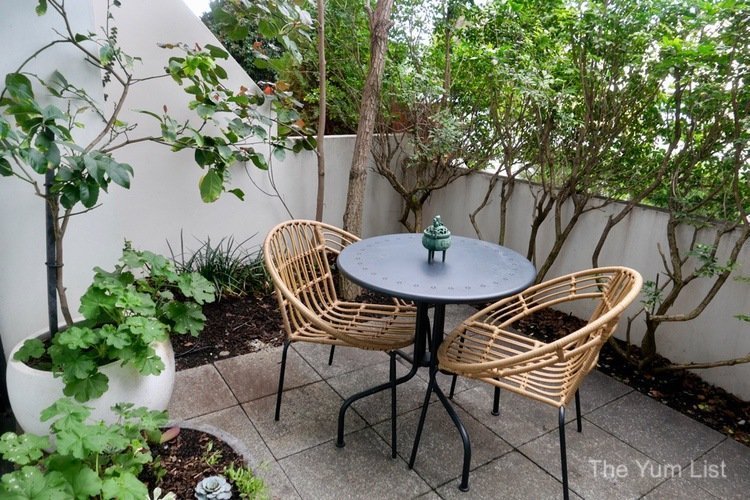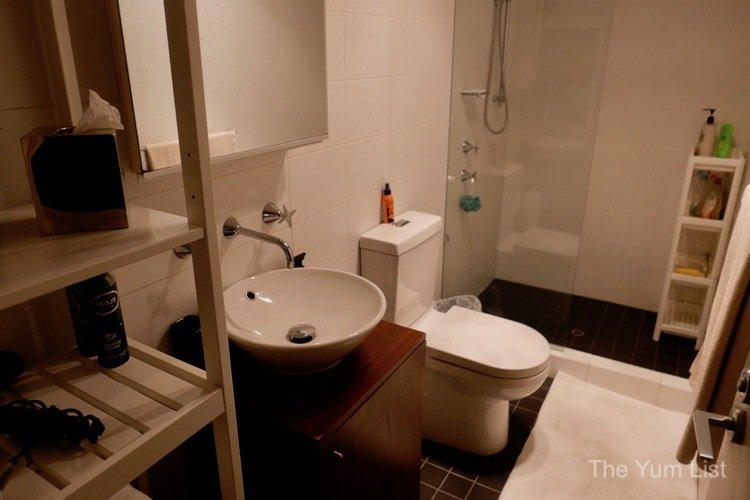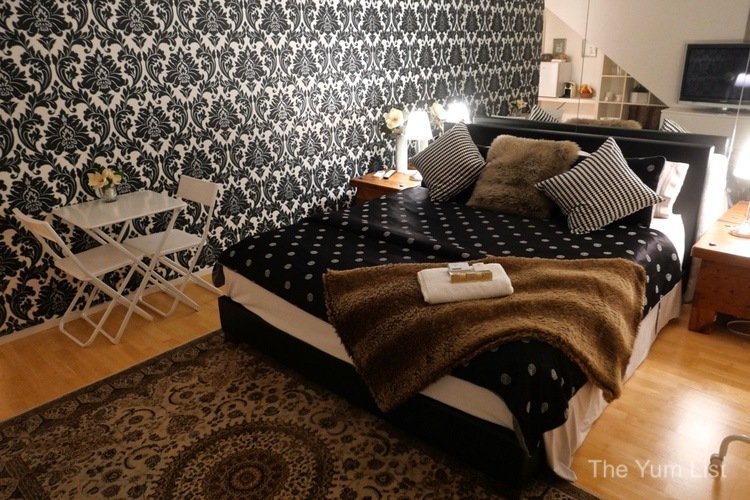 Perth Accommodation Review – Trudy's Air BnB
As mentioned, the owner is a former hotelier and besides making the overall experience first-rate, she also has great recommendations for things to do, see, eat and drink near her Perth accommodation. Given the quality of the room and service, and its pricing at a fraction of the cost of a hotel, a stay a Trudy's Air BnB is a steal!
Reasons to stay at Trudy's Air BnB, Perth Accommodation: excellent location in a quiet pretty street yet close to public transport, parks, facilities, stadiums and restaurants; sublime bedding; separate access ensuring privacy; nice courtyard; a well-provisioned breakfast; lovely host.
Perth Accommodation – Trudy's Air BnB
Find more suggestions for travel to Western Australia here, get your foodie on in Perth here and find a great itinerary for a day trip to the Swan Valley here.