Surfers Paradise Marriott – 5-Star Accommodation Gold Coast
Monica Tindall
Australia's Gold Coast is an attractive holiday destination for all age groups. Stunning natural beauty, a multitude of theme parks and just about year-round blue skies see visitors traversing the country and globe for at least a few days in paradise. From Malaysia, Air Asia offers daily direct flights making the region an excellent destination for a week or more of fun. Ensuring guests have a comfortable place to stay and also that the excitement is just as much in the accommodation as it is in the surrounds, is Surfers Paradise Marriott Resort & Spa. Here we spend a few days catching up with family and exploring the hotel's rooms, facilities and dining options.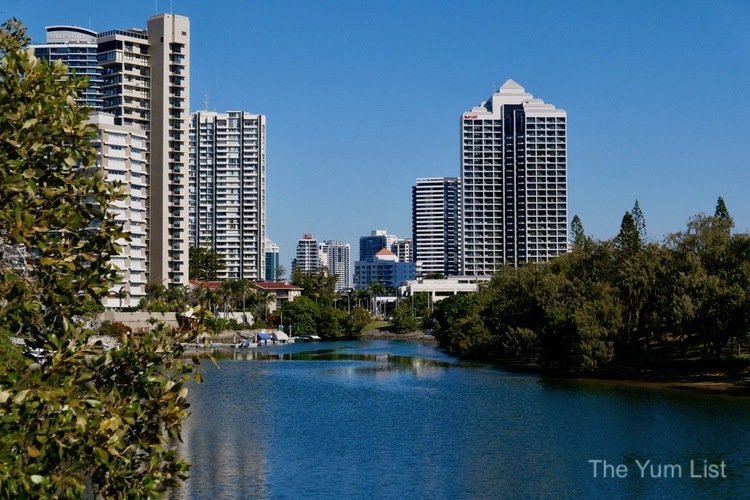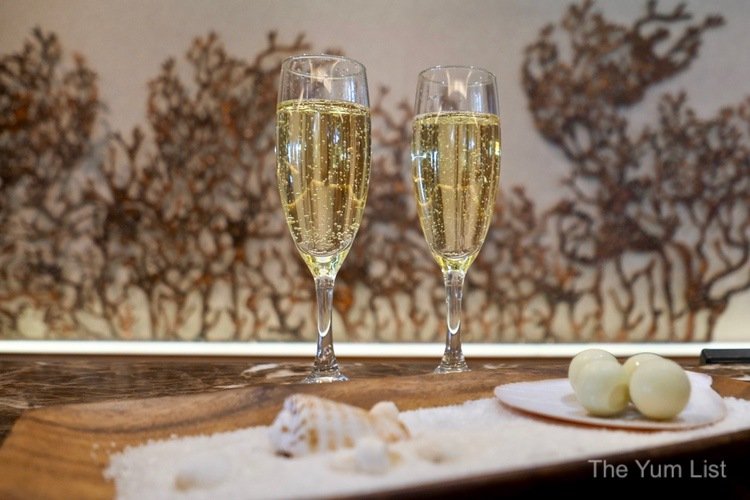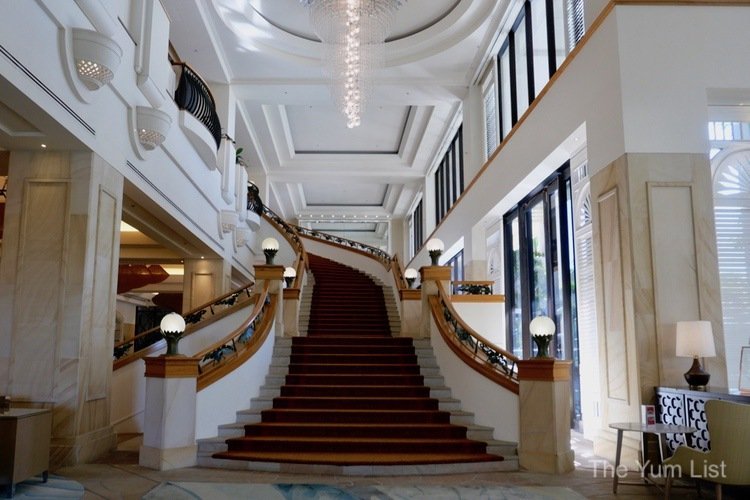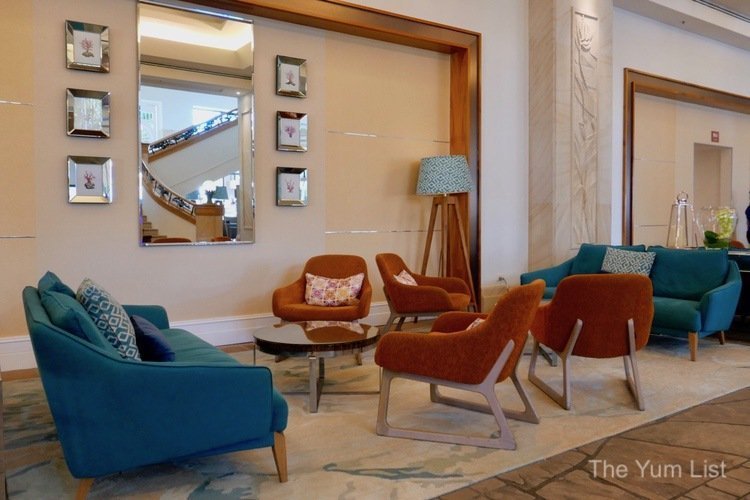 Location
Located just north of the main strip of Surfers Paradise (Cavill Avenue), Surfers Paradise Marriott Resort & Spa is in an ideal position to explore the local entertainment yet far enough removed to benefit from a quieter neighbourhood. At night we hear the sound of the waves rolling to the shore, whereas properties a few blocks closer are more exposed to the backbeat of nightclubs bopping away to the early hours.
The beach is a block away. The resort itself is on the river fringed with a boardwalk and lined by parkland. Shops, cafes, restaurants, bars, clubs and tourist attractions (such as the Slingshot and Ripley's Believe It or Not) are a stroll down the road. Sea World is a five-minute drive up the street and tours to the theme and nature parks, the mountains and a whole host of offerings are booked effortlessly at the concierge. Alternatively, rent a car to explore the coastal and hinterland beauty at your own pace. My top picks are: a drive to Mount Tambourine where you can hike nature trails, dine in cafes, browse galleries and even visit some wineries; and long strolls along the beaches, interrupted by picnics of fresh Aussie produce picked up at the local markets on never-ending stretches of parkland that side the seashore.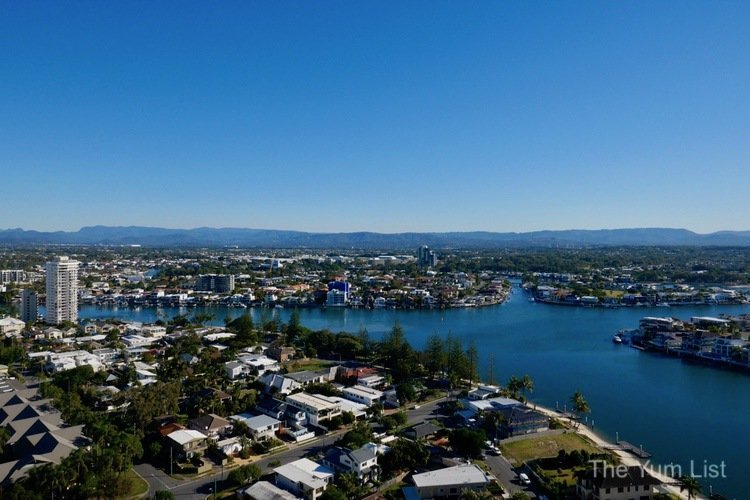 Lagoon
The location is a definite drawcard for choosing this property, but please know that Surfers Paradise Marriott Resort & Spa is an attraction within itself. Featuring the most fantastic lagoon swimming pool with a bed of sand rolling down to a coral reef, guests swim amongst the fish when taking a dip in the hotel pool. Regardless of the conditions in the greater ocean, guests can always get in a snorkel or a paddle with the aquatic life here.
For those wanting a less "fishy" experience, there are multiple heated pools and whirlpools making a ring around a waterfall and cave. Sun chairs, umbrellas and daybeds line the lagoon-like edge, and with the Gold Coast's famous blue skies, it does feel like a little piece of paradise.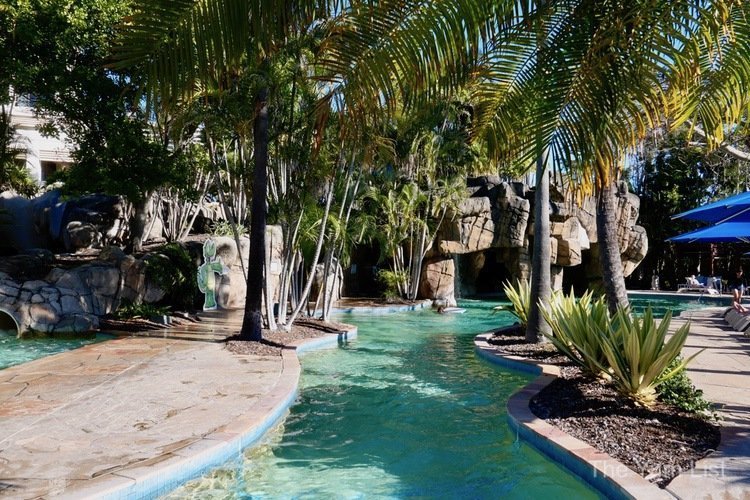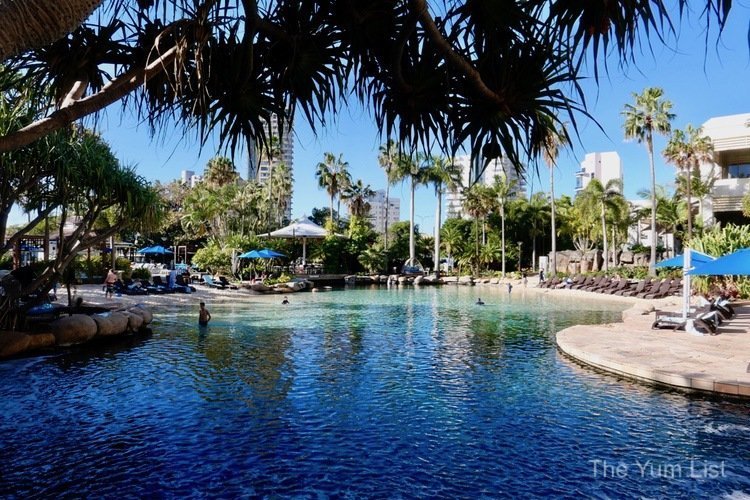 Rooms
Surfers Paradise Marriott Resort & Spa is one of the oldest luxury accommodation properties on the Gold Coast and the first Marriott ever in Australia. Well-maintained, the building boasts the wisdom and strength of "how they made 'em in the good old days" sporting durable materials such as marble bathrooms and plenty of room to move.
The entryway of our Junior King Suite sports a sink alongside the mini-bar, which opens up to a generous 60 square metres of luxury. A flat-screen TV is positioned so that it can be viewed from the couch or king bed. A desk adds convenience, and an outdoor patio with views of both the hinterland and the sea is an absolute delight. Separate toilet, bathroom and walk-in-wardrobe are benefits of an old-school mindset – one I'd like to see much more of in contemporary designs. Complete privacy is given in the toilet and bathroom as both are sealed off with solid wooden doors. The large wardrobe allows luggage to be stored away keeping the room tidy and it doubles up as a dressing room if you're an early riser and don't wish to disturb a sleeping companion.
A sound night's sleep is assured with blackout curtains and one of the most heavenly beds you'll come across in a hotel. Covered with the Marriott's signature pillowtop, the mattress is one that you can sink into while still feeling supported, and the pillow menu keeps your comfort a top priority.
Going beyond what is commonly offered in the bathroom department is a whirlpool big enough for two people. A magnified make-up mirror with light and a decently sized hair-dryer further add a sense of being at home.
Also of note is the tea and coffee selection in rooms at Surfers Paradise Marriott Resort & Spa. Tea bags and instant coffee are provided, but I am especially grateful for the French press and ground beans. I think this is a much more luxurious (and greener) alternative than a pod espresso machine. A small carton of milk is also already in the mini-bar – no need for that dreadful creamer or to have to call down and wait for fresh milk to be delivered.
Another feature I appreciate in Marriott properties is the liberal amount of power points and charging stations on hand. We have no trouble charging multiple laptops, handphones, power banks, batteries and pocket Wi-Fi devices and even have plugs leftover. Further supporting the technology points is high-speed complimentary Internet with no limit on the number of devices logged in. And, if you can't find what you want on the scores of premium movie channels and cable TV stations, you can always opt for a pay-per-view movie.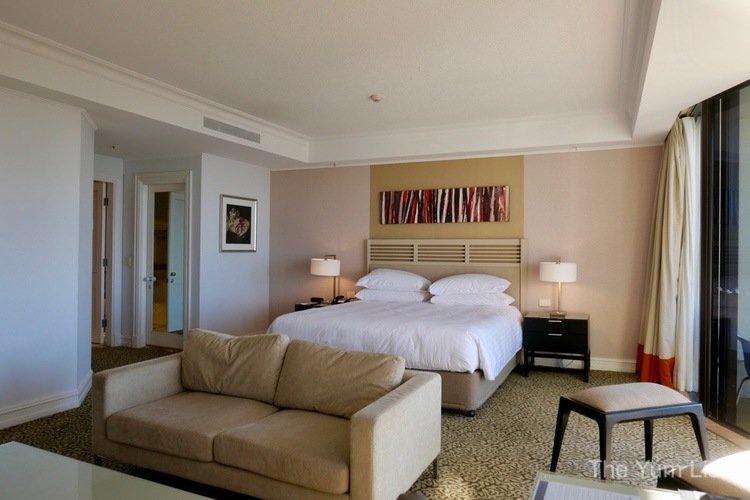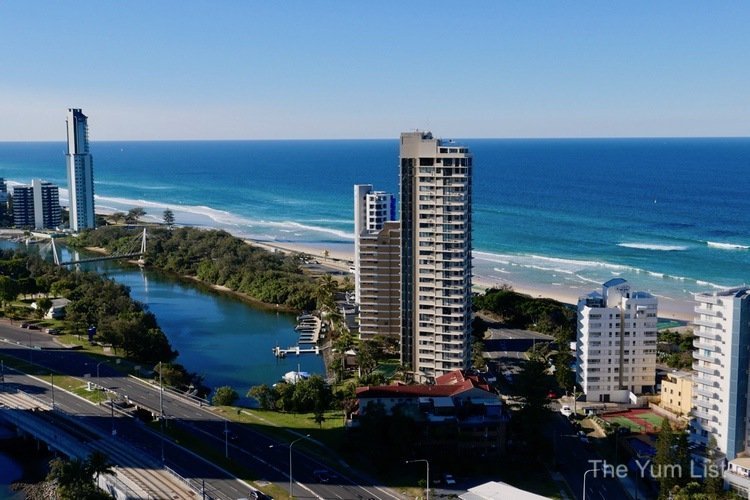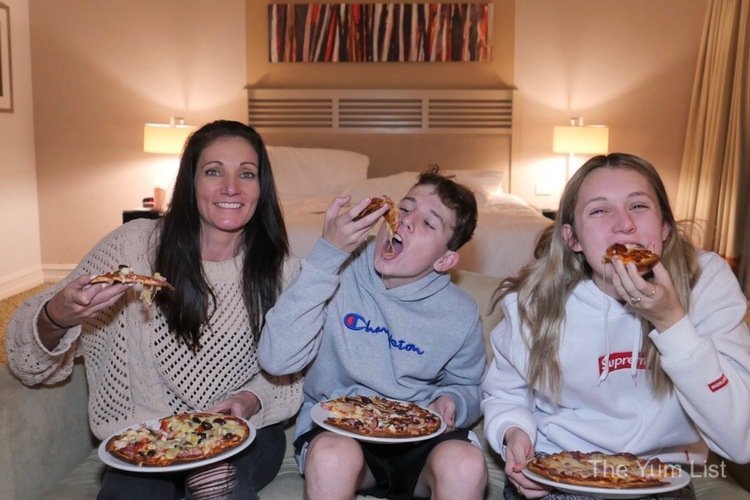 Dining
Many room packages include breakfast in Citrique Restaurant. If not, a buffet breakfast can be purchased for $40 AUD or a Continental brekkie for $30 AUD. We're fortunate to have our mornings taken care of for us and so have the opportunity to test out the buffet on multiple occasions. Choosing a table by the window, we bathe in natural sunlight as our cups are refilled with caffeine. There's even an option to grab a to-go cup and take your habit with you as you leave.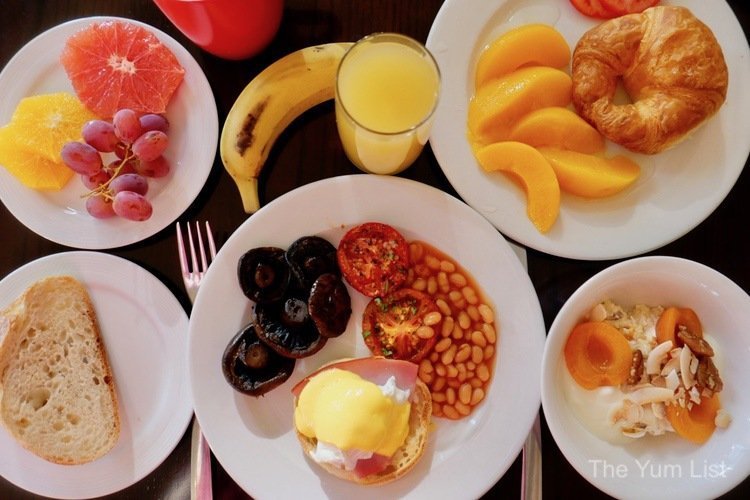 The morning spread sees all of the usual suspects of fruit, bread, cereal, cold cuts, salads, eggs and pancakes made to order, along with an impressive pastry section. Most diners arrive around 9 am and quickly fill the restaurant making the setting lively. If you'd prefer a quieter start to the day, get there before 8 am to avoid the crowd.
Citrique at Surfers Paradise Marriott Resort & Spa is also known for its weekend seafood buffet serving some of Australia's best produce from the ocean including premium Hervey Bay scallops. It's a hit amongst locals, and if we had more time, we'd surely spend an evening here.
Alternatively, be entertained (as did we) by the largest teppanyaki restaurant in Australia at Misono Japanese Steakhouse. Backing it up is Misono Sake Bar where you can, of course, savour its namesake or a cocktail while nibbling on fresh sushi and sashimi.
In the resort lobby, Chapter & Verse bar and lounge sees a constant ebb and flow of traffic throughout the day. From grab-and-go brekkies to lingering brunches, a quick coffee and cake, a light lunch and afternoon tea to happy hours and cocktails, its diverse menu and pleasant indoor/ outdoor setting please the crowds.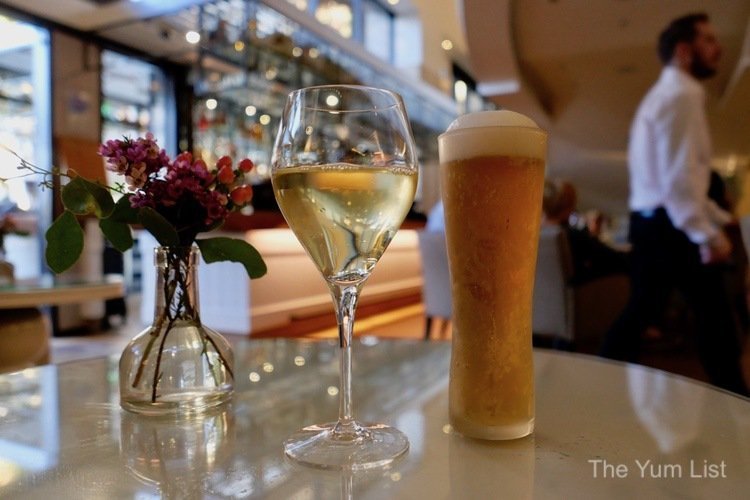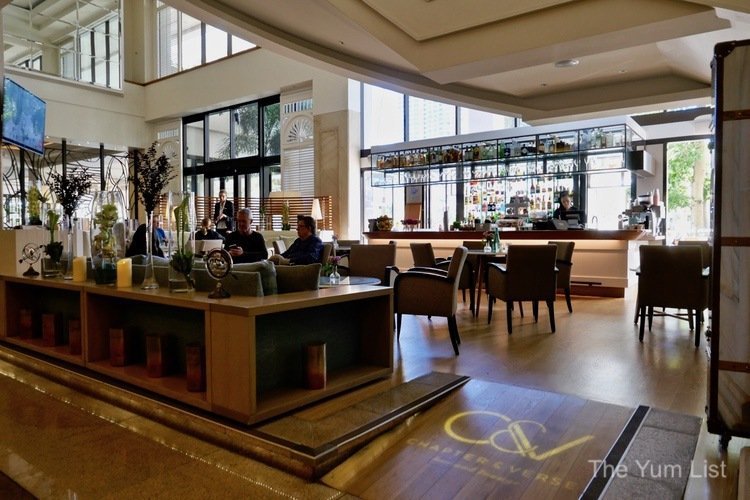 Facilities
Another convenience of staying in a Marriott property is 24-hour access to the fitness room. With keycard access, I don't have to abide by a narrow set of opening times but am free to rise as early as I like to fit in my workout. The gymnasium is well-stocked with cardio equipment including treadmills, bikes, rowers and cross-trainers. Strength training is catered to with both machines and free-weights, and a variety of other tools such as medicine balls and mats provide for a wide gamut of fitness programs.
Besides the gym at Surfers Paradise Marriott Resort & Spa, there's an outdoor tennis court (lit at night), basketball court, sauna, activities room for the kids and bikes and snorkels can also be rented. The beach and parkland are only a block away so many choose to take advantage of the fresh air and pick up the pace along the coastline. The Kids Club operates every single day of the year guaranteeing youngsters just as much of a good time as the adults who get to have a little break from them. For those needing a bit of motivation, there are movement classes led by qualified instructors in tai chi, yoga, core, stretching and fitness training.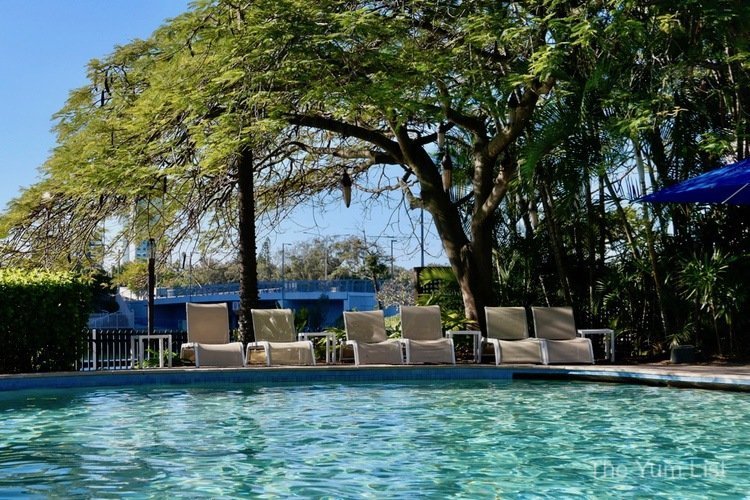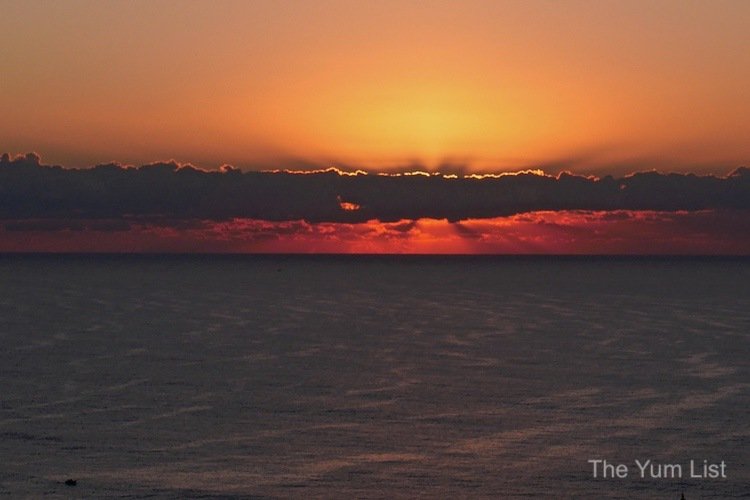 Events and Business Gold Coast
While our visit to Surfers Paradise Marriott Resort & Spa was purely for pleasure, the property is well-equipped to cater for conferences and events. During our stay, we witness a wedding and learn that the 715 square metres pillarless ballroom (seating 500 people) is ideal for a gala dinner. Supported by nine smaller meeting rooms, all on one level, it seems a flawless set-up for meetings of all types.
Surfers Paradise Marriott Resort & Spa Review
Location, service, views, dreamy beds and that little something extra special in the lagoon pool makes Surfers Paradise Marriott Resort & Spa a top choice of stay on the Gold Coast.
Reasons to visit Surfers Paradise Marriott Resort & Spa: fantastic lagoon pool; excellent location close to attractions yet far enough removed to benefit from peace and quiet; friendly professional service; lovely views of the sea and the hinterland; dreamy beds; free high-speed Wi-Fi.
Surfers Paradise Marriott Resort & Spa
158 Ferny Avenue, Surfers Paradise
QLD 4217 Australia
+61 (07) 5592 9800
www.facebook.com/SurfersParadiseMarriott
Find more recommendations for travel to Surfers Paradise and the Gold Coast here.
Keen to explore more Marriott properties? Check out some of the beautiful places we've visited with Marriott here.