Misono Japanese Steakhouse – Eatertainment on the Gold Coast
Monica Tindall
If you enjoy a bit of entertainment with your dinner, then a booking at Misono Japanese Steakhouse at Surfers Paradise Marriott Resort & Spa is a must.
Most have at least seen on TV, if not in real life, Japanese teppanyaki chefs. They chop, slice, juggle and toss ingredients hot-off-the-grill into their chef hats, the dinner bowl or even directly into guests' mouths. But, have you dined with barbecue masters who bring their very own boom box and playlist to sauté, grill and fry to? At Misono, chefs take the eatertainment business to a whole new level.
I book a table at Misono Japanese Steakhouse and dine with my dad. Here's what happened.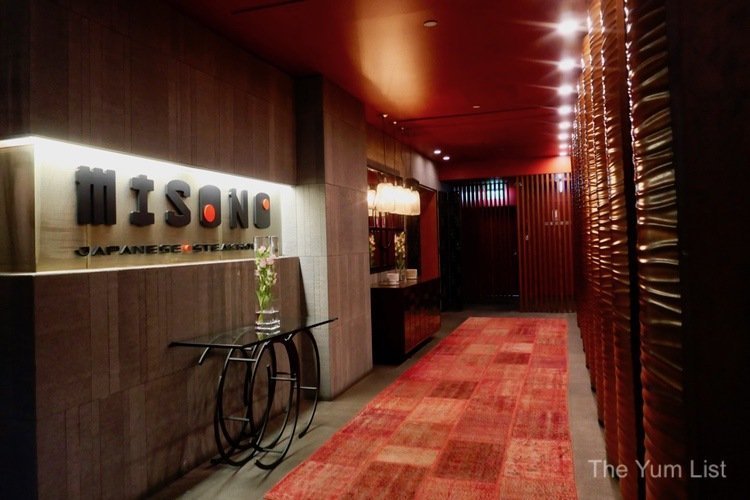 Japanese Restaurant Surfers Paradise
Arriving promptly for the early seating at 5:30 pm, the restaurant is already filling. The opening session is often booked with families with children. With the recommended two-hour dining time, it's a natural fit for young families to dine first and couples or more adult-filled tables to take a later reservation. Being the largest teppanyaki restaurant in Australia, there is plenty of room for everyone.
Misono Restaurant Menu
Once our drink and meal order is taken, miso soup is quickly delivered and immediately warms us up on this chilly winter night. It's lightly salty, full of flavour and has bits of tofu and chives offering a change in texture.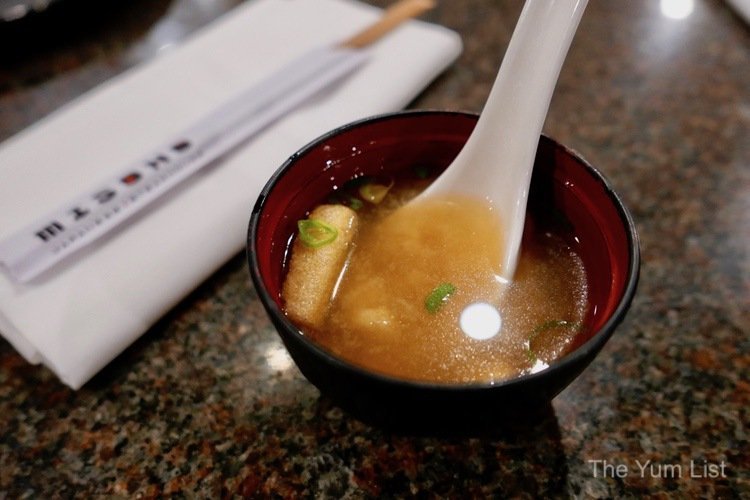 Misono Japanese Steakhouse Menu – Drinks
Drinks arrive next. Dad has chosen a Japanese beer, Asahi ($10 AUD), and I've gone with a glass of Catalina Sounds, New Zealand Sauvignon Blanc ($15 AUD). Both are nicely chilled, offer refreshment and make fine partners for our vegetables and seafood soon to be served. The drinks menu at Misono Japanese Steakhouse is extensive with a good list of wines by the glass and bottle, beer and spirits. The compilation is taken up a level though with the addition of several sakes, speciality cocktails and Japanese whiskies.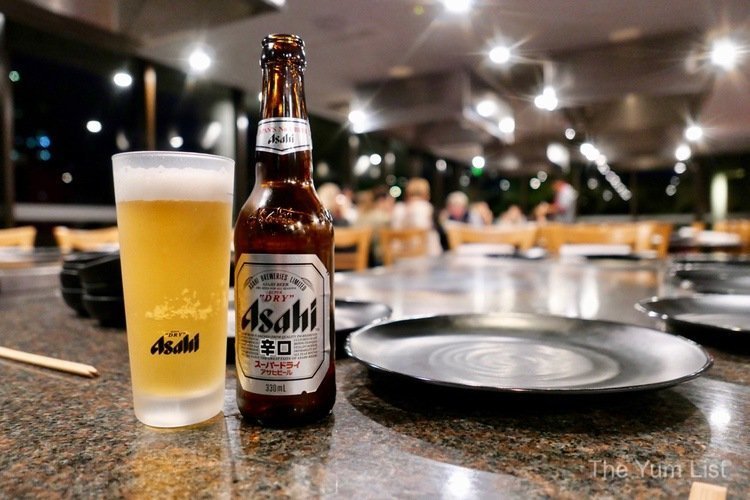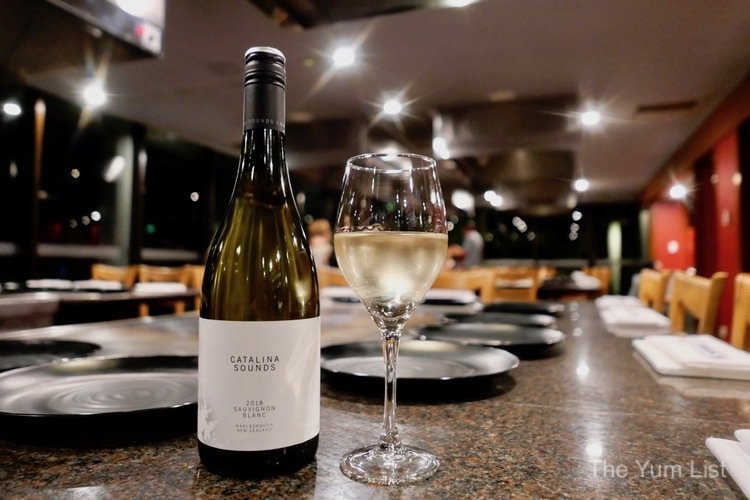 Misono Teppanyaki Menu – Food
There's a solid list of Japanese recipes available at Misono Japanese Steakhouse including sushi, sashimi, rice and noodles. What the majority of people come for, however, is teppanyaki. Any number of proteins are grilled on the hot plate, starting with good quality meat and seafood and making the way up to the most premium (and pricey) of ingredients.
We keep things simple. Dad has chosen the Splash & Meadow ($58AUD) teppanyaki banquet of fillet steak and large prawns. Misono Delight ($58 AUD), consisting of chicken and large prawns, is my pick. The sets are served with miso soup, Misono salad, hibachi vegetables and steamed rice.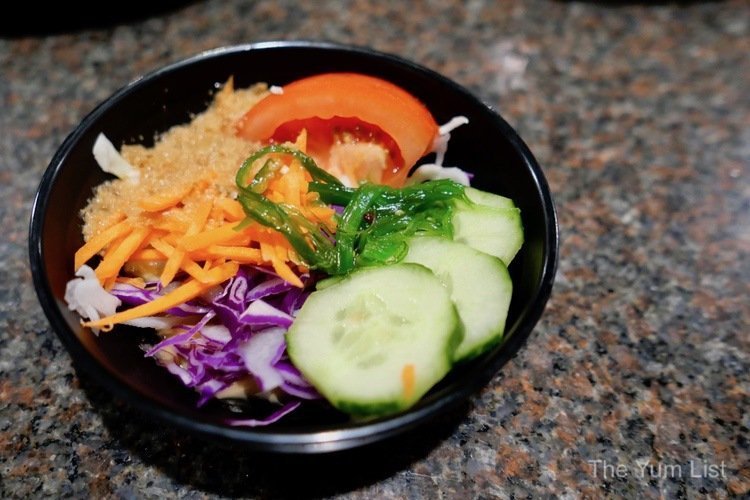 The Chef Arrives
Chef Romeo, our chef for this seating at Misono Japanese Steakhouse, arrives with his kitchen trolley filled with fresh food, seasoning and utensils as well as a boom box. That's right; each chef carries their music player and rocks to their playlist. We're greeted with Stevie Wonder's "I Just Called To Say I Love You" (an appropriate pick considering chef's name) and continue with tunes such as the Bee Gee's "Staying Alive."
The show begins with a juggling act of utensils with knives, salt shakers and tongs improvised as percussion instruments. It crescendos with a swirling of oil and a torch bringing the hot plate alive with a two-metre-high flame!
Applause appropriately dispatched: chef hands over two sauces — ginger for the veggies and seafood, and mustard for chicken and steak. And, the performance continues.
Chopping, sprinkling and tossing with dramatic manoeuvres, Chef Romeo skilfully prepares our vegetables, prawns, chicken and beef in stages committing them to our plates as complete. In between, there is more play with knives and food as it's tossed into mouths, hats and caught in our bowls. We open mouths wide as if seals in the aquarium waiting eagerly for our reward and delightfully clap and cheer as chef concludes each segment.
The amusement alone would merit a visit to Misono Japanese Steakhouse in Surfers Paradise, but the food is genuinely delicious. Great ingredients, seasoned with salt, pepper and soy sauce (and large amounts of butter) and barbecued are a winning combination for satisfying taste and succulence.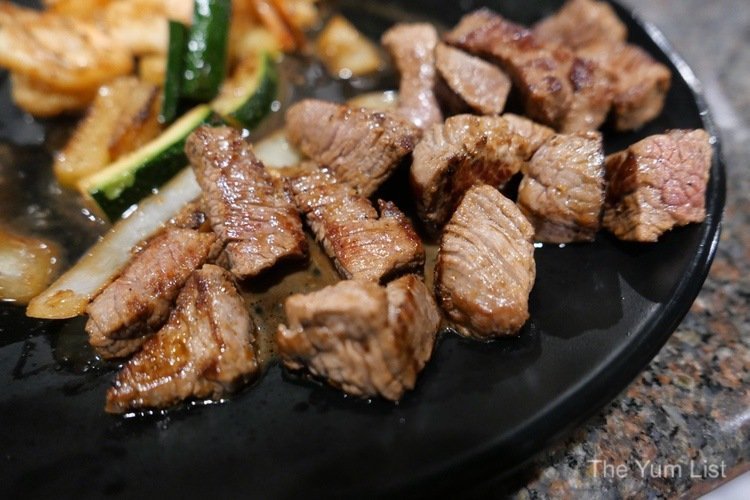 Grand Finale
The finale sees chef writing (backwards) "Thank You" on the grill and we are left to attempt to finish the generous portion quietly… That is until we're drawn into the table-next-door's fun as a new chef arrives with sunglasses framed with flashing lights doing the actions to Baby Shark.
Baby Shark. Do-do, do-do, do-do. Baby Shark…
Reasons to visit Misono Japanese Steakhouse: a highly entertaining and tasty dining experience.
Misono Japanese Steakhouse
Teppanyaki Restaurant Gold Coast
Surfers Paradise Marriott Resort & Spa
158 Ferny Avenue, Surfers Paradise
QLD 4217 Australia
+61 (07) 5592 9800
www.facebook.com/SurfersParadiseMarriott
Find more recommendations for gourmet travel in Queensland here.