Nam Langkawi
Monica Tindall
Nam Langkawi, homed in Bon Ton Resort, has been recognized for many years as an excellent restaurant on the island. Even though our last visit was seven years ago, we're happy to report that the outlet maintains its positive reputation today.
Open, breezy, green and facing west over a reedy lagoon, it is an attractive change to the beach sunsets in nearby Pantai Cenang. Offering a unique view for sundowners, happy hour is the perfect time to arrive for a colour-inspired change of time.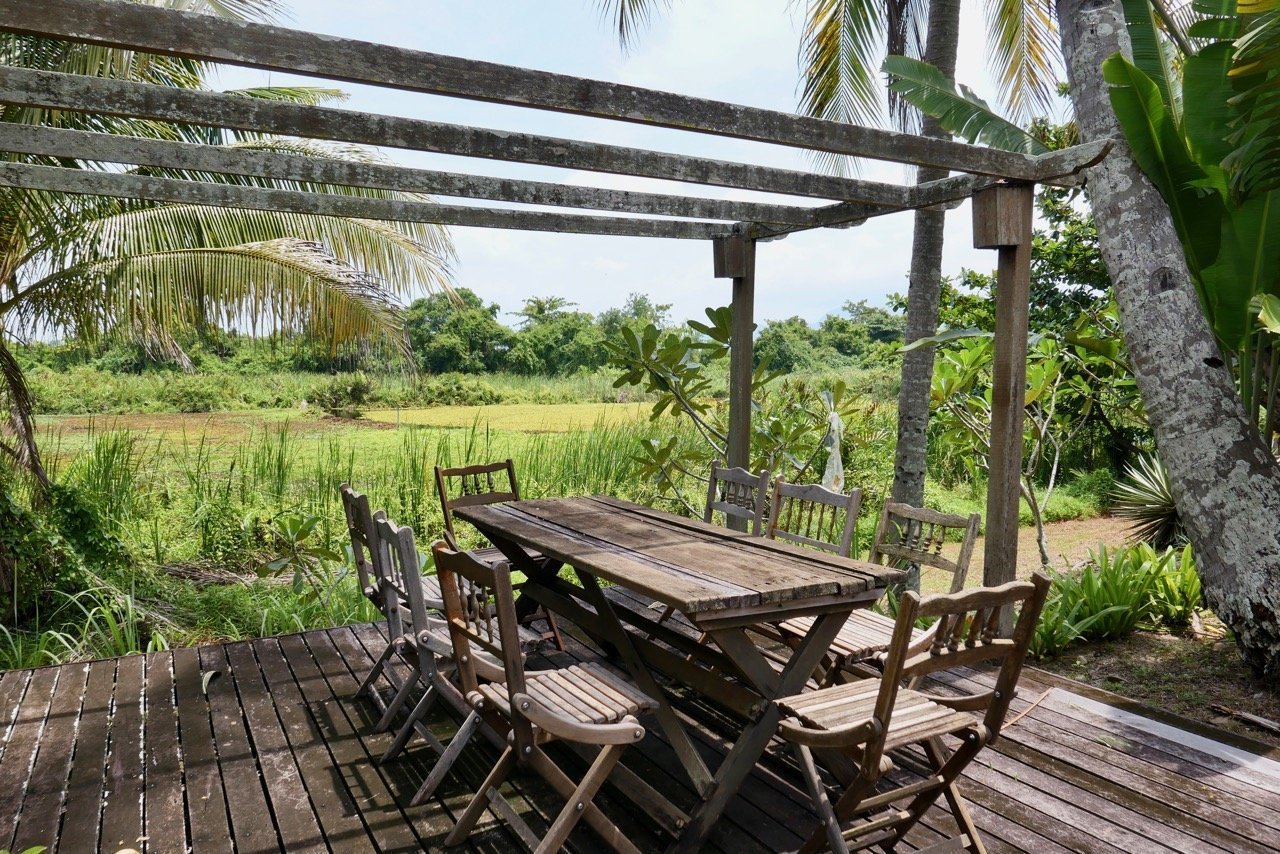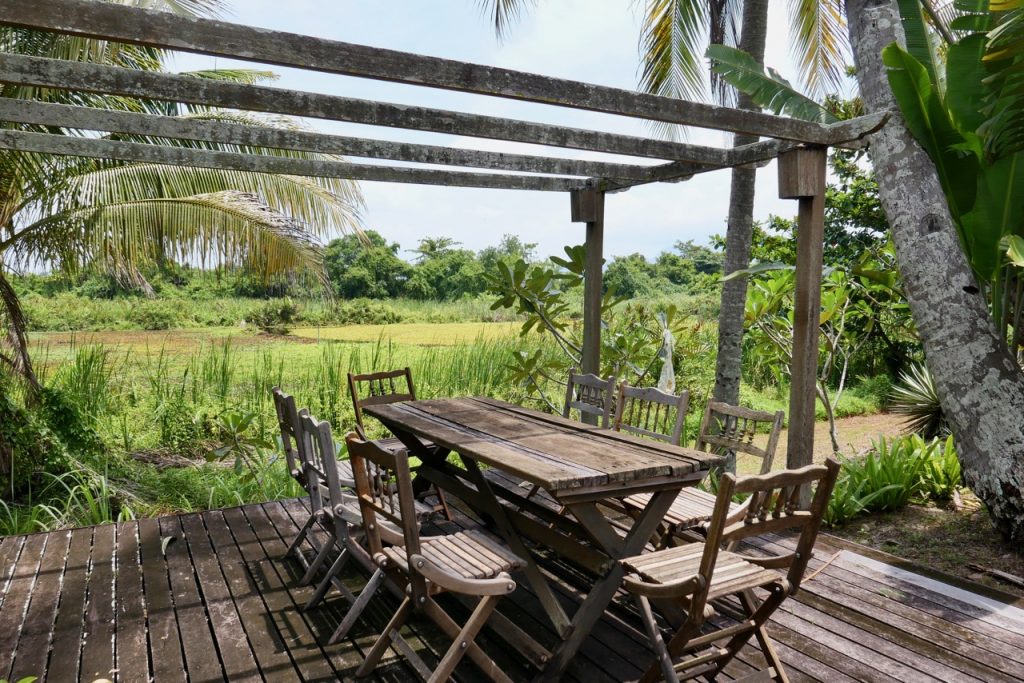 Drinks
Fresh fruits and local herbs and spices are common ingredients in the broad cocktail list. A decent selection of wines and spirits, coffee, tea, juices and smoothies complete the drinks menu. Cocktails are either RM22 or RM24 and are offered for a steal – two for the price of one – from 5 – 7 pm.
We begin with what seems to have become our standard order of an Aperol Spritz and a Mojito. Both are made to classic recipes and assist in a happy start to our session. Later, we progress to wine with a dry white chardonnay from Burgundy, Pouilly-Fuissé, Joseph Drouhin 2014 (RM220) that is great warm-weather imbibing. The team at Nam Langkawi are kind enough to allow us to store what we don't drink in one session in the refrigerator for a future tipple. (They will do this for most in-house guests.)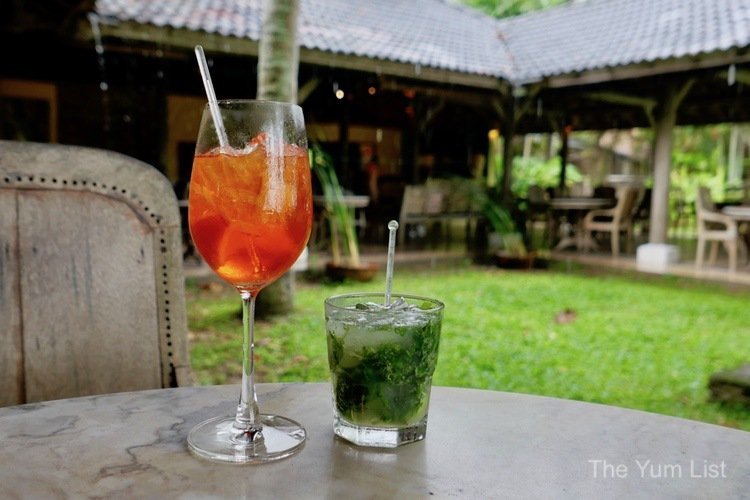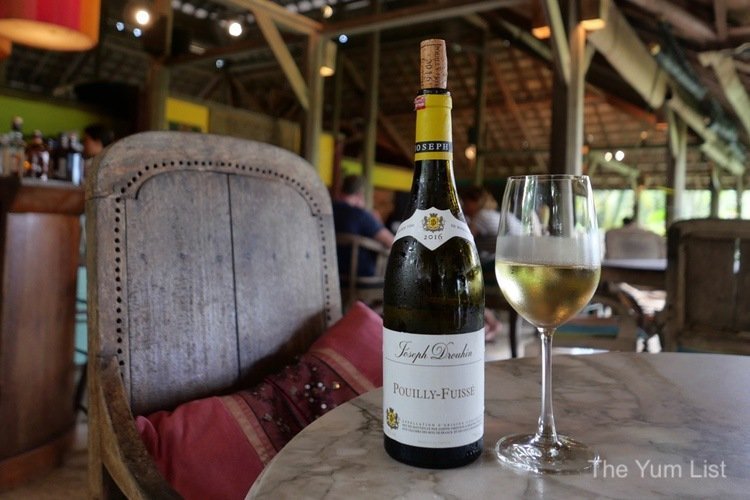 Nam Langkawi Menu
The food menu at Nam restaurant has been designed with the tourist-at-leisure in mind. Starting from midday and continuing throughout the afternoon and into the late evening, the menu evolves from lunch to coffee and cake, to nibbles to dinner.
We spend a delightful few hours over lunch, cocktails and wine at Nam Langkawi. While the menu has received high praise for its Nyonya cuisine, today we're after more western flavours.
Rocket Salad (RM46) comes abundant with green leaves, feta, avocado, cherry tomatoes and pine nuts. It's lightly seasoned with a tasty combo of soy and lime. The staff clearly have experience dealing with multiple taste preferences: they check in asking if there is enough dressing and if I would like more. This is also obvious with hubby's next request.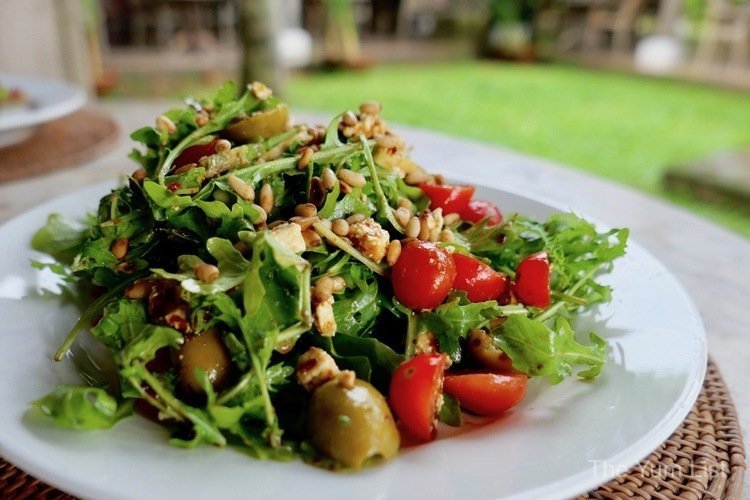 Hubby has the Grilled Steak Sandwich (RM51) … without the sandwich. The staff don't even blink an eyelid and bring his order as requested, "steak sandwich without the bread." Melted cheese oozes over the top of the steak seductively sneaking down the sides. Roasted onions, tomatoes, avocado and salad leaves balance the dish with some veg and a crisp basket of fries (a side order).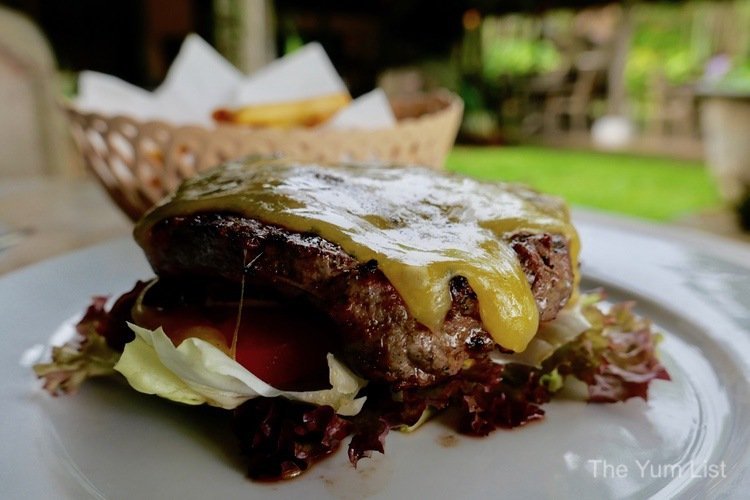 Another light yet filling lunch item is the Smoked Salmon Salad (RM48). It is more substantial than you might imagine a salad to be. Garden leaves are tossed together with tomatoes, quartered eggs, green beans, sliced cucumber and juicy green olives. The whole thing is then blanketed in salmon and drizzled with a tangy mayonnaise.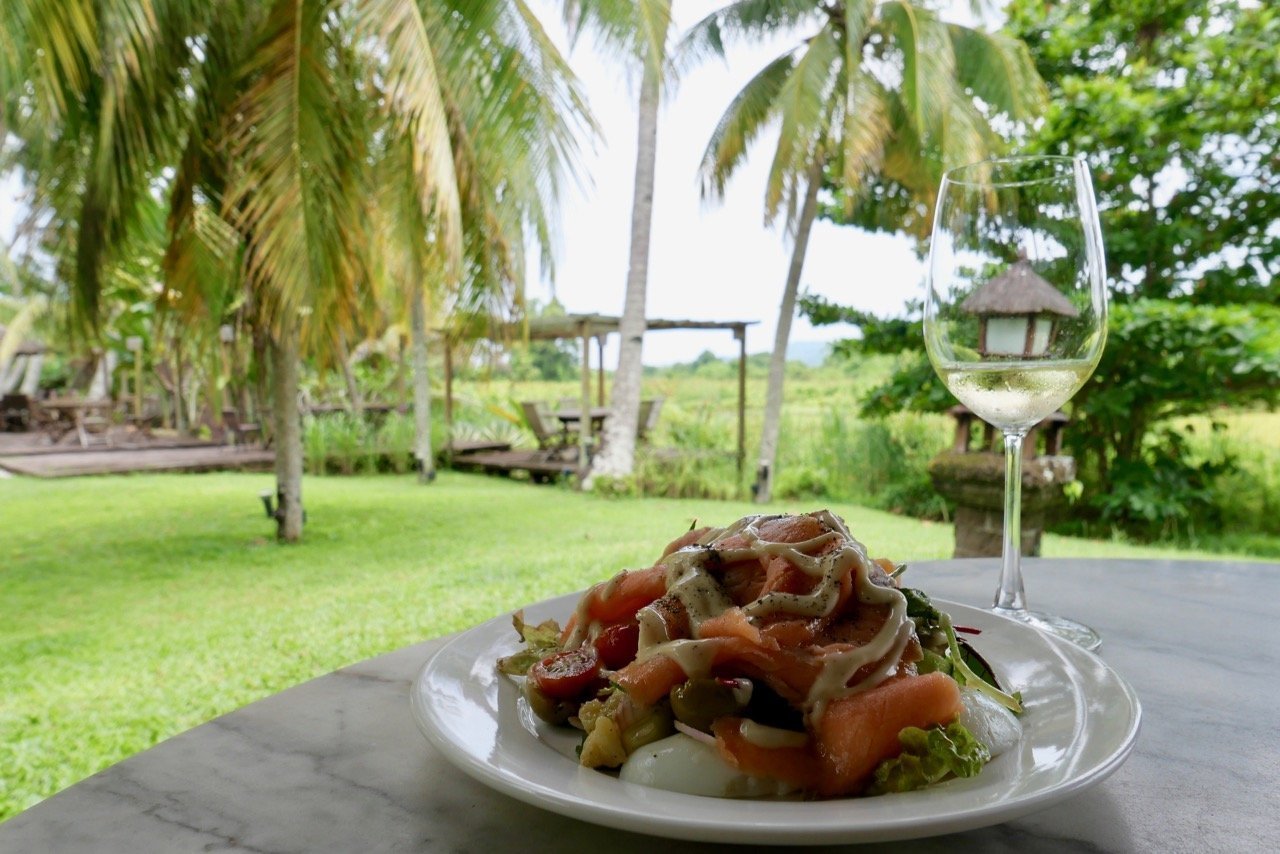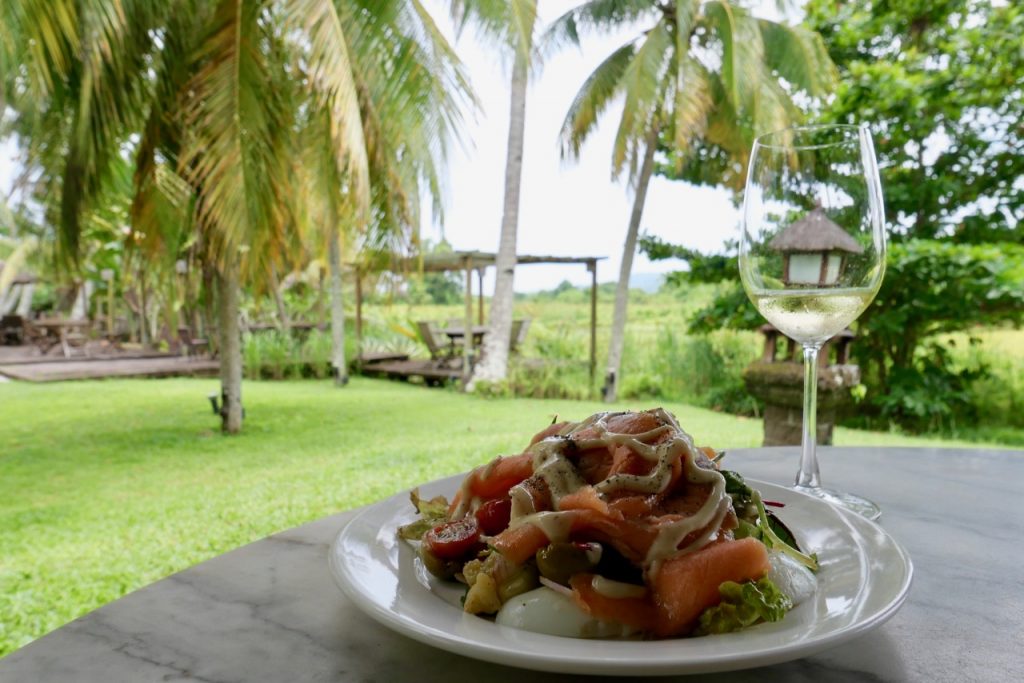 Dessert
The chefs at Nam, make all of their desserts and ice creams from scratch. You can purchase cakes for special occasions, but do remember to order in advance.
Steamed apple, macadamia and butterscotch pudding with gula Melaka ice cream and apple and ginger compote (RM38) is absolutely irresistible. The moist round pudding is layered with sweet and spicy notes and we declare this our favourite until…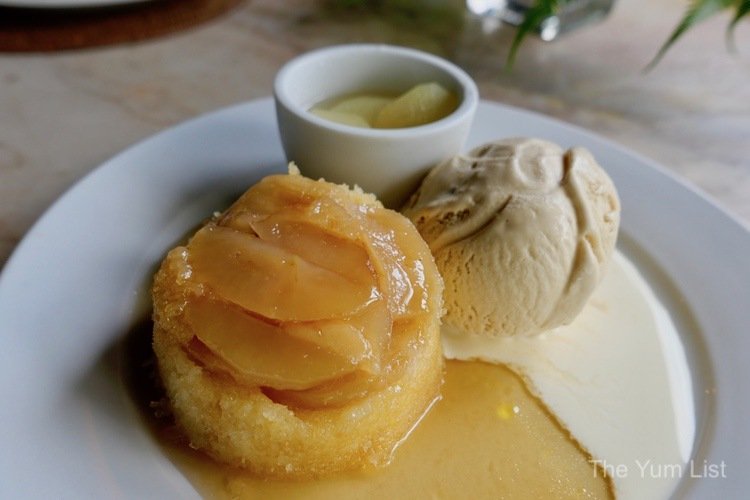 We taste the Local Dessert Plate (RM36). It's an enticing mix of local flavours featuring sticky black rice, palm sugar crème caramel, and coconut ice cream with fresh mango, banana and passionfruit salad. Rich, creamy, tart and sweet, it ticks many boxes – you must order this!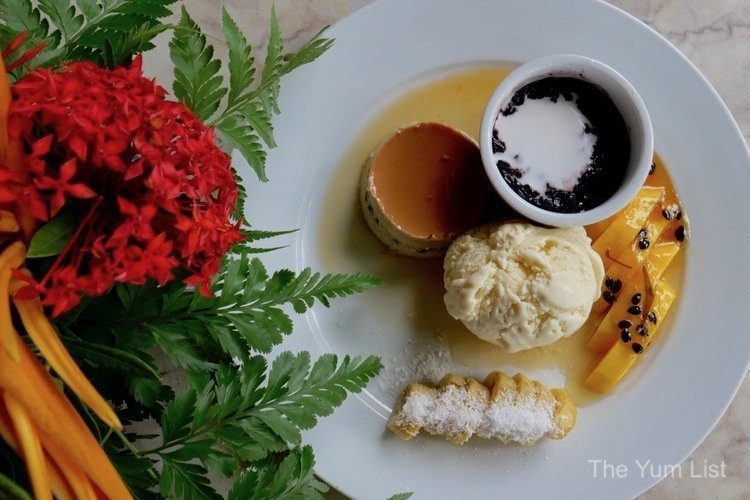 Nam Langkawi Review
Nam Langkawi at Bon Ton Resort is just as much about relaxation and ambience as it is about their tried and tested menu. A visit to this charming and delicious restaurant should be on the list of every foodie on a trip to the island.
Reasons to visit Nam Restaurant: All the basics are done well with a wide food menu and classic cocktails; unique sunsets over the lagoon; happy hours; delicious desserts – must try the Local Dessert Plate.
Find more recommendations for gourmet travel to Langkawi here.