The Fat Frog Langkawi
Monica Tindall
The last time we visited The Fat Frog Langkawi was not long after it first opened in 2016. At that time, the concept was a solid one with healthy food and fairway views the highlights. Since then, however, the team have both refined and expanded their offerings. Besides quality meals that tick the boxes for many dietary preferences, they've also introduced a wine room, the gardens have grown, and the golf course is finished – furnishing an attractive photoshoot background for Instagrammers.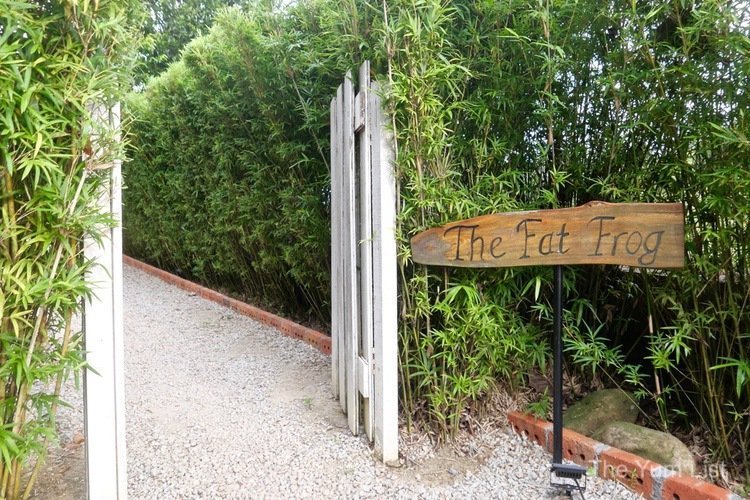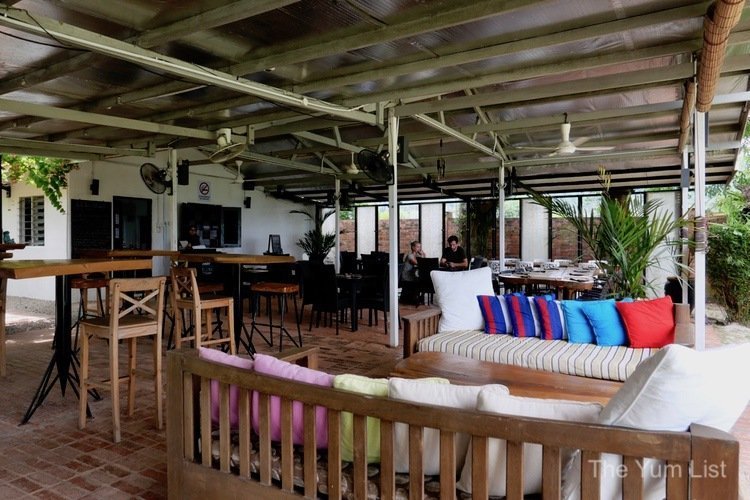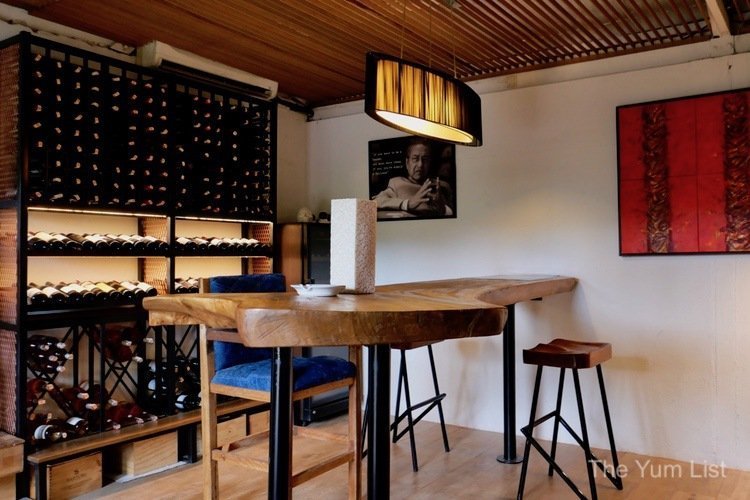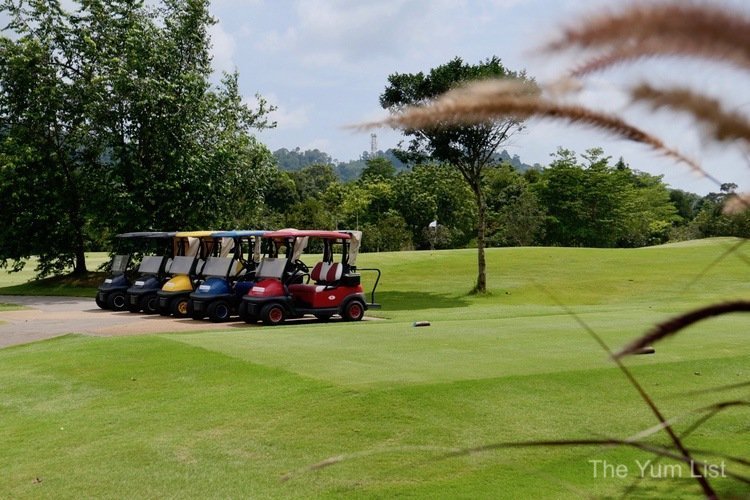 The Fat Frog Langkawi
While there is already quite a comprehensive menu covering many food choices, The Fat Frog Langkawi also offers daily blackboard specials. Here you'll find soup, fish and salads of the day along with a bunch of other recipes often made with produce picked from their garden just minutes before preparation. The one thing they all have in common though is the focus on whole foods, made from scratch, "none of that rubbish out of a tin," as owner Simon so adeptly puts it. His partner Indi adds that they have many vegan and vegetarian recipes but also wholesome meals, including chicken and seafood.
A welcoming setting complements nutritious food. Not only are the views highly engaging, but the dining area itself is filled with green and features handmade upcycled tables and chairs. Much of the wood in the furnishings came from trees that had fallen on the surrounding property during thunderstorms. There's even a piece that was formerly a tree stump that has been sanded back and varnished, creating a gnarly table for the entryway. An assortment of birds and wildlife inhabits the surrounding trees, and as the sun begins to set, flocks of hornbills glide across the sky. It is a pleasant place to be.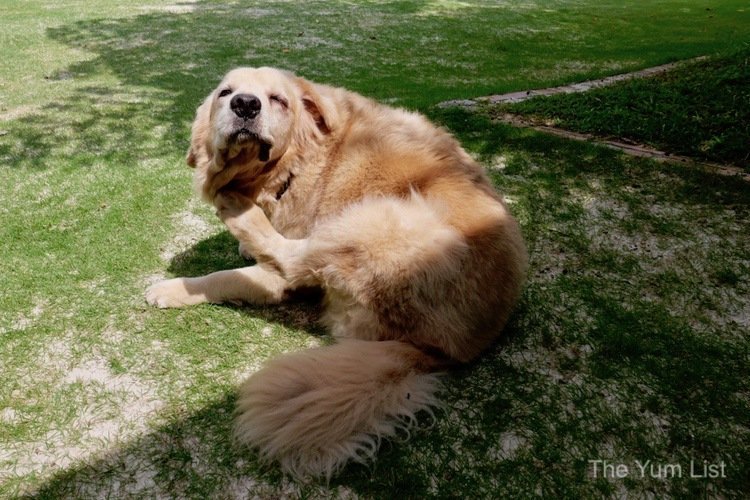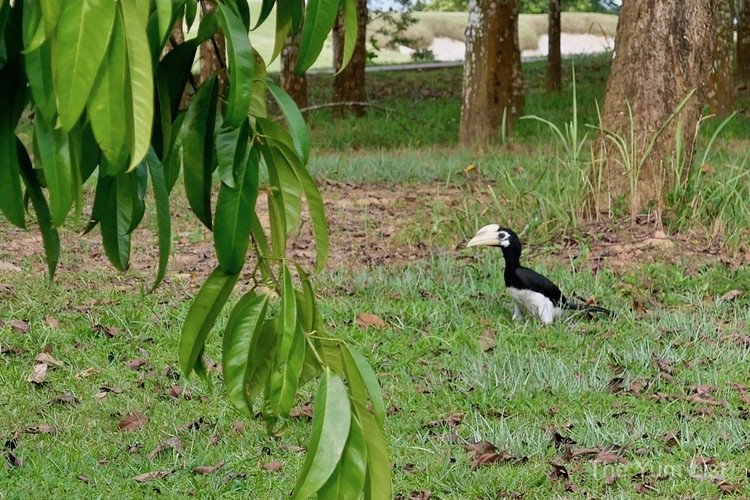 Menu
Today we order several items from the daily specials and a couple of dishes from the regular menu at The Fat Frog Langkawi. The Fat Frog Nyonya Curry (RM28 with tempeh or RM32 with chicken) is a popular recipe. It's partnered with brown rice, steamed veggies and a thin folded omelette, making a tasty and filling lunch or dinner.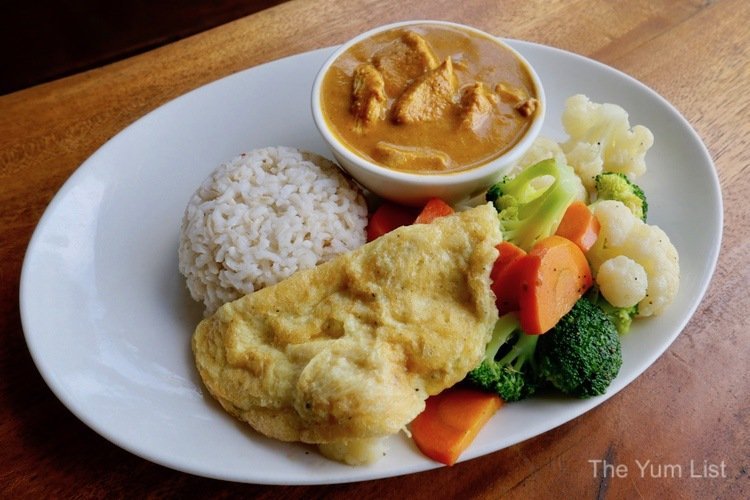 The Quiche of the Day (RM28) is broccoli, pumpkin and feta. It's on a thin, crisp crust, which issues a delicate balance of textures to the layer of soft eggs and vegetables. A fresh salad of leaves, cherry tomatoes and pine nuts trim the meal with freshness.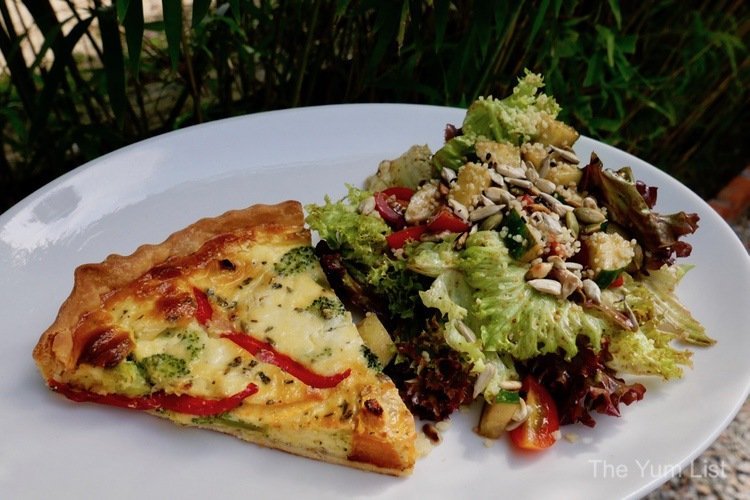 The Roast Pumpkin, Avocado and Feta Salad (RM32) is a great choice that could be shared as a starter or easily make a meal in itself. Tossed together with mixed seeds and a light balsamic, honey, lemon and olive oil dressing, it is another item we'd order again without thinking twice.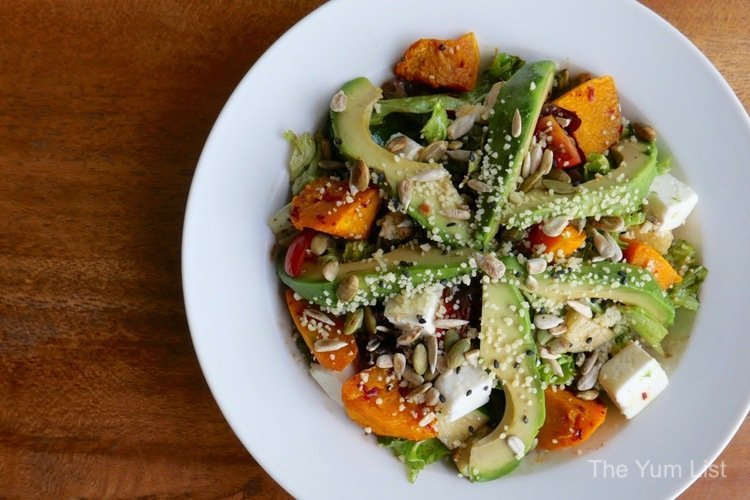 Hubby's favourite though is the Pan-seared Local Seabass (RM42 – based on market price). Cooked until moist and flaky with a pale golden sear on the flesh, it rests atop a bed of homegrown spinach, tomatoes and roast potatoes.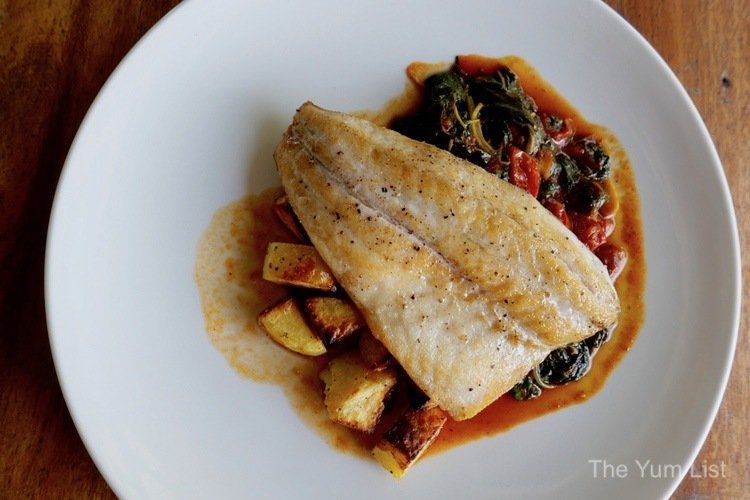 Desserts
Lastly, from the food menu, we can't miss dessert at The Fat Frog Langkawi. Again, everything is made from scratch, and all ingredients are "as local as (they) can get." Vegan Sticky Toffee Pudding (RM16), made non-vegan with our addition of a scoop of vanilla ice cream by Cabana Gelato, is so moist! The sauce is cleverly constructed with coconut milk and gula Melaka, giving a thick viscosity. Initially, it sits similar to piped icing and then slowly melts with the warmth of the cake. Each and every spoon is luscious.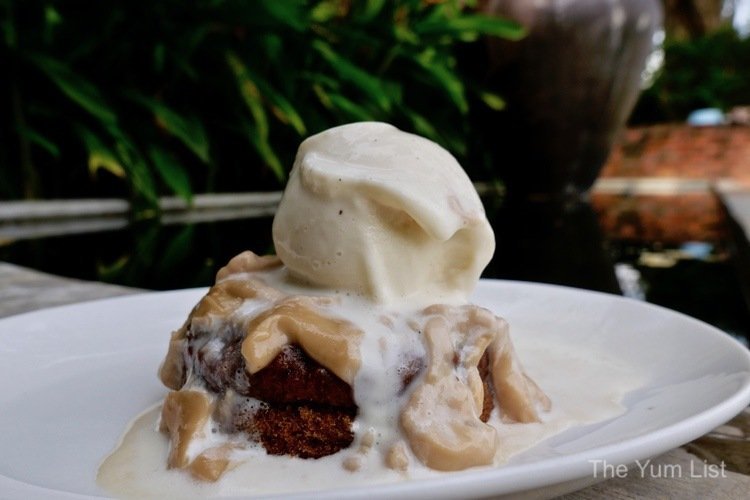 Drinks
Healthy juices and smoothies, coffee, cocktails and an attractive wine list mean thirsts are guaranteed to be quenched at The Fat Frog Langkawi. Hubby can't resist the Island Indulgence (RM17). Made with coconut water, coconut cream, mango, banana and honey, it's just right in consistency with a balance of creaminess and tartness. Another great combo is the Watermelon, Lime & Mint (RM14) with greens from The Fat Frog's garden. It's ideal sipping in this tropical climate.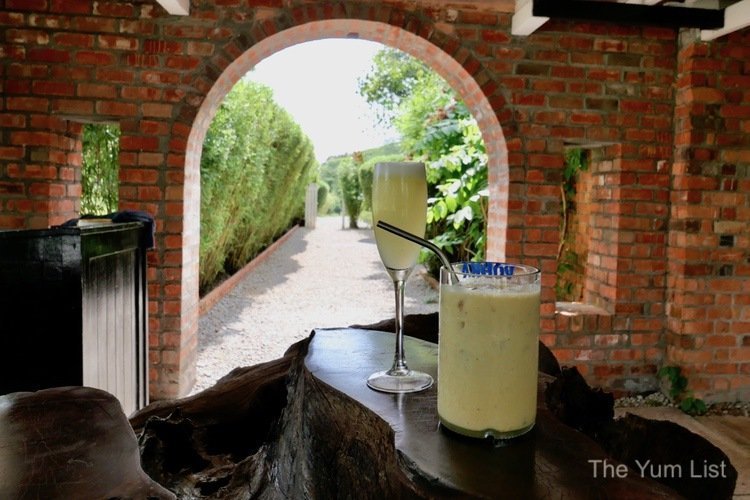 A list of cocktails too has been curated to guard against the hot, humid weather. The Classic Pimm's (RM20) is cleverly described on the menu: "convince your conscience that this is a healthy option with fresh fruits in your cocktail. Guilt-free consumption of the classic British summer beverage." With peeled mandarin segments, fresh mint and cucumber slices, this is indeed a combo to consume without remorse. Continuing to invigorate, the Lemon Daiquiri (RM18) renders an attractive tang with lemon and rum smoothed over with egg white.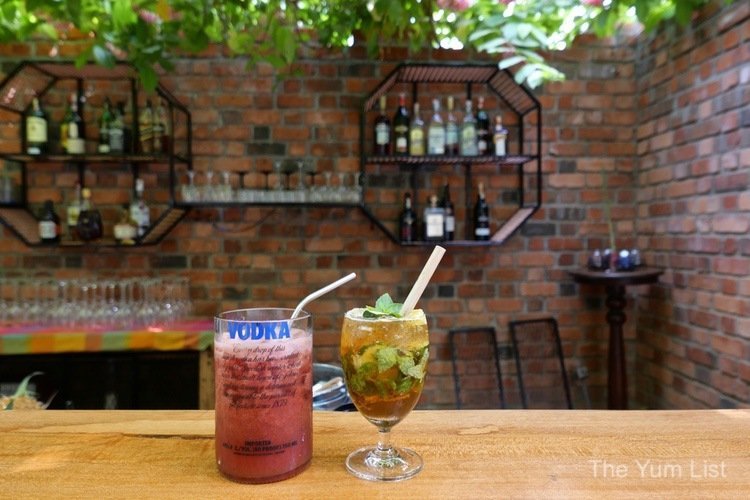 Balancing out refreshments at the Fat Frog Langkawi, the wine room is an exciting recent introduction. Guests can take their pick of labels from a chilled space, walled with bottles and adorned with inspirational quotes. A beautiful upcycled wood table and stools centre it. It would be a fabulous place for a tasting or small gathering. Of course, being a duty-free island, wine prices are attractive. We indulge in a highly quaffable 2014 Chablis, La Chablisienne from La Pierrelee (RM170). It is fresh and aromatic with a mild butteriness and a crisp finish. Yum.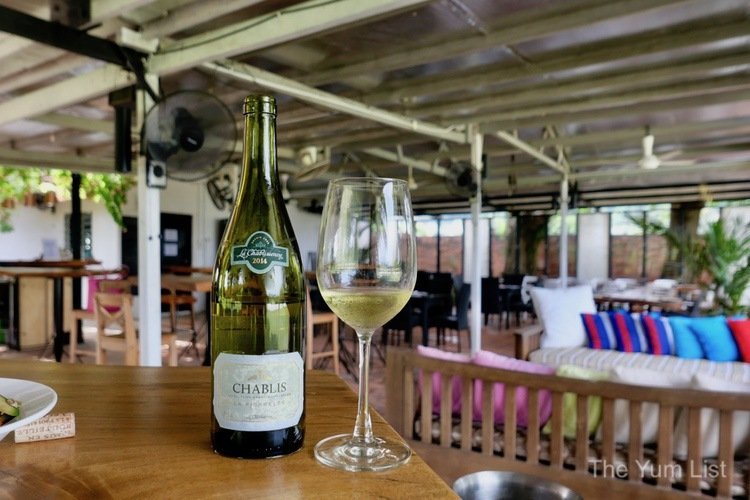 The Fat Frog Langkawi Review
As the afternoon drifts on, I could easily see lunch evolving into coffee and cake, the day morphing into the night, and sundowners into dinner. The Fat Frog is the type of place where we feel at home, nourished with tasty whole foods, and content with a relaxed appreciation for island life.
Reasons to visit The Fat Frog Langkawi: pretty views; relaxed setting; nutritious meals; new wine room.
Breakfast: 9 am – midday
Lunch: Midday – 4:30pm
Dinner: 6 pm – late
Find more gourmet recommendations for travel to Langkawi here.