Awesome Canteen Penang
Monica Tindall
Awesome Canteen Penang is well known for its great coffee and café menu offering healthy options for a range of diets. Most notably, people following a paleo lifestyle quickly found comfort in this kitchen. What many don't know about, however, is their attractive omakase menu.
Offered once a month, chef Jack rolls out an omakase menu featuring ingredients procured from local farms. Depending on the line-up, the five-course meal generally costs between RM180 and RM250 per person. Today we try September's bill of fare.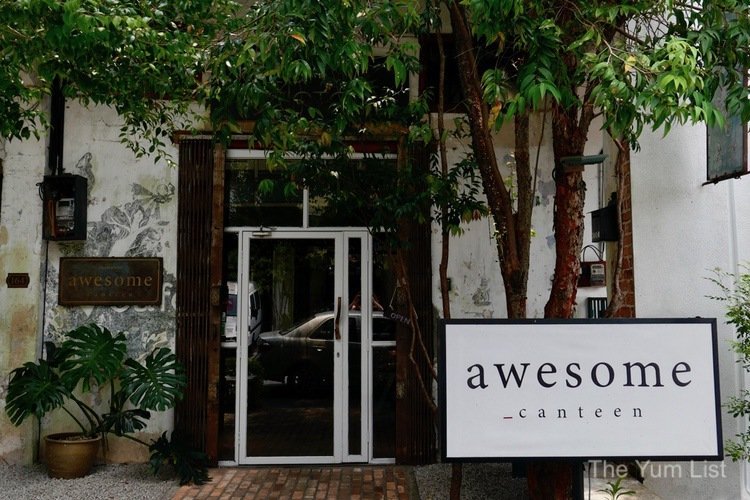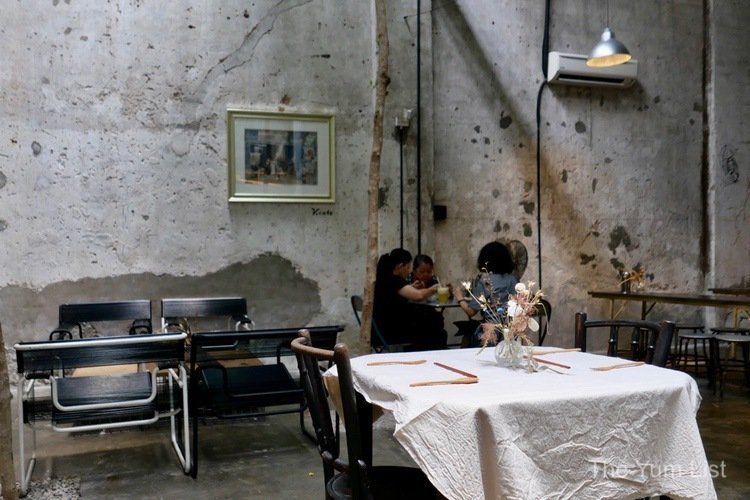 A La Carte Menu
While we're here for the omakase menu at Awesome Canteen Penang, we do try a couple of items from the a la carte menu.
Drinks
From the drinks section, Pineapple Sage (RM11) is bright and refreshing, an excellent thirst-quencher for Penang's hot climate. The Avocado Banana Smoothie (RM15) is smooth and filling and might even make a complete brekkie for a light eater. Coffee too is something the team at Awesome Canteen Penang do seriously. Aficionados should find the Filter Coffee (RM18) made on speciality beans from Colombia – Alejandro Ahumado Narino – a treat. Tasting notes are similar to what you might expect of wine; red cherry, orange reduction and macadamia. Otherwise, espresso-based drinks are done well too with beans coming from Artisan Roastery.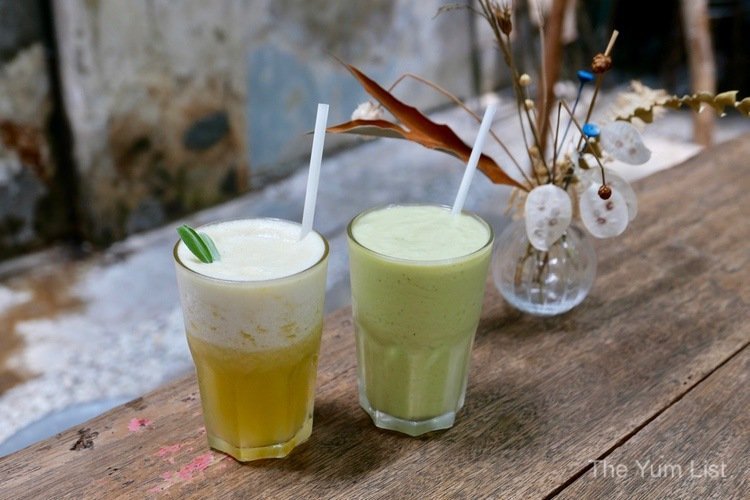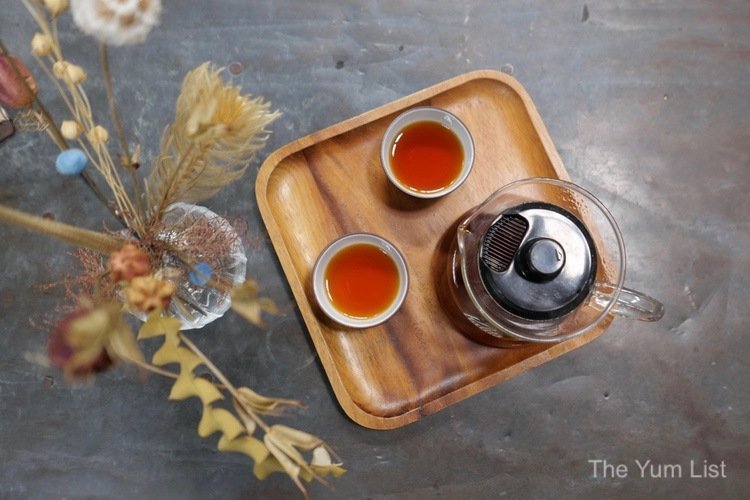 Food
The a la carte menu holds a few firm favourites that keep diners returning. Crumbed Cauliflower (RM12.90) is a healthy vegetarian pick. Pieces of the vegetable have been battered and quickly deep-fried. A green chilli sauce along with pickled ginger torch makes a tasty and attractive garnish. Another meat-free snack that I love, love, love are Awesome Canteen Penang's Sweet Potato Fries (RM13). Gorgeous long wedges of Japanese sweet potato come with sweet chilli mayo and a sprinkling of celery seeds.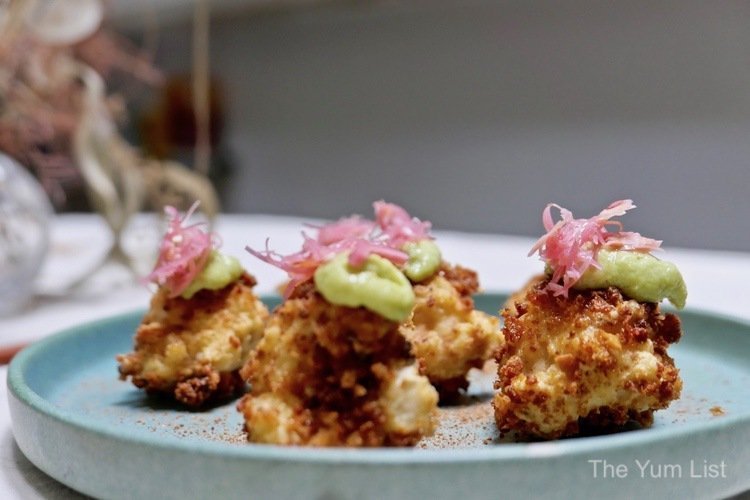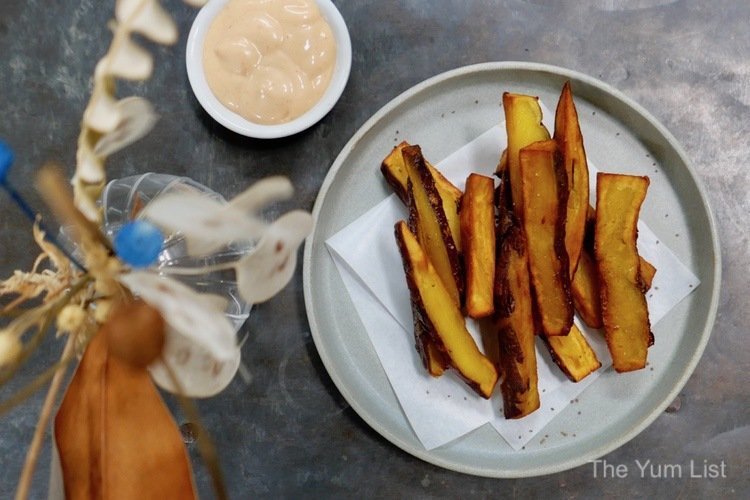 For something more filling, you can't go past the Cold Foam Noodles (RM23). Not only does order consist of a large bowl of house-made springy noodles but it is also sided with a plate of deep-fried white shrimp. The pasta is dressed with mussel oil, roselle vinaigrette and an onsen-style duck egg. Topped with cucumber, spring onions and Parmesan foam, these chilled noodles are addictive.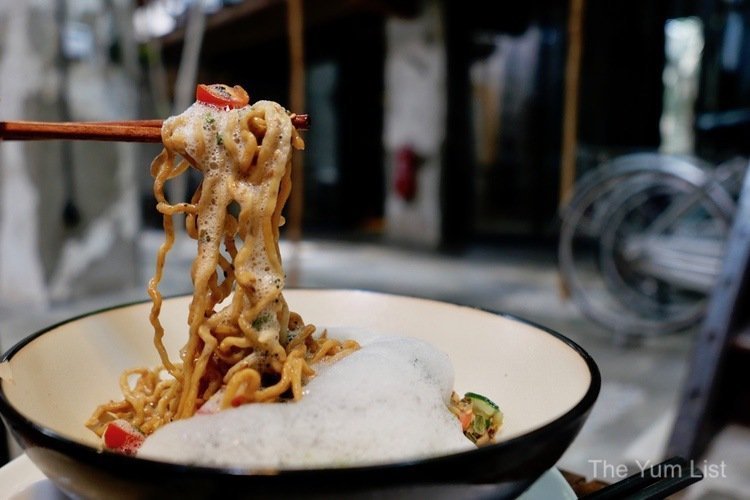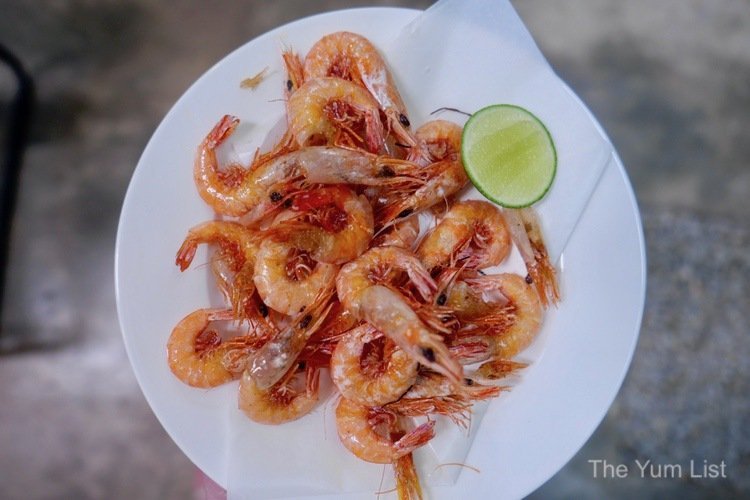 Lastly, from the a la carte menu, it's hard not to be tempted by Awesome Canteen Penang's display of housemade cakes and desserts. One of their best-sellers, Key Lime Pie (RM15) features a slim biscuit base encasing luscious curd. It sports just the right balance of tartness and sweetness. It's luxuriously velvety. Order this!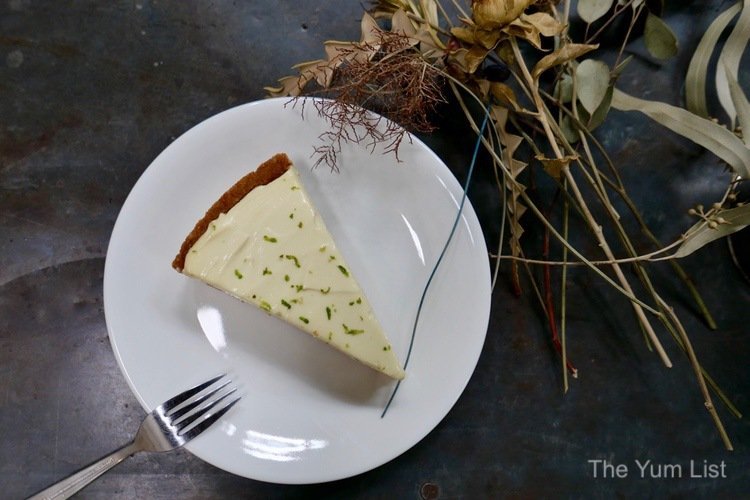 Awesome Canteen Penang, Omakase Menu
Now back to that omakase menu… Run once a month, bookings are required, and guests can look forward to a creative line-up of dishes founded on local produce.
Taco with Prawns
The first item to hit the table (and depart just as quickly) is the taco with prawns. A crisp rice cracker taco shell is filled with creamy mashed potatoes, grilled prawns, ginger flower and shredded deep-fried leek. It is a delectable, tasty mouthful.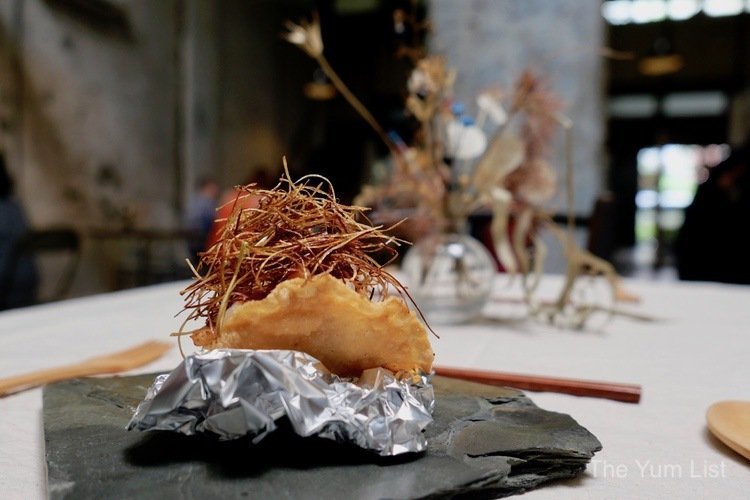 Pomfret
In Penang, you often find pomfret steamed or fried. Chef Jack, however, appreciated how fresh the local catch was so decided to serve it sashimi style. It is simply sliced and accompanied by a halved calamansi and Himalayan salt. The flesh is quite firm with character and flavour. A sprinkle of salt and a dash of acidity makes this a double win.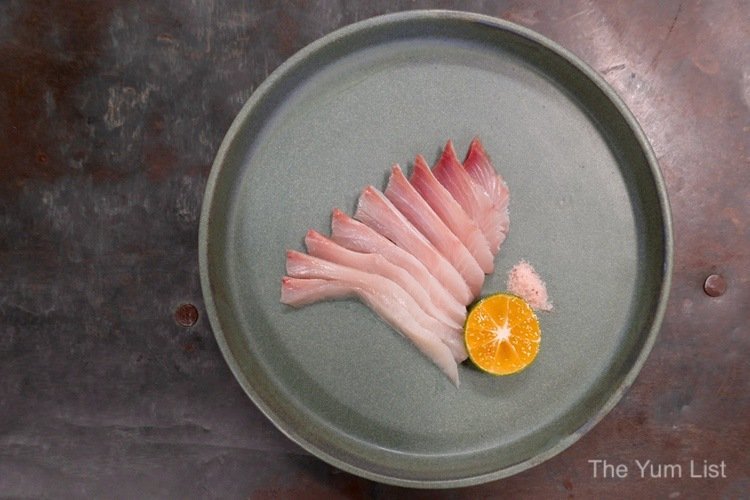 Housemade Tofu
The third course features housemade tofu. Resembling a soft creamy custard in the base of the bowl, it's given texture and taste with slices of okra seasoned with soy sauce. Japanese seaweed, Tororo kombu, makes a hairy crown. The dish sports a silky feel, and the green veg and kelp are a welcome break to the smoothness of the tofu.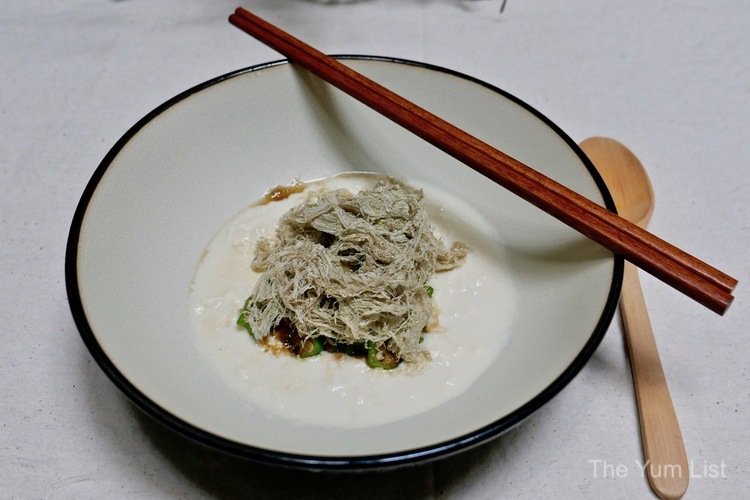 Baby Tuna
Pink pieces of tuna have been torched around the edges allowing the middle to remain pink in the fourth course. Watercress and water chestnut, butterfly pea flower and a drizzle of garuda-infused oil add an unfamiliar but appreciated combo of ingredients to the fish. The fish is so soft, and the oil is delicious. The vegetables add a fresh crunch. It's a vibrant dish. A hit with both of us.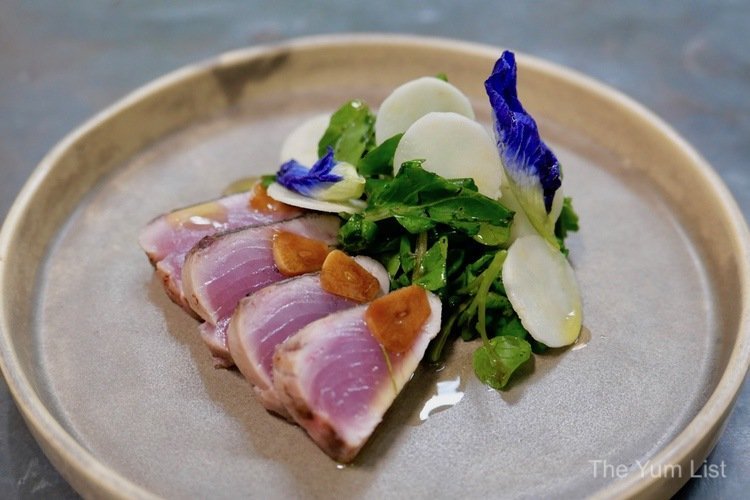 Fish
Fish features in the following recipe as well, only this time it's cooked white fish pressed together with water chestnuts. Sheltered by a cover of local greens, it's like unveiling a surprise. The top shield of bok choy is sprinkled with curry leaf powder and a side of pickled torch ginger. Yum.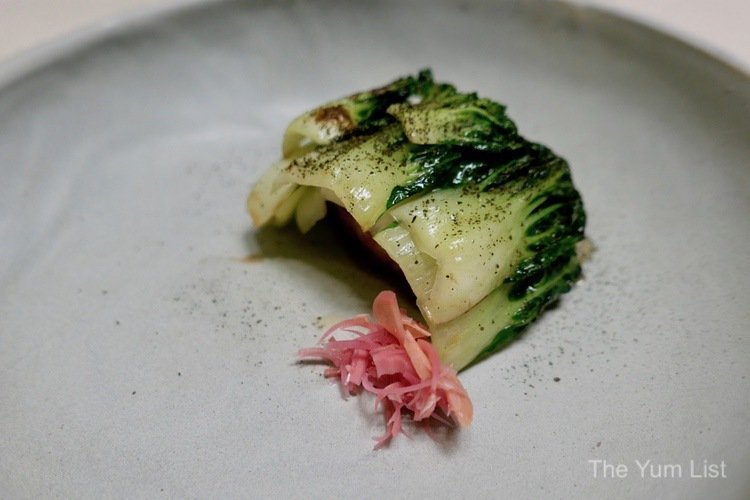 Duck
And, the food continues to arrive in a leisurely line-up, keeping the afternoon casual and full of interest as to what might come next. This round, it's a duo of duck breast strips laid atop a tangle of shaved green papaya. An attractive roselle vinaigrette decorates the top, and a scattering of dehydrated chives add herbaceous notes and a light crunch.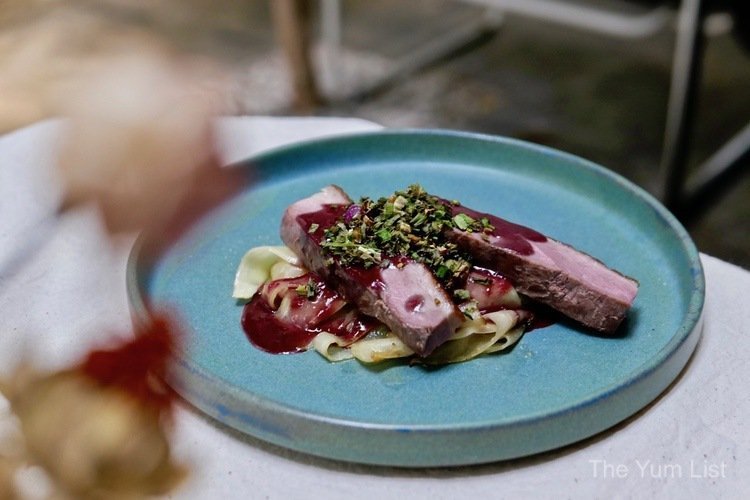 Beef
The last savoury plate is beef. Distinctive Japanese flavours are given with a sauce of wagyu beef fat combined with fermented honeydew. The layer of fruity sweetness, soft tang from grainy mustard on the side and a roll of toasted sushi rice make a wonderful combination.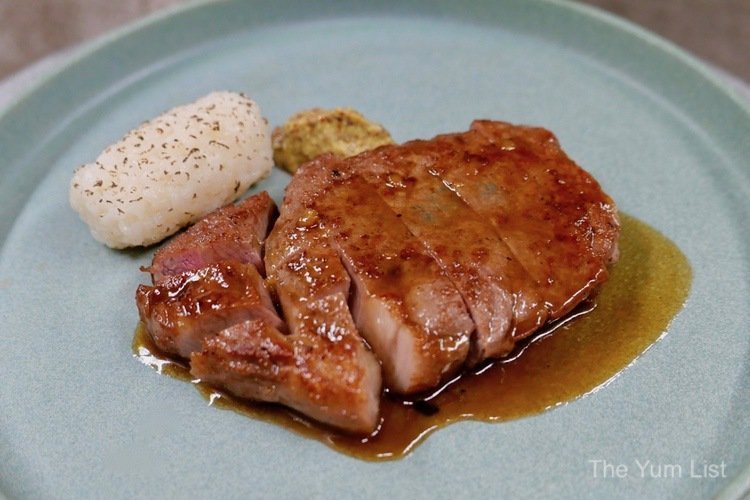 Dessert
The final dish on Awesome Canteen Penang's omakase menu is warm, sweet and comforting. Soft yam is surrounded by a pool of reduced coconut milk. The vegetable top has been brûléed, and the liquid is sprinkled with soy powder and drops of turmeric. It's a fantastic ending to an engaging menu of local inspiration.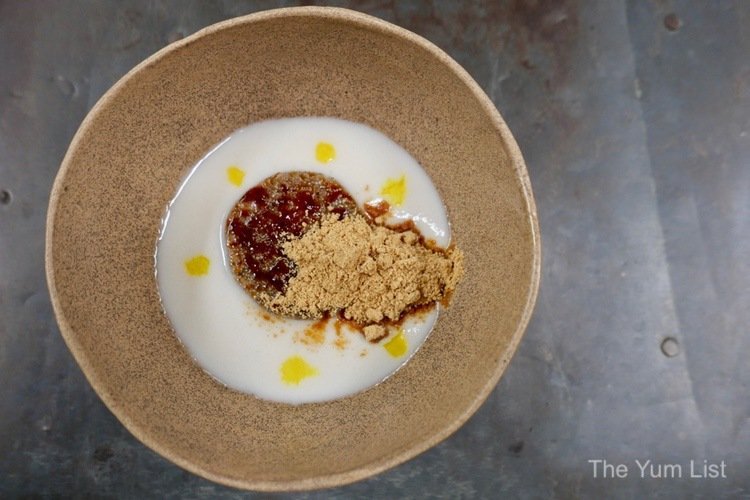 Awesome Canteen Penang Review
Awesome Canteen Penang is a welcoming space. High ceilings encourage loads of natural light. Trees grow within the area itself. And, rustic charm is evident in unfinished walls and old school canteen chairs and tables. It's a casual and inspiring setting to ponder the creations of chef Jack while appreciating the diversity of local produce in the omakase menu. For those not around for the once-a-month event, it is a great place to grab a cup of coffee, try a slice of cake, or grab a guilt-free meal from their collection of healthy recipes.
Reasons to visit Awesome Canteen Penang: a good base menu of tasty and healthy dishes – don't miss the sweet potato fries and key lime pie; charming space; an inspiring omakase menu ideal to be enjoyed with a group of friends over a leisurely afternoon.
Awesome Canteen Penang
Sekeping Victoria, 164 Lebuh Victoria, Georgetown
10300 Pinang, Pulau Pinang, Malaysia
www.facebook.com/awesomecanteenpg
+6 04 261 3707
Awesome Canteen Penang Opening Hours
Closed Tuesday
Wednesday to Monday
Lunch from 11am-3pm (Last order is 230pm)
Kitchen rests from 3pm-6pm.
Dinner from 6-10pm. (Last order is 930pm)
* Pork-free
Follow this link for more on Penang's exciting culinary scene.