Albert Wines2U
Monica Tindall
One of the most respected wine and spirit suppliers in Malaysia is now delivering directly to your doorstep! With over 100 brands from around the world, their collection is extensive. Just a few clicks on their website and your wine arrive in one to three working days.
Albert Wines2U Wine Delivery KL
We test out the service. The website is easy to navigate with the homepage divided into categories; wines, spirits; non-alcoholic; wine chillers; brands and special events and sales.
Clicking on the wine tab sees the offerings further organized by type, country, region, grape, 90 points & above, grand cru classe and organic wine.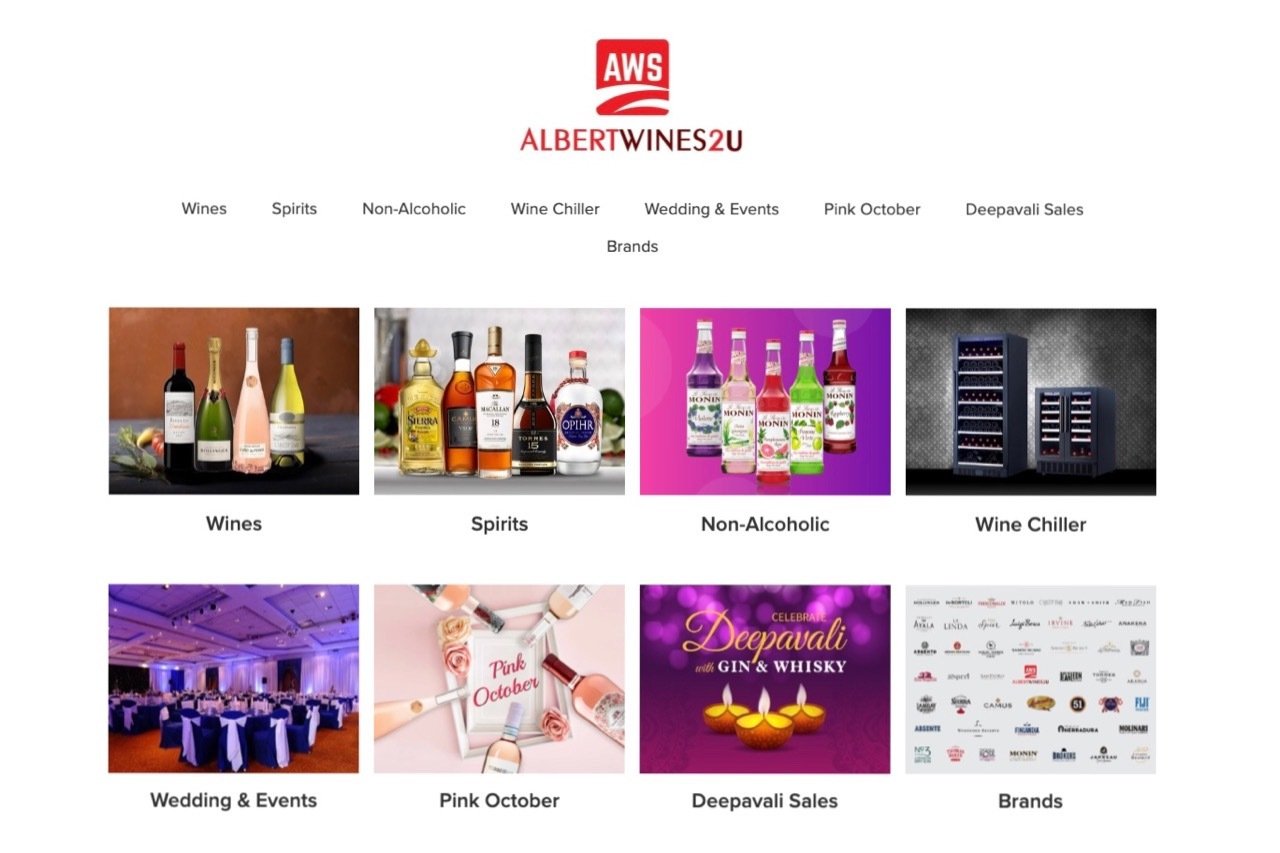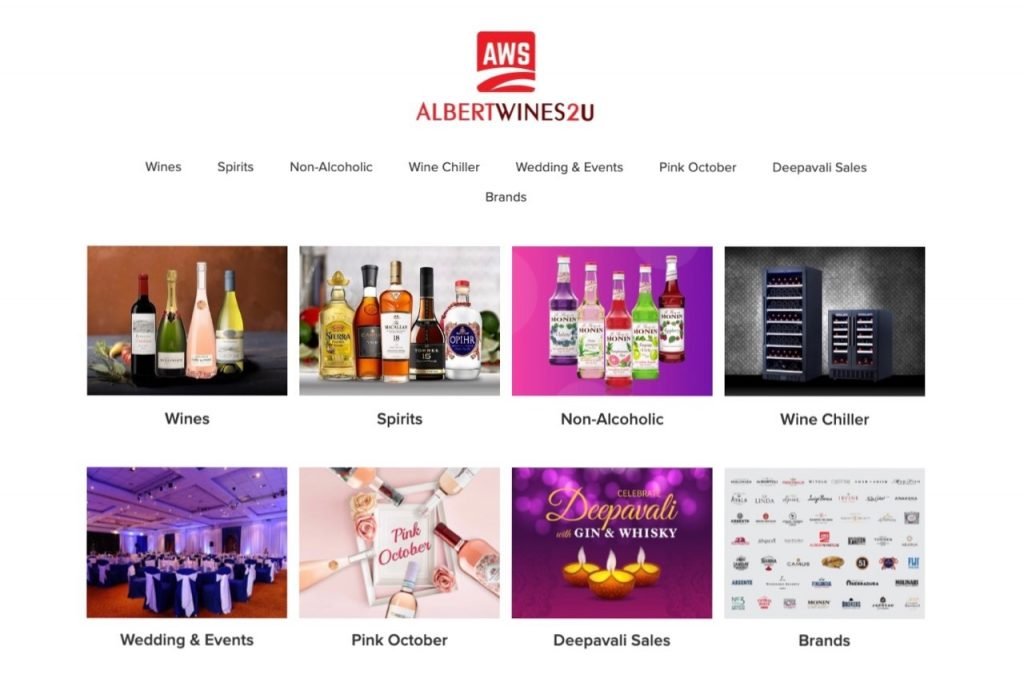 Wine – 90 Points & Above
I head straight to the 90 Points & Above section and find a 2017 De Bortoli' Woodfired' Heathcote Shiraz (RM104) to my liking. Clicking on the photograph of the wine bottle furnishes detailed information such as region, alcohol level, tasting notes and recommended food pairings. Come to think of it that would be a fabulous way to search – recommended food pairings – I might suggest that.
The Albert Wines2U site tells that this a new addition to the De Bortoli range. It offers aromas of "fresh loamy earth, sandalwood and Earl Grey tea notes set on a dense but velvety frame." It shows "plenty of energy to the juicy fruit core of pomegranate and raspberry." They suggest that this full-bodied wine would go exceptionally well with char-grilled ribeye on the BBQ. That's Friday night's dinner arranged then.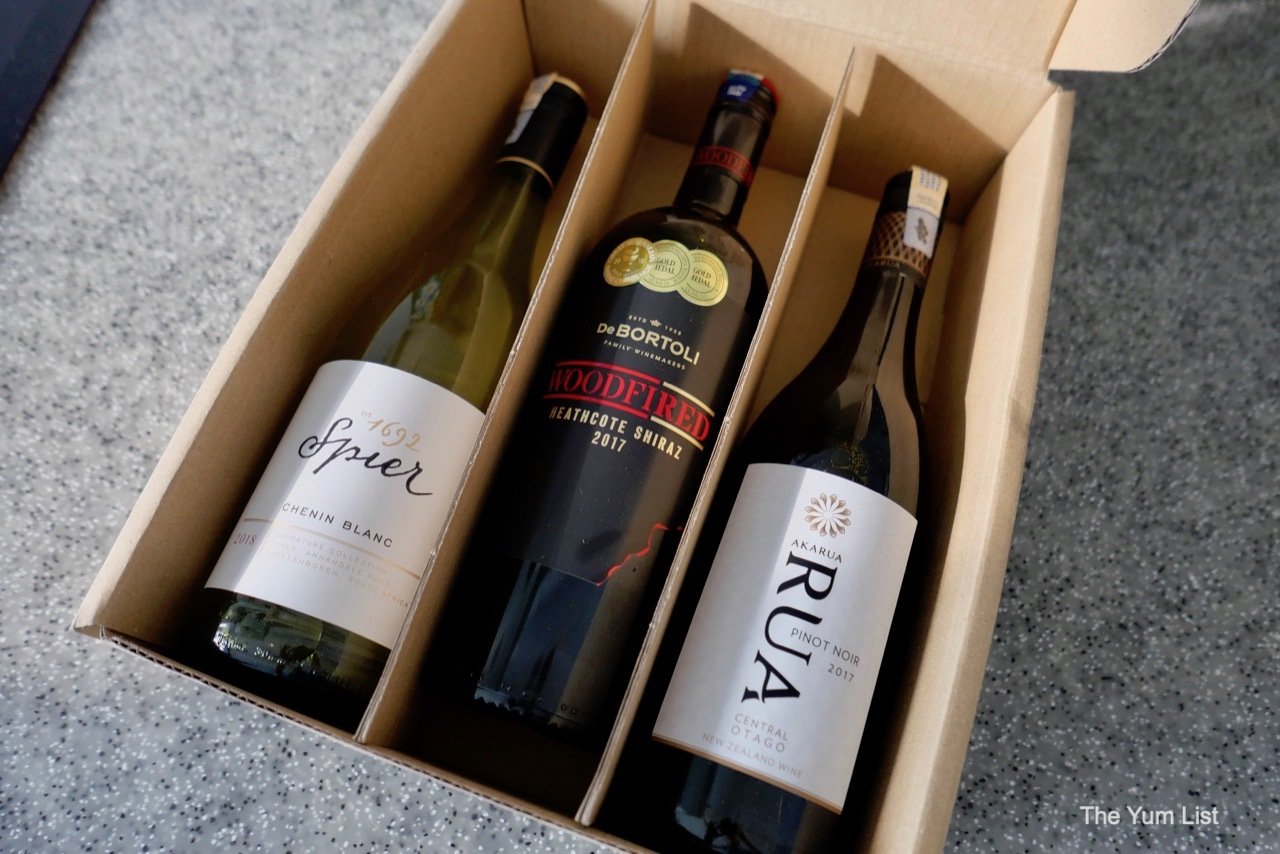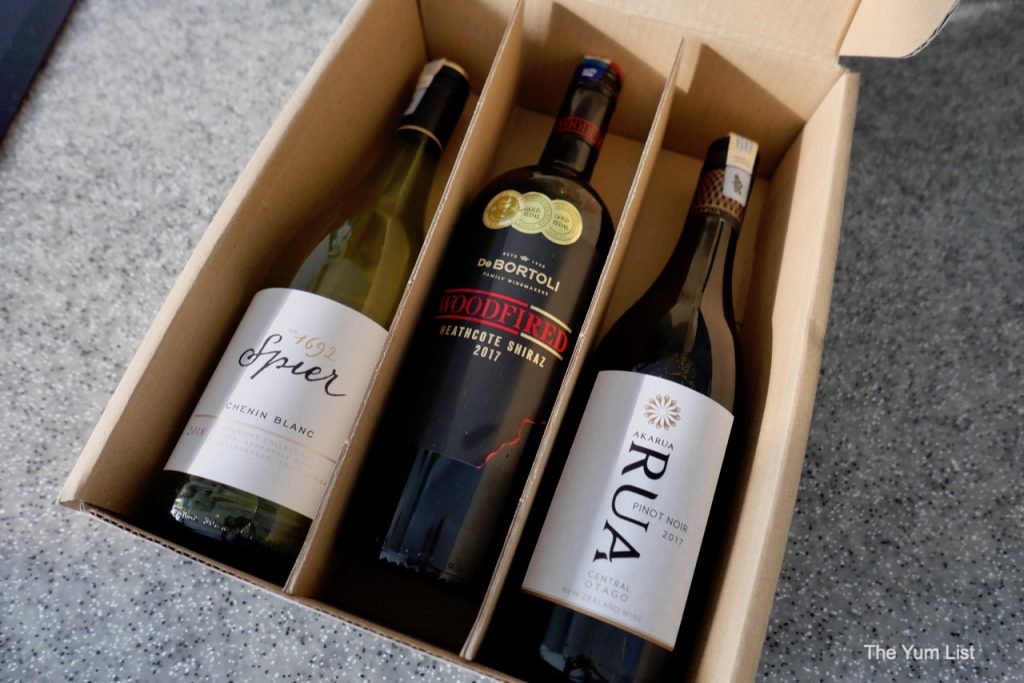 Wine by Country
Looking to explore more South African wines, I use the "wine by country" button. Quickly scrolling past the bottles with cute animal pictures on the labels, I find a 2018 Spier' Signature' Chenin Blanc (RM 81) that looks interesting. Hailing from the Western Cape, this wine is 13.5% in alcohol and seems rather quaffable.
The tasting notes provided by Albert Wines2U tell that it is "crisp and fruity, delicious on its own or with crumbed fish or chicken." They propose a bouquet of "green guava, pear, apple" and hints of lychee. They find a well-balanced palate and a robust finish.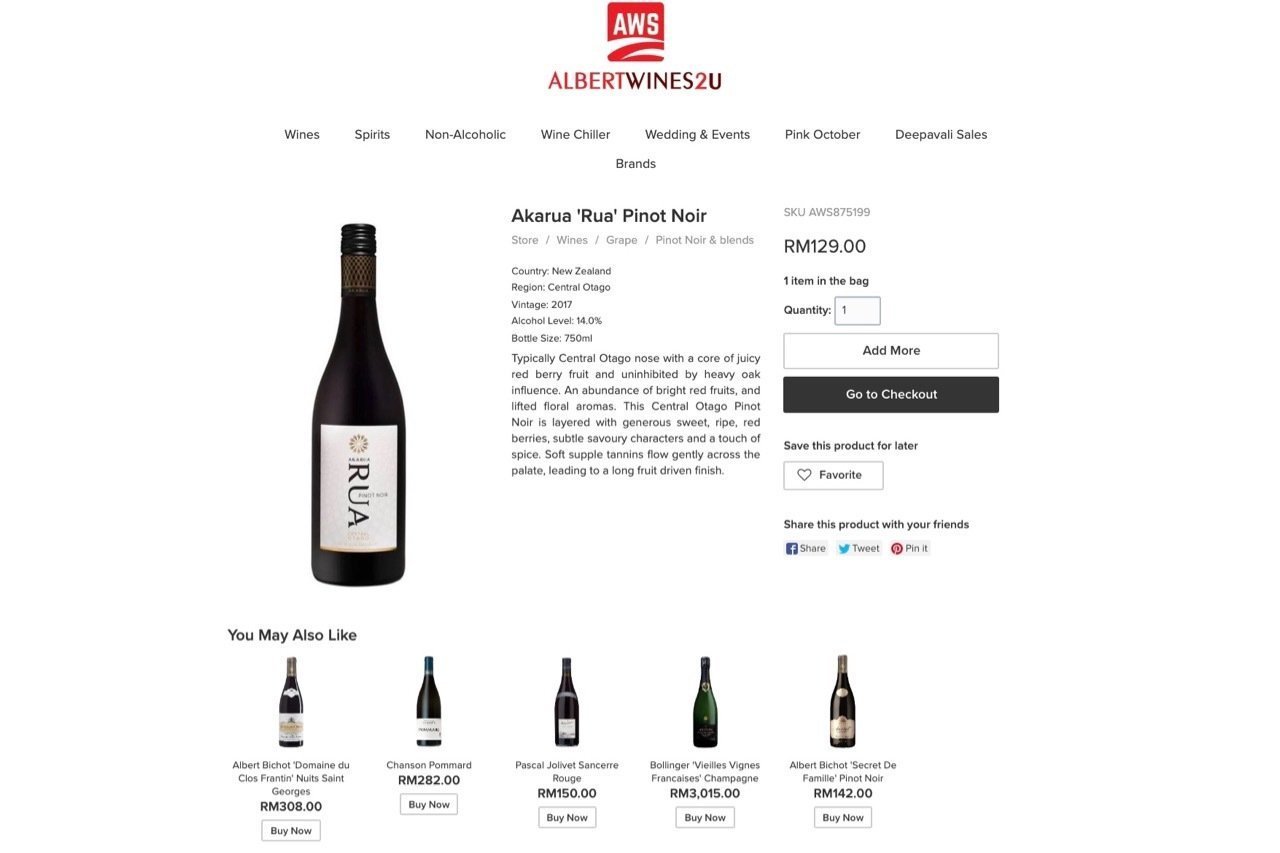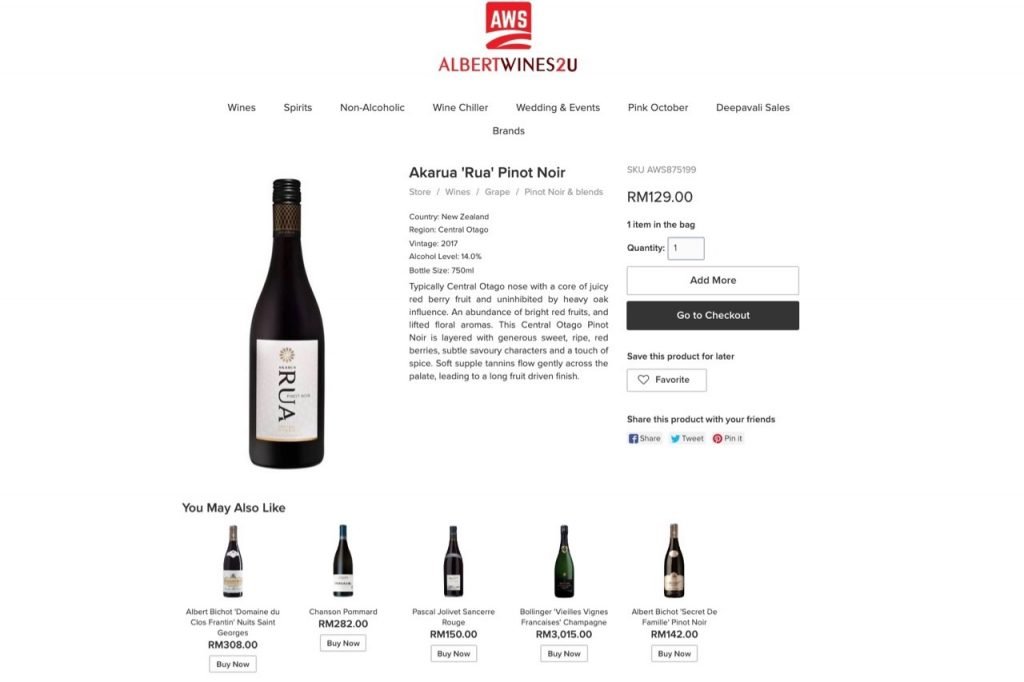 Search Wine by Grape Varietal
Lastly, I search Albert Wines2U stock by grape varietal. I'm after something that will match with a mushroom risotto I'm planning on trying my hand at this weekend, so head to the list of Pinot Noirs. The site provides an introduction to the grape, its origins and typical characteristics.
I find a suitable 2017 Akarua 'Rua' Pinot Noir (RM 129) from Central Otago New Zealand. With an alcohol volume of 14% and its nose of juicy red berries and lifted floral aromas, I think it will pair nicely. The fruit, savoury notes and a hint of spice in the mouth, alongside supple tannins and a lingering finish sound just right.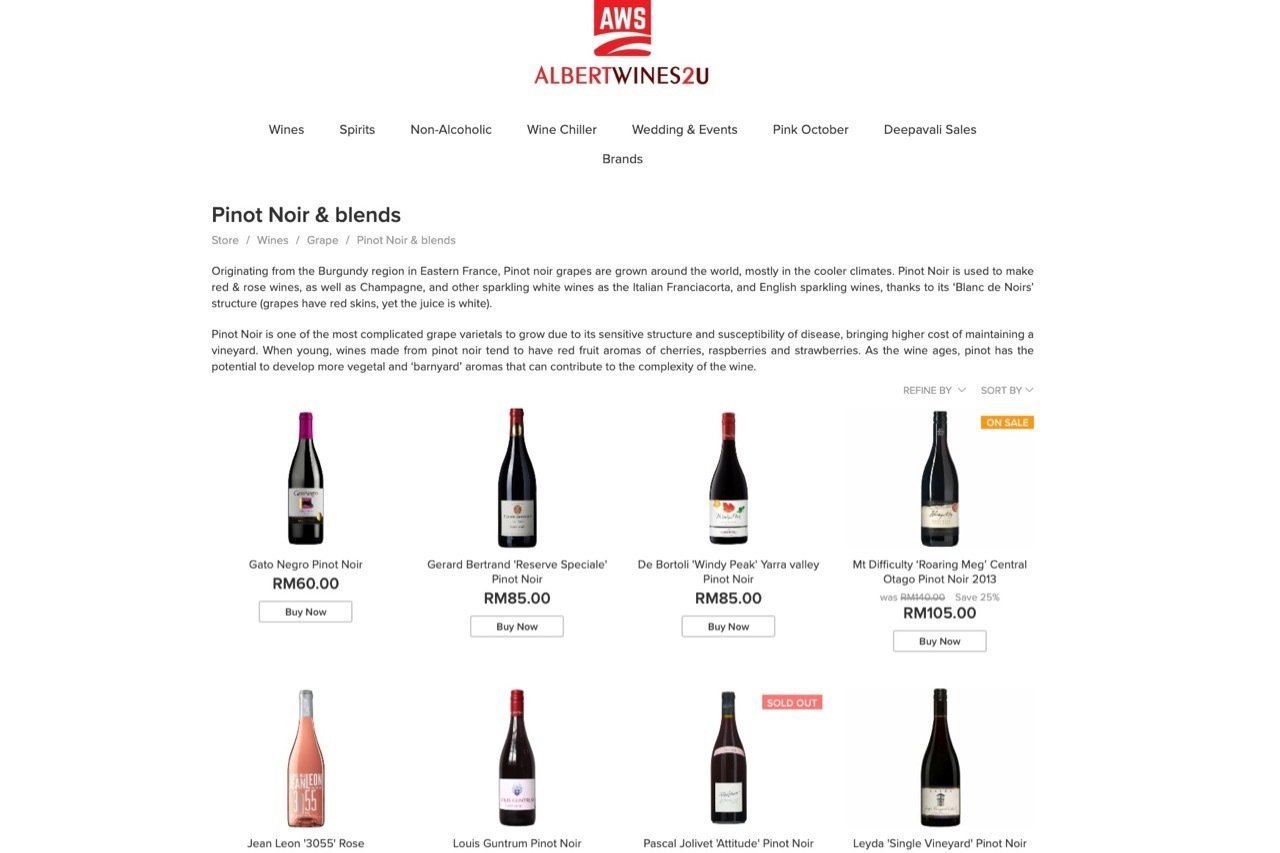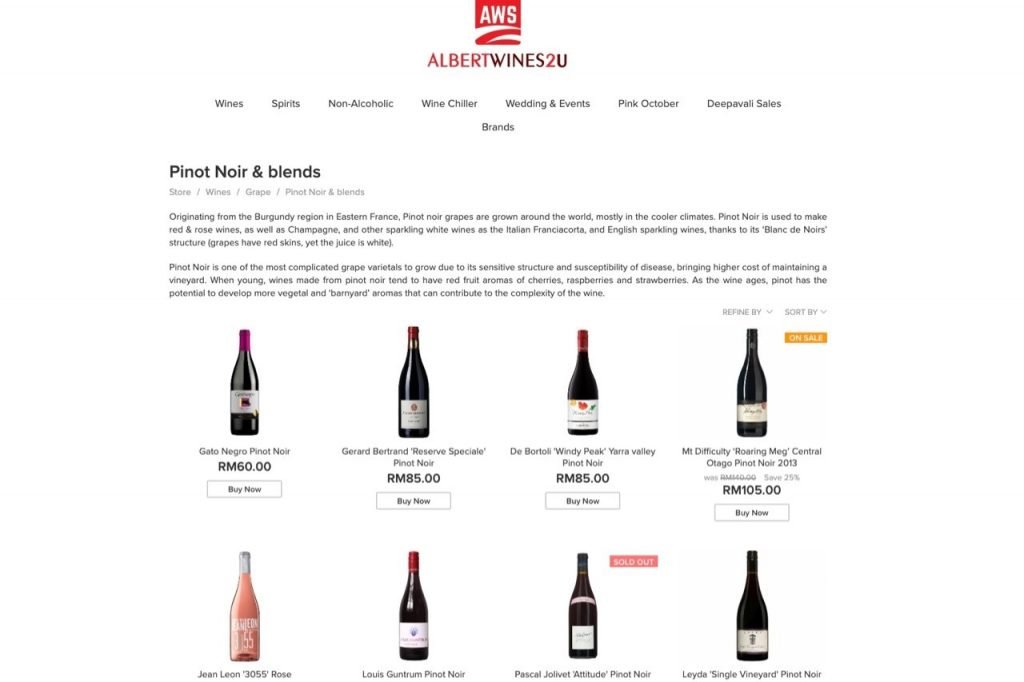 The Details
The Albert Wines2U site is logical to get around. Just click on the wines you would like to order, then head to the cart, choose your delivery options, how to pay, and receive your confirmation, all in a matter of minutes. Place your request before 1 pm and your wine will be delivered to you in one to three business days.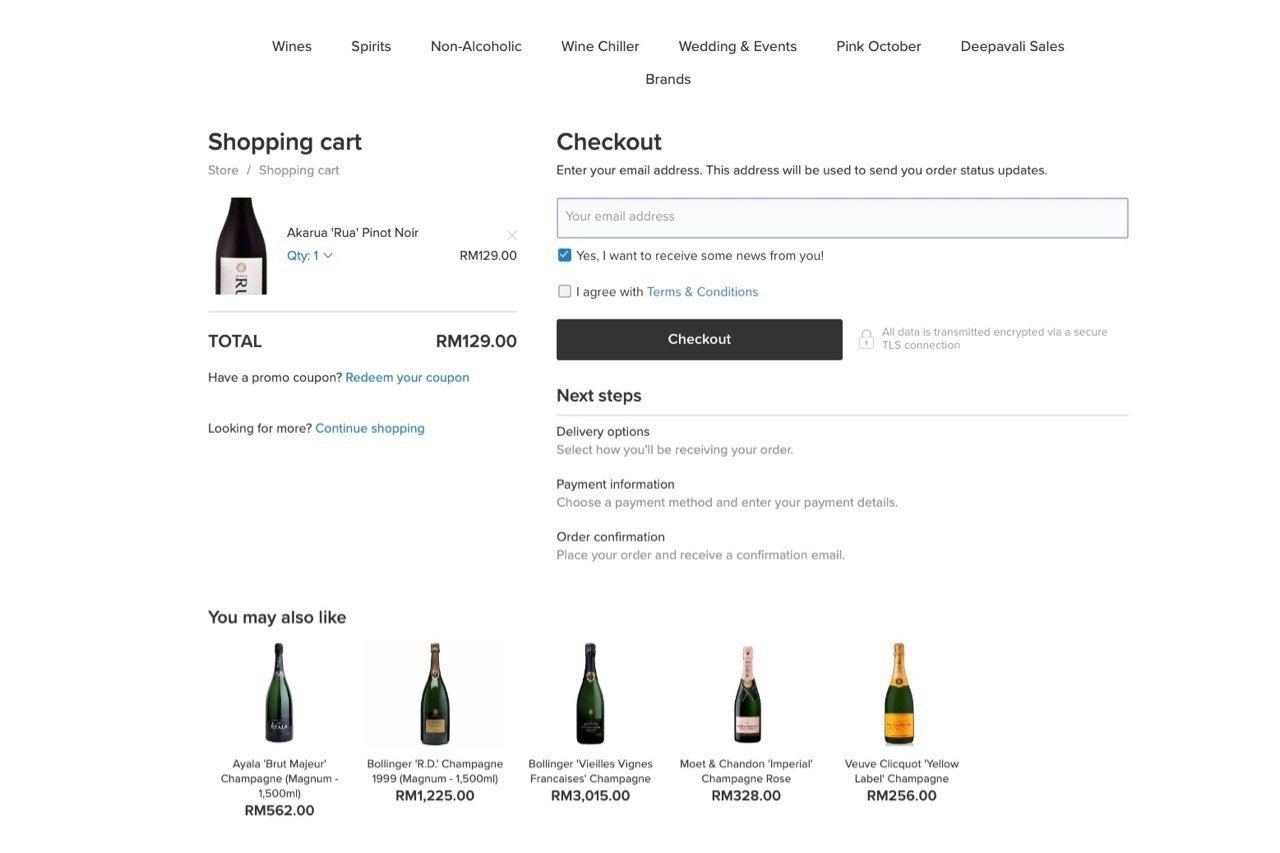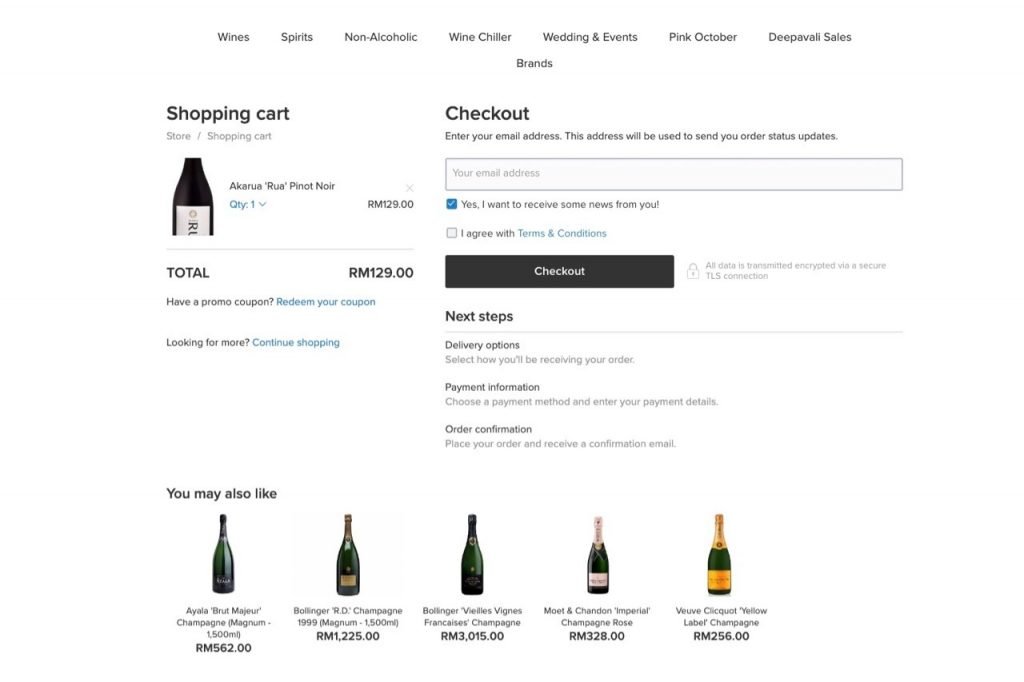 www.albertwines2u.com.my
[email protected]
+6 017 8730680
Albert Wines2U Office Operating Hours
Monday – Friday, 9 a.m. – 6 p.m.
Self-pickup: 9 a.m. – 1 p.m. / 3 p.m. – 5:30 p.m.
Closed on Weekends & Public Holidays
+603 6276 3993 (Landline)
+60 17 873 0680 (Whatsapp/Wechat)
Find more on delicious wines available in Kuala Lumpur here and here are some wines we're particularly fond of supplied by Albert Wines2U here.