Waves to Wilderness
Monica Tindall
Coffs Harbour is an excellent stopover on the drive from Sydney to the Gold Coast or vice versa. There's enough to explore in the region to warrant a good few days' stay. From a spectacular coastline to lush rainforest, the natural beauty of the area offers plenty of the great outdoors to explore. A local travel company, Waves to Wilderness, sorts through the highlights and provides boutique experiences to help you discover this wonderful district.
Even though mum and dad are Coffs' locals, I find the idea of someone else doing the planning (and the driving) irresistible. I book my mum and me into a Sunset Experience with Waves to Wilderness, and we find a trip suited to both tourists and residents alike.
Pick-Up
Joe, a founder of the Coffs Harbour tour company, picks us from home (or any accommodation from Urunga to Woolgoolga including Bellingen areas) in a comfortable, air-conditioned Toyota Commuter. It's daylight savings in NSW, so we leave at 4:30 pm. In the winter months, tours depart a little earlier depending on the time of sunset for that period.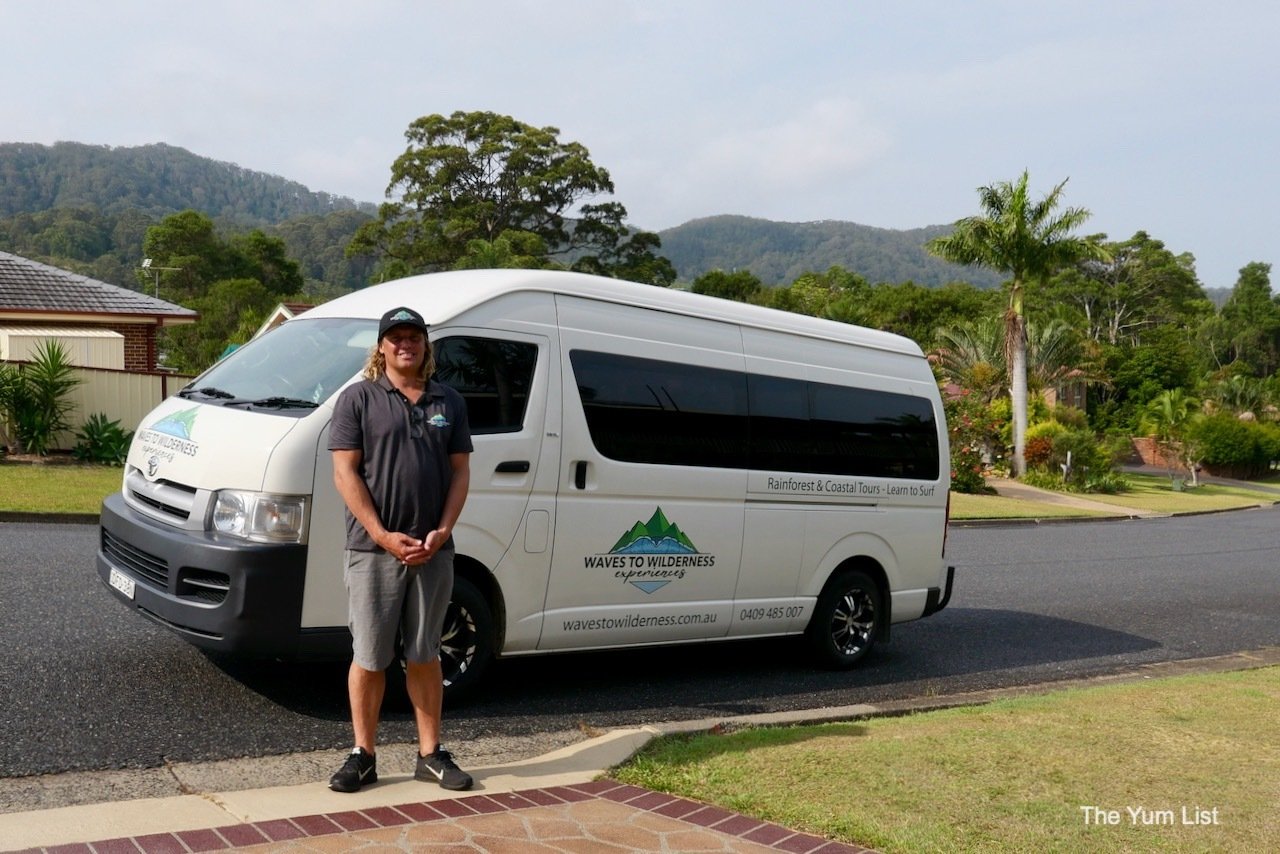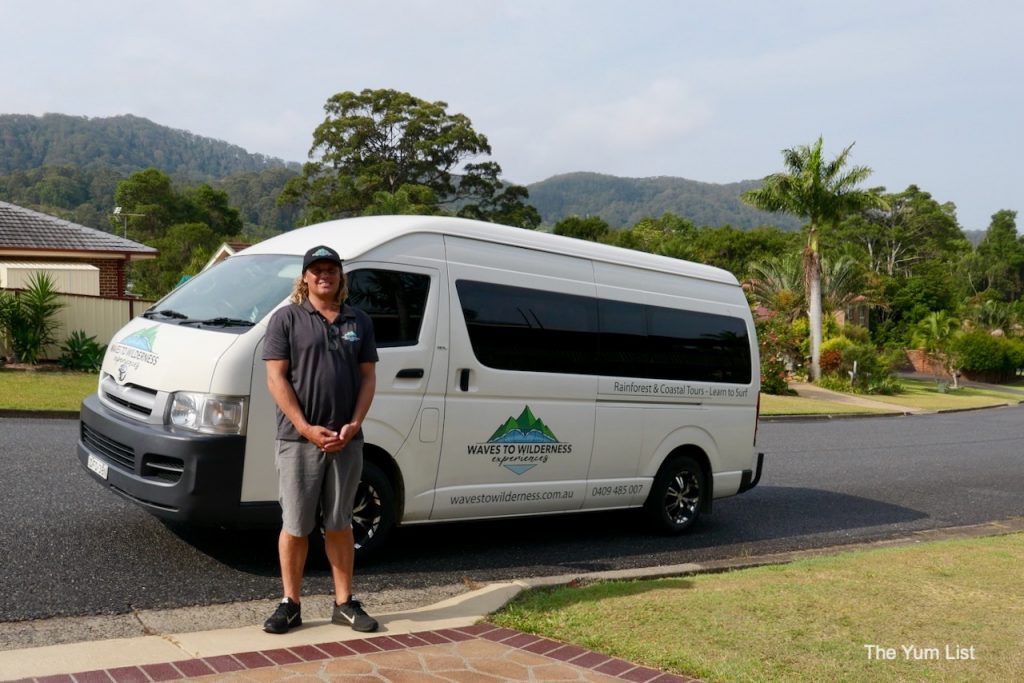 What to Bring
All we need to bring is our cameras, a hat and sunglasses. We've been told the terrain will be either pathed or the beach, so have on comfortable sandals – easily slipped on and off. In cooler temperatures, a jacket comes in handy, but in warmer weather, swimwear and a towel are advised for those looking to take a dip.
Coffs Harbour Tour Itinerary
Joe introduces himself, and we learn a little about the region on the short drive to a headland. Today we'll cover a small section of the Solitary Islands Coastal Walk. The full trail covers 60km of coast and bushland going all the way from Red Rock to Sawtell. We're lucky to have a guide to share with us some of the most alluring parts. We have no desire to hike for four days!
Joe gives us just the right amount of information. He doesn't overload us with facts but rather engages us in conversation. He intuitively allows us to lead the direction of our chat, providing a balance in dialogue with moments of quiet appreciation of our surrounds.
Pulling up at a headland to the north of Coffs Harbour, we're met with a pretty view of a beach and a path leading over the peninsula. All of the trails taken at Waves to Wilderness are clearly marked and well-pathed. Today's gentle walk is about one kilometre in length and takes us around a striking coastline.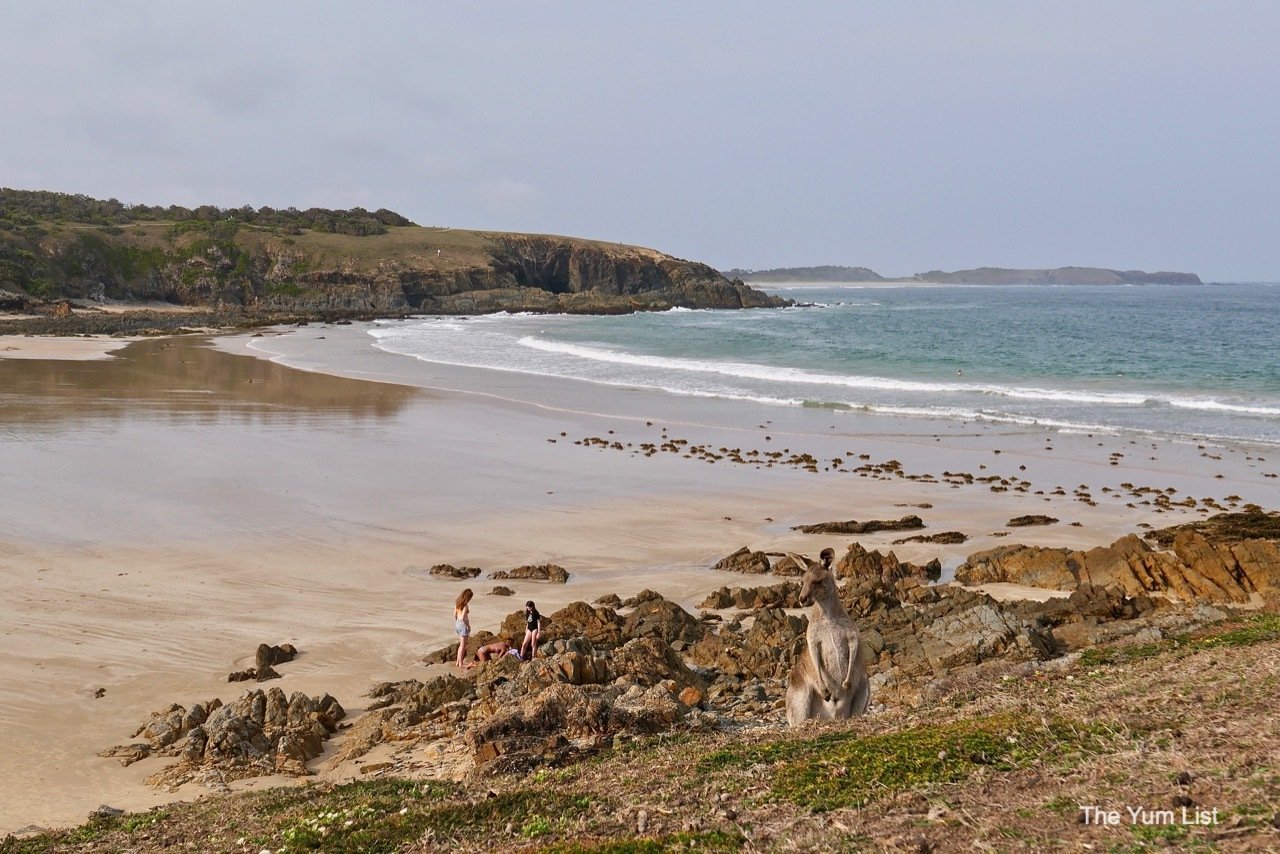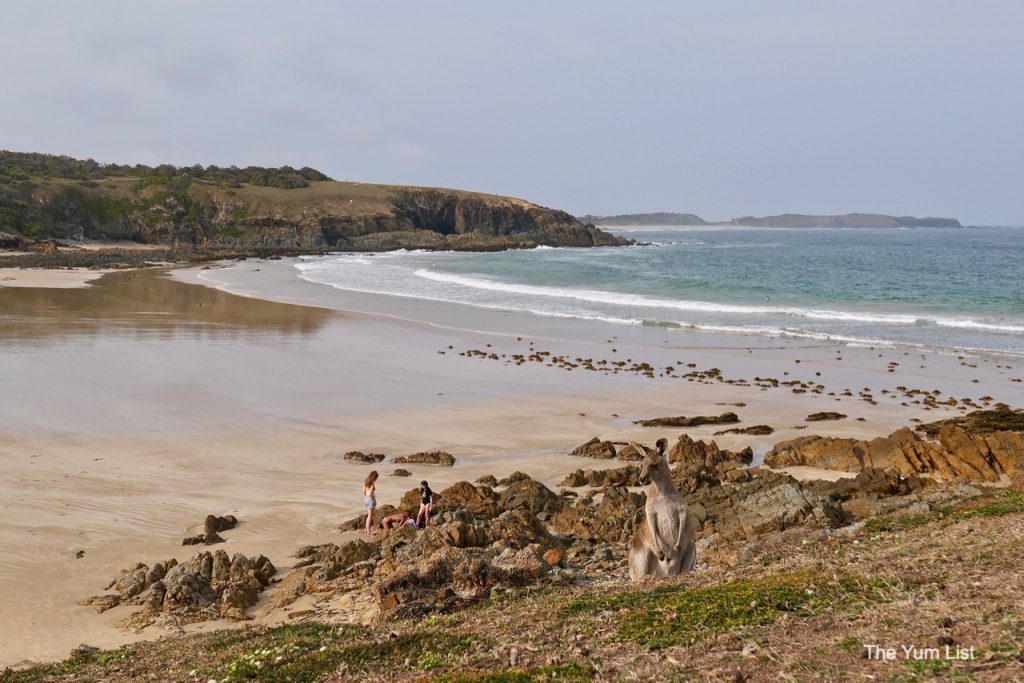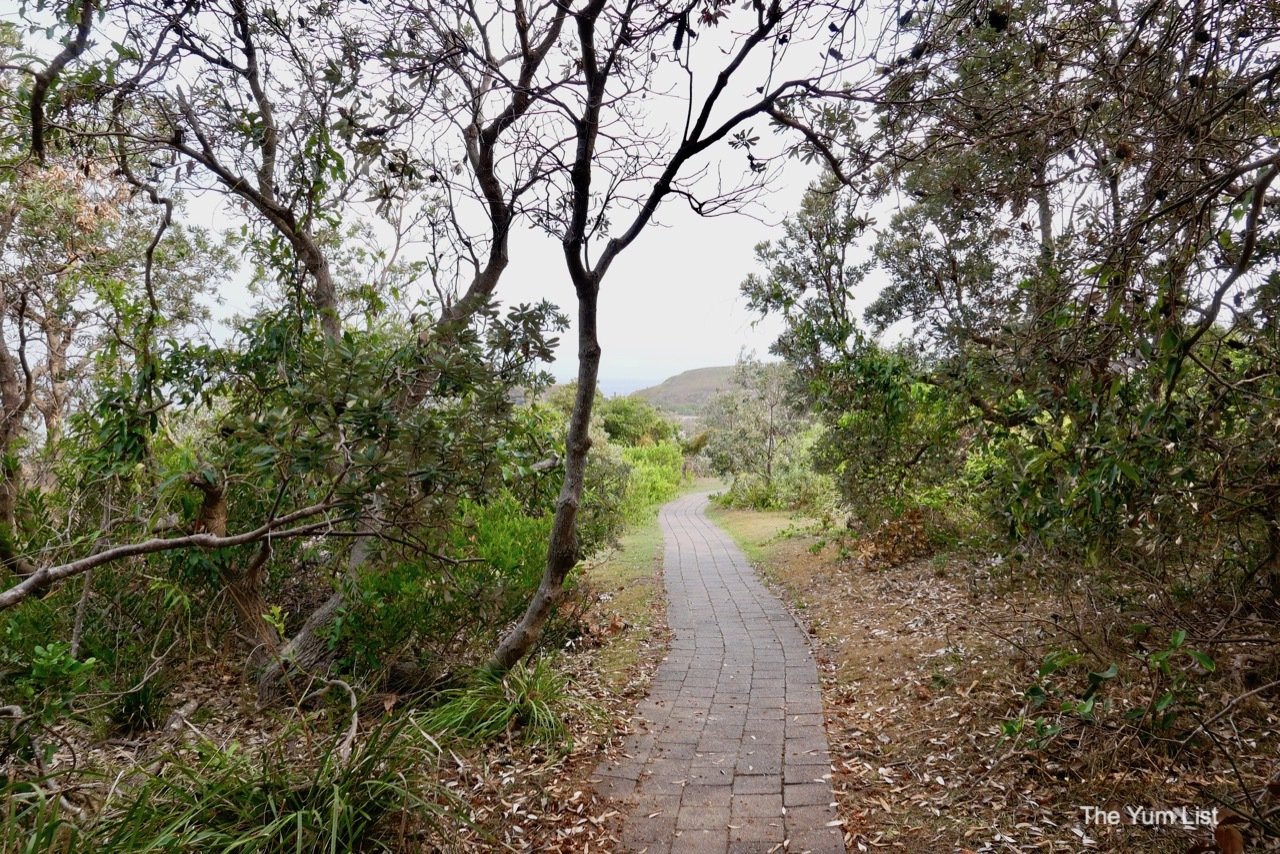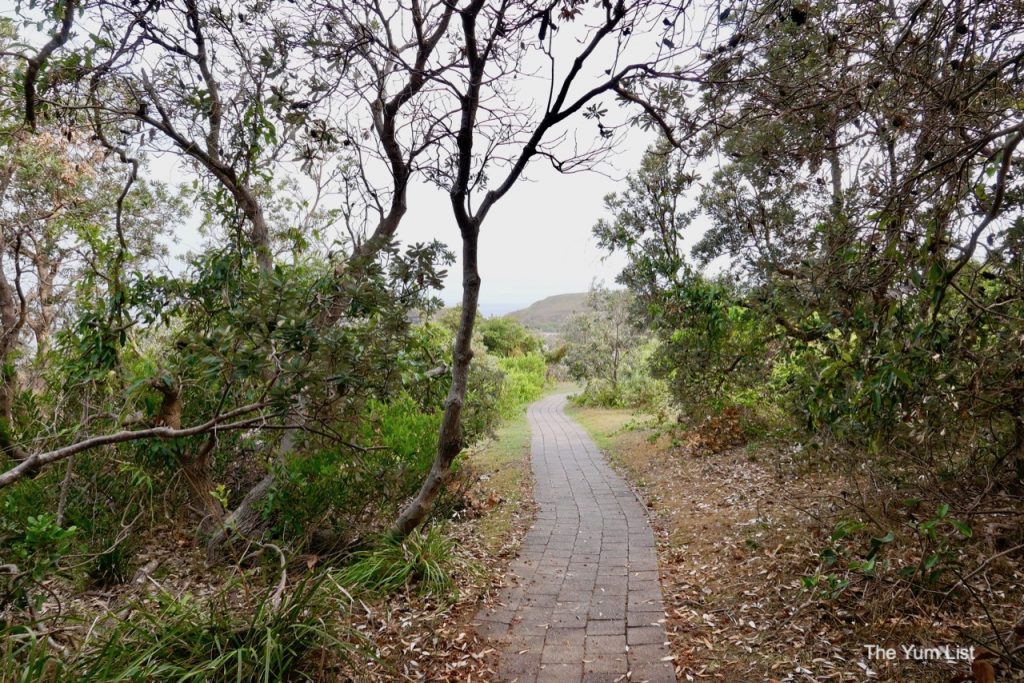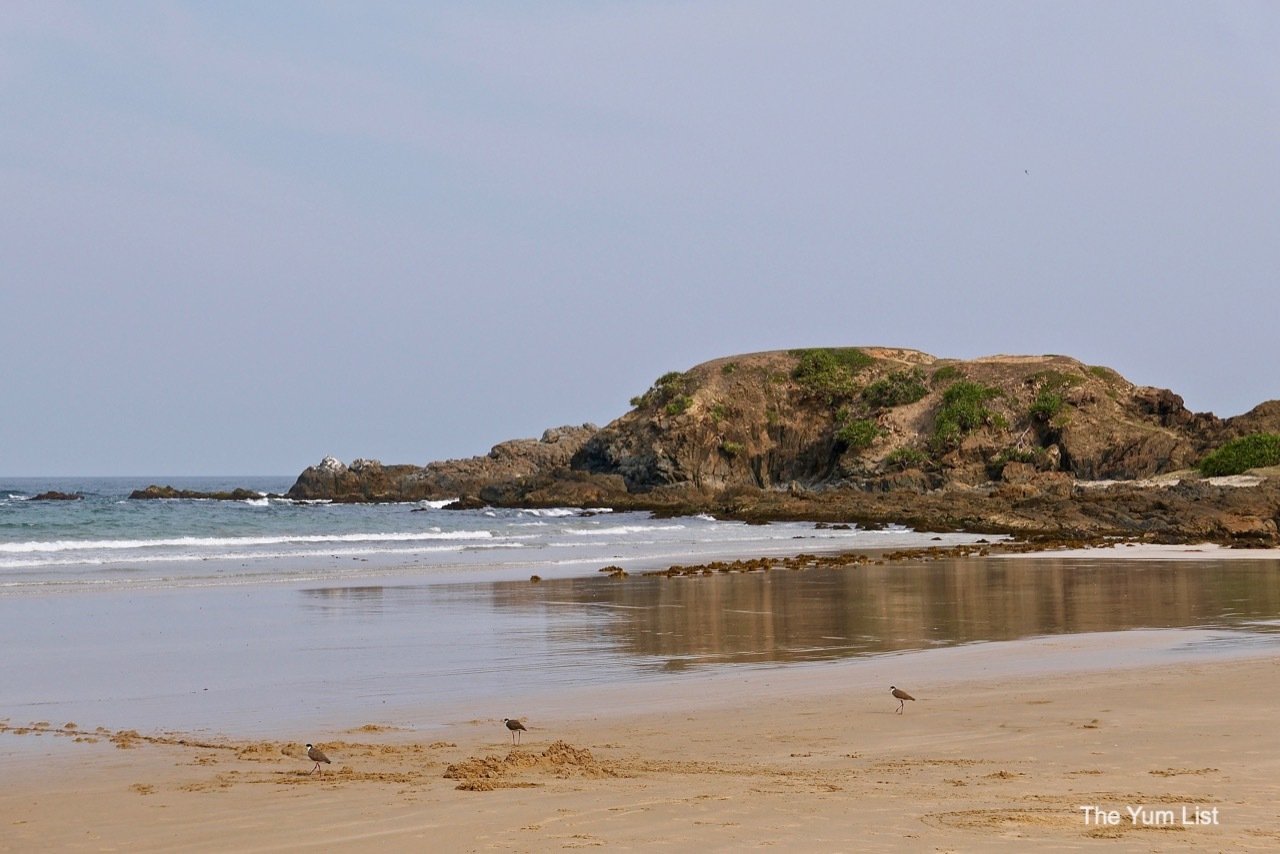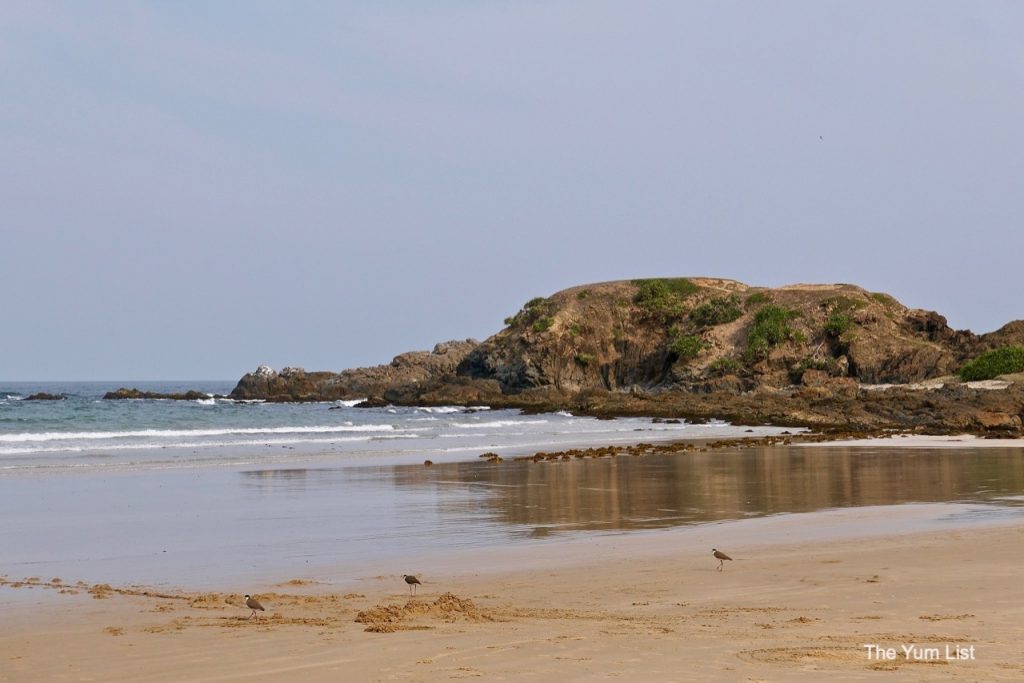 Wildlife on the Coffs Coast
On the way over the headland, we are blessed with up-close encounters with countless kangaroos. They happily feed on the grasslands and seem not to be bothered by the presence of humans. I manage to get quite close to snap some photos. We even come across several mothers with their joeys!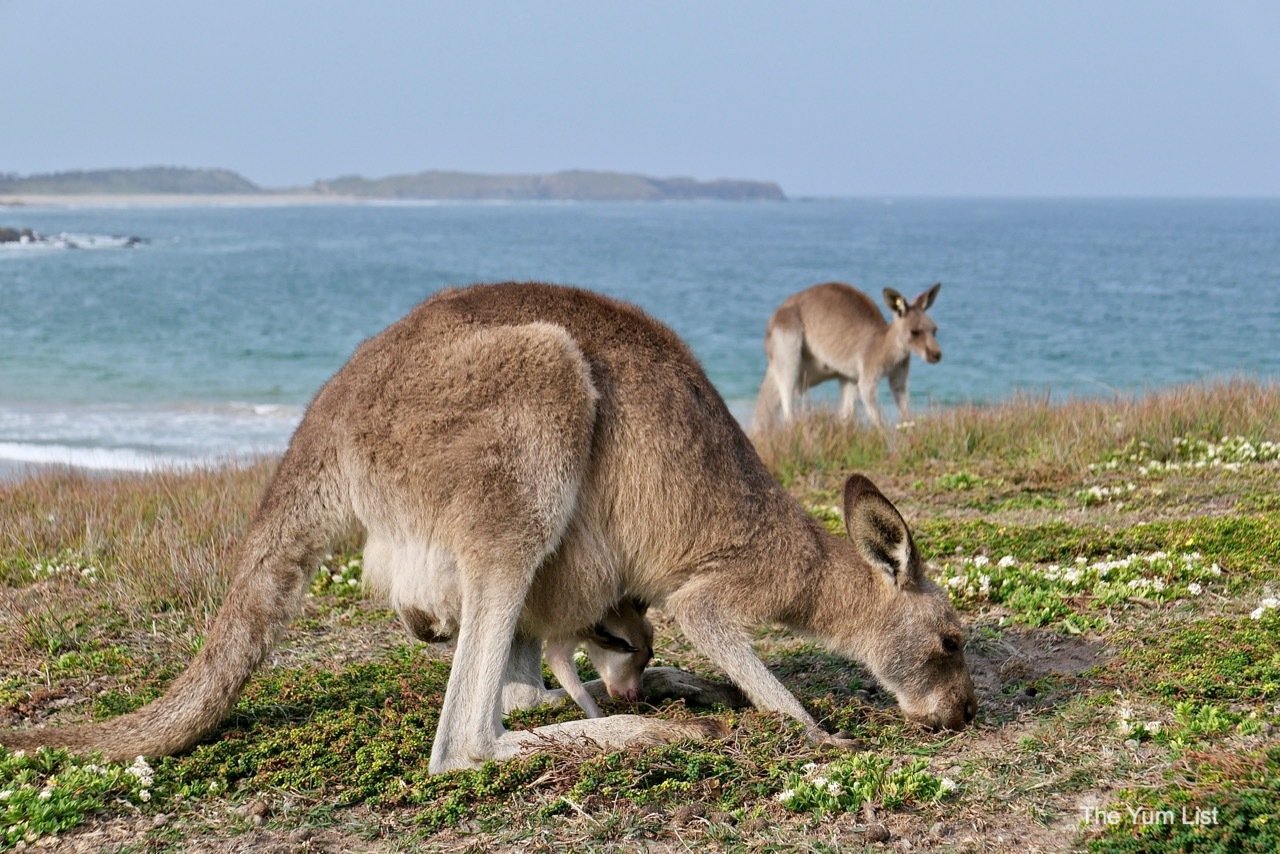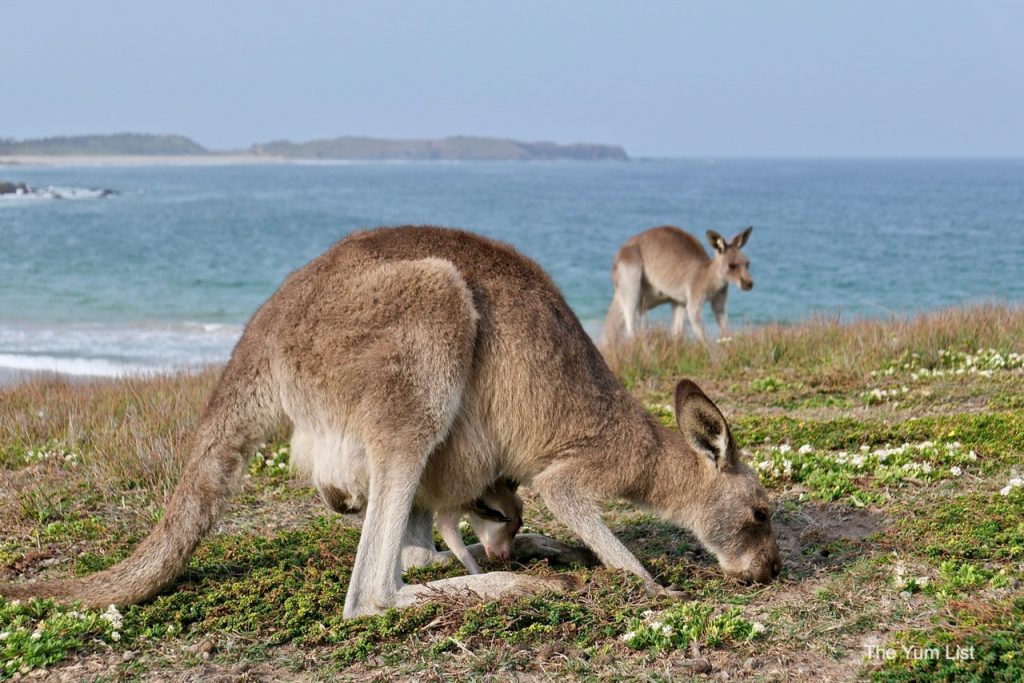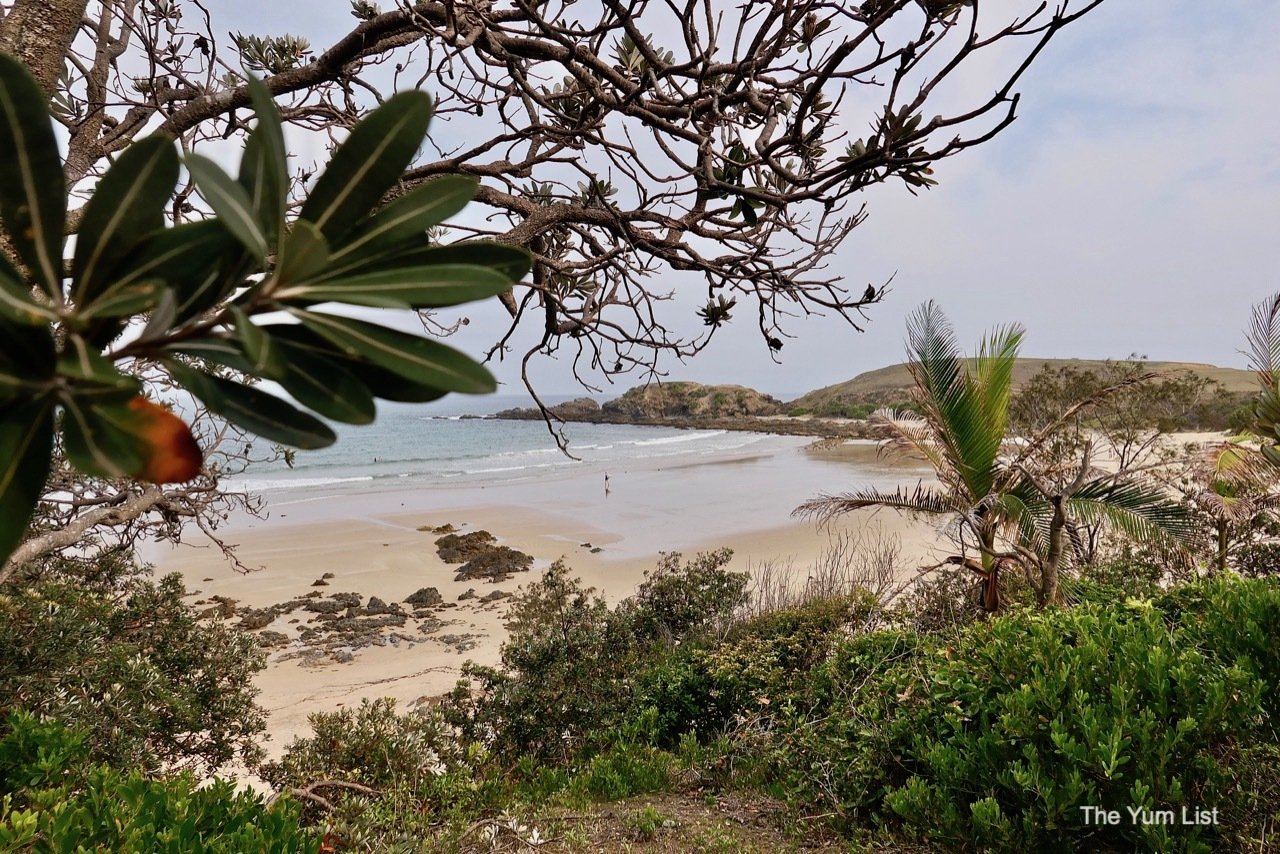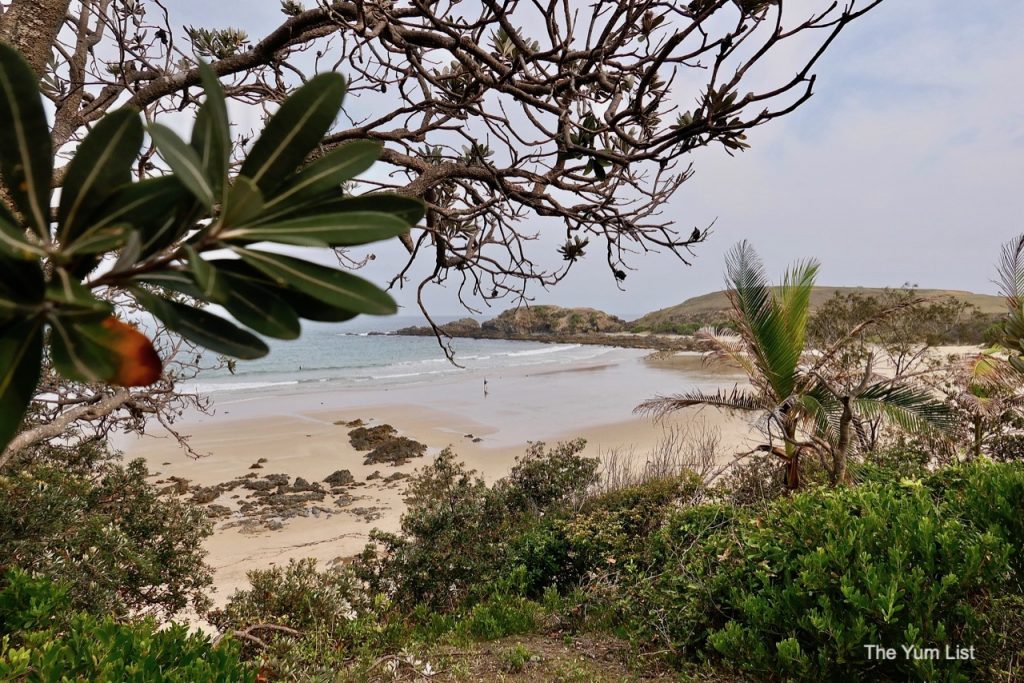 Further on, Joe points out some headstones, and we learn a little more about the earlier residents of the region. Joe studied anthropology and has extensive experience leading tour groups through some of Australia's most remote parts. He is a wealth of information but again doesn't send us numb with a list of facts. He measures our level of curiosity and feeds it just so.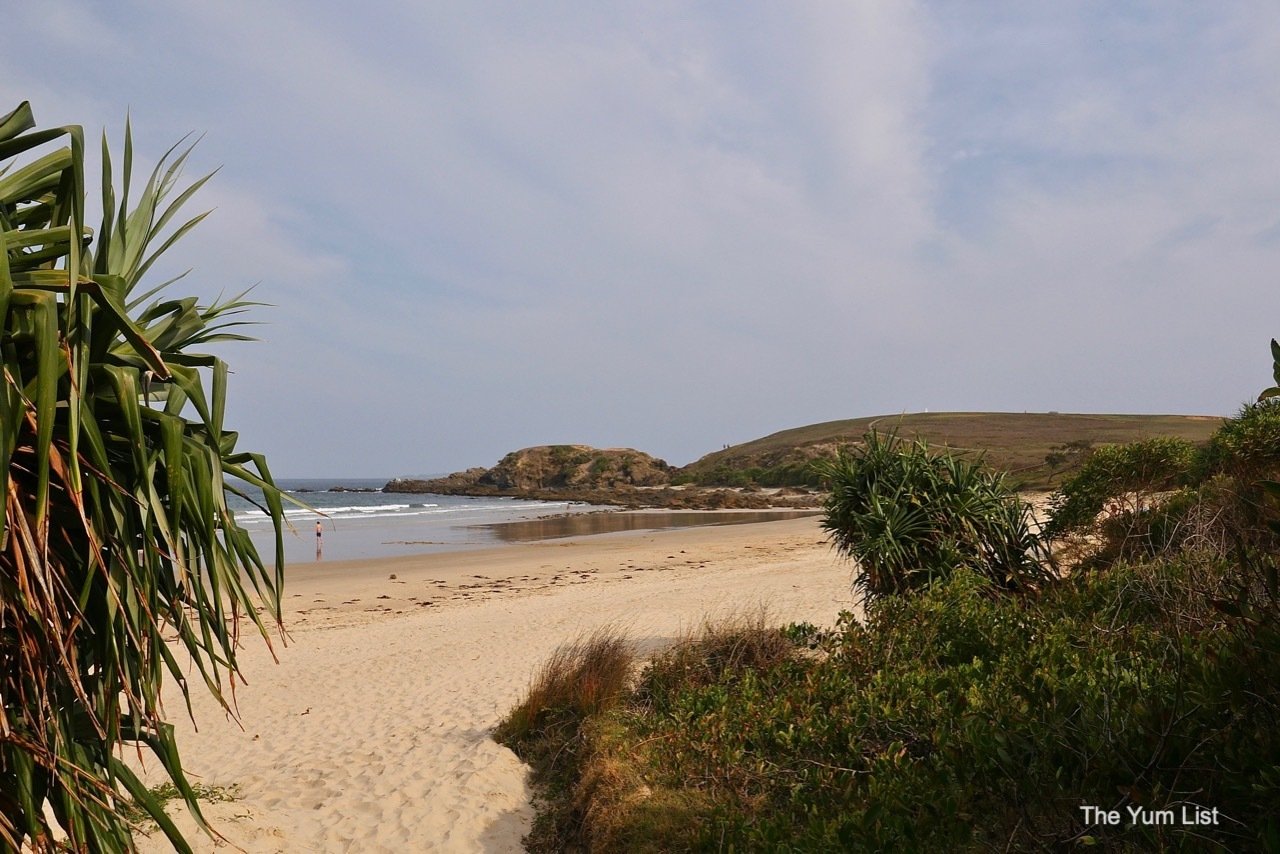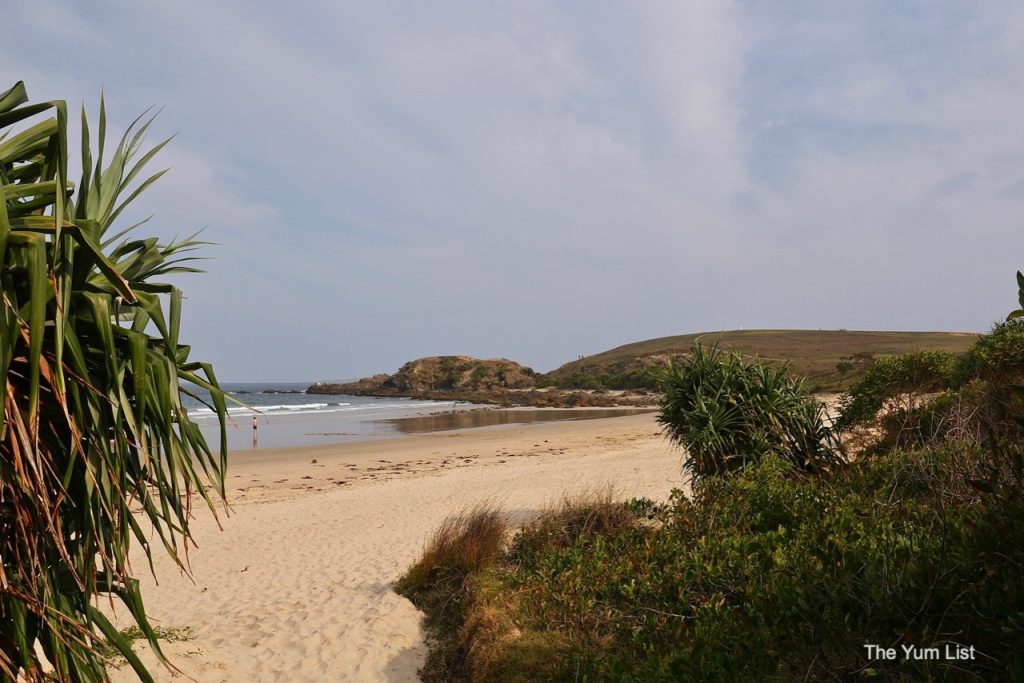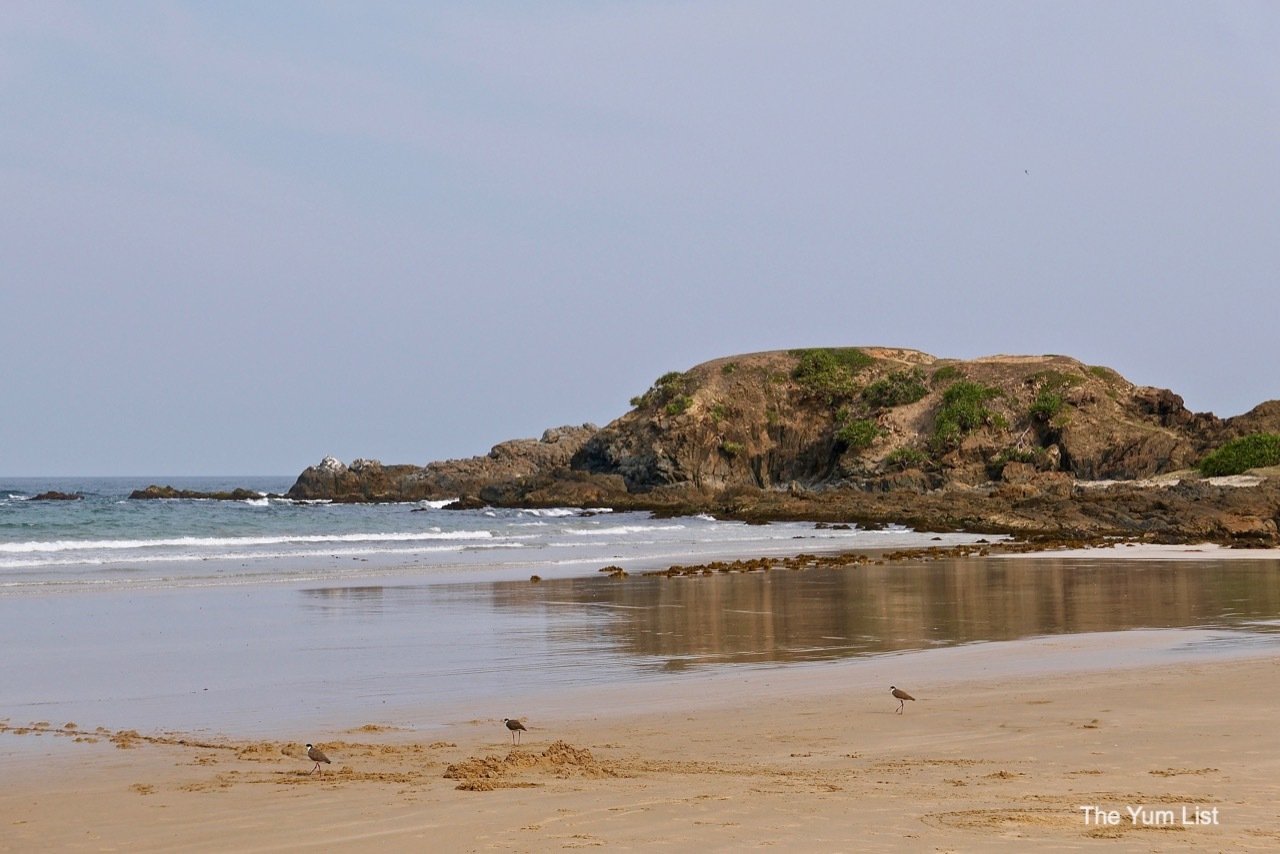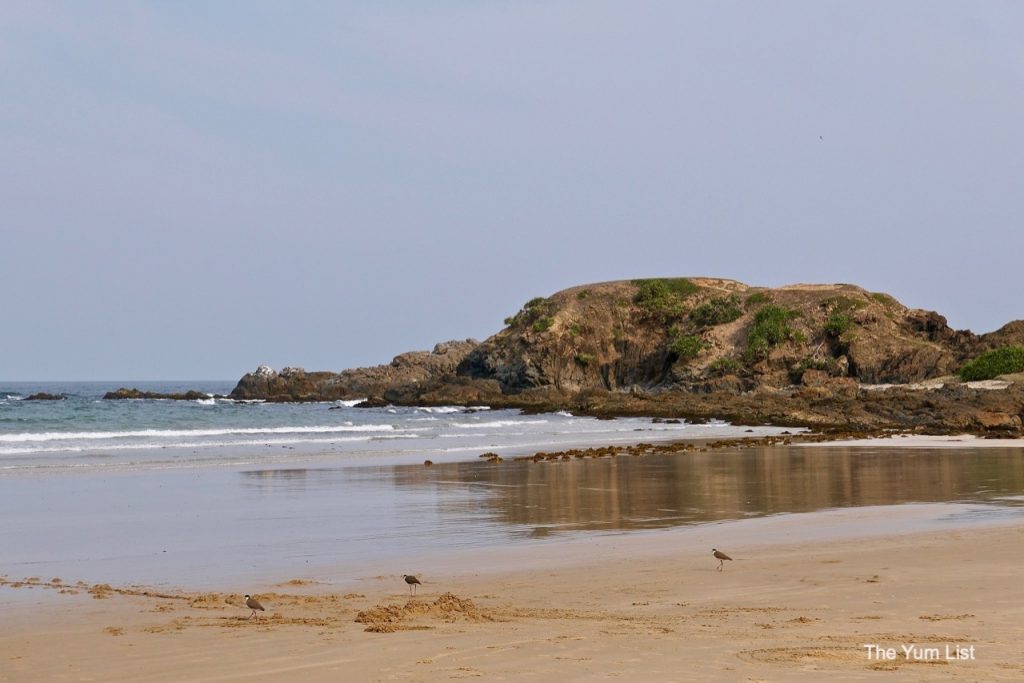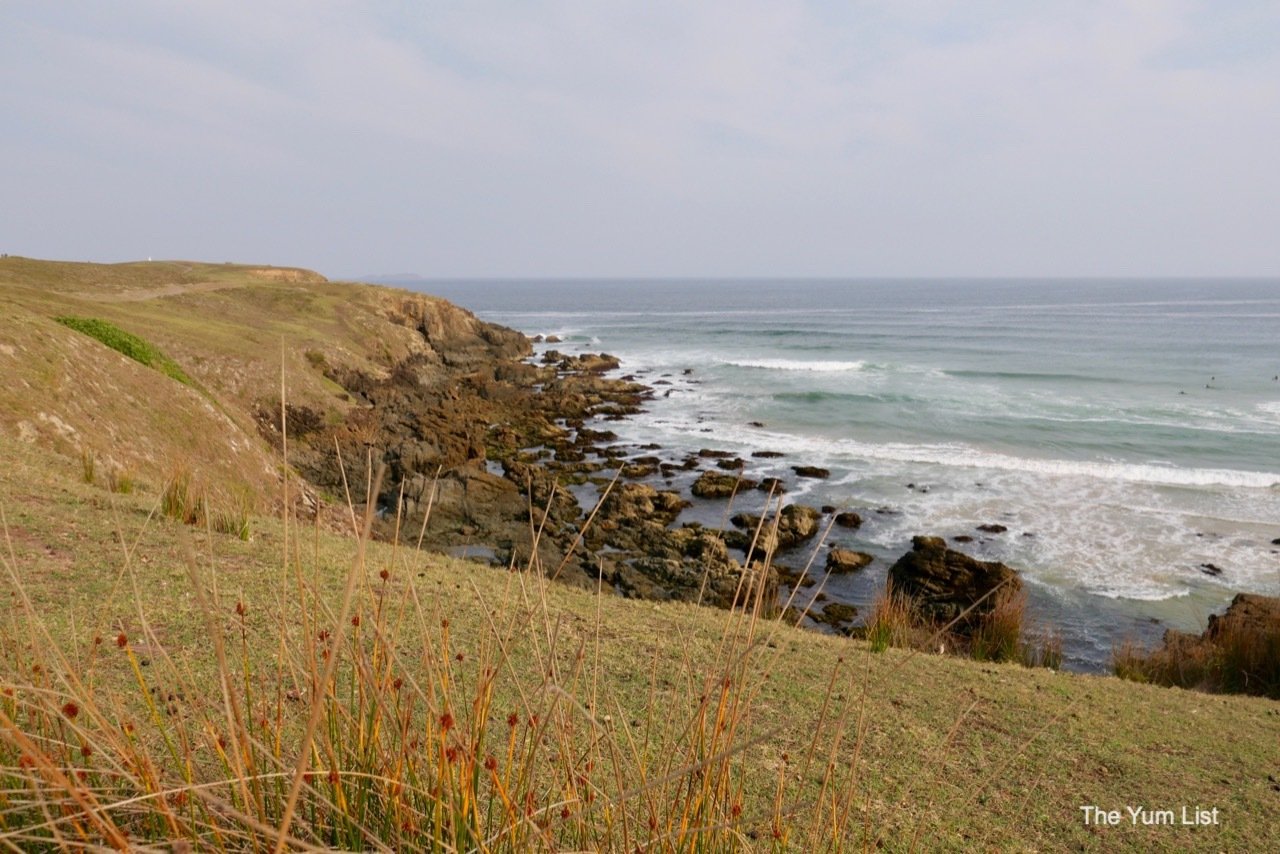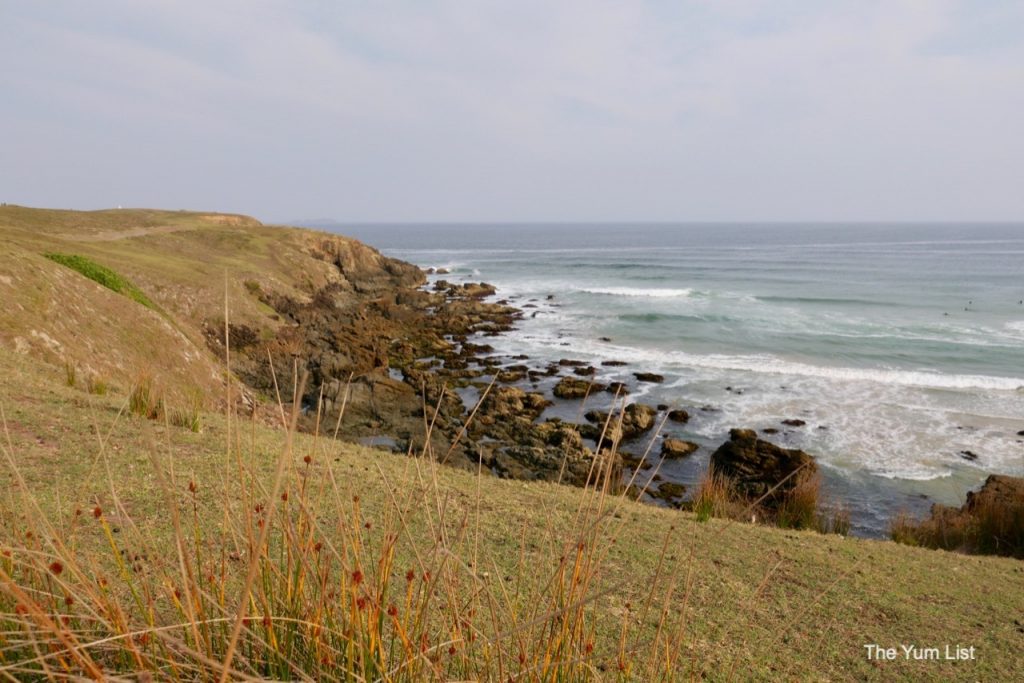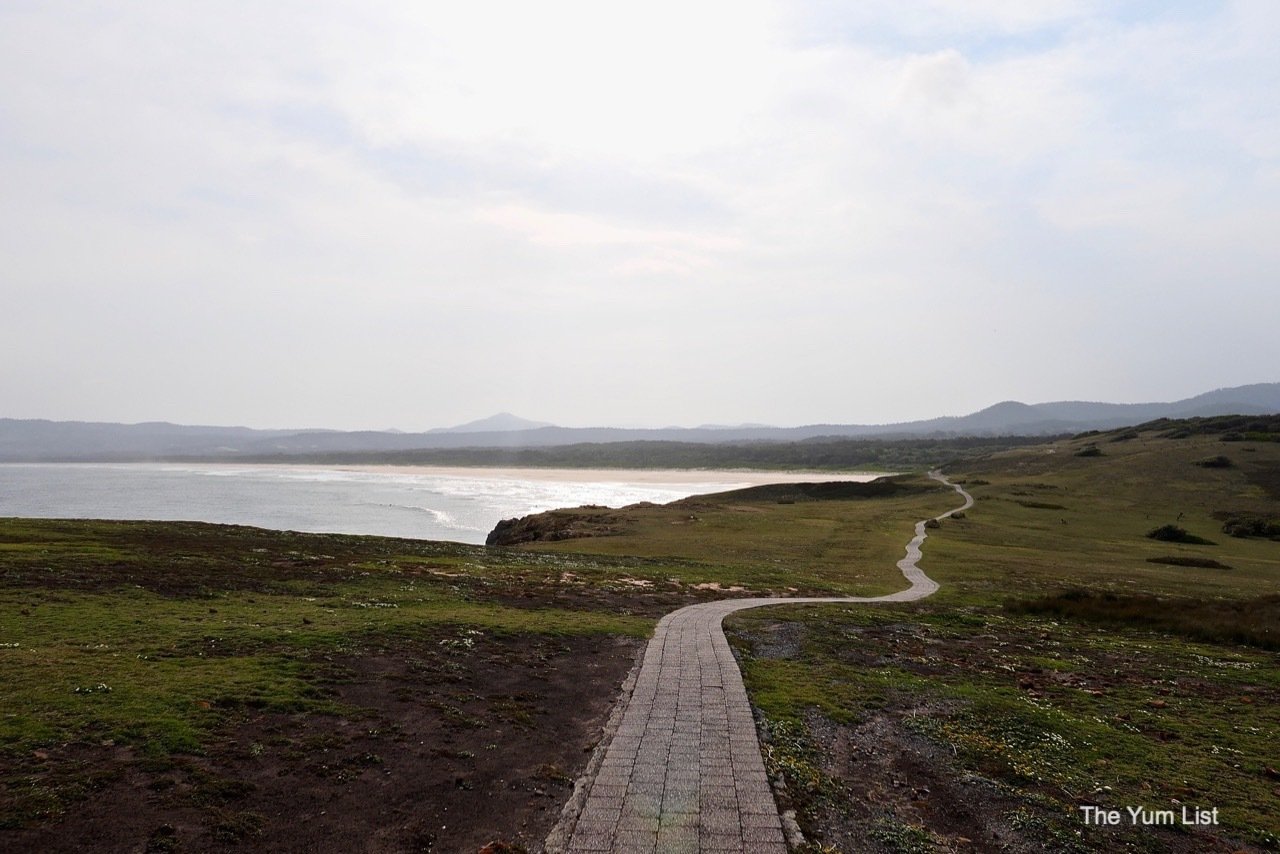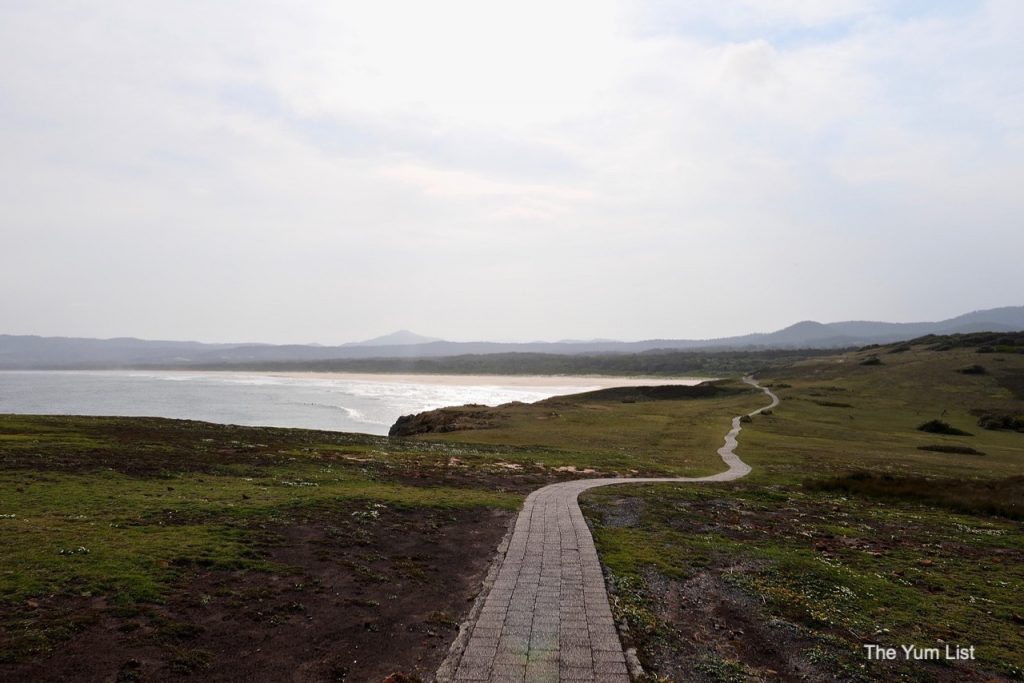 The temperature couldn't be more perfect. As the sun lowers in the sky, a soft breeze caresses our skin, and the change of light lifts our spirits. As we round the final corner, we're met with a magnificent view – rolling waves and a stretch of golden sand that must be close to five kilometres long.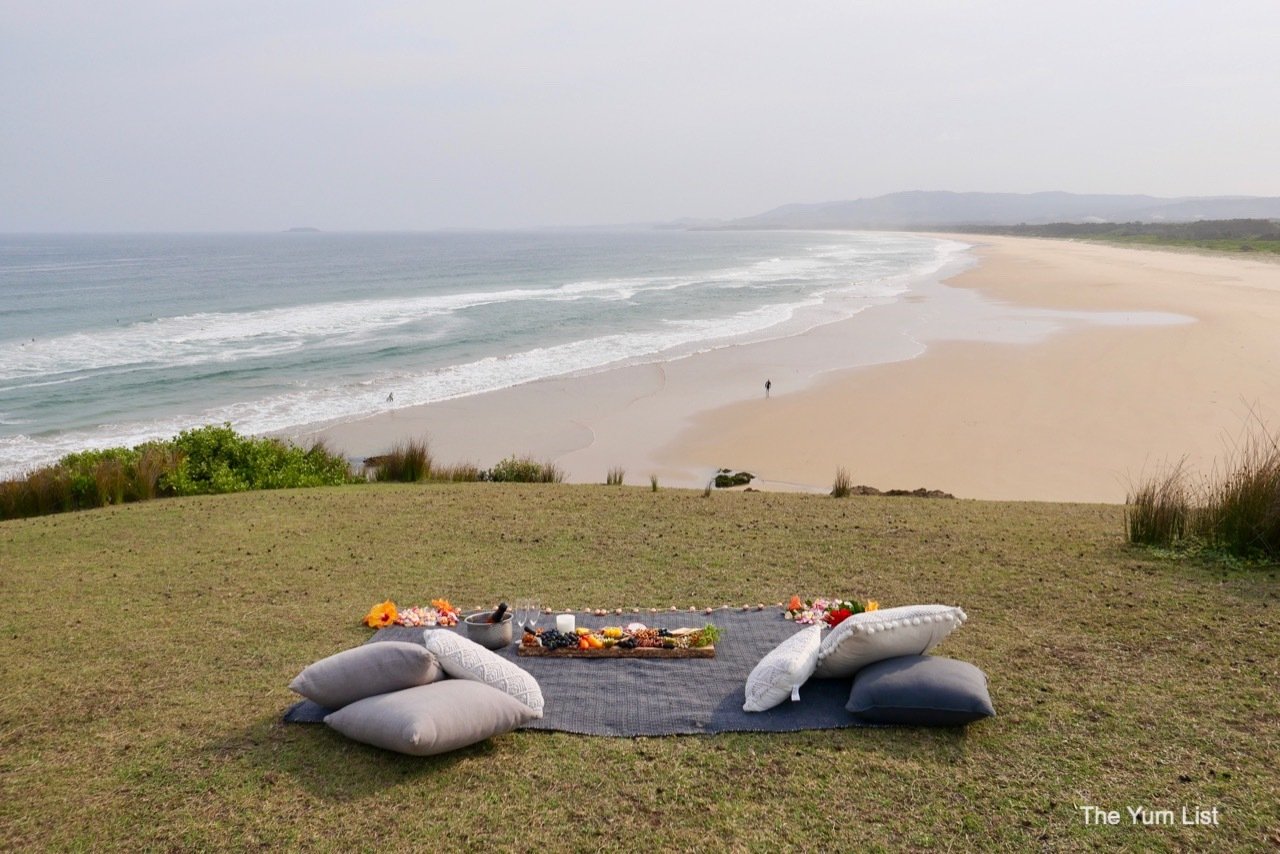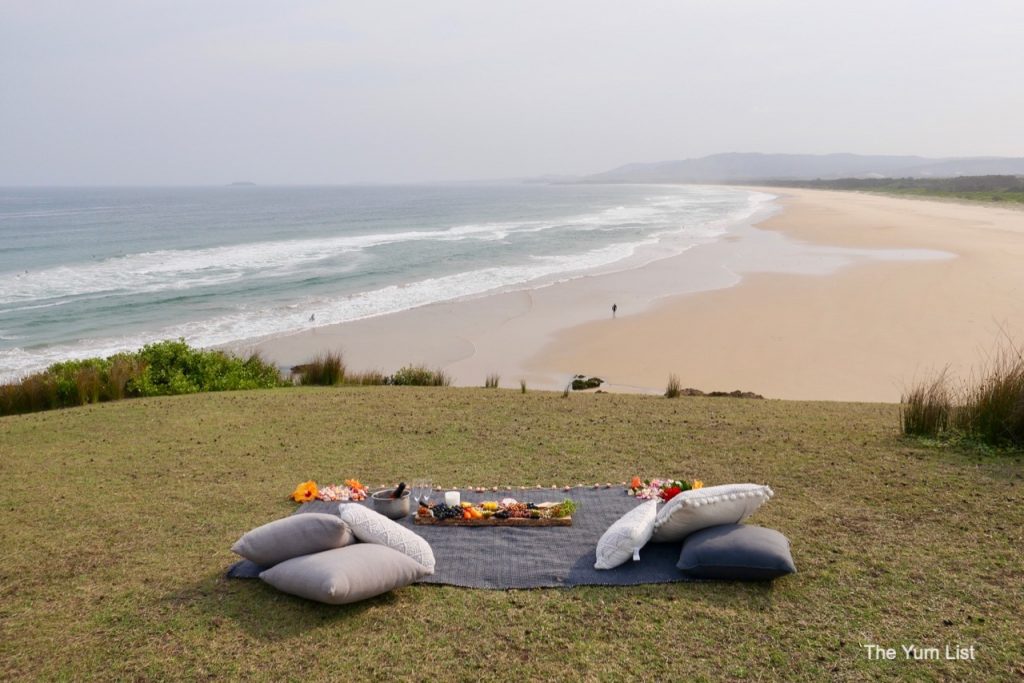 Best Spot for a Sunset Picnic on the Coffs Coast
Joe's Waves to Wilderness partner, Chelsea, meets us here. She has set up a picnic area on a grassy patch with the most fabulous views of the sea to the left and of the sun dropping over the Great Dividing Range to the right. A rug is attractively adorned with fresh blooms, shells, cushions, a string of lights, a mouth-watering grazing platter and a bottle of bubbly.
We quickly figure out that Chelsea is as equally as approachable as Joe. Responsible for the gourmet additions to the tour, she is passionate about using local produce and artisans. Making most things herself from scratch, she can cater to all types of dietary preferences such as gluten-free and plant-based diets.
A gorgeous wooden platter crafted by a Coffs Harbour hobbyist is covered with epicurean delights. Aussie cheeses, cured meats, pretzels, chocolate, blackberries, crackers and organic blueberries plucked by Chelsea herself earlier in the day, fill the entire length.
As mum and I settle in, Chelsea hands us a flute of sparkling rosé by Raleigh Wines; a winery about 20 kilometres down the road from Coffs Harbour. It offers a nose of strawberry, followed by delicate bubbles and a decent depth of flavour. It ends with crisp acidity – a fantastic choice for a sunset celebration.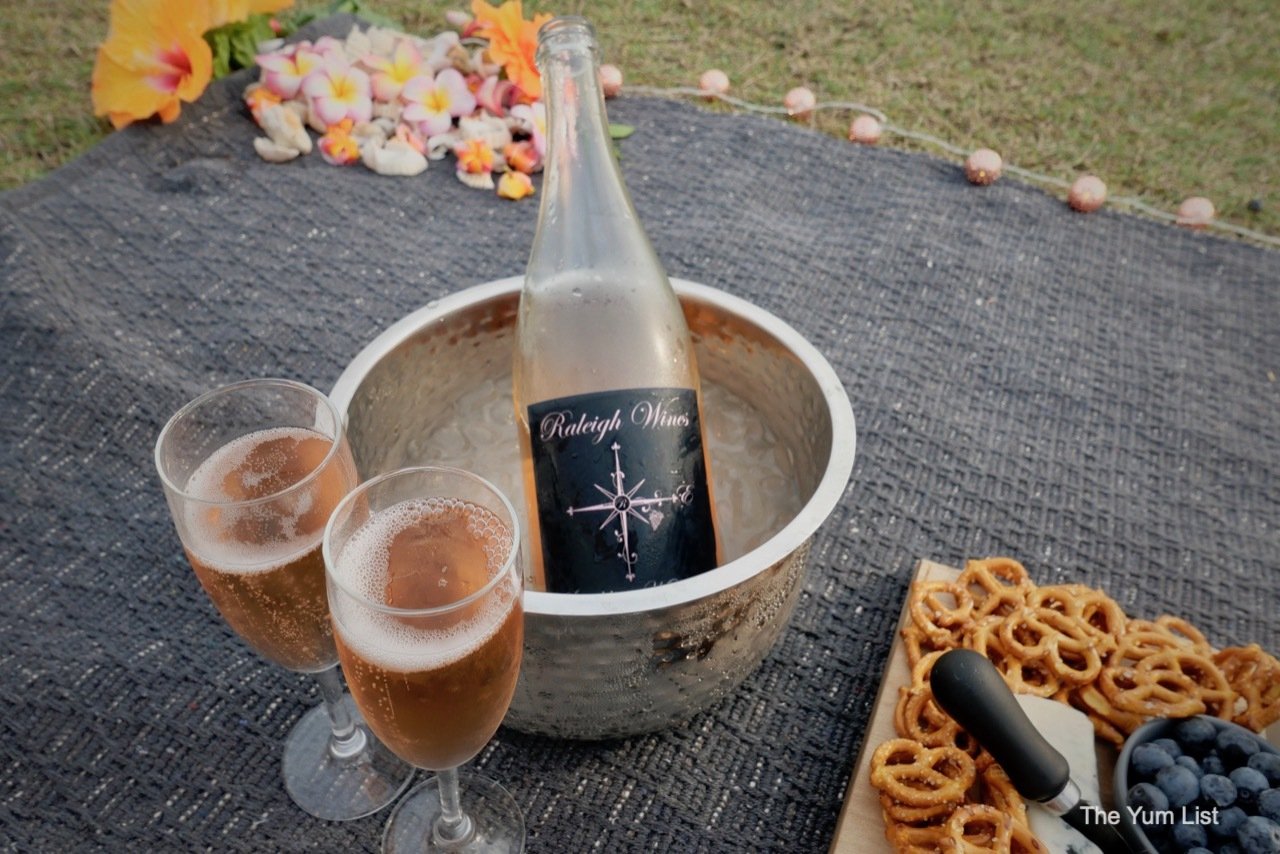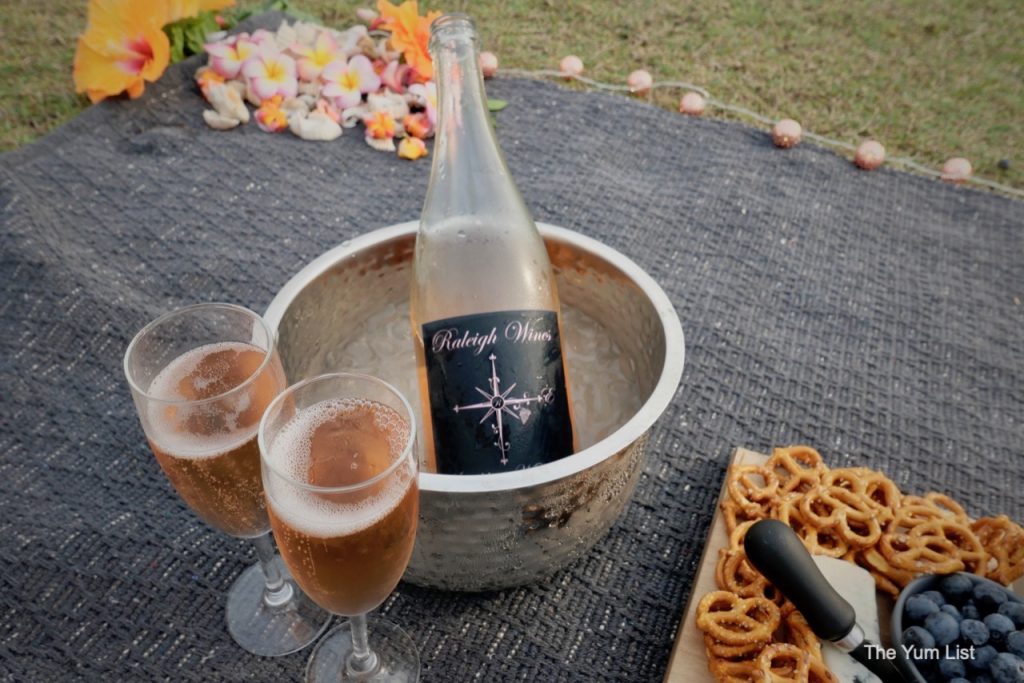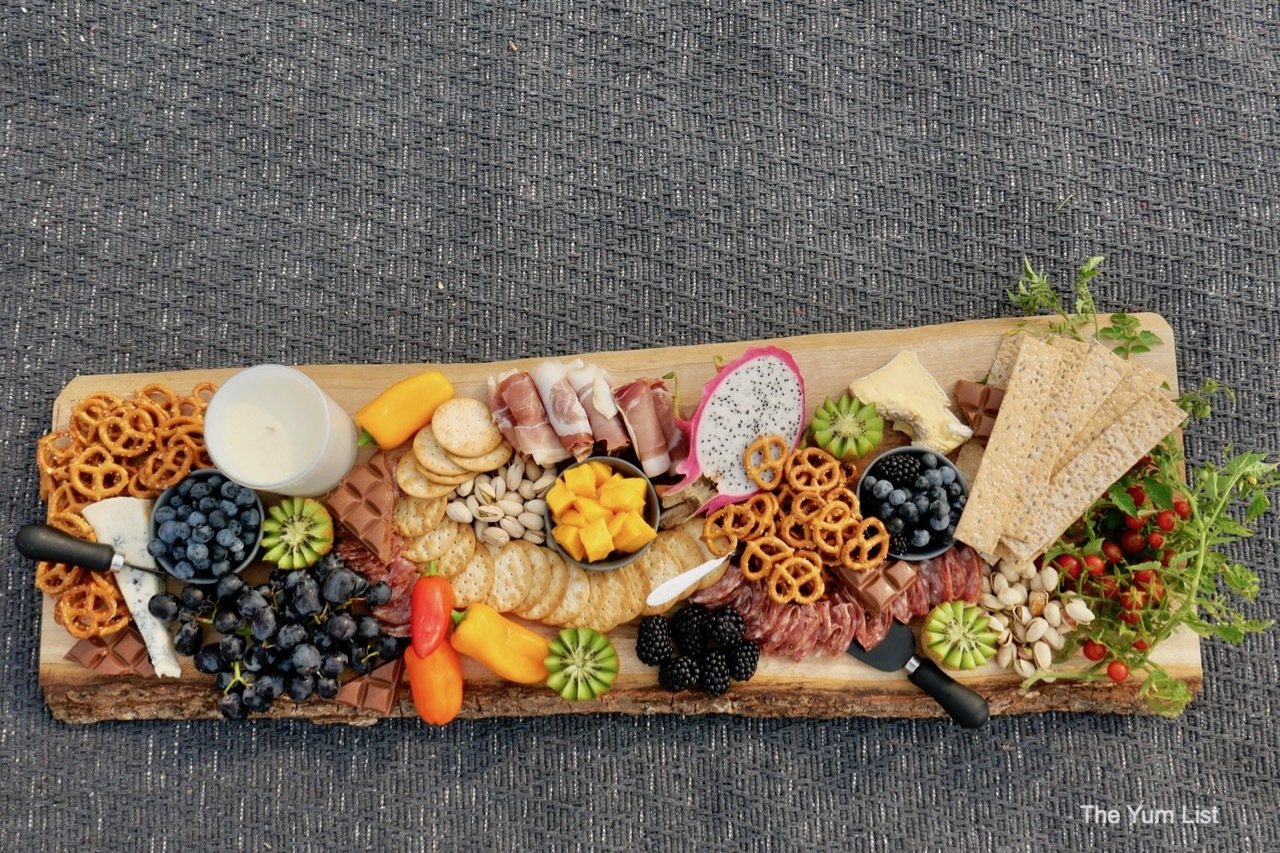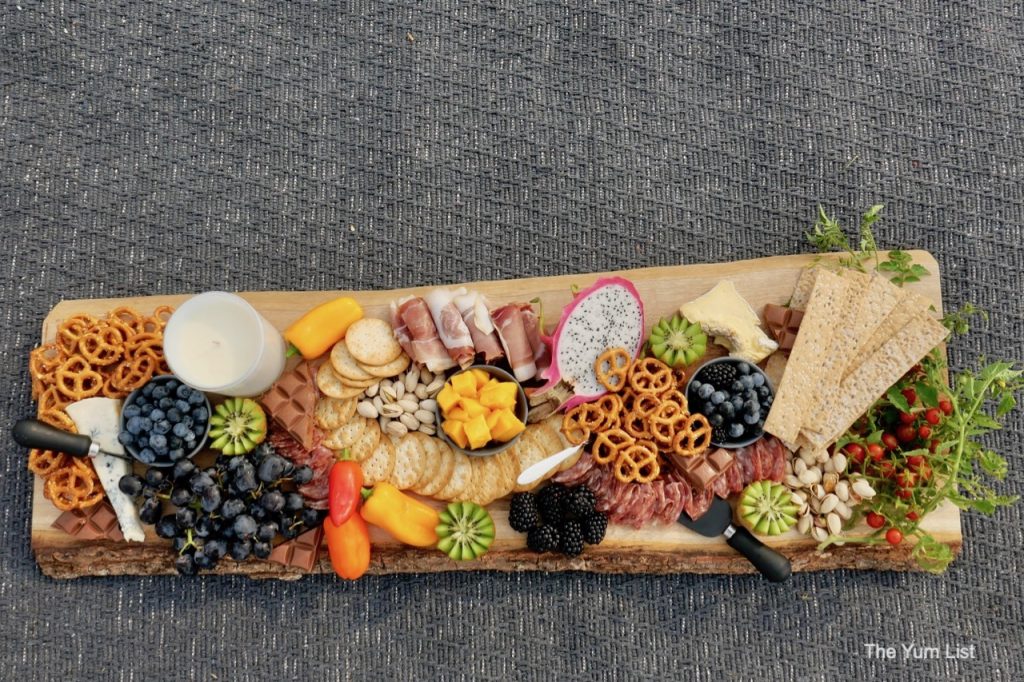 Joe and Chelsea are ready to disappear quietly, leaving us to enjoy the sunset experience over the Coffs coast on our own. We're enjoying their companying so much though that we request they stay. They are happy to oblige and I bet many guests do just as we do – take advantage of their local expertise to learn more about the area and simply be thankful for their friendly dispositions.
Verbal exchanges lessen as the sun bids its farewell, slowly slipping behind the deep blue of the Great Diving Range. It's almost a meditative moment as we all breathe a little more profoundly, taking in the beauty of our surrounds and soaking in the healing properties of nature.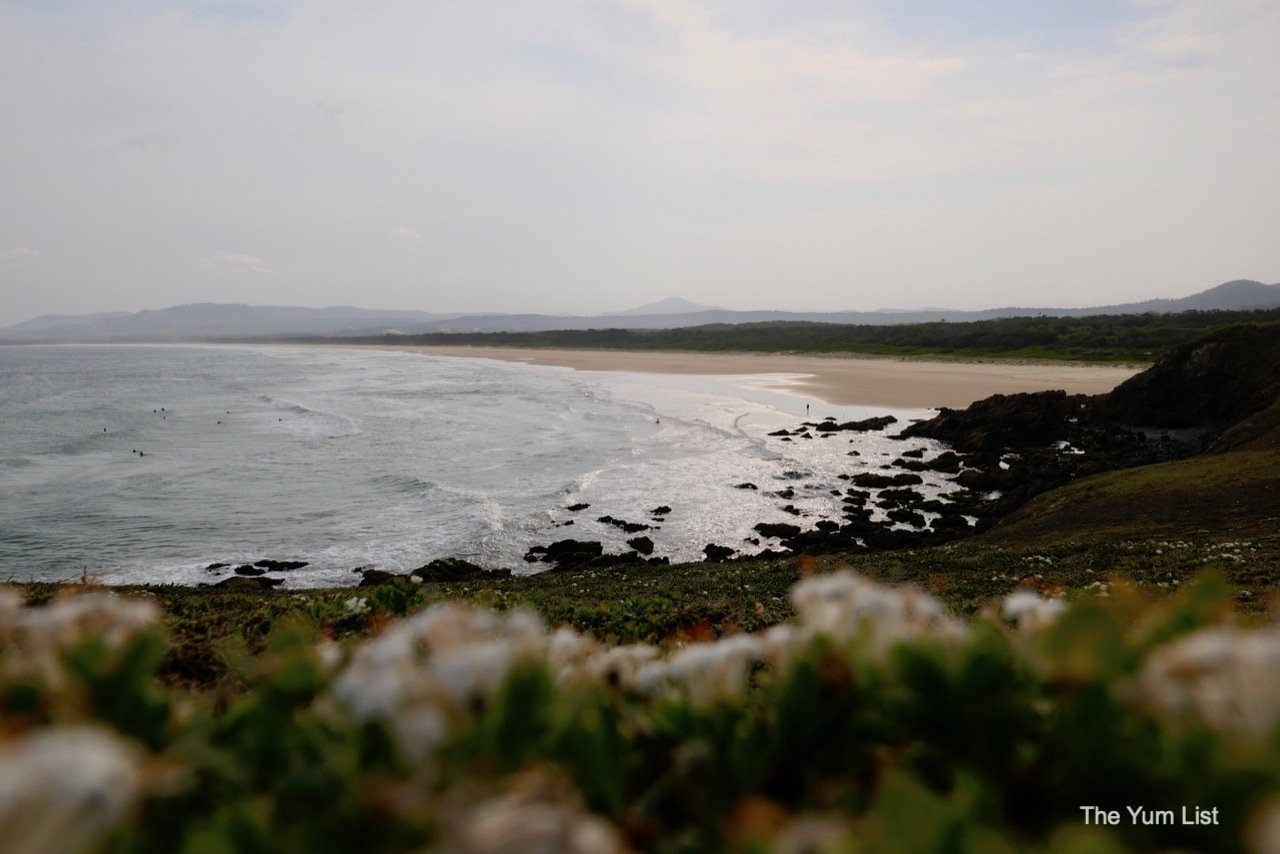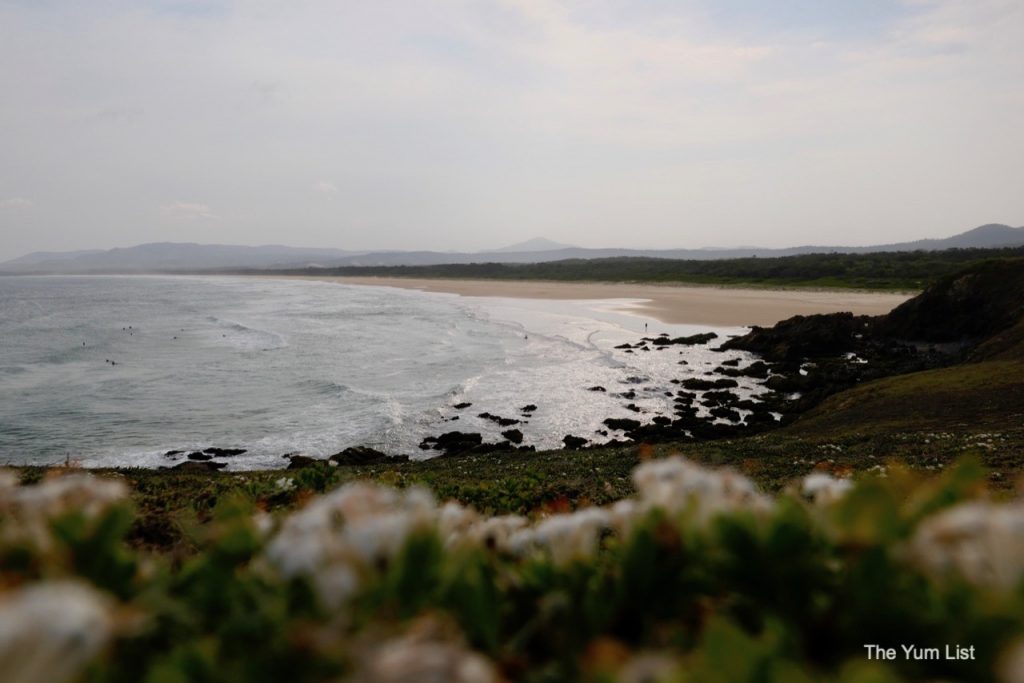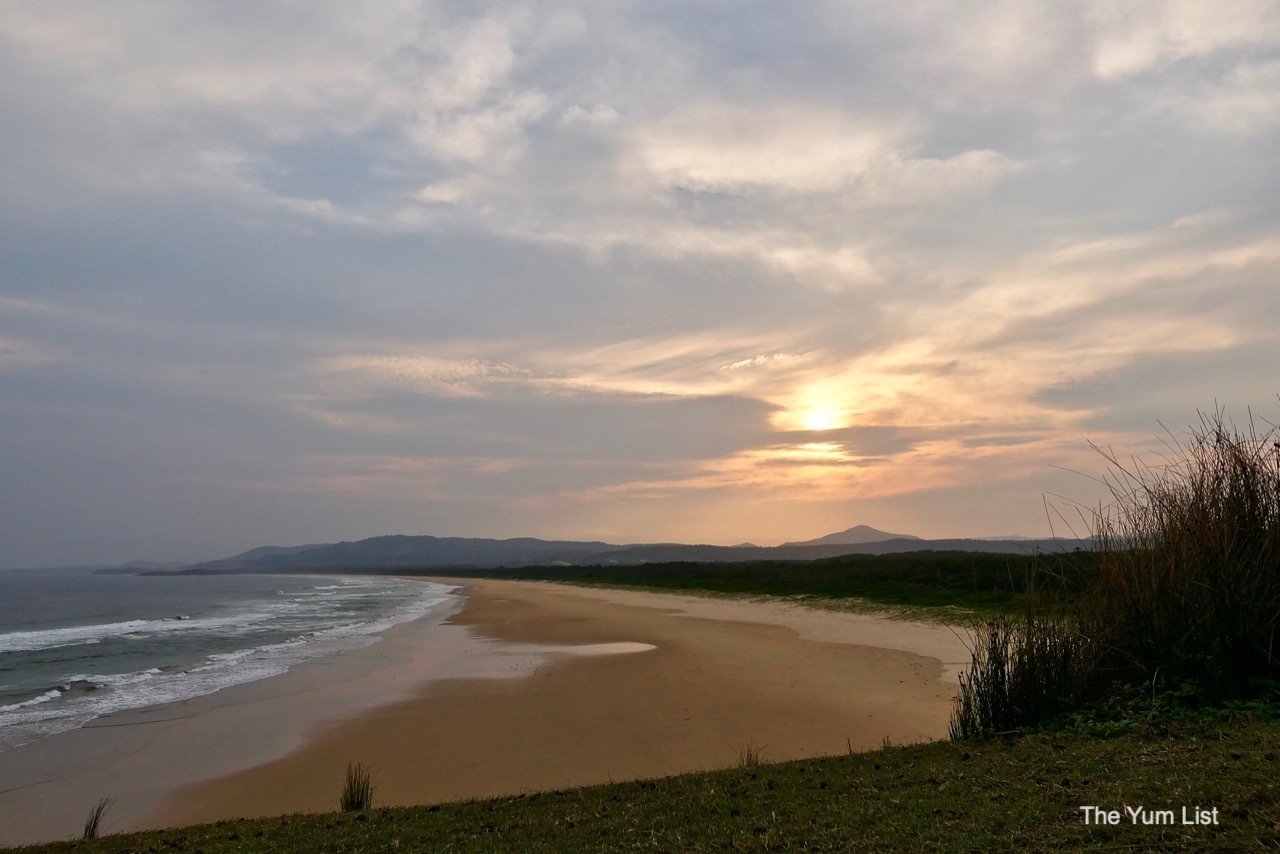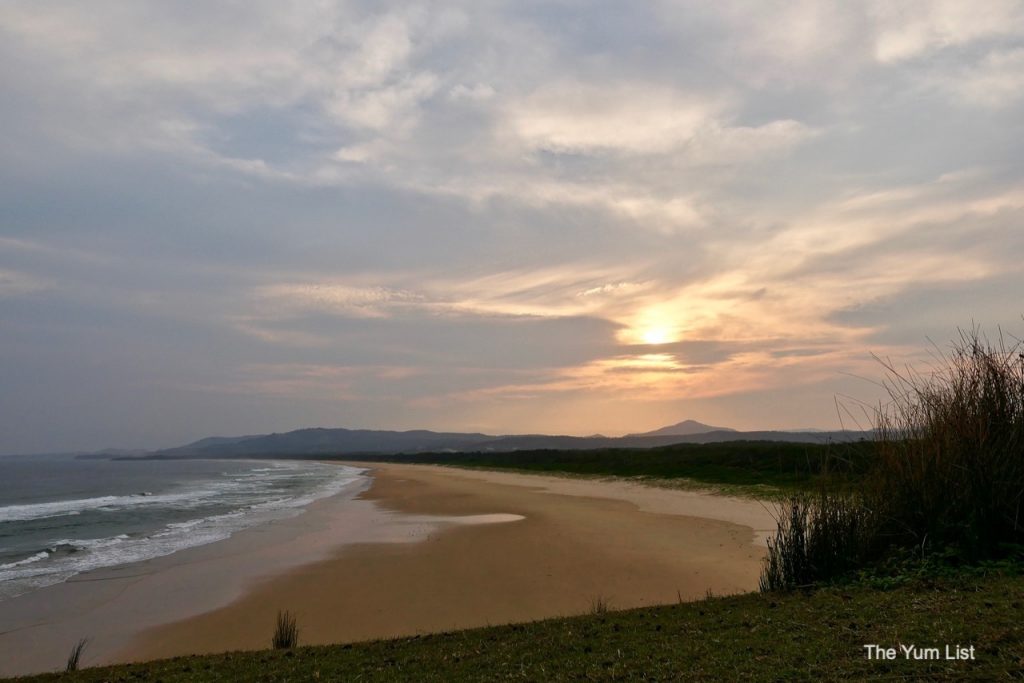 Waves to Wilderness Cost – Sunset Experience
The sunset picnic with Waves to Wilderness is priced at $110AUD per person. It includes return transport to your accommodation on the Coffs Coast, qualified local guides, a glass of local wine and a grazing platter. The tour runs Friday and Sunday evenings. Bookings are a must, and dietary preferences can be catered to with advance reservations.
Reasons to tour with Waves to Wilderness, Coffs Harbour Tours: professional outfit; friendly and knowledgeable local team; no need to plan or drive; an insider's look into the area; ideal for nature lovers and gourmets alike; even locals might find this a fun experience for a special occasion.
Waves to Wilderness
www.wavestowilderness.com.au
+61 0409 485 007
[email protected]