Celler Piñol Wine
Monica Tindall
Carefully combining tradition with technology, art with science, the team at Celler Piñol produce fine wines in the medieval town of Batea, Terra Alta in Spain. The family-run cellar is devoted to organic farming and to bringing back grapes native to the region. Tonight, at Stoked in Kuala Lumpur, we have the pleasure of the owner himself, Mr Juanjo Galcera Piñol, talking us through a dinner paired with five wines from the estate.
Celler Piñol Wine Dinner
Celler Piñol Nuestra Sra del Portal 2017
The evening begins with a chilled glass of Celler Piñol Nuestra Sra del Portal 2017. This blend of Grenache, Sauvignon Blanc, Macabeu and Viognier has gone through skin-contact maceration at a low temperature. This produces a fresh fruity and aromatic wine with an apparent tropical bouquet from the sauvignon blanc. It's juicy in the mouth and finishes with balanced acidity. Seafood is a suitable mate and Chef Desmond plays the partnership well with the canapés. Atlantic salmon tartare is moist atop baguette crisps with roe providing little bursts of juice in each bite. The second, a not-so-humble spring roll, gets a makeover with the addition of cauliflower purée, mushroom and seaweed powder.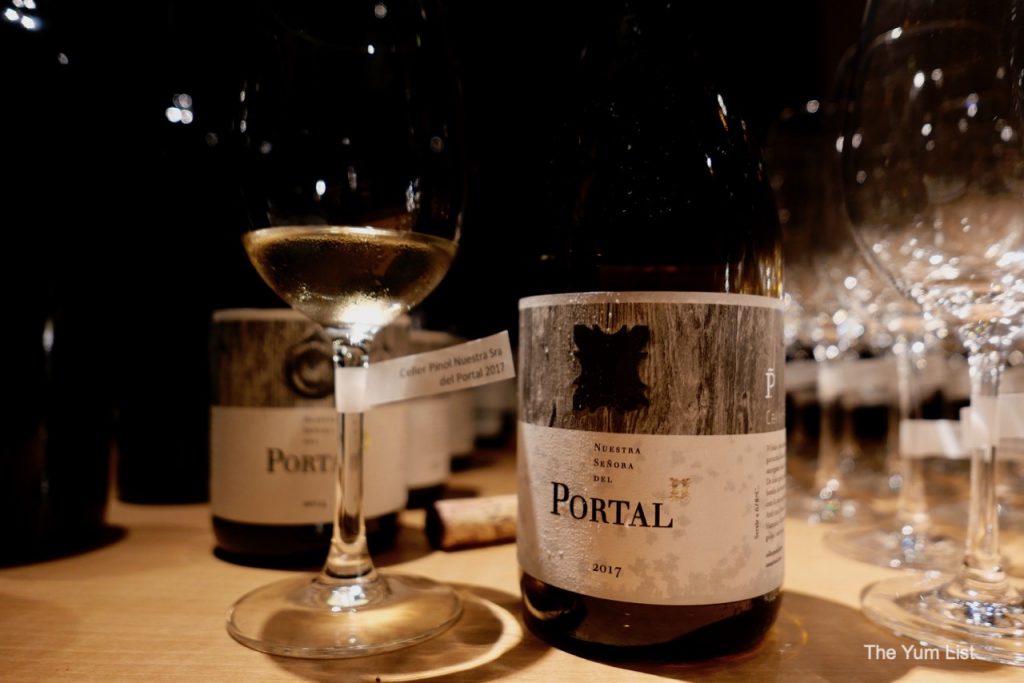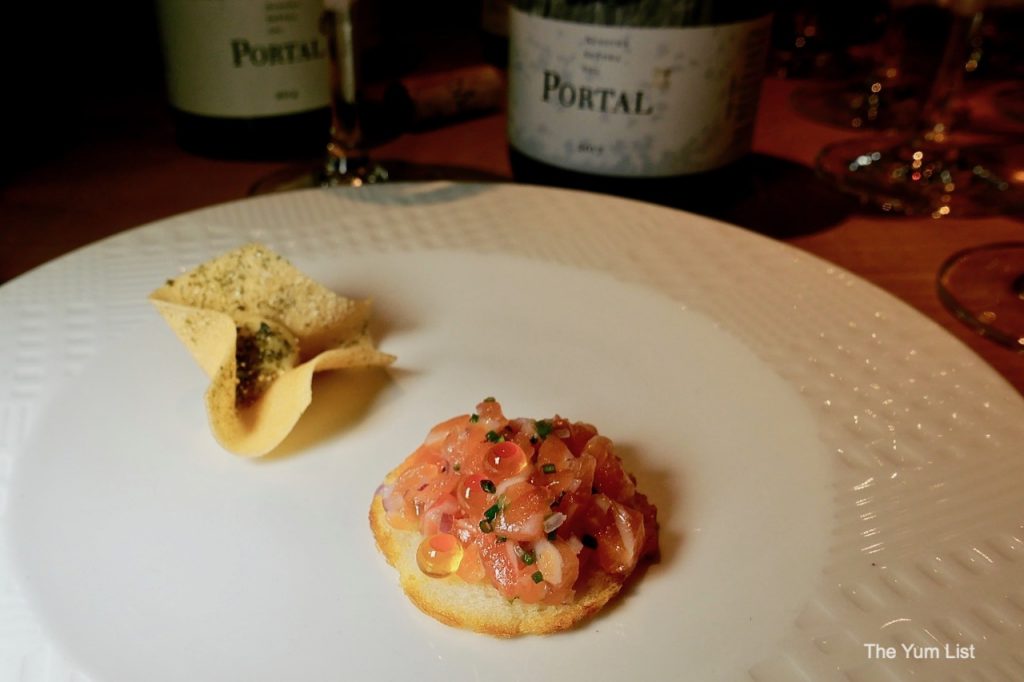 Celler Piñol L'Avi Arrufi 2016
Named after the founder, L'Avi (grandfather) Arrufi, the Celler Piñol L'Avi Arrufi 2016 showcases the respect the winery has for honouring past generations in establishing the vineyards. This 100% Grenache Blanc wafts complex aromas of citrus, minerals, spice and a lingering hint of something bitter. The palate follows through with bitter undertones, more citrus, a touch of smoke and departs with floral notes in the conclusion.
The complexities found in this wine work on several levels with its partner dish.
Skrei cod is a seasonal fish from Norway highly regarded for its lean meat and distinct taste. In this recipe, it has been caramelized with honey and served with baked Jerusalem artichoke, mushrooms and hazelnuts. The mild sweetness, nutty and earthy flavours of the recipe tone down the pinch in the wine and support its expression of smokiness. It's an ideal match.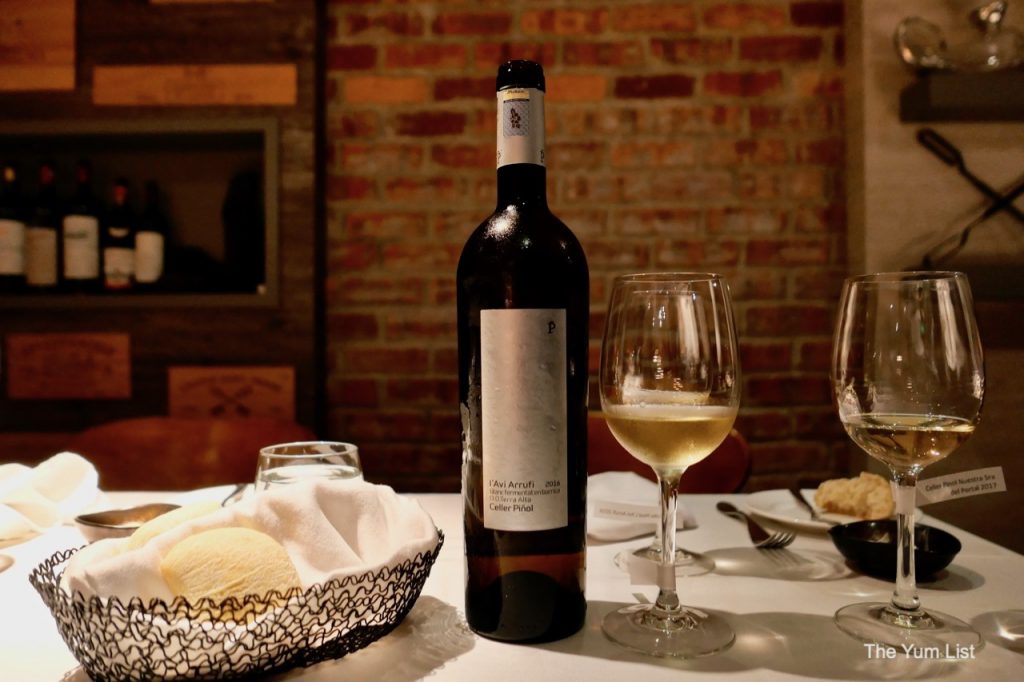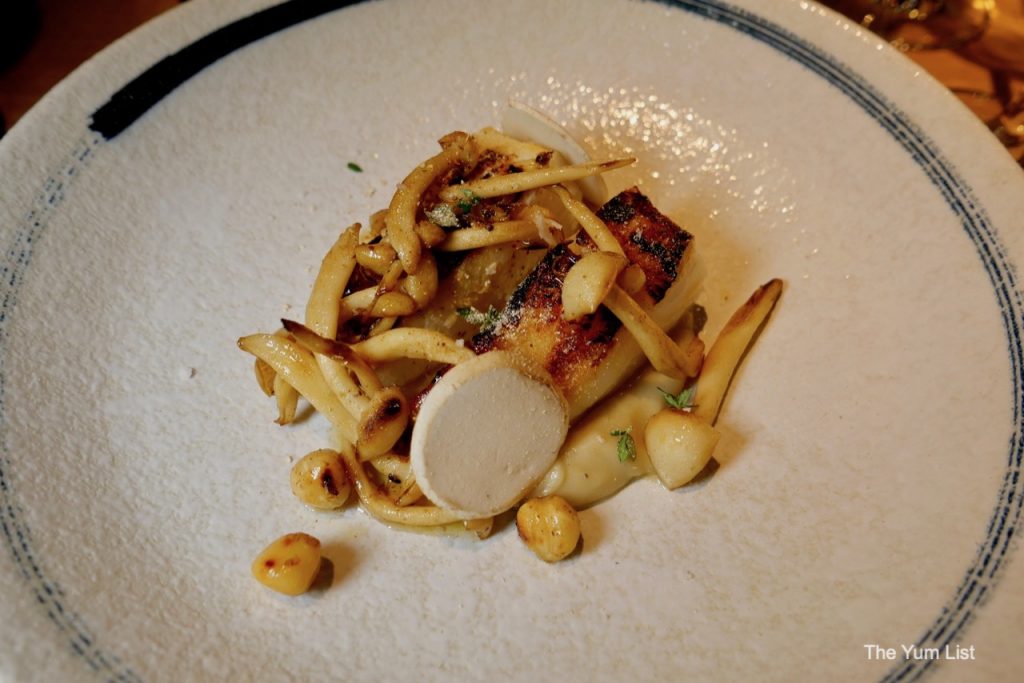 Celler Piñol Nuestra Sra del Portal 2014
Celler Piñol L'Avi Arrufi 2013
In the next course, we're able to sample the same two labels we began with but this time in their red counterparts. Celler Piñol Nuestra Sra del Portal 2014 ages Grenache, Cariñena, Syrah and Merlot in barrels for 12 months to produce a dry red. It's alive with a stone fruit bouquet, bright acidity and hints of smoke in the finish.
The second, Celler Piñol L'Avi Arrufi 2013, spends a bit longer in French oak barrels (16 months). A dominance of Cariñena is supported by Grenache and Syrah in this blend, which exhibits a beautiful cherry-red hue. Fruit, minerals and spice mingle on the nose, and its sturdy structure lengthens out to a balance of astringency and sweetness in an extended conclusion. Only 800 cases are made yearly with the wine coming from vines that are over 70-years old.
Grilled duck breast with cherries, glazed carrots and duck jus enhances the smoke and spice in each of the wines and plays particularly well with the quince notes in the latter.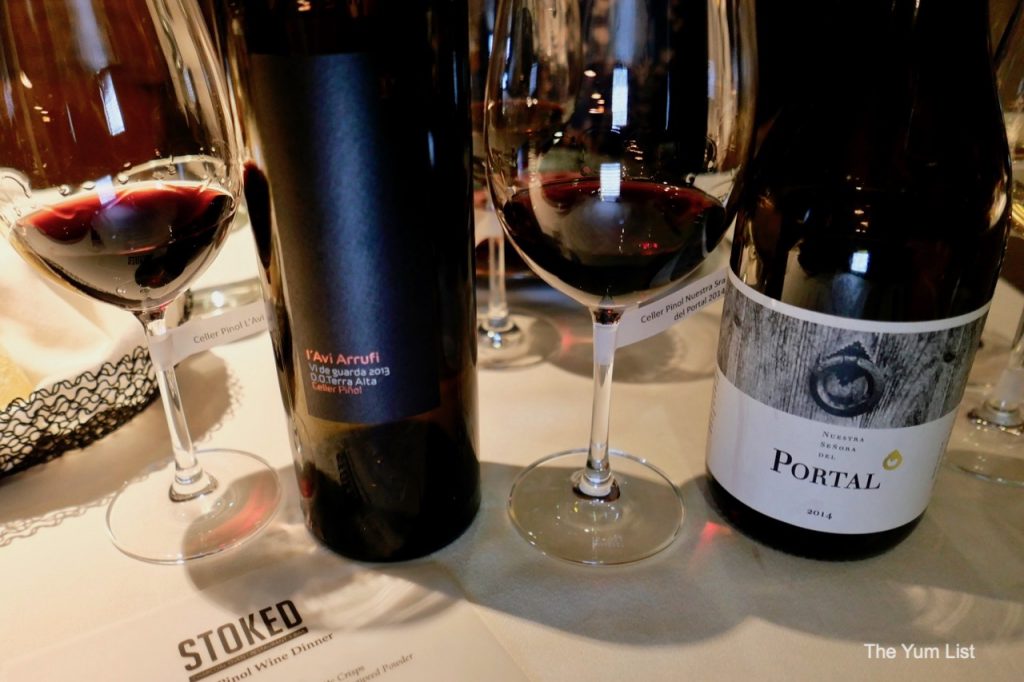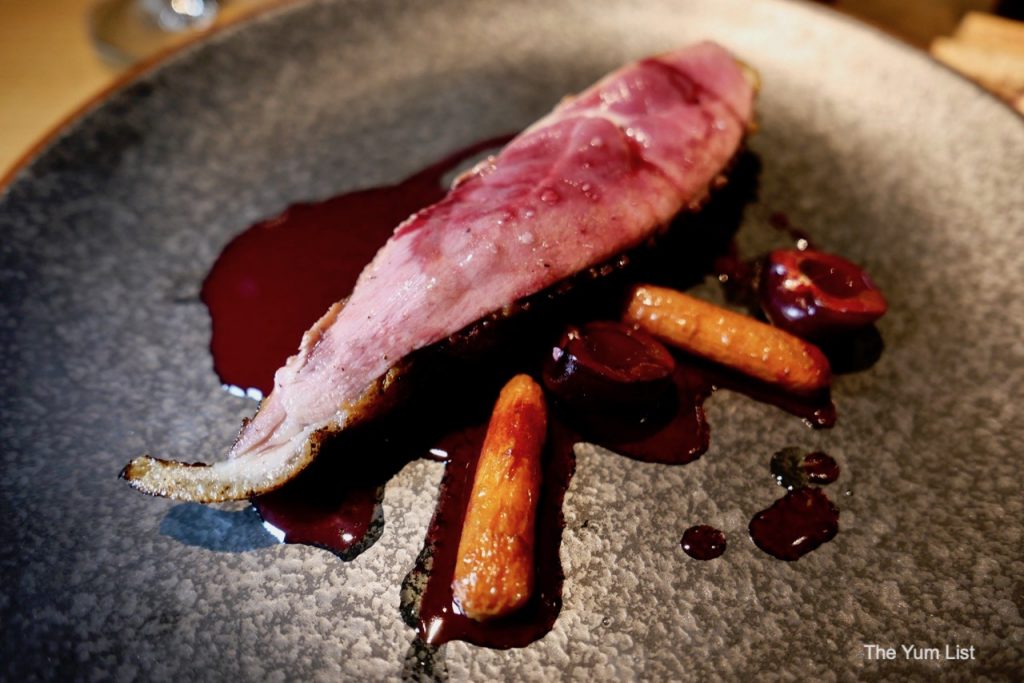 Celler Piñol Mather Teresina 2015
Celler Piñol Mather Teresina 2015 is their finest wine and one that draws attention to their work of bringing the native grape, Morenillo, back into regular production. This hefty blend consists of Grenache Tinto, Morenillo and Cariñena. The 20 months spent in oak barrels is evident in its intense toasty framework holding bold, ripe fruit that fills the palate. Smoke and spice add further intricacies to this full-bodied wine, which goes out with silky tannins and a powerful, yet elegant finale.
A wagyu beef cut from between the ribs, intercostal, gives plenty of fat and flavour to match this robust red. The Bertha grill has charred the edges attractively, complementing the smoke and spice in the wine.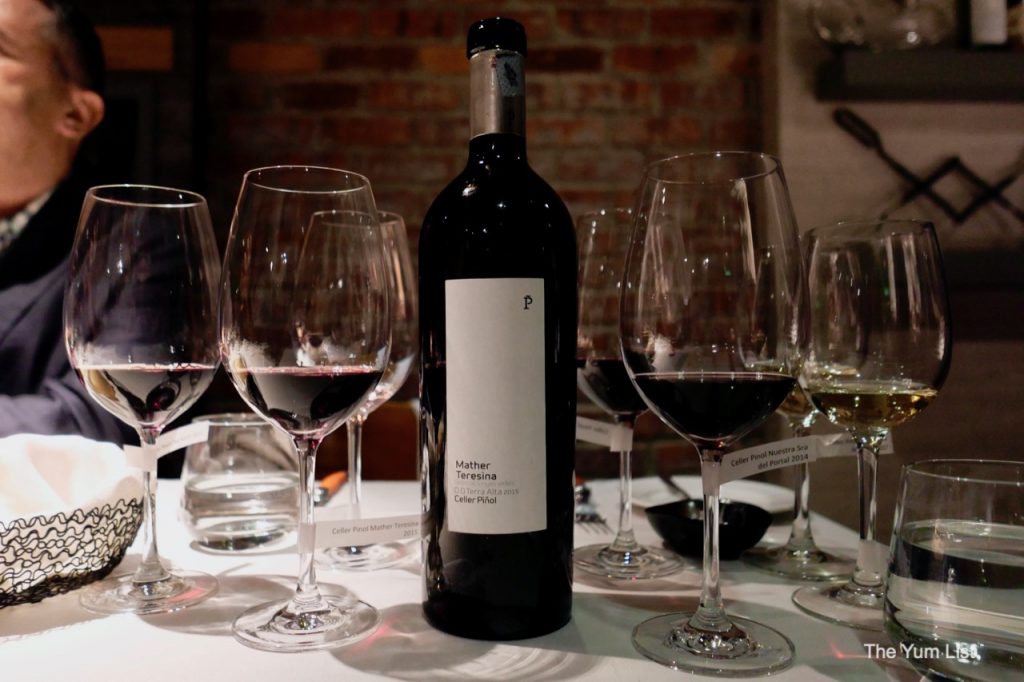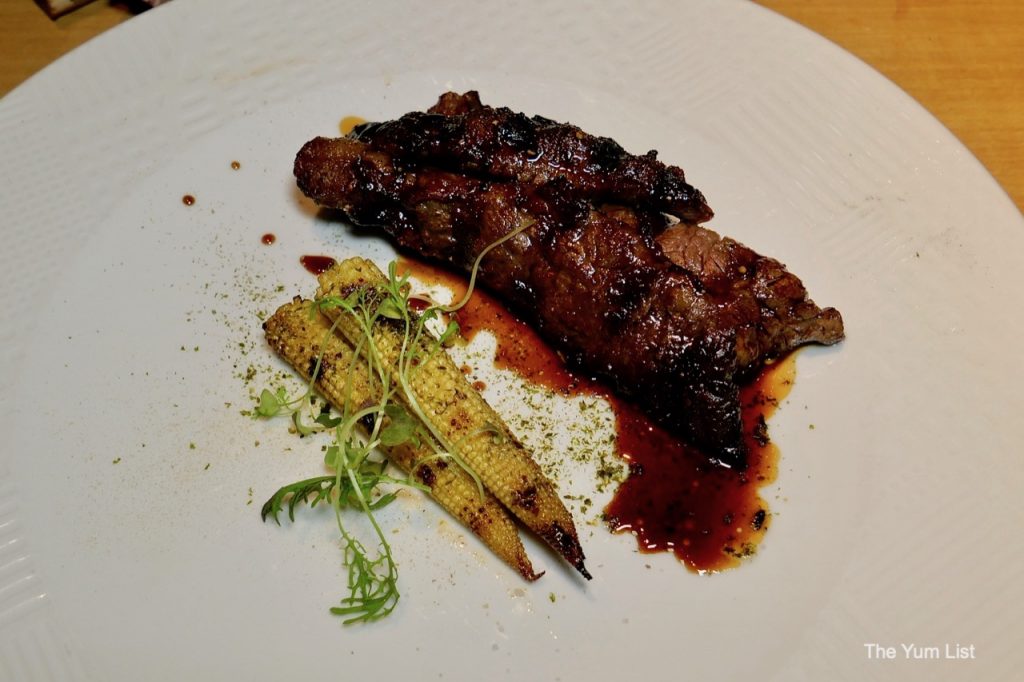 Dessert
Although dessert is left without wine, the last few drops of the red carry over agreeably to the salted dark chocolate tart that furnishes a sweet ending. The bittersweet and salt in the tart temper its sweet side, and pistachio ice cream draws it all together smoothly.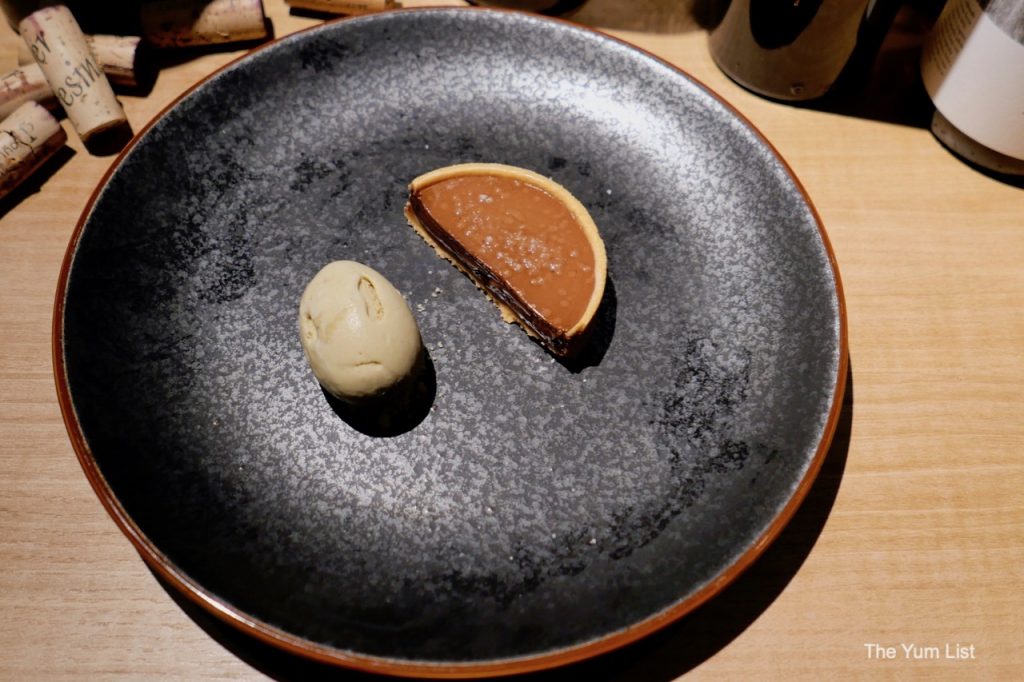 Stay up-to-date with more events like these at Stoked KL here and check out more on these beautiful Spanish wines here.
Enjoy a glass of wine or two? Find more restaurants with a focus on wine pairings in Kuala Lumpur here.