La Juiceria Superfoods Pro KLCC
Words: Monica Tindall   Photos: Rich Callahan
The opening of La Juiceria Superfoods Pro in KLCC is sure to make a lot of people happy. A comprehensive menu of vegan, vegetarian, gluten-free and dairy-free recipes is offered alongside generally nutritious food with a mix of local and international appeal.
Operating inside the health and wellness club, Babel KLCC, the space is far more elegant than I was expecting. Double-storey ceilings, dividers in bold geometric shapes and lines in chrome give an art deco feel. Marble-topped tables, metallic lampstands, and muted green, pink and orange couches add a splash more glam.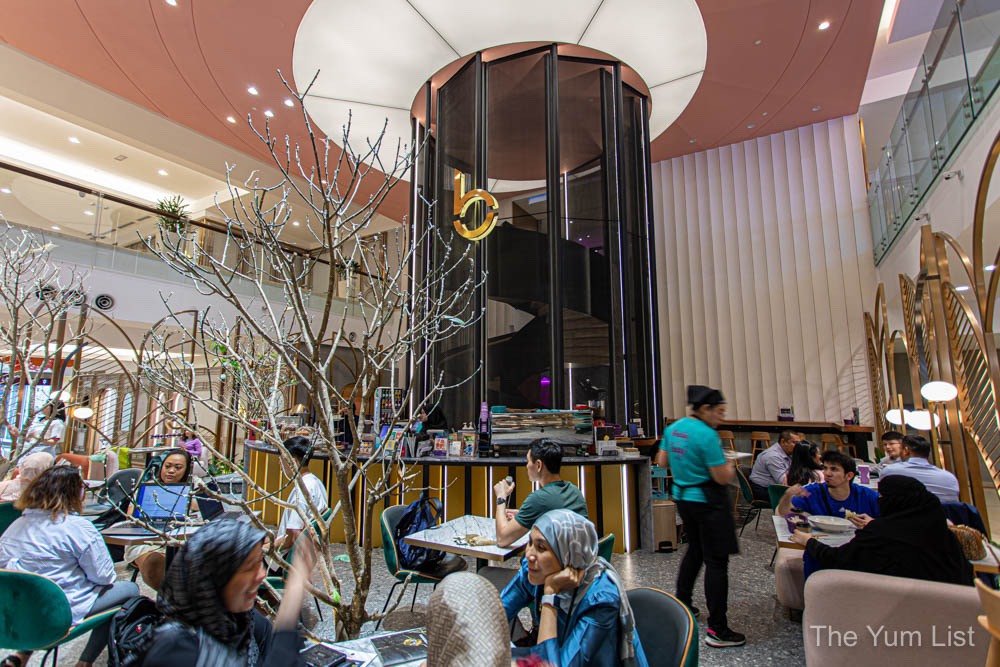 La Juiceria Superfoods Pro KLCC Menu
Not only is the partnership with the wellness club a distinct level of growth for La Juiceria Superfoods, but so too are new additions to the menu. The list reads almost as if a chapter book. Each item clearly displays the calorie count along with symbols denoting dishes that include shellfish, soy, peanuts, fish, egg, sesame and tree nuts. They also mark what is suitable for vegetarian, vegan, gluten-free and lactose-free diets.
Drinks
Cold-pressed juices are what started La Juiceria Superfoods Pro KLCC empire, and so it seems a good a place as any to begin. I need some immune-boosting struggling to ward off the flu, so The Defender Shot (RM6) is a sensible choice followed by the Goodness Greens (RM12.99). The former is a shooter of turmeric, lemon, wildflower honey, cayenne pepper and ginger and sure does provide a kick. I can't help but feel well already with the latter of kale, spinach, celery, kyuri cucumber, parsley, apple and lemon. Rich thinks the Watermelon Slush (RM12.50) sounds enticing on this sweltering day and, I agree, it does go down a dream. Lychee, watermelon, apple juice and wildflower honey combine into a fruity, fresh beverage.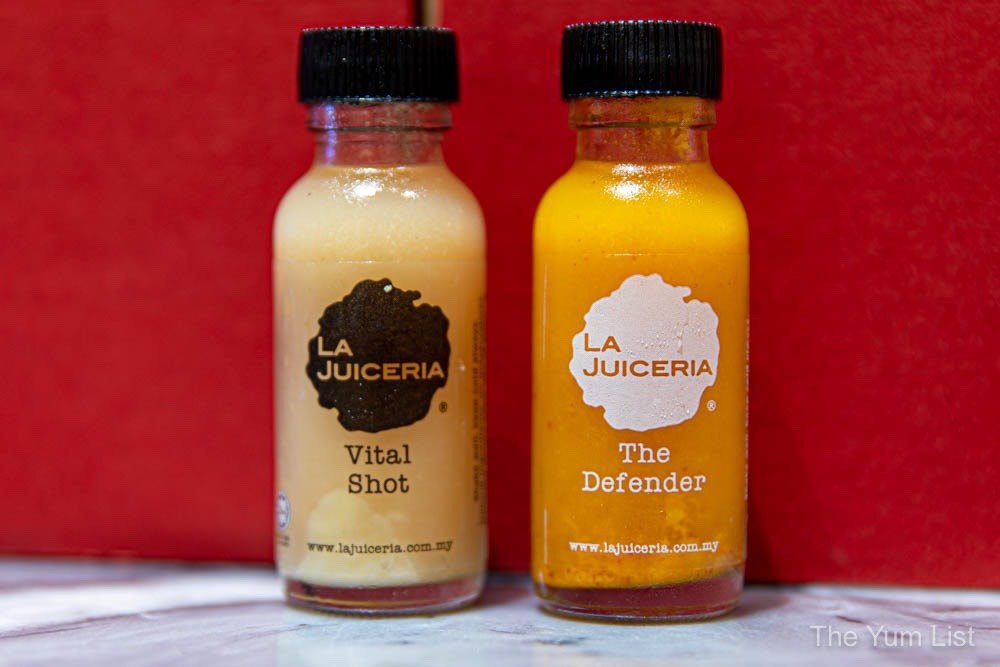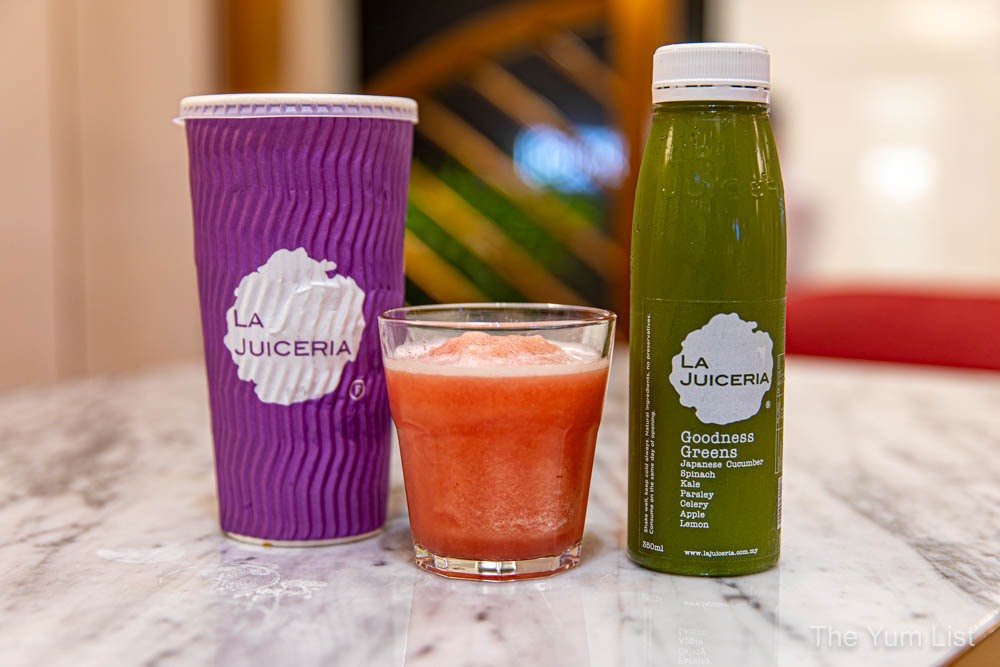 Mains
There are pages of mains from which to choose or you can even design your own. We're happy though to go with the predetermined, trialled and tested combos. Fried Rice Quinoa (RM19.90) is a mix of organic quinoa, sautéed mushrooms, omega eggs, fried shallots, spring onions, cabbage, coriander, mixed salad leaves, Japanese cucumber, red chilli and carrots. Supplemental protein can be added in the form of chicken done in various ways (grilled, lemongrass, teriyaki) as well as tofu or roasted veggies. If you're spice aversive, ask for it without the chilli. Rich and I enjoyed the zing.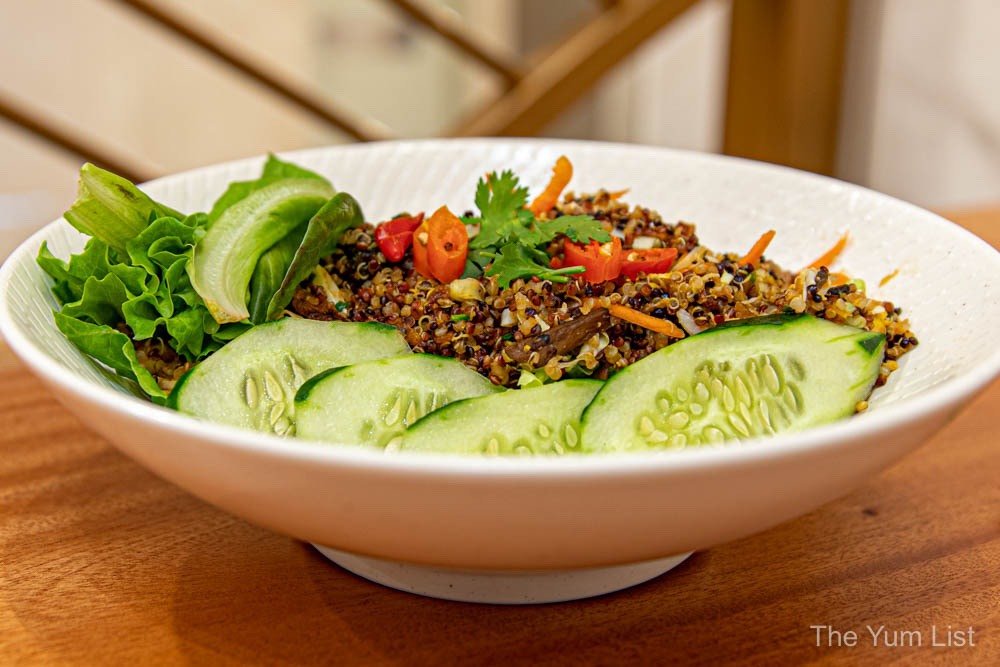 Another newbie and perhaps very adept with the gym connection is the Keto Bowl (RM19.90). Shredded cauliflower, sautéed mushrooms, omega eggs, cherry tomatoes, shredded seaweed, fried shallots, spring onions, coriander and red chilli, provide a vegetarian base that can be topped up with chicken or tofu. We loved this one.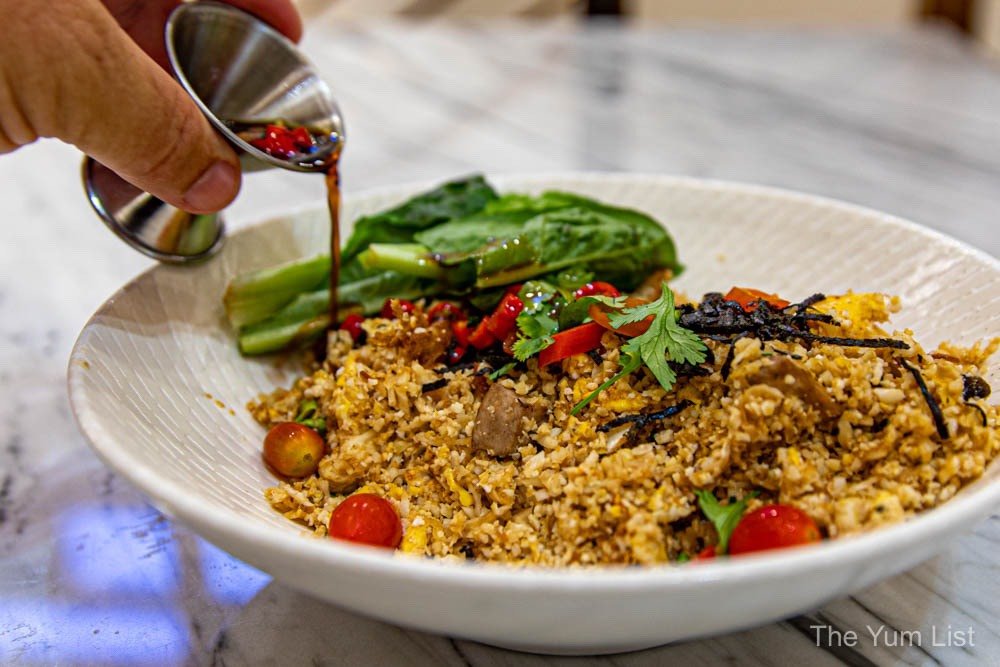 Super Poke Bowls are a fresh category on La Juiceria Superfoods Pro KLCC's menu. Take your pick of proteins from chicken, tofu, beef or duck and find it served over Japanese turmeric pearl rice, organic quinoa, takuan pickled radish, omega lava egg, edamame, tobiko fish roe, spring onions and broccoli. They're seasoned with togarashi chilli, kizami nori shredded seaweed, sesame seeds and teriyaki sauce. We take the plant-based option with the Teriyaki Tofu Poke Bowl (RM19.90) and find the soy milk chunks gifting a great balance of sweet and savoury. It's another fab bowl.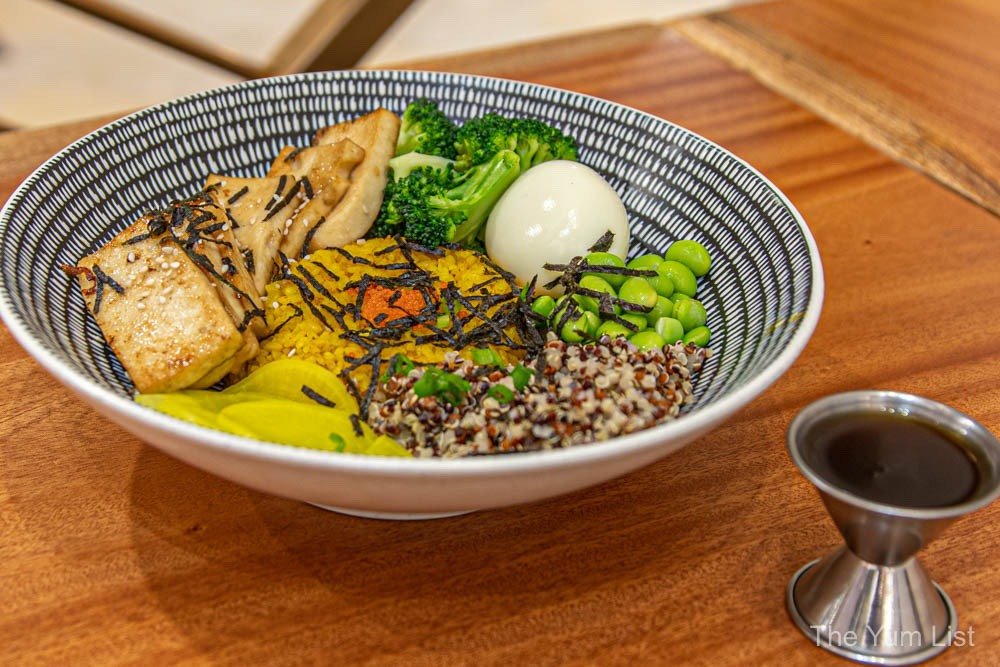 Smoothie Bowls
Some say smoothie bowls are dessert, but I think they are perfectly acceptable for brekkie or any time of day for that matter. The Acai Berry Bowl (RM24) features the Brazilian superfood, acai berries, frozen and blended together with bananas, almond milk and maple syrup. The chilled sorbet-like base is topped with granola, sliced strawberries, cacao nibs, desiccated coconut and chia seeds.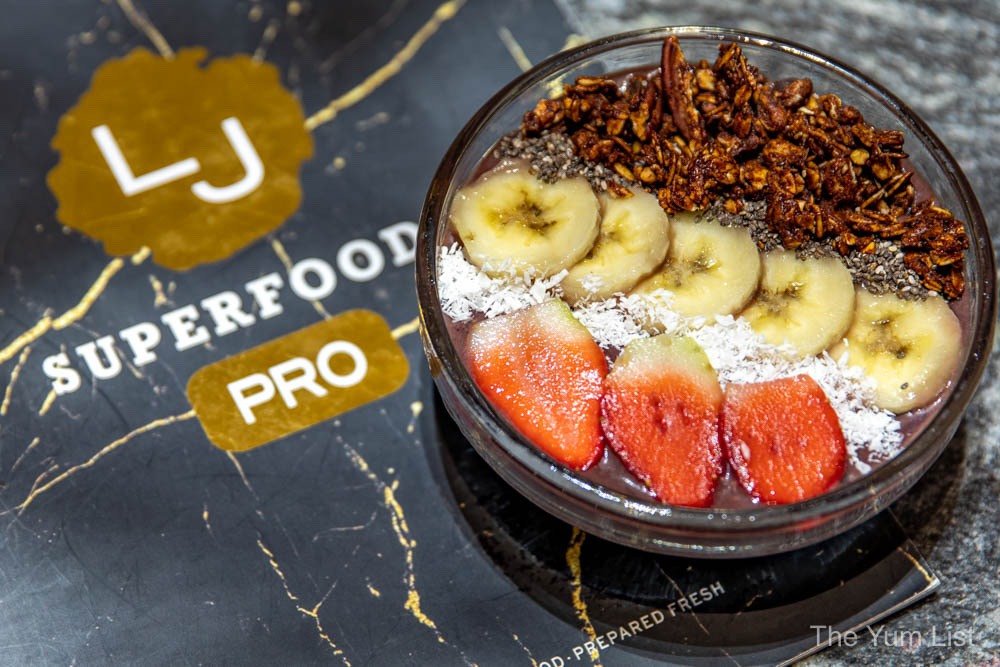 Dessert
Even dessert can be healthy at La Juiceria Superfoods Pro KLCC. Their Raw Cakes are formulated on a base of nuts and fruits with no refined sugar or gluten. Today I find the Orange Chocolate (RM14.90) irresistible. Isn't chocolate and orange a match made in heaven?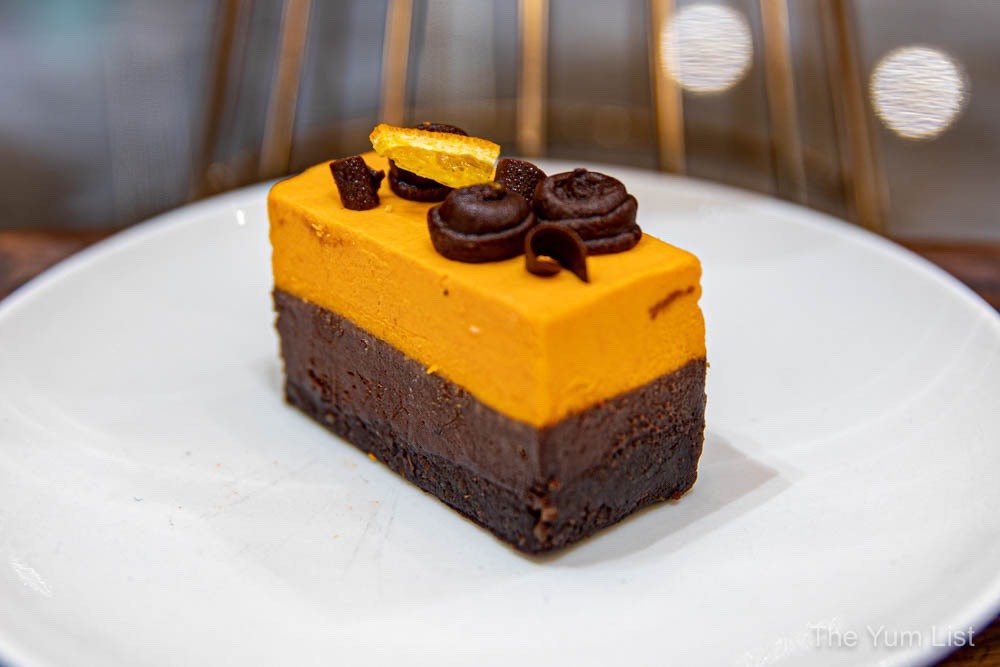 As I've enlightened Rich to the joys of a purely plant-based meal today, I offer the Café Gourmand (RM 24.90) as some compensation to conclude. This treat makes a great ending to a meal for those who can't decide on one dessert or a stellar afternoon tea. Tea or coffee comes with a selection of mini sweets taking the nuisance out of decision making. Today there's a not-so-mini slice of chocolate cake, a cube of banana cake, petite smoothie bowl and a shot glass of vanilla ice cream. While Rich sips his Americano, I conclude with a Vatte (RM 11), a double-shot of espresso topped up with foamed almond milk. All coffee comes with a chlorophyll shot said to energize and hydrate, improve red blood cell quality and, very helpfully after coffee, reduce bad breath.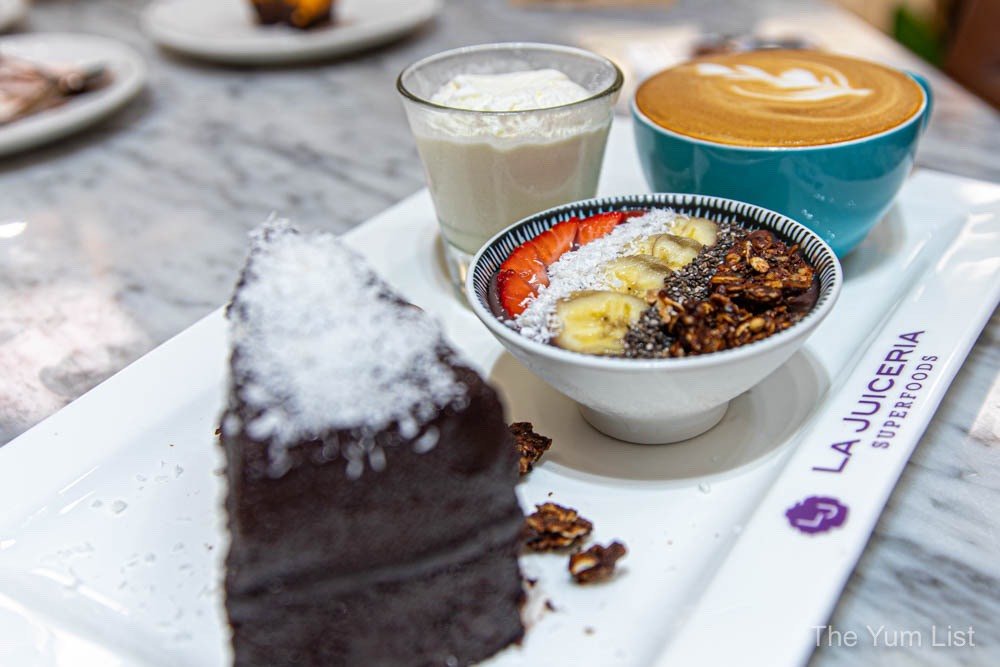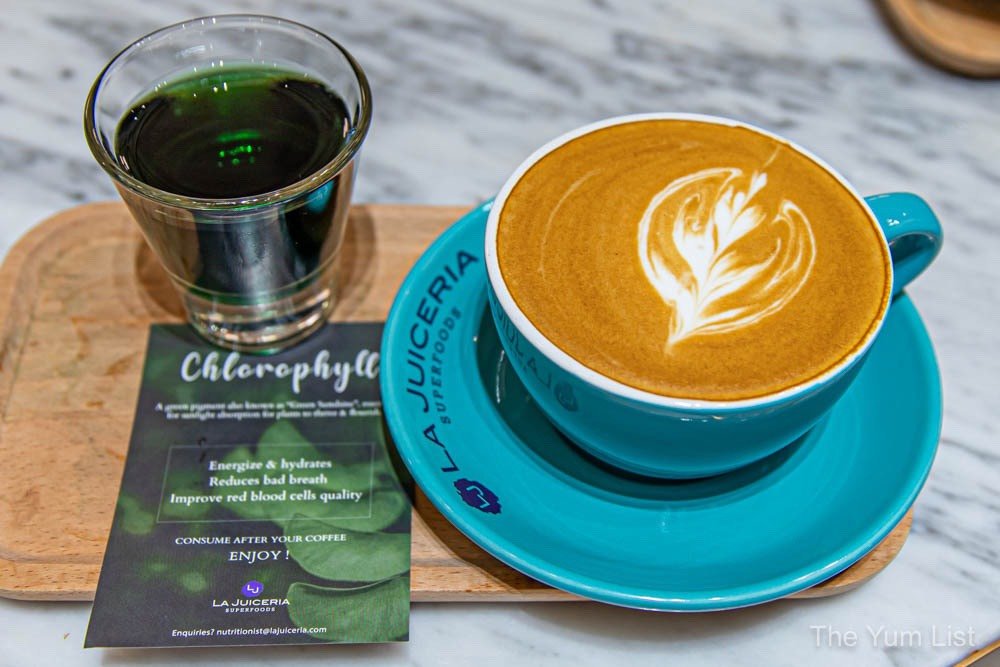 La Juiceria Superfoods Pro KLCC Review
La Juiceria Superfoods Pro KLCC offers a comprehensive menu of healthy choices to suit multiple dietary preferences from vegan to vegetarian, gluten-free to keto. Reasonable prices, tasty and nutritious recipes and a delightful location make a meal here an excellent experience.
* Starting from 20th January 2020, customers who spend a minimum of RM50 at La Juiceria Superfoods Pro KLCC, Superfoods Menara Hap Seng and La Juiceria Juice Bars Pavilion will receive a VIP day-pass to Babel Gym.
Reasons to visit La Juiceria Superfoods Pro KLCC: an excellent variety of healthy options suited to a wide variety of dietary preferences; we love loads of recipes here, but the new fave is the Keto Bowl.
La Juiceria Superfoods Pro KLCC
Suria KLCC, Lot LC-G
(Located in Babel Gym, next to Dior and Chanel)
02, Jalan P Ramlee
50088 Kuala Lumpur, Malaysia
lajuiceria.com.my
+6 018 368 1217
La Juiceria Superfoods Pro KLCC Opening Hours
Monday – Saturday: 7 am – 10:30 pm
Sunday: 7 am – 9 pm