Anantara Desaru Coast Resort & Villas
Words: Patricia Podorsek
Photos: Monica Tindall
Finding the right beach getaway weekend is not always as easy as it may seem from KL. First, there's the headache of Friday traffic leaving the city. Then there is the hassle of booking around monsoon closures, and lastly the extra bureaucracy involved with international travel to get to many popular beaches in the region. So when Monica tells me that there is a new beach development a hop and a skip from Johor Bahru, I am happy to be a partner in the investigation.
Anantara Desaru Coast Resort & Villas – Location
The Desaru Coast, I learn, is a community of new hotel properties along a gorgeous low-development strip of sand on the southeast coast. Guests can walk undisturbed in both directions as far as the eye can see, and the nearby water park and golf courses provide entertainment for kids of all ages.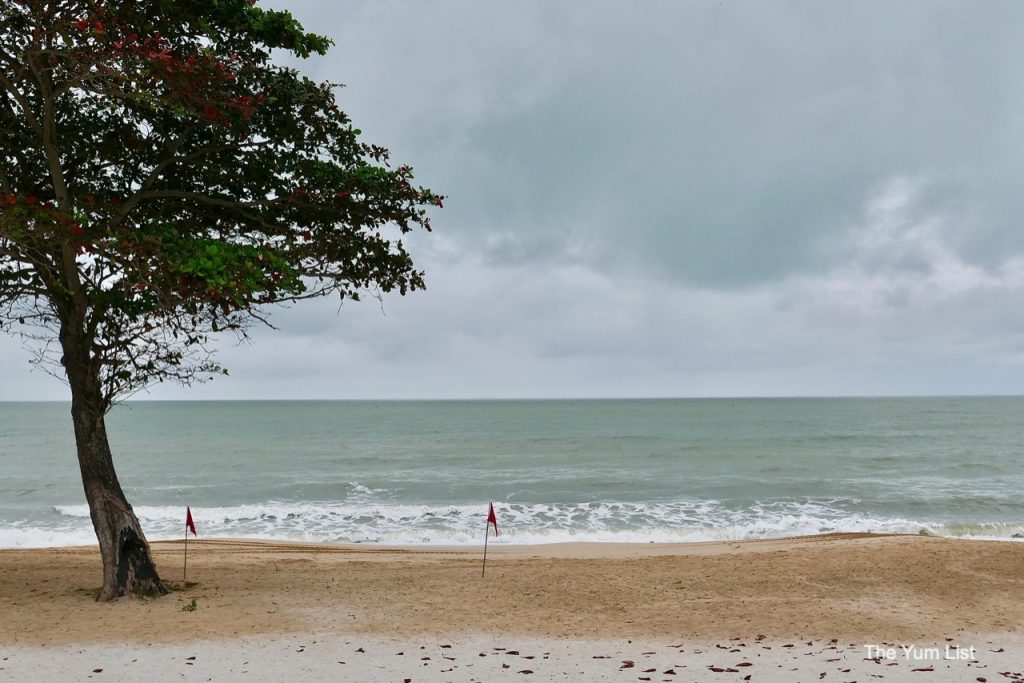 Resort
Our choice of accommodations is the opulent Anantara Desaru Coast Resort & Villas. Warm woods and high ceilings greet us in the cosy reception area. We're under cover of a brass chandelier, matched by brass latticework adorning a glass elevator and spiral staircases. An infinity dipping pool off the balcony announces the span of the horizon and an overview of the resort. Graceful columns flank a swimming pool centrepiece. Its blue focal flower surrounded by lounge chairs and umbrellas. More enthralling is the beachfront infinity pool in the distance, smaller in size but bigger in experience, just ten metres from the edge of the sea and even closer than that to the Infinity Bar. Techie friends will be pleased to know that complimentary WiFi is available throughout the resort.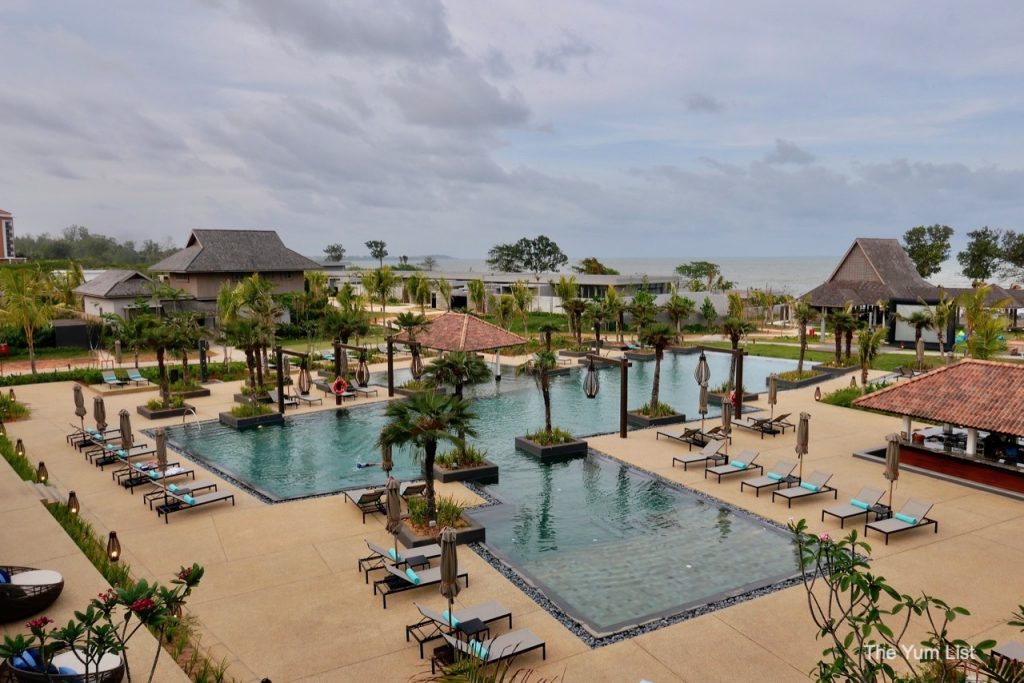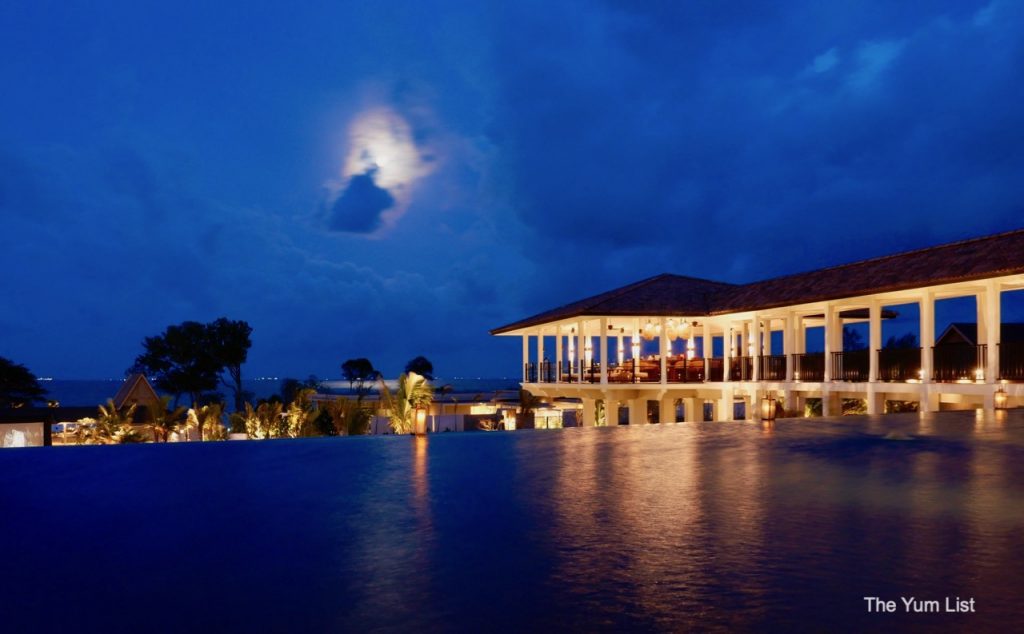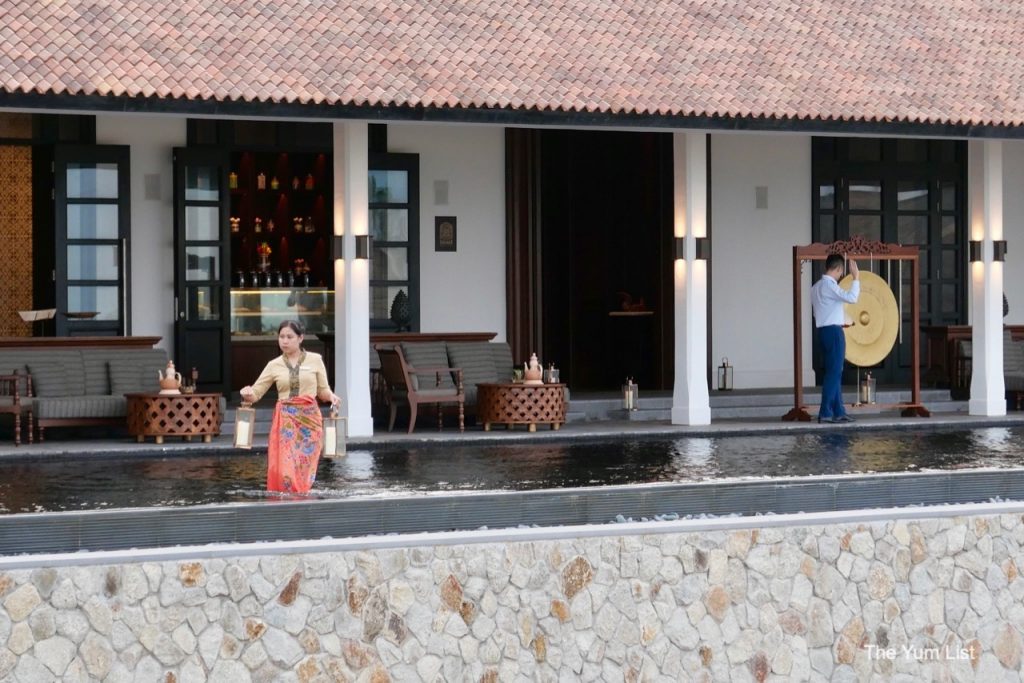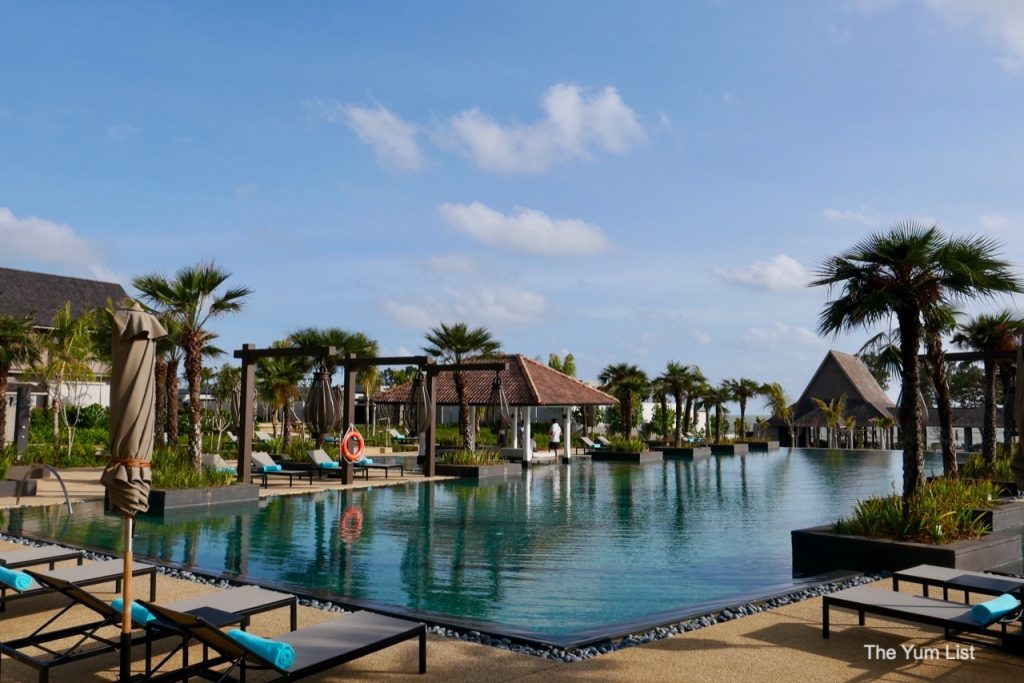 Rooms
The Deluxe Sea View Room to which we are escorted blends stylish design with detailed functionality. From the espresso coffee maker (no instant!) to the hidden reading light, thoughtful attention has been paid to the guest experience. A private balcony hosts lounging beds and a table to enjoy the welcome treats. With two deep sinks and a dressing area, plus separate stalls for toilet and shower, the bathroom is nearly as big as the bedroom! Given our eye for sustainability, we are pleased to see that all products are dispensed from re-fillable pumps.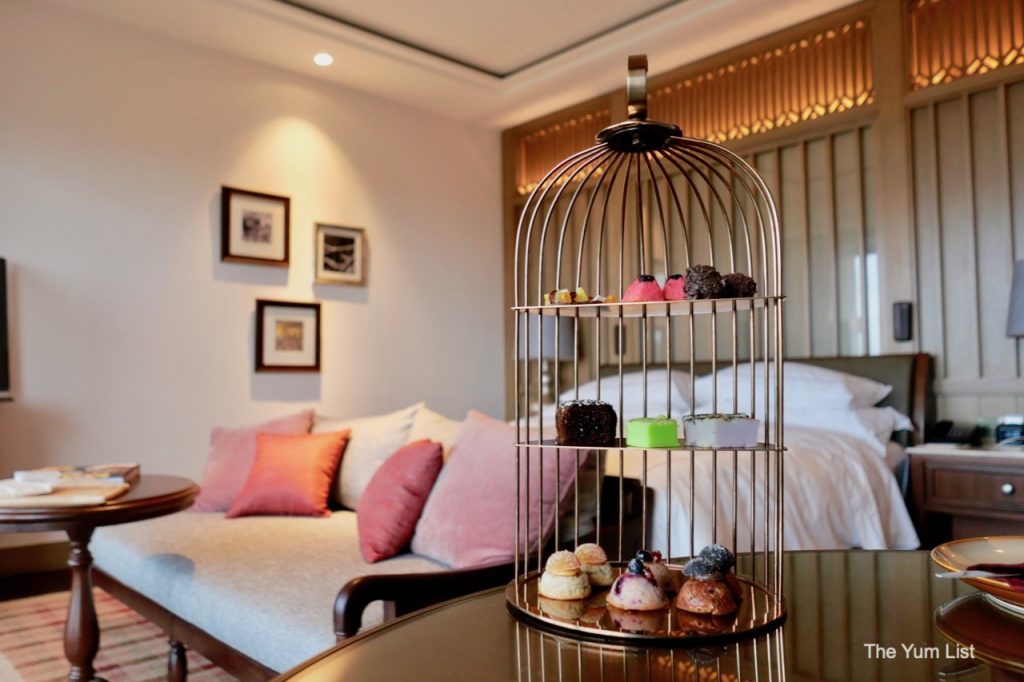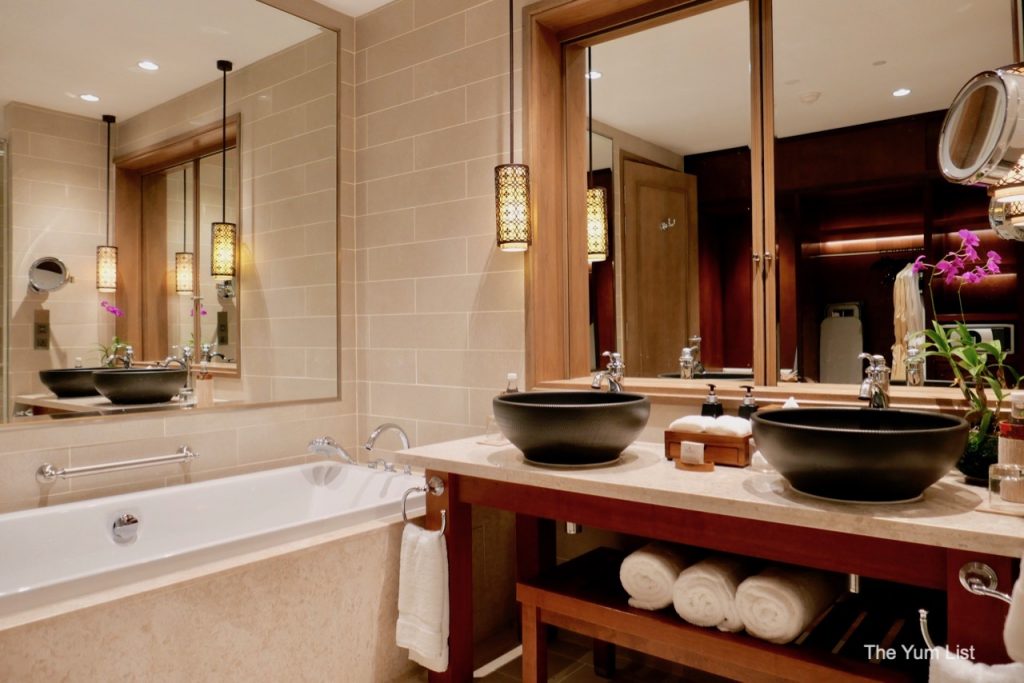 Sunset Bar
Dropping into the Observatory Bar for a sunset toast, we gain a sweeping view of the grounds and the sea. The dusky twilight sharpens the colours of the landscape from its perch on tall pillars near the pool. Clusters of tables and chairs surround a bar framed in dark wood, but we opt for a lounging bed that faces the ocean. We lay back and gratefully sip on one of the signature cocktails. Pulling on Those Heart Strings weaves together an array of ingredients as complex as the evening sky. It starts tropical with aged rum, banana liqueur and coconut syrup, but mellows into civilization with hints of tea and black walnut. Priming our tummies for the dinner ahead, a sample of cheeses and smoked meats off the snack menu satisfies our cravings. I particularly like the tang of the blue cheese and the juiciness of the smoked seabass.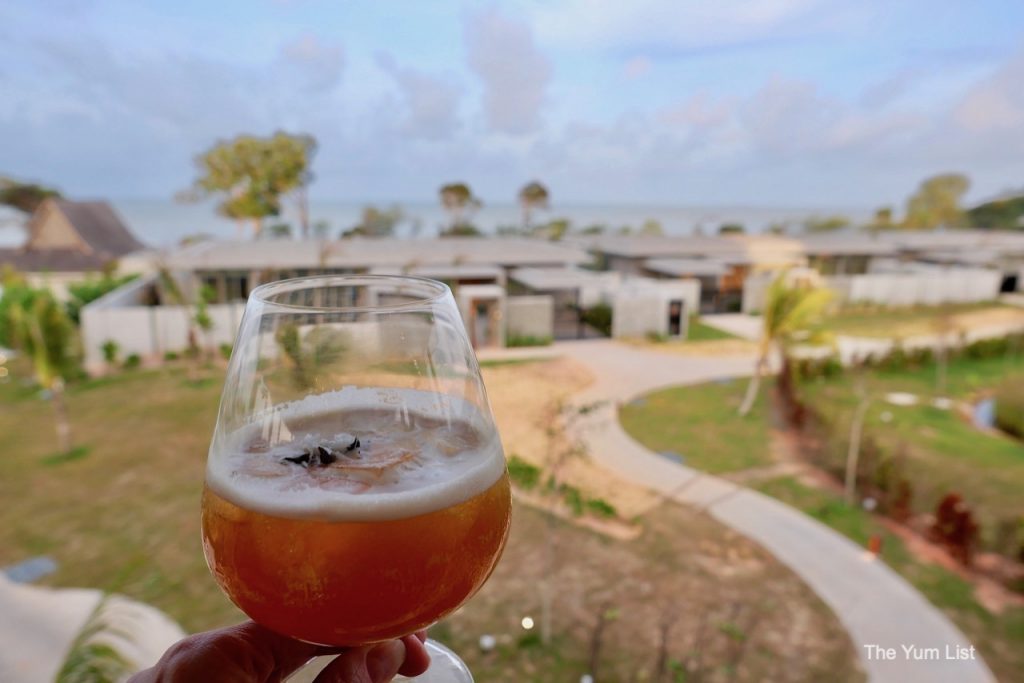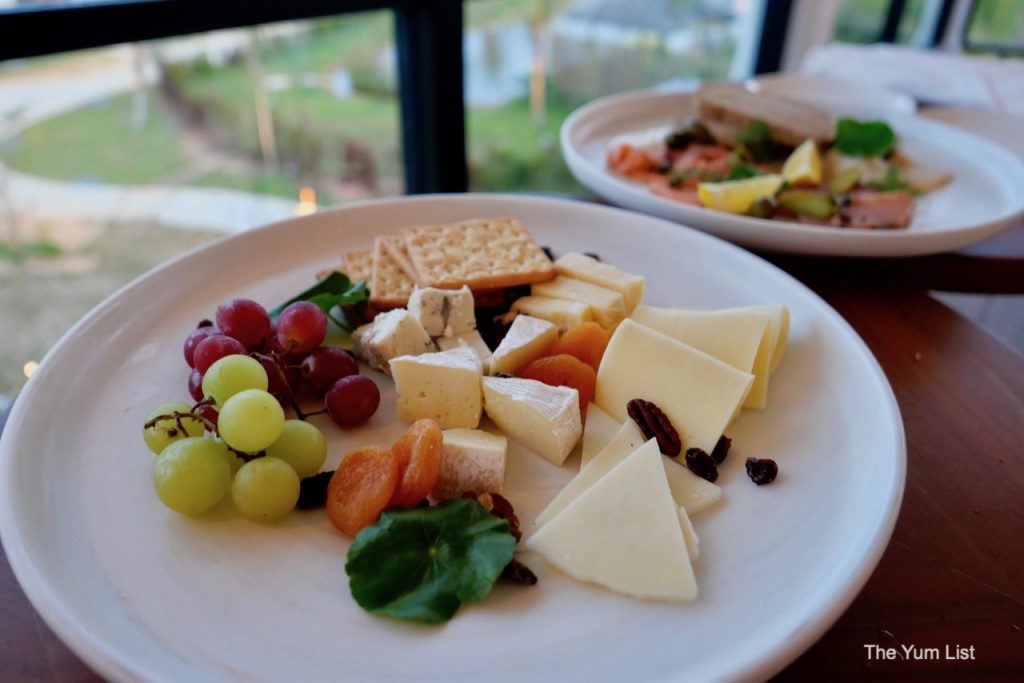 Seaside Bar
Those who might be looking for a drink within earshot of the waves might wander down to Infinity Bar near the, you guessed it, Infinity Pool. The selection of beverages at Anantara Desaru Coast Resort & Villas reflects an array of daytime and nighttime states of mind, illustrated by a cool diagram on the menu. Lighter options with flavours such as pineapple, lychee and lemongrass might help to chill out during the day. Others are more intense, like the bourbon and vanilla-based Sense of Smoke, which might make an excellent nightcap after dinner at nearby seaside grill, Sea.Fire.Salt. In addition to listening to the waves, we are fortunate enough to watch the play of moonlight across the caps.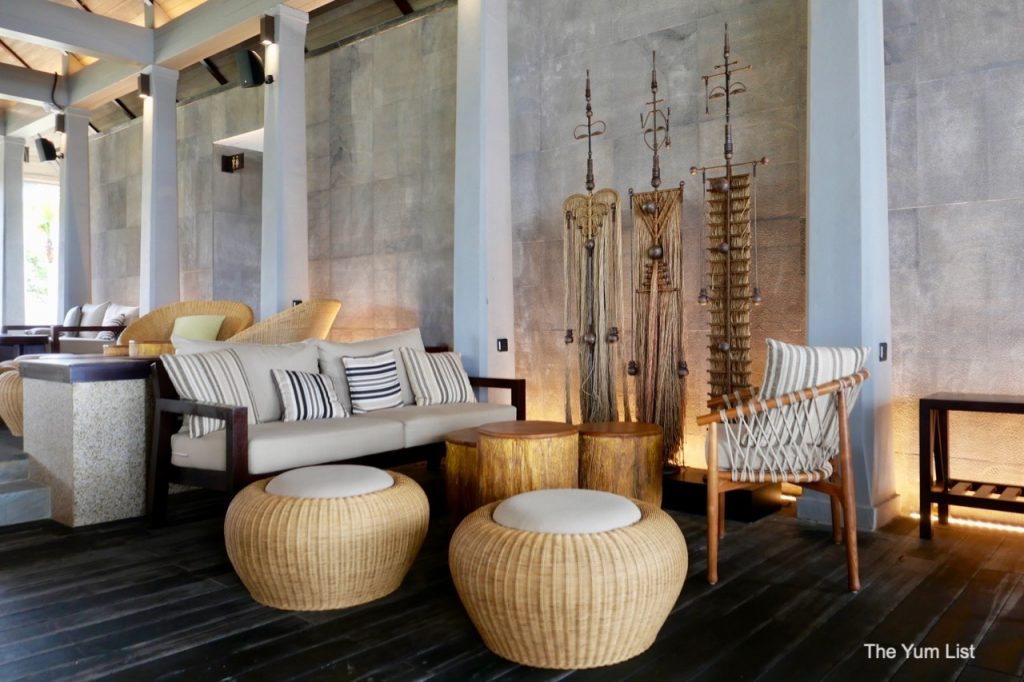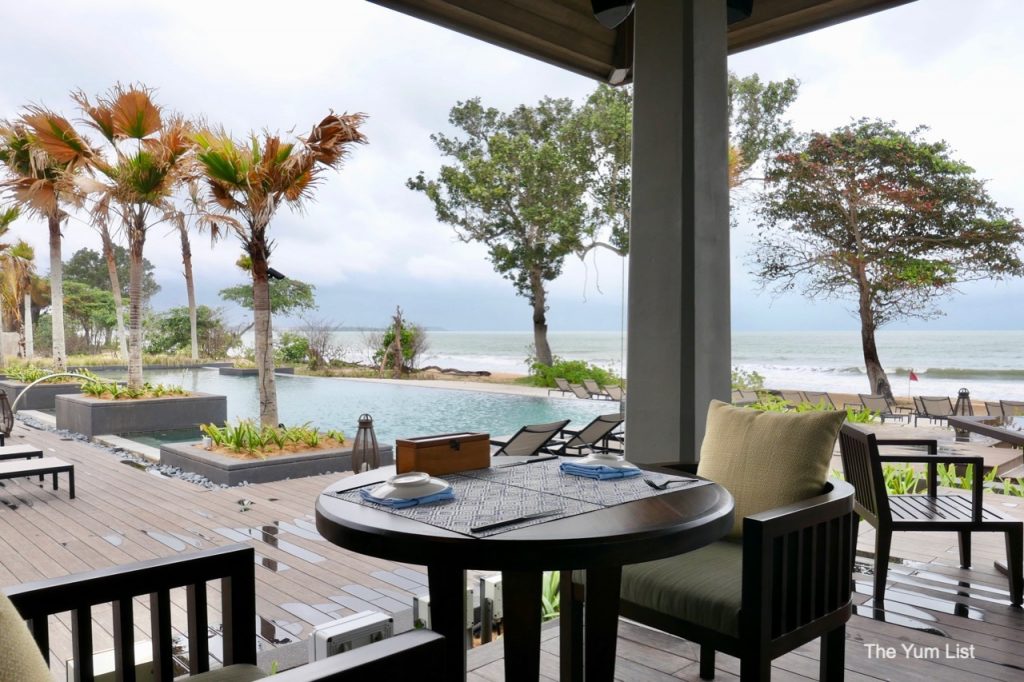 Breakfast at Anantara Desaru Coast Resort & Villas
A beautiful breakfast buffet is available daily at the Turmeric Restaurant, with comfortable seating inside and outside above the pool. Amidst warm layers of wicker, dark woods, and intricate tile work, the buffet caters to both Western and Eastern tastes, offering delectables from congee to overnight oats. I love my 'breakfast around the world', matching a mixed vegetable omelette with paratha and curry, and then adding a little fried rice and smoked mackerel. Fresh juices and cut fruit reflect healthier choices than the decadent pastries and housemade bread. Of course, I help myself to both! Plenty of strong coffee helps to start the day as well.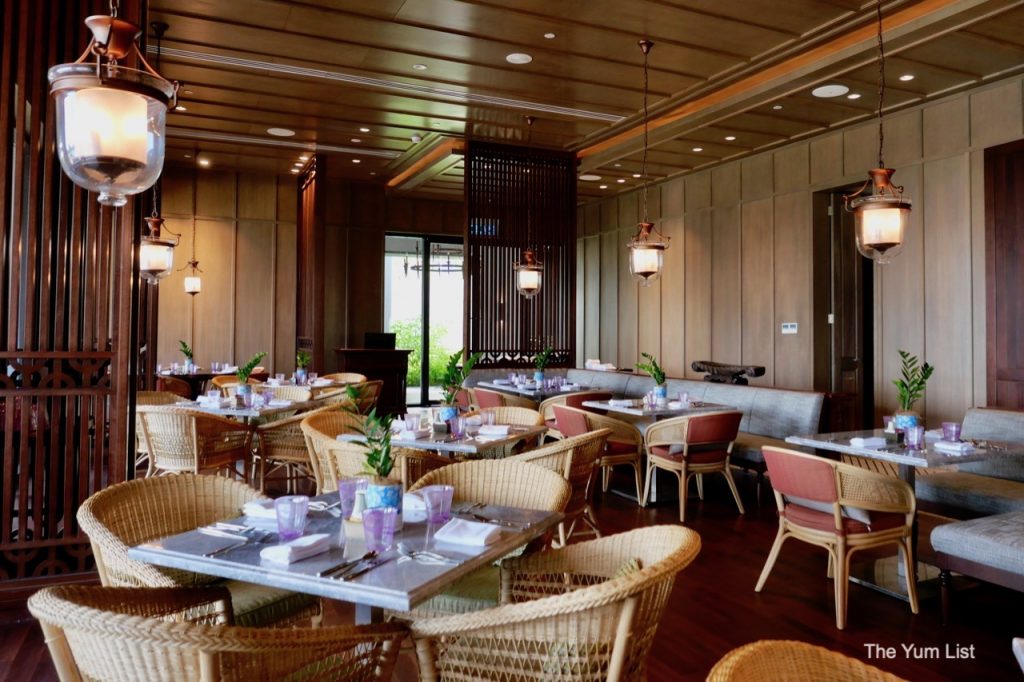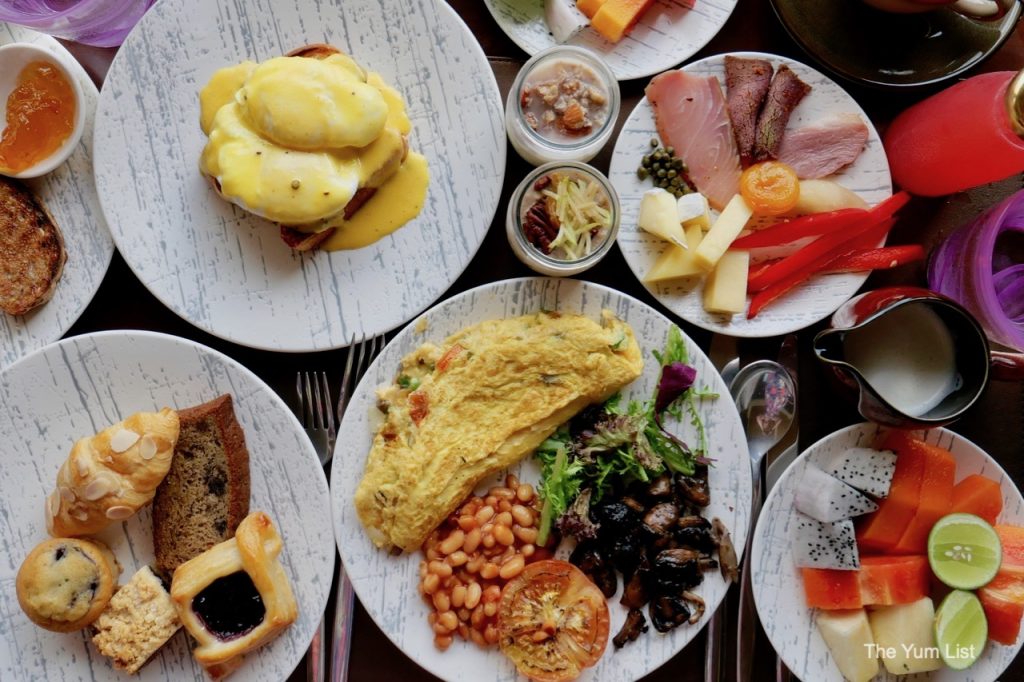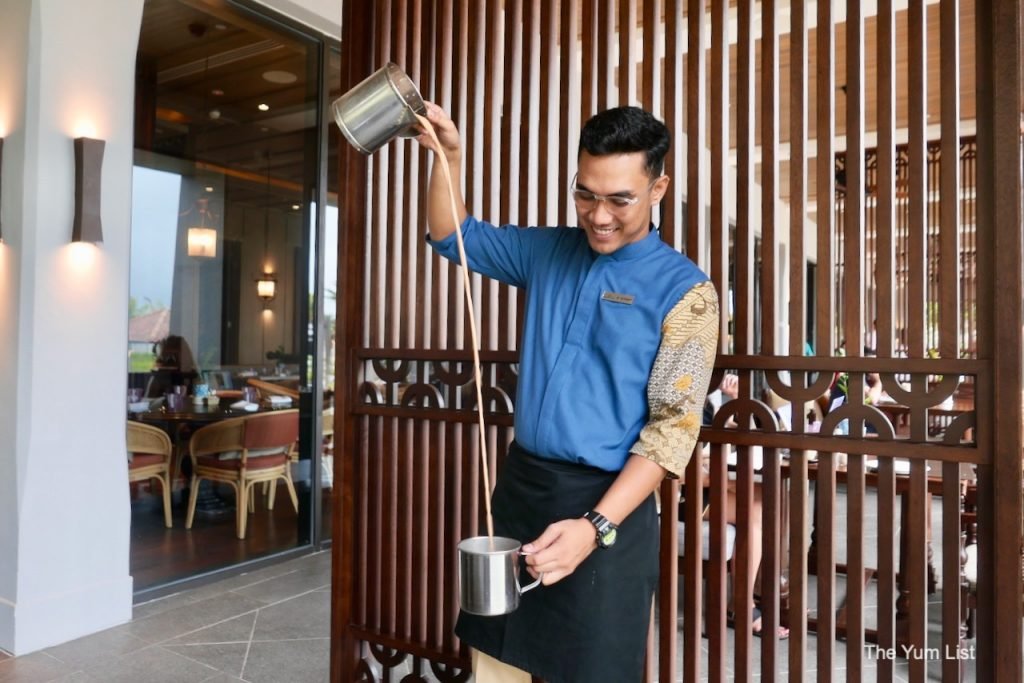 Activities
Anantara Desaru Coast Resort & Villas boasts a fitness centre, a kids' club and a full spa. Guests might also enjoy taking a cooking class. We "studied" under Head Thai Chef Amara early one afternoon, chopping, boiling and assembling our own lunch of Green Papaya salad, Tom Yam soup, Green Curry with Chicken and (my favourite!) Mango Sticky Rice. I try to convince Monica to skip all the other courses and going straight to dessert. She is a good friend, though, helping me to make smarter choices about what we eat. As we discover everywhere on the resort, the staff is highly professional, well-trained and very enthusiastic about creating a memorable experience for guests.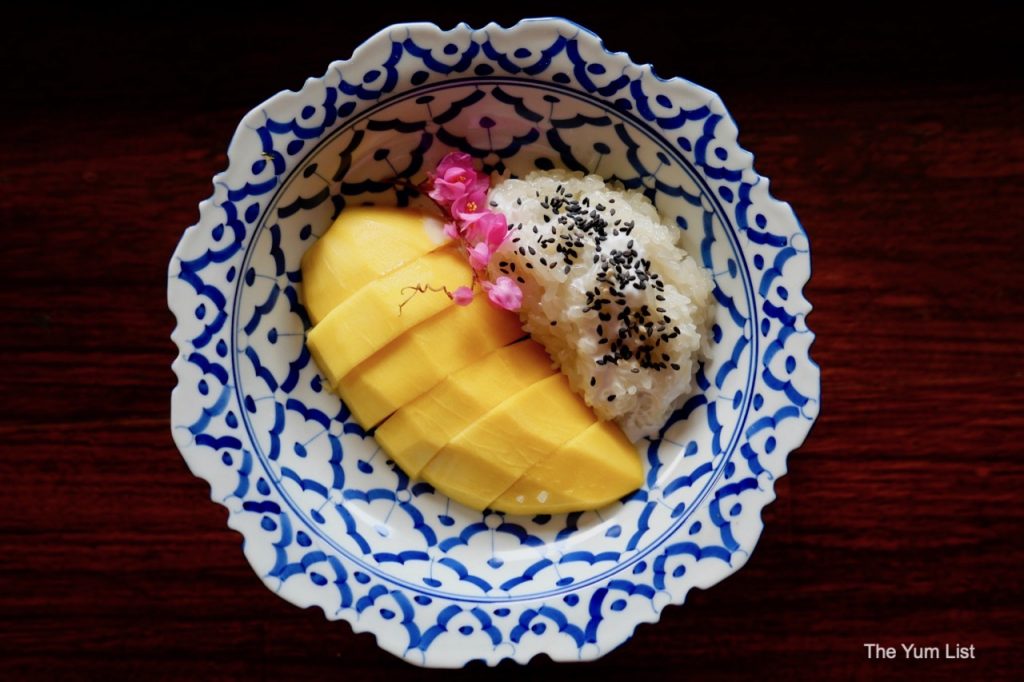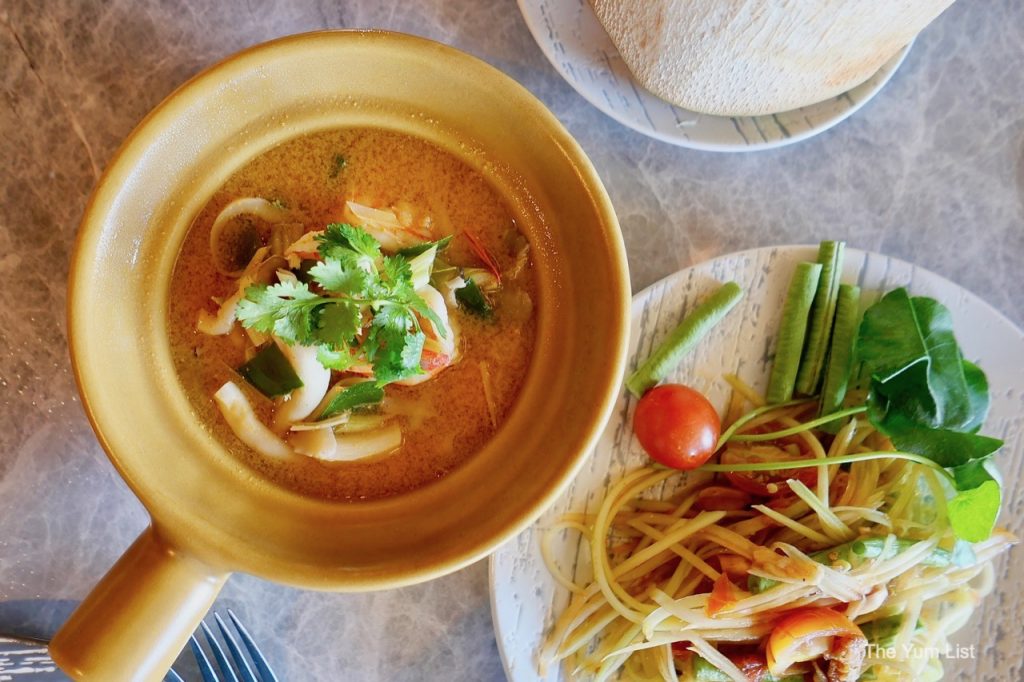 Anantara Desaru Coast Resort & Villas Review
Covering 49 square meters with 108 rooms and villas, two infinity pools, two bars, two restaurants and views of the ocean from nearly every spot, Anantara Desaru Coast Resort & Villas offers excellent service in an idyllic location. Without the hassle of international travel borders, a quick flight or easy drive down to Desaru Coast could be just the beach getaway you've been looking for.
Reasons to visit Anantara Desaru Coast Resort & Villas: Terrific service from highly trained and super friendly hospitality professionals; well-appointed rooms with an eye for detail; and a wild, untouched stretch of beach hard to find in Southeast Asia.
Anantara Desaru Coast Resort & Villas
Persiaran Pantai, Desaru Coast
81930 Bandar Penawar, Johor Darul Ta´zim
Malaysia
[email protected]
www.anantara.com
+66 (0) 2 365 9110
[email protected]