Passage Thru India
Words: Kitty Noble
Photos: Richard Callahan
I love nothing more than a themed restaurant, so I was not disappointed when I arrived at a Passage Thru India. The restaurant first threw open its doors in 1993 intending to recreate a 'mini India.' Each room takes you on a journey through different parts of the country, from the Bedouin feel of Rajasthan with its low benches to modest local village life of Chettinad. Vibrant colours adorn the walls from floor to ceiling with trinkets that have been gathered from all over India. There's so much to take in here, you can be sure you'll spot something different every time you visit.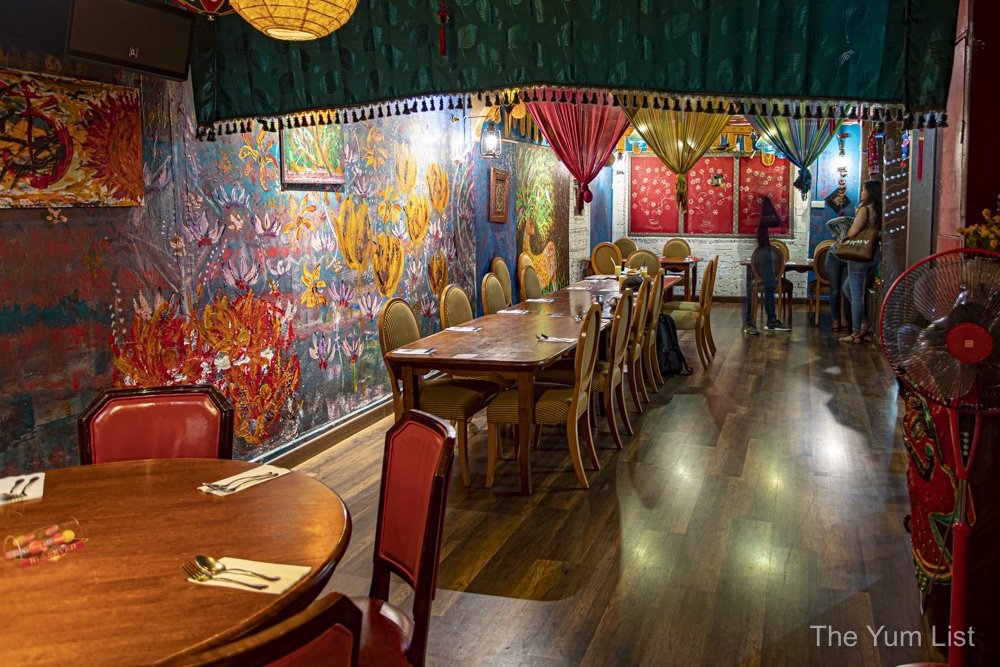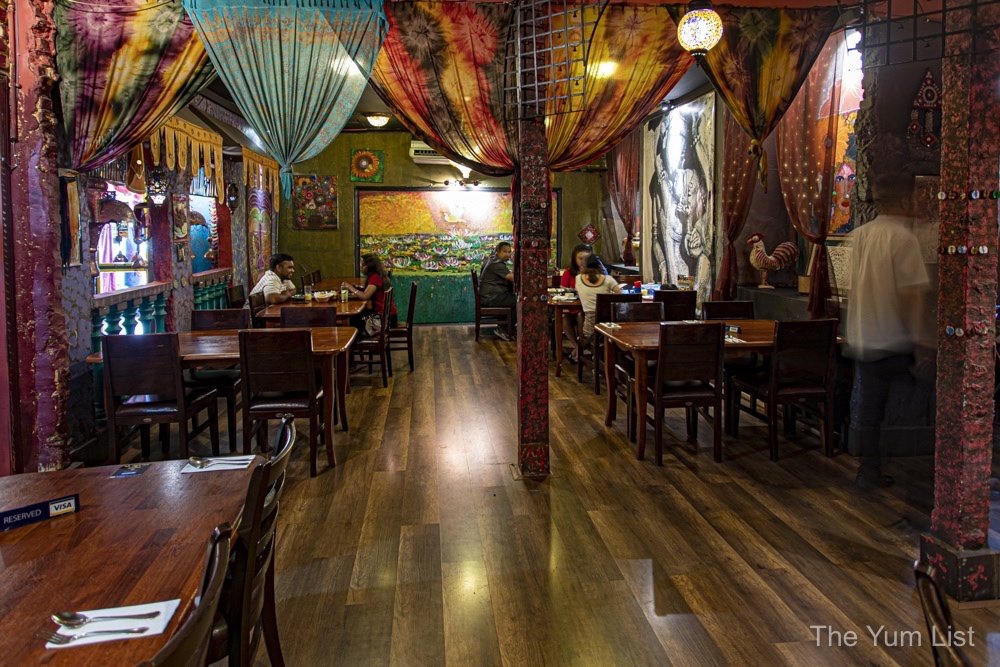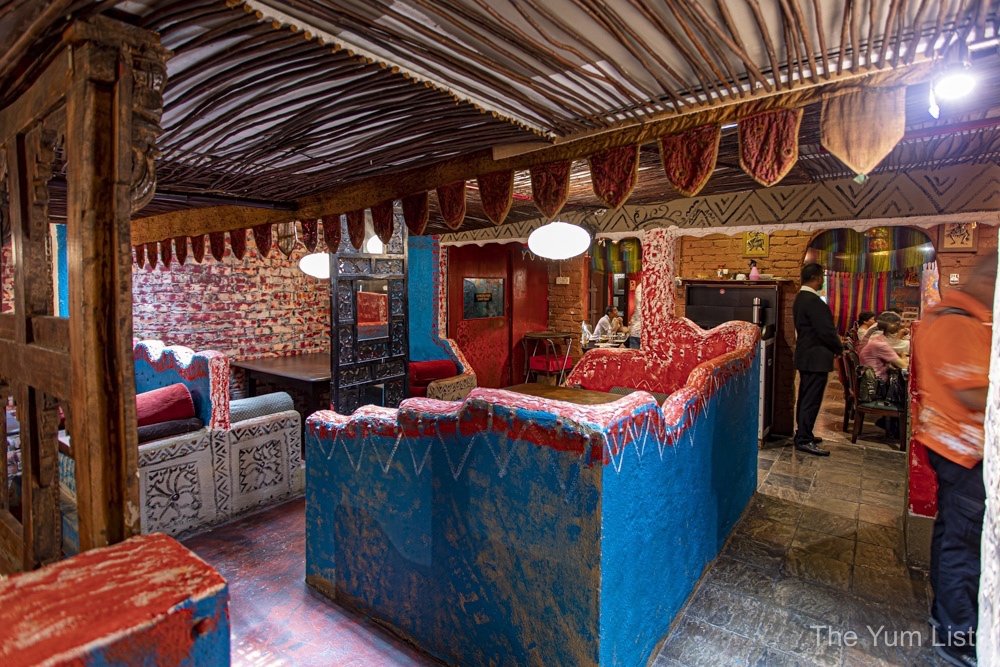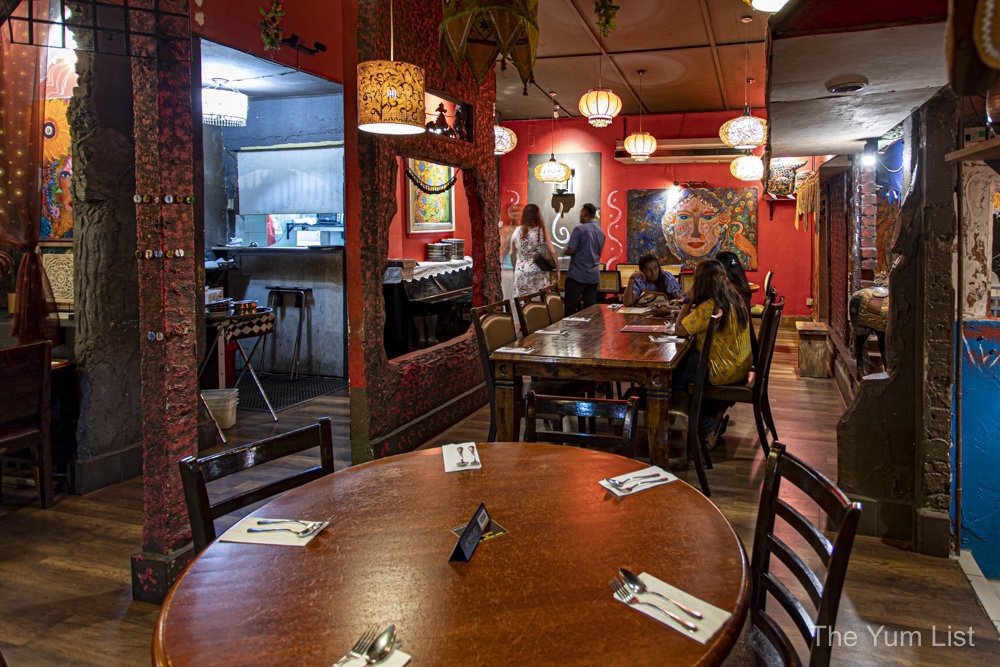 Indian Restaurant Bukit Bintang
S P Selva, the 70-year-old owner, has lovingly hand-painted every surface of the restaurant, in some cases, multiple times. S P, an avid traveller (he was in India at the time of our visit), collects curio and decorations as he goes. An intricate and gorgeous wooden front door we're particularly fond of was initially found on someone's house! The story goes that he knocked on the door, and made the owner an offer, which apparently, he couldn't refuse!
Gaya, head chef and youngest of the three children, started cooking at a Passage Thru India during her school holidays. While she had planned on a career in IT, the infectious passion she developed for the food put a halt to any ideas outside of the kitchen. Her path was soon refocused, and her drive continues behind the scenes today.
With regular travels around India, Gaya and her dad curated a menu of authentic dishes using traditional secrets passed down through generations. Gaya is a firm believer that if you are paying for food, it should be a treat; better than you can make for yourself at home. This was abundantly clear from the dishes to come.
Passage Thru India Menu
Complimentary crunchy pappadams with mint dip and tomato chutney kept the wolf from the door, while we waited for our dishes to be served. The ubiquitous Mango Lassi (RM 7) was slurped down with gusto, with immediate refills requested all round.
We started with a Medium Mixed Tandoori Platter (RM 50). The attention to detail to everything on the plate was superb; right down to the delicately carved vegetables. Sea bass was marinated in a yoghurt tandoori dressing (cumin, coriander, lemon juice, turmeric, yoghurt) overnight and cooked to perfection in the tandoor oven. Goat meat, pounded with a mix of spices, created a tender and flavourful sheesh kebab, while prawns were expertly cooked but not overwhelmed by the spice coating. The chicken was presented in two forms. Malai (white) was simply prepared with lemon, coriander, ginger, garlic and yoghurt (no chilli for the spice averse), and the well-loved tikka chicken boasted a slight kick at the end.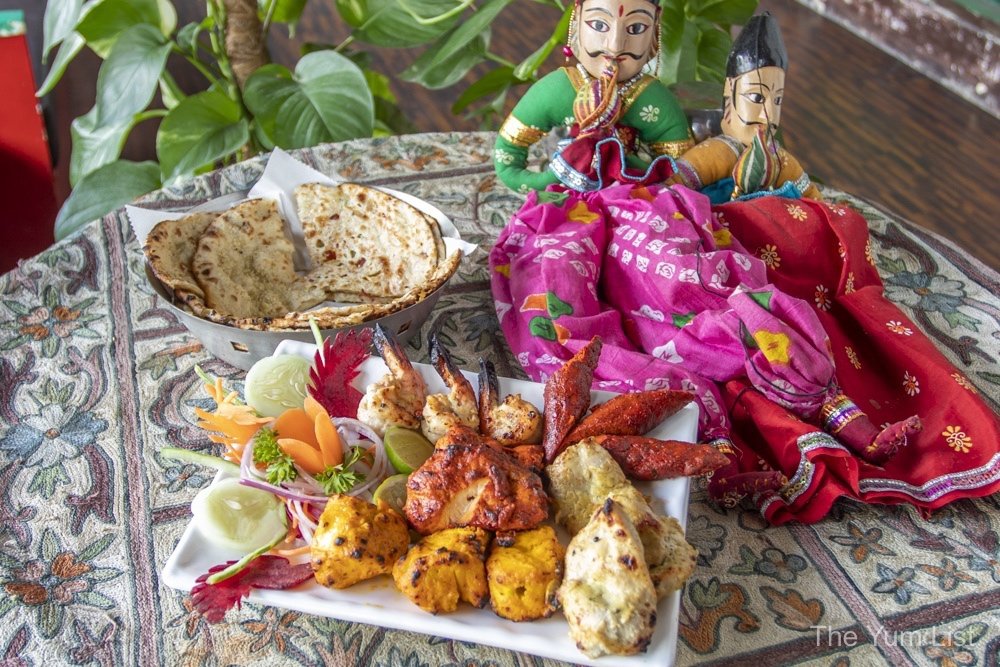 Mains
To mop up the gravies from our mains at Passage Thru India, Mon voted for the Kashmiri Nan (RM 9) with its sweet bursts of dried fruits and nuts. I plumped for the Garlic Nan (RM 6.5), which was as good as any I've had before.
Chicken Dum Biryani (RM 25) could easily be consumed as a stand-alone dish or shared with an assortment of other mains. It was as visually appealing as it was flavourful. Packed with chicken and spices, it had just a delicate zing to tantalise the taste buds.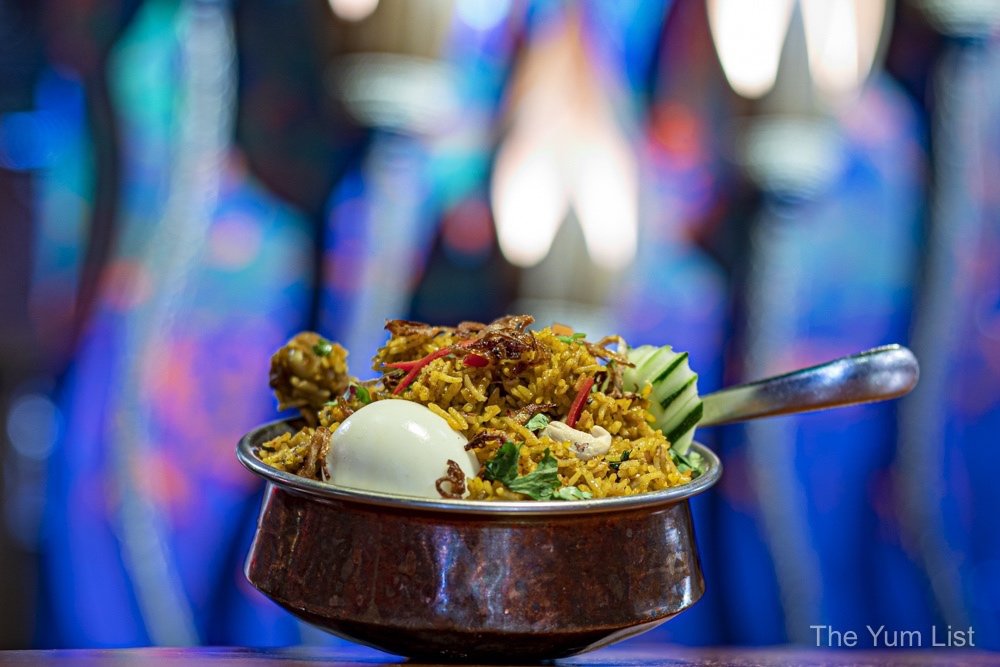 Lamb Rogan Josh (RM 25), made in the traditional Kashmiri way, with a base of chillies and tomato, really packed a punch. It's a good partner for the silky Mixed Raita (RM 11), which cools the heat from the tongue.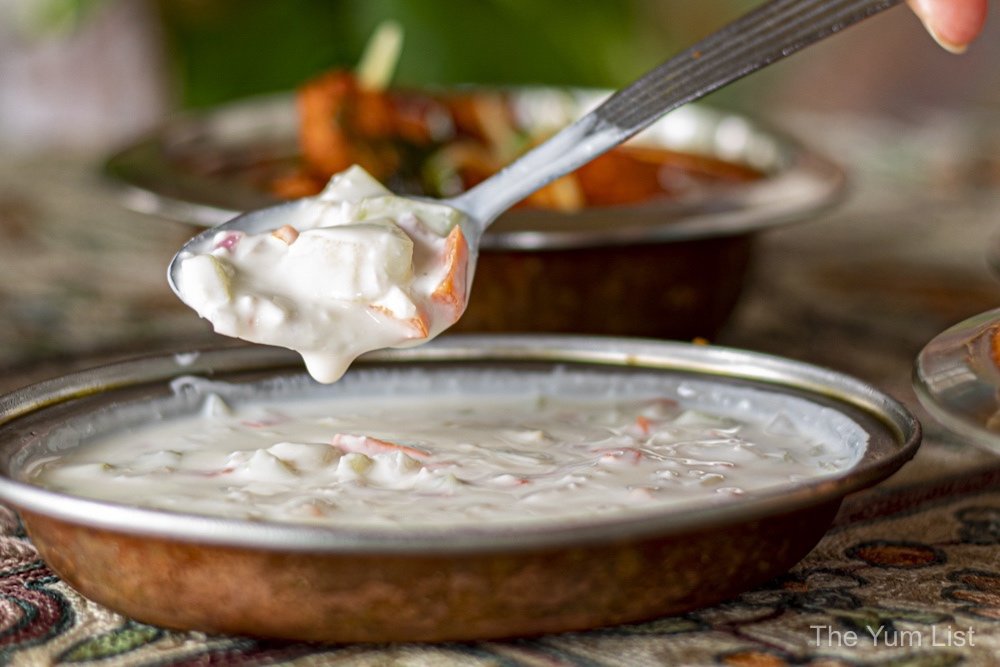 Andhra Fish Curry (RM 23) comes from Andhra in the south-eastern part of India. This region is known for its chillies, which are sun-dried to add a deep smokiness to the flavour. Unlike in Andhra, Gaya adds just a drop of coconut milk to the dish, to make it more appealing to the local palate. As with every recipe, this was made from scratch. Whole coriander and pepper seeds are roasted, pounded and made into a paste, fried in hot oil and stunningly combined with tamarind to add a special touch of sourness. I thought the sauce would work brilliantly with any meat but was reliably informed that it is reserved, specifically, to pair with fish – especially the tender fried seabass that we tried.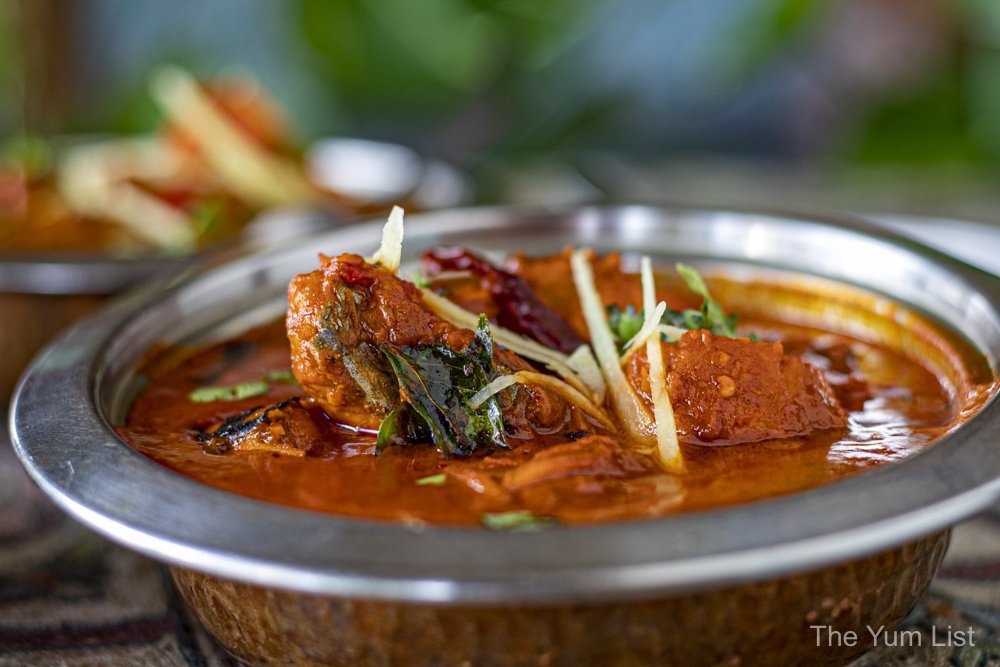 Lastly, you must consider my favourite North Indian, go-to dish of Bhindi Masala (RM 16) at Passage Thru India. Okra is deep-fried with onion, ginger, garlic, tomato, chilli, coriander and cumin. While on paper this is a simple vegetable dish, the myriad of flavours, however, tingle on the tongue and I declare (Scarlett O'Hara much?) it as one of the best I've ever tasted.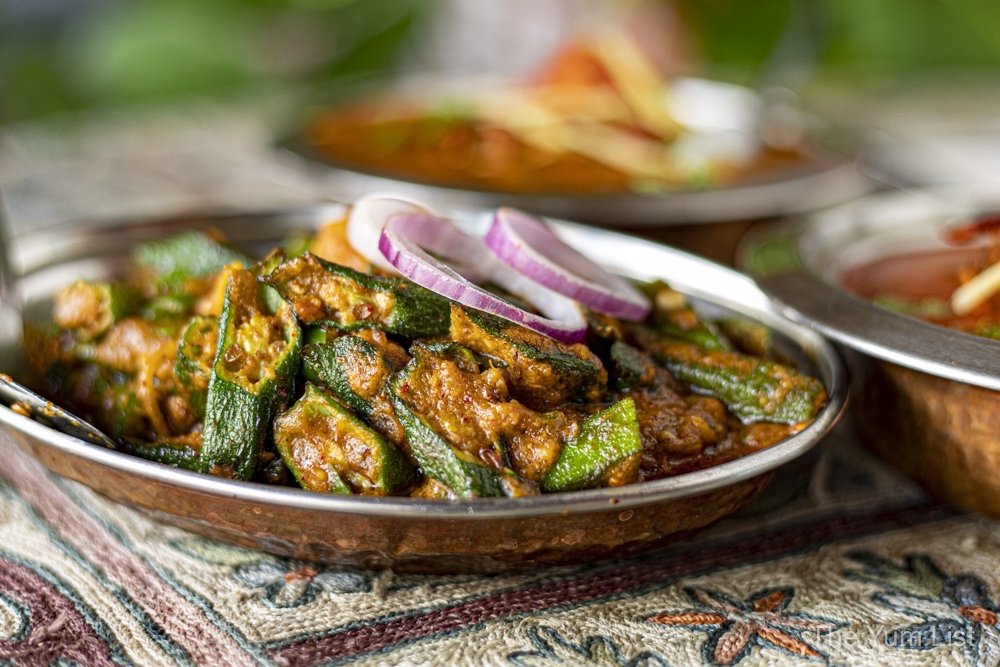 Dessert
No Indian meal would be complete without a sweet finale. Gulab Jamun (RM 9,90) is a milk solid based dessert from the Indian subcontinent, famous throughout the region. Milk balls are cooked in clarified butter and then poached in rose and cardamom-infused sugar syrup. They prove a sweet, delicate end to a sumptuous feast.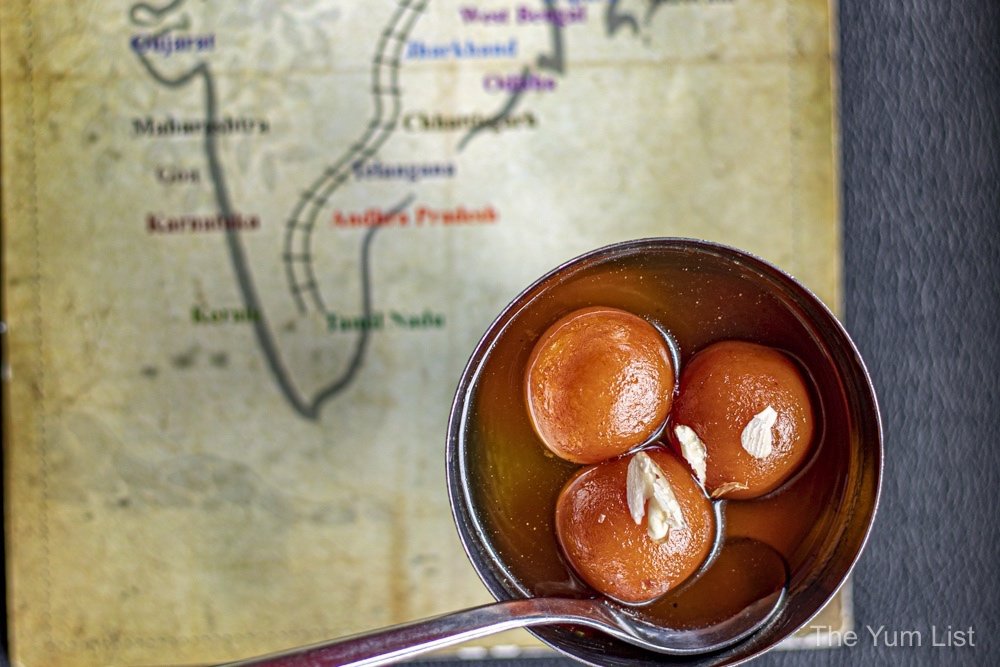 Passage Thru India Review
While the food is the heart of Passage Thru India, the venue is the soul. The unique interior design is certainly worth checking out. It makes an excellent location for meals with groups, especially guests visiting from out of town. Service is warm and welcoming, and recipes are highly satisfying.
Reasons to visit Passage Thru India: eye-catching décor across several themed rooms; a great place to go with a group; the effervescent enthusiasm of Gaya and the team; must order the Mango Lassi, Bhindi Masala and the Mixed Tandoori Platter.
Passage Thru India
4, Jalan Delima (off Jln Bukit Bintang),
55100, Kuala Lumpur, Malaysia.
+6 (03) 2145 0366
[email protected]
www.passagethruindia.com
Passage Thru India Opening Hours
Lunch 11.30am to 2.45pm
Dinner 6.30 pm to 10.15 pm (on weekdays) and 10.45 pm (on weekends)
* Hindi band – Friday and Saturday nights
** Halal-certified meats
*** Small bar with corkage RM 30 for wine and RM 50 for spirits.