Fuego Troika Sky Dining
Words: Monica Tindall
Photos: Rich Callahan
It just became easier to secure a seat at one of the most sought-after restaurants in Kuala Lumpur. Fuego in Troika Sky Dining has introduced a supper menu beginning at 10:30 pm Thursday, Friday and Saturday evenings. Those who couldn't get into the 6:30 pm or the 8:30 pm seating, those with Latino blood, or anyone who just wants a seat at the table, can now get in at the click of a button.
Boasting stunning panoramic views of KL's city centre, delicious Latin American-influenced cuisine, and a vibe that is positively upbeat, it's easy to see why a reservation at Fuego is one of the hottest tickets in KL.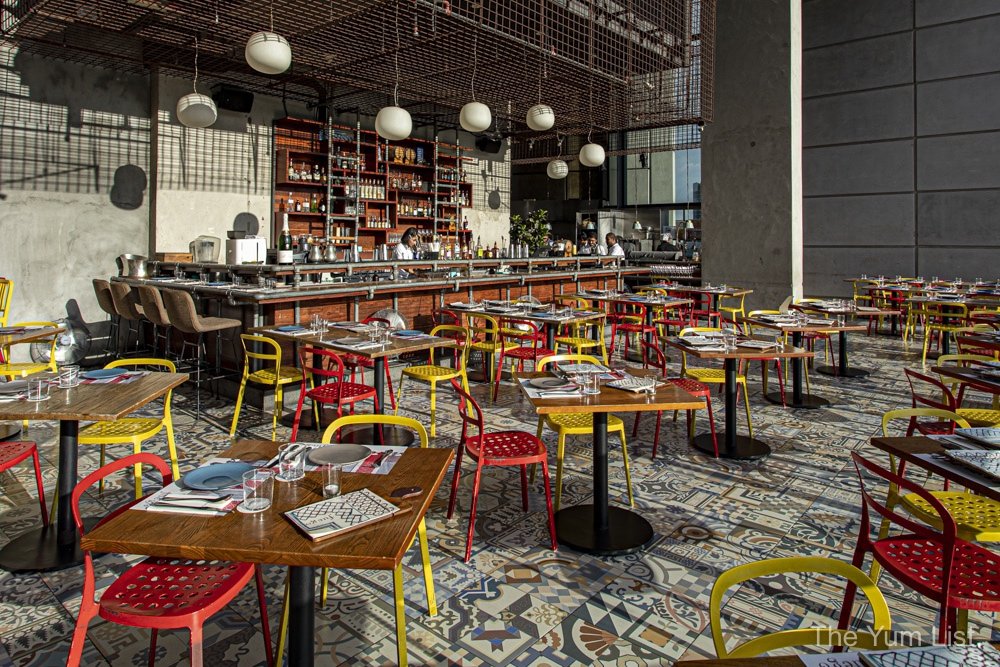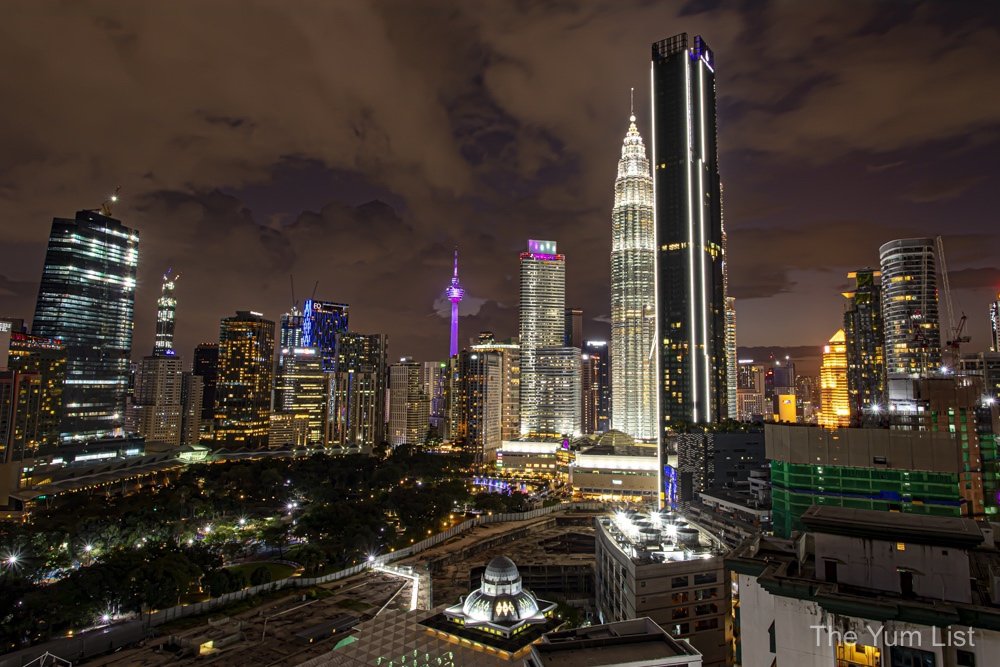 Fuego Cocktails
No matter what session you book into, a cocktail is always a good idea to begin a meal at Fuego. Founded in the classics, particularly those from Latin America, the drinks menu is given Asian zing with regional ingredients spicing up original recipes.
Perhaps the most well-known cocktail on the menu is the Fuego Mojito (RM 44++). Lychee, chilli, mint and lime are infused in Bacardi on the spot via a hand-held syphon. Foamed over crushed ice, it's bright and refreshing with an addictive thread of spice.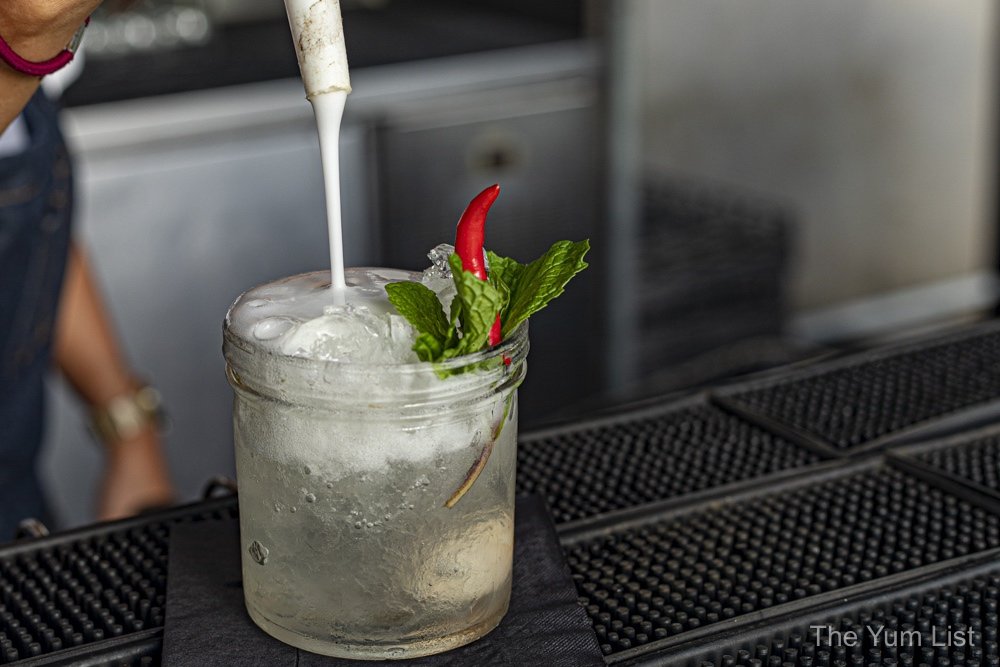 I very much appreciate that the cocktails at Fuego are made with no or minimal sugar. Both the Fuego Margarita (RM 45++) and the Fuego Pisco Sour (RM 46++) offer un-sugared recipes. The former is simply Don Julio Reposado Tequila, Cointreau and charcoal-grilled lemon with a rim of salt. The latter gets pimped up with yuzu and peach liqueur on top of the customary pisco and egg white. In honour of the grape spirit, a trio of black grapes garnish the top along with bitters' love hearts shaped over the foam.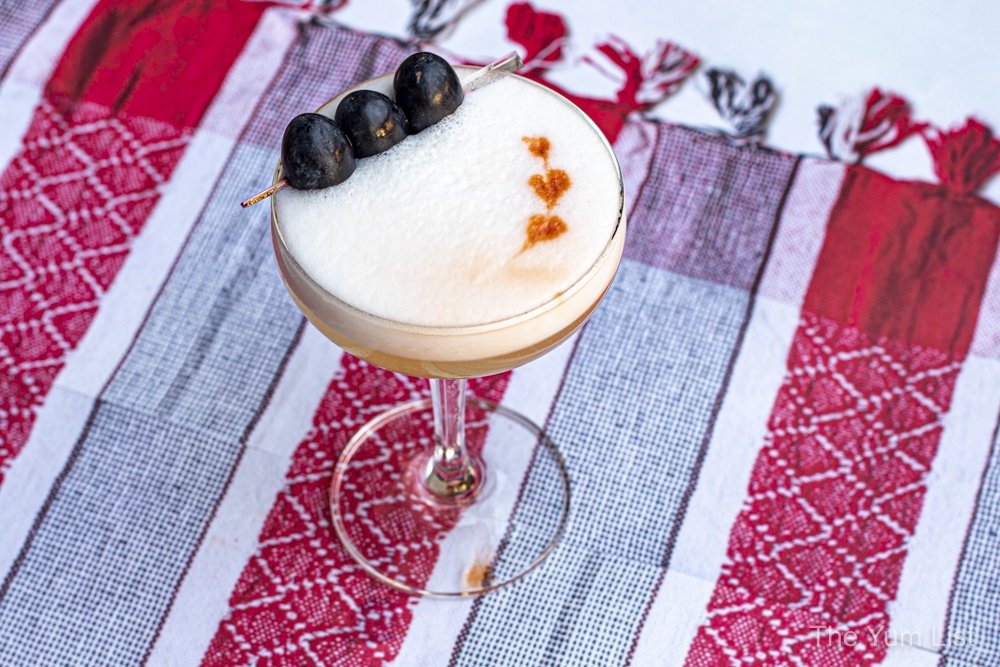 Negroni fans shouldn't miss the Barrel-Aged Negroni (RM 48 ++). The cocktail is delivered as an empty glass atop an ancient volume of The Theory of Business Finance. When the waitstaff are asked, "Where's my drink?", they say you have to do some reading first. Open the book, and you'll find a flask hidden amongst some cut-out pages. The presentation is a bit of fun, and the cocktail is well made too. I have the classic recipe with gin, but you can also substitute it with mezcal for a smokier profile or bourbon for a sweeter finish.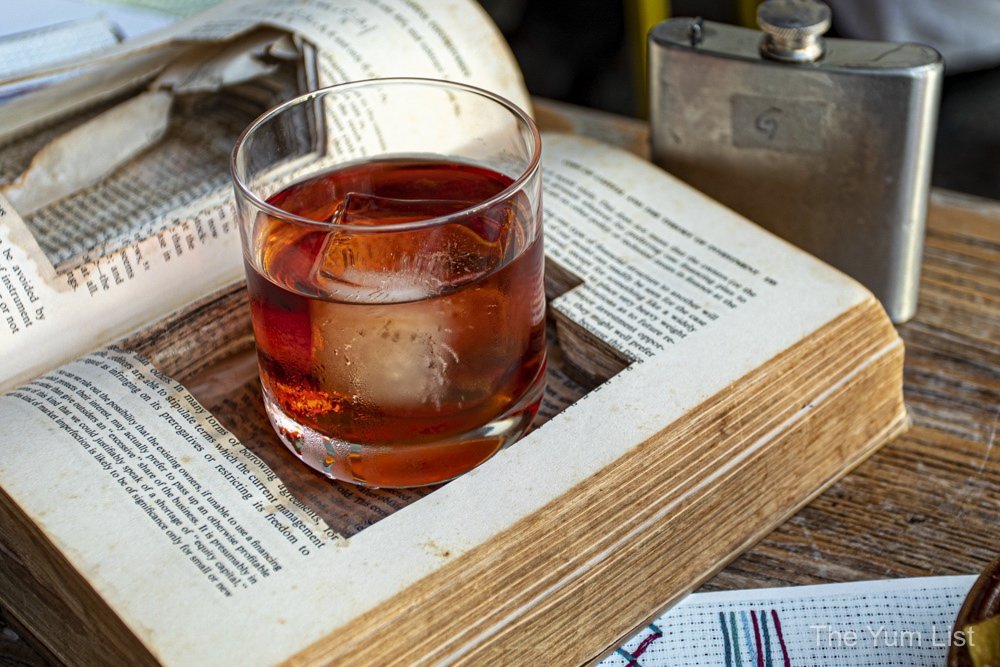 Mezcal
Cocktails are good, but you might want to take the seriousness up a level with some mezcal tasting. Featuring a comprehensive range from an artisanal producer from Oaxaca, Koch El, the recommendation is clear: Sip It, Don't Shoot It. There's a selection of six to choose from, and we try something middle of the range, Koch El Esamble (RM44++). This blend of mezcal made from four different agave species – tobala, tobasiche, cirial and lumbre – has a bouquet of wildflowers and river stones with citrus and a mild smokiness in the palate. A slice of orange with chilli salt works well to take the edge off the straight spirit while at the same time encourages us to take yet another sip.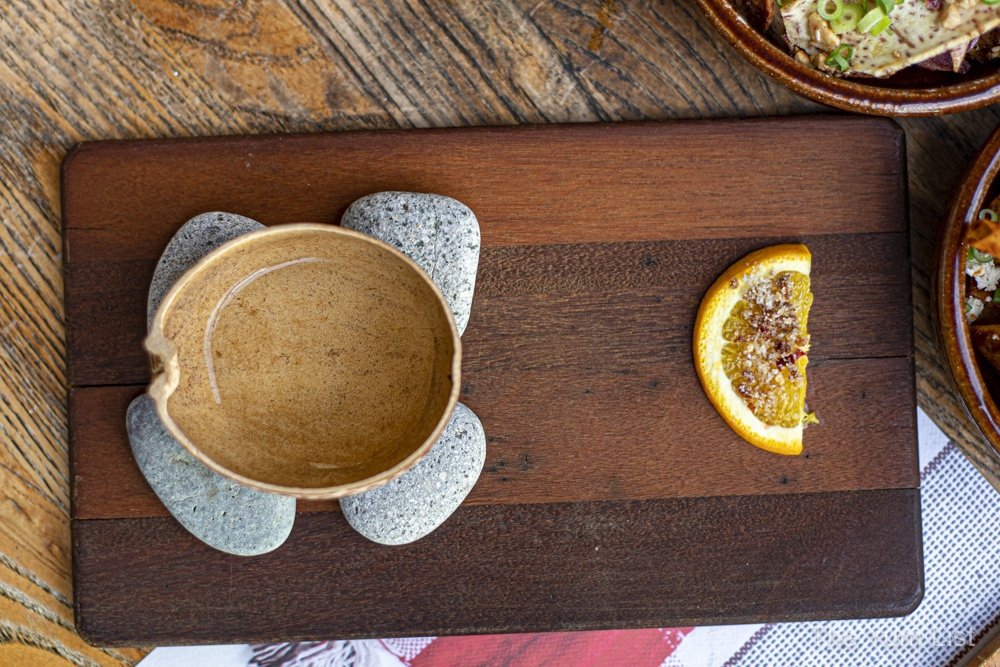 Supper Menu, Fuego, Troika Sky Dining
Tacos
Tacos are the primary feature of the supper menu at Fuego with four choices, including a delicious vegetarian option. Tortillas are all made in house, from scratch with traditional corn dough. The thickness is just right, and each brandishes the scores from the grill. The tacos themselves don't include gluten, but some of the sauces might. Be sure to let the staff know if you want gluten-free, dairy-free or vegan, as the kitchen team can cater to a variety of dietary desires.
I know the meat-free Avocado Taco (RM 25++) will be my favourite before I've even ordered. Avocado, mango, Habanero salsa, carrot mole, wild arugula and cumin toasted pistachio compose a tropical garden of colour and nutrition. The Chicken Taco (RM 25++) comes a close second for me with chicken seasoned with cumin and lime, chilli mayo, avocado and lime. Rich thinks the Beef Taco (RM 28++) has the most appeal. Chipotle braised short ribs are the secret with their fall-apart-at-the-touch-of-the-tongue tenderness and deep, consistent spice. Salsa negra and oregano compliment without overshadowing. Lastly, hubby is appreciative of the Fish Taco (RM 25++) with its buckwheat-battered barramundi keeping it a gluten-free option. Of course, the yuzu aioli goes down tremendously and fresh arugula, jalapeño and pear salsa keep it light and playful.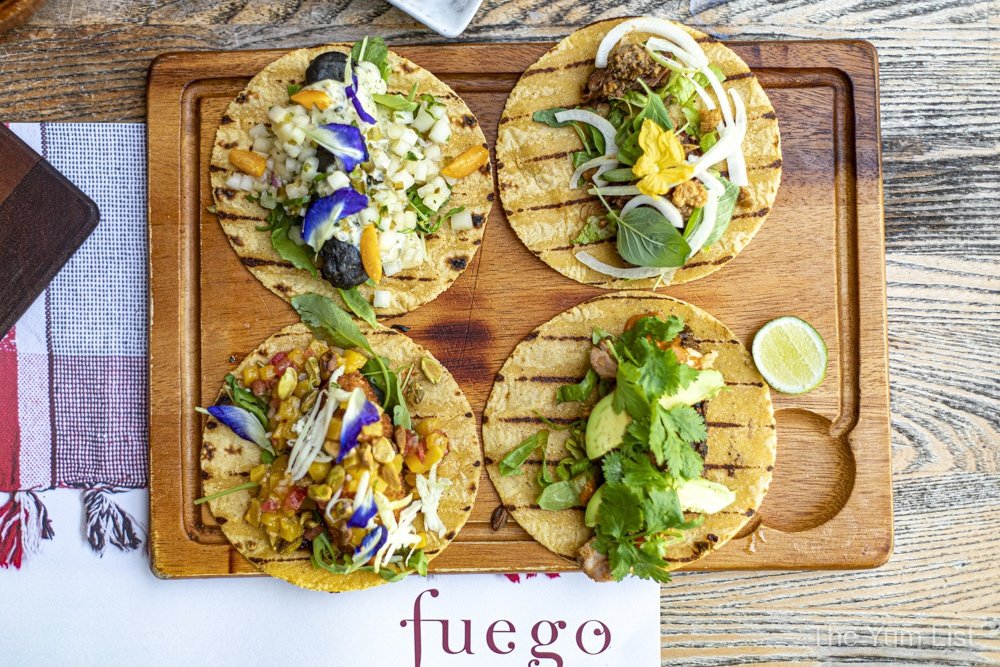 More Latin American Food in KL
The tacos are great, but there's more food ideal for sharing at Fuego Troika Sky Dining. Actually, if you come as a small group (three or four), you could easily order the entire supper menu at Fuego and be entirely satisfied. Fried Chicken Wings (RM 12++) have been similarly coated in buckwheat as the fish tacos, again providing a gluten-free choice. These moist, spiced wings are given a lift with a delicious dry coat of black lime salt. No one either is complaining about the plump generosity of meatiness on every piece – good stuff.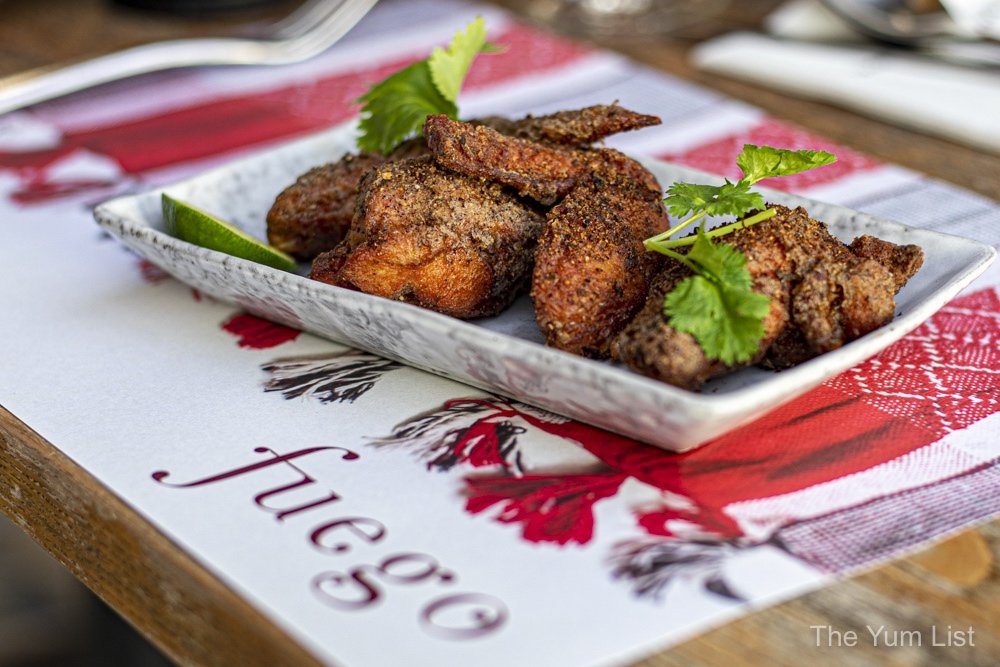 If you're a fan of items off the grill, then the Anticuchos (RM 25++) presents a fantastic option with skewers of chermoula chicken, sweet criolla beef and pine mushroom. The meat is rich with a solid layer of spice, while the pine mushroom offers great texture and the middle eastern flavours in the poultry are superb.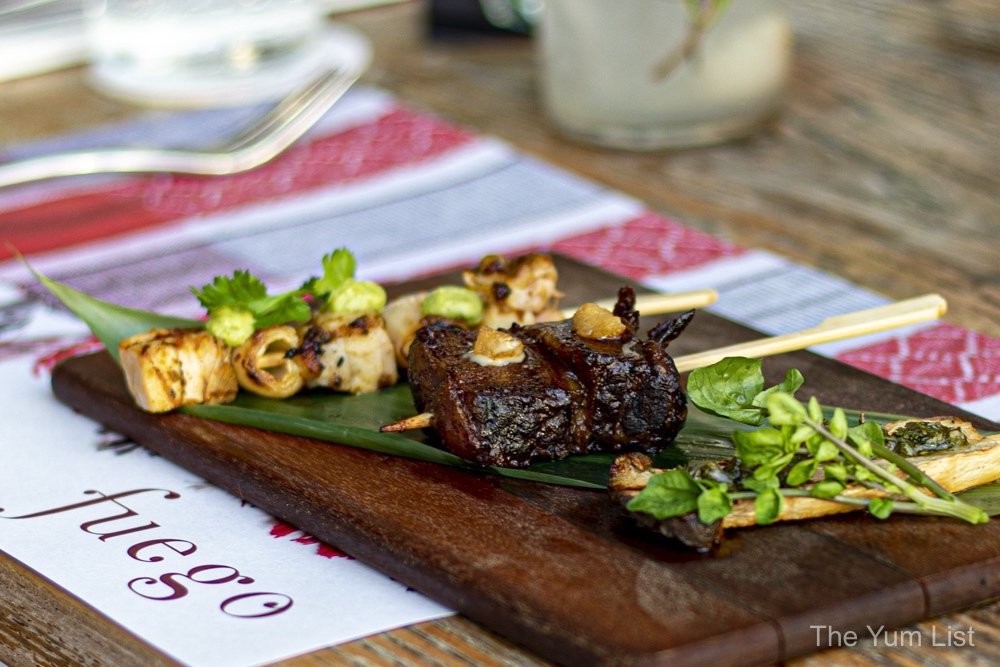 Ideal nibbling for cocktails is both the Root Chips (RM 12++) and the Totopos (RM 12++). The first sees purple sweet potato, lotus root and plantains finely sliced and coated in a plum and calamansi sauce. The second bowl is as equally addictive with crisp tortilla chips topped with a chilli reduction and feta cheese. Originating from the Aztec language, totopos mean "tortillas that are noisy to chew," so do dig in and enjoy these chips with gusto.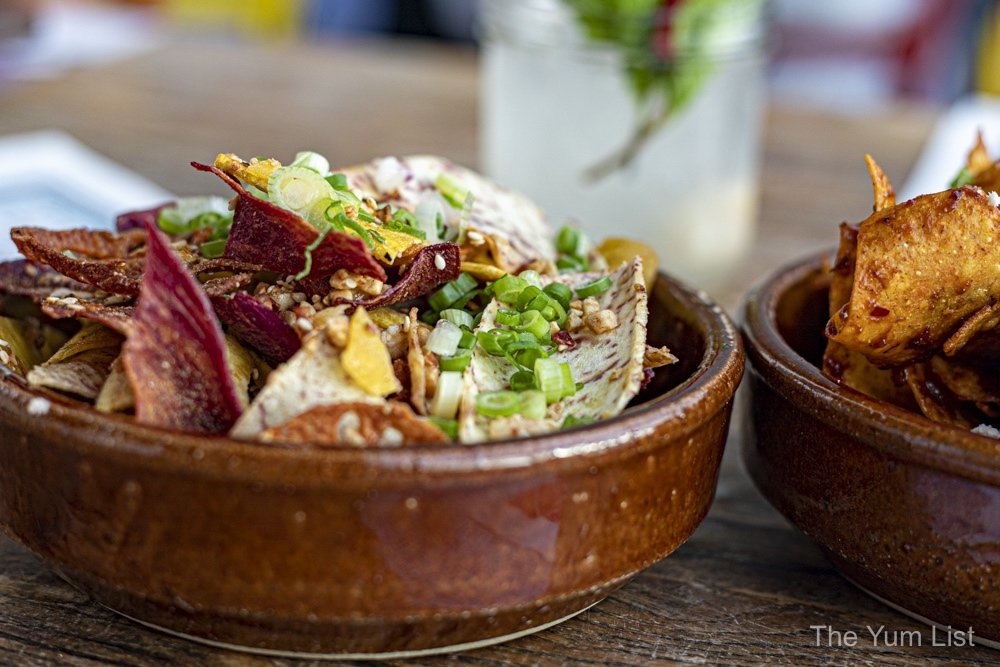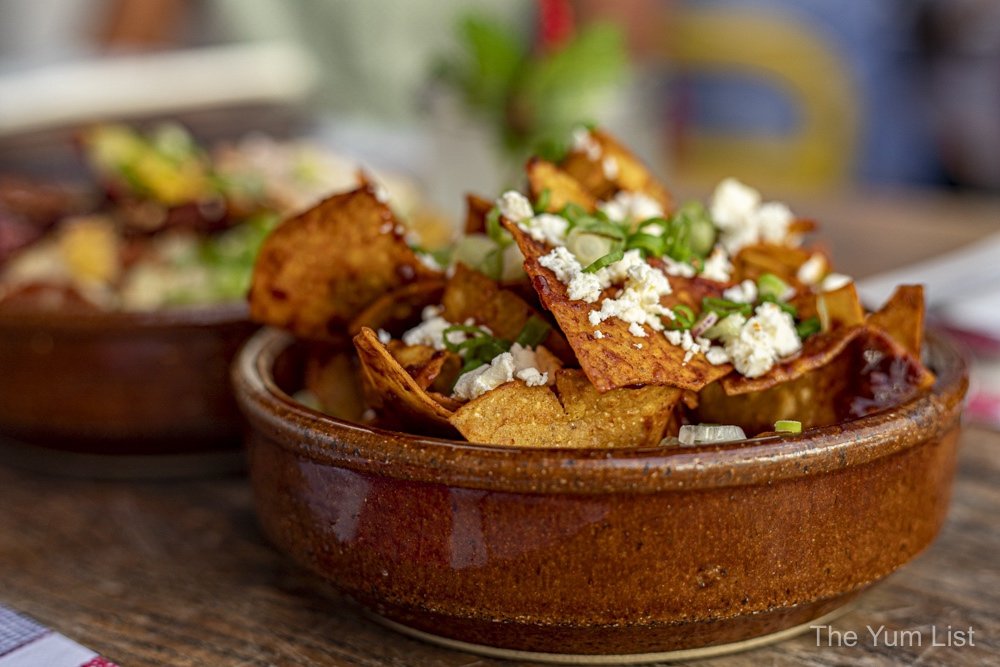 Dessert
Last but certainly not least, Fuego Churros (RM 35++) are a must-order on any occasion. Crisp on the outside, soft in the middle and dusted with cinnamon sugar, the primary specimen is close to perfection. Add on a big scoop of dulcey crémeux and salted caramel espuma and you could try sharing them, but I bet a second order is soon requested. Unstoppable tastiness.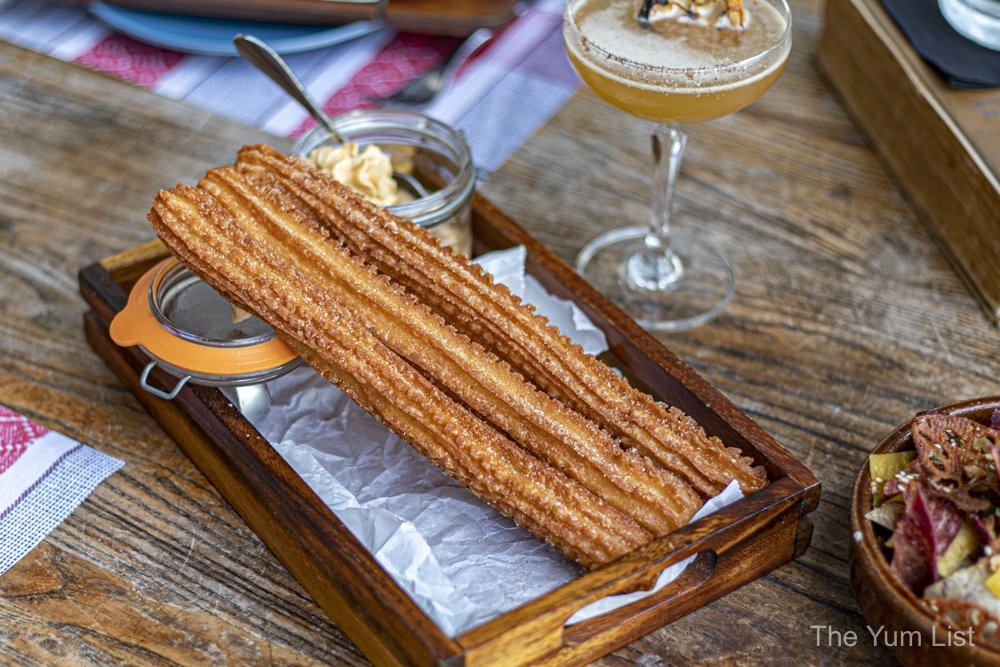 Fuego Troika Sky Dining Review
Fuego at Troika Sky Dining has a magical combination of setting, views, great food and drinks, an upbeat vibe and friendly service. It is well-deserving of its legendary status in KL, and I can see why a third seating is well-received. 
Reasons to visit Fuego Troika Sky Dining: beautiful setting and views; it's always full with a happy, upbeat crowd and vibe; great Latin American-inspired menu; excellent cocktails; friendly service; they now have a third seating at 10:30 pm!
Fuego Troika Sky Dining
Latin American Inspired Restaurant KL
Tower A Level 23A The Troika, Persiaran KLCC
50450 Kuala Lumpur, Malaysia
+60 3 2162 0886
troikaskydining.com/fuego
Fuego Opening Hours
Daily 6 pm-midnight
Two seatings Sunday to Wednesday
Three seatings Thursday, Friday and Saturday