Dermal Fillers Kuala Lumpur
Monica Tindall
I am at the age where wrinkles, sagging skin and loss of volume are becoming increasingly evident. Earlier in the year, I visited Dr Kuljit Singh at Damansara Heights Wellness Clinique, and he recommended a K-Lift for my drooping brow. I was impressed with, not only the results but the overall professional and caring experience. When it was time to seek advice on the rest of my face, I had no hesitation in returning.
Often advertisements make aesthetic procedures sound easy and risk-free. While many medical beauty treatments these days are minimally invasive and relatively safe, many things can go wrong. Product and person are the two major factors I use when evaluating a clinic. Materials used must be approved, and the doctor has to be experienced. For peace of mind, I want the chances of anything going wrong to be the absolute minimum; it is my face after all!
Dr Kuljit suggested dermal fillers (different types for different areas of my face) as a value-for-money solution for wrinkles and loss of volume. But first, I had loads of questions, to which he happily answered. (Scroll down if you want to see the before and after photos straight away.)
What are dermal fillers?
Fillers are gel-like substances that are injected under the skin.
Dermal fillers are temporary injectables, easily absorbed by the body, that help with smoothing out wrinkles, augmenting facial features and plumping up the facial volume. In some cases, they also assist in restoring moisture and rejuvenating the cells. Depending on the depth the filler is injected, as well as the skill of the doctor, fillers can be used to benefit and enhance your features temporarily or permanently.
What are dermal fillers used for?
At DHWC Malaysia, they are used to maintain or boost a K-Lift and help to plump and rejuvenate the skin. As well, they can smooth out wrinkles and lines and, restore volume to places that need it the most. Fillers can also be used for facial contouring and to rectify asymmetry.
What are the most popular areas requested for fillers in Kuala Lumpur?
Face
Nose
Neck
Hands
Penis
G Spot
Breasts
Are there different types of dermal fillers?
There are multiple types of dermal fillers for various conditions. The most common and widespread, however, are those made with hyaluronic acid, as their effects are easily reversed.
1. Hyaluronic acid – most common and prevalent, can be reversed but may migrate
2. Calcium hydroxylapatite – mineral-like compound, cannot be reversed but can break down on its own, may migrate from the injected spot
3. Polyalkylimide – silicon, cannot be reserved, must be surgically removed, can migrate.
4. Polylactic acid – synthetic polymer silicon-based, cannot be reversed, must be surgically removed, can migrate.
5. Polymethyl-methacrylate microspheres (PMMA) – dense silicon, cannot be reversed, must be surgically removed, can migrate
Who is a suitable candidate for dermal fillers?
To be honest, any age group can be suitable for dermal fillers. We treat patients with facial or body deformities as well as those who need fillers to rectify surgical mishaps. Many people want some enhancement and rejuvenation to plump or keep things high and lifted. We are even able to assist those who desire a little temporary contouring to spice up their bedroom activities. Fillers are also a popular booster option for patients who've had the K-Lift and other thread/facelifts as they help maintain the lifts for longer, giving better results.
What are some of the dangers associated with dermal fillers?
To be honest, there are quite a few. That is why patients must do their research. Don't focus on low prices; focus on the doctor whom you trust with your face and body. Look into the ingredients listed in the filler and make sure the place you go to only provides their patients with authentic products.
Dermal fillers, if injected by a less than experienced hand and in the wrong place, can cause complications such as necrosis and blindness. On top of that, if the filler is fake or not approved, you will most likely experience transplant rejection, infection and mutation.
While authentic and approved dermal fillers are no doubt pricey, the costs triple when a doctor has to rectify the problem. Unfortunately for some cases, the filler is not able to be surgically extracted or dissolved, which results in permanent damage.
How long do dermal fillers last?
Temporary: from 8 -12 months
Semi-permanent: up to two years
Permanent: permanent
What are the three most important things to evaluate when considering dermal fillers?
Only go to places that provide genuine products approved for medical use.
Do your homework, get to know which filler is used for what area. Don't just take your doctor's word for it.
Consider the person whom you trust with your body/face.
Is the procedure painful?
If done correctly by a skilled hand, the pain is negligible. Numbing cream is provided, but nothing more than that is needed.
What's the difference between the use of a cannula and needle in placing dermal fillers?
Pros with the cannula
Less traumatic to the area
Less chance of bruising
Better placement of filler
Cons with the cannula
Depending on the doctor's skill level, they may not be able to inject the fillers to the exact area needed.
Pros with needles
Because the needle is sharper than a cannula, your doctor can inject the filler at the exact point it's needed.
Cons with needles
More painful
Traumatic to the area
Risk of bruising is higher than the cannula
Complications are higher as the needle can puncture tiny blood vessels easier leading to additional pain and bruising
What is the downtime?
The downtime for dermal fillers is almost none. Patients are known to have their treatments done during their lunch hour and head back to work right after. If using a cannula, bruising lasts for one to four days. Needles can cause bruises that last from five days to two weeks.
What post-care is required?
I advise all my patients not to touch the treated area for two weeks. No massaging, no pressing, no curious pokes and prods as they might misplace the fillers, spread them out, or worse, move them. As fillers are synthetic to the body, like vitamins, we have to give them time to adjust and form a symbiotic relationship.
How soon can I expect to see results?
When dermal fillers are chosen for the right purpose and used in the right areas, patients see immediate results, which improve over time.
What is the price of dermal fillers at DHWC, Kuala Lumpur?
Depending on what areas injected, the price usually ranges between RM 1500 and RM 3500.
Dermal Filler Review Kuala Lumpur
Questions answered, I was ready to go ahead with dermal fillers at DHWC KL. Nasolabial folds, marionette lines, cheeks, under the eyes and my temples all benefited from some additional plumping.
The most painful injection was that in the hollows of my temples. I was also the most nervous about this area. In skilled hands and with the right product, however, everything turned out fine. After that, the area around my lips, the marionette lines were the next most sensitive.
As Dr Kuljit used a cannula for the majority of the injections, there were very few marks on my face. The entry point on both of my cheeks did bruise and lasted nearly two weeks before it subsided. As you'll see from the photos though, it was disguised easily with makeup. The results were immediate, with the best effect seen after two weeks when my skin smoothed out, and all bruises and swelling subsided.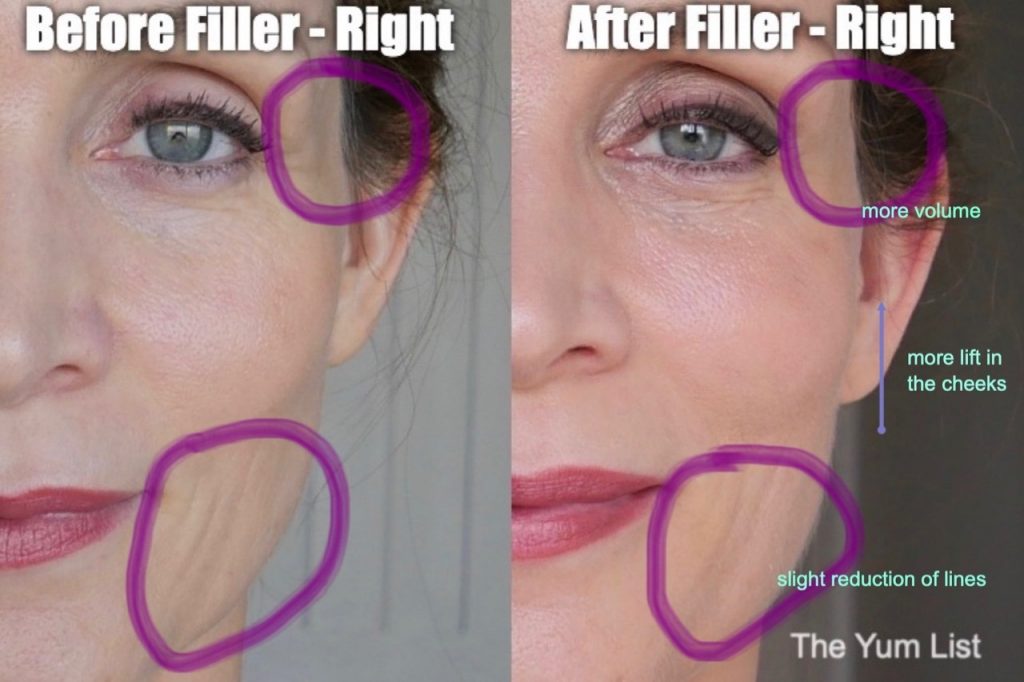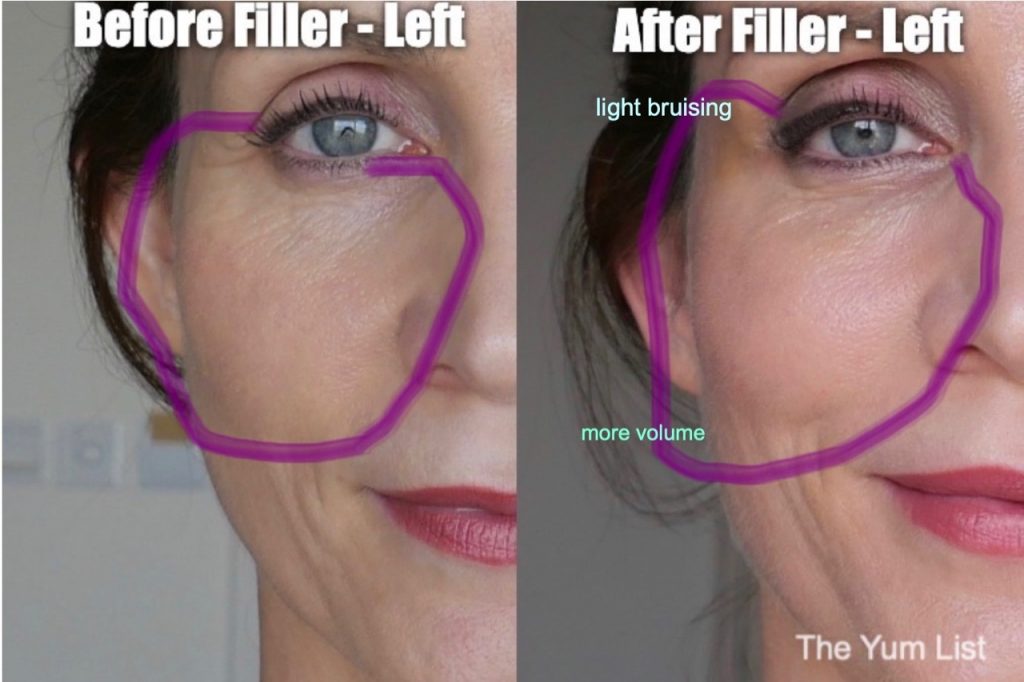 In summary, my experience with dermal fillers at DHWC Kuala Lumpur was thorough and professional. I felt Dr Kuljit was willing to spend time answering all of my questions and educated me in the process. He talked me through each step of the journey and provided post-treatment follow-up. Communication between patient and doctor was excellent, and I went into the procedure feeling well-informed. The nursing team were warm and kind. They offered to hold my hand or tap my shoulder when they noted any signal of anxiety during the procedure. The whole team's friendliness and kind-hearted sense of humour made me feel right at home and in caring hands. The most important thing, however, is that the results were excellent and the procedure extremely safe. If you are looking for an anti-wrinkle treatment with immediate results and little downtown, I highly recommend trying dermal fillers at DHWC Kuala Lumpur.
Reasons to try dermal fillers at DHWC, Kuala Lumpur: only approved dermal fillers are used; highly experienced doctor; excellent communication between patient and doctor; zero pressure to purchase; honest, up-front consultation; noticeable but natural results.
Dermal Fillers Kuala Lumpur
DHWC, Damansara Heights Wellness Clinique
No. 21, M, Jalan Medan Setia 1
Bukit Damansara, 50490 Kuala Lumpur
Malaysia
www.facebook.com/dhwcmalaysia
www.dhwcmalaysia.com
[email protected]
+6 016 336 6939
*Appointments are essential.
DHWC Opening Hours
Monday to Friday: 10 am – 6 pm
Saturday: 10 am – 4 pm