Champignons Delivery Menu MCO
Monica Tindall
I have not visited Champignons at Oasis physically. Still, today, thanks to their new delivery menu, I do get a taste of Chef Gary Chang's cooking in my home.
Describing their style of cuisine as "contemporary European with a modern twist," the kitchen team use local ingredients prepared with modern technique. Champignons delivery menu for the duration of the MCO is divided into roasts, starters, pasta, main courses, dessert and a short wine list. Today we taste across the menu and complement it with a bottle of pinot noir.
Champignons Delivery Menu MCO
Starters
Creamy Mushroom Soup with Garlic Bread (RM12) is a reasonably priced and tasty entrant. Clearly, a variety of fresh mushrooms have been used as evidenced by the texture. Still, it pours naturally, pointing to the absence of artificial thickeners. The two quarters of garlic bread are a welcome change from the more common croutons.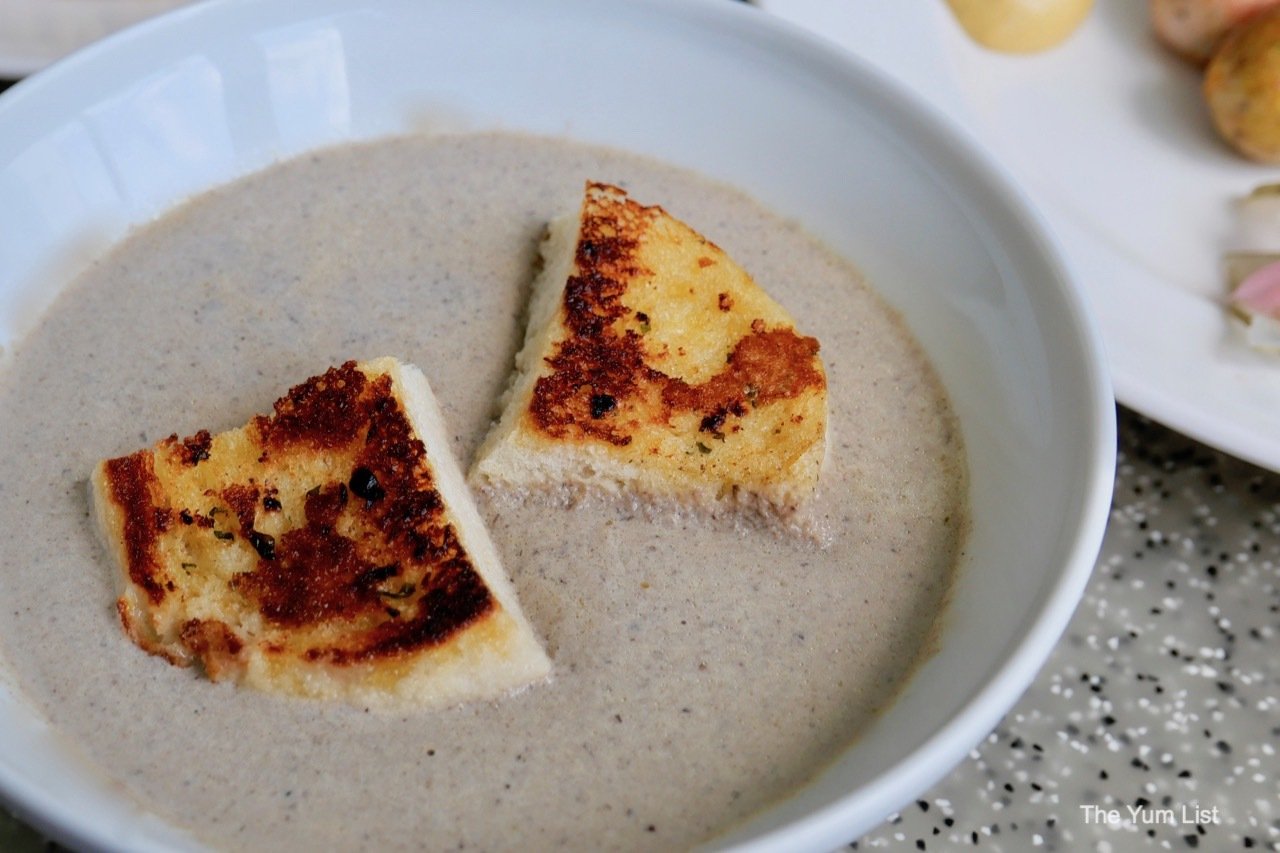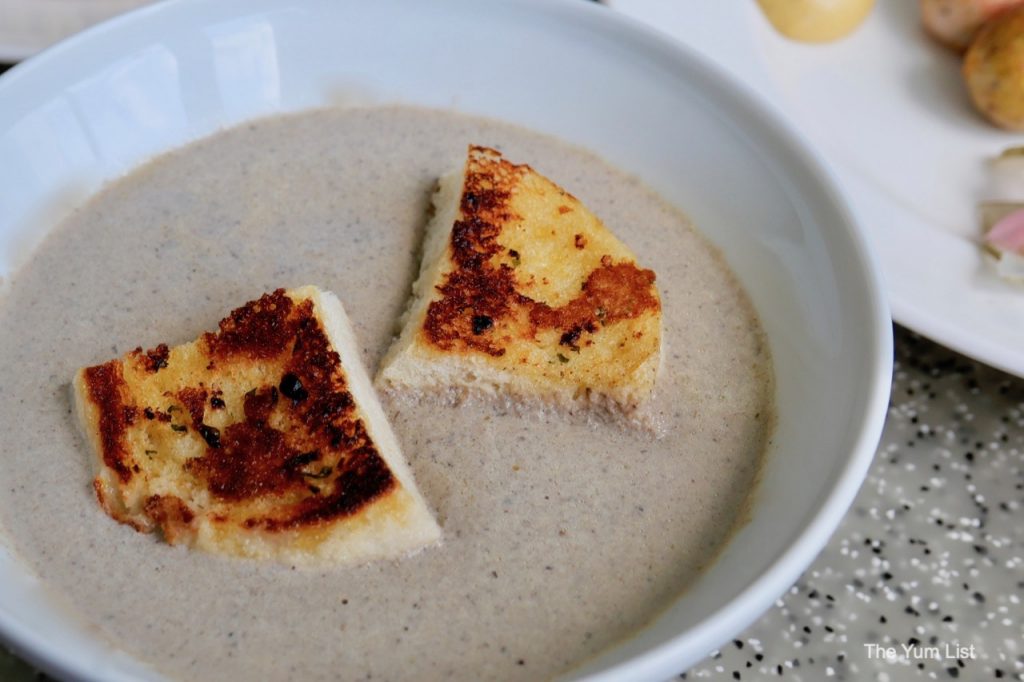 Something to peak the interest of pork lovers are the Homemade Garlic and English Curry Pork Sausages (RM17). They're fat and flavourful. I can't be sure, but it would appear that the casing is natural rather than synthetic. Mustard, pickles and a light salad on the side balance the richness of the sausages.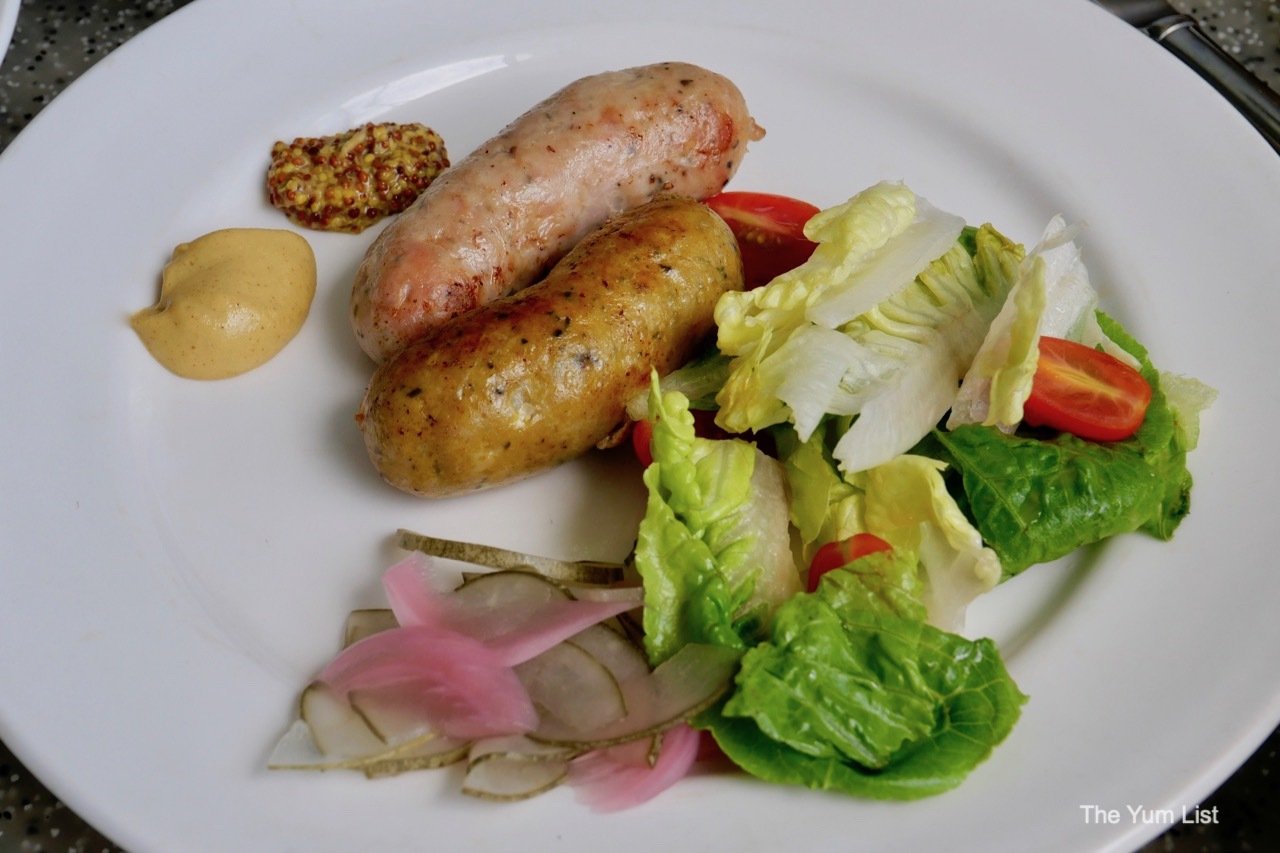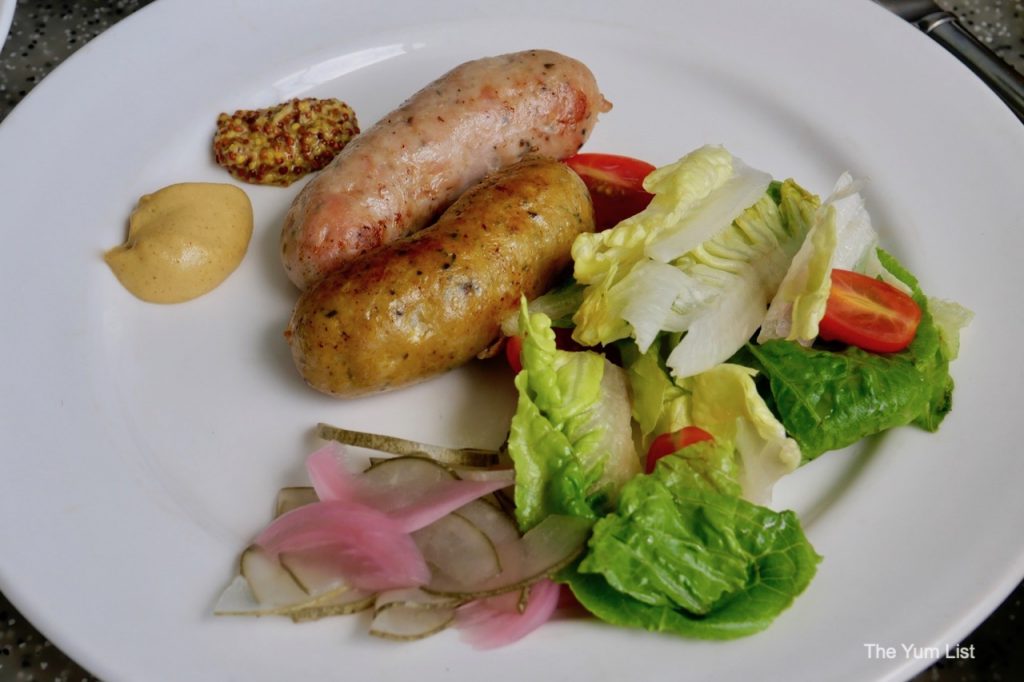 Pasta
One of chef Chang's signature dishes, Market Seafood Squid Ink Spaghetti (RM30), is a delight to the eyes. Jet-black strings of pasta contrast vibrant prawns and fresh basil leaves while at the same time almost camouflaging the mussels. A touch of chilli and lemon zest lift this dish, adding warmth and a subtle tang.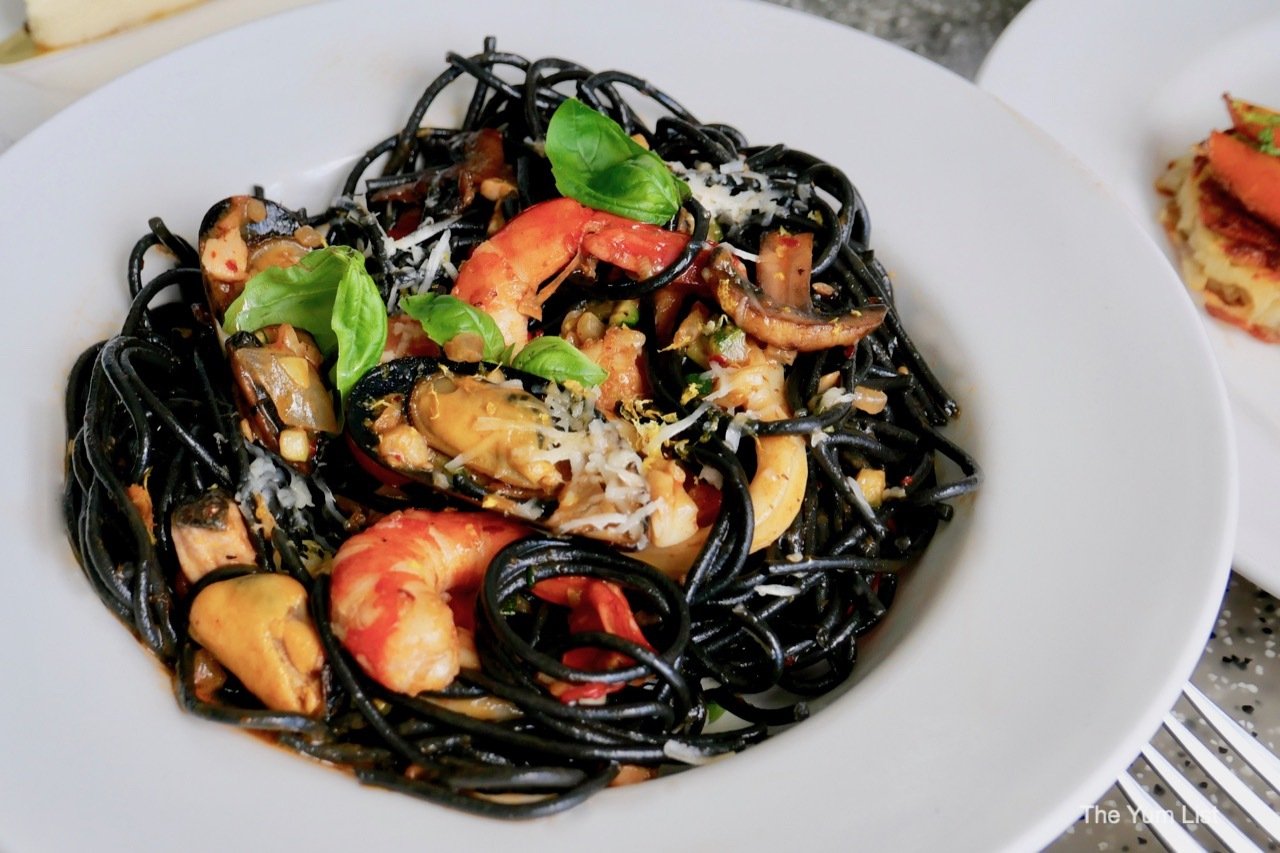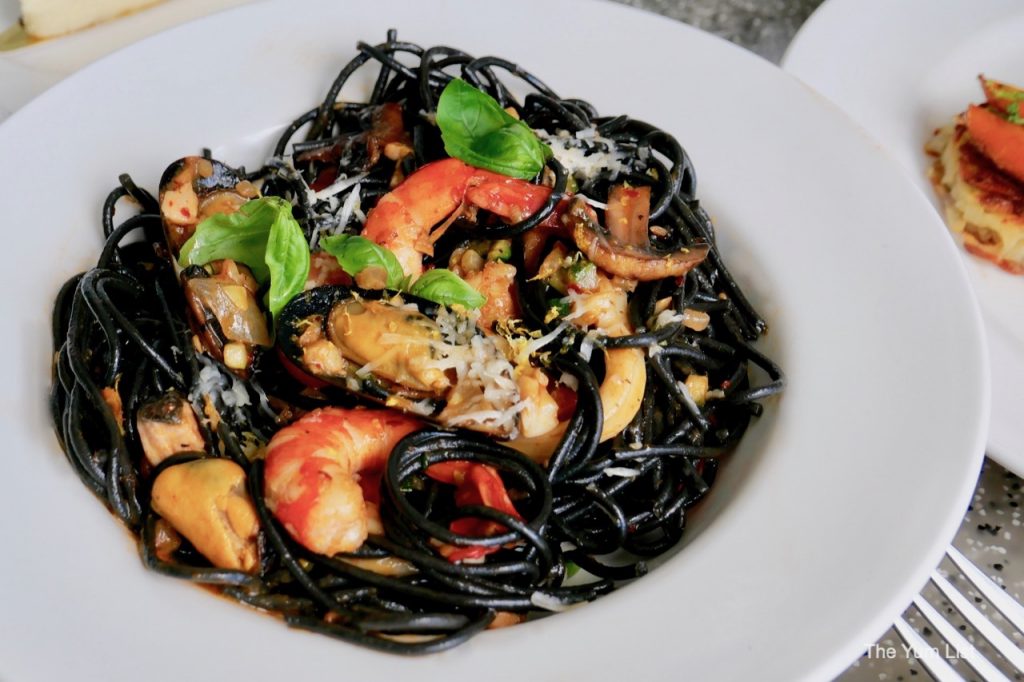 Main Courses
Aromatic Duck Confit (RM31) is a solid choice of main. Partnered with honey-roasted carrots and potato rosti, the plate is wholesome and comforting. The flesh of the poultry is moist and salty, and the gentle sweetness of the vegetables harmonise the profile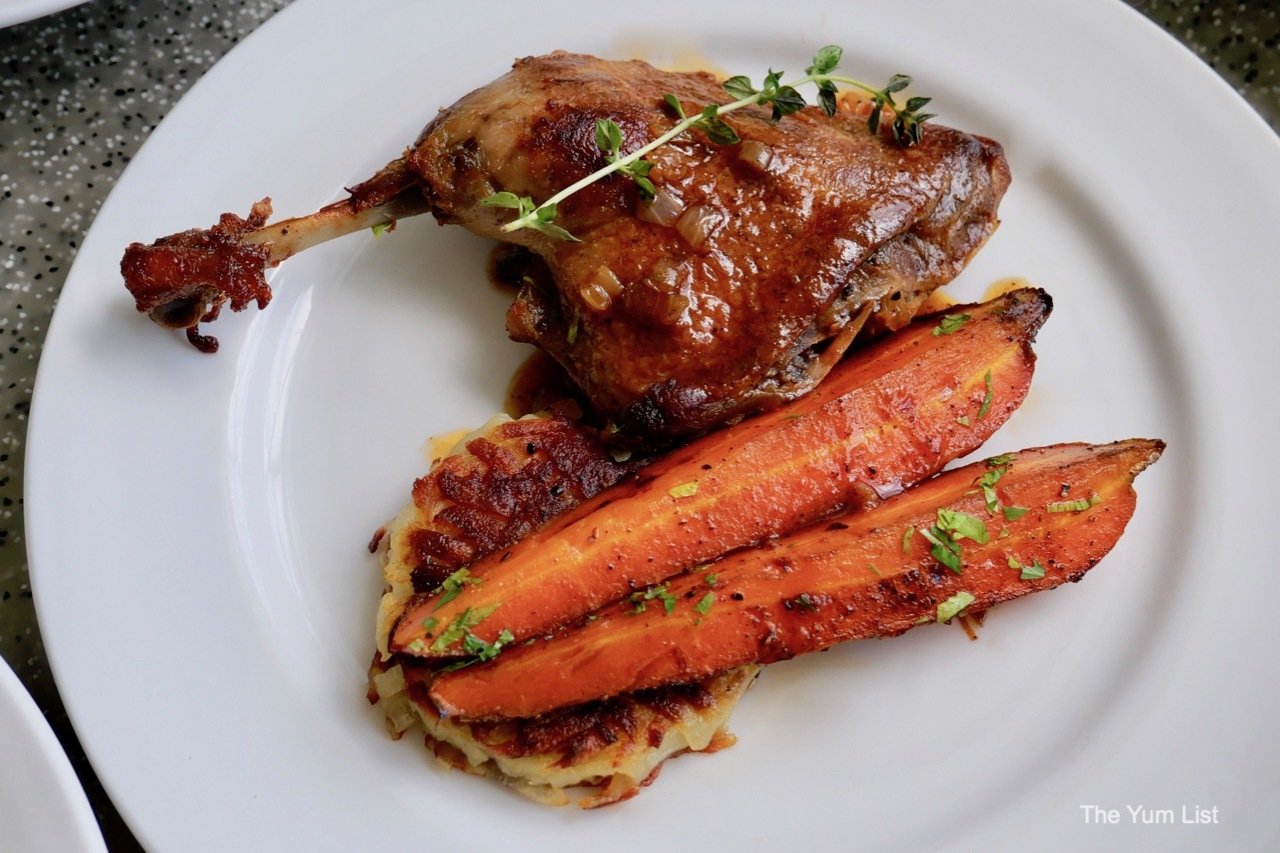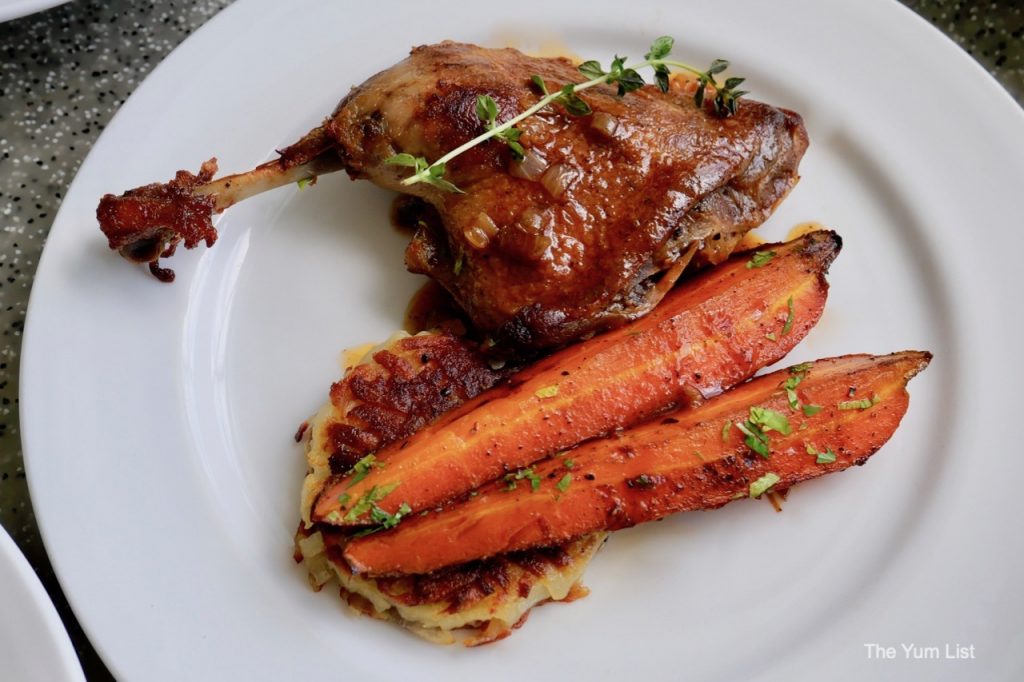 Buy 1 Free 1 Promotion
Seared Salmon with Spaghetti Aglio Olio, Cherry Tomato and Zucchini (RM33) is currently available as a "Buy 1 Free 1" promotion. It's pretty good value considering the size of the fish and plentiful tangle of pasta.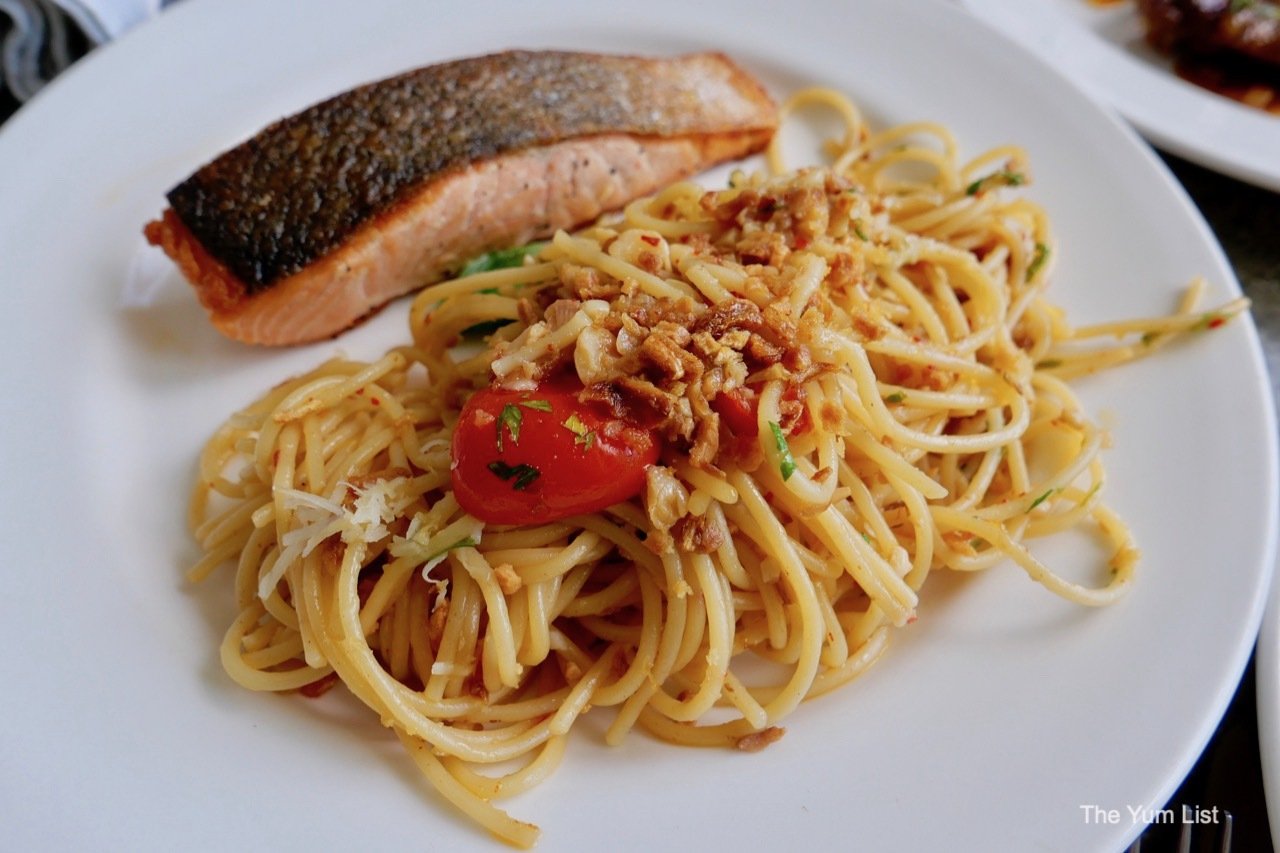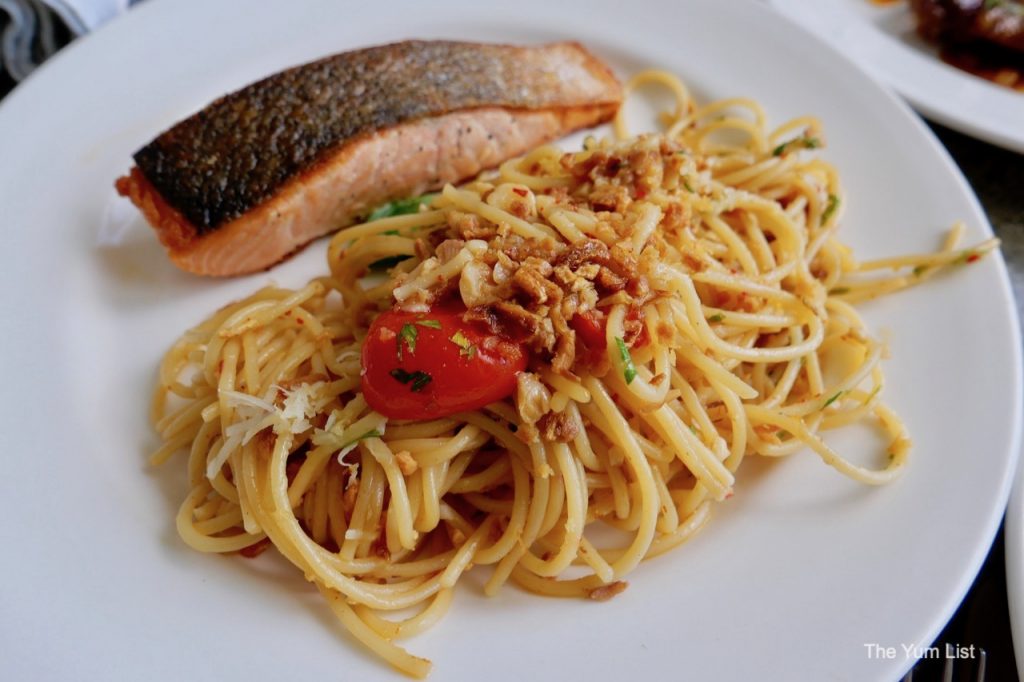 Dessert
Lastly, the Champignons delivery menu during the MCO has a range of cakes available both by the slice and as wholes. Going with the current trend, we indulge in a slice of Burnt Cheesecake (RM13). It's one of the creamier versions we've had and might not last too long as a slice if it were not for the plastic wrapping holding it in place. Hubby gives this velvety, melty pud two thumbs up.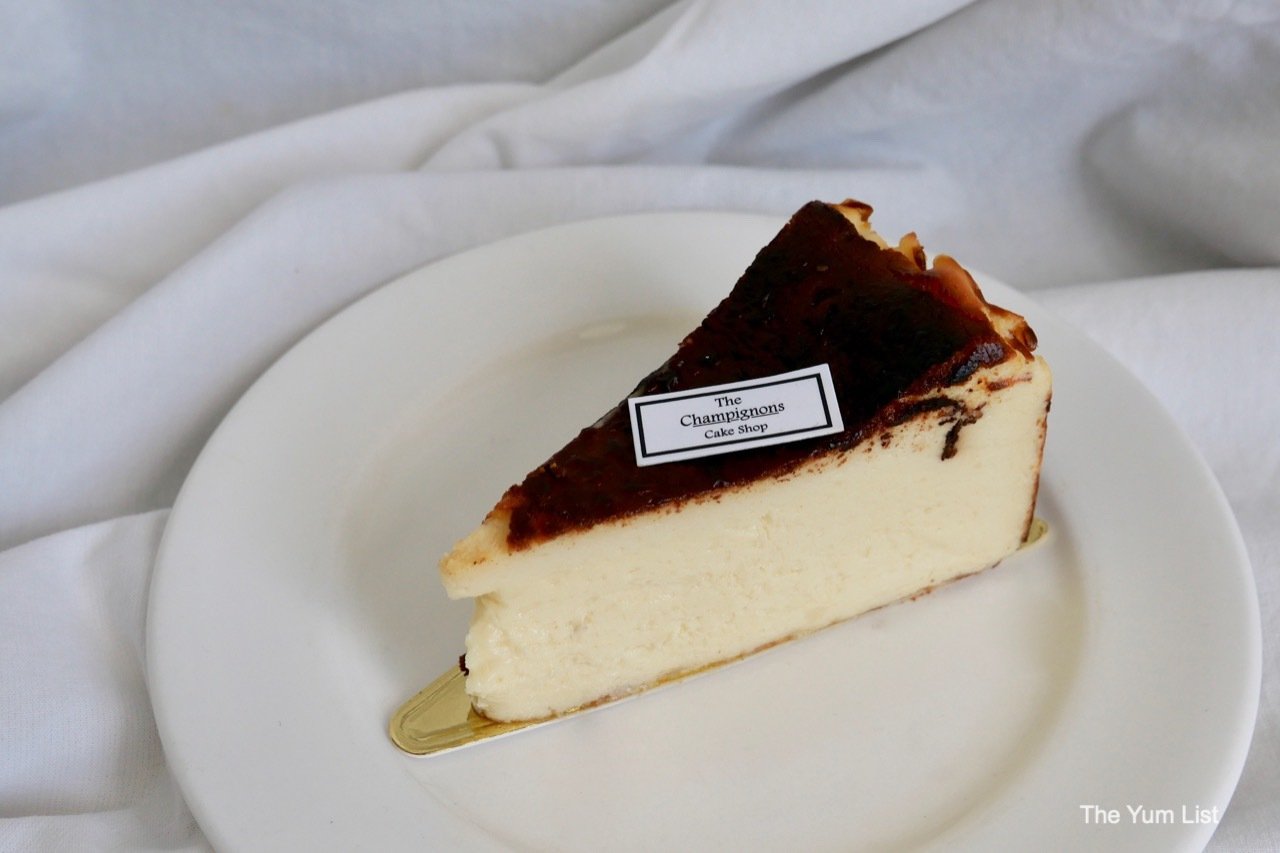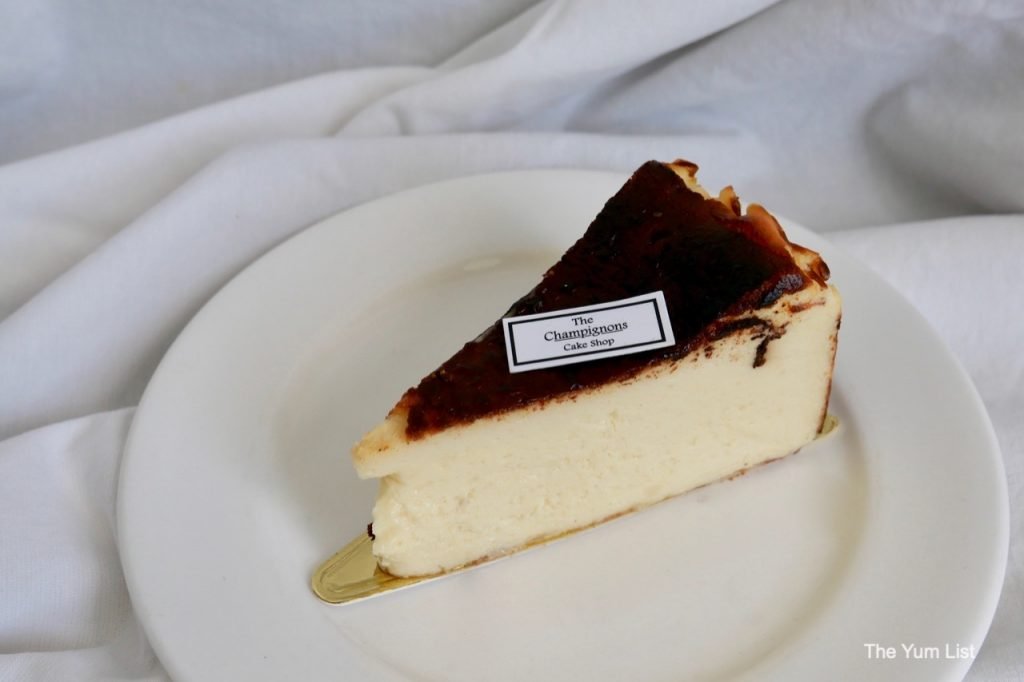 Wine
Our wine mate, a bottle of Sileni, Hawke's Bay, Pinot Noir, 2018 (RM190) does exceptionally well with the mushroom soup, pasta and salmon. Berries and cherries are immediately present on the nose, and the palate is lively with more berries and a thread of spice woven through. The persistent finish encourages us to slow down to appreciate its length in between bites. Seleni were companions of Dionysis (the god of wine) in ancient Greek mythology. In times of celebrations, they lubricated social interactions with good wine and food. As such, Sileni Estate in NZ aims to make wines that enhance the flavours and textures of delicious food. We say mission accomplished.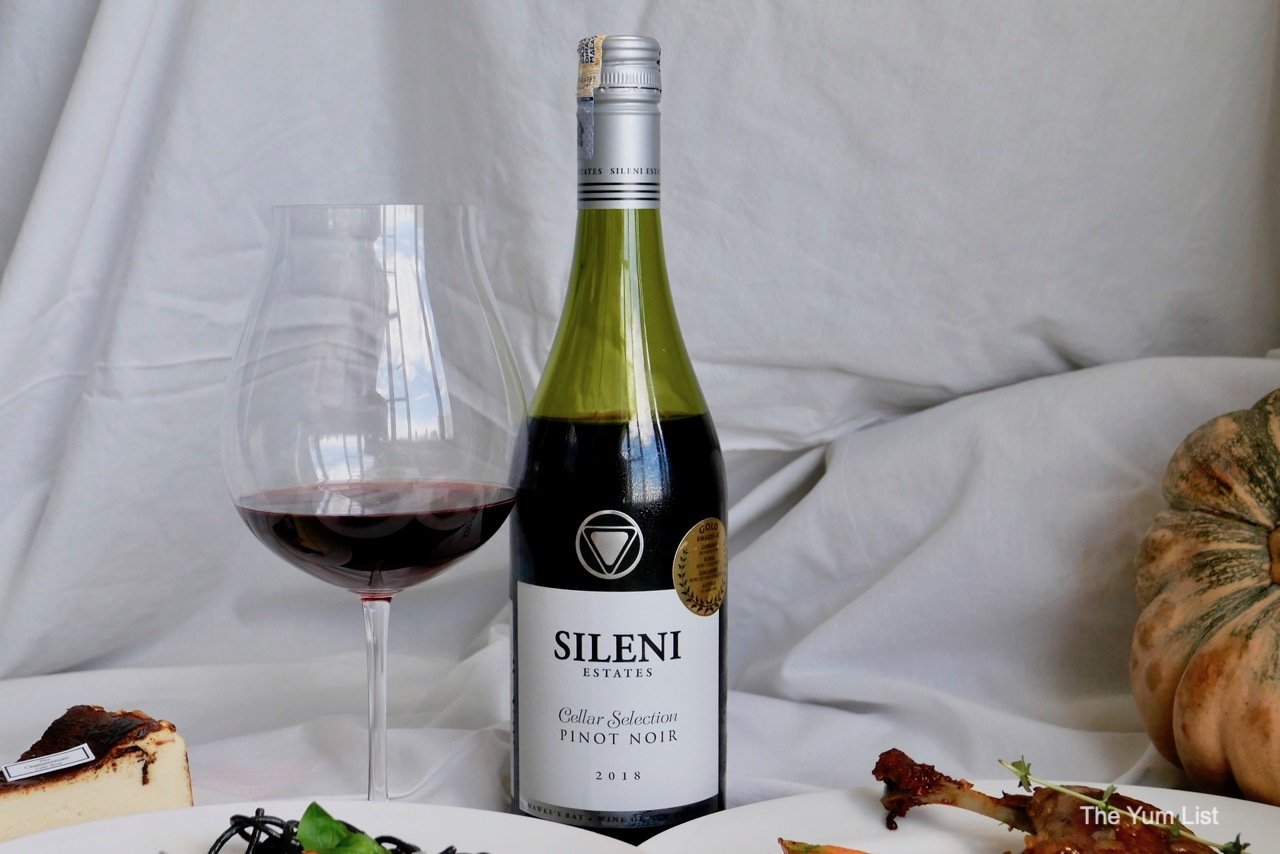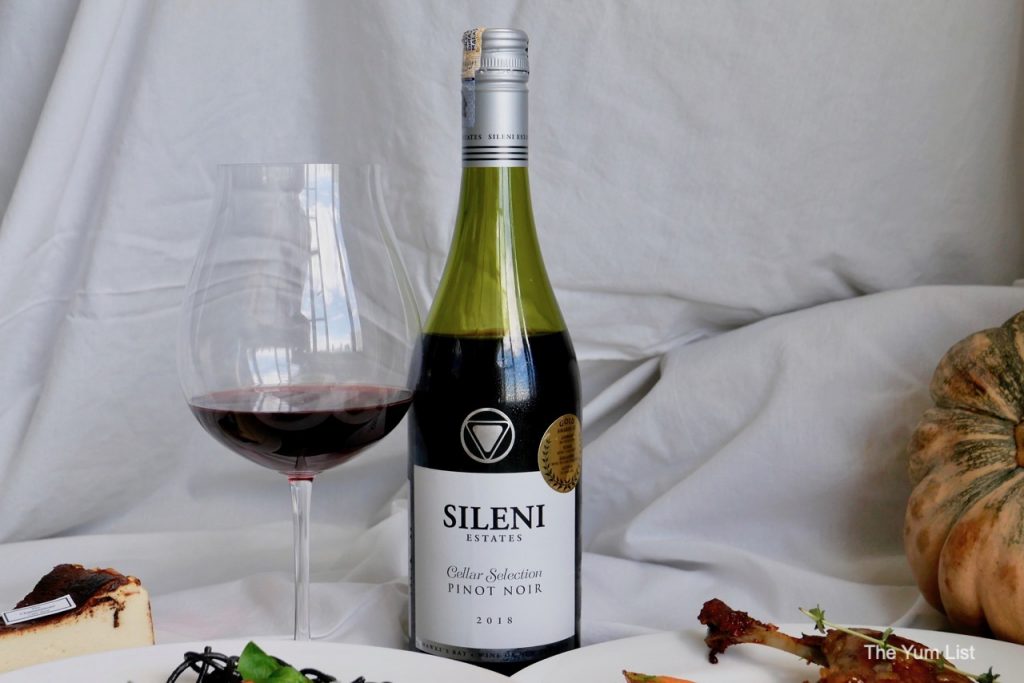 Champignons Delivery Menu MCO
To order from the Champignons delivery menu during the MCO WhatsApp +6012 884 9189 or call +603 7832 2629. Orders booked one day in advance that are RM100 or over receive free delivery. Self pick-up is available daily between 12 noon and 7 pm. More details on their Facebook page here.
Find more restaurants in KL offering take away and food delivery over the MCO here, and read up on food safety during COVID-19 here. Also, stay up-to-date on the latest happenings on KL's food scene here.