Afternoon Tea Eastern & Oriental Hotel Penang
Monica Tindall
Afternoon Tea at the Eastern & Oriental Hotel Penang has been a must-do for as long as I can remember. With recent renovations replacing the former location of 1885, with the newly established Palm Court, the institution continues.
Afternoon Tea Eastern & Oriental Hotel Penang – Palm Court
Guests now have the choice of a table inside the restaurant, Palm Court in the Heritage Wing, or in the hallway immersed in natural daylight and dotted with areca palms. I love the linen-dressed tables for two in the concourse with the added splash of greenery. Be sure to mention where you'd like to sit when making a reservation. Groups are bettered catered to within Palm Court; whereas couples can enjoy the more intimate area of the passageway.
Beverages
Tea is supplied by Harney & Sons and a fantastic trolley with snifters is found at the entrance to Palm Court. You can smell before you decide. Hubby thinks the Genmaicha is going to keep his immune system boosted with its toasted brown rice kernels and green Bancha leaves. It has great roasted notes. In this setting, I can't resist Queen Catherine. This signature blend of three Chinese black teas (Keemun, Panyang and Yunnan) is in honour of Queen Catherine of Braganza who introduced her love of tea to the British.
You can top up the afternoon tea set with a glass of Taittinger or even choose a free-flow option if you're wanting to settle in. I find it hard to resist a glass of bubbly and am particularly fond of the hotel's house Champagne. The high proportion of Chardonnay (40%) in the blend makes a delicately balanced wine with fruit and buttered toast in the bouquet. Fruit, with the addition of honey, continues in the palate. Its fine bubbles make a stellar aperitif but also cleanse the palate between nibbles.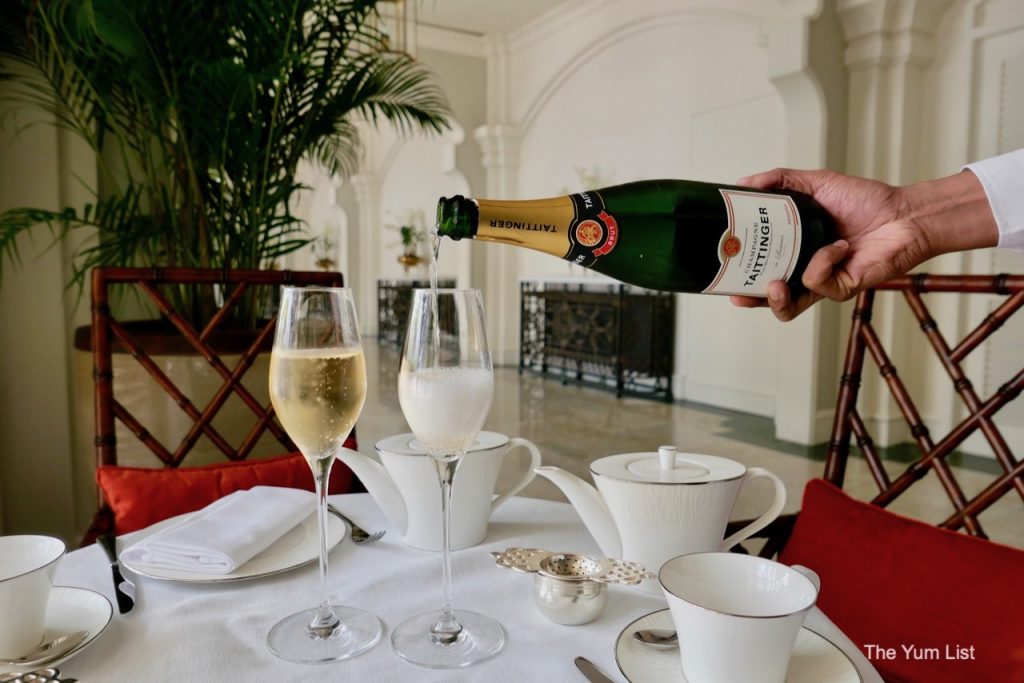 Afternoon Tea Eastern & Oriental Hotel Penang
The set is an elegant three tiers on a silver holder of China plates.
Finger Sandwiches
Sandwiches are superbly fresh, and you can choose from a variety of open and finger-style cuts. Smoked salmon tartare with a pickle and sprig of dill is one of my faves, along with the prettily presented rounds of crab meat slaw. Hubby's a fan of the organic spinach quiche and chicken ragout gougères, which are still warm from the oven. Truffle scented egg on a poppy-seed crusted butter bun takes the standard egg and mayo up a significant notch, and another item bound to be a crowd-pleaser is the marinated tuna flakes sandwich. Lastly, an English afternoon tea must have cucumber sandwiches. Here they're made with white bread, a paper-thin shaving of cucumber, dill and cream cheese.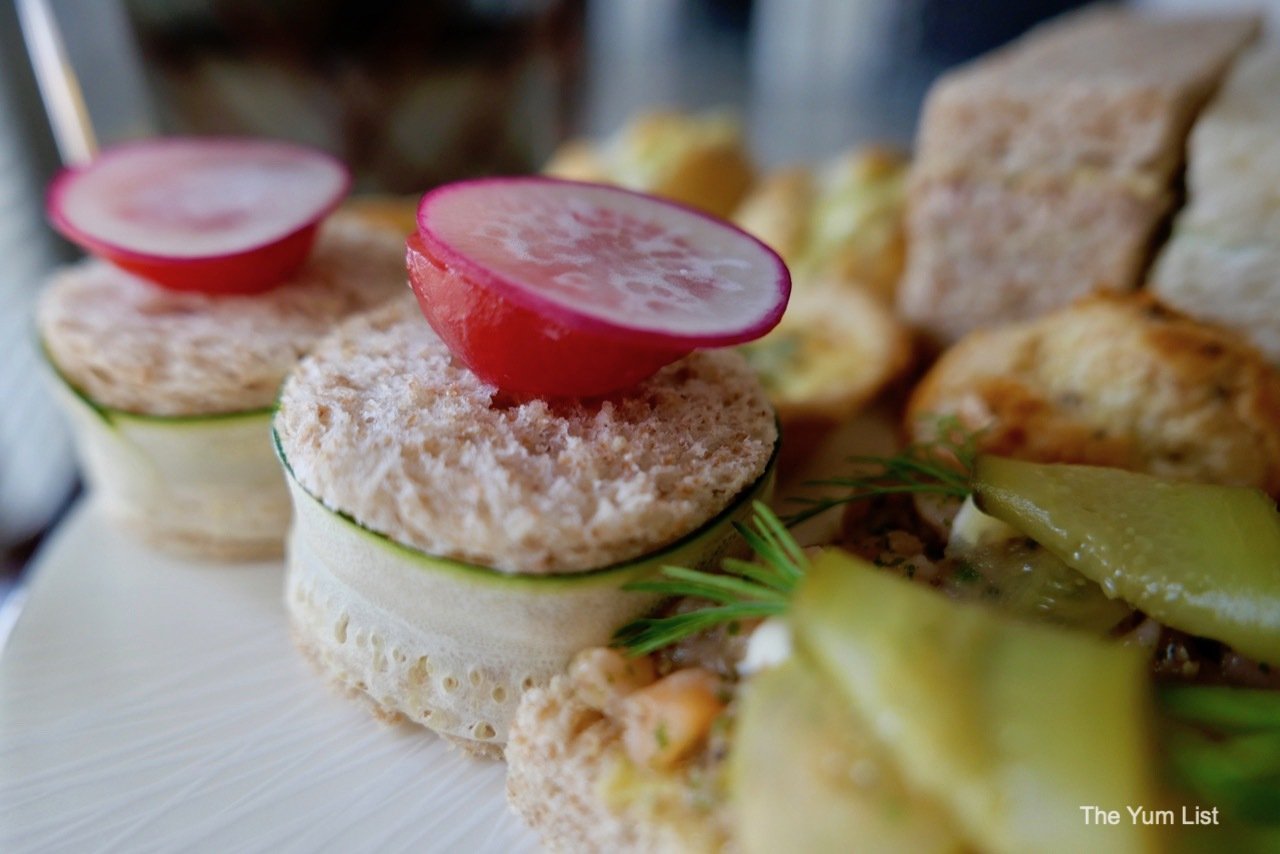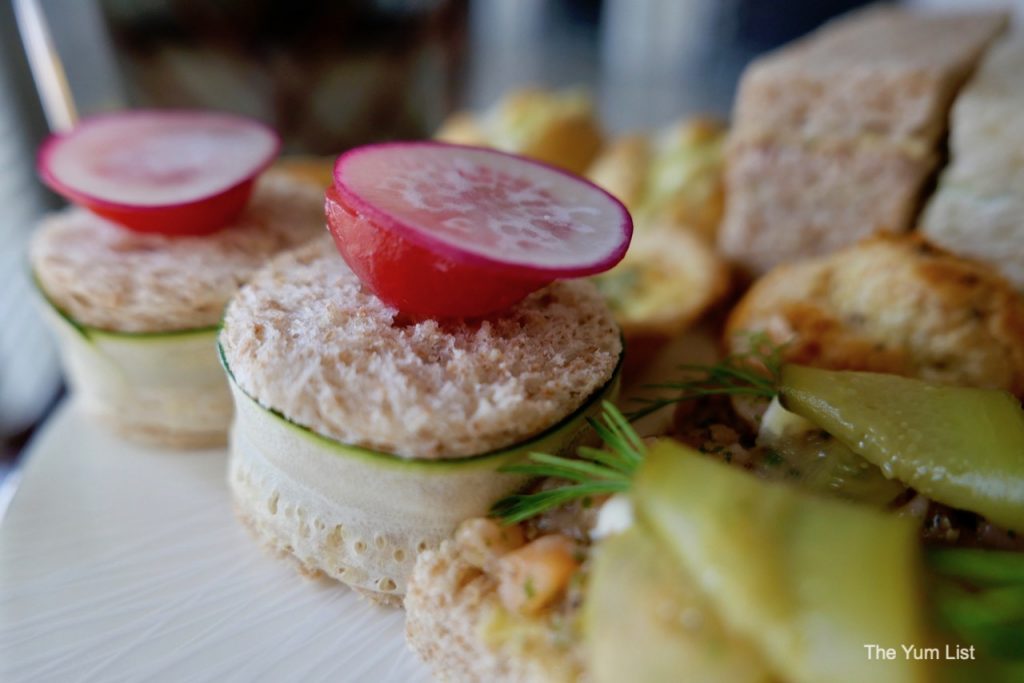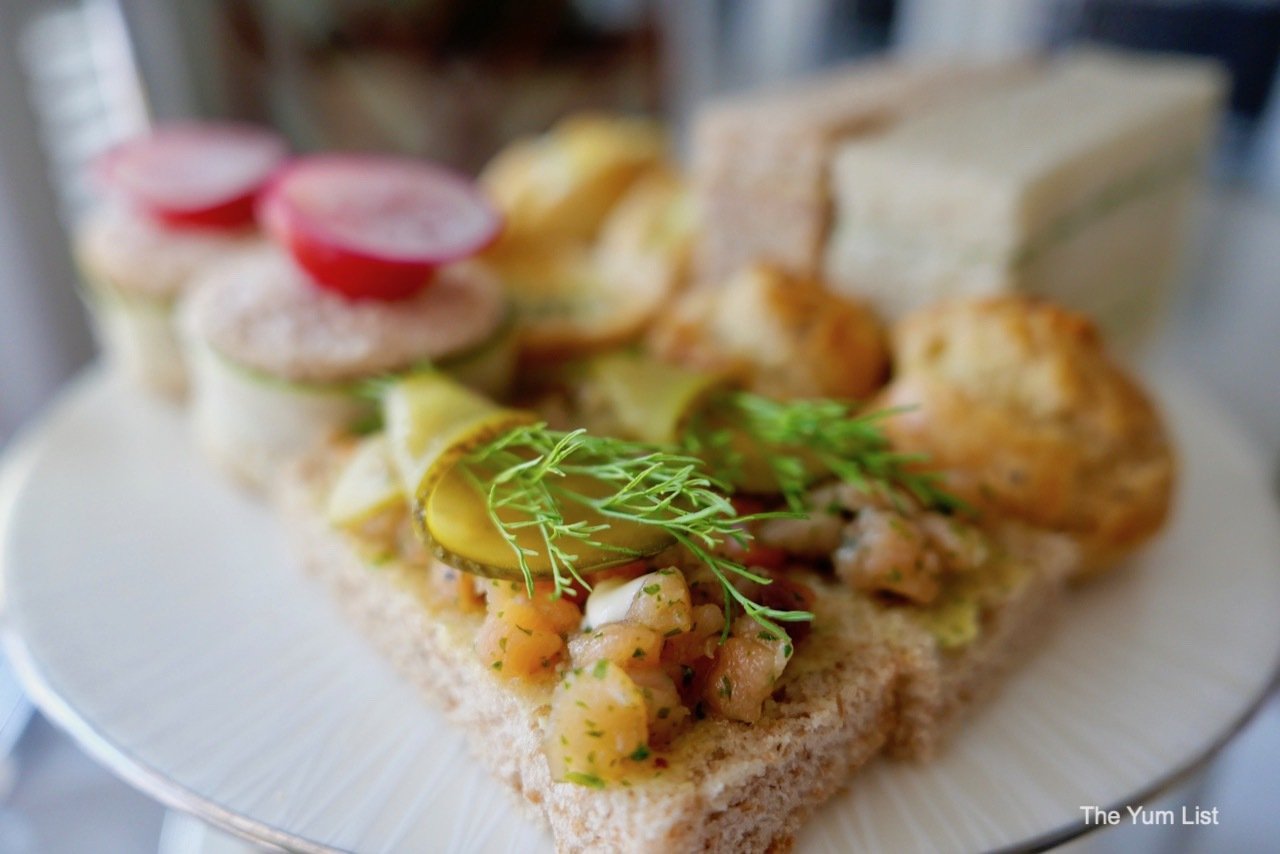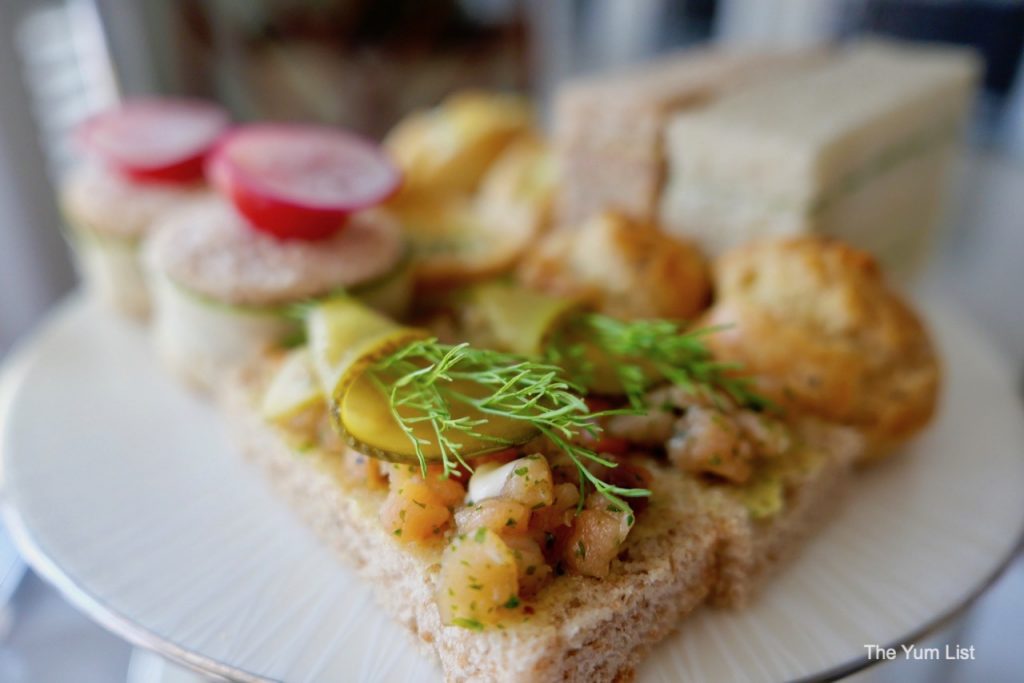 Scones
Raisin and plain scones come in manageable portions; sized to allow guests to eat both without becoming stuffed. Homemade strawberry, pineapple jam and clotted cream are there for the topping.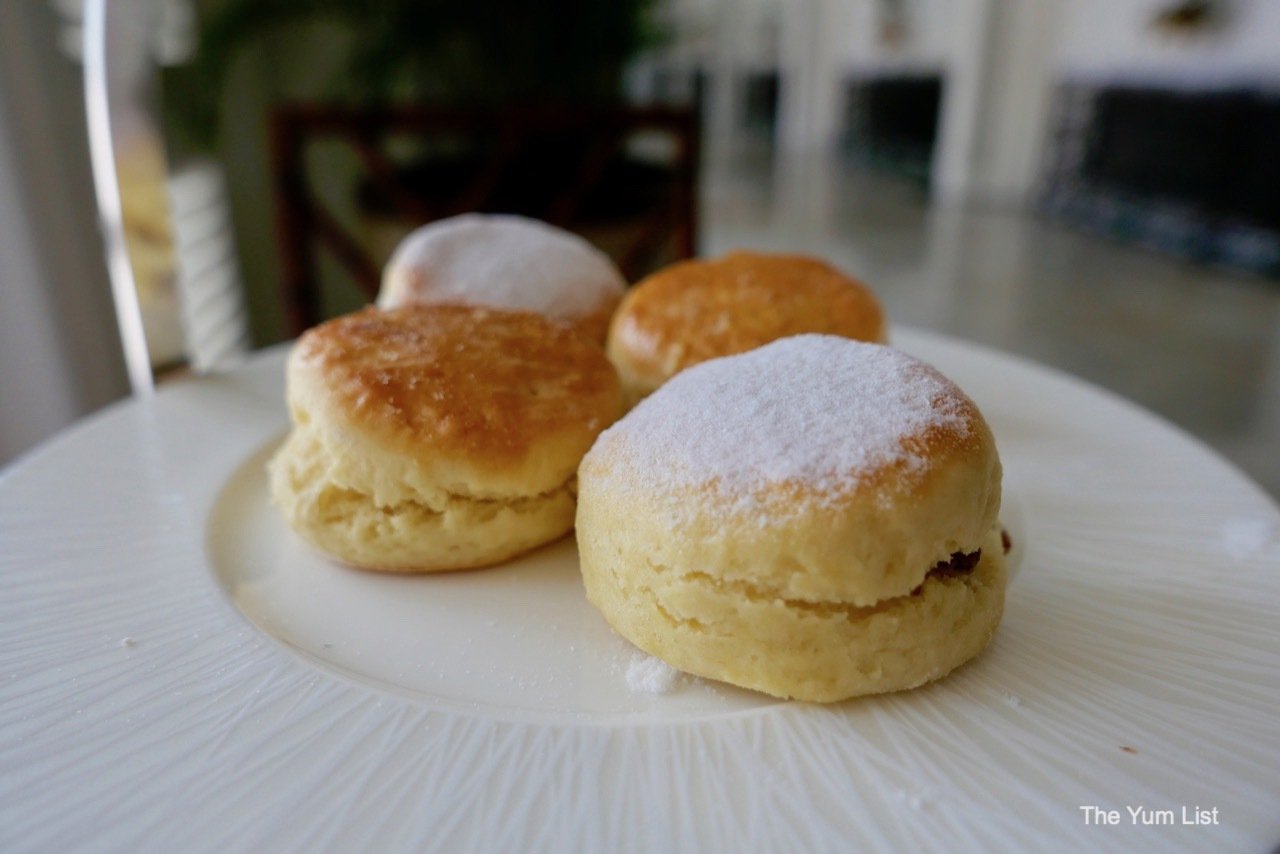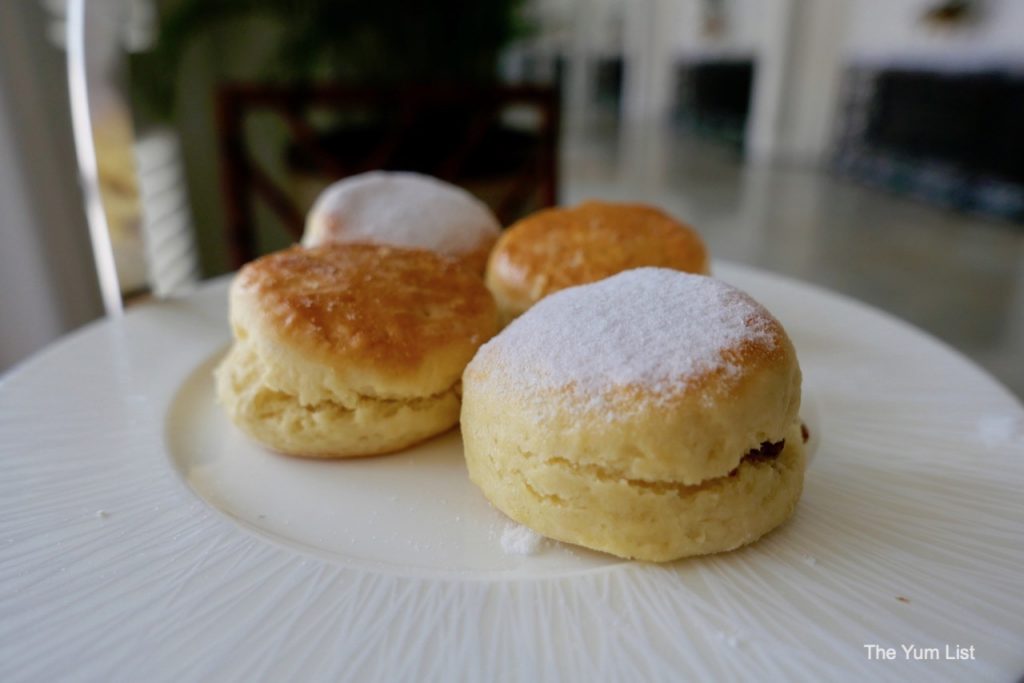 Cake & Tea Pastries
Finally, the foundation of the three tiers is a sweet and colourful plate of bite-sized squares of cake and pastry. Red velvet cake presents dainty layers of cream cheese and red sponge. In perfect precision, white chocolate is striped with red and laid on the corner matching the lines of the icing. (Attention to detail!) The fruit cake is moist, and the tartlet is topped with a piece of strawberry, plum and kiwi in a sugar glaze.
Continuing, millefeuille is excellent. Hubby seems to think it's even better, however, with clotted cream. I don't know what's stopping him from just using the teaspoon to eat it straight. Wait… never mind. (Eye roll emoticon.) While we're on the subject of layers, the opera cake sports an even six. Alternating between ganache, coffee buttercream and almond sponge cake, the mini cubes are covered with chocolate glaze and a square of white chocolate.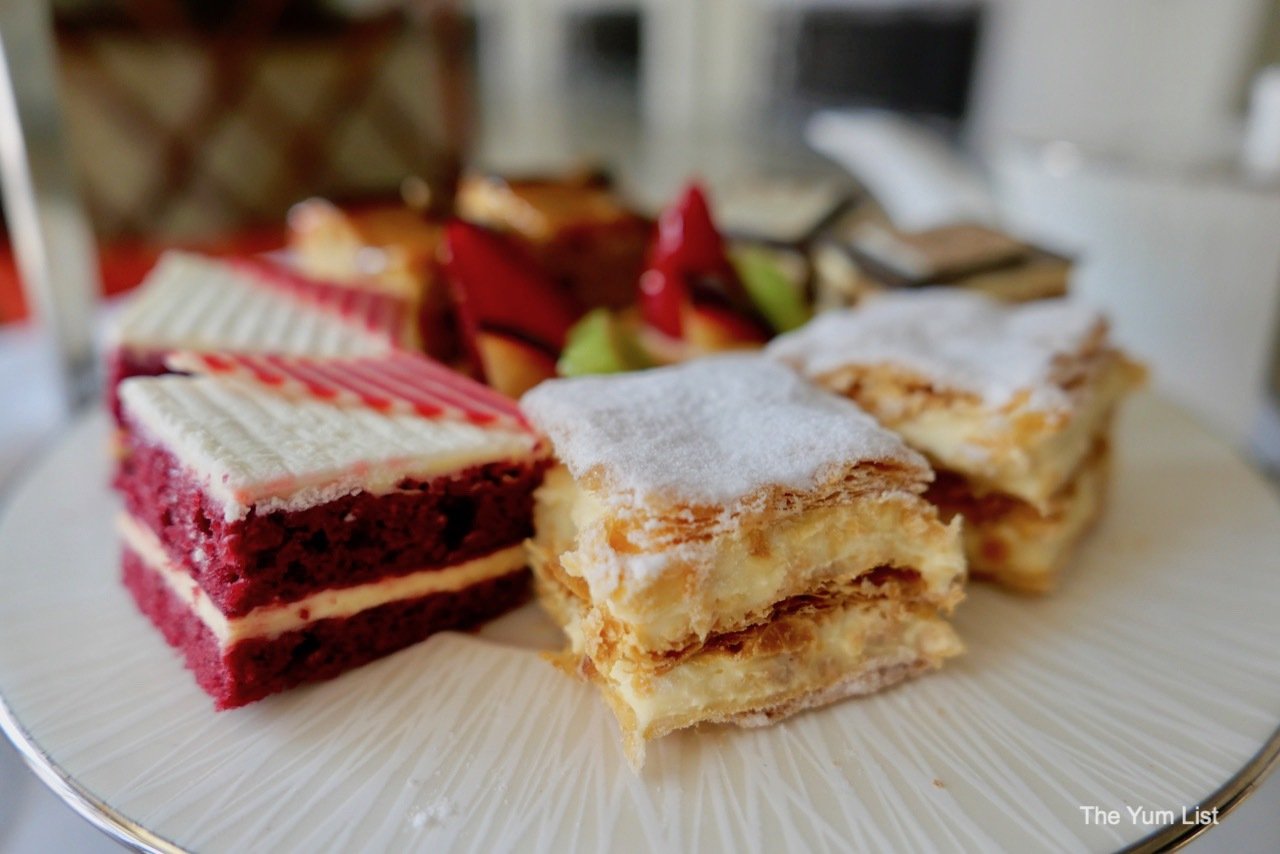 Afternoon Tea Eastern & Oriental Hotel Penang Review
Afternoon Tea at Eastern & Oriental Hotel, Penang is priced at RM 88 nett per person. Topping up with a glass of Taittinger Champagne brings the total to RM 168, or you can pay RM 350 a pop and bathe yourself in free-flow for the entire afternoon. A sophisticated setting supported by distinguished service and a classic English afternoon tea set proves a lovely way to pass a few hours in Georgetown.
Reasons to have afternoon tea at the Eastern & Oriental Hotel Penang: luxurious setting; traditional English three-tiered set; option to top up with a free-flow of Taittinger Champagne.




Afternoon Tea Eastern & Oriental Hotel Penang
10, Lebuh Farquhar
10200 Penang, Georgetown
Malaysia
+(6) 04 222 2000
[email protected]
www.eohotels.com
Afternoon Tea Eastern & Oriental Hotel Timing
Every Saturday & Sunday beginning May 23rd: 3 pm – 5 pm