FLOUR Rises – Jalan Kamuning
Monica Tindall
Chef Yogesh Upadhyay has never been one to follow the crowd, and he shows true to form by opening a shiny-new restaurant in the middle of a pandemic. They say there is a fine line between insanity and genius and we're just about to reckon for ourselves on which side of the score chef Yogi and his team lie.
Proving that following the crowd is not always the wisest choice, FLOUR Restaurant in its new location in Jalan Kamuning is buzzing with activity. The setting is dramatically different from the previous site in Bukit Damansara and much more deserving of the cuisine that is served here. A beautiful bungalow is a pristine white in its façade with a valet out the front and ample parking in an empty lot across the road.
Inside, a golden Pegasus rears up ready for flight in the lobby and diners utilizing the private rooms are immediately escorted either, left to the black, or right to the white. Taking a few steps into the main dining area, we have a further choice. At three o'clock, a stylish, space beckons couples wanting intimacy. Straight ahead is a tribute to tradition with a gleaming black-tiled floor and chandeliers. Upstairs is a private room, glass-ceilinged and framing twinkling KL skyscrapers at night. Still, lastly, my preferred dining area is in the glass-enclosed prism to the left. It streams natural light during the day and shimmering city reflections at night. (A tour before seating is recommended and definitely don't miss visiting the bathroom if you've never seen golden toilets before!)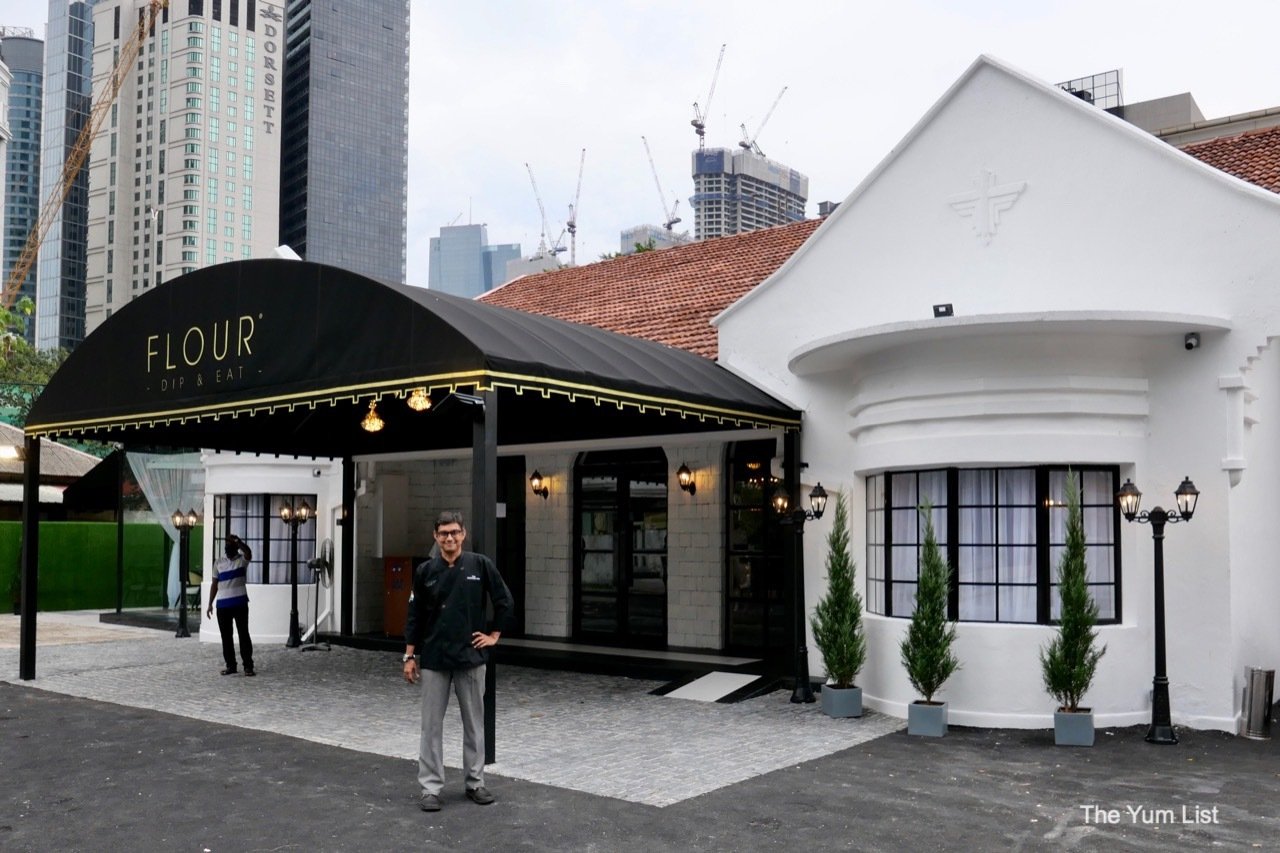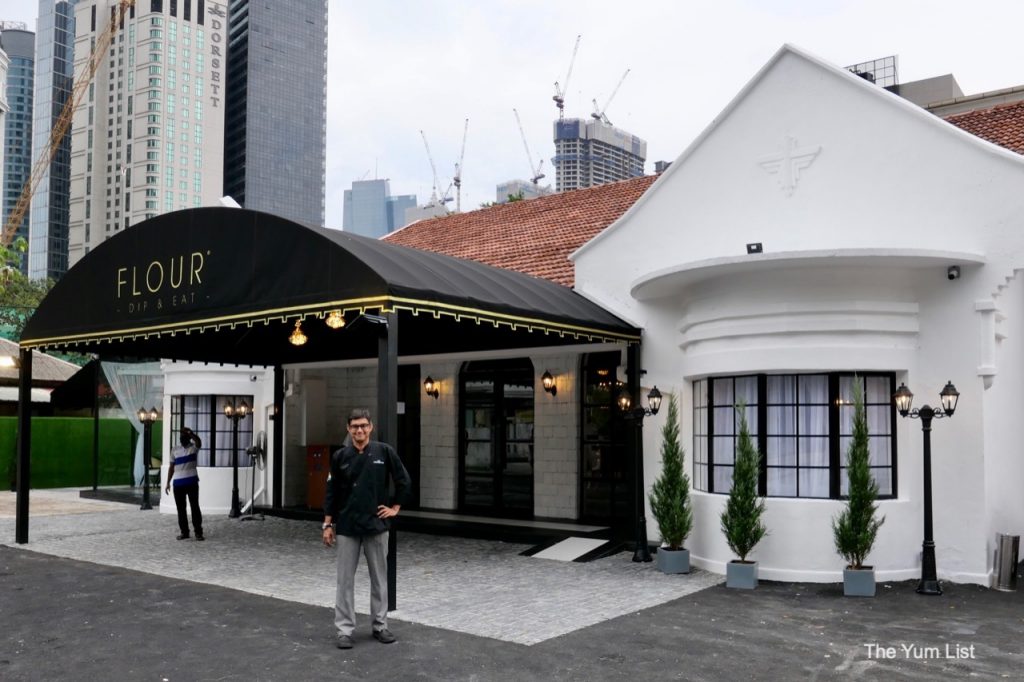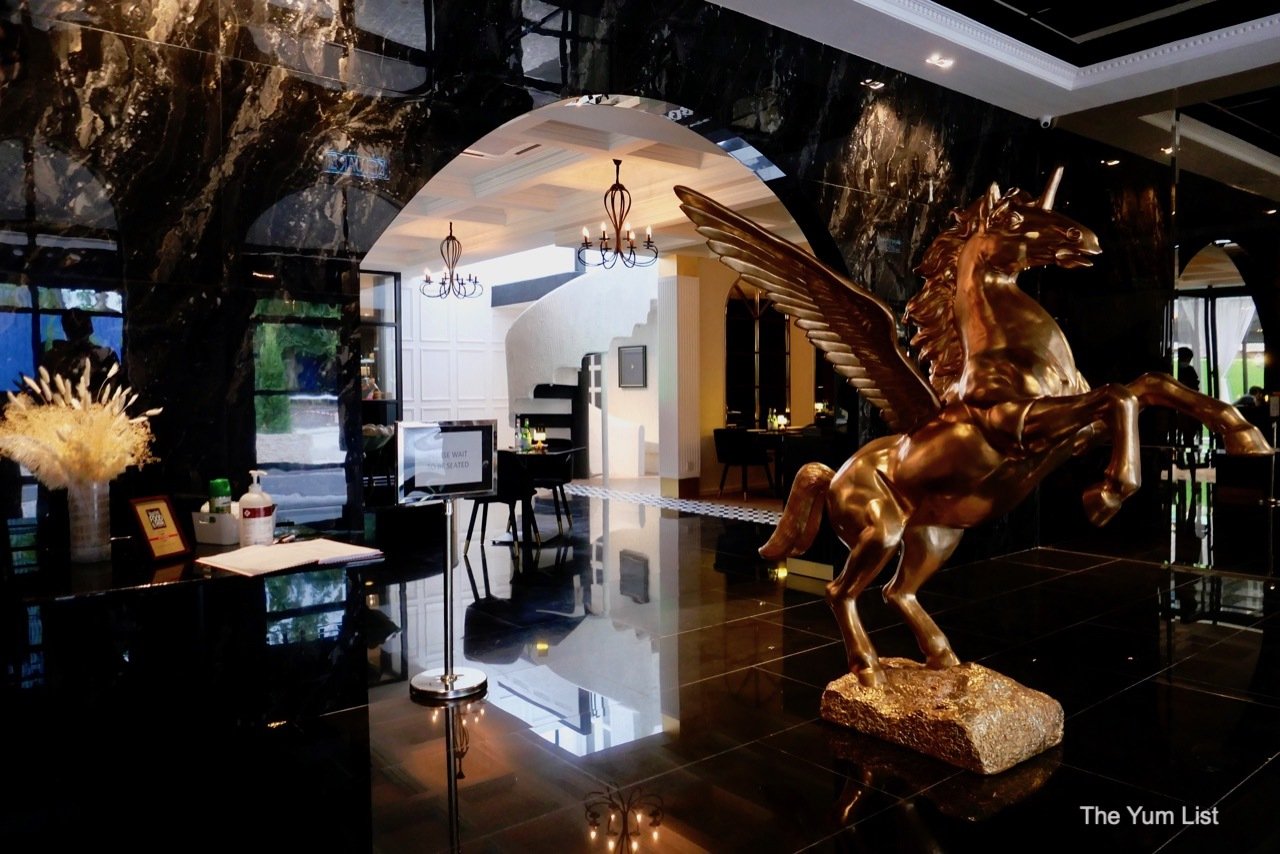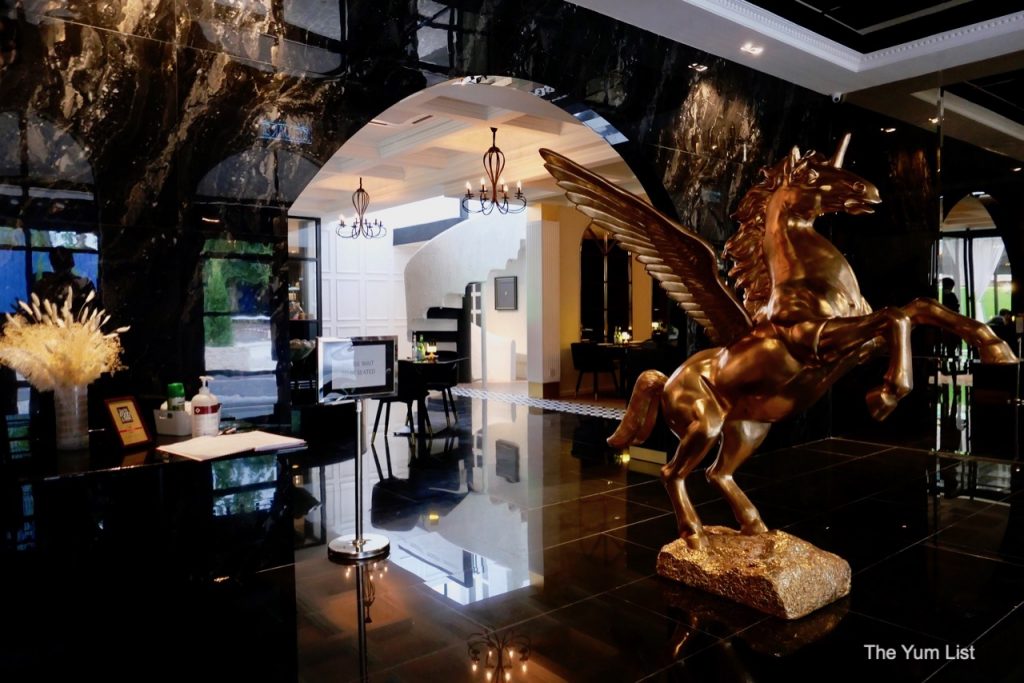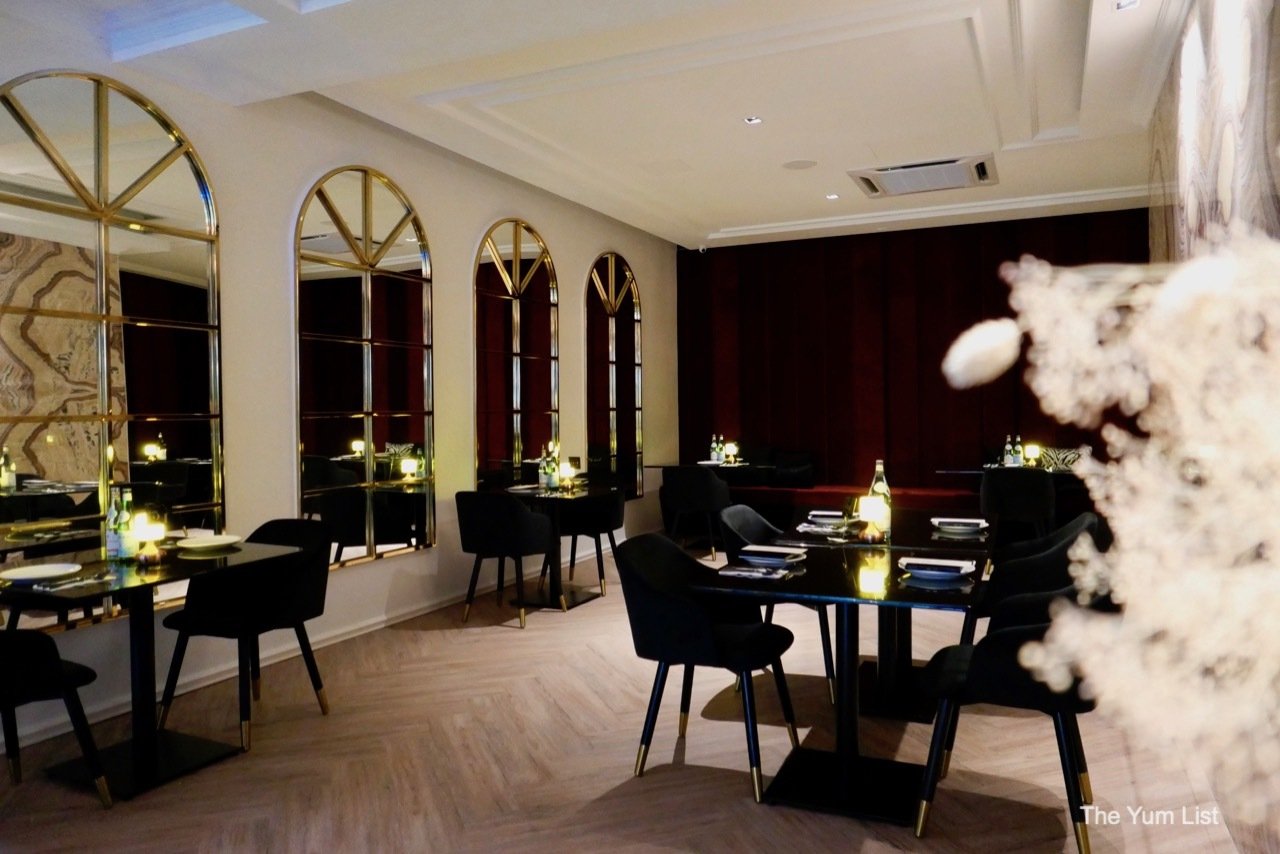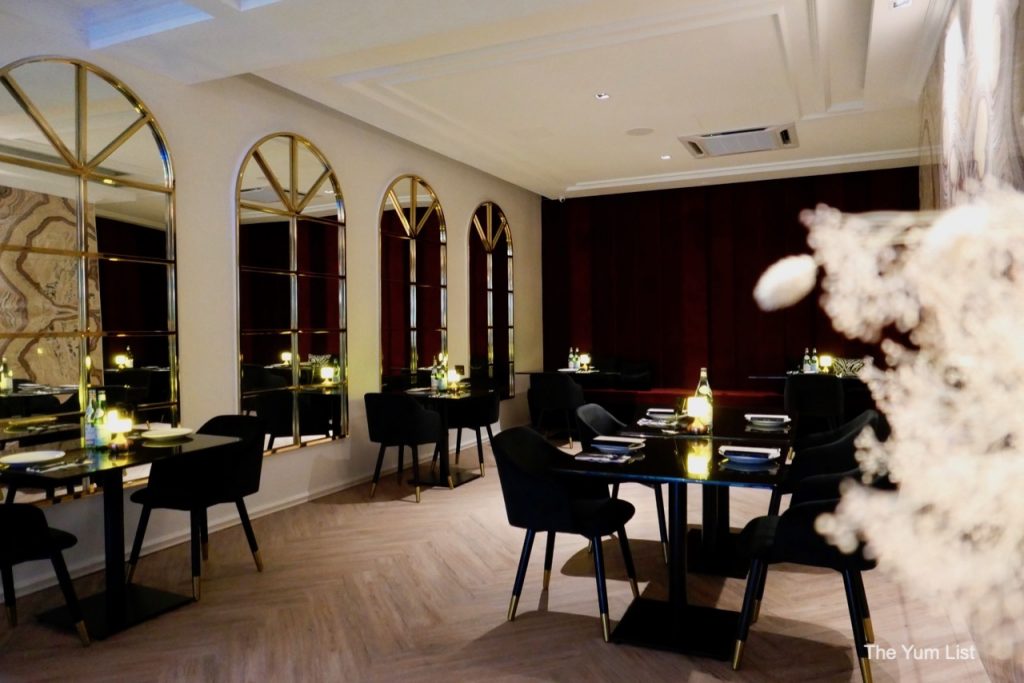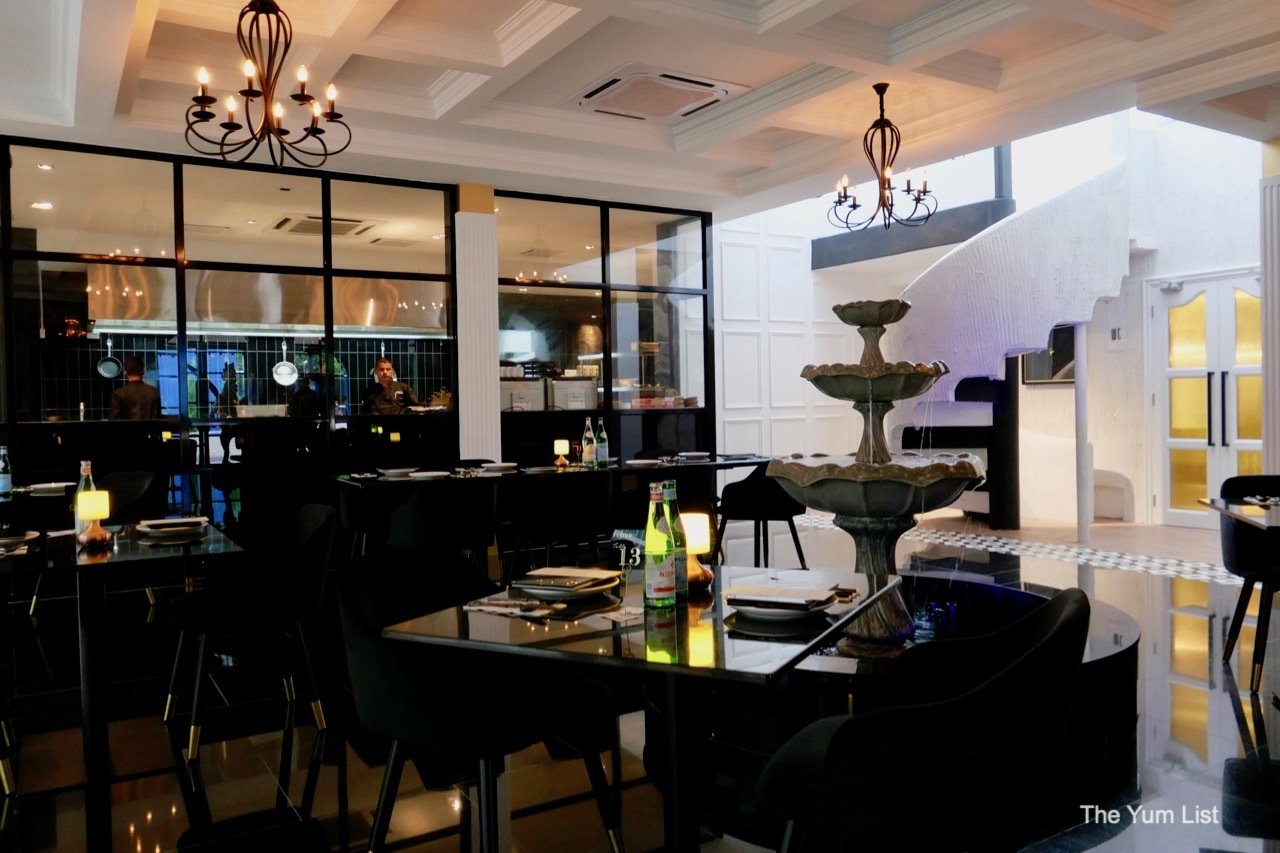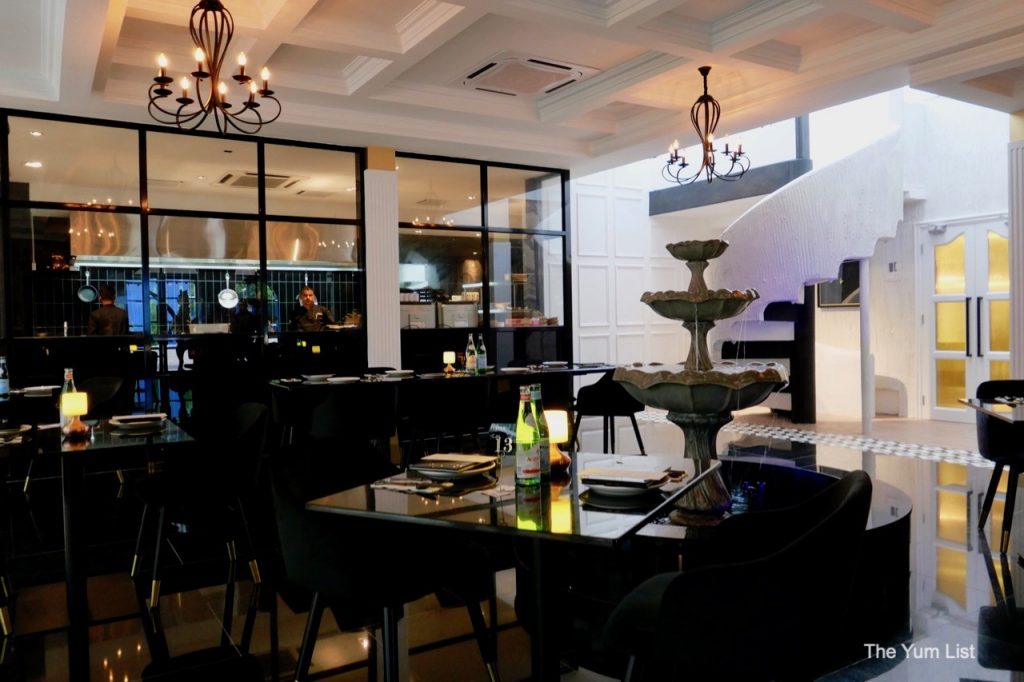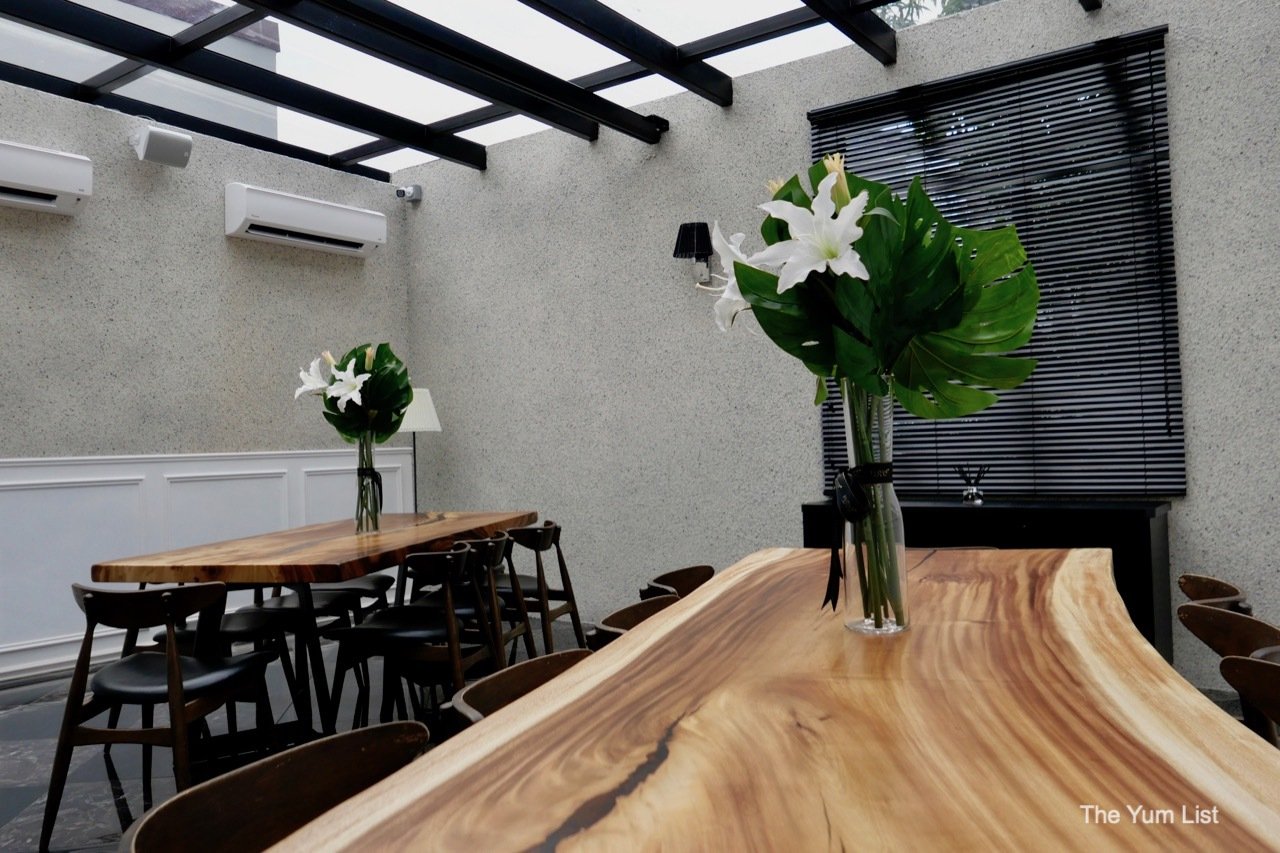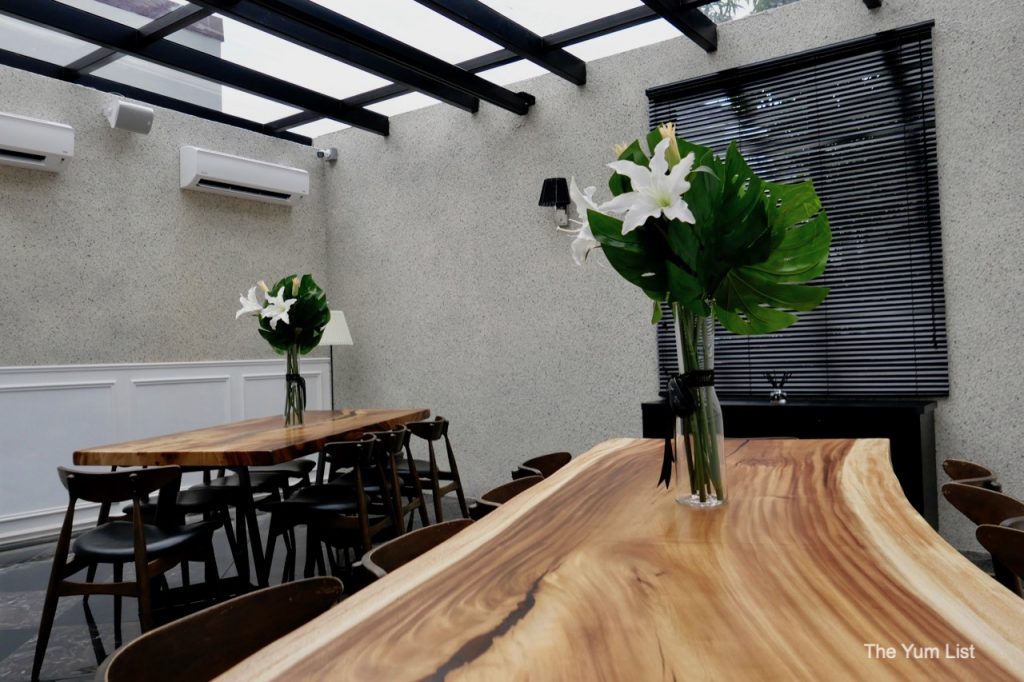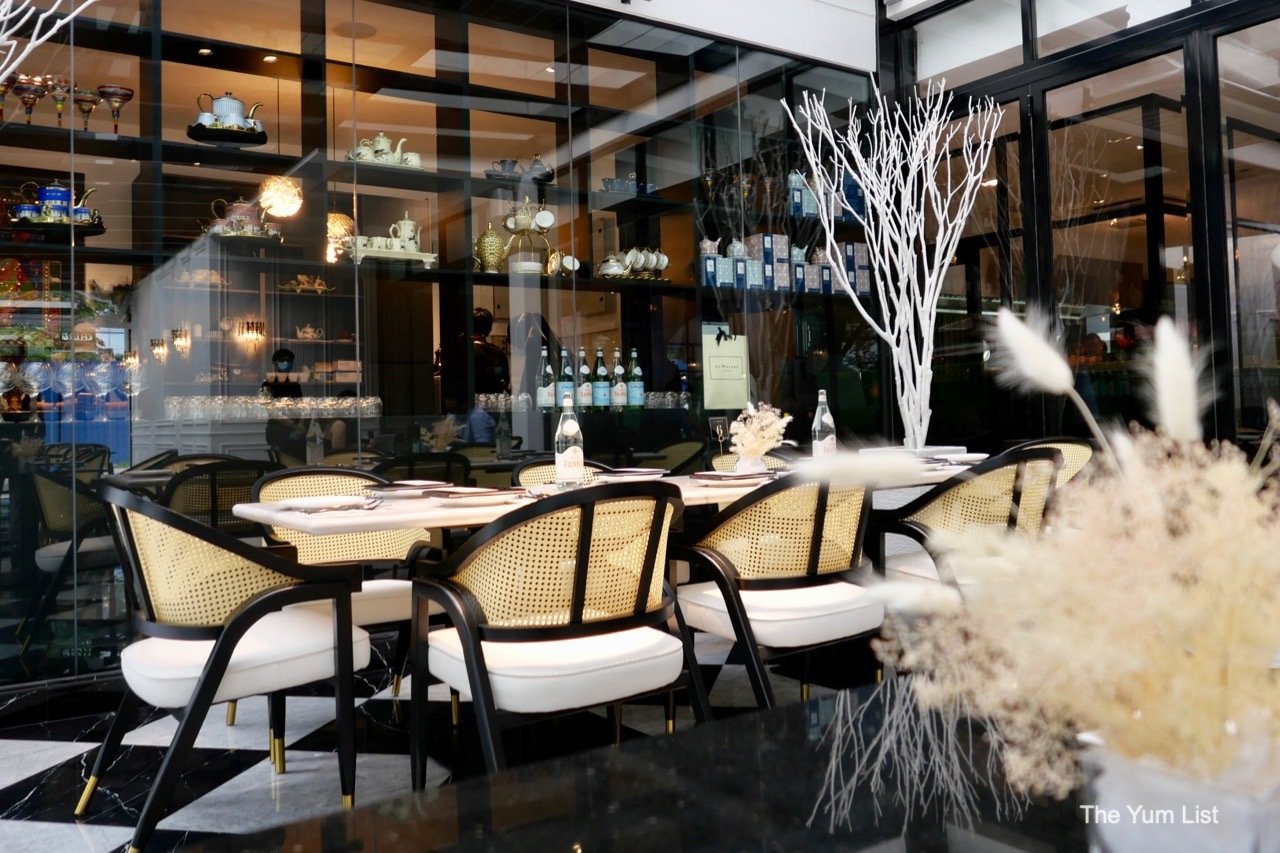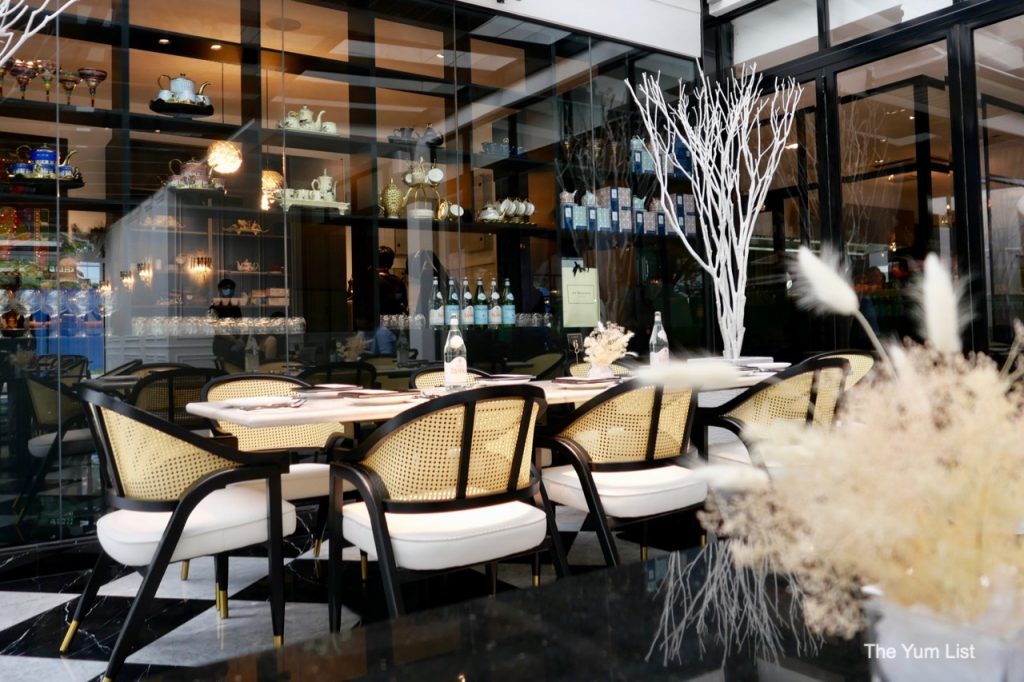 FLOUR Rises Menu
In its third evolution, the menu at FLOUR Restaurant is nothing like anything we've eaten elsewhere. Chef Yogi describes the cuisine as comfort food rather than molecular. Yes, it's original, but it's more of a progression of gastronomy pushing the barriers and moving a rich heritage forward with the times. In chef Yogi's words, "You can't say you're rich in culture if you never add to it. Culture must change and evolve, and food is an essential part of that."
The menu at FLOUR Rises – The Third Book, is indeed a published text. With a hardback and shiny cover, it tells the journey of the team behind the concept. We're ready to delve in… but first, wine.
Wine
From a compact and well-selected wine list, we find the Trimbach Gewürztraminer, 2016 from Alsace a fine aperitif and versatile enough to match with our mostly vegetarian cuisine selection. Aromas of yellow peaches, rambutan and a touch of spice are followed by a dry palate, full body and crisp finish.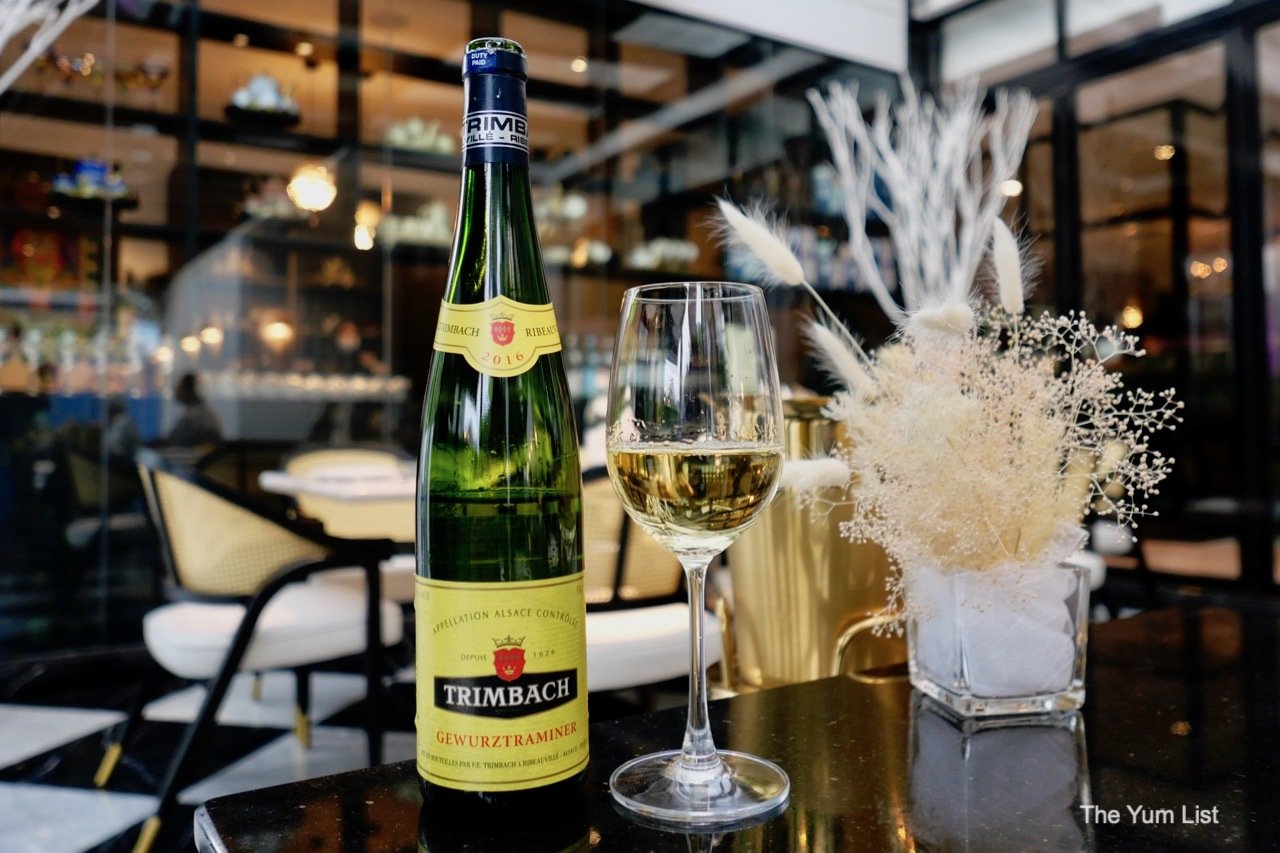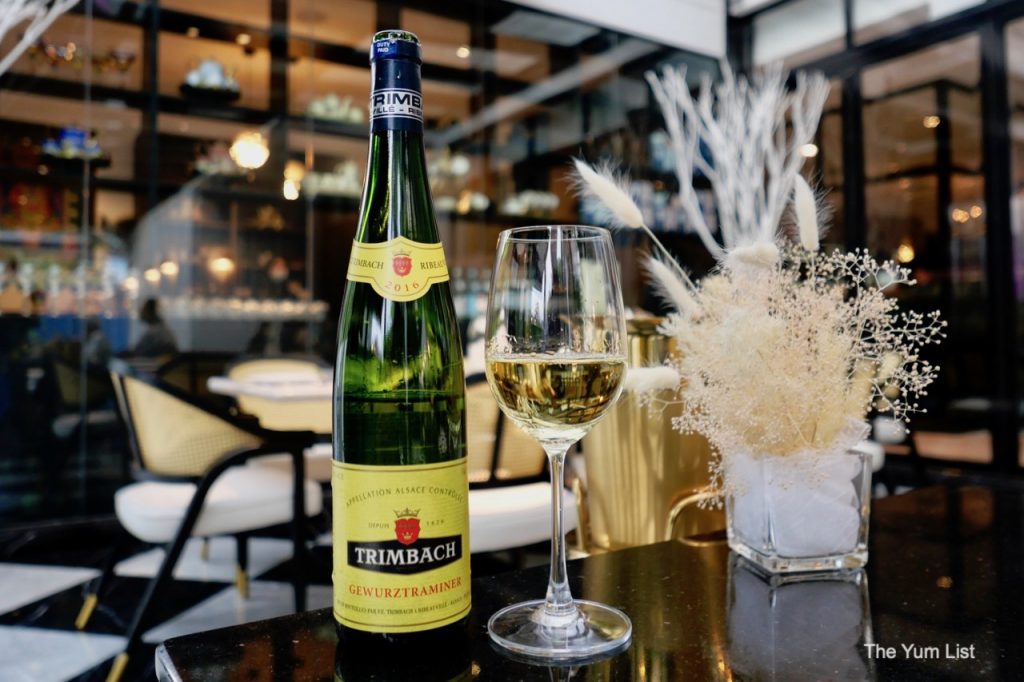 Hors D'oueuvres
To begin, we appreciate being able to order gluten-free items in the hors d 'oeuvres with Batata Fritters (RM15, 4 pieces) and Sago Patties (RM15, 4 pieces). Actually, everything in this section is pleasingly nut-free, gluten-free and vegan. These little potato balls are from the state of Maharashtra, the best is said to come from Mumbai, and these are the only age-old recipe you'll find on the menu. They're a tribute to the chef's father, fondly known as Maharaj. They're crunchy and generously spiced; I imagine they would make a fantastic bar bite with beer.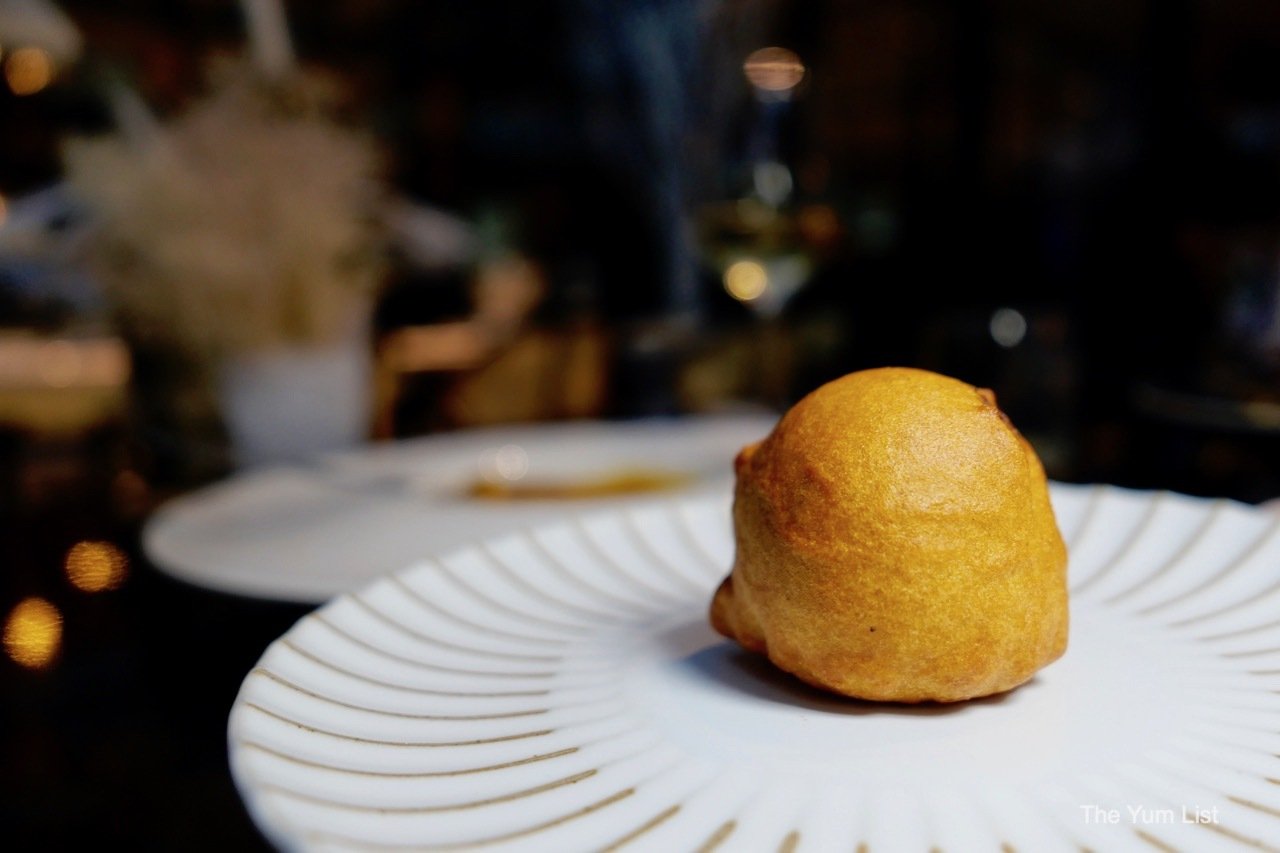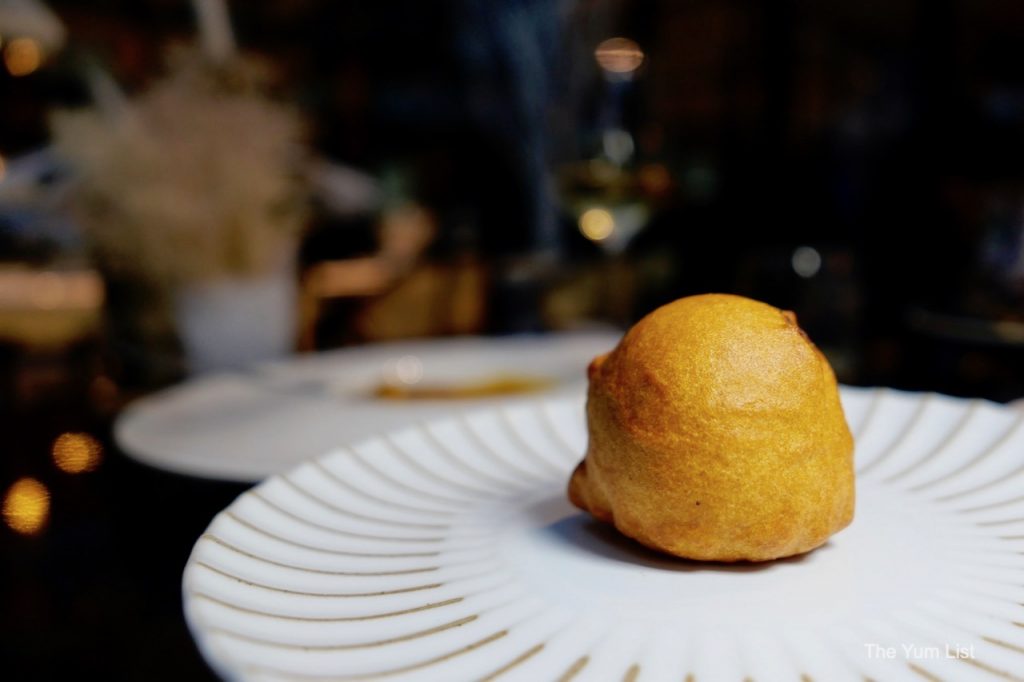 The sago patties, on the other hand, are amazingly sticky and crunchy (like those sticky Taiwanese rice cakes you find barbecued on skewers in street food markets). Delicate lines of golden string cross the top, naturally formed by the starch of the potato in the recipe. Simple coriander (with a tiny bit of mint) sauce compliments. They open the palate with an almost toffee chewiness that makes us lick our teeth.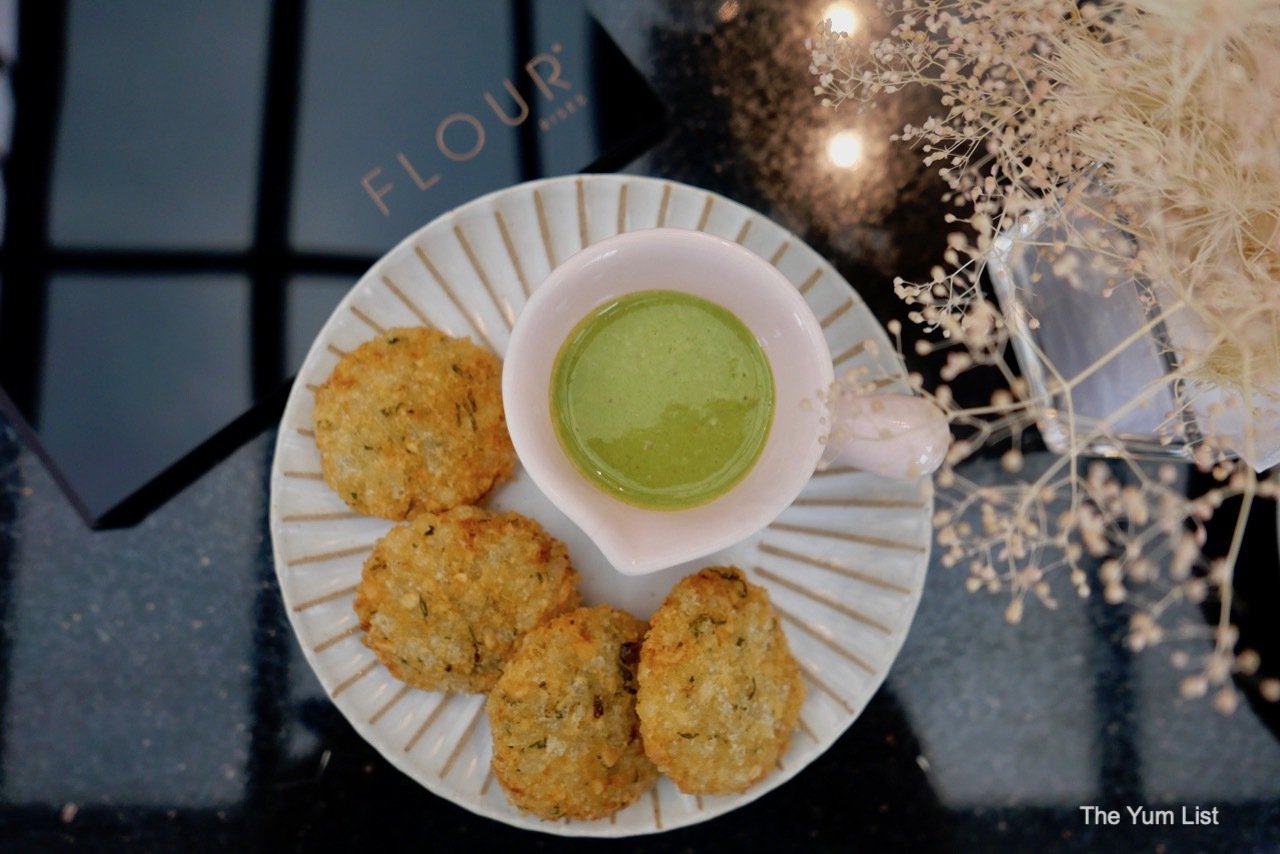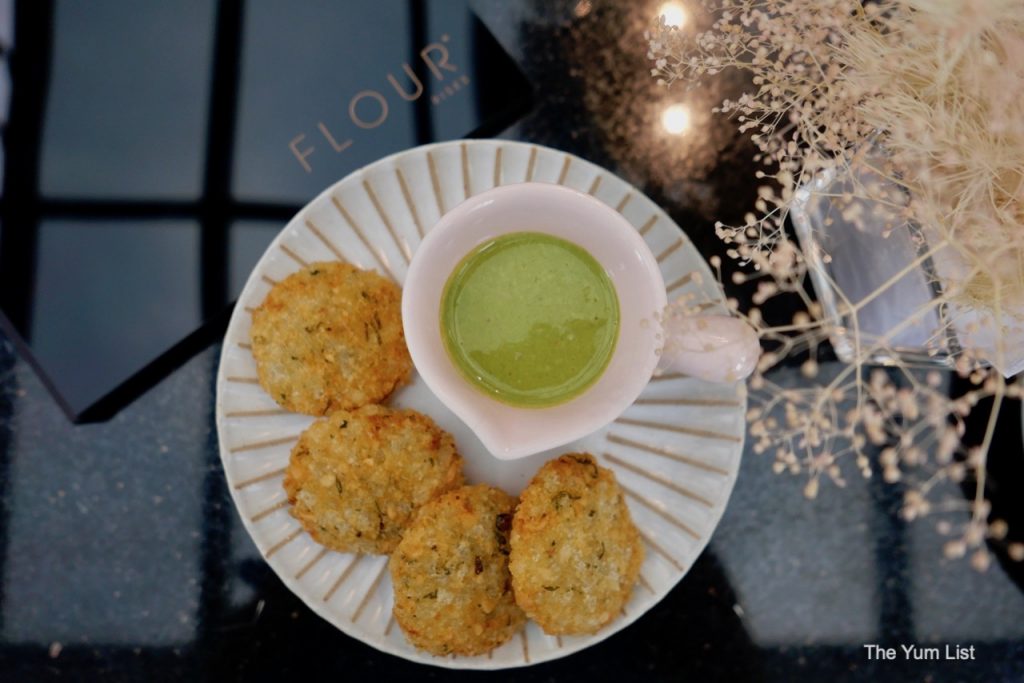 Entrees
All entrees are original creations by the team at FLOUR Restaurant. Opting for another meat-free item, we find The Mushroom (RM 31, 4 pieces) full of flavour. Button mushrooms are stuffed with spices and green and black olives and given an attractive crunch with water chestnuts. A spoon of Greek yoghurt supplies a light tang and moistens them lightly.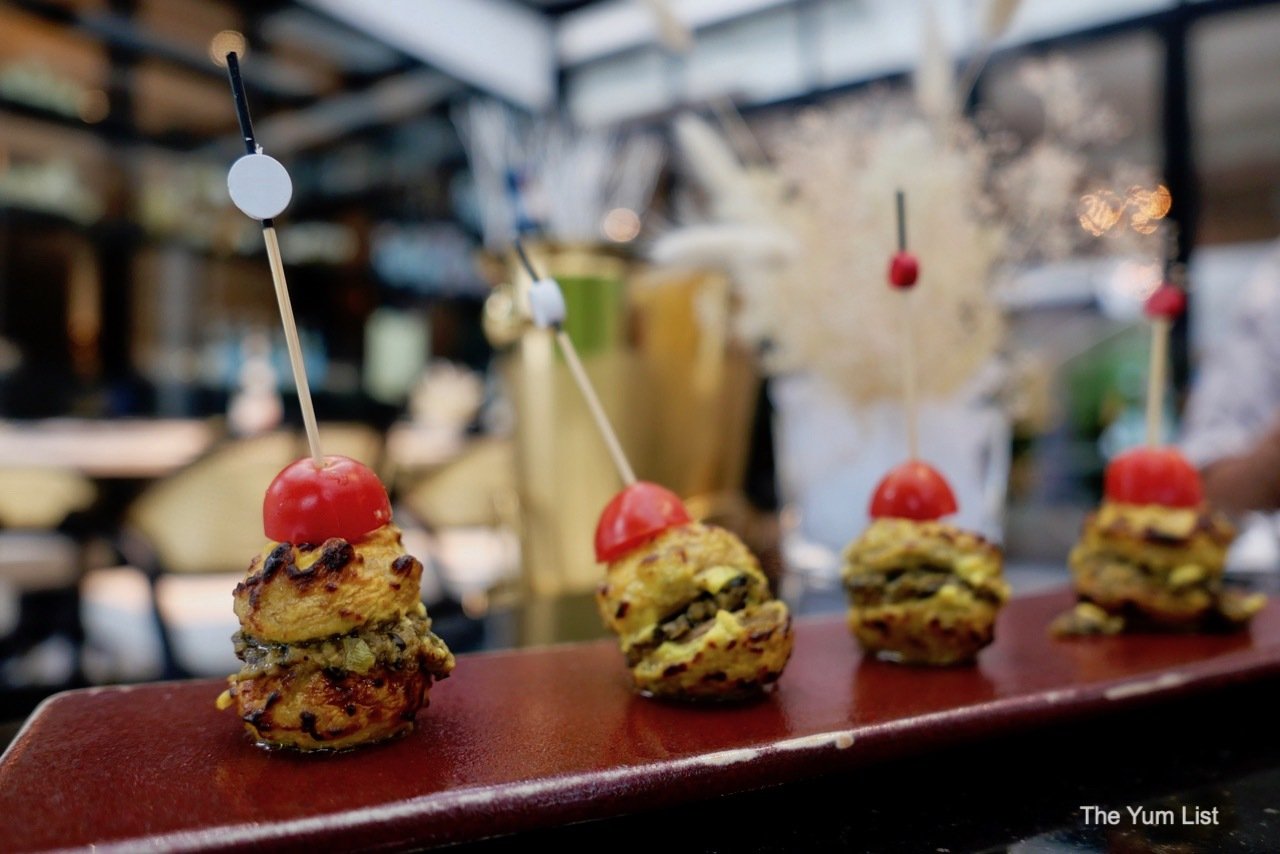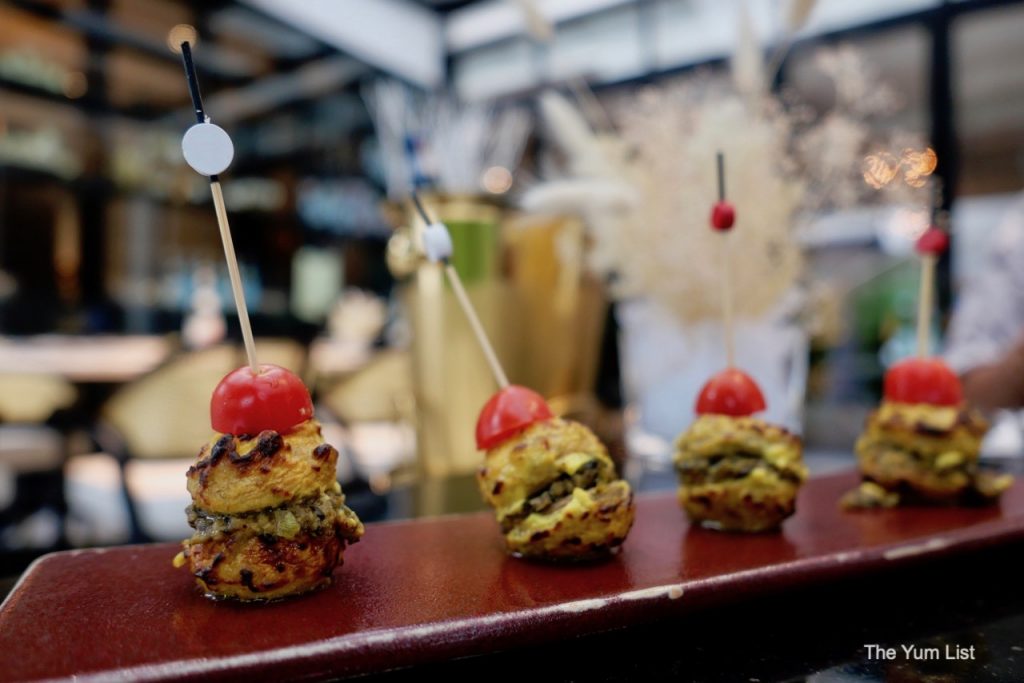 FLOUR Rises Mains
Hubby is spice-aversive and intolerant to gluten and nuts, so the Chicken & Pumpkin (RM25) is recommended. A free-range chicken leg is roasted in the tandoor, leaving the meat moist and tender. Toasted pumpkin seeds on top provide crunch juxtaposing the softness of the flesh in the pumpkin gravy.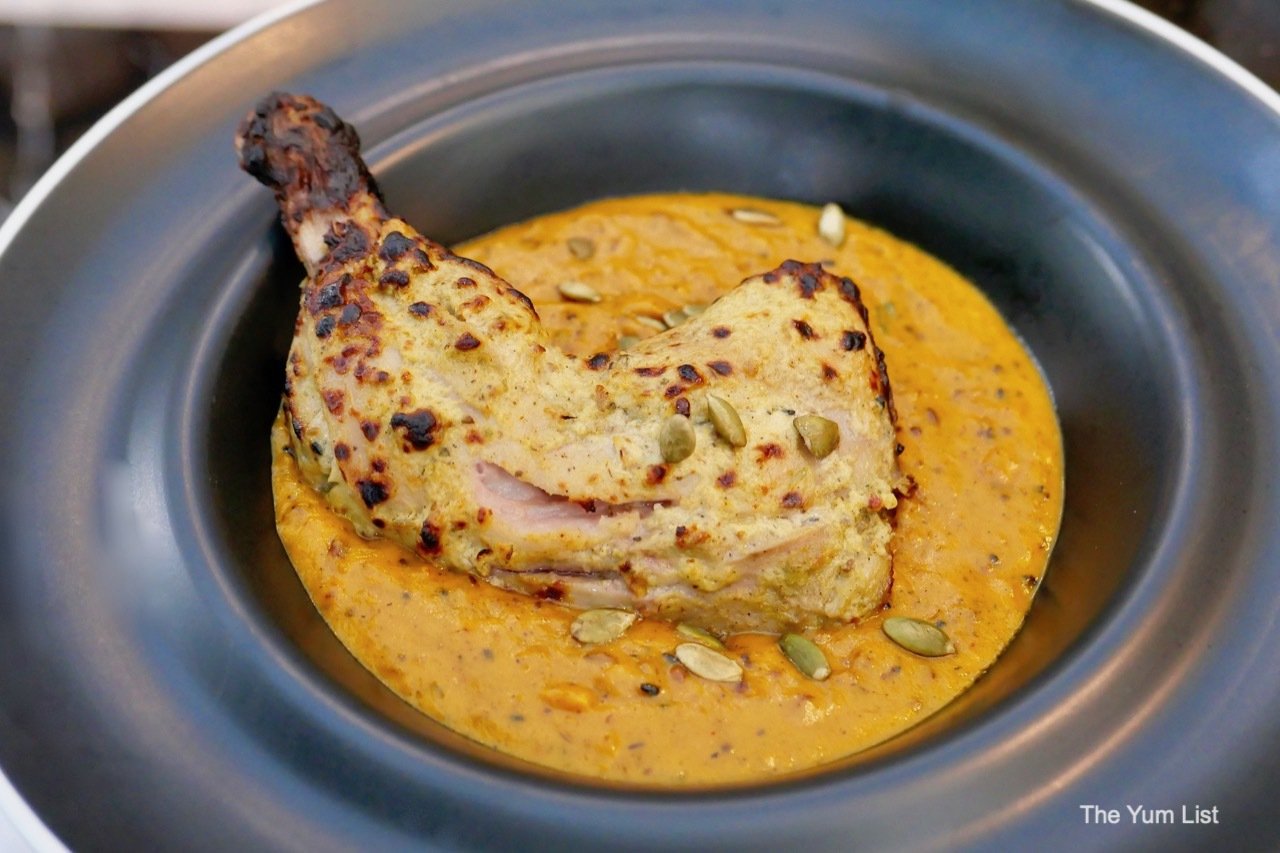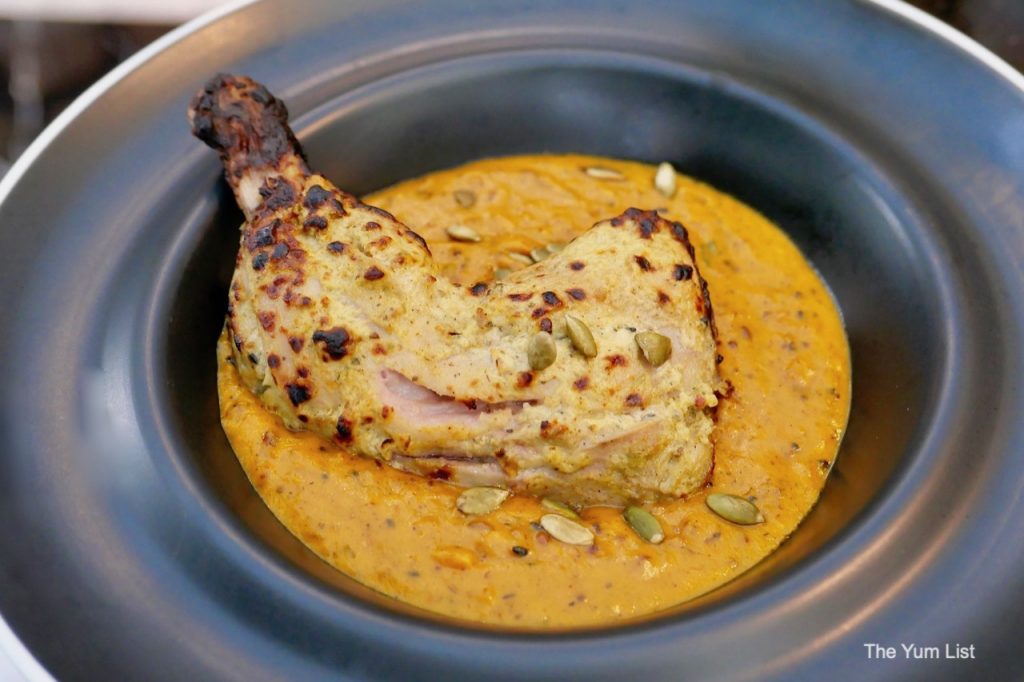 There is an entire section dedicated to meaty mains, but likewise, also pages focused on vegetarian plates. I skip directly to the meat-free items and am thrilled to find so many alternatives. Cottage Cheese & Kaffir Lime Leaves (RM26) has a notable finish of acidity with refreshing lime serving to balance out the richness of the cashew nut paste. The cheese, of course, is hand-made in-house. If you're a fan of queso, Cottage Cheese & Coriander (RM26) is another excellent order. A three-levelled tower of cheese has been cooked in the tandoor and sits inside a moat of coriander sauce.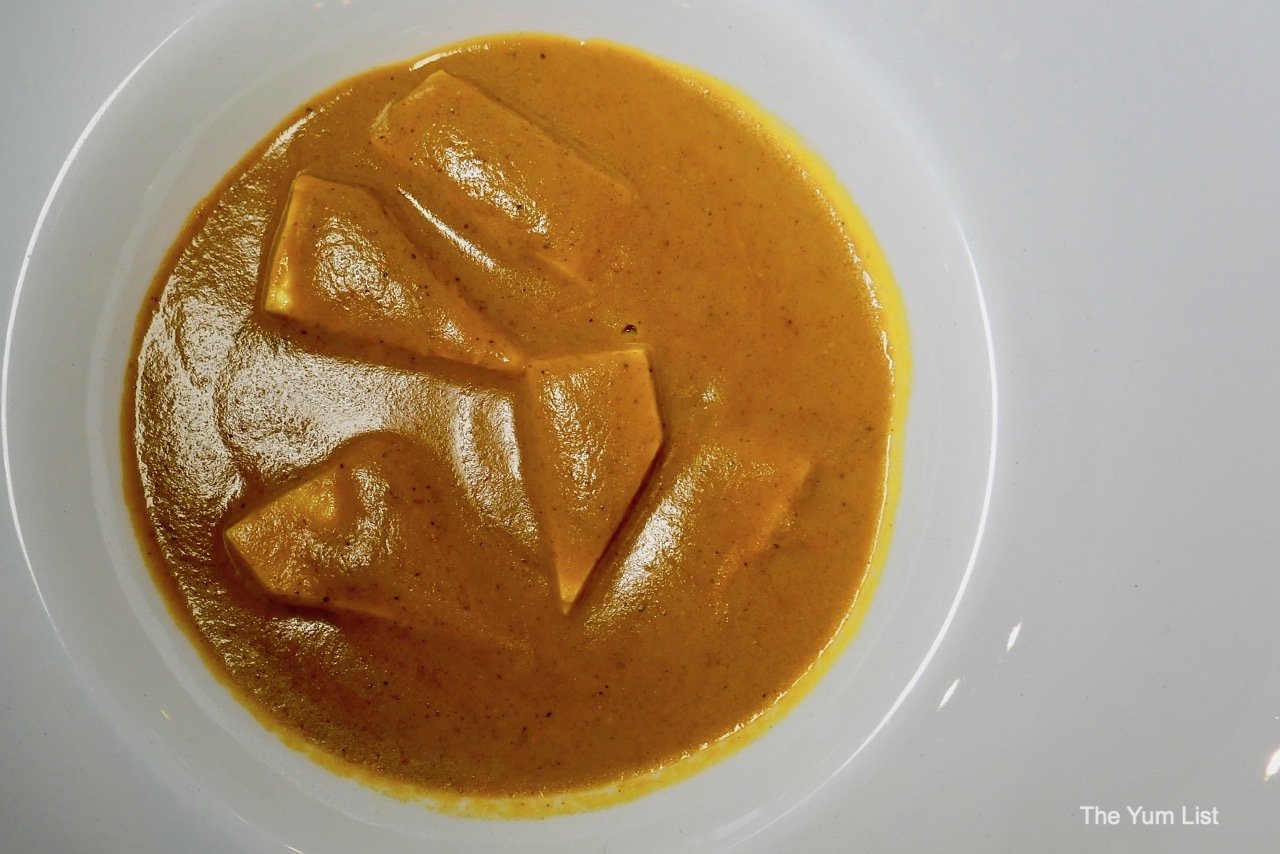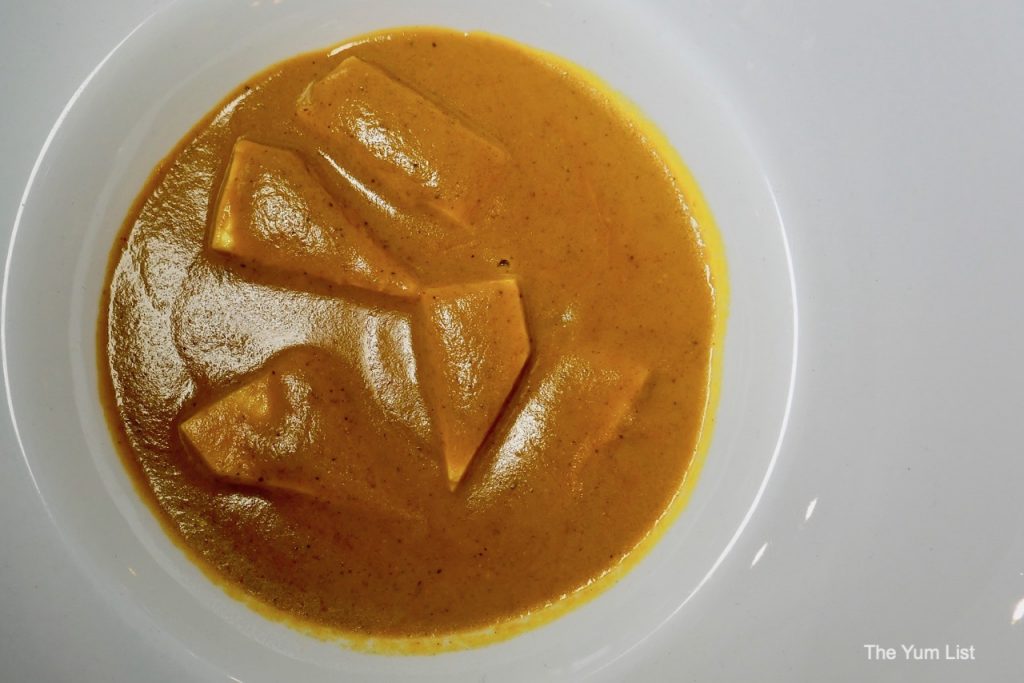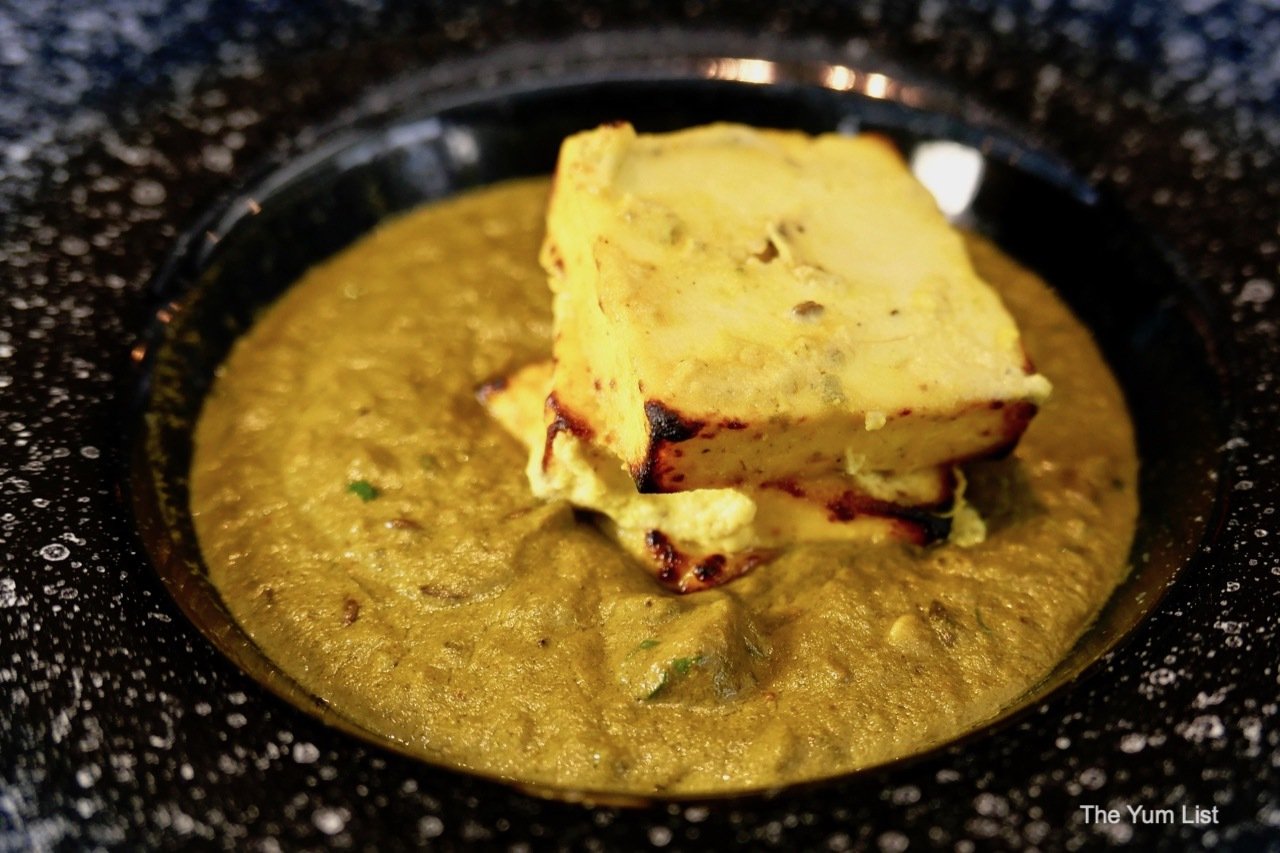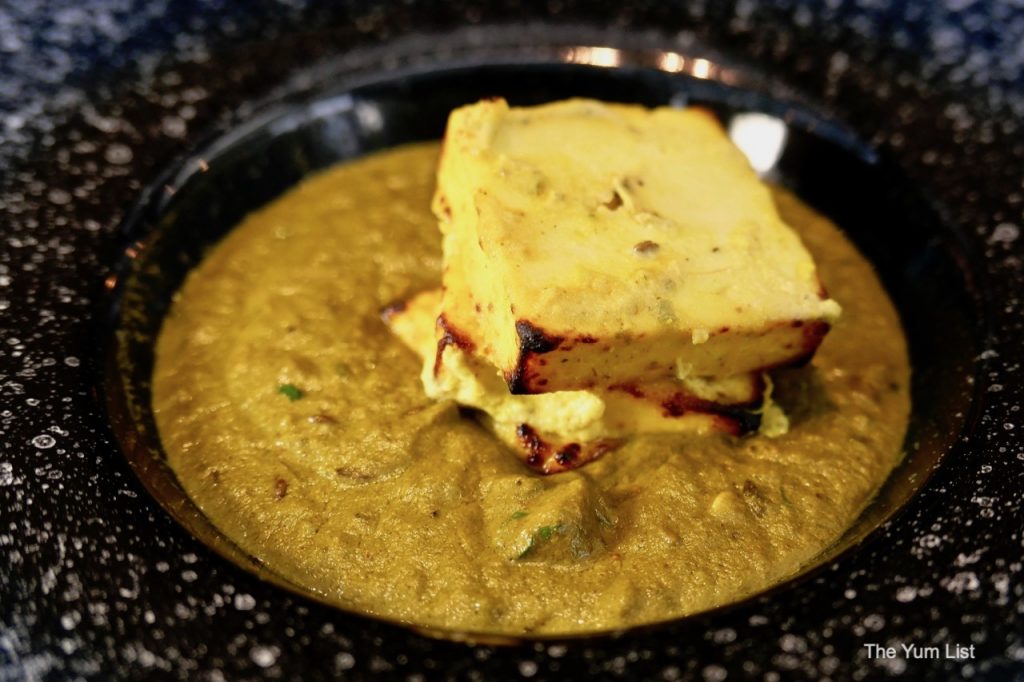 Another dish proving to be an original hit is the Okra & Greek Yoghurt (RM26). A generous white pond holds pieces of okra seasoned with a variety of spices, and notably, crunchy fenugreek. The textures are surprising with the ladyfingers almost chewy with their char contrasting the thick and creamy yoghurt. Great invention.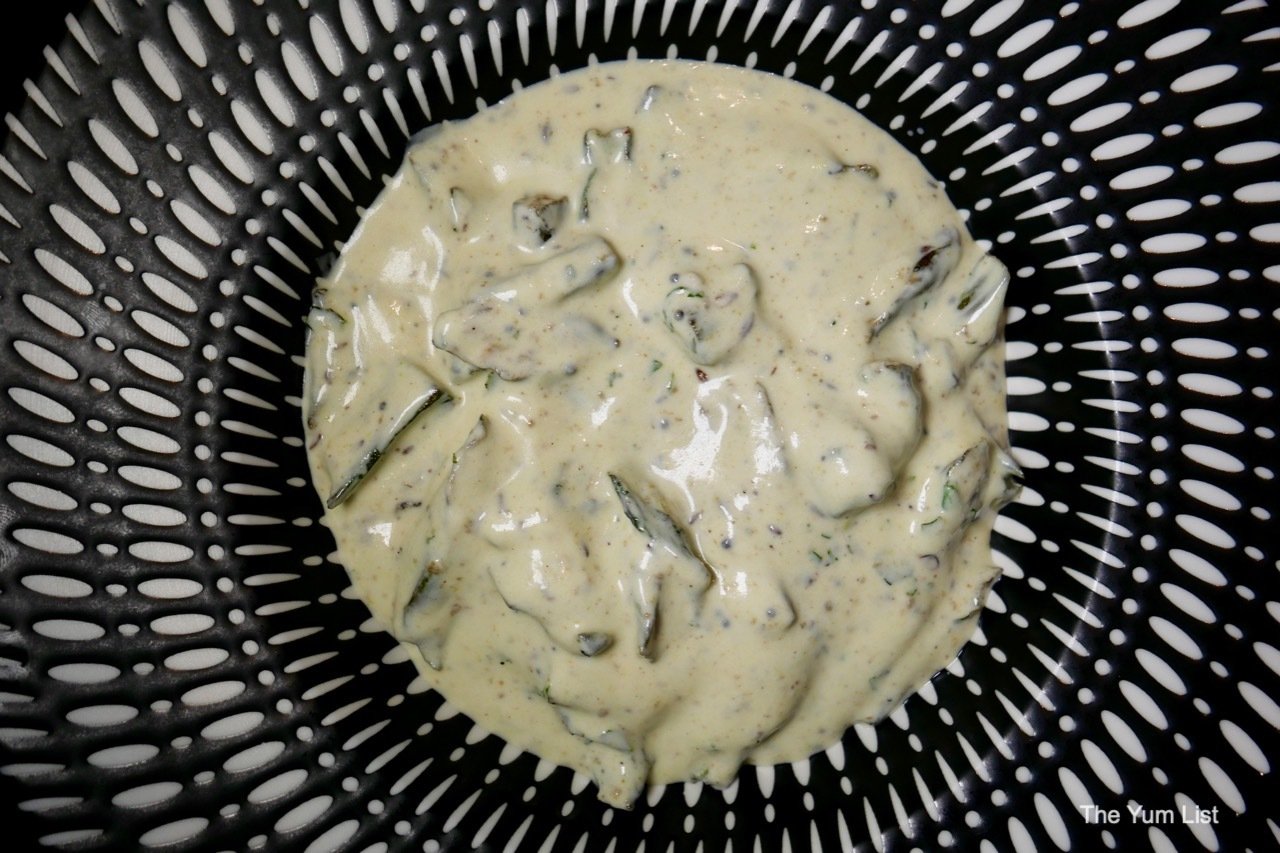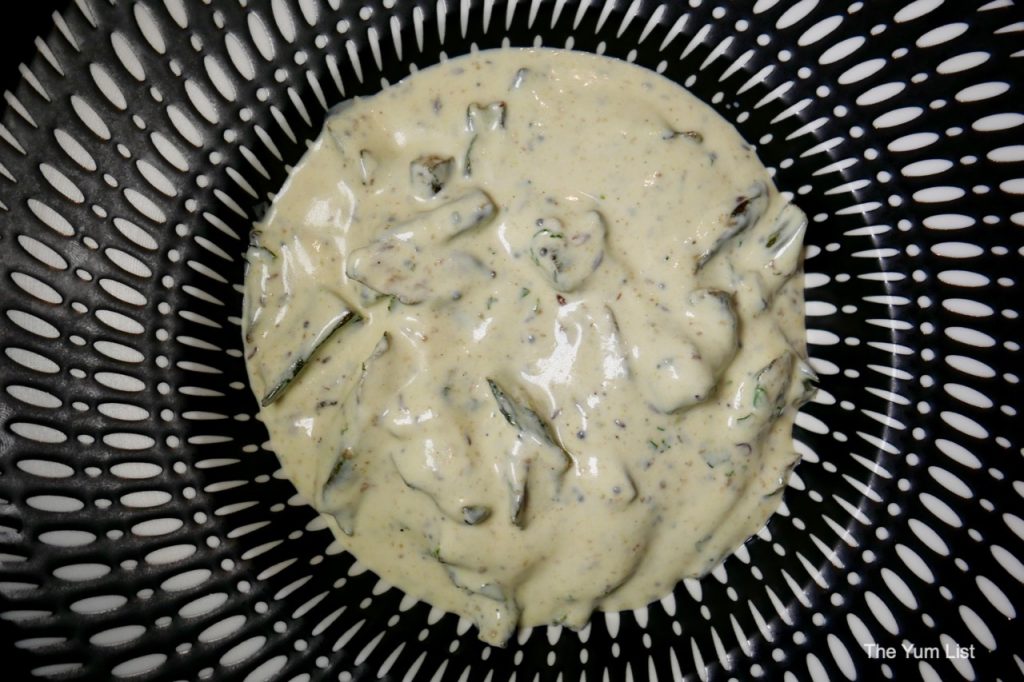 Bread
FLOUR Rises has a trio of gluten-free bread, which makes intolerant hubby very happy. Pearl Millet Bread (RM12), Corn Bread (RM12) and Sorghum Bread (RM12) are all simply made with flour, water and ghee – no egg or rising agent. I opt for the Sorghum as it's an unusual find and love the inclusion of pistachio, which adds a level of complexity.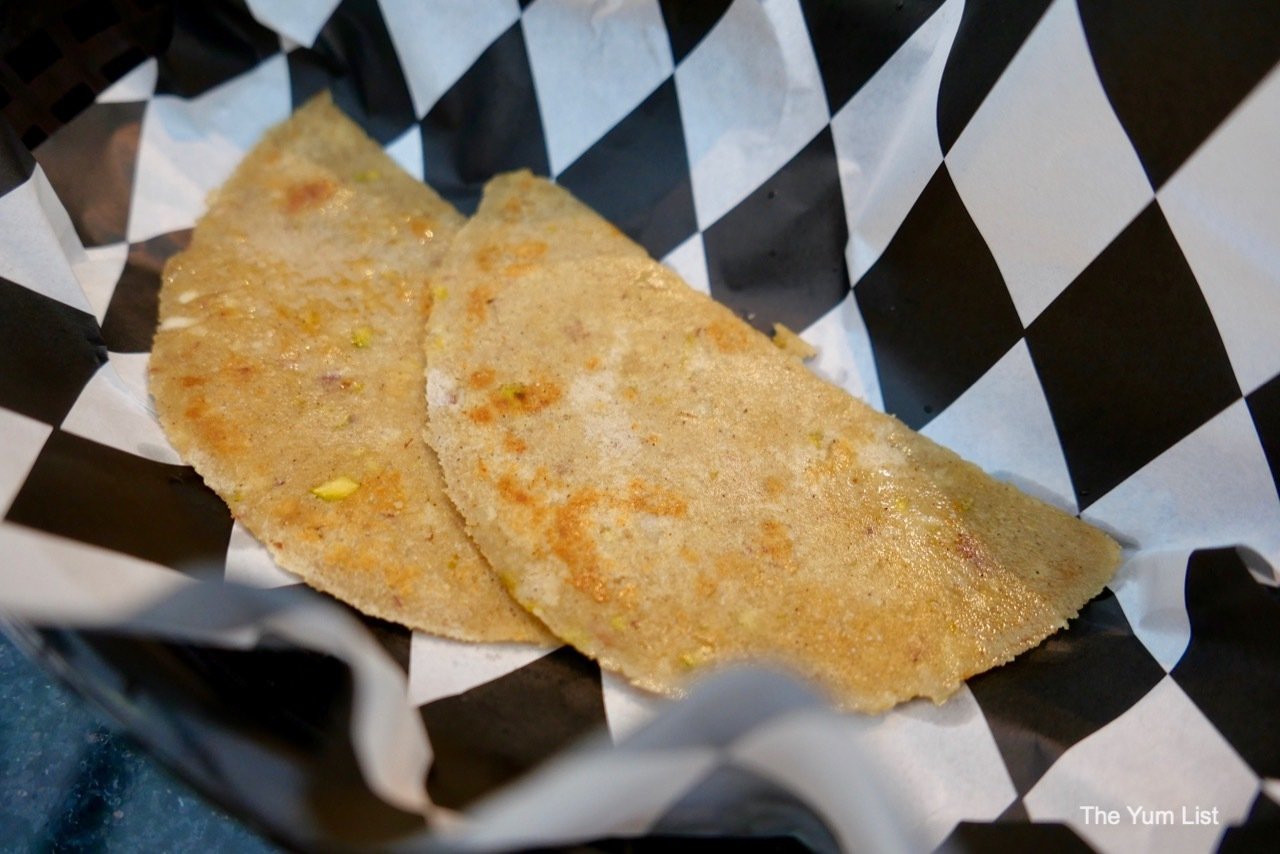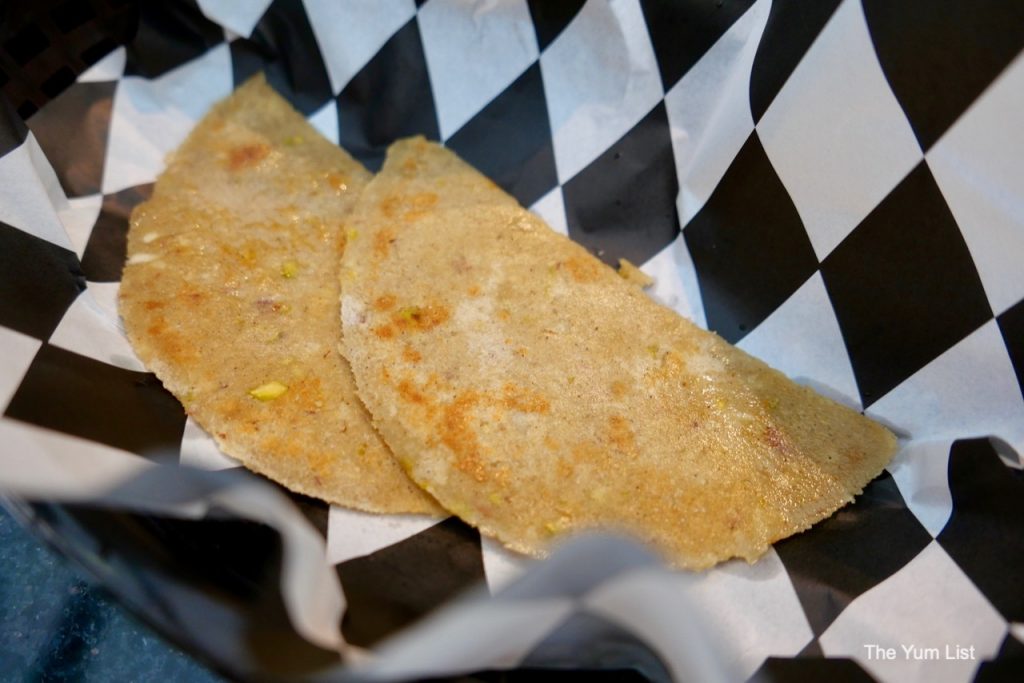 Rice
True to Indian tradition, rice can either be eaten as the main or served directly after. I have no more room for another dish this evening but can attest to the quality of FLOUR Rises biryani. On previous occasions, I've had the mutton, chicken and veg, and a magical whole lamb shank preparation too. If you are a rice fan or still have tummy space, go ahead and order your dearest with confidence.
Entremets & Dessert
We conclude our samples of FLOUR Rises with an arresting modern take on Shahi Tukda, or Cheese Cake (RM18). Not fond of the original ("dreadful" in chef Yogi's words), he decided to give it an overhaul. The base is flattened, sugar-soaked white bread while the cheese is made from reduced milk and covered with thin slices of Cameron Highlands' strawberries. Fantastic.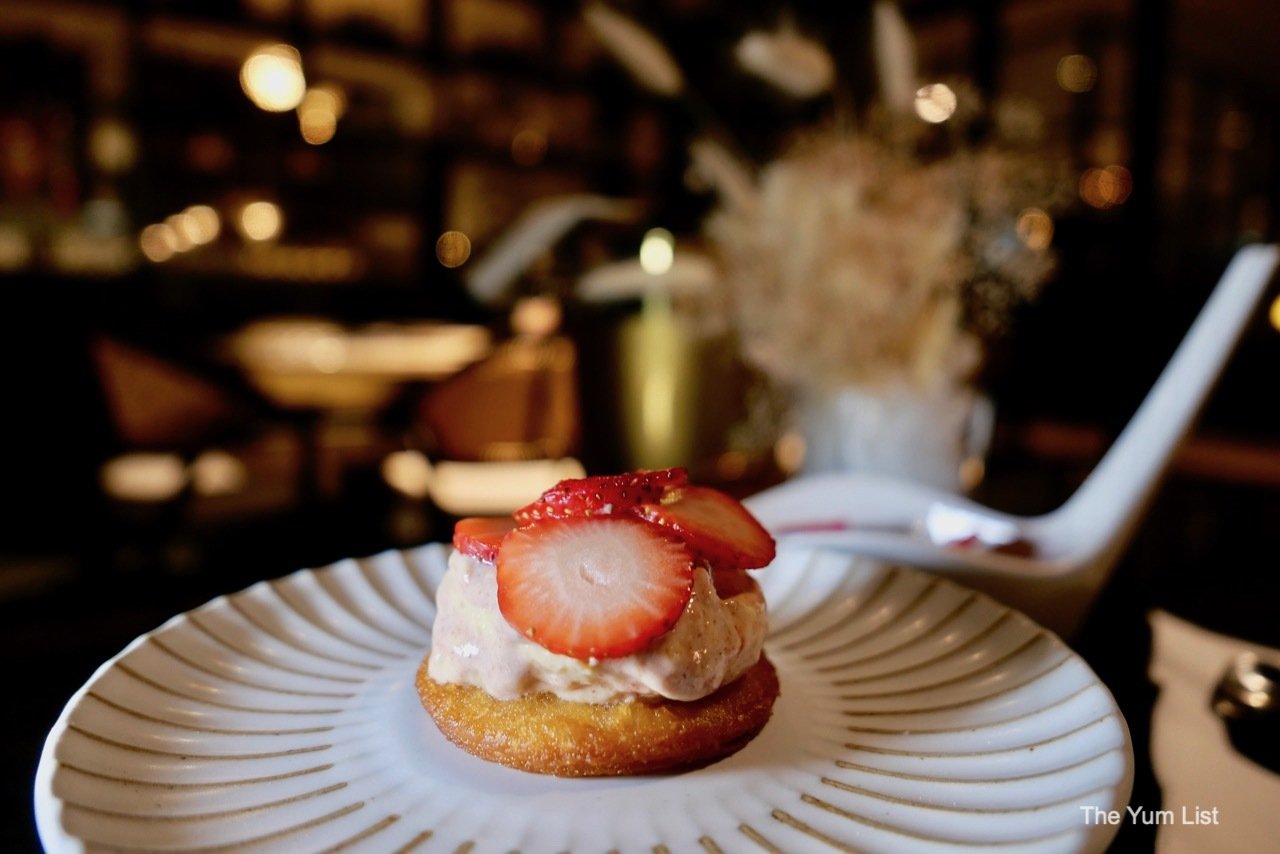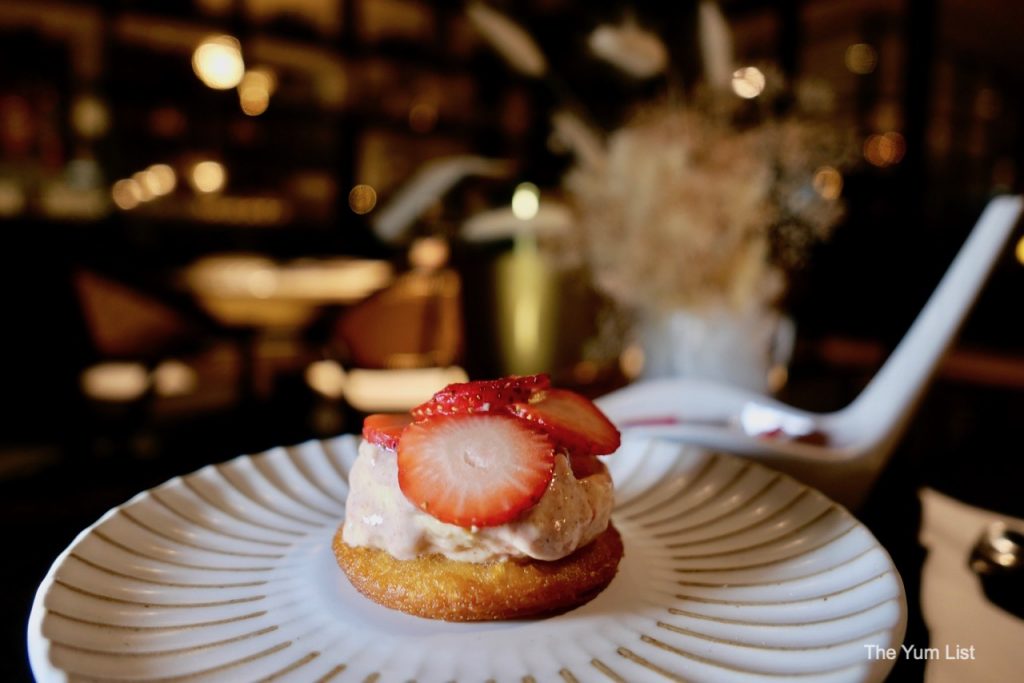 Gulab Jamun (RM18) would have been something I had devoured as a child. As I've matured, however, I've become less fond of sweet foods. I know from previous meals at FLOUR Restaurant though that this recipe has no added sugar. The reduced milk balls have a gentle thread of rose and saffron and lay in a duo of strawberry and reduced milk sauces. If you are not usually a fan of Gulab Jamun, I challenge you to try these. Chances are you'll convert.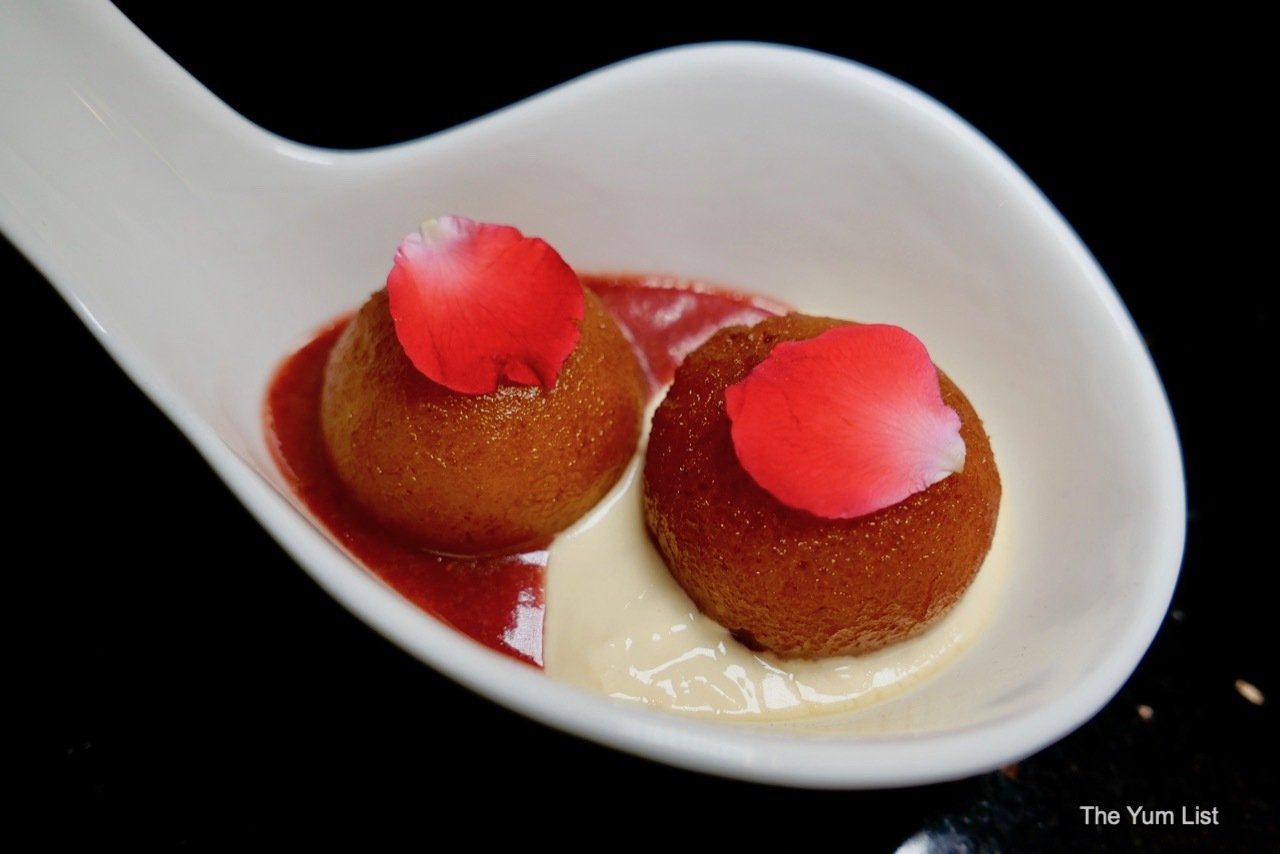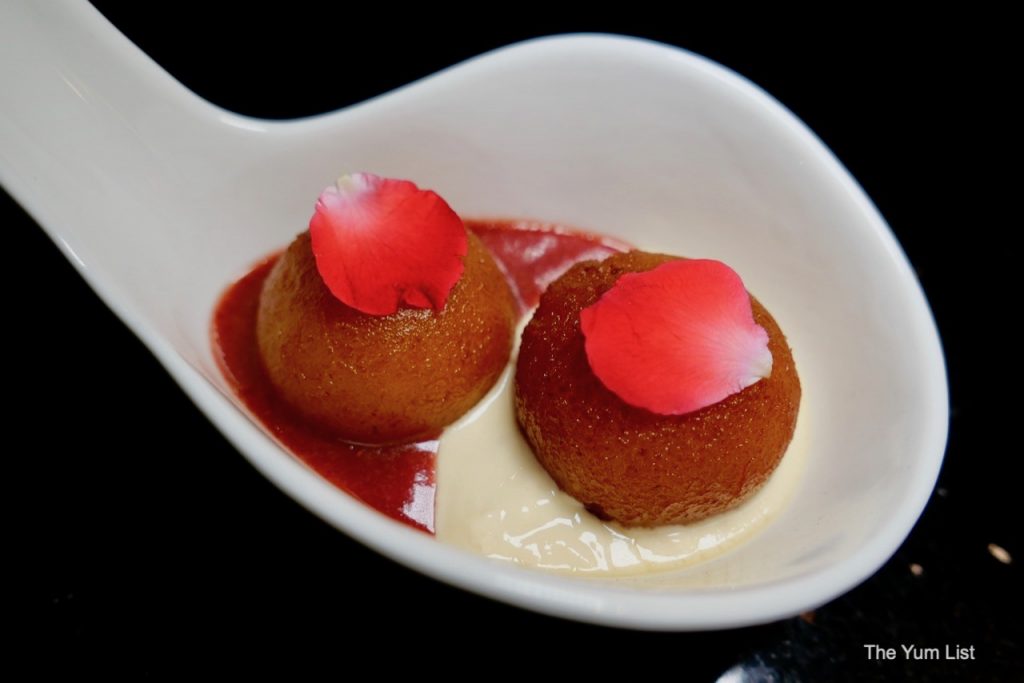 FLOUR Rises Review
Not only is FLOUR Restaurant in more deserving digs but the menu has also been elevated with the setting being just as beautiful as the food. Whether we can certify chef Yogi and his team as brilliant or bonkers remains to be seen but if the crowd on opening night is any indication, FLOUR Rises could offer just the freshness diners are seeking.
FLOUR Rises (NEW LOCATION)
12, Jalan Kamuning, Off Jalan Imbi
55100 Kuala Lumpur, Malaysia
+6 012 960 0053
www.facebook.com/FLOURRESTAURANT
FLOUR Rises Opening Hours
Daily 11 am – 2:30 pm & 6 pm until 10 pm.
Find more restaurants opened during the CMCO here, check out our favourite meals delivered to your door here, read more about food safety and the coronavirus here, and lastly stay up-to-date on KL's vibrant food and beverage scene here.