Gallo Nero Langkawi
Monica Tindall
Ask any ex-pat residing in Langkawi where to eat and Gallo Nero is often top of the list. Run by long-time chef and restaurateur Lorenzo Zecubi, in Malaysia for close to 20 years, there is much love for the man behind the restaurant. With a following traced from KL to Langkawi, serious foodies have shadowed chef Lorenzo in a succession of restaurants. From Nero Vivo in Changkat Bukit Bintang to L'Osteria and the Brasserie in Langkawi, we are part of that patronage. We are thrilled to dine with the man again in Gallo Nero in Langkawi.
Located well off the tourist strip in a community not far from the airport, Gallo Nero is a destination restaurant worth travelling for. When you've had your fill of Langkawi specialities and complex recipes, this Italian restaurant is a refreshing break. With a focus on uncomplicated, healthy dishes using only the freshest and highest quality ingredients, the kitchen demonstrates why Italian food is so popular across the globe.
From the row of shop lots outside, we'd never guess how welcoming Gallo Nero would be inside. Tables dressed with white linens and wine glasses, a mosaic floor that plays tricks with the eyes, and vibrant artworks on the wall are accessorized by soft lighting and an uplit bar acting as a focal point. Classy jazz tunes hum from a quality sound system and the mid-week crowd is positively buzzing.
The menu at Gallo Nero continually changes. While you can't guarantee that the same recipe will be available week after week, you can be assured that only the freshest of ingredients are used. It's rather exciting, really. We leave the choice of our dinner line-up to the chef, happy to benefit from the day's finest.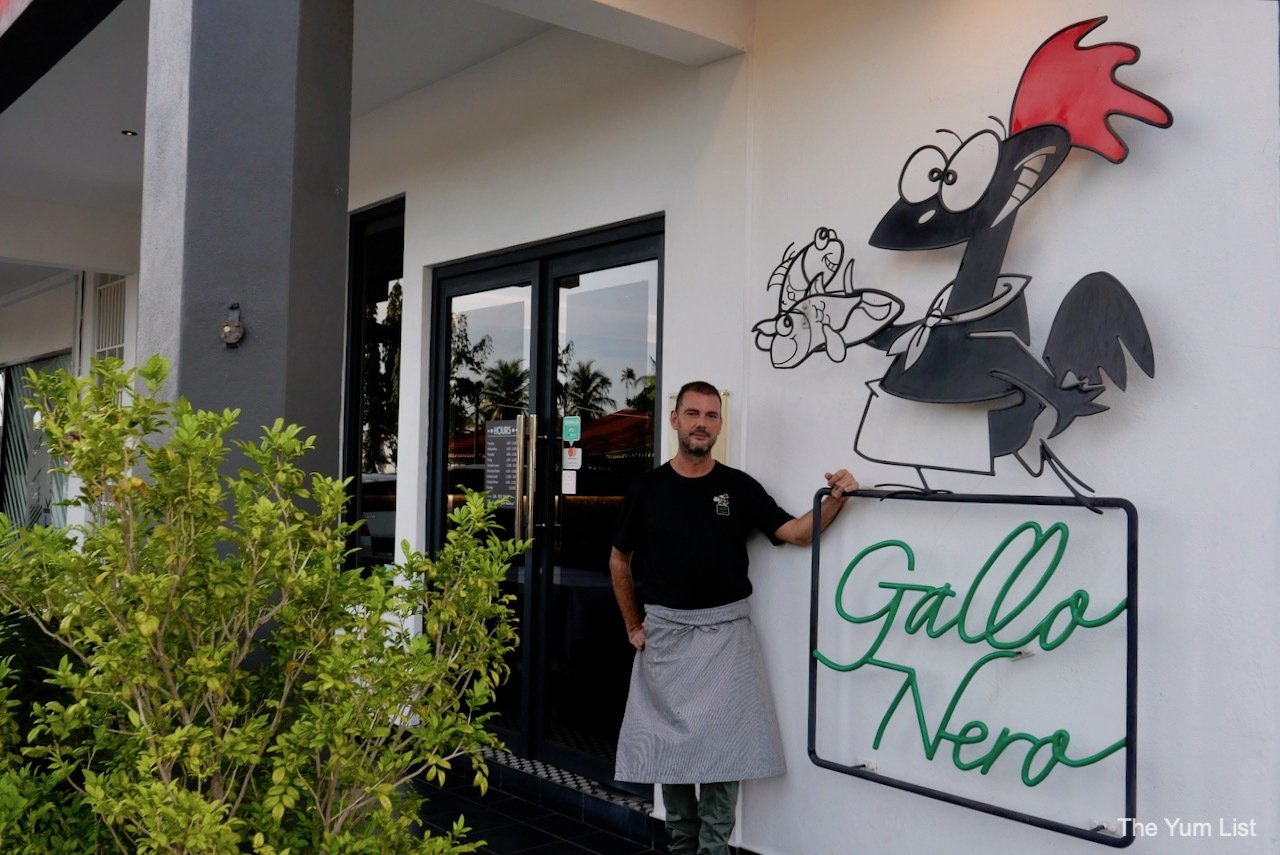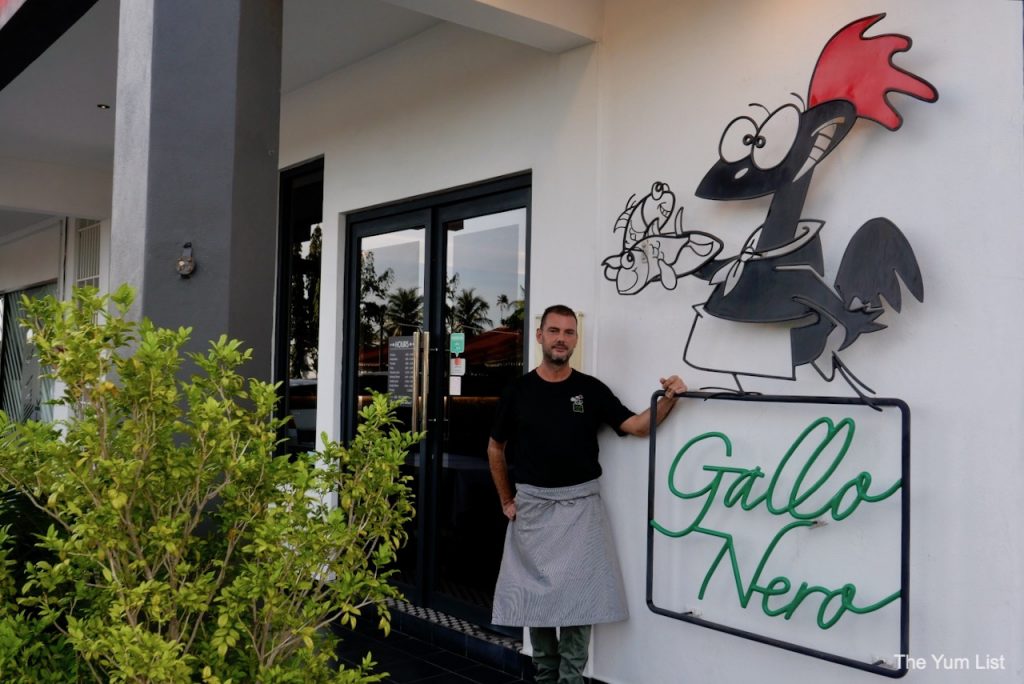 L'Aperitivo
House-baked ciabatta with olives, sun-dried tomatoes and marinated garlic come out with a duo of Hugo Spritz cocktails. A nice change from the popular Aperol Spritz, this Italian aperitif has lovely floral notes with its base of prosecco and gin combined with elderflower syrup, sparkling water and a garnish of mint leaves. It reminds us of beautiful summers in Bolzano, and we soon discover that this is for good reason as the cocktail originated in South Tyrol, sharing the border with both Austria and Italy. We know we shouldn't polish off the bread, but its crusty shell dusted with herbs and spongy interior are irresistible.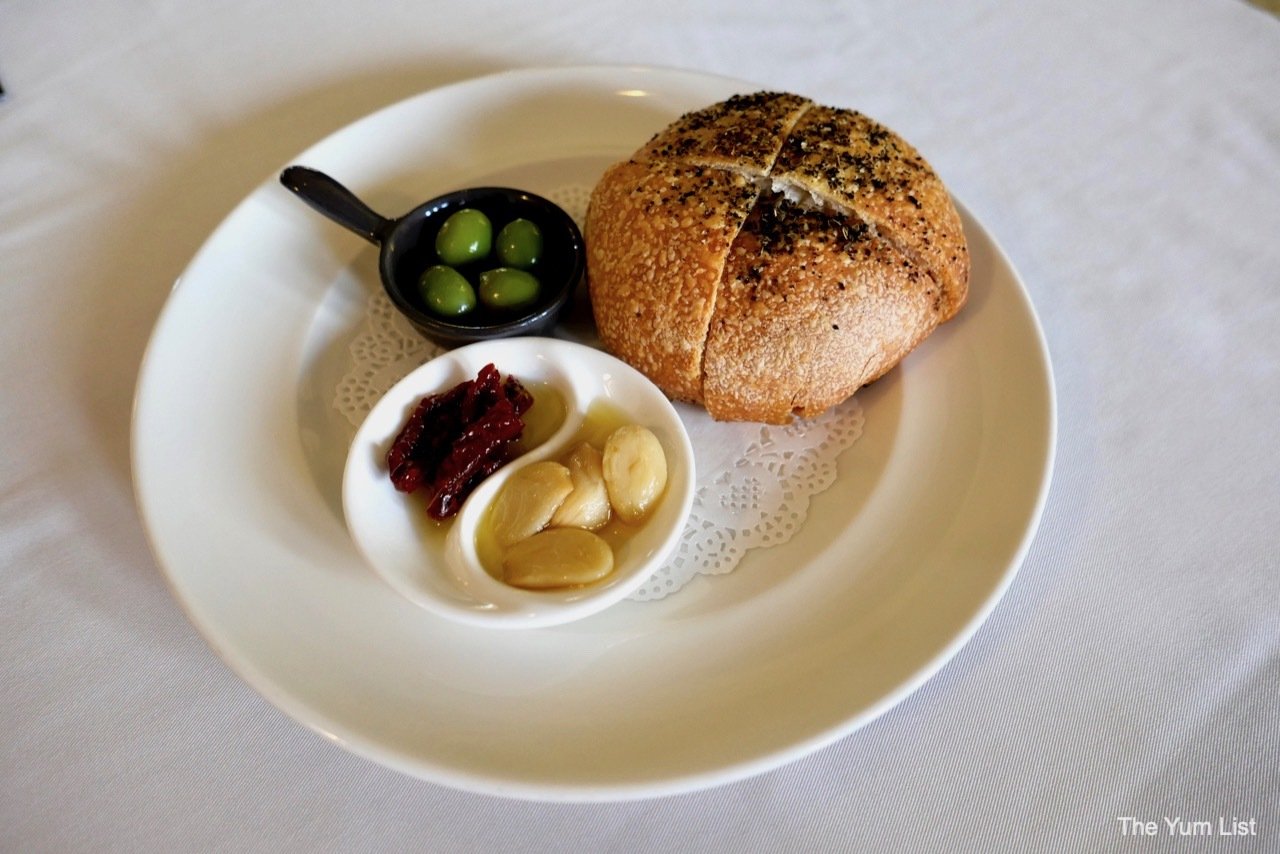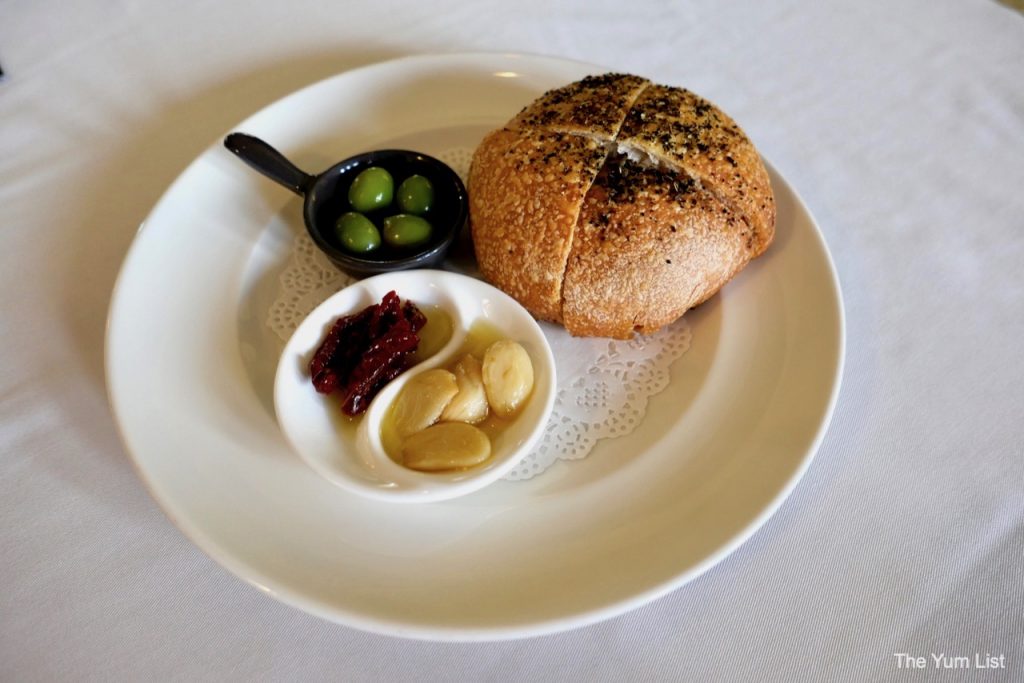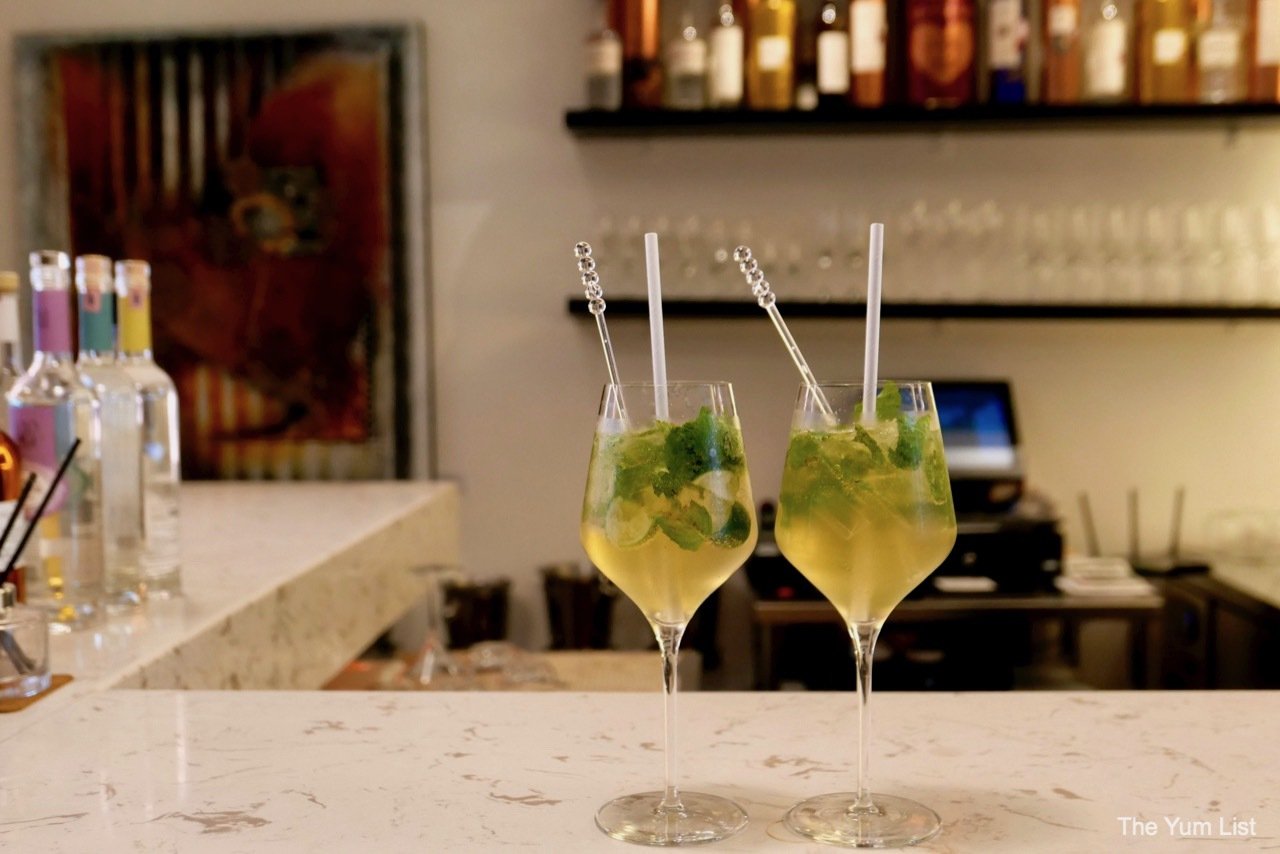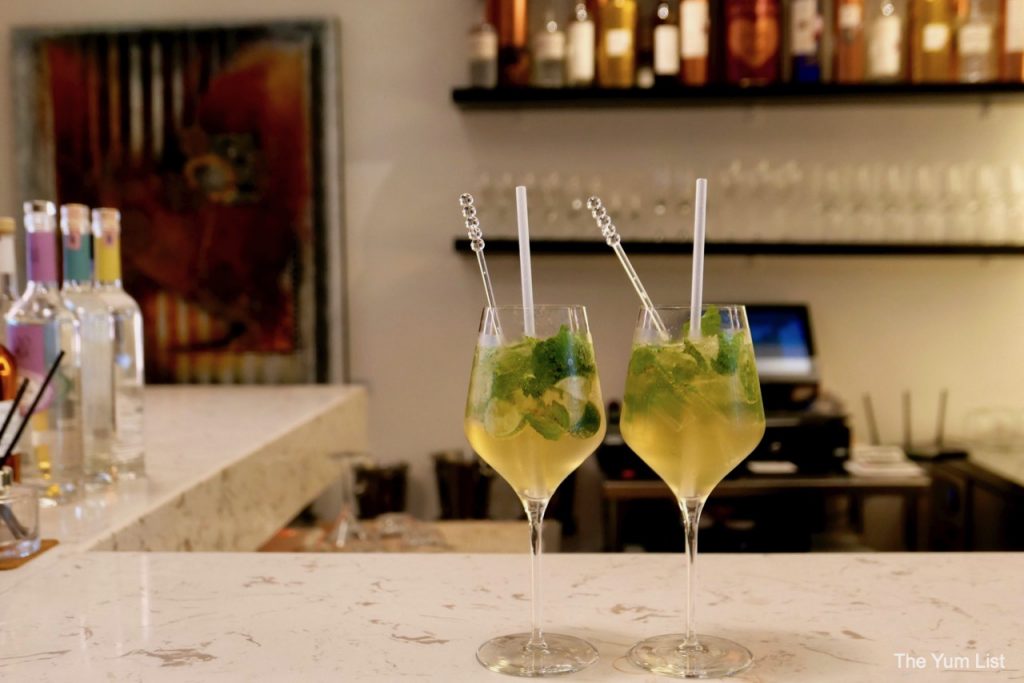 Gli Antipasti
Langkawi seafood prepared on the grill team together for a delicious first course. Grilled baby octopus is soft in the middle and crisp on the points of the tentacles making an attractive change in textures. Potatoes, grilled French beans and a salsa verde of parsley and olive oil are clean and complementary companions. The fresh prawn, however, is the star. Partnered with baby eggplant, prawn bisque and a seductive saffron vinegar caramel, the crustacean is firm but juicy, and the mild sweetness of the sauce plays well with the flavours from the grill.
Our antipasti course is paired with Cantina Mesa, Vermentino, 2019 from Sardinia. I've long been a fan of Vermentino, finding it a wonderful summer drink perfect for seafood, salads and dining on a nice grassy patch in the backyard. We find tropical fruits and minerals in the bouquet in this expression, followed by juicy fruit in the mouth. It exits with crisp acidity; indeed, it's a perfect match for seafood.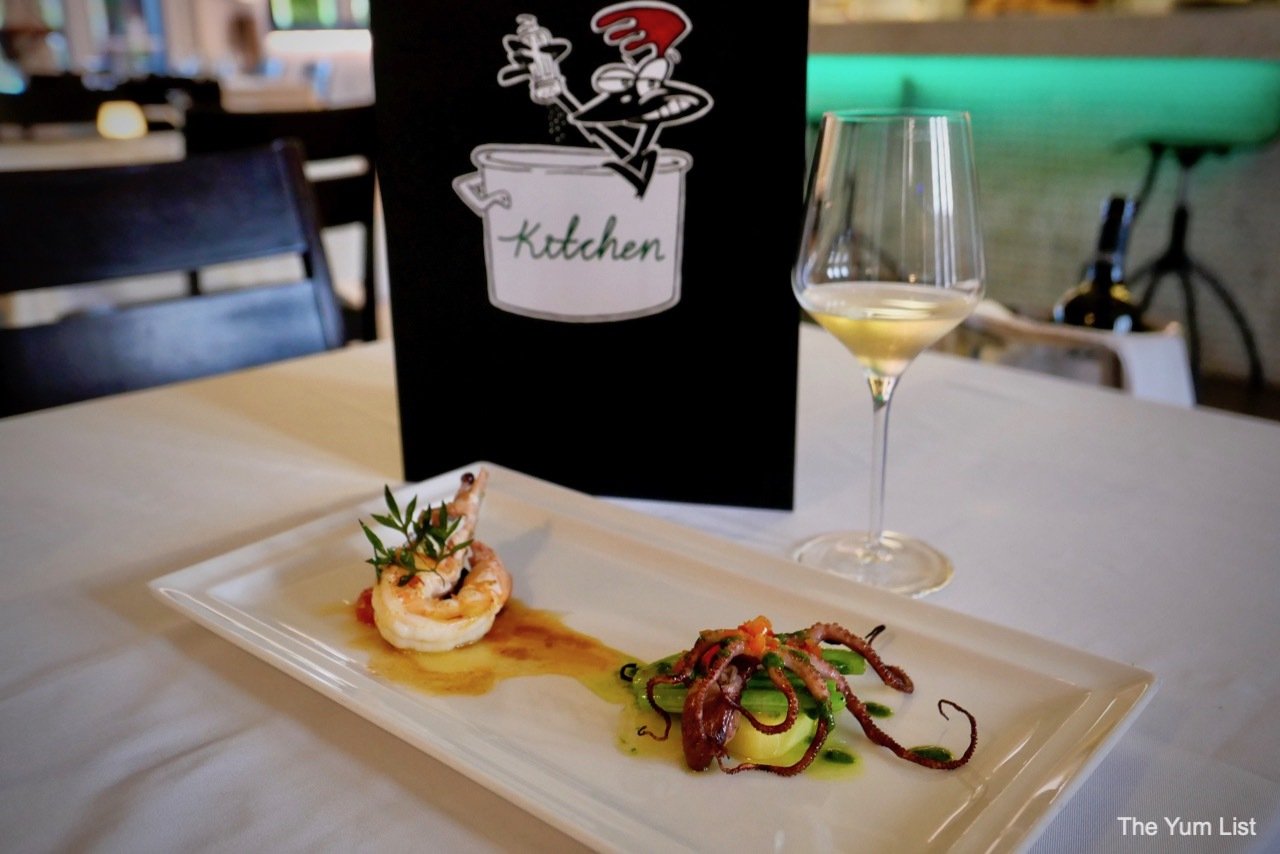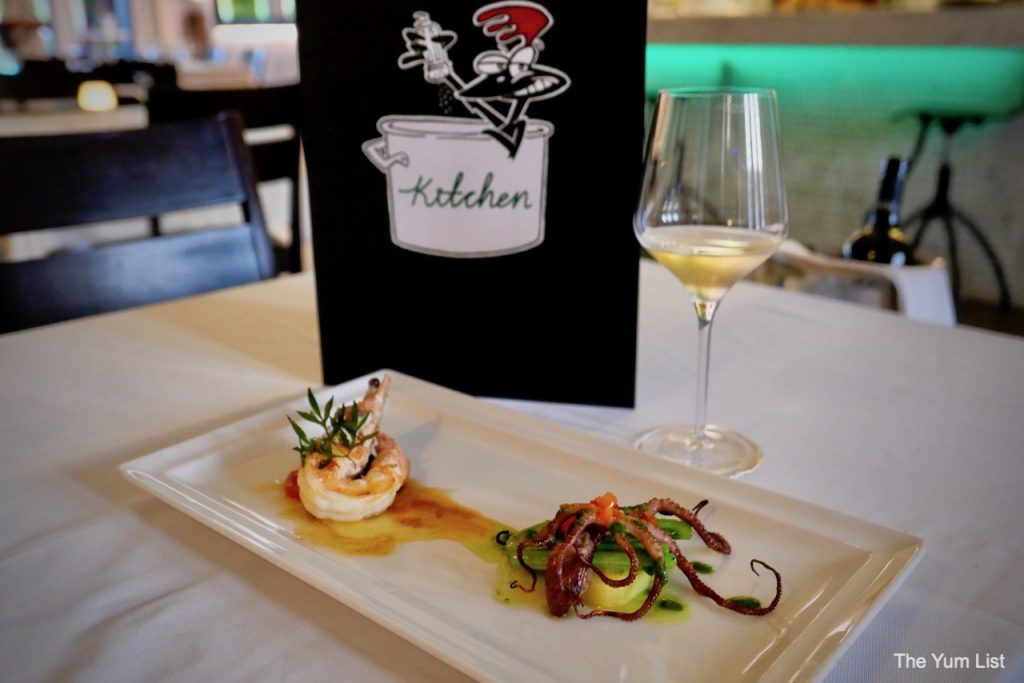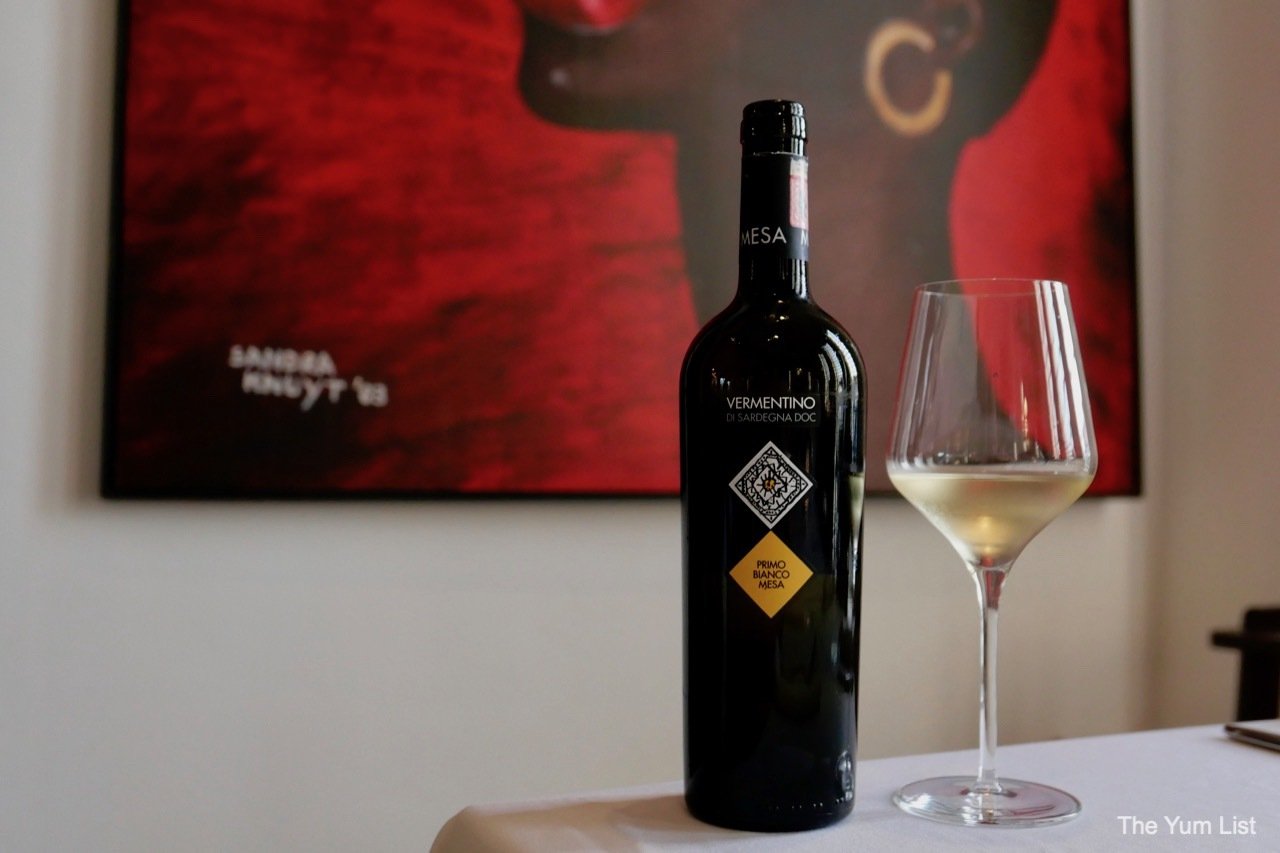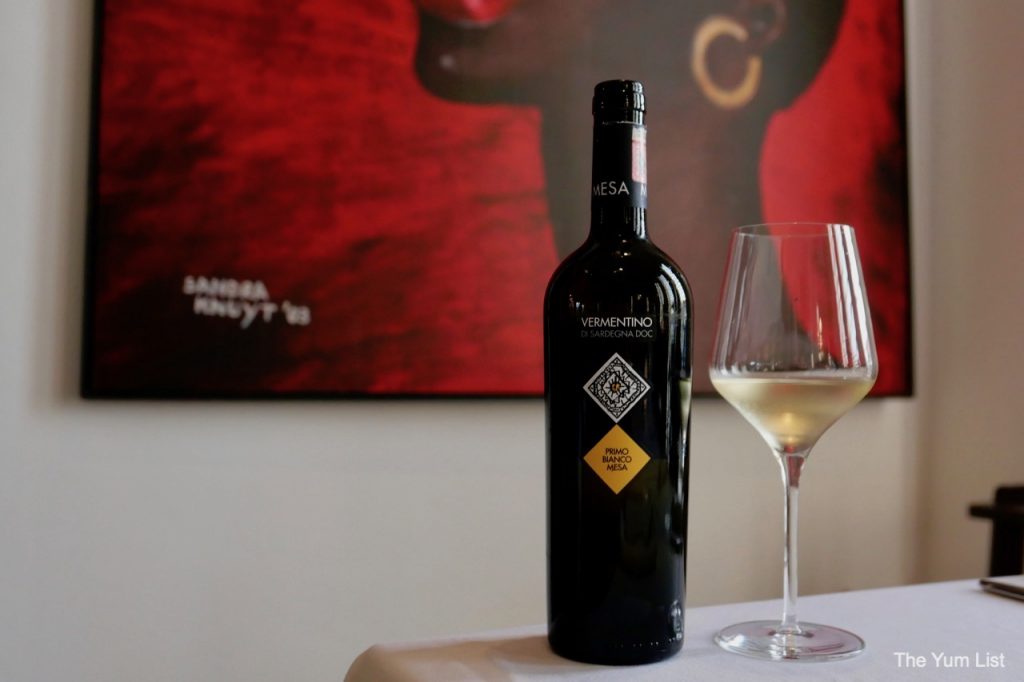 La Pasta
There is nothing better than fresh pasta made in house, and the handmade fettuccini at Gallo Nero epitomizes why we love it so much. The al dente ribbons are flawless vessels to absorb the sauce of clams 'vongole,' candied cherry tomatoes, and toasted pistachios. The recipe is both light and rich at the same time. The character of the seafood is an elegant accomplice to the acidity of the tomatoes and the mild sweet taste of the nuts.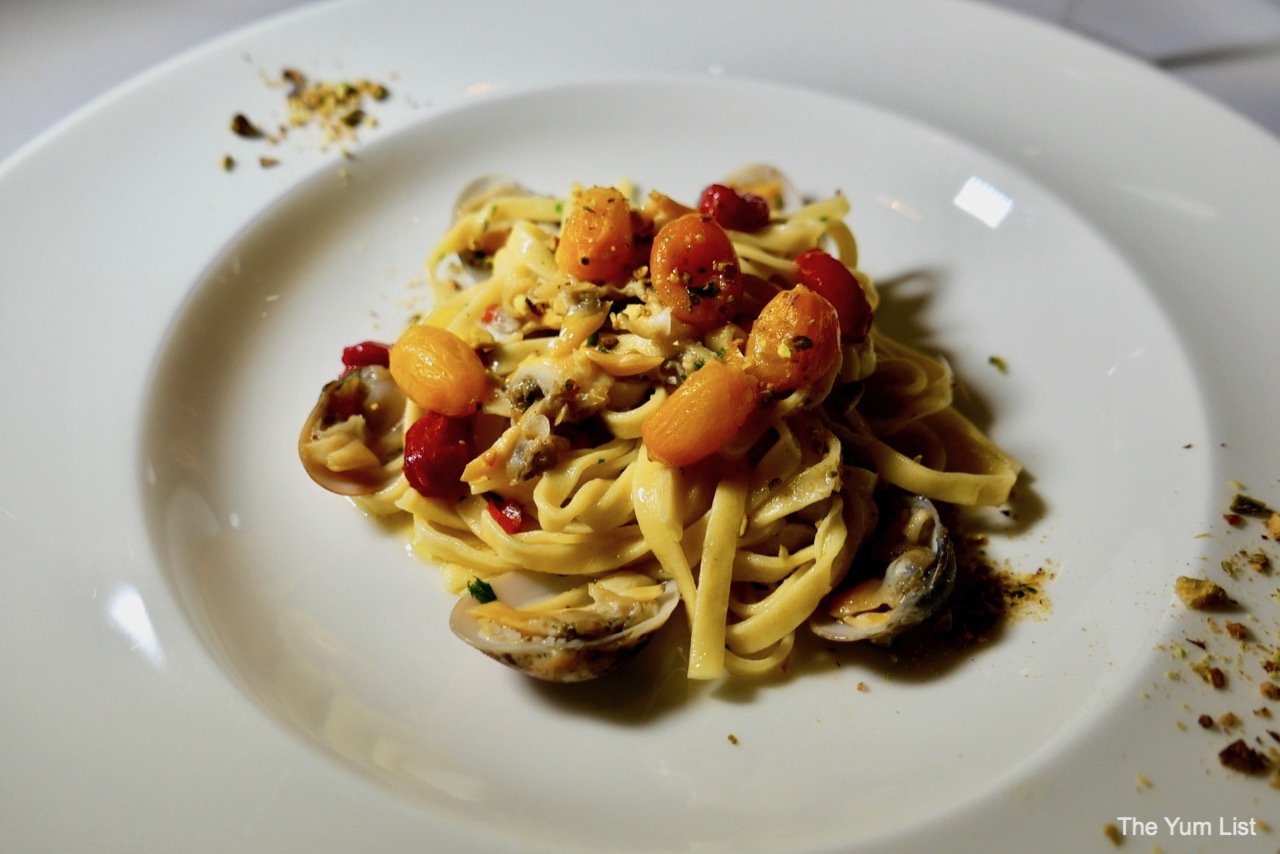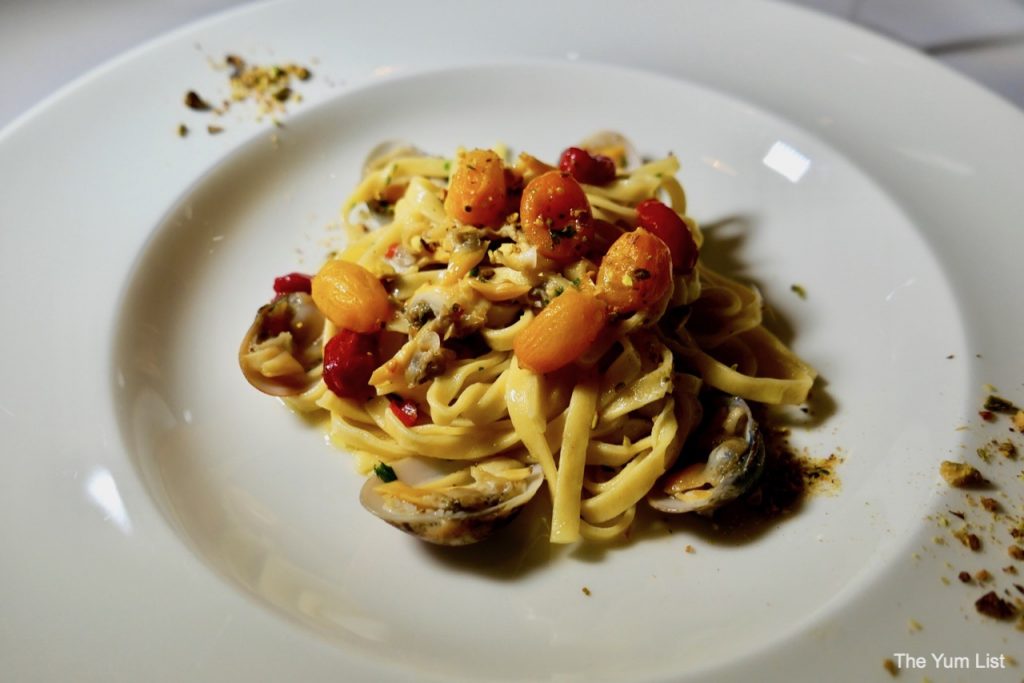 Il Secondo
Connecting our courses with a theme from the sea, pan-roasted red snapper fillet is fresh from today's market. Chef Lorenzo scours the island's produce for the best ingredients each day and serves them on tables in the evenings at Gallo Nero. The fish has been roasted with capsicum, asparagus, sautéed spinach, black olive powder and dressed with a garlic watercress sauce. Moist and flaky, the fish has been treated well, and it reaches our mouths in superb condition.
We head further north in Italy for the next wine pairing with a bottle of Frescobaldi, Pomino Bianco, 2016 from Tuscany. This blend of chardonnay with pinot bianco shows more depth than our first white. Floral notes with stone fruits make for an elegant nose. In the mouth, it is lively, yet balanced, round, filling the entire mouth. The finish is persistent and concludes with structure and freshness, and perhaps a lingering aftertaste of raspberries.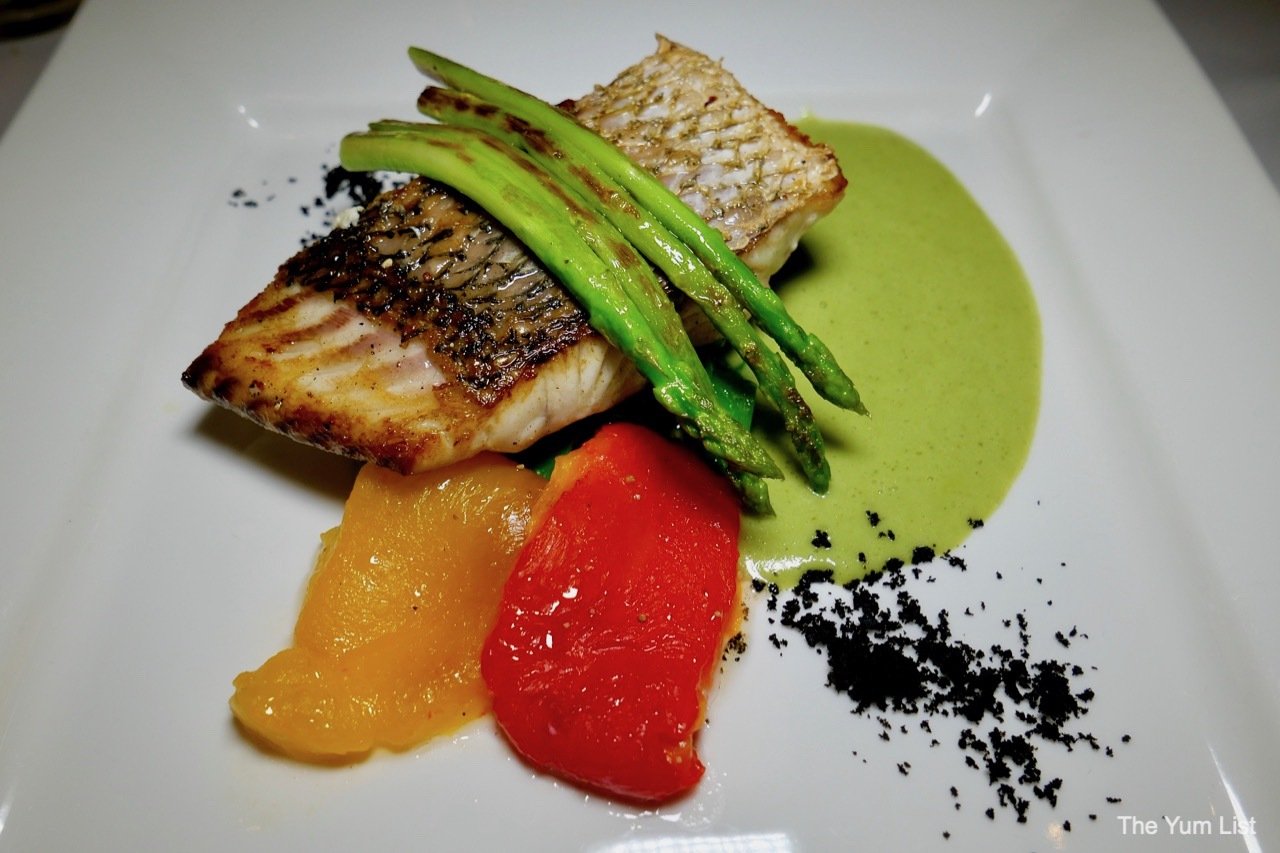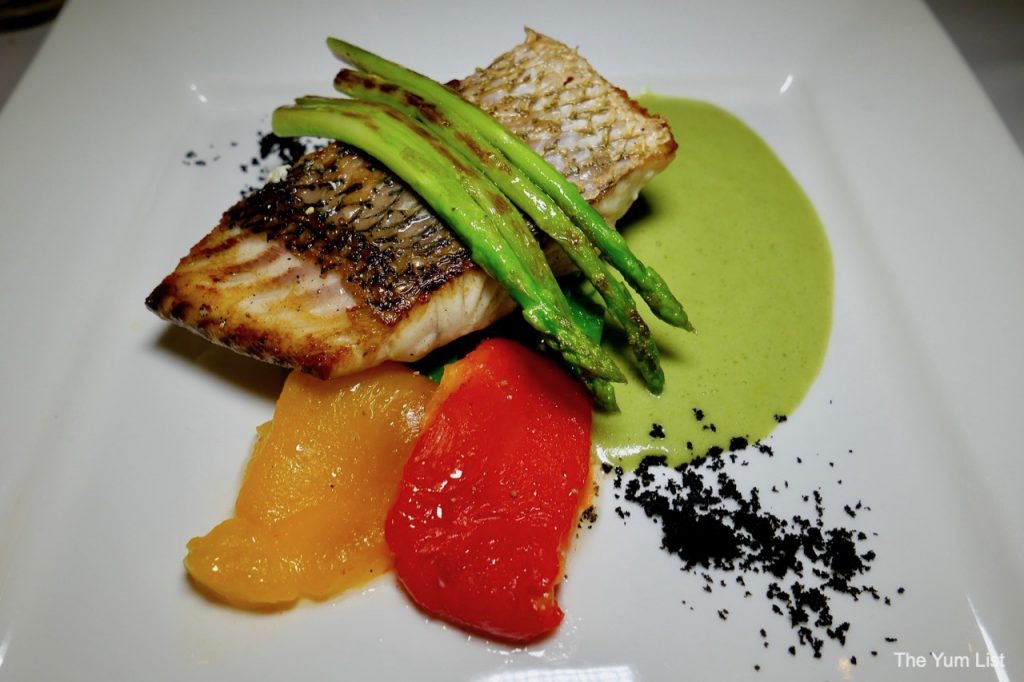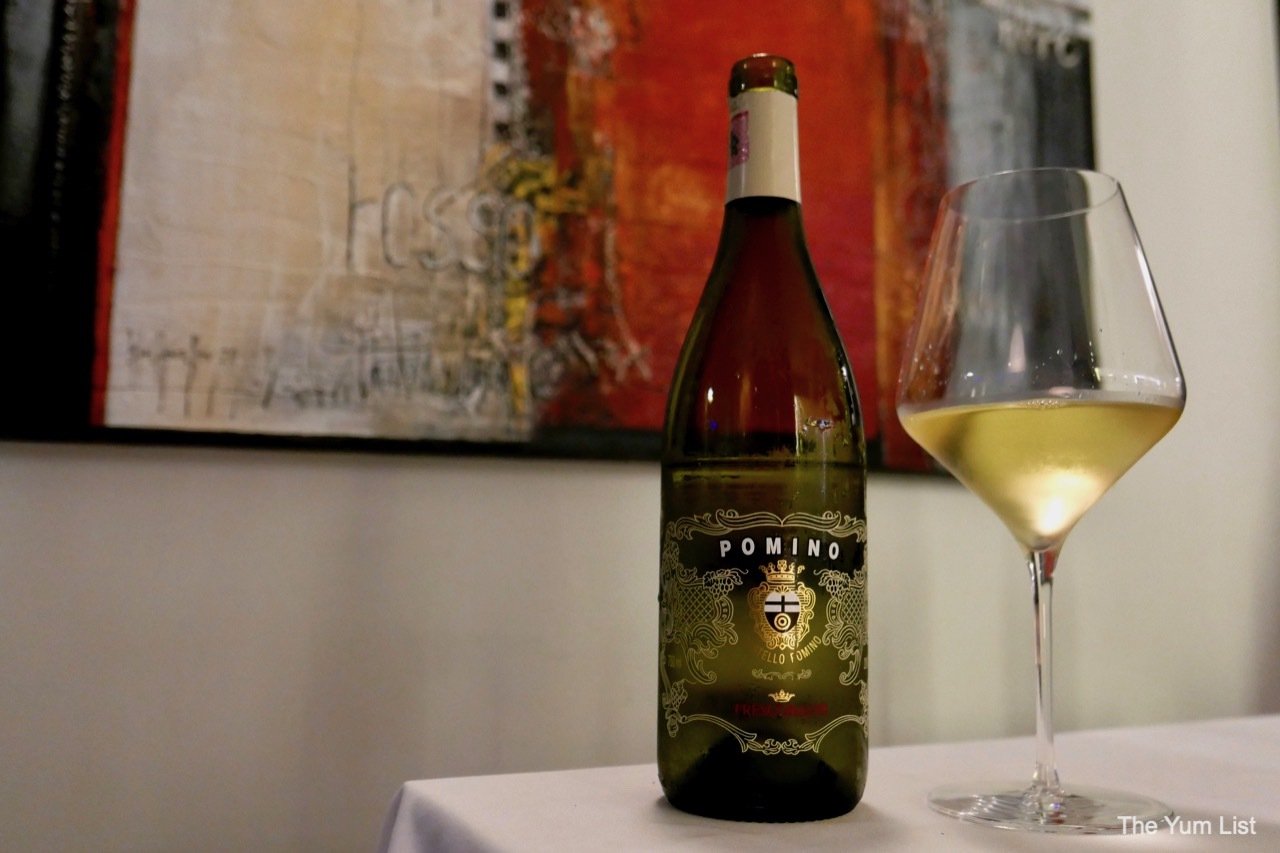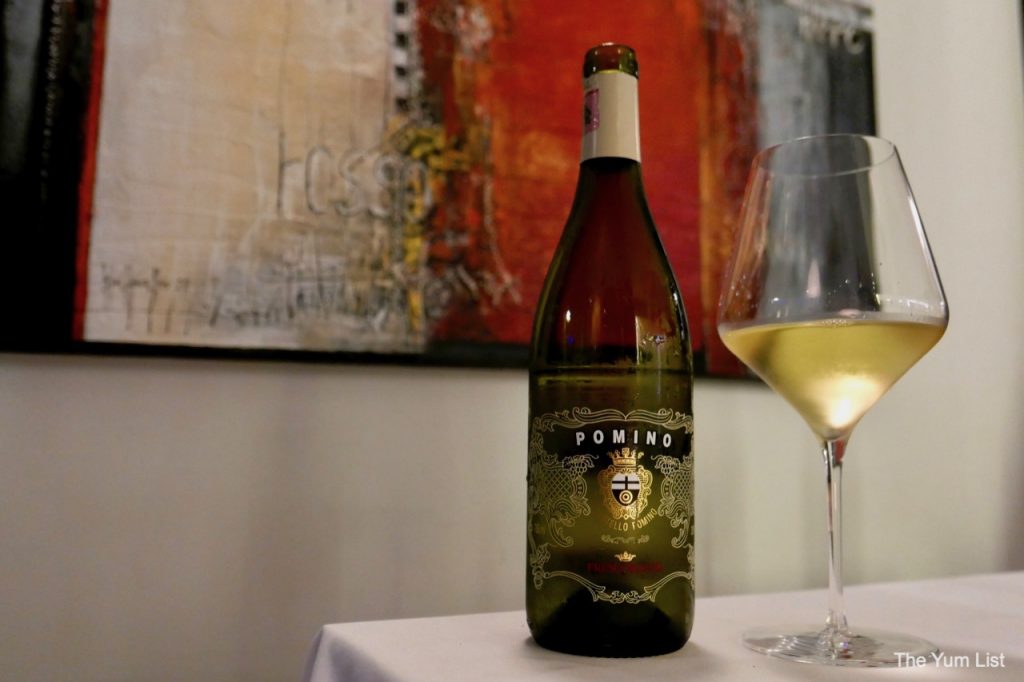 Il Dolce
The meal concludes with a classic, Tiramisu. Of course, chef Lorenzo has his own interpretation making it Gallo Nero style. Tiramisu Gallo Nero all' Amaretto showcases luscious layers of mascarpone and Savoiardi ladyfingers biscuits, which are alluringly still crunchy making an enticing contrast to the velvety smooth cream. A dusting of cacao and a good dose of espresso and Amaretto provide a mouthful of flavour eliminating the need for coffee and digestive in one.
… but, you shouldn't miss a digestive at Nero Gallo. They have one of the most extensive collections of grappa I've come across in Malaysia. From a light and fruity introduction to a heady, powerful sinus-cleanser, there's something for everyone on the menu. A chat with the waiter, or even Lorenzo himself if he's done in the kitchen, should point you in the right direction.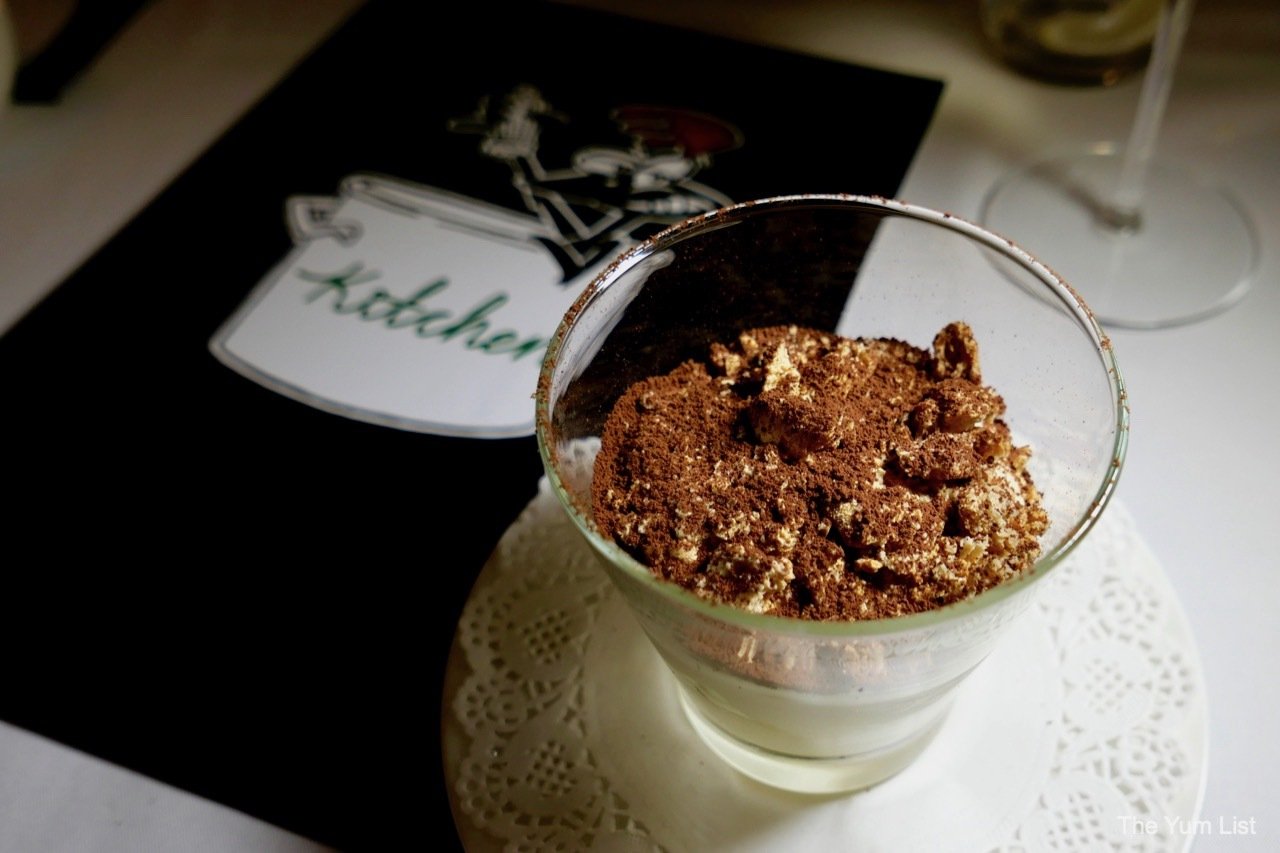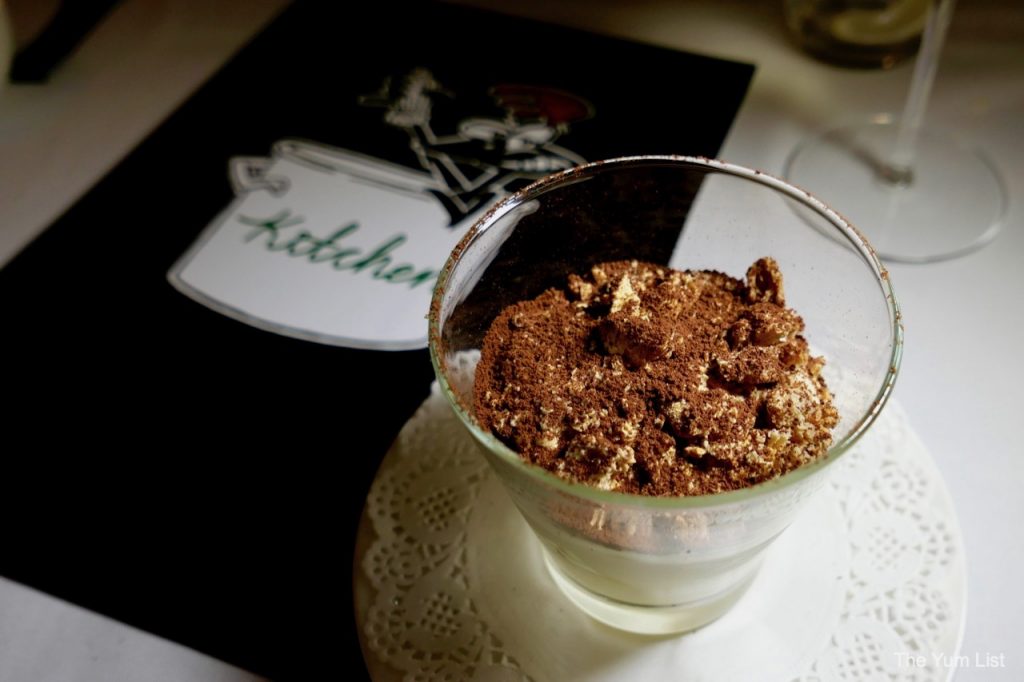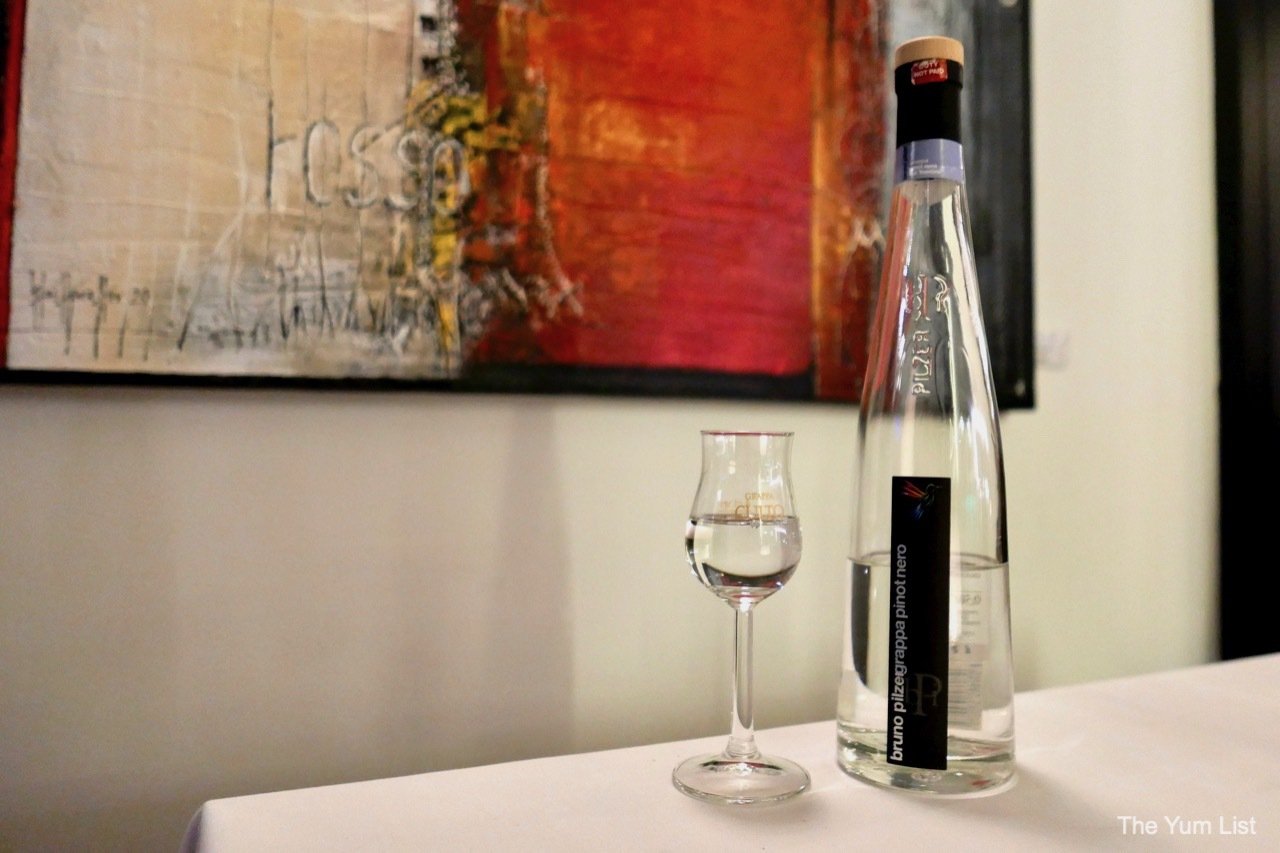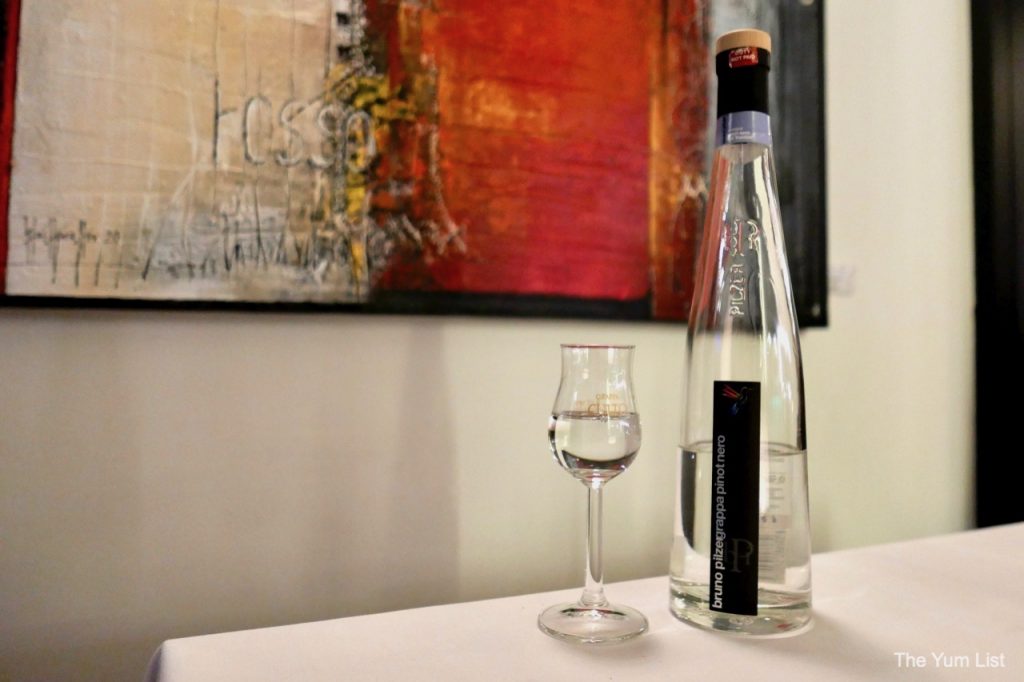 Gallo Nero Langkawi Review
Foodies should not miss a visit to Gallo Nero in Langkawi. This Italian restaurant rivals any we've come across in a big city and has the additional benefits of being located on a duty-free island and receiving the fruits of the Andaman Sea.
Reasons to visit Gallo Nero Langkawi: possibly the best independent restaurant in Langkawi, fresh food with a focus on quality ingredients, stylish setting, excellent Italian wine menu, an extensive selection of grappa.
Gallo Nero Langkawi
Italian Restaurant
No19, Bandar Padang Matsirat
07100 Langkawi, Malaysia
www.facebook.com/GalloLangkawi
+604952 3555
Gallo Nero Langkawi Opening Hours
Closed Mondays
Tuesday to Sunday daily: 6 pm – 10:30 pm
Lunch weekends: 12 pm – 3 pm
Find more gourmet recommendations for travel to Langkawi here and stay up-to-date with the latest gourmet and travel recommendations here and here.