Ambong-Ambong Rainforest Retreat Langkawi
Monica Tindall
Ambong-Ambong Rainforest Retreat Langkawi offers the ultimate in privacy with 11 suites, studios and cottages nestled in lushly forested hills. While providing a secluded experience, this boutique hotel is far from isolated. Just up from Pantai Tengah and about a 15-minute walk to Pantai Cenang, guests get private accommodation with the full convenience of dining and activities just minutes away.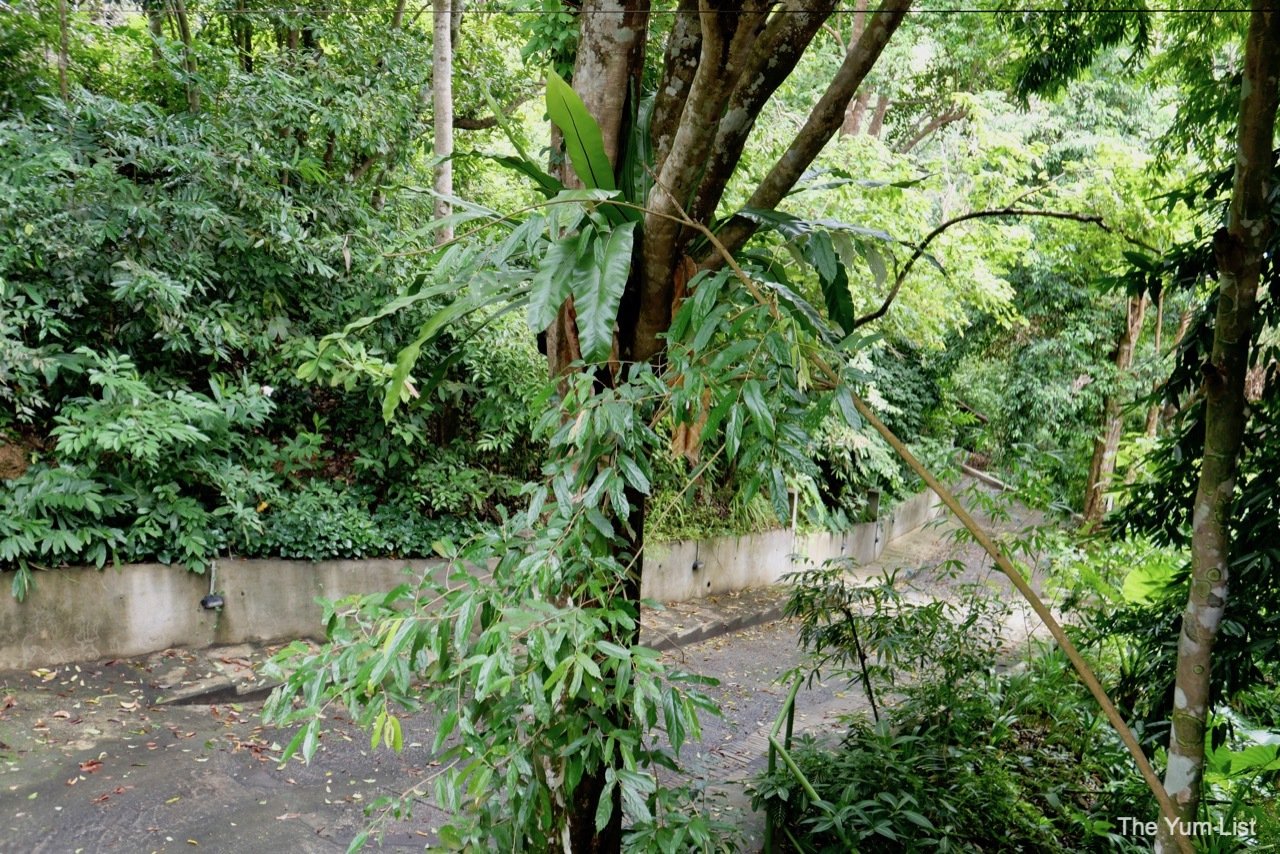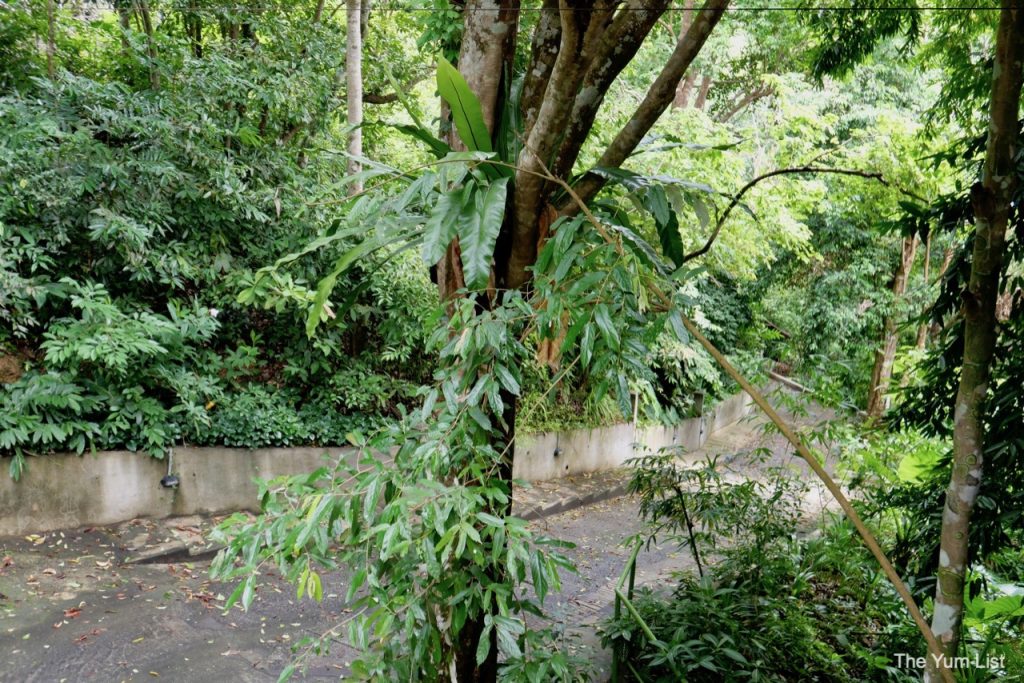 Ambong-Ambong Rainforest Retreat Langkawi
Our Canopy Suite reminds us of a treehouse, a luxurious one at that, built amongst the upper canopy of the rainforest. The bedroom and bathroom are enveloped in green, and the open-walled living and dining area frames the sea and island view with the lush foliage of the treetops. I can't imagine a better spot for a writer to be inspired. I'm sure oxygen levels are higher here; at least the air is clean, and this season the temperature is soft with a gentle breeze.
High ceilings, wide doorways and 84 metres of square footage give a wonderfully spacious appeal. The king-sized, four-poster bed is dressed with mosquito curtains, which are more of a decorative item than a necessity. Well-sealed, we get no bugs indoors. A large flat-screen TV doesn't get used during our stay, but the Internet gets a workout, and the connection is strong and fast.
The ensuite bathroom is composed of a shower, dual sinks, open wardrobe, electronic safe and separate toilet. Outdoors there's a wooden bathtub that seems to go just as well with morning coffee as it does with a glass of bubbly at sundown. Minimising environmental impact, there's very little single-use packaging. Quality bath products are in ceramic pumps, and water comes in sterilised glass bottles.
On the balcony, there's a mid-sized refrigerator, mini-oven, toaster, kettle, dining table for two and sink. It would be easy to stock up on groceries and wine and live comfortably here for quite some time. Rattan deck chairs are positioned to capture the serene sea dotted by island outcrops, and ceiling fans further assist to circulate the soft breeze that drifts through.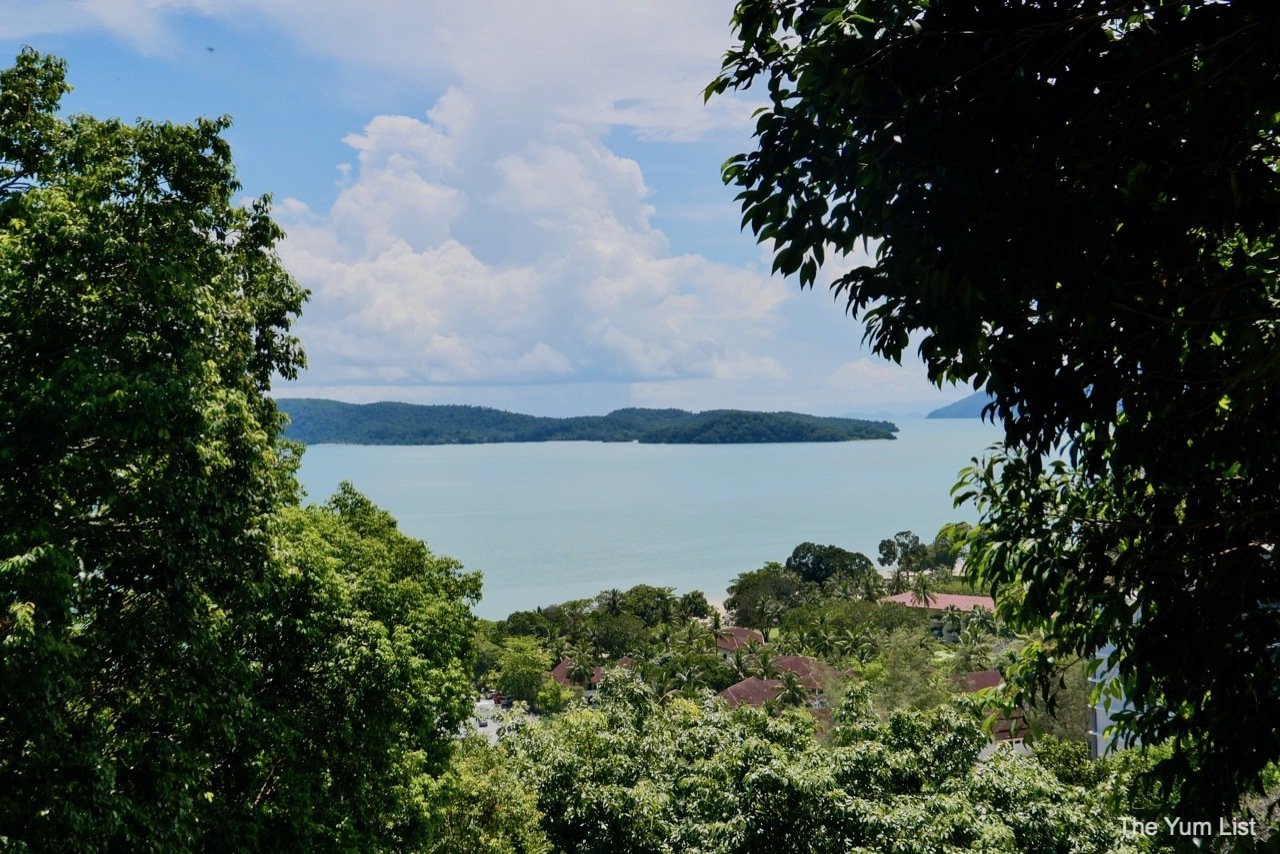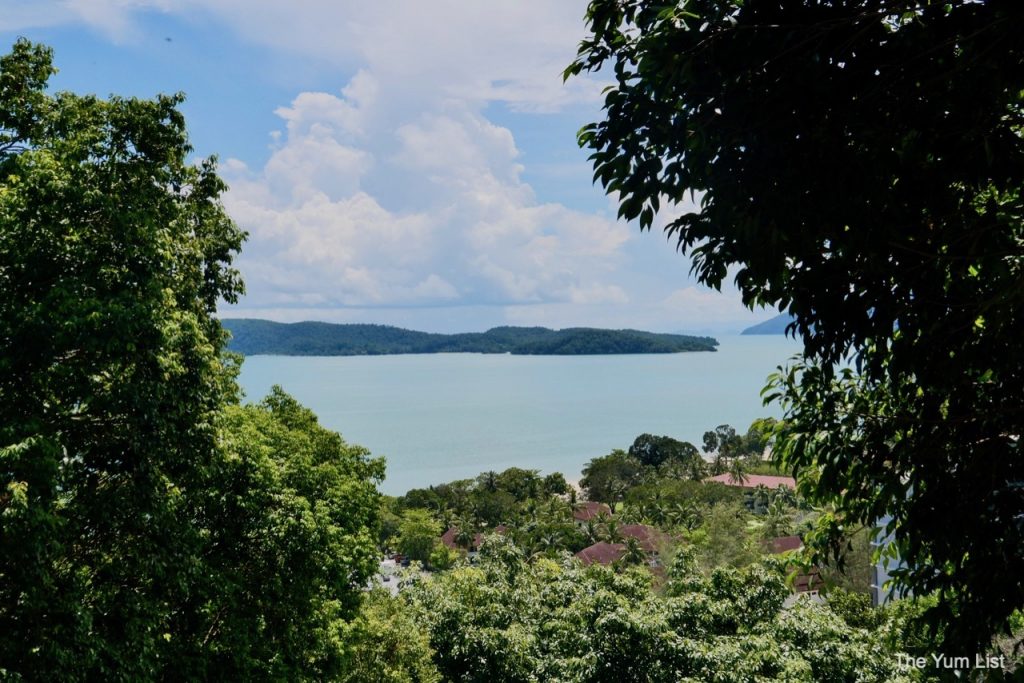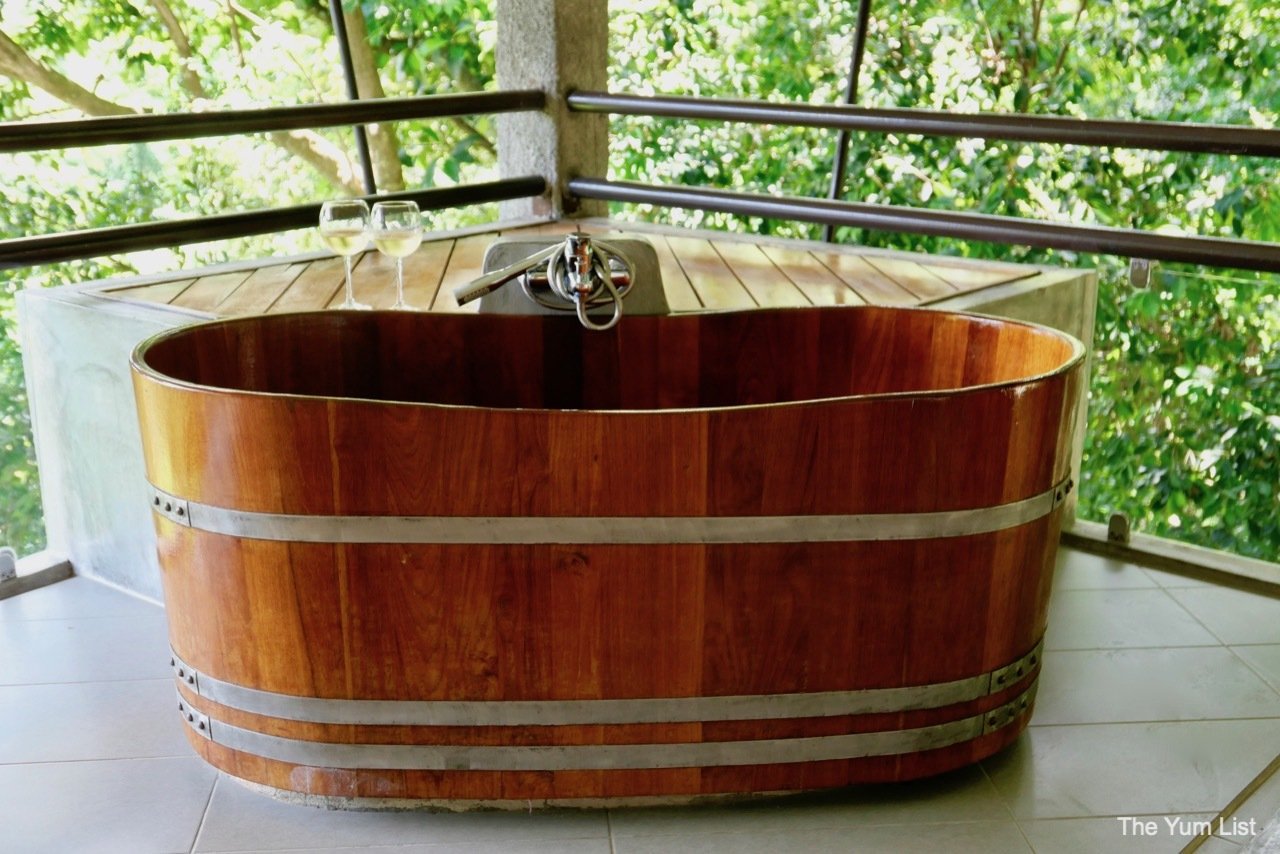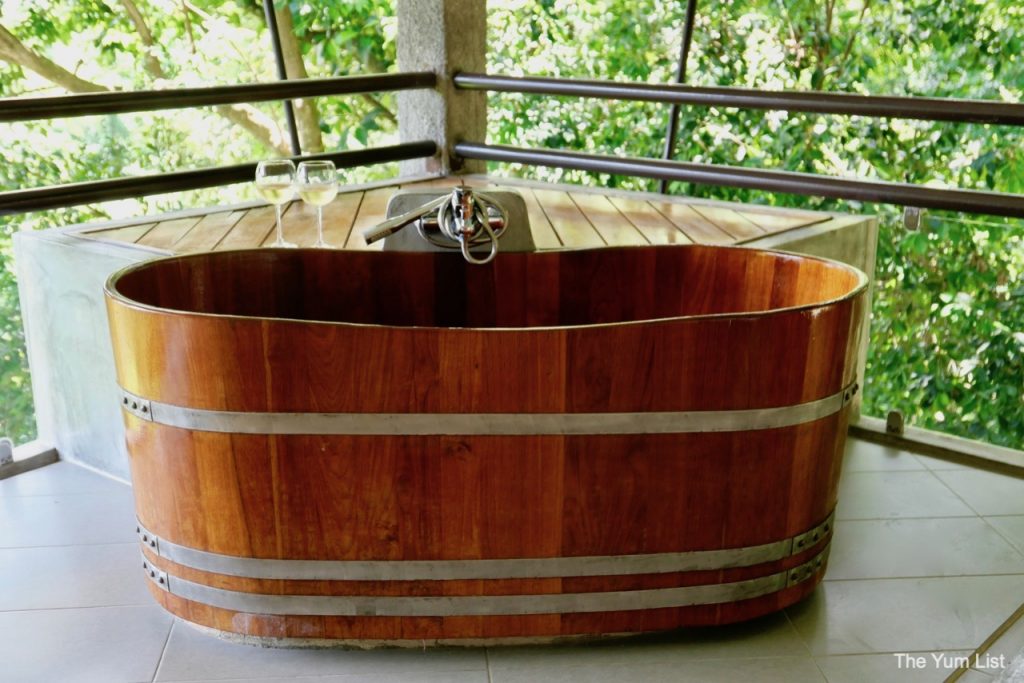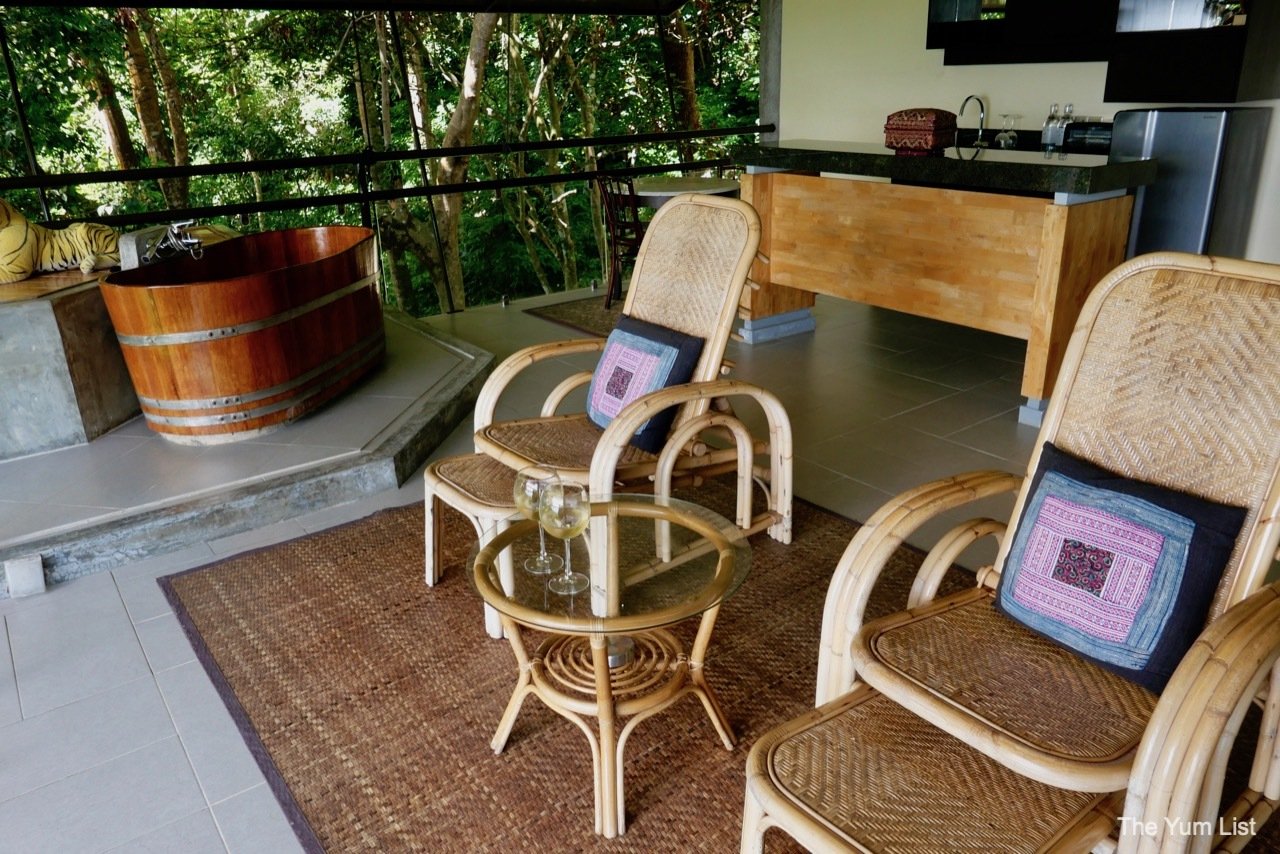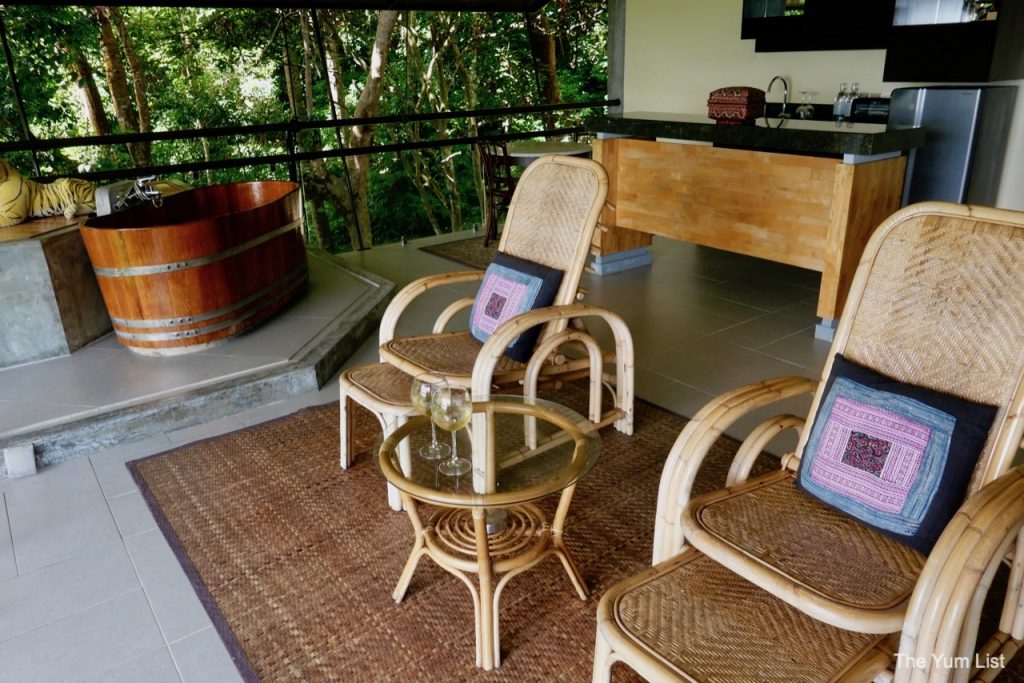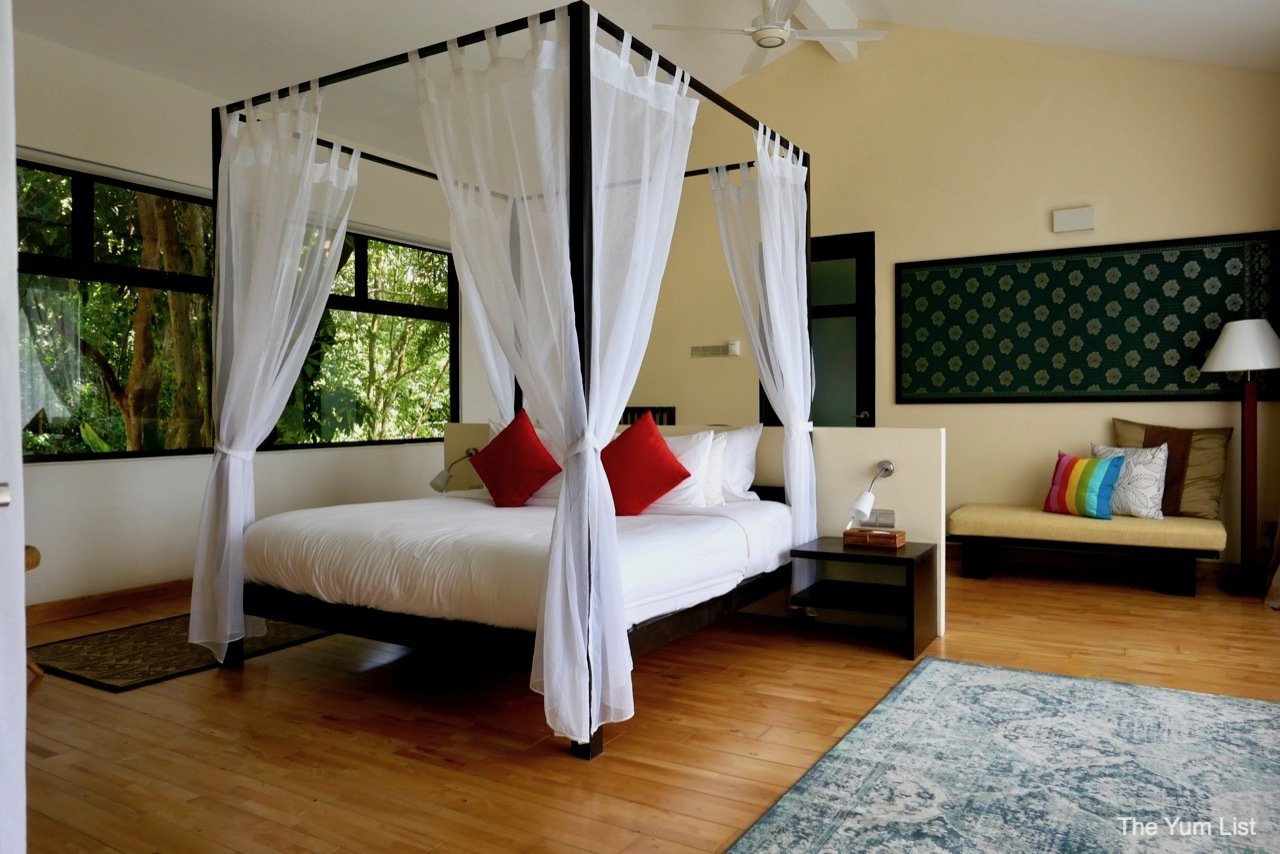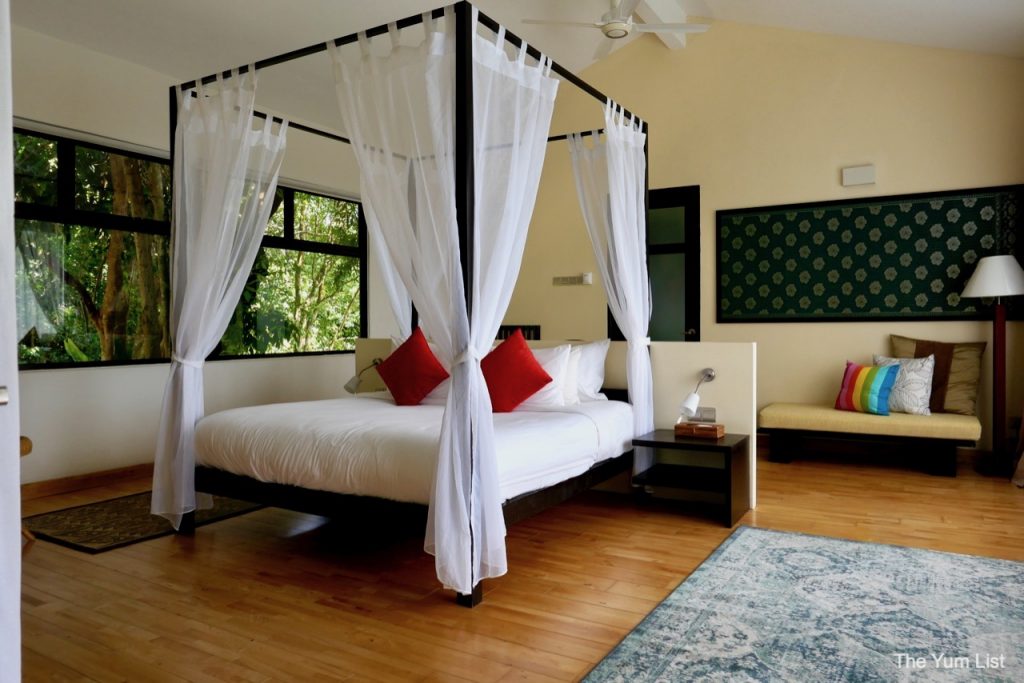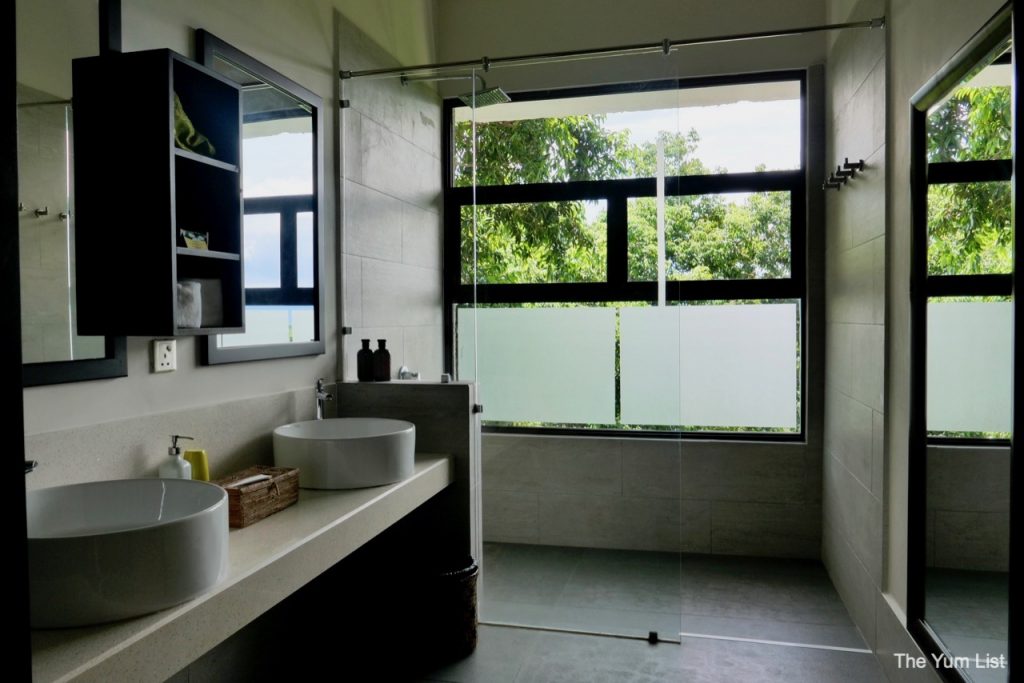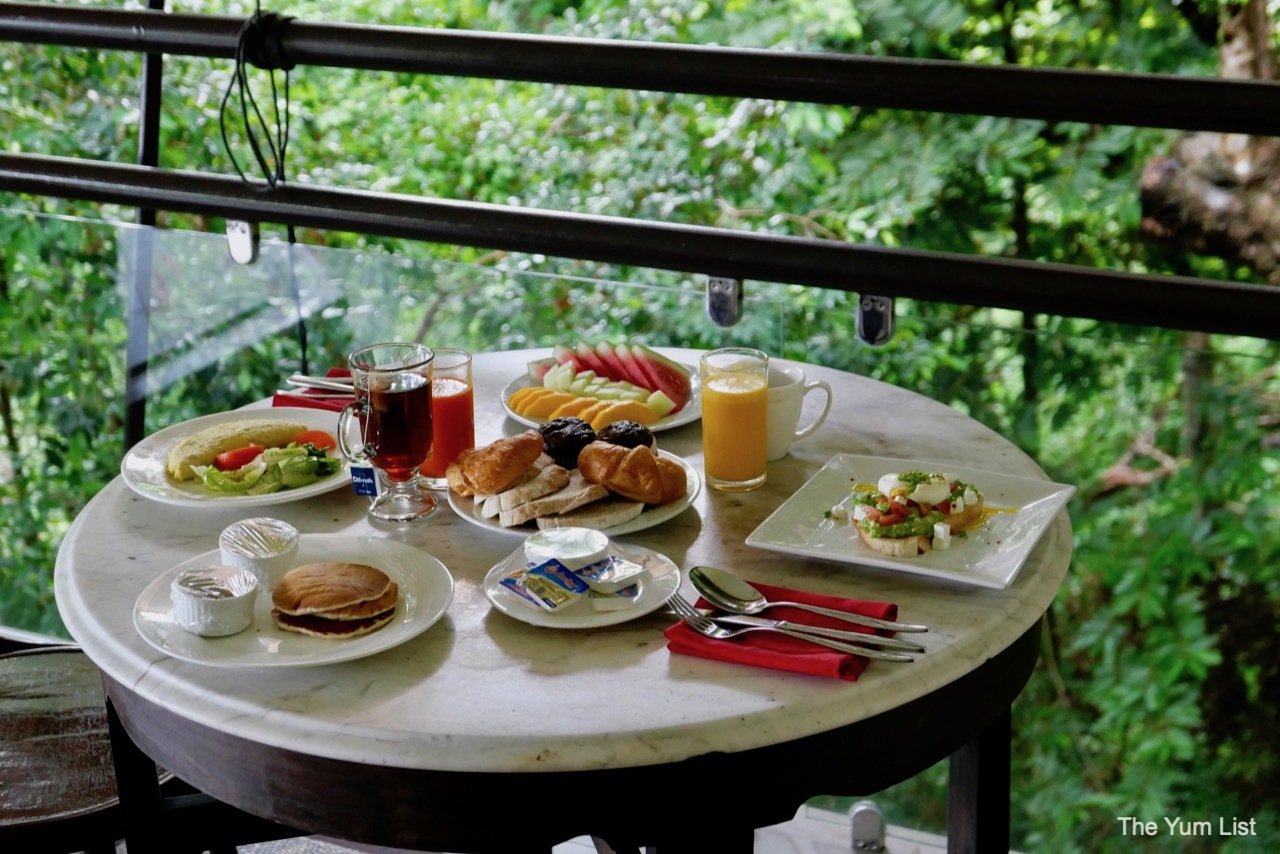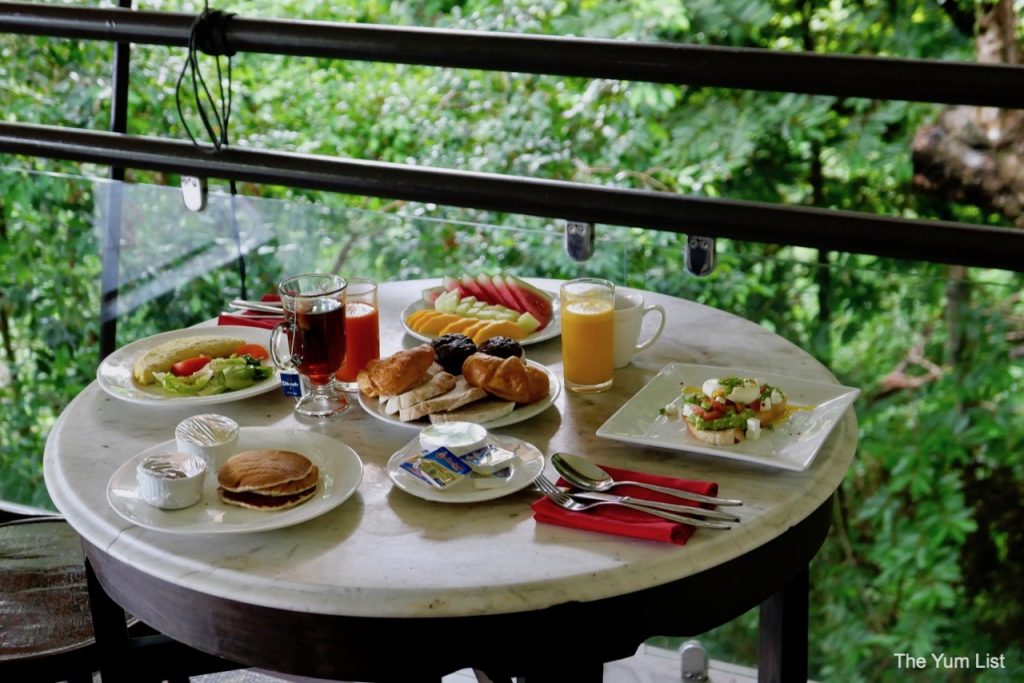 Facilities
While the sister property Ambong Pool Villas have the benefit of private pools attached to each accommodation, Ambong Ambong Rainforest Retreat shares a common pool. During our stay, there's never anyone there so we may as well have it as our own. This side, however, does have the advantage of being adults-only. Not that I don't love kids: it's just that on vacation I relish a little piece of tranquillity.
A yoga pavilion and café are open during normal times but for now, remain closed. Apparently, dinner is good at the Japanese restaurant sharing the property. Still, guests can also order in-room dining from Rimba and Monsoon from across the road. Both offer incredible panoramas and are particularly stunning at sunset. A hotel car can bring you in person, or you could trek up that steep hill to burn some calories before you consume them. More on Rimba here and Monsoon here.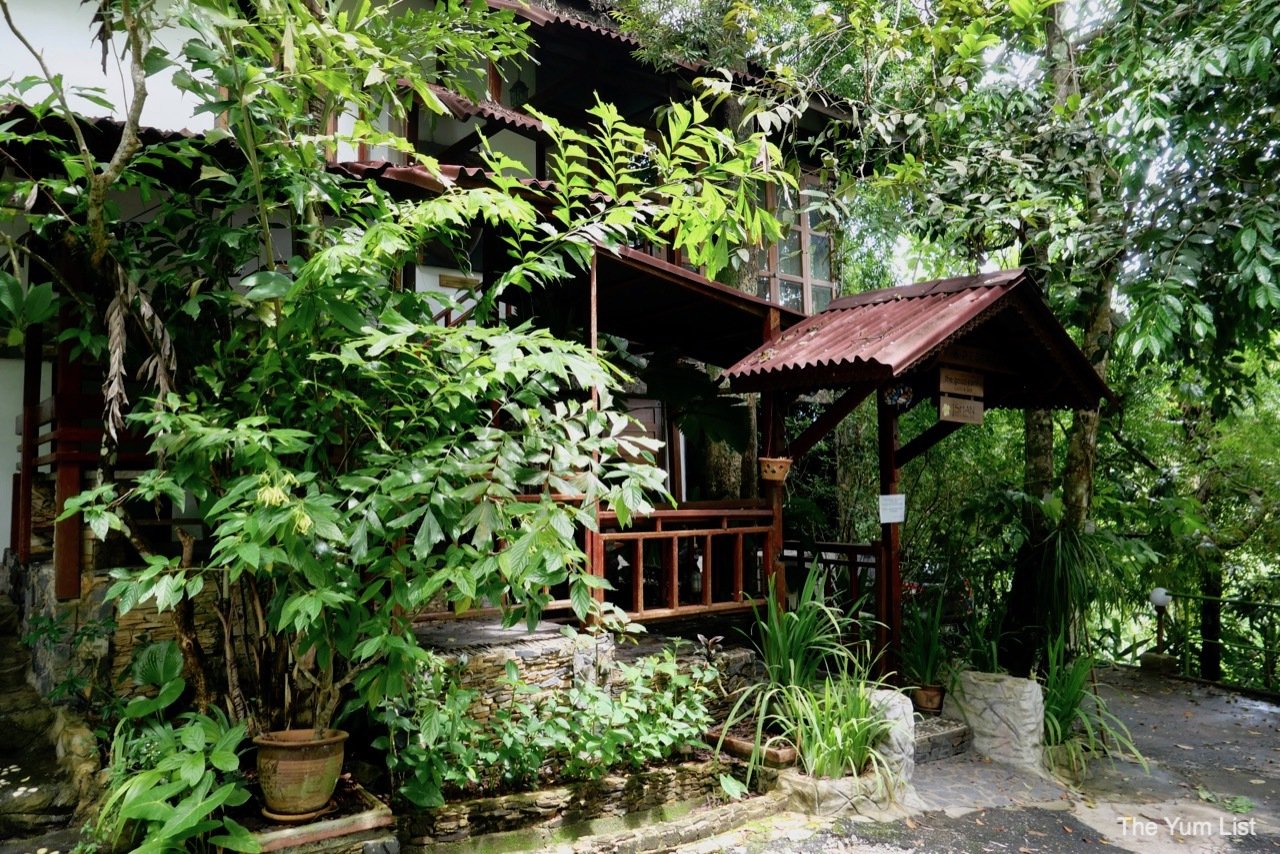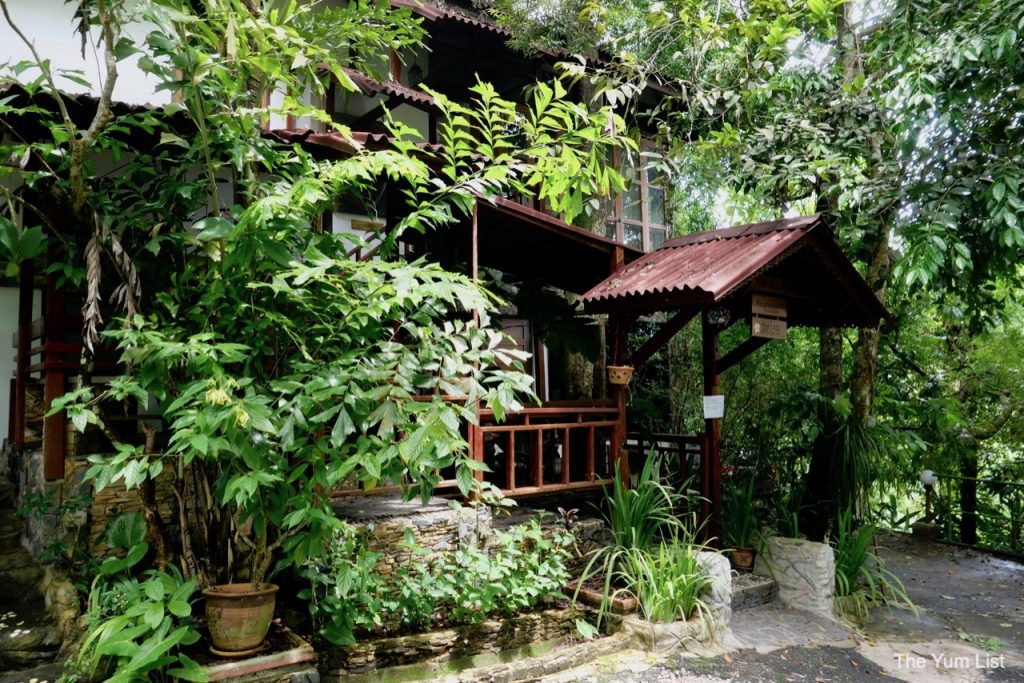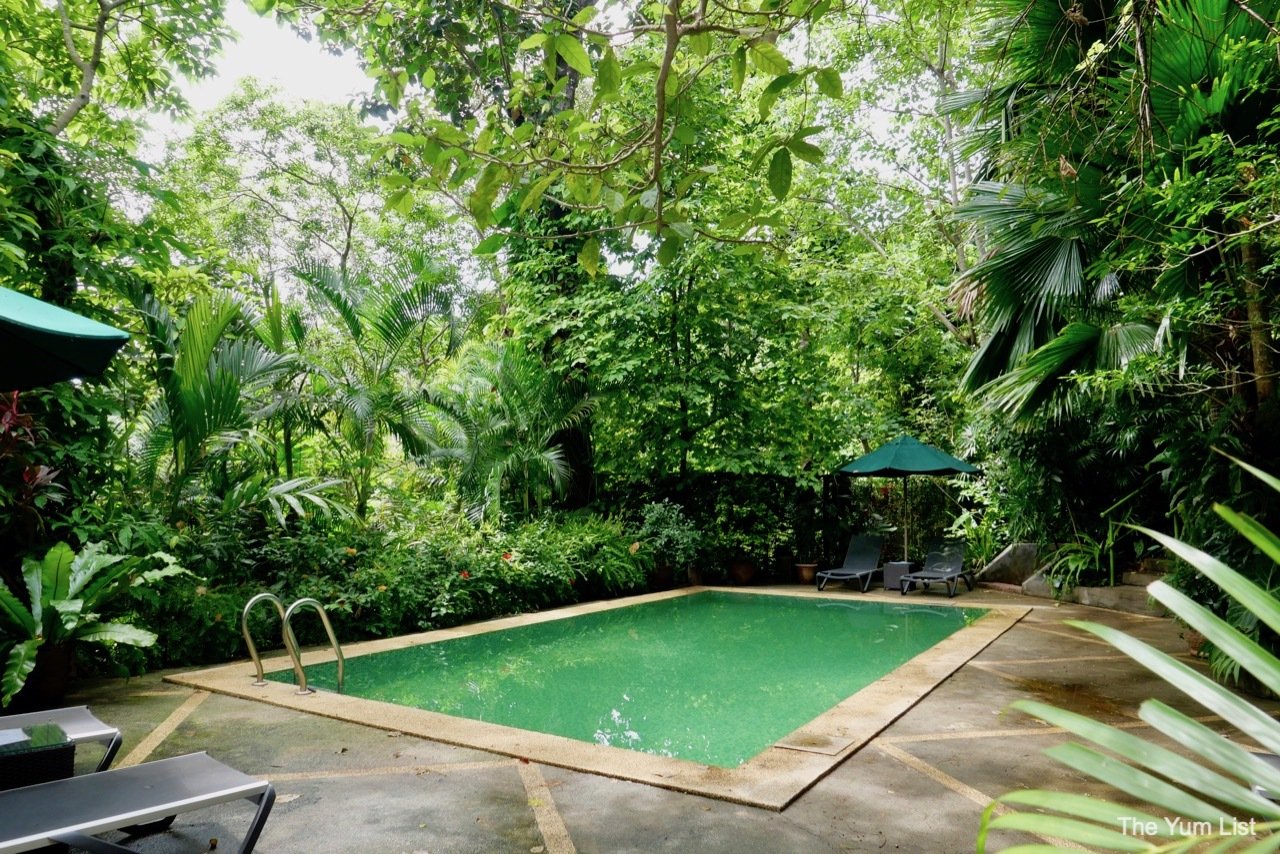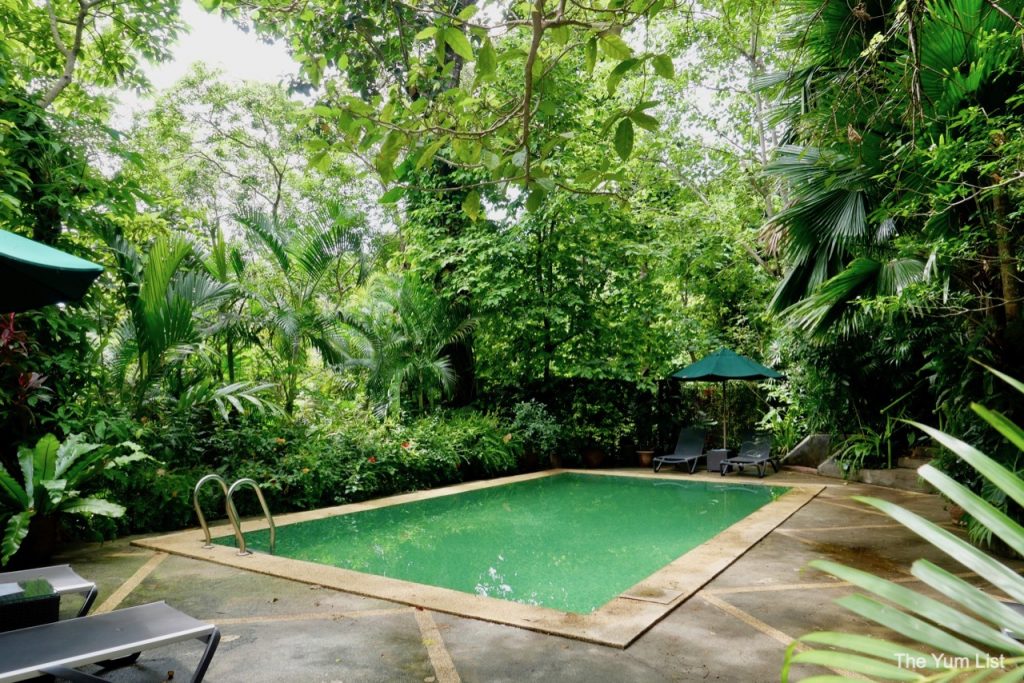 Ishan Spa
A bonus of staying at Ambong Ambong Rainforest Retreat is an on-site spa, Ishan. Set in the treetops with nothing but green as far as the eye can see, the setting itself is peace-inducing. In-house guests, however, can choose to not move a muscle and have spa treatments in their own villa.
It would be fantastic to take on a full spa package at Ishan. Due to the current post-pandemic regulations, though, all sessions are limited to an hour. I sign up for an Immune Booster massage (RM90), and hubby goes for the Stress Relief (RM90). Prices are quite reasonable considering the location and added benefit of having the therapist set up in your suite.
The Immune Booster full body massage has been specially designed for these unusual times. Still, I think it's worth keeping on the menu for good. Experienced strokes of the therapist are combined with essential oils infused with healing ingredients from the rainforest. The Stress Relief program also uses natural oils, the scent of your choice, and long, deep touch with the heal of the hand and thumbs. The therapist is strong, and we both feel rested and rejuvenated upon completion.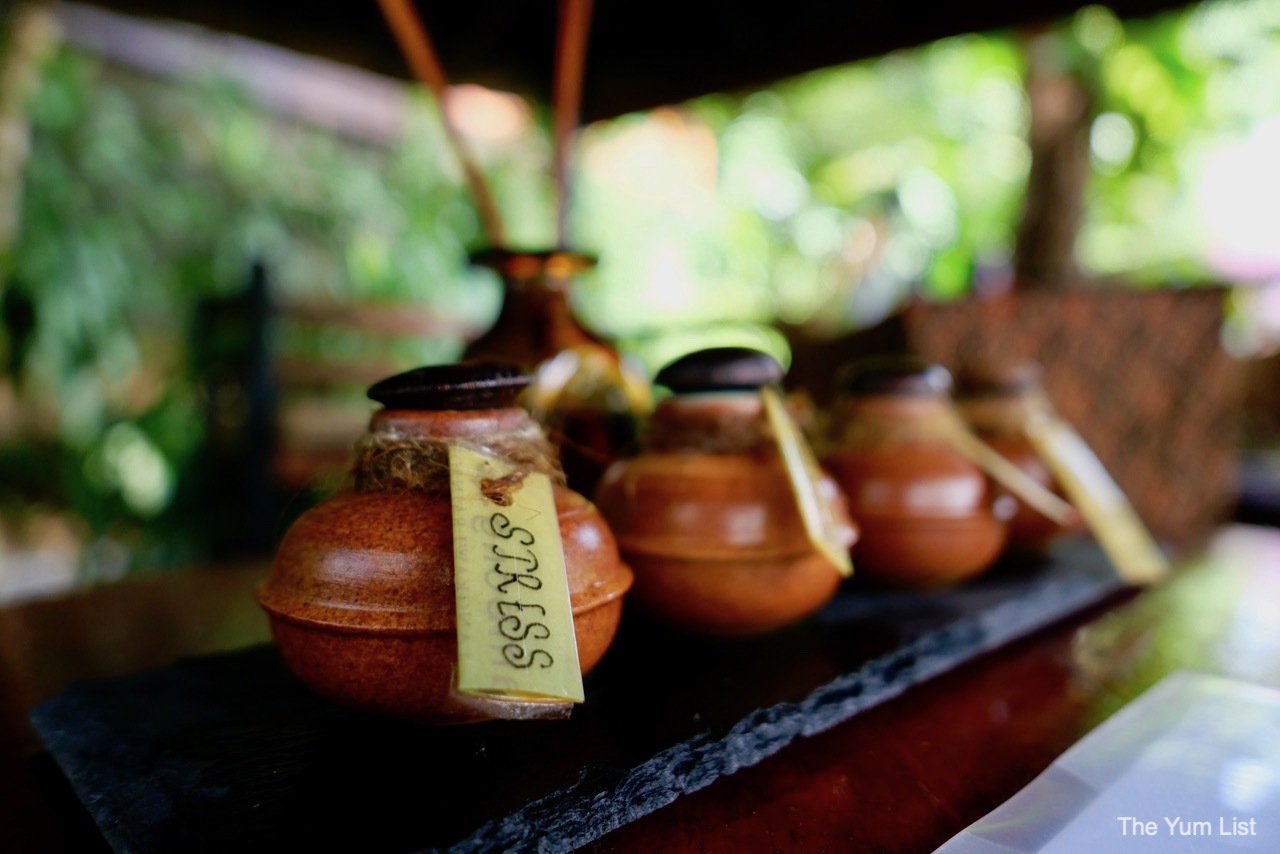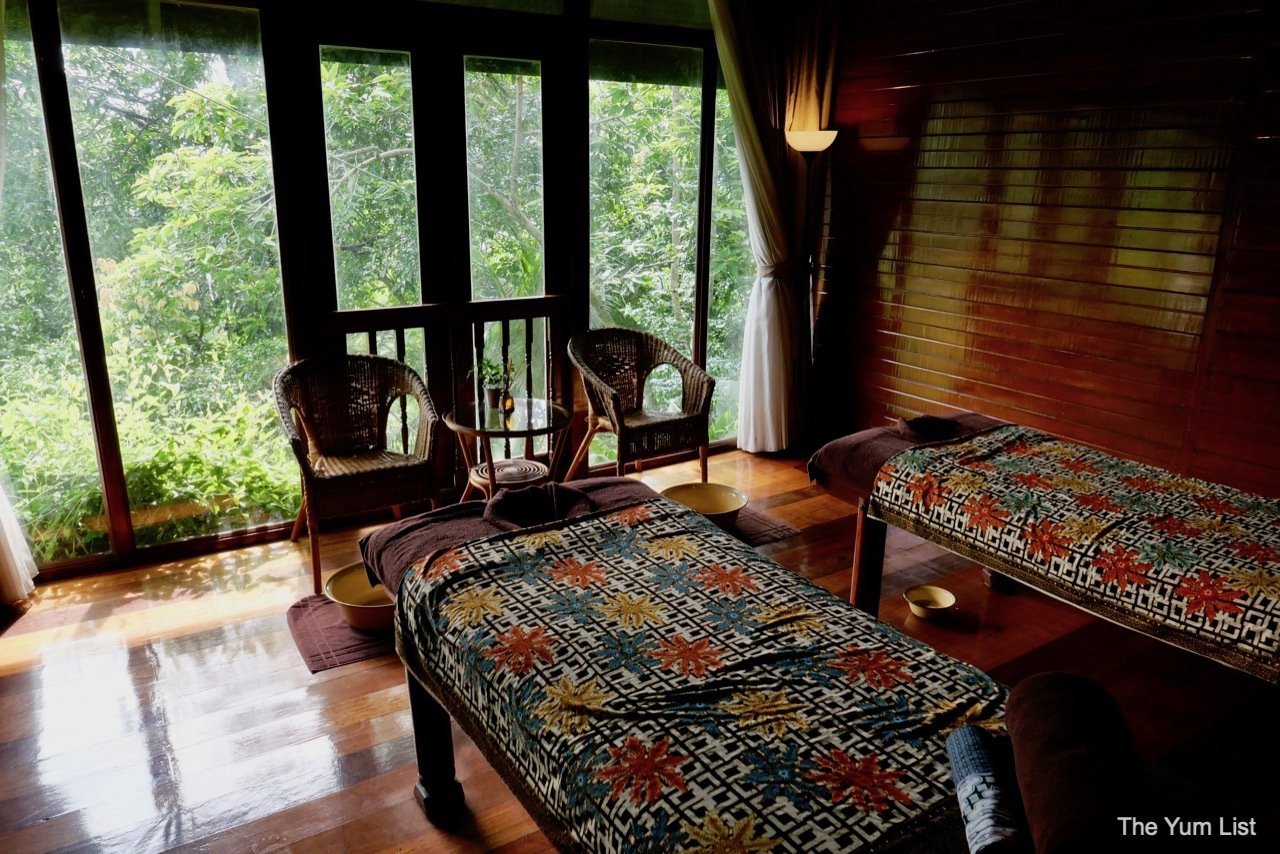 Malaysians & Residents Promotion
Ambong-Ambong Rainforest Retreat Langkawi is currently running some marvellous promotions. Malaysians and residents can get a three-day two-night package in a studio room for RM890 (usually priced at RM2100!), with an optional upgrade to a suite for an additional RM360. It includes daily breakfast for two, one Rimba signature set dinner for two, and a RM100 F&B voucher valid for either Rimba or Monsoon. The rate is valid for stays until December 19, 2020, and they have a flexible 24-hour cancellation policy. Find full details on this package and offers on more extended stays here.
Reasons to visit Ambong-Ambong Rainforest Retreat Langkawi: a beautiful and peaceful luxury retreat; secluded accommodation with the convenience of nearby dining and entertainment; warm and friendly staff; spacious rooms; open-walled balconies with stunning views; kitchenette makes longer stays easy.
Ambong-Ambong Rainforest Retreat Langkawi
Jalan Teluk Baru, Pantai Tengah
07000 Langkawi, Malaysia
+60127028428
+60 (0)4 955 8428
[email protected]
www.ambong-ambong.com
Find more recommendations for travel to Langkawi here and find more private pool villas in Malaysia here.