Ambong Pool Villas
Monica Tindall
How quickly the state of mind can change when immersed in beautiful nature, graced by warm hospitality and views guaranteed to become cover photos on social media profiles. Ambong Pool Villas changed my mood of annoyance at humanity (more on that shortly) to one of appreciation for mother earth and gratitude for a team who care.
After a dreadful flight (children on iPads with volume to the max, a group of men who thought the whole plane should hear their conversation as they rattled on across multiple rows, and downright rude passengers who would not remain in their seats or turn off their devices, even though the poor flight attendants kept insisting), the quiet sanctuary of Ambong Pool Villas was especially welcoming.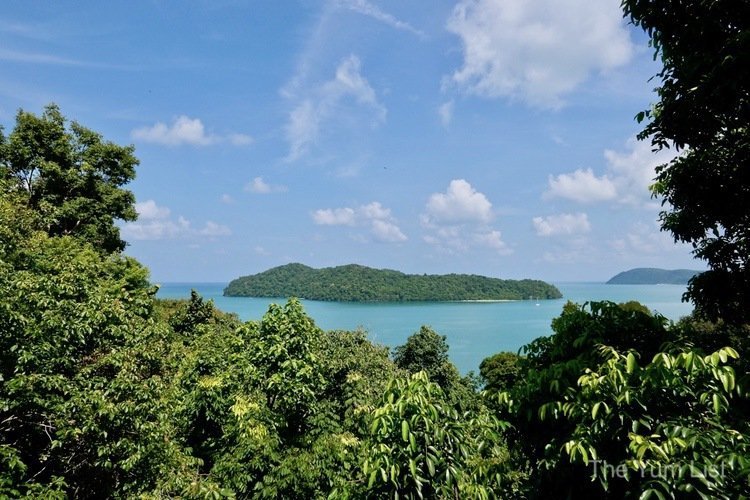 Ambong Pool Villas Langkawi
Perched atop a headland, Ambong Pool Villas sit on a prime piece of property gifting both sunrise and sunset views (depending on which villa you book). A strong effort was made during construction to impact the land minimally. As such, giant trees and jungle provide a lush natural border, and we find magical decks with trees protruding from the middle – they had literally been built around. Words (and photos) just don't do justice the sense of calm and splendour that envelopes guests here.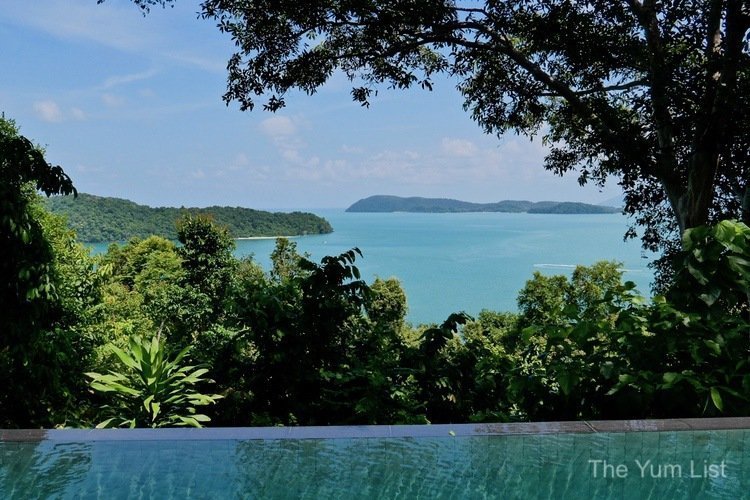 Ambong Pool Villas
The property is home to eight one-bedroom pool villas and one sizeable three-bedroom home. Rooms on the east catch the dawn, while those on the western edge are bestowed with dusk. Each residence has been designed with generous amounts of floor to ceiling glass and large sliding doors that open up directly to the pool. The natural environment is given full honour with bedding, sofas, sun chairs, and dining tables all arranged to celebrate the surrounds.
While the layout of each villa is similar, they do vary slightly. Some include a children's pool. Views are unique with differing amounts of forest and sea in sight. Some have outdoor wooden tubs, others sunken bathtubs. Follow this link for a comprehensive fact sheet laying out the inclusions – it's especially useful when deciding on which villa you'd like to reserve.
A fabulous 12-metre long infinity pool is common amongst the offerings. Dropping down to the forest and further, beyond to the sea, it makes any former desire to get out and about quickly slip away. Accessed from the living room, bathroom or outdoor courtyard, we dip in and out all day (and evening) long. Alternatively, there's an outdoor bathtub that is nearly as enticing. From here, monkeys and eagles provide entertainment as they swing in or glide by the encircling rainforest.
Besides the pool and bathtub, there's also a grassed area with sun chairs outdoors and a semi-covered kitchen too. The full-sized fridge comes stocked with muesli bars, soft drinks and milk, and the cupboards are furnished with chips and nuts. The first round is complimentary. Tea and coffee making facilities are sided with a toaster, kettle, microwave and small grill. Crockery, cutlery and a few pots and pans make cooking-in an attractive option. The team at Ambong Pool Villas offer an on-call service to the nearby area of Pantai Cenang. You could easily stock up on supplies here and return to prepare a feast with a view.
The indoor area of Ambong Pool Villas is more significant than many inner-city apartments! A split-level bedroom and living area are tastefully furnished with upcycled (or sustainable) woods. Splashes of local are found in woven baskets and floor mats, and lighting can be adjusted to soft with lamps or much brighter with recessed LED lights.
There is an abundance of power points and charging stations. Ceiling fans and air-conditioning is found in the living area and bathroom – giving guests options. Free high-speed Wi-Fi is accessed both in-room and around the common areas. And, light switches are clearly labelled – why all hotels don't do this fails me – a much-appreciated feature!
The bathroom presents a separate toilet, shower, dressing area and double vanity. It's tiled appealingly in a light grey and painted a soft blue. The glass-walled shower is absolute decadence with a captivating eye-full of the infinity pool, tropical trees and the Andaman Sea beyond. I love that products are in refillable containers, reducing the use of single-use plastic and also giving a more luxurious feel.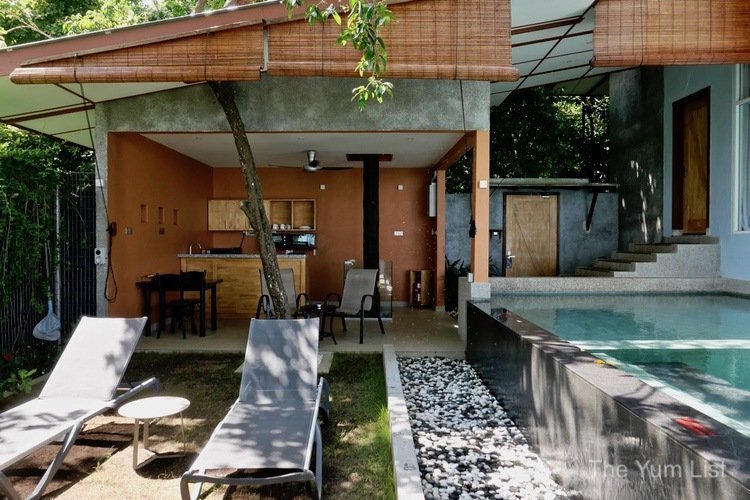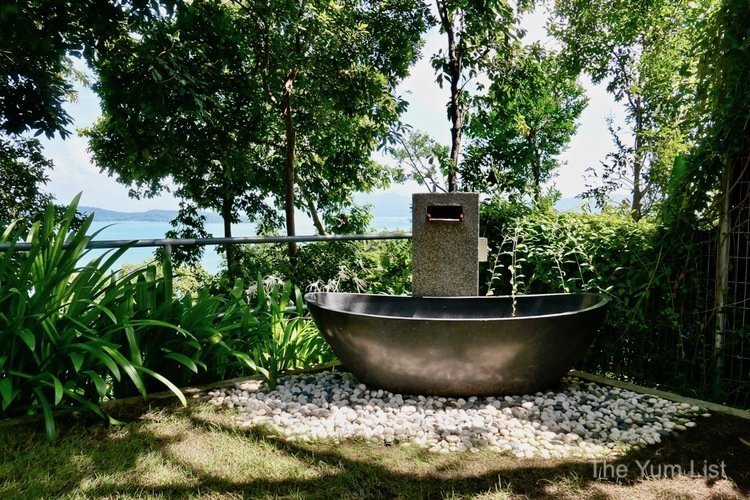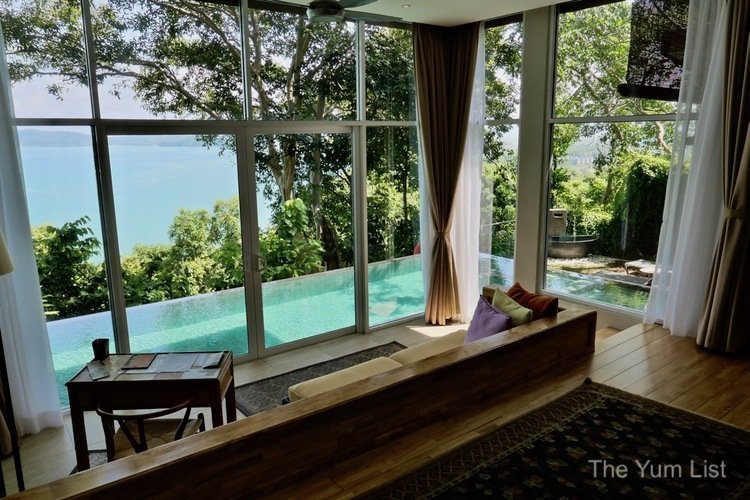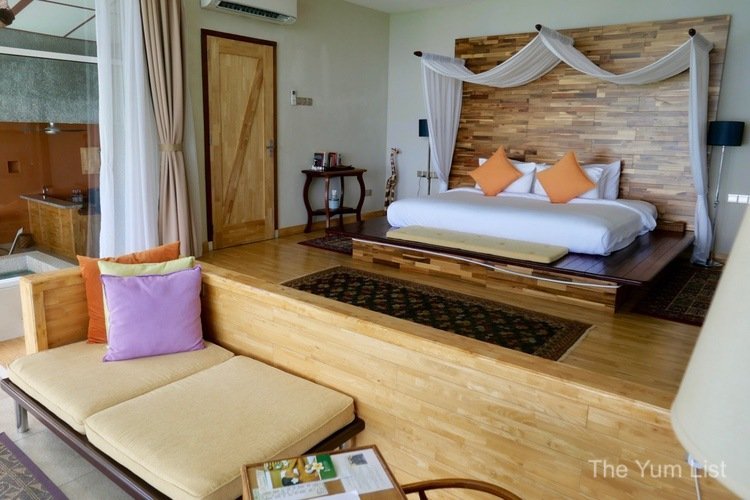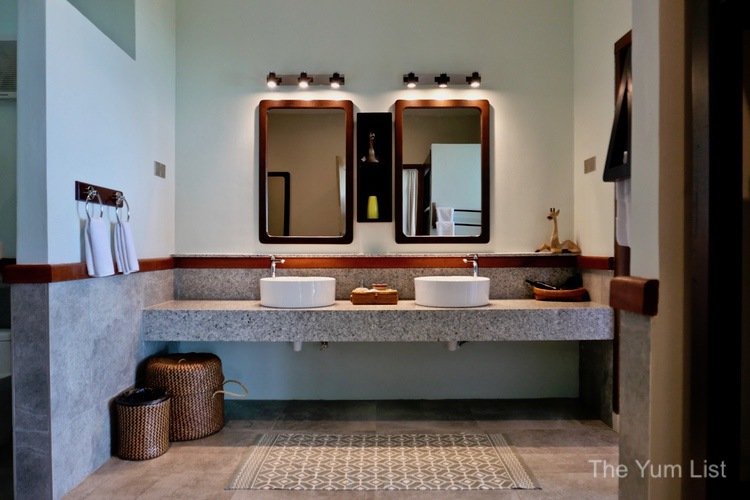 Dining – Rimba & Monsoon
Breakfast is included in the nightly rate and can be taken in-villa or at Rimba restaurant. While many choose never to leave their room, I recommend having at least one meal in the restaurant AND a drink in the fabulous Monsoon rooftop bar. More details on both of these here and here.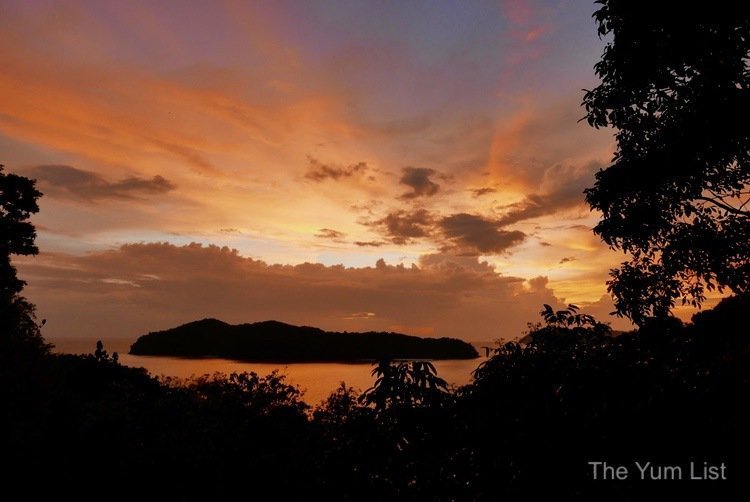 Experiences
That inclination to never leave is only further enhanced by several in-villa activities.
Visiting spas is one of my favourite pastimes. It feels like such an indulgence to dedicate even an hour to self with no distractions. Having therapists in your room, however, eliminating the need to travel and redress, is the epitome of luxury. At Ambong Pool Villas, the masseuse comes to you! A booking for mid-afternoon is well-timed to avoid the hotter part of the day. We melt into the massage beds and reawaken in good time to marvel at the close of day once again.
From the comfort of our villa, we also have the opportunity to learn something new with a cooking class. Chef Aimy takes guests on an educative experience introducing local ingredients and flavours. We learn to make kerabu pegaga (a salad of local leaves), ikan masak lemak (fish with sambal and greens) and kuih ketayap (screwpine and coconut pancakes). This is the way I like to cook: grocery shopping, food prep and cleaning all done for me – all I have to do is put the ingredients together and eat.
While there is no gym at Ambong Pool Villas, the pool is long enough to get a few laps in, there are plenty of hills to walk or run up and down, and speciality exercise classes can be booked in advance. We participate in a yoga class held at the sister property Ambong Ambong Langkawi Rainforest Retreat just down the road. We hear pilates and other classes can also be arranged.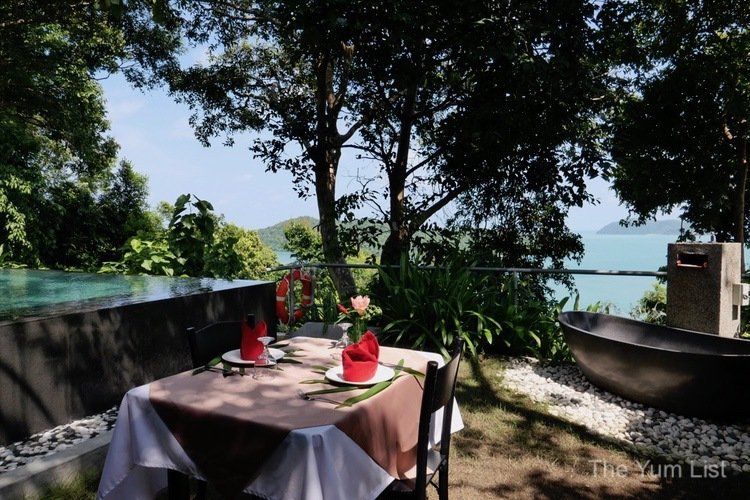 Service
There is no doubt that Ambong Ambong Pool Villas have already ticked many of the boxes for an exceptional experience. Dazzling views will positively be implanted in memories for a long time, but so too will extraordinary hospitality. From the personal greeting and explanation of the property to being assigned a handphone with a direct line to butler service and driver, to the communication that "we just want to make you happy. Ask anything," there was not a single moment when I thought my care was not of the highest priority.
Ambong Pool Villas Review
Ambong Pool Villas provide an outstanding boutique stay experience in Langkawi. Private pools with incredible views, warm engaged service, gorgeous rooms, a fantastic rooftop bar, and all the little extras such as a complimentary mini-bar, handphone and driver service to and from the nearby town, combine to create an unforgettable getaway.
Reasons to stay at Ambong Pool Villas: spectacular sunrise or sunset views; great restaurant and rooftop bar; private pool villas; exclusive location; friendly and helpful staff.