Monsoon Langkawi
Monica Tindall
It's about time Langkawi got itself a classy rooftop bar! And, you couldn't ask for anything more spectacular than that of Monsoon. This Oyster Sky Bar specializes in oysters and craft cocktails and is supported by a tasty menu of canapes and some of the most exquisite views in Langkawi.
Housed atop Rimba restaurant, Monsoon offers a grassed deck with undeniably pretty panoramas. You'd be well-advised to arrive just before sunset to appreciate the live extravaganza of day morphing into the night. Be sure to bring your camera!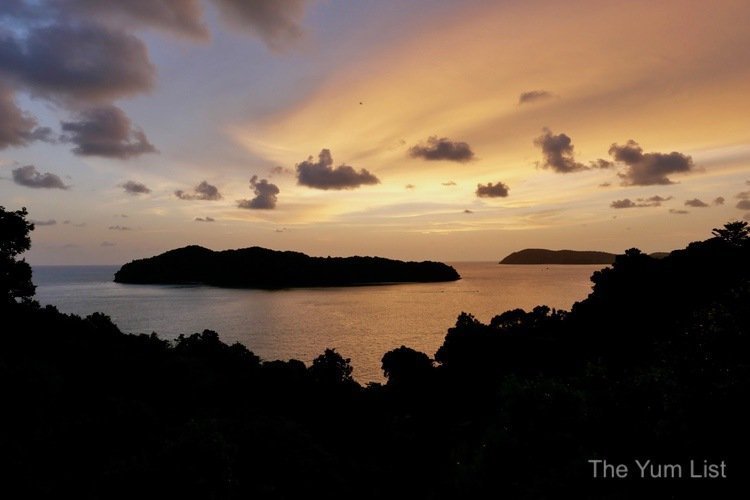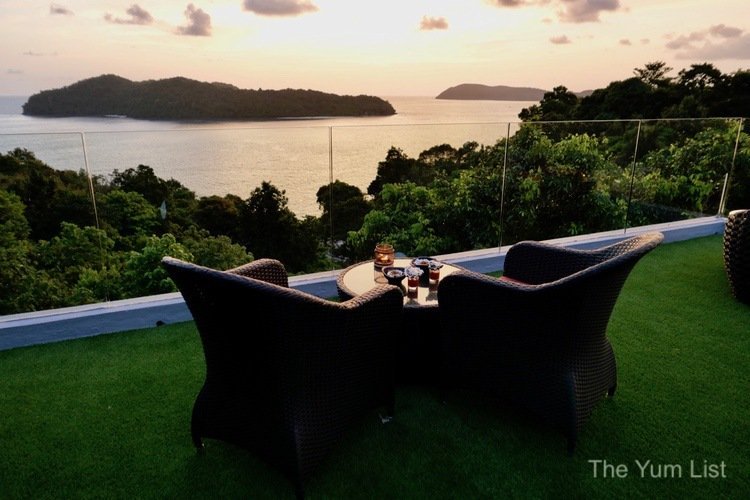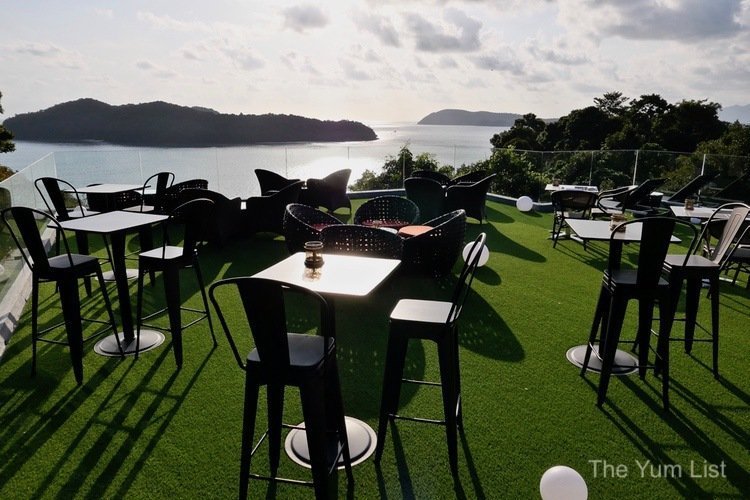 Drinks
Monsoon is a hotspot for sundowners and Wan, the head bartender, has dreamed up some concoctions to match the fantastic light show. I'm pretty sure the Pegaga (RM42) is going to detox my retox with its see-saw of spirits and health-giving properties of centella asiatica. White rum and vodka are combined with cinnamon, apple juice, lemon juice and those nutrient-rich pegaga leaves.
Grassroots (RM46) sounds too interesting not to order with its whisky base shaken together with lemon juice, lemongrass syrup and… wait for it, beetroot! This unexpected combo turned out to be somewhat earthy in the mouth, yet the tang of the citrus balances it out in the finish.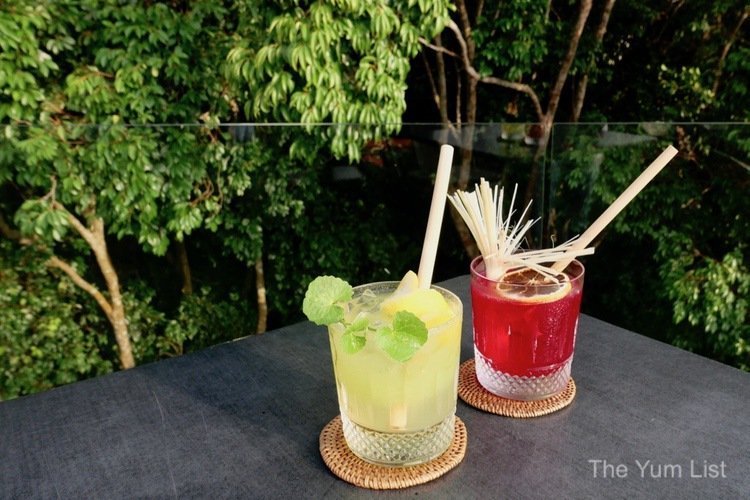 Of course, the classics have a place on the menu too. Hubby tests out his preferred bevvie, the Mojito (RM38) and deems it satisfactory with rum, lime, mint, brown sugar and soda water. I order a Margarita (RM38) but instead, get a Surprise from The Heart – a customized drink from the bartender for me. It's in a gorgeous long-stemmed glass and a bonny blue to match the sea.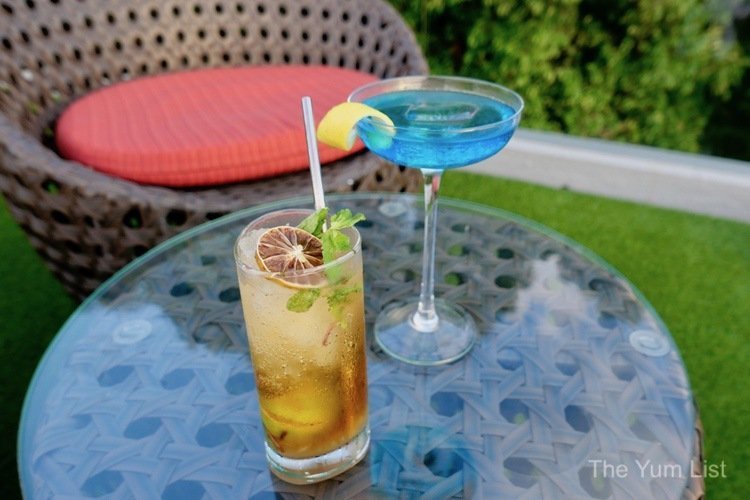 Monsoon Menu
Those evening bevvies are supported by a light menu of canapés, of which oysters and caviar are the highlights, making easy picking with glass in one hand and finger food in the other.
Pacific oysters are served au natural with complements of lemon and Tabasco. Additional sauces such as mignonette, air assam, chilli & coriander, wasabi-soy and ginger-lime can be included at extra cost. We try the Oyster Shooters (RM35 piece) sitting atop a shot glass with cili padi vodka and tangy tomato. Be forewarned, they offer quite a kick but slide down all too easily. Oysters can also be made in gratin style, grilled or steamed. We give the Grilled Oysters (RM35 piece) a whirl. They are made even tastier with a drop of miso butter. Both the heat and the Japanese seasoning enhance the natural saltiness of the bivalve molluscs.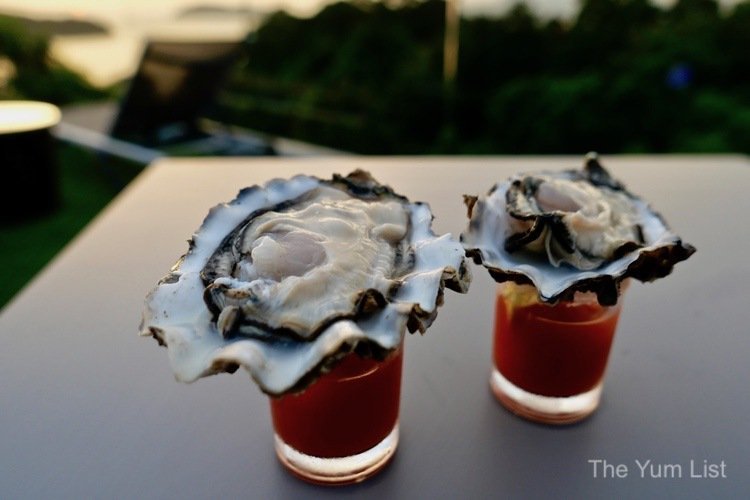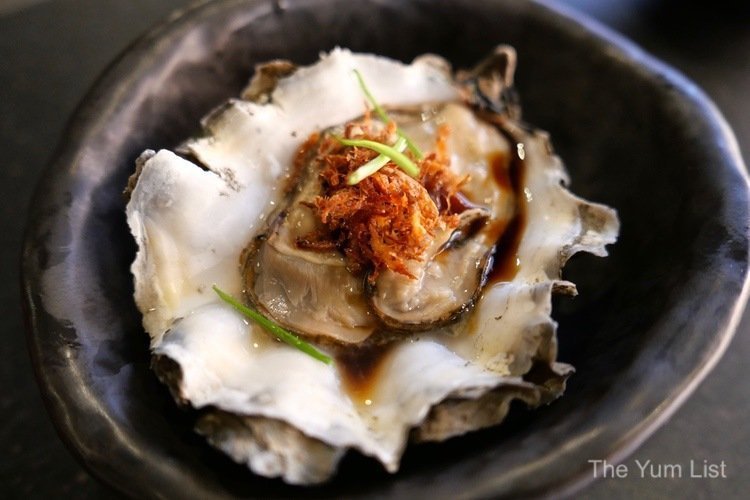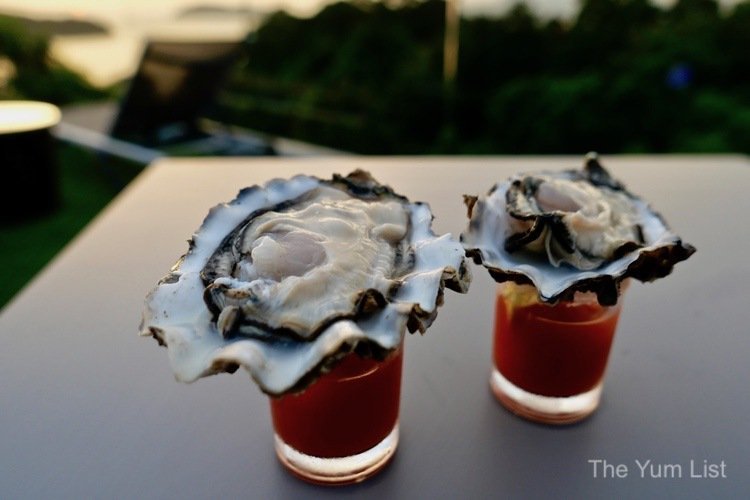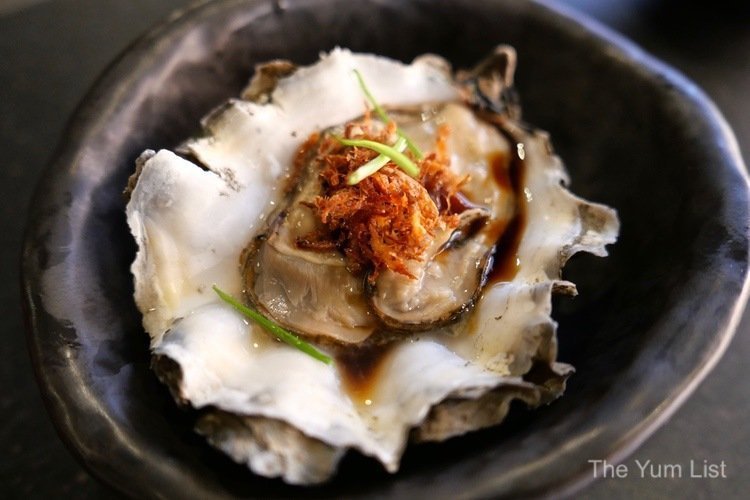 We indulge our love for all things Spanish with the Gazpacho (RM30). This refreshing chilled tomato soup is a great way to cool off. We follow it with another excellent choice for the tropics, Grilled Watermelon, Feta Cheese & Basil (RM32). This popular salad is made more manageable by serving it in bite-sized cubes. It too is picture-perfect.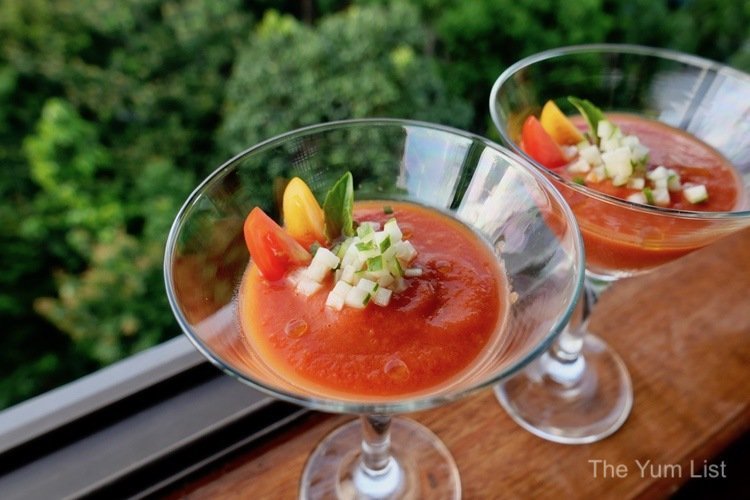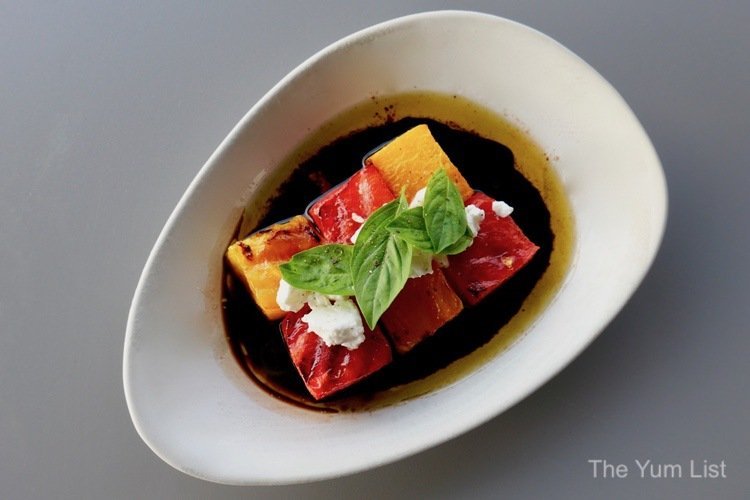 Continuing to juggle our drinks with snacks managed with one hand, the Tomato and Mushroom Bruschetta (RM36) are bite-sized tummy fillers. With generous toppings on each slice of baguette, you might not need dinner later on.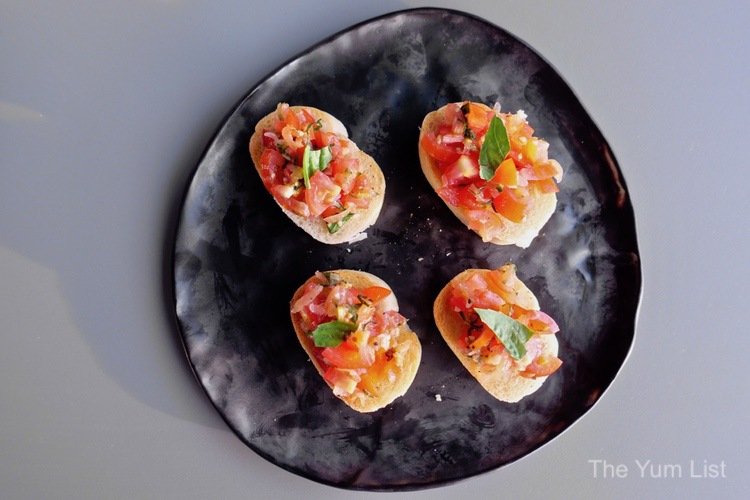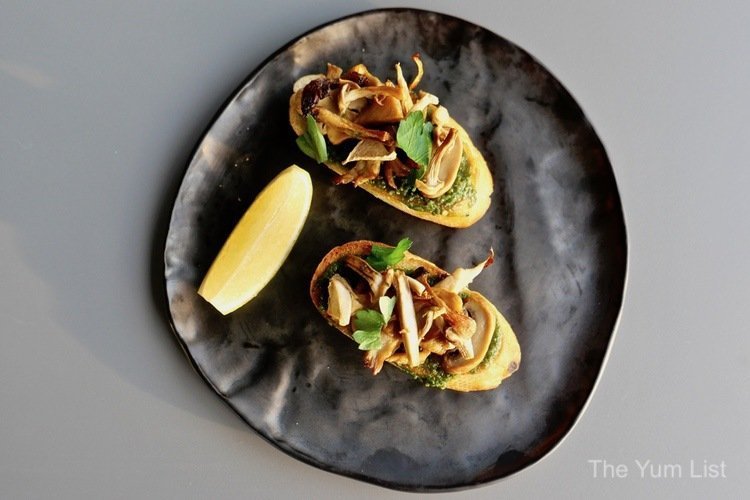 Little balls of scrumptiousness are found in the Stuffed Baby Potatoes & Caviar (RM78). Filled with tasty cheese, sour cream and chives, they're topped off with a scoop of caviar by T'lur (Malaysia's first tropical caviar!) making them truly decadent.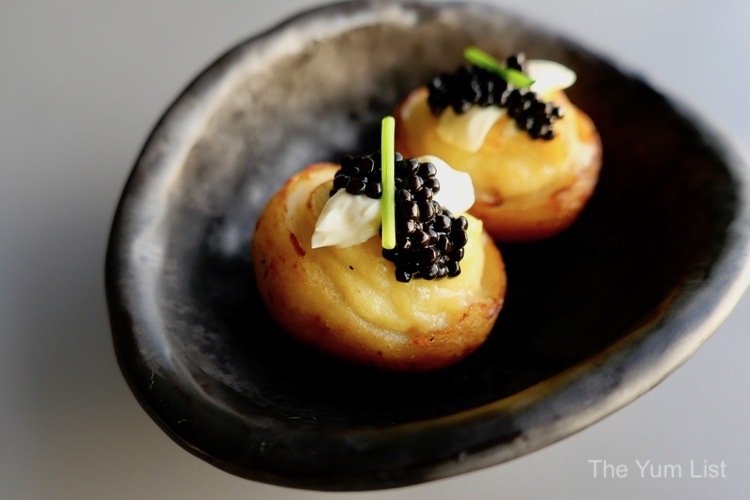 The ingredients only continue to get finer with the Capellini & Caviar (RM88) accompanied by truffle oil and mushroom pate. The slender strands of pasta are wound in a tangle of fungi and pickled roe. They're rich and flavourful making the small portion just enough.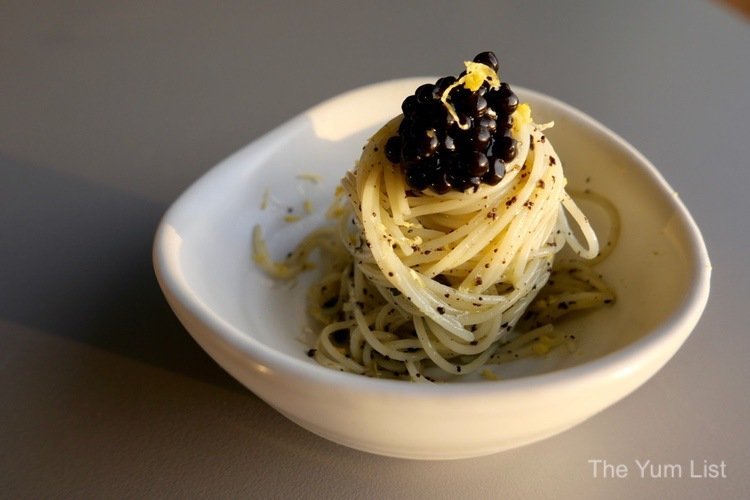 Monsoon Langkawi Review
Come for the views, stay for the oysters and friendly service. Monsoon is Langkawi's next big thing.
Reasons to visit Monsoon Oyster Sky Bar: Langkawi's first rooftop bar; spectacular views; craft cocktails; fresh oysters and caviar.
Monsoon Langkawi
Oyster Sky Bar
Ambong Pool Villas
Jalan Pantai Tengah (409.76 km)
07000 Langkawi
+6 04 955 8428
www.facebook.com/monsoonlangkawi
Find more gourmet recommendations for travel to Langkawi here.