gēn 根 at The Prestige Hotel Penang
"My Malaysian Stories"
Monica Tindall
We've been long-time followers of Chef Johnson Wong. Admiring his stubbornness in using local produce and refusal to bow to the pressure of using high-profile imported ingredients, his menus are bold, exciting and sustainable. Tonight, we're on his tail in Gen's new location in The Prestige Hotel.
Pre-COVID-19, gēn 根 in The Prestige Hotel could seat 30 people. Now, with social distancing SOPs, it caters to around 16. Bookings are highly recommended. The setting is intimate, contemporary and inviting. Walled by glass and backed with an open kitchen, guests are entertained by both the skill of the chefs and the foot traffic of the luxury hotel.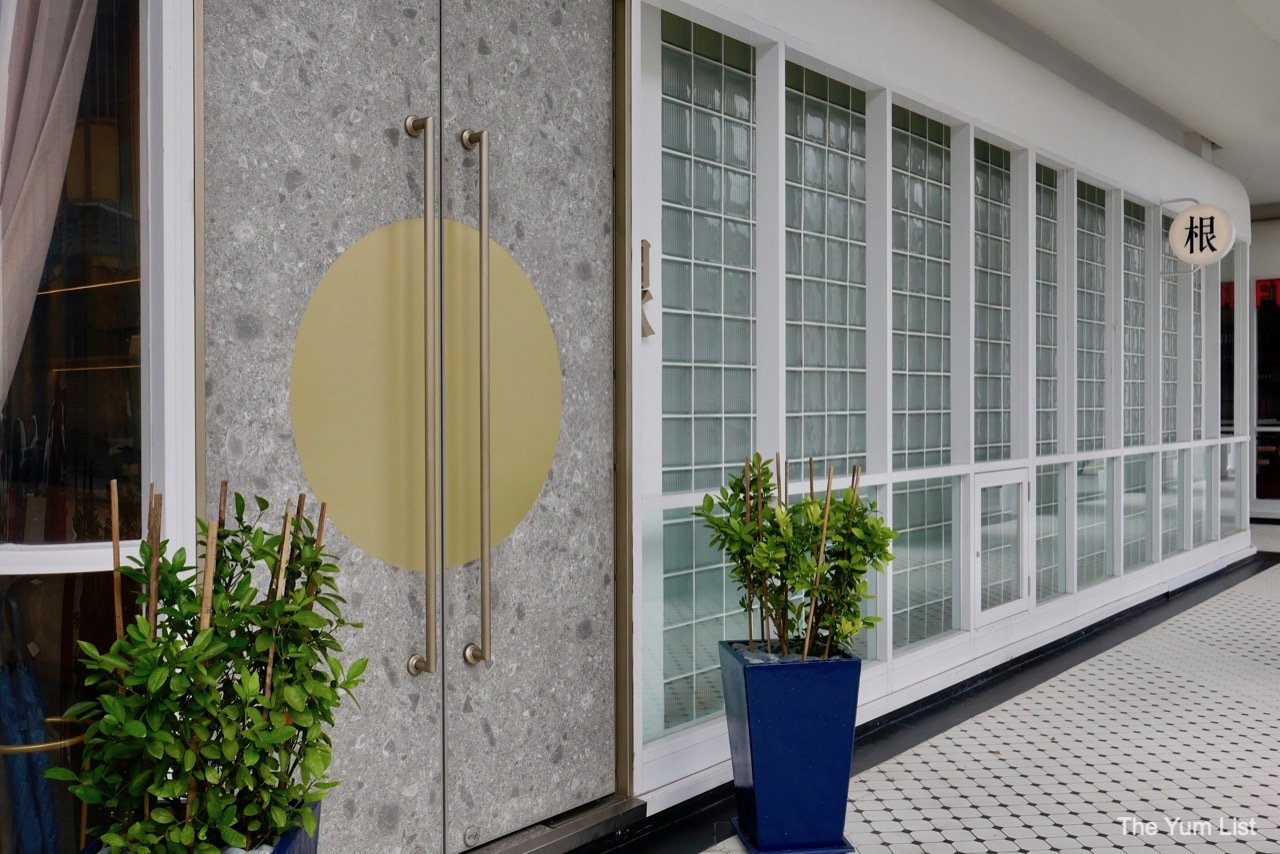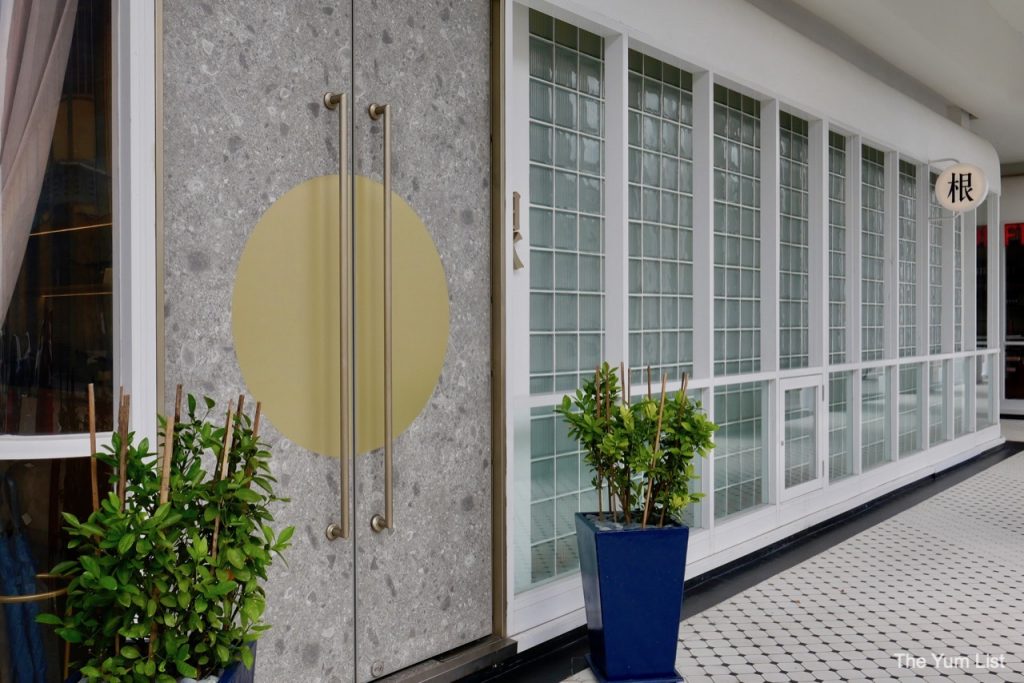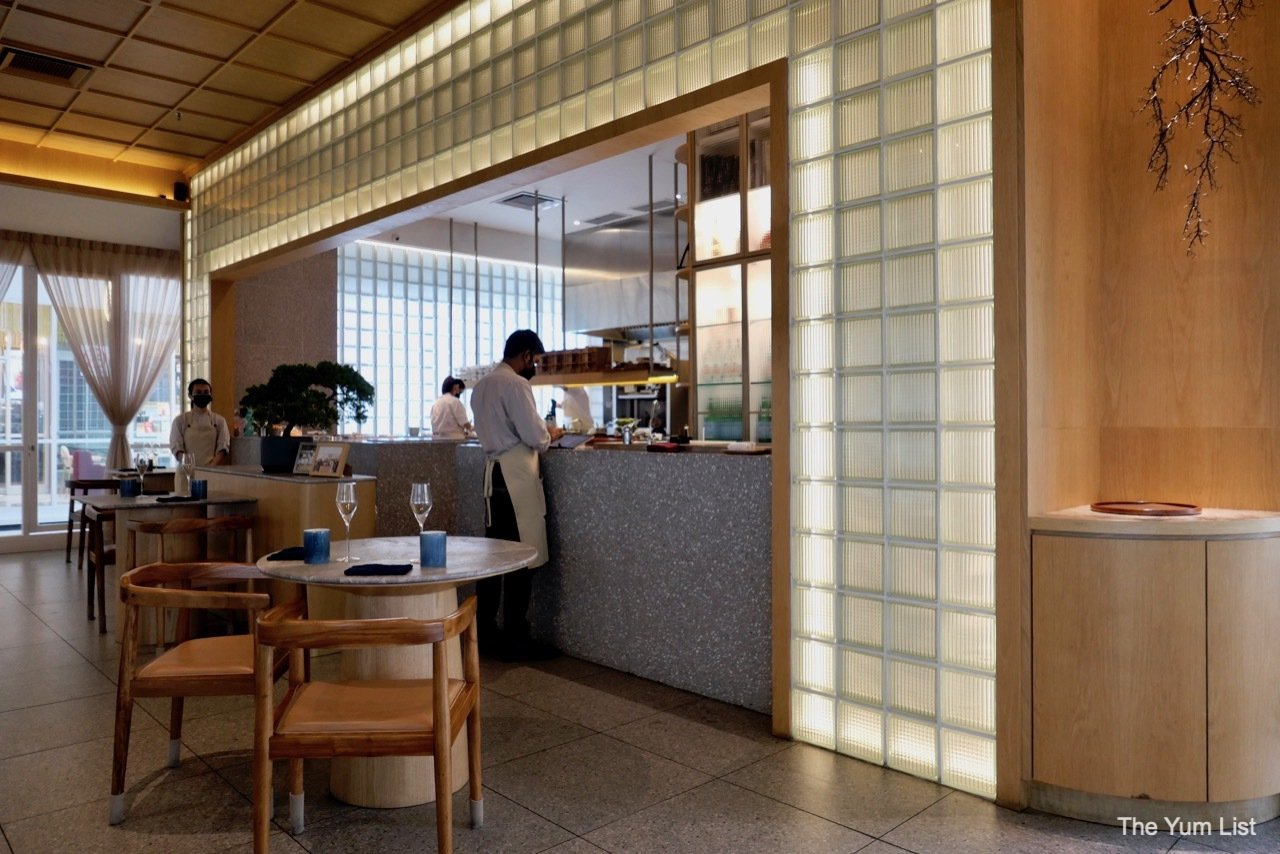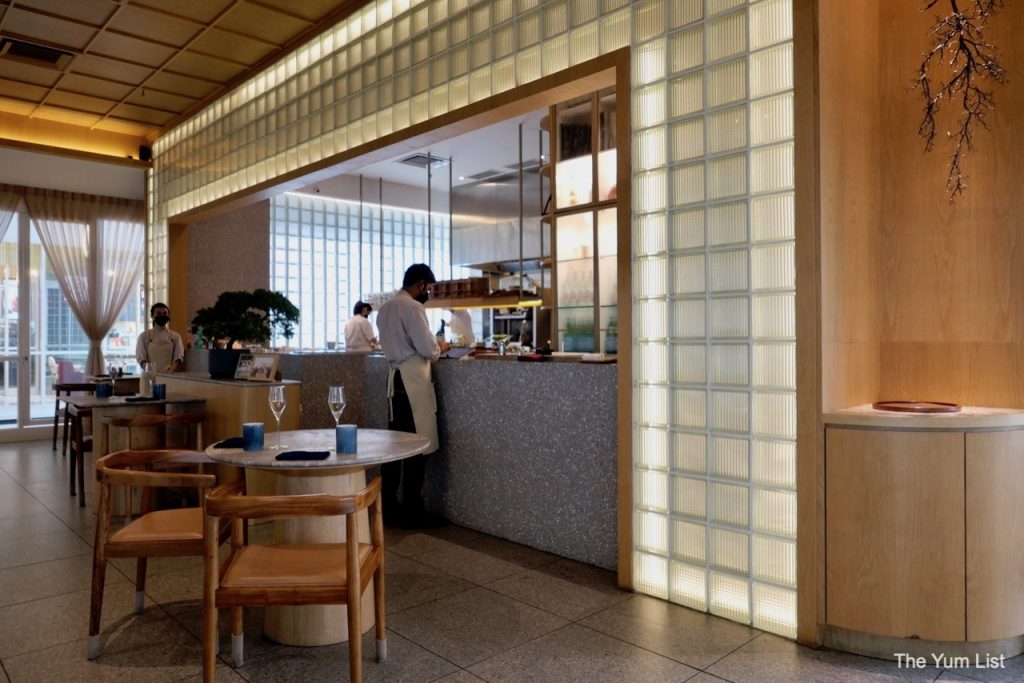 gēn 根 The Prestige Hotel Menu
Dinner at gēn 根 in The Prestige Hotel is a degustation menu (RM300). We're firm believers of leaving decisions to the chef and so are happy to not have to make any choices. Beverage pairing ((RM200 for 6 glass & RM160 for 4 glass) has been done for us also, which, again, we have no problem conceding to. We await the culinary adventure.
Chicken Wing, Spring Onion
Curry, Salted Duck Egg
Things get off to a fantastic start with a glass of Champagne Philippe Gamet, Blanc de Noirs (NV). It's a masculine drop with vibrant aromas of stone fruit, grapefruit and a whisper of toasted brioche. Fresh, and full of fruit, it fills our mouths, and the fine bubbles cleanse our palate.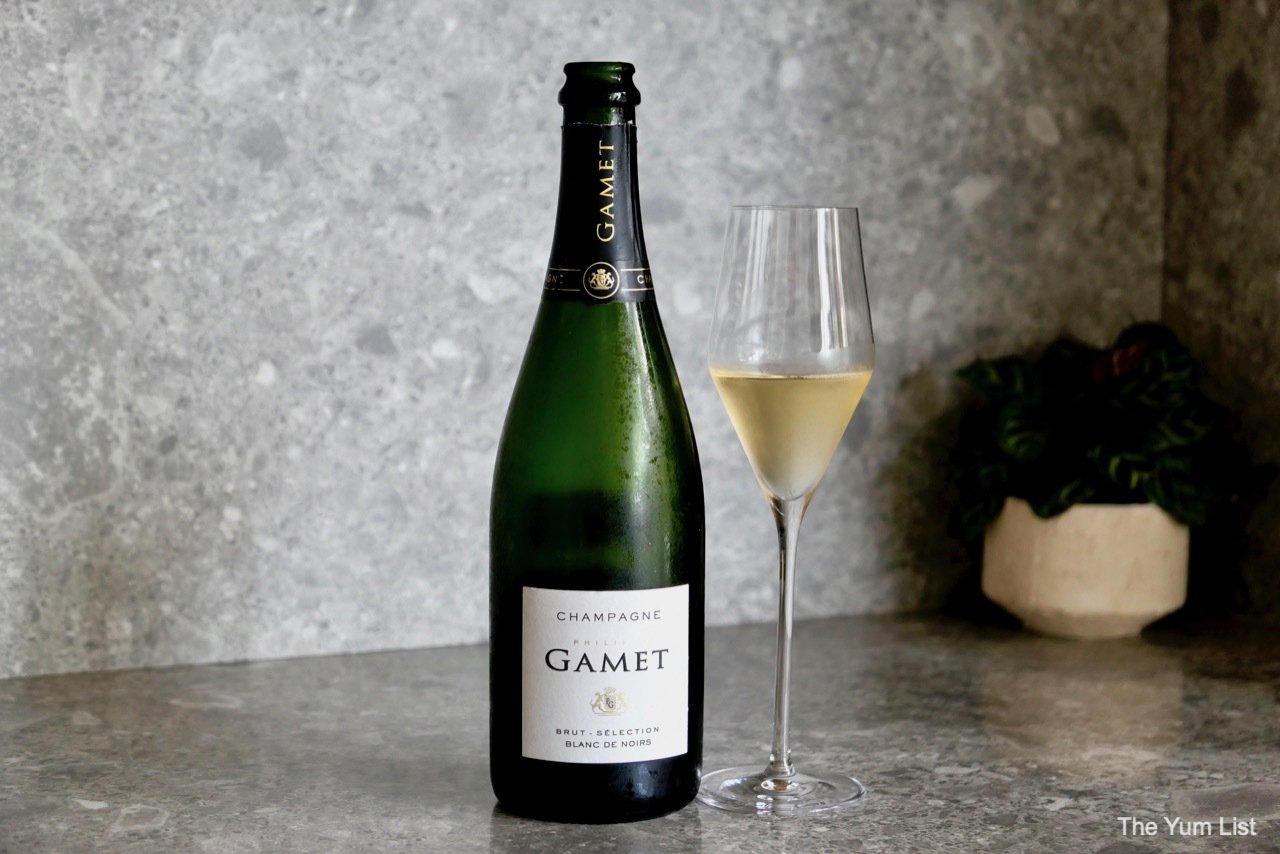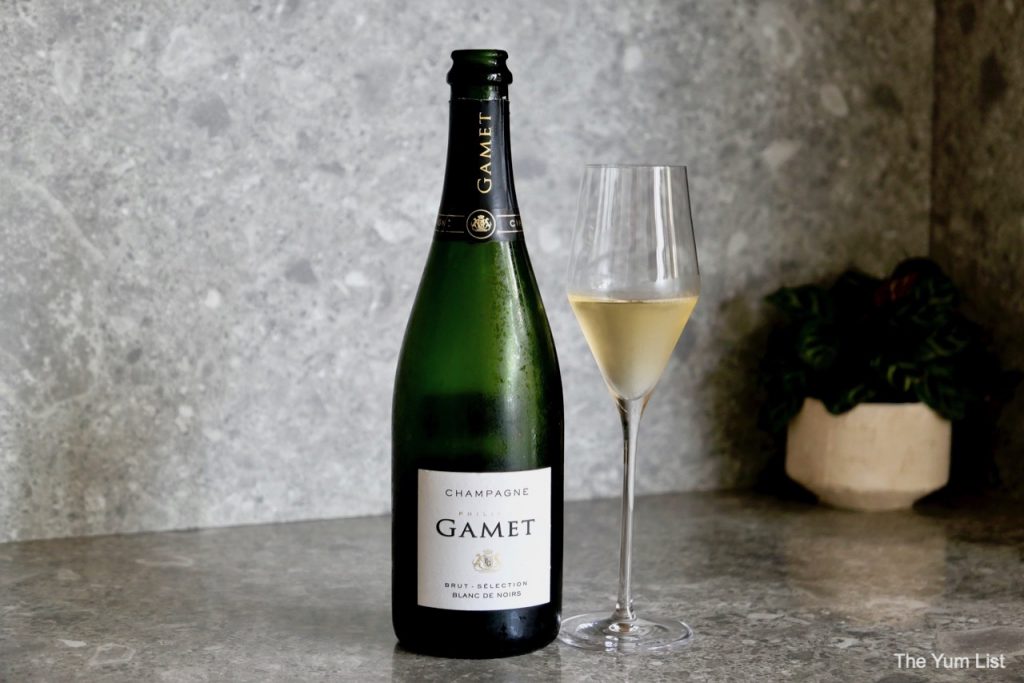 Inspired by chicken wings, the first snack is filled with fried rice and chicken wing inside a soft charcoal mantao bun. Sambal with chive flowers crown the top making pretty adornment.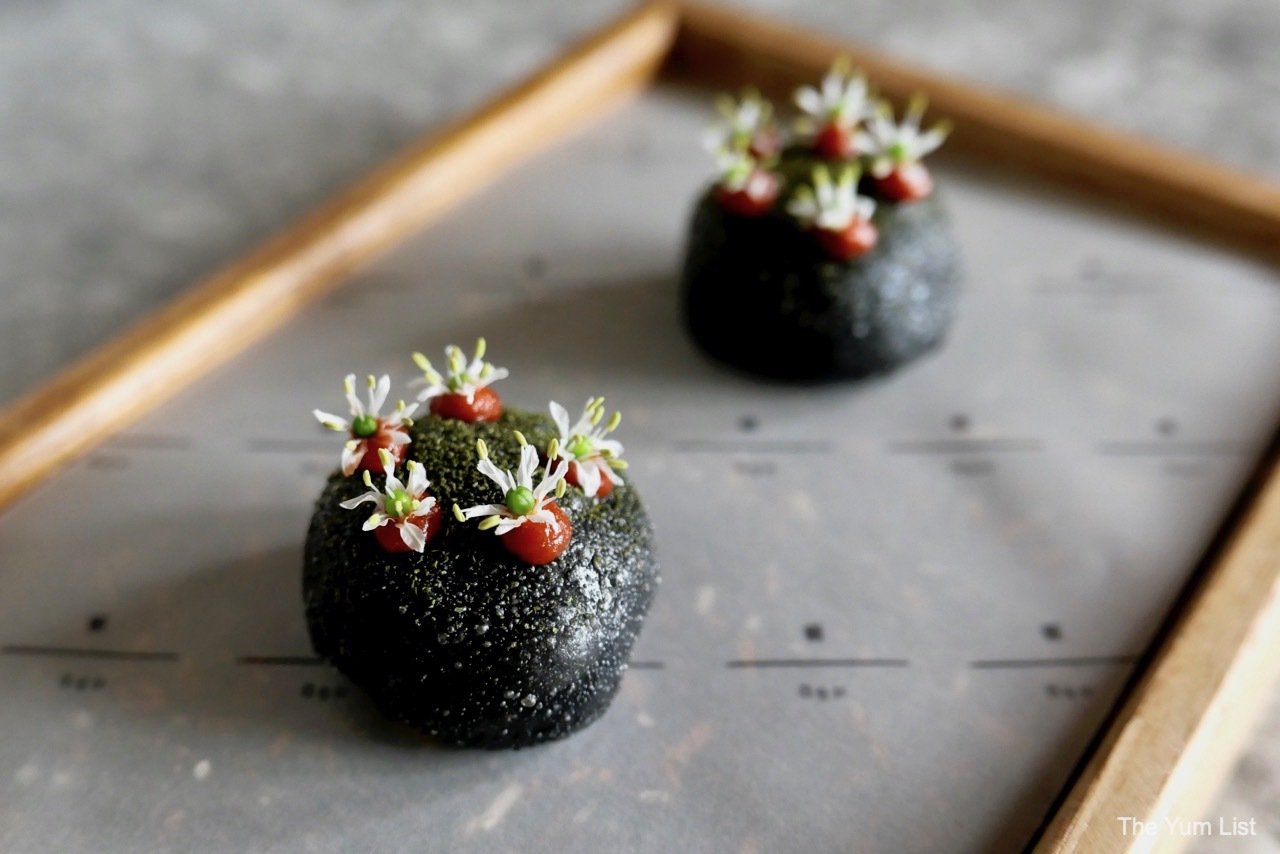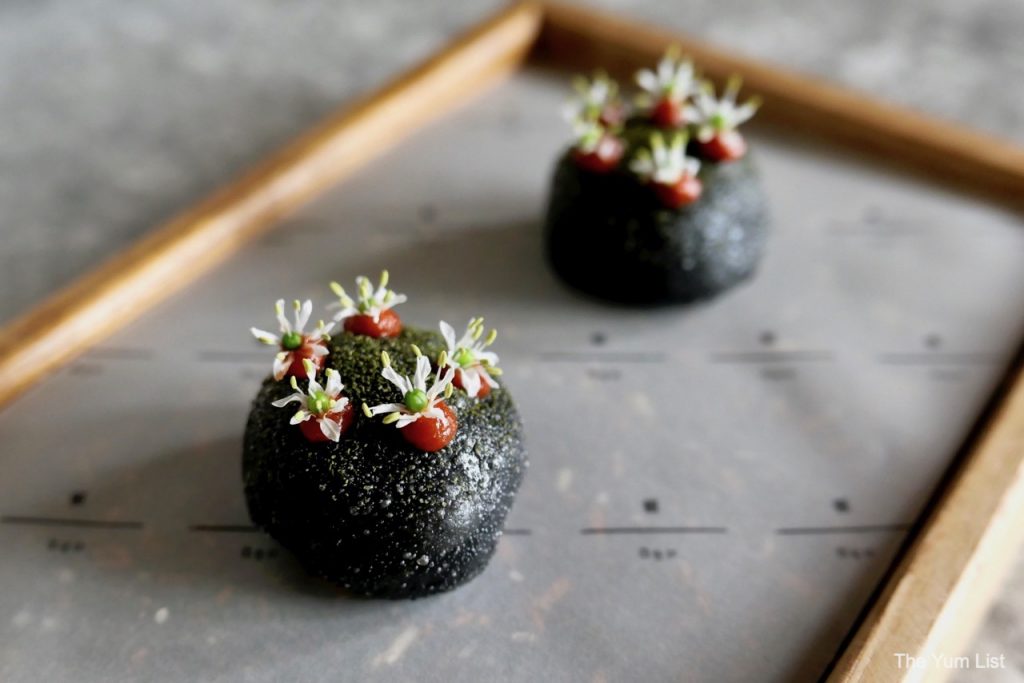 Playing with the salted egg trend, the second bite is a gorgeous triangle of salted duck egg-white omelette wrapped in paratha. Curry oil drizzles through the coat of salted duck yolk crumb and sauce. Pretty indigo borage blooms break up the canary yellow. Despite its unusual appearance, the flavours are familiar, reminding us of slow weekend brekkies.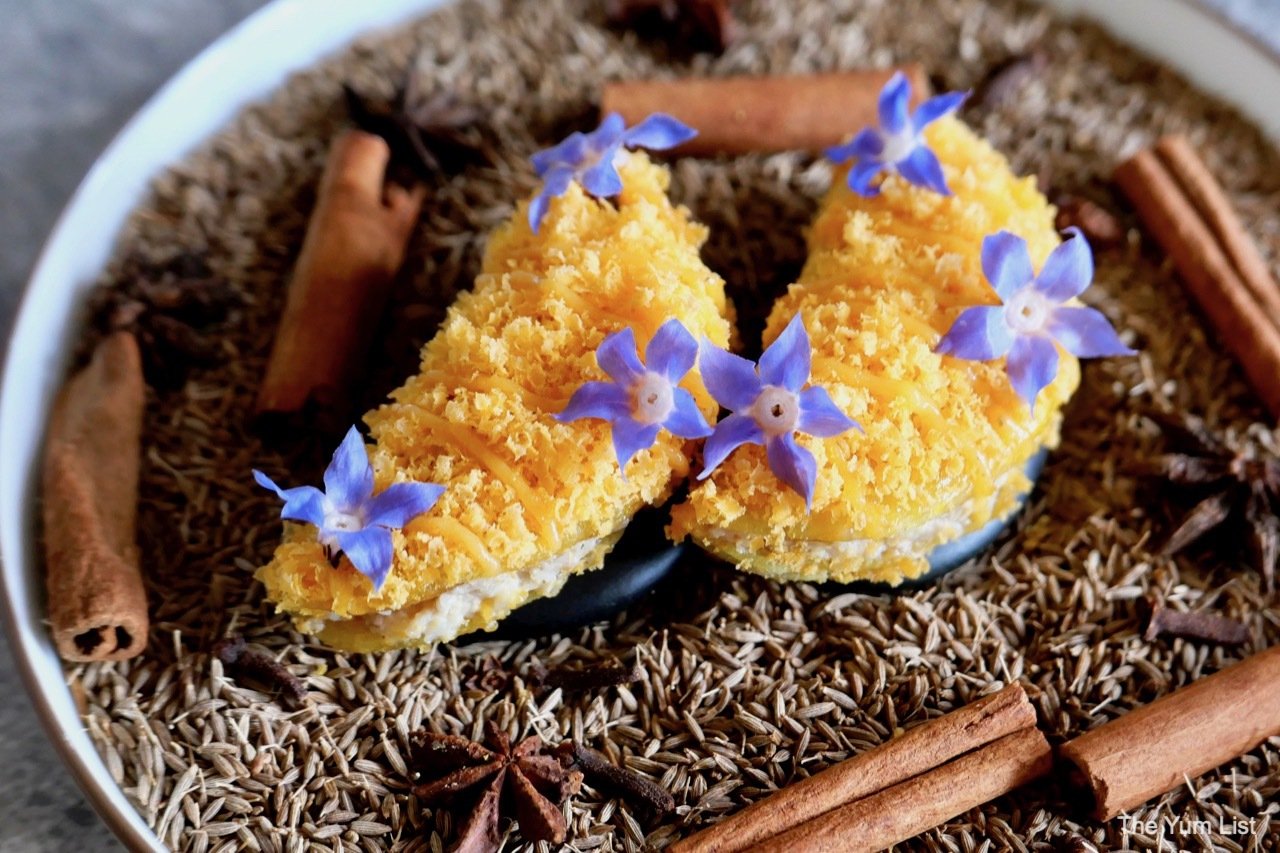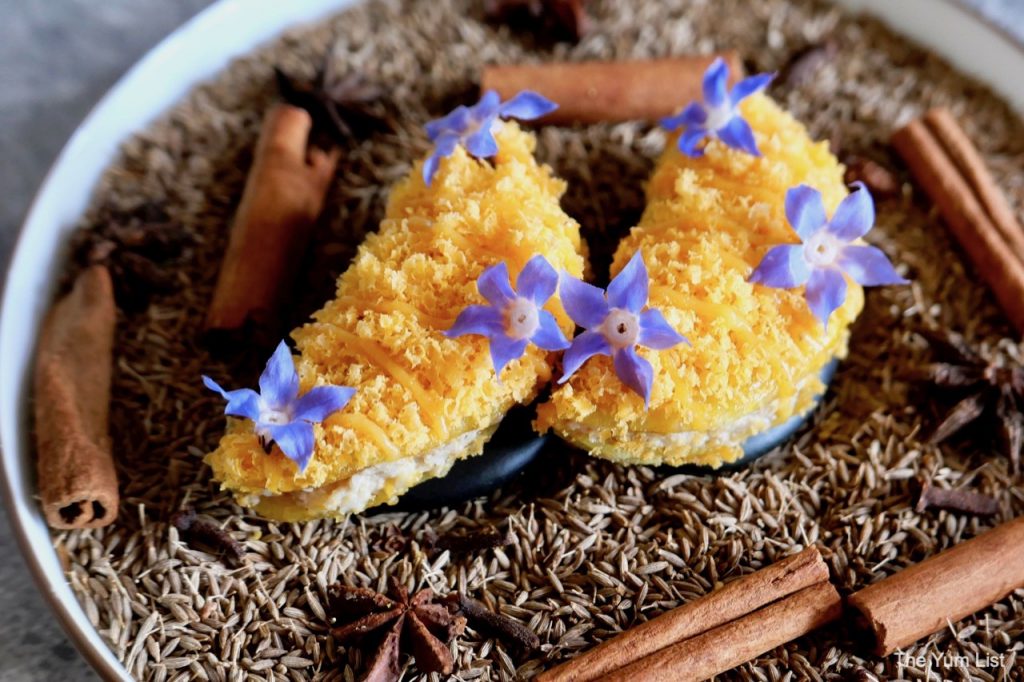 T'Lur Caviar, Ginger Flower
The next wine mate, Mulheimer Sonnelay, Zeppelin, Mosel Riesling 2018, has lovely tropical aromatics. Fruit and acidity are well balanced, and it does particularly well with the spice and saltiness in this course.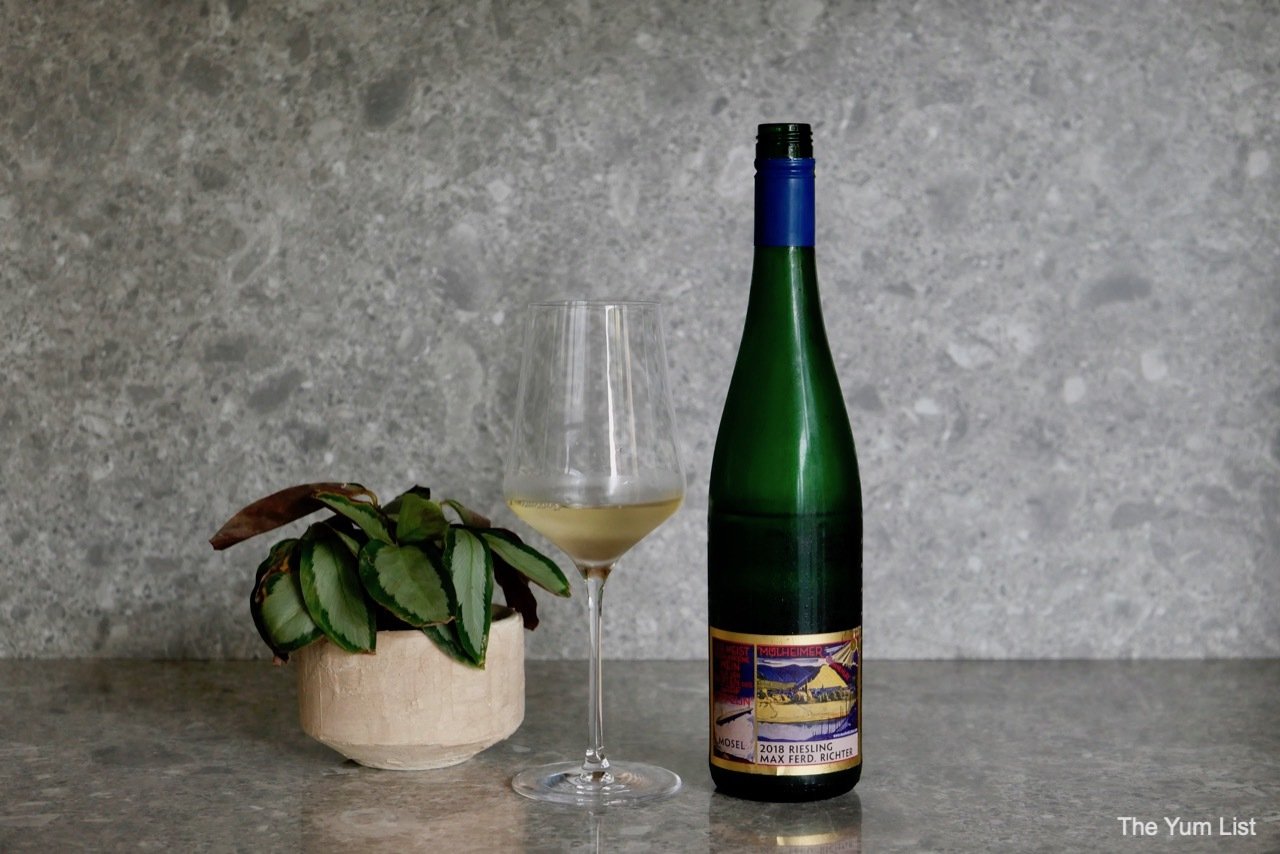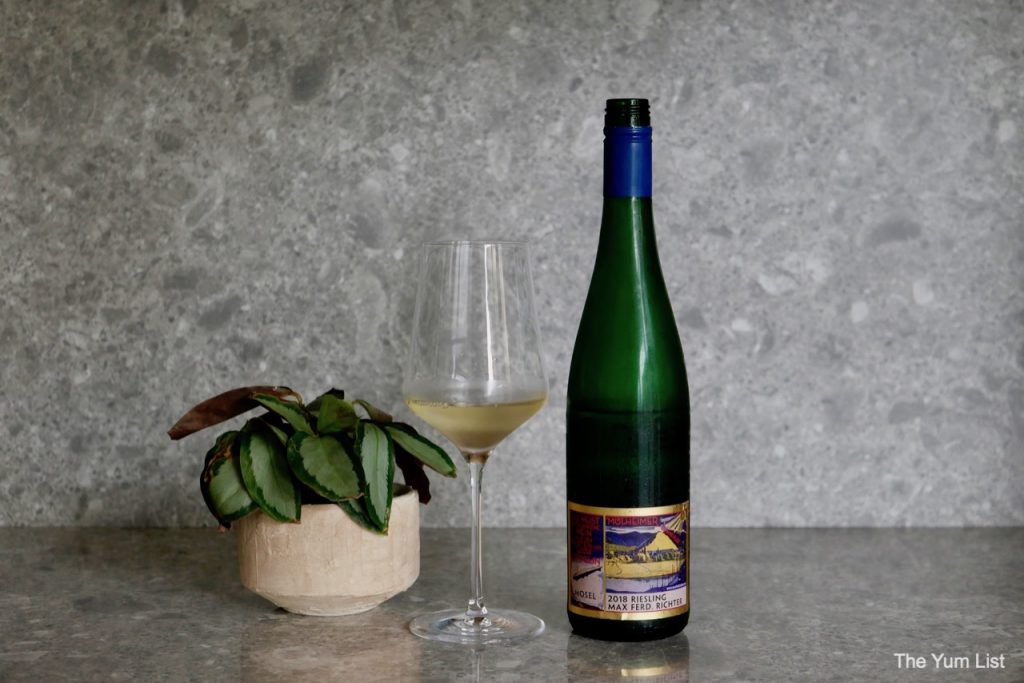 The recommendation is, to begin with, a spoon of ginger flower sorbet (love) finished with fish floss. Then use the same spoon for diving into the tin of caviar. Tropical Malaysian caviar, locally grown, is unique and something for the country to be proud of. The dominant ocean appeal of the Siberian species is stabilized with its smooth and silky texture. Underneath, cured mackerel adds a meatiness to the dish, and the Riesling is a flawless partner, rounding out the edges with its fruity character.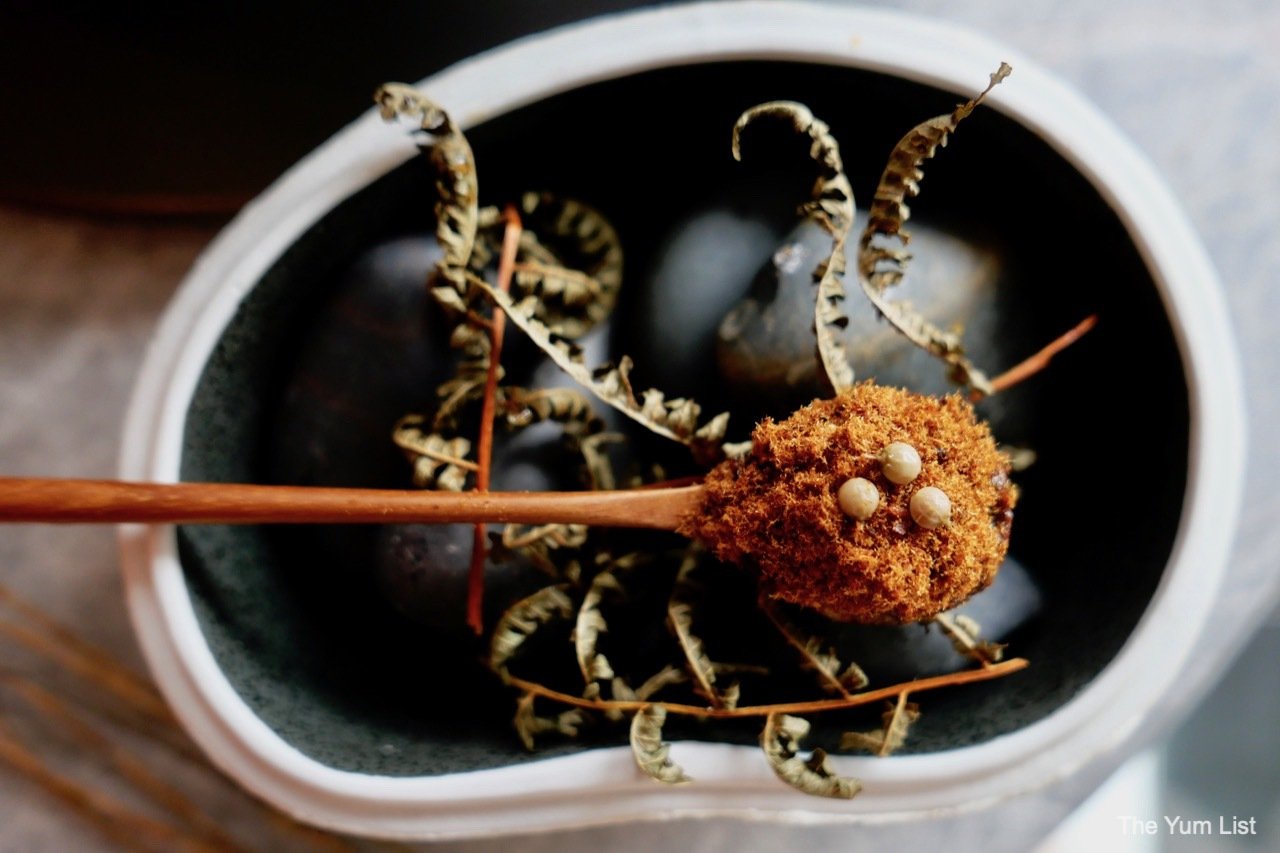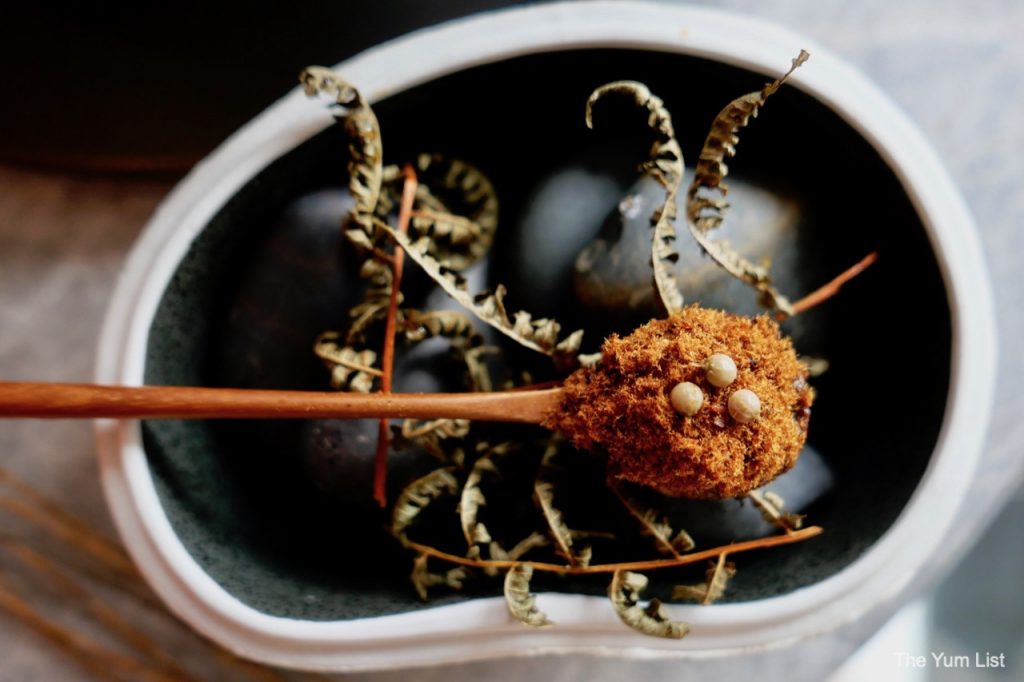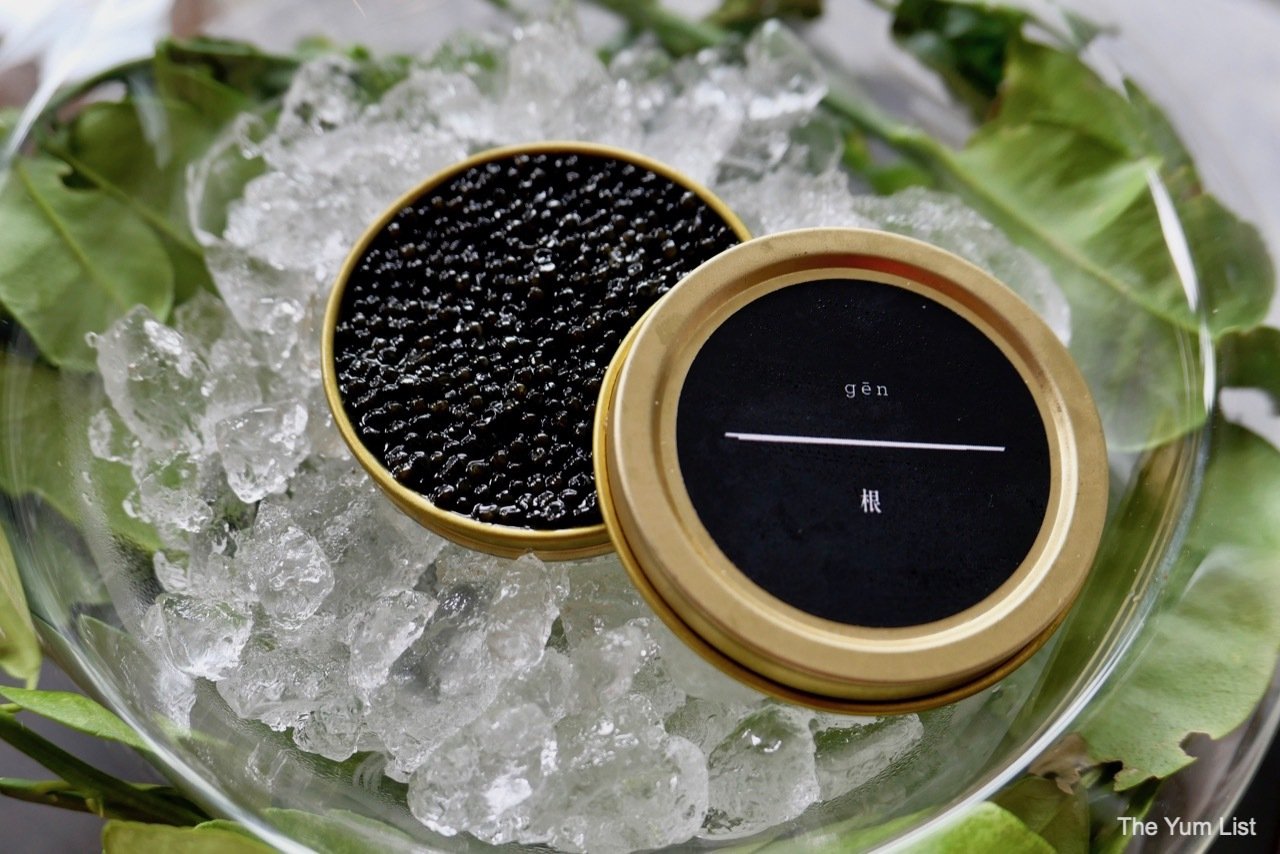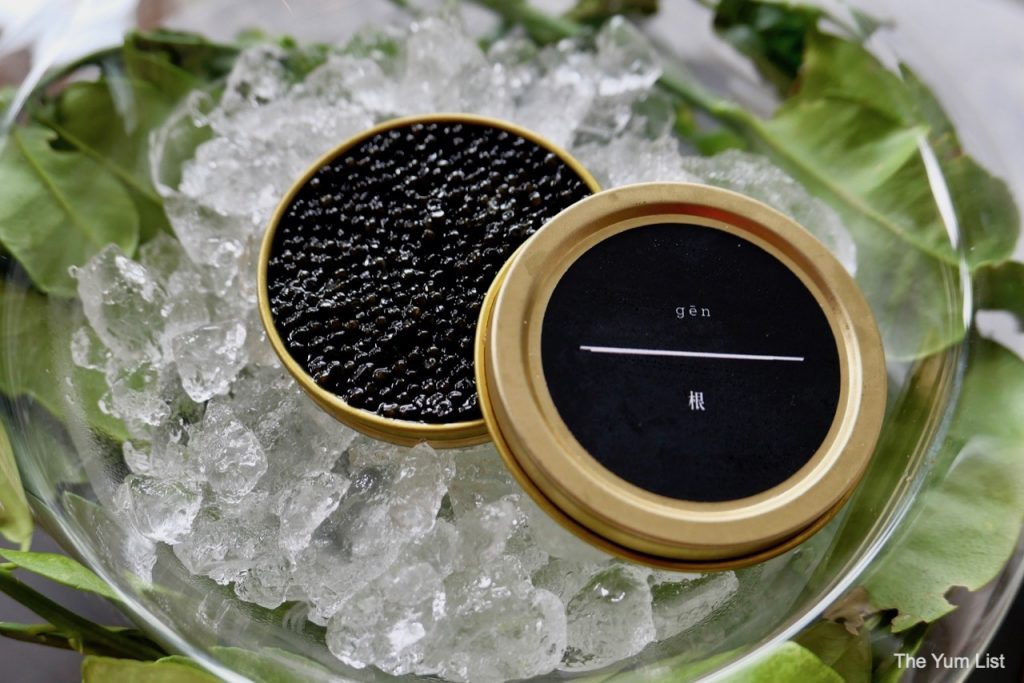 Aged Prawn & Papaya
Experimental in nature, pork lard has been used to cure the seafood in the aged prawn and papaya course. Macerated tomato tops the prawns, then a tangle of pickled wide ribbons of papaya. Lastly, a clear jus of pineapple, tomato and prawn is poured over the top. It's a complicated dish with layers of umami, acidity and sweetness filling the mouth. Sharpness and spice from fermented chilli quickly reach the back of the throat. Be sure to save some of the Riesling; it's an excellent complement.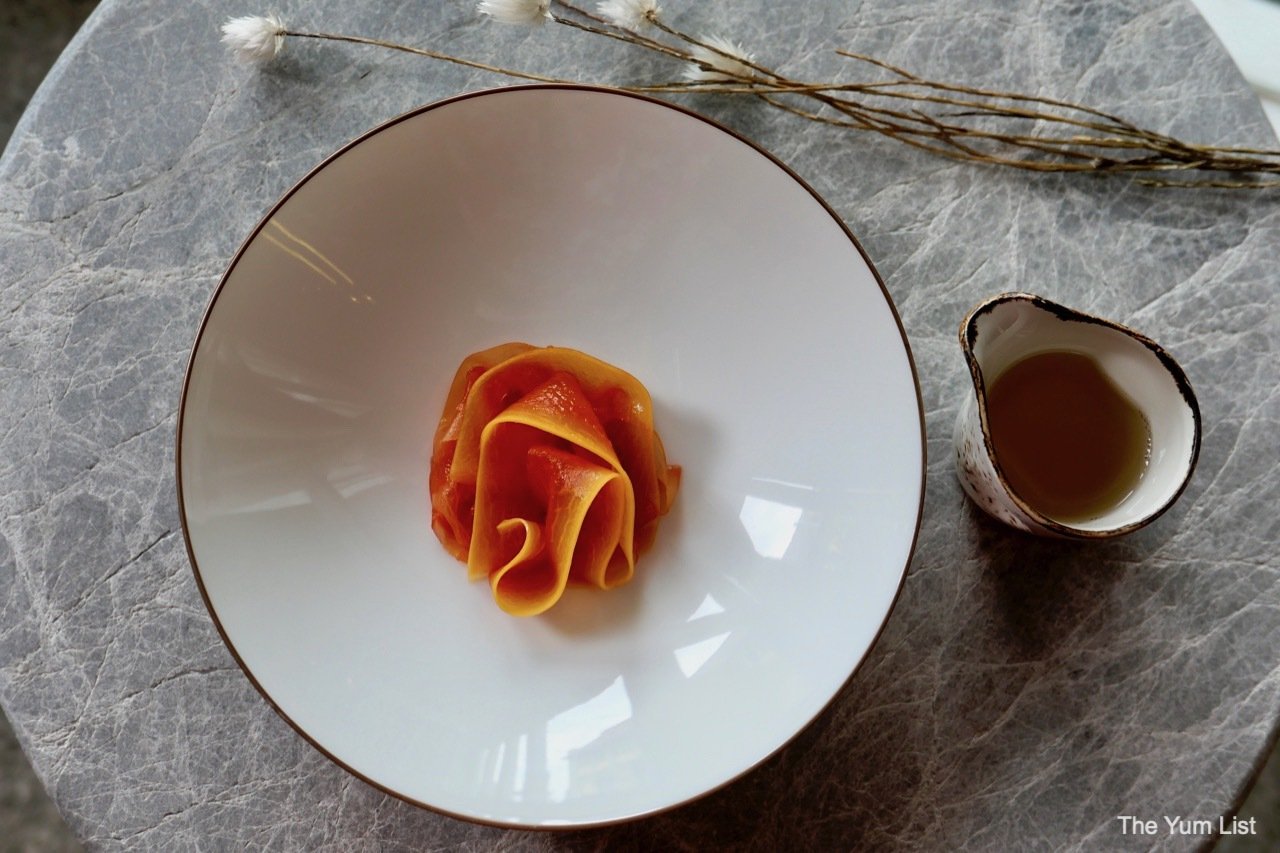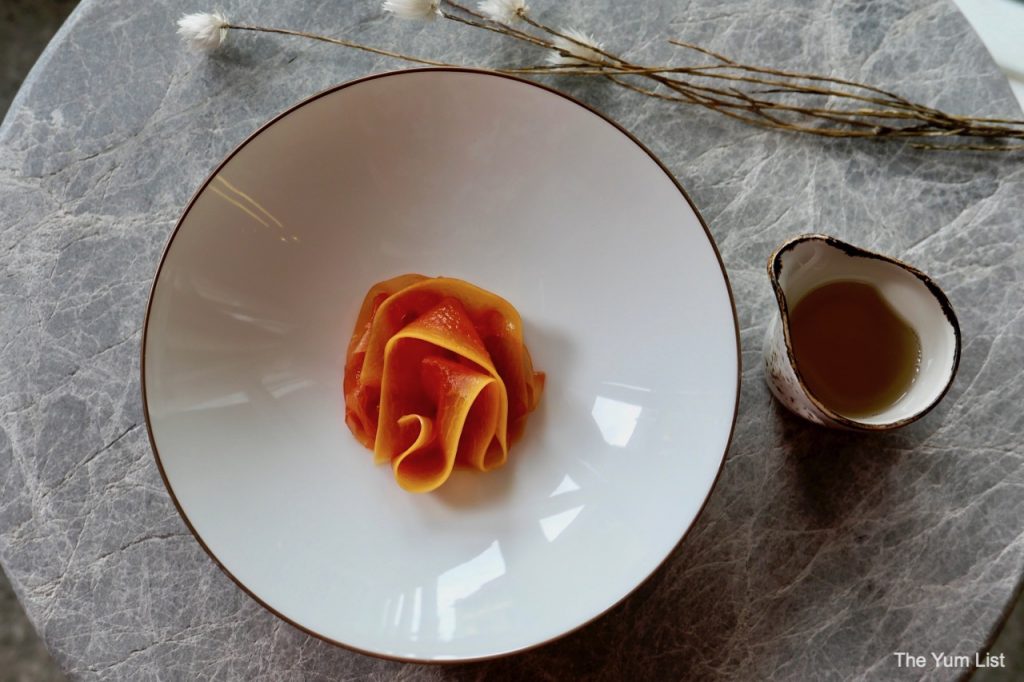 Mackerel, Ulams
As the recipes increase in intensity so too does our wine pairing with Kaiun Iwaizake, Tokubetsu Honjozo, Shizuoka. This sake harmonizes fruity and creamy, ending with a quick conclusion (opposite to wine, a swift finish is highly regarded with sake).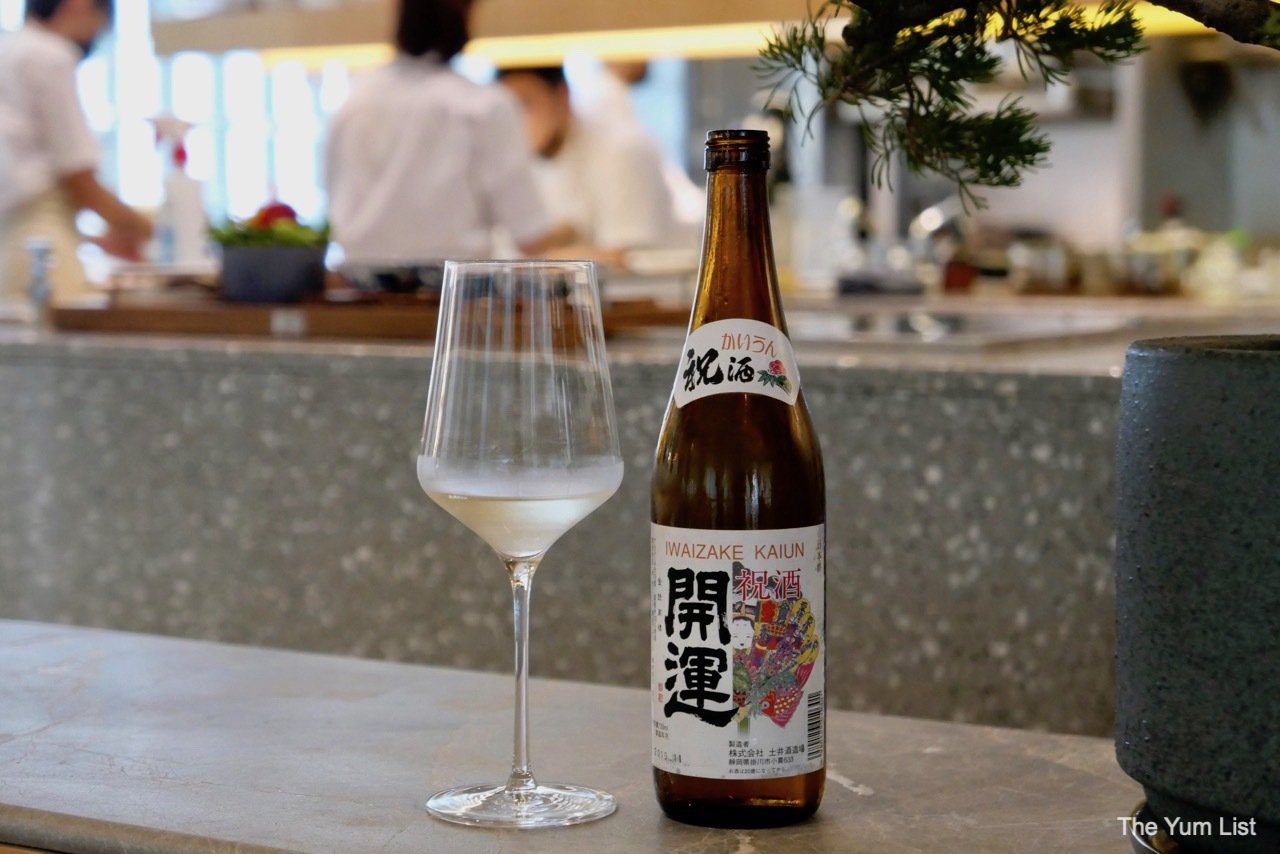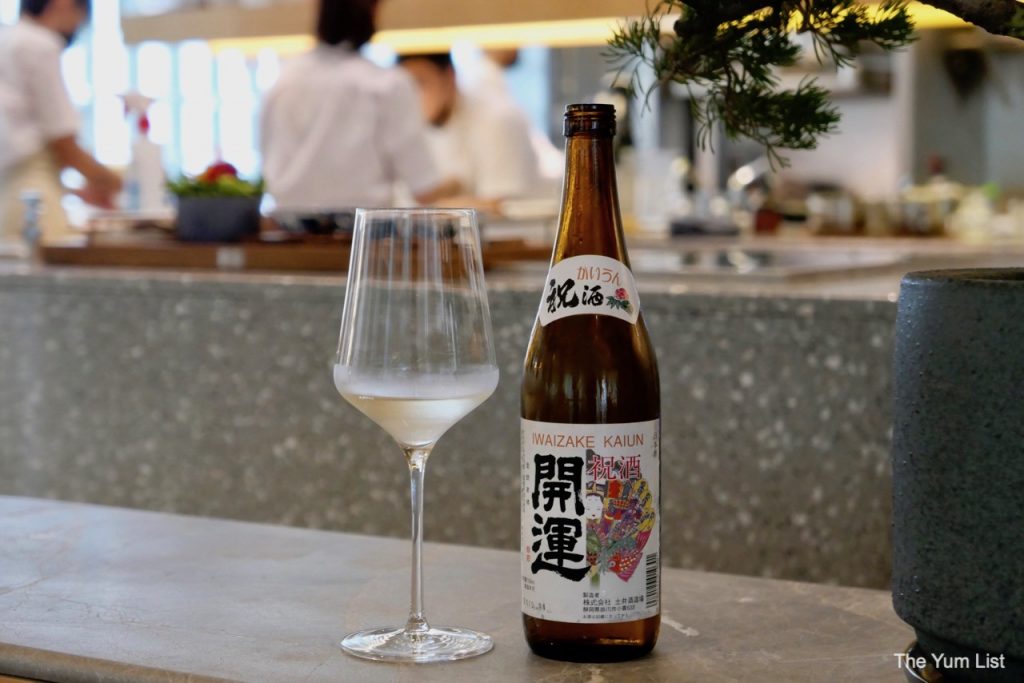 The next course has so many components that they are delivered on a platter. A cross between local Malay ulam and a do-it-yourself salad, a variety of sauces, greens, vinegar and fish are individually plated ready for you to do the mixing.
Mini blue and white China bowls hold tamarind, anchovy, desiccated coconut, fermented cempedak, soya sambal and budu (fermented fish) sauces. Spray bottles are filled with marigold and cosmo flower vinegar, and there's a wooden block holding grilled mackerel and lime. Lastly, there's a vibrant bowl of local greens – ulam raja, ulam selom, long beans, winged beans, nasturtium flowers, pegaga and terung pipit. This is our chance to experiment with ingredients on the own, in various combinations and with different dressings. It's a fun, hands-on and tasty experience.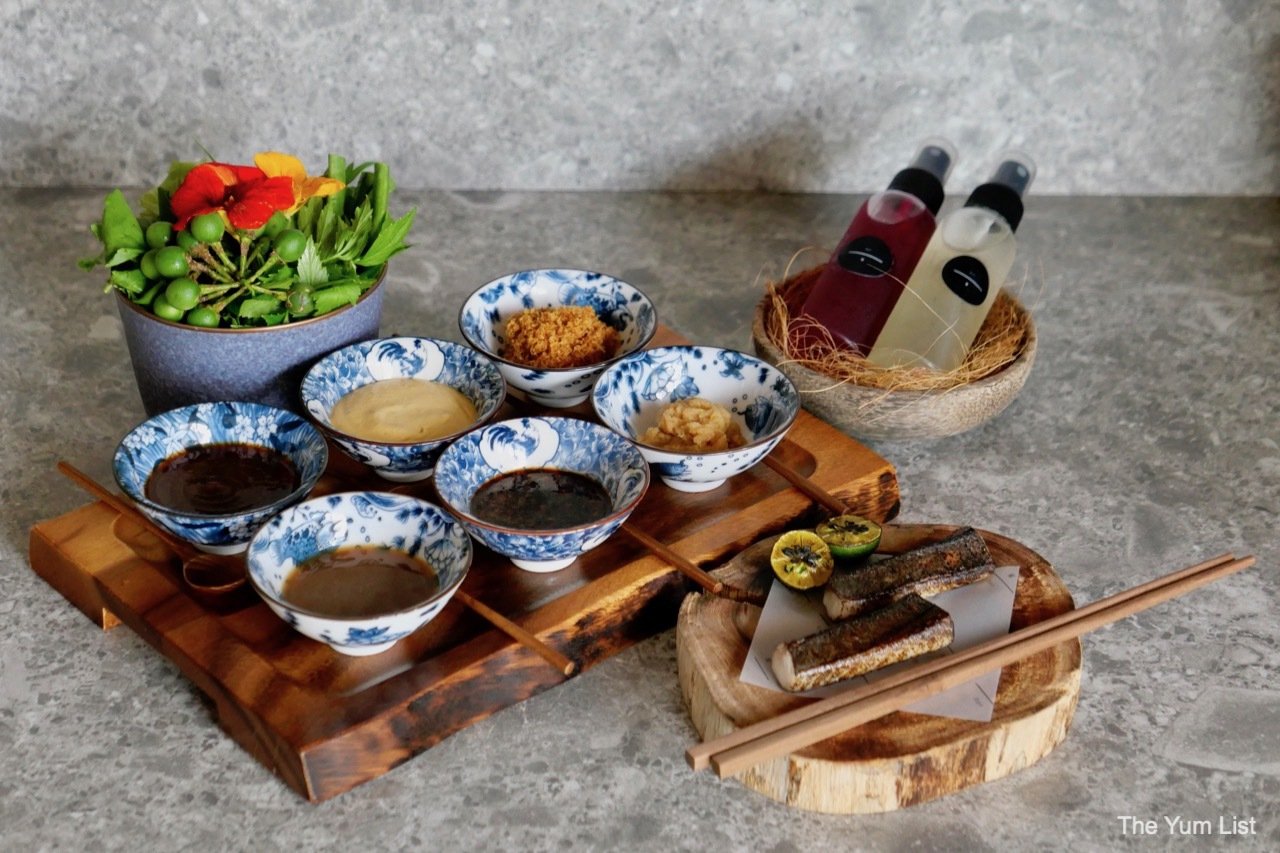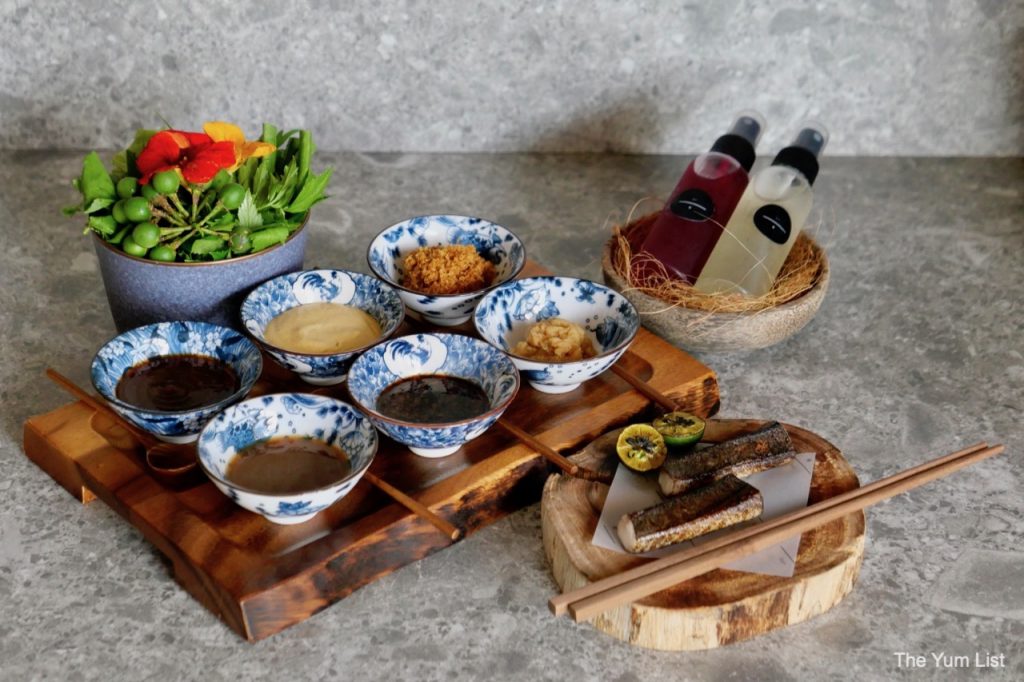 Durian, Crab, Chinese Doughstick
Chefs have unsuccessfully tried for years to get me to understand the so-called deliciousness of durian, and chef Johnson has another attempt today. This time, it's presented so attractively, I probably would have popped the whole thing in my mouth had I not known the dangers that lied within. A ball of dough stick (popular street food) is topped with durian sambal and pine nut sambal, crunchy strips of deep-fried crab meat, tomato and pine nuts. Hubby boldly takes the whole sphere. I cautiously pick at the crisp crab strings, then at the dough base, and finally dip a little of each in the sambal. I'm positive durian lovers will say this is the best thing ever, but my taste buds just have not been able to adjust to its pungency.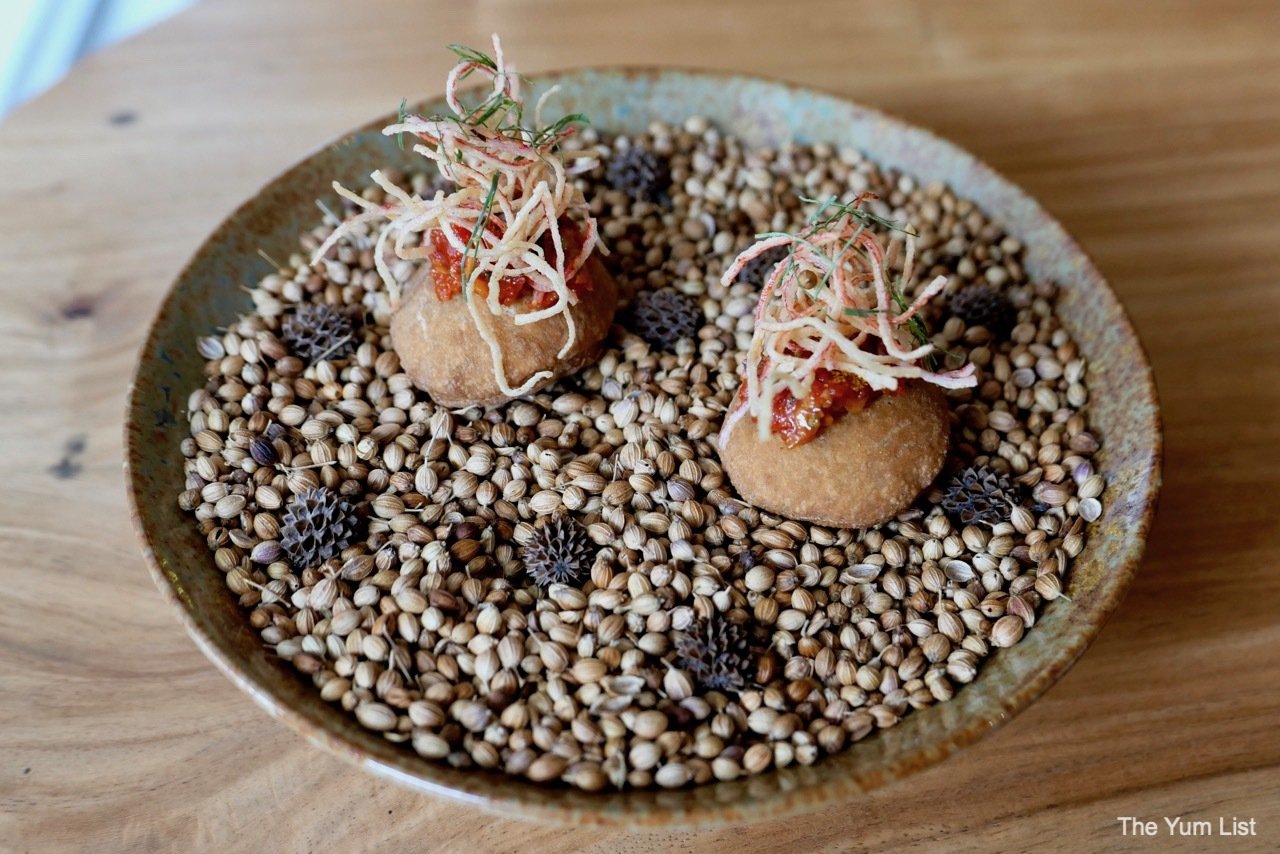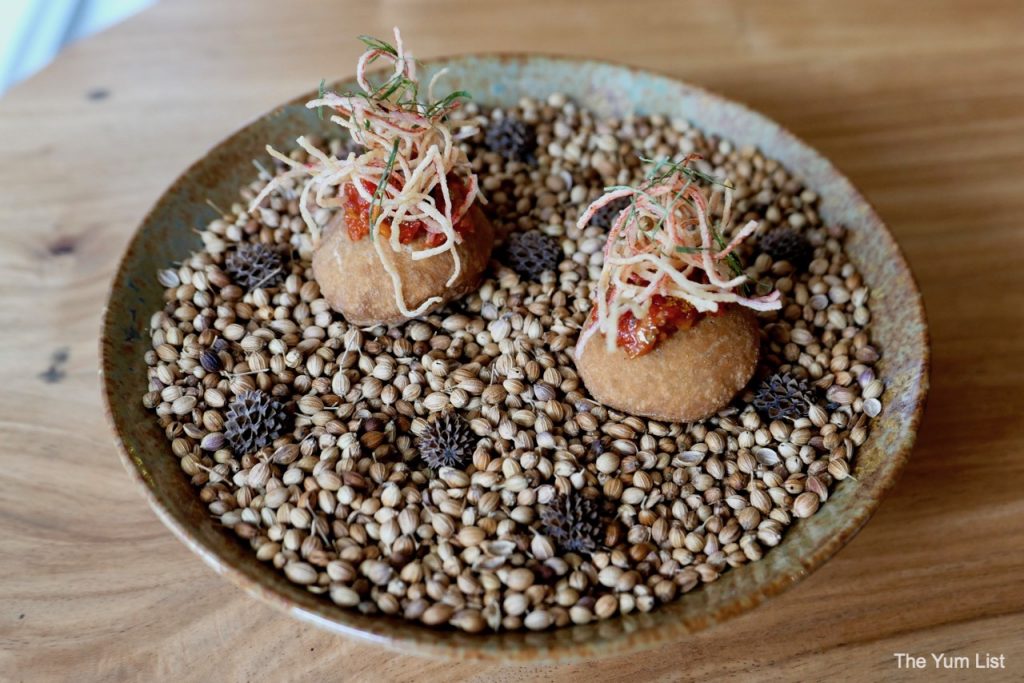 Threadfin, Sawtooth Coriander
New Zealand brings us the Carrick, The Death of Von Tempsky, Central Otago, Riesling, 2017 as a counterpart to the upcoming course. It's a light orange in the glass suggesting that it's possibly a natural wine. Further investigation confirms biodynamic and organic certification, whole-cluster fermentation, zero additions and no added sulphur. Citrus, minerals and undertones of yeast reach the nose, followed by a dry mouth and taut lime and florals. The finish is moderate and an excellent complement to the pungent notes of the cabbage in the next dish.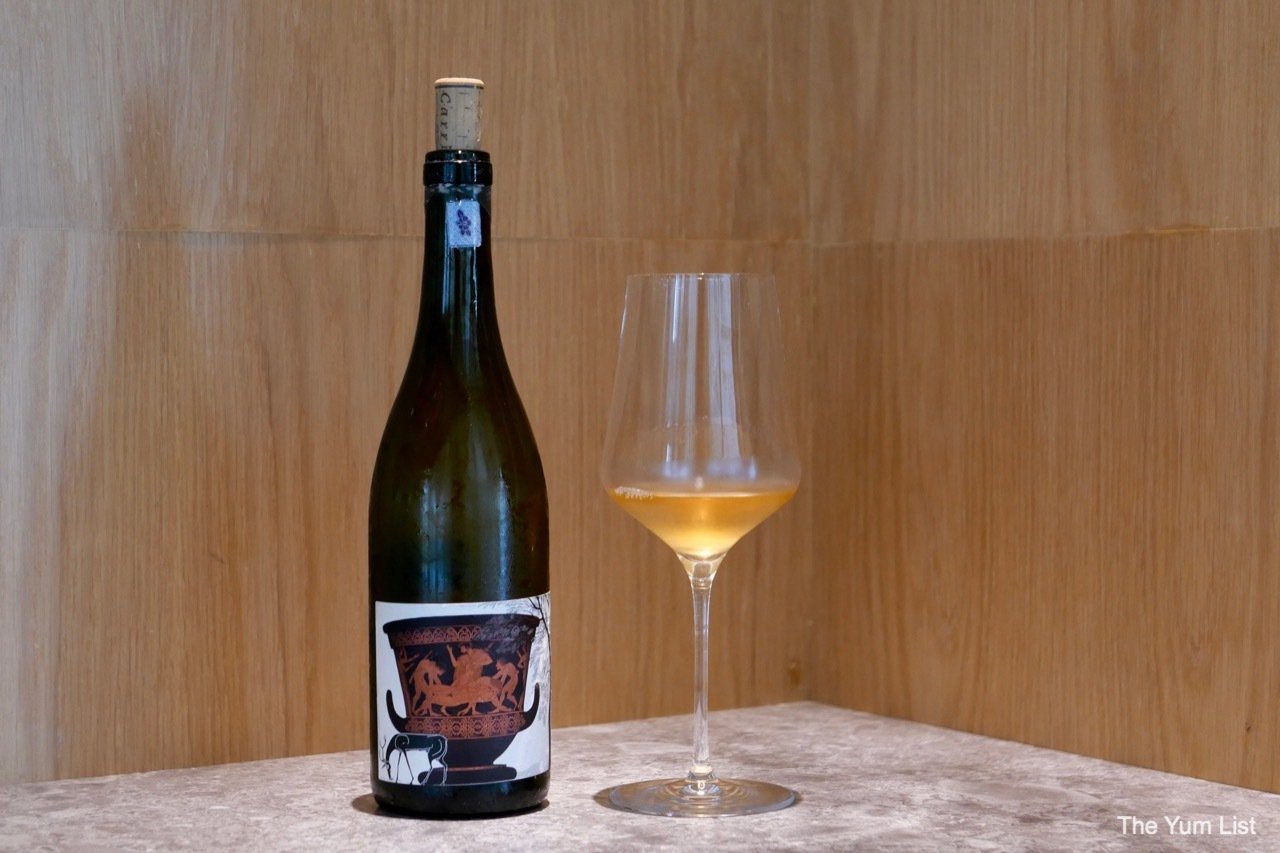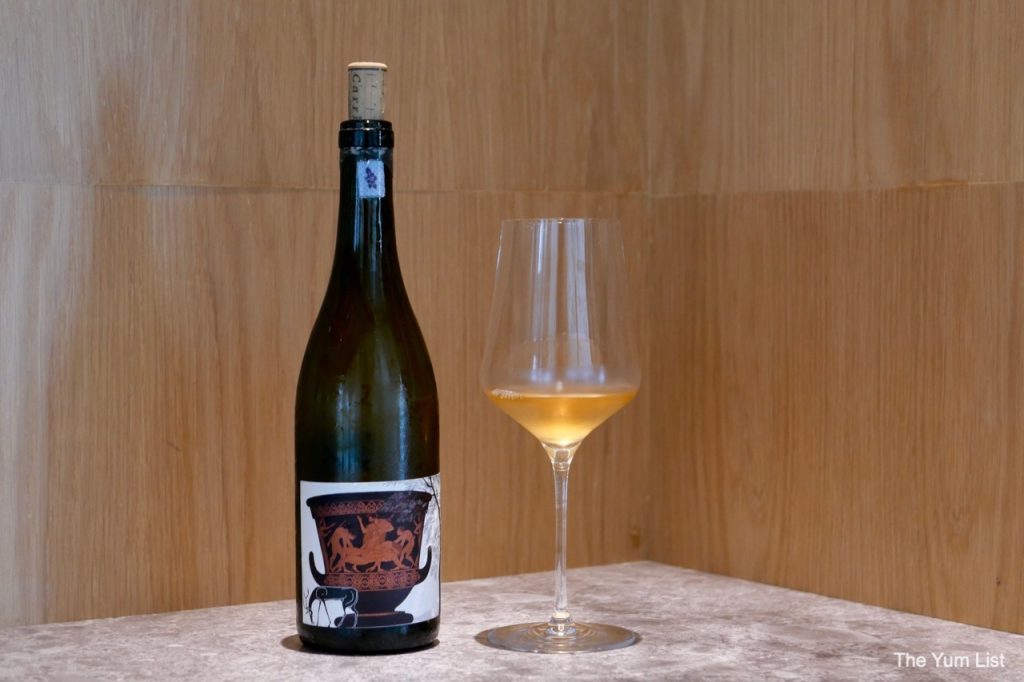 Local threadfin has been slow-cooked and teamed with pickled radish, Sarawak white peppercorn sauce and a garnish of fennel bronze and alyssum flowers. Just before serving a broth of peppercorn, sawtooth coriander, and sour cabbage is poured over. This turns out to be hubby's fave plate, based on the, "wow, this is awesome, so good, love it," comments between every mouthful.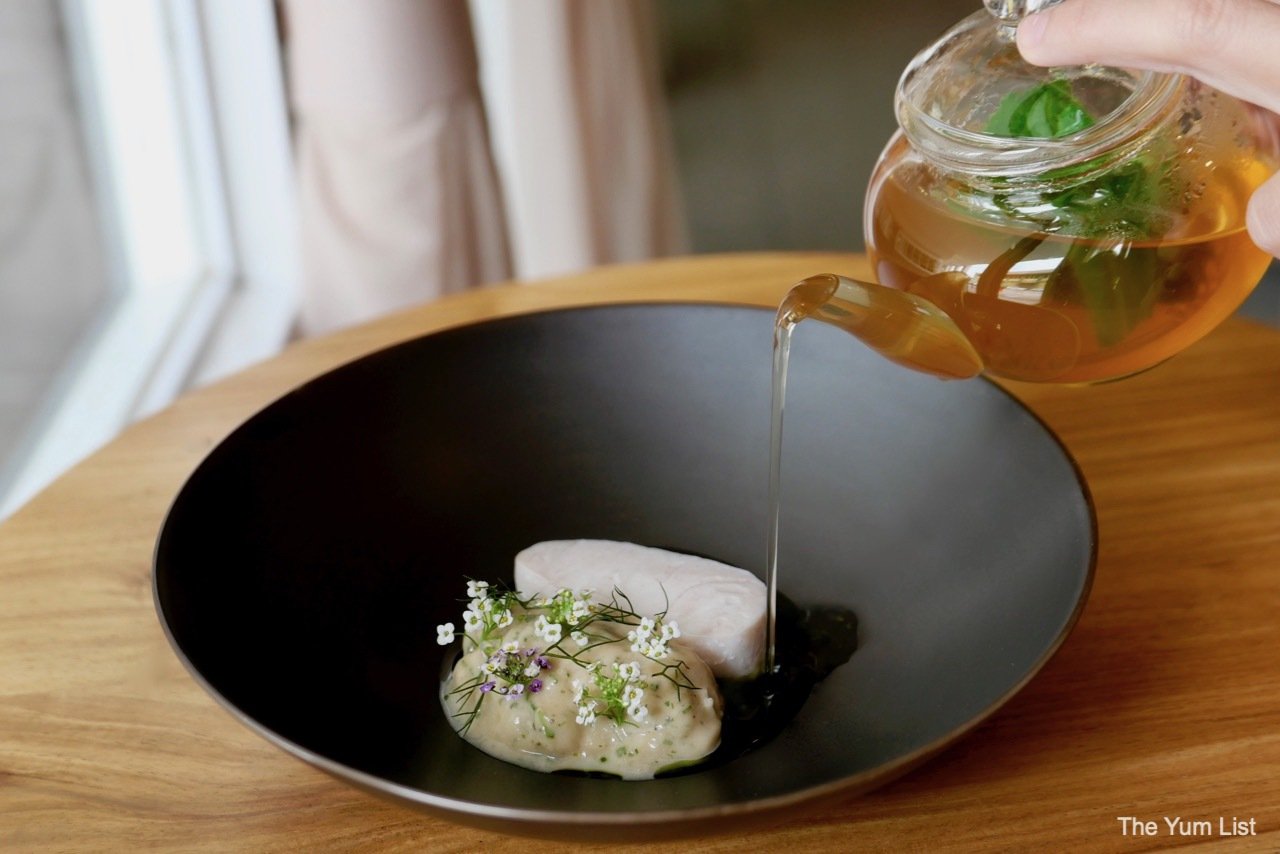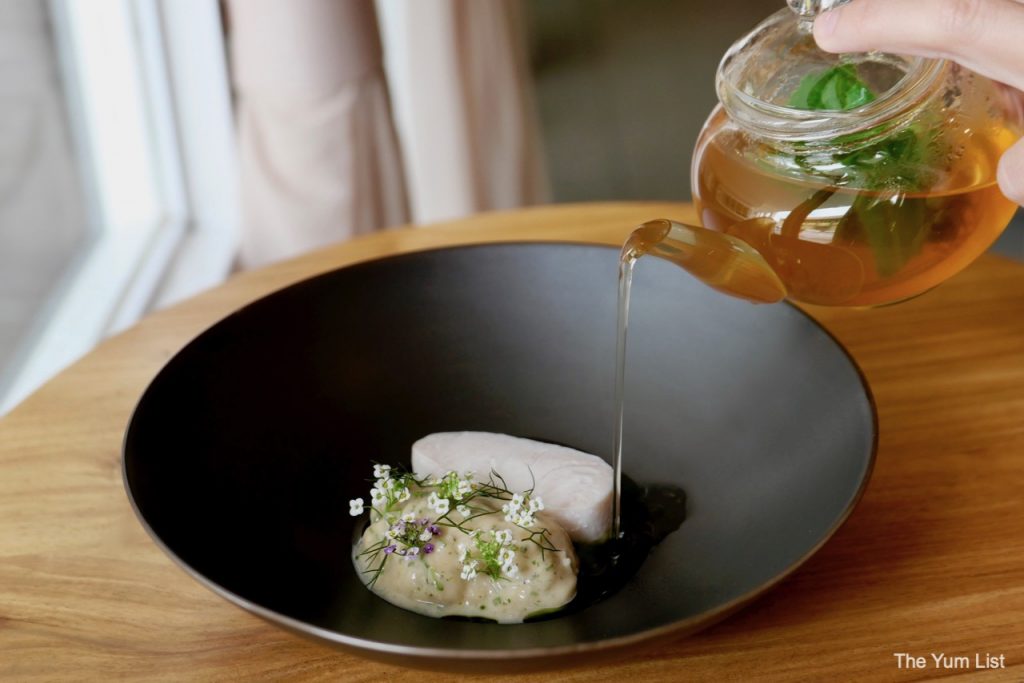 Duck, Sarawak Peppercorn
We're spoilt with an additional wine mate, the Umamu Estate, Margaret River, Cabernet Merlot 2010 for the main. Berries, chocolate and a little earth are found in the bouquet. The palate is delicate with subtle layers of berries, dark chocolate and a lingering climax.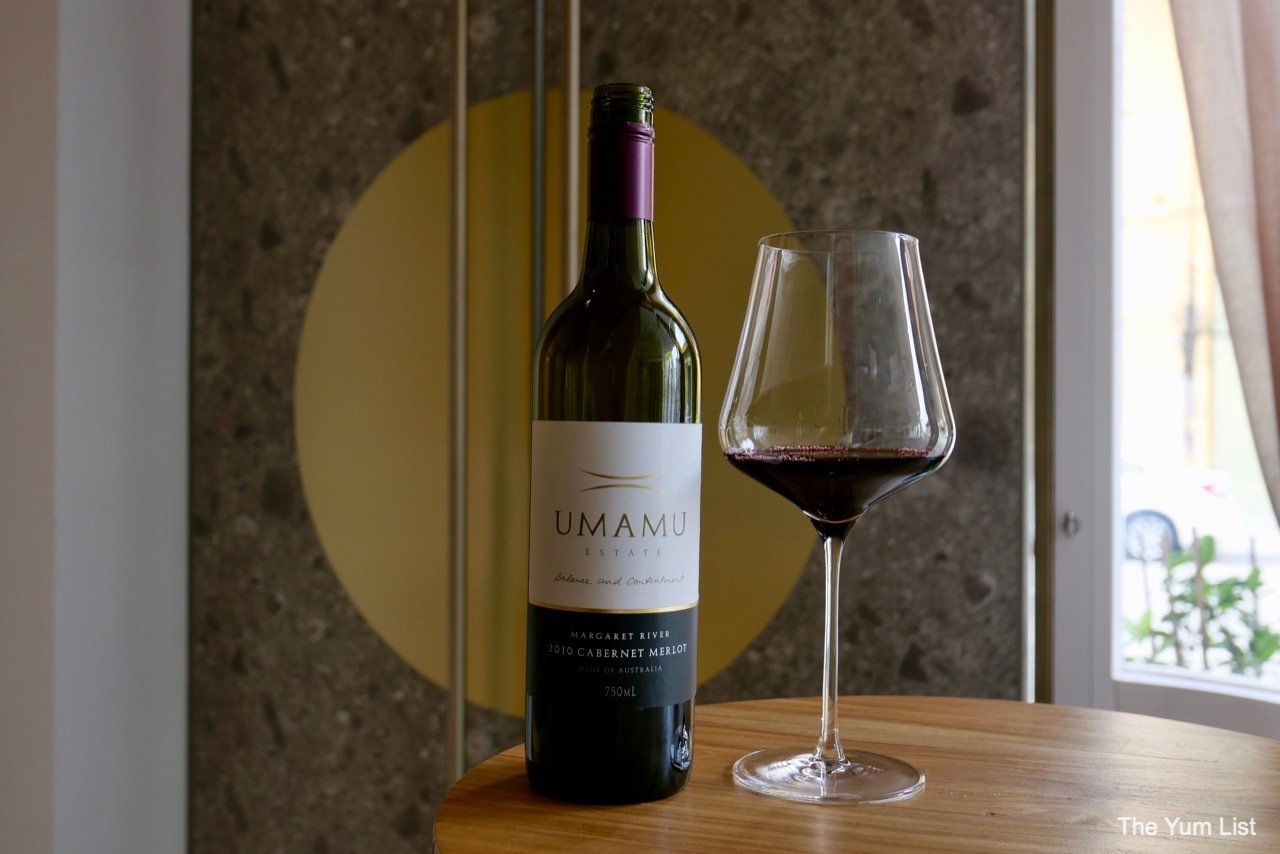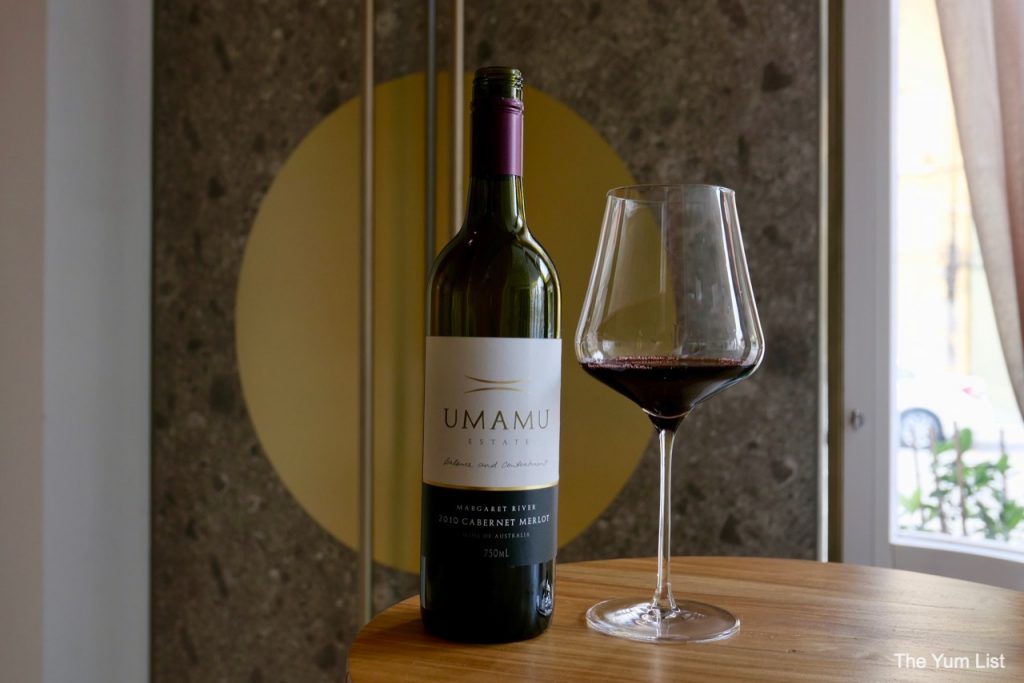 Duck brings an end to the savoury component of the menu. The poultry confit wrapped in a superbly thin Chinese pancake is delicious with shavings of cucumber and chevril leaves. A mosaic of sliced shiitake mushroom layers the crown and a black Sarawak peppercorn sauce spills to the side.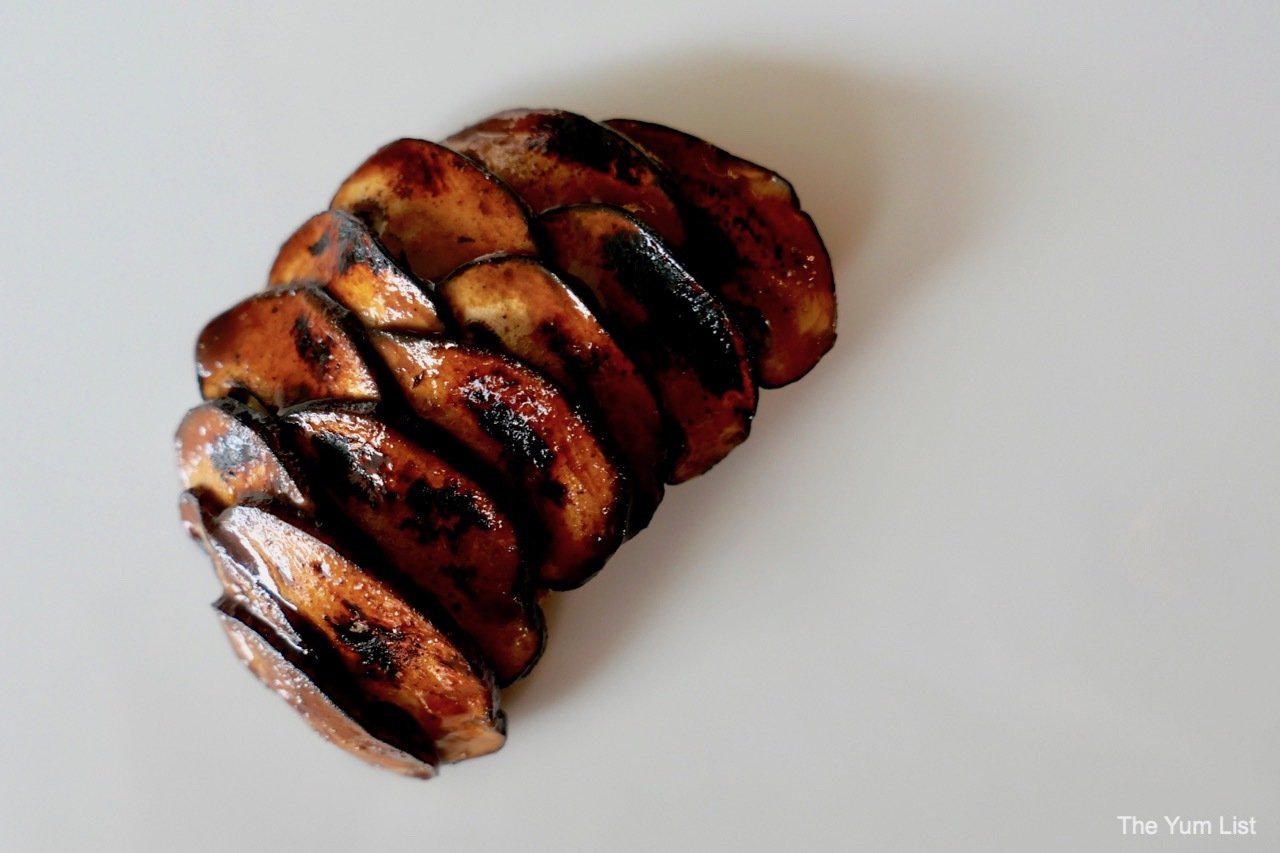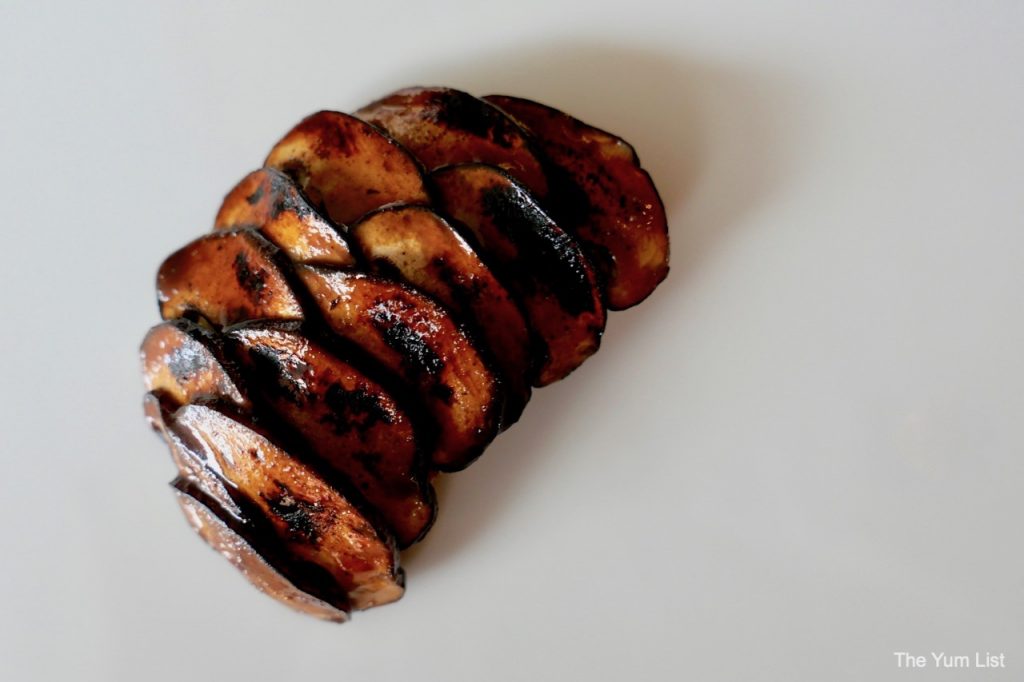 Enticing earthy aromas waft to the nose in the "duck part two." Building on their zero-waste philosophy, this recipe uses the rest of the poultry to brew herbal duck soup. It's layered with mushrooms of different textures. On the bottom, there's an oyster mushroom paste, then fermented enoki mushrooms, fresh button mushrooms float on the surface, and Chinese artichokes (crosnes) soak up the seasoning of the broth adding crunch to the soup.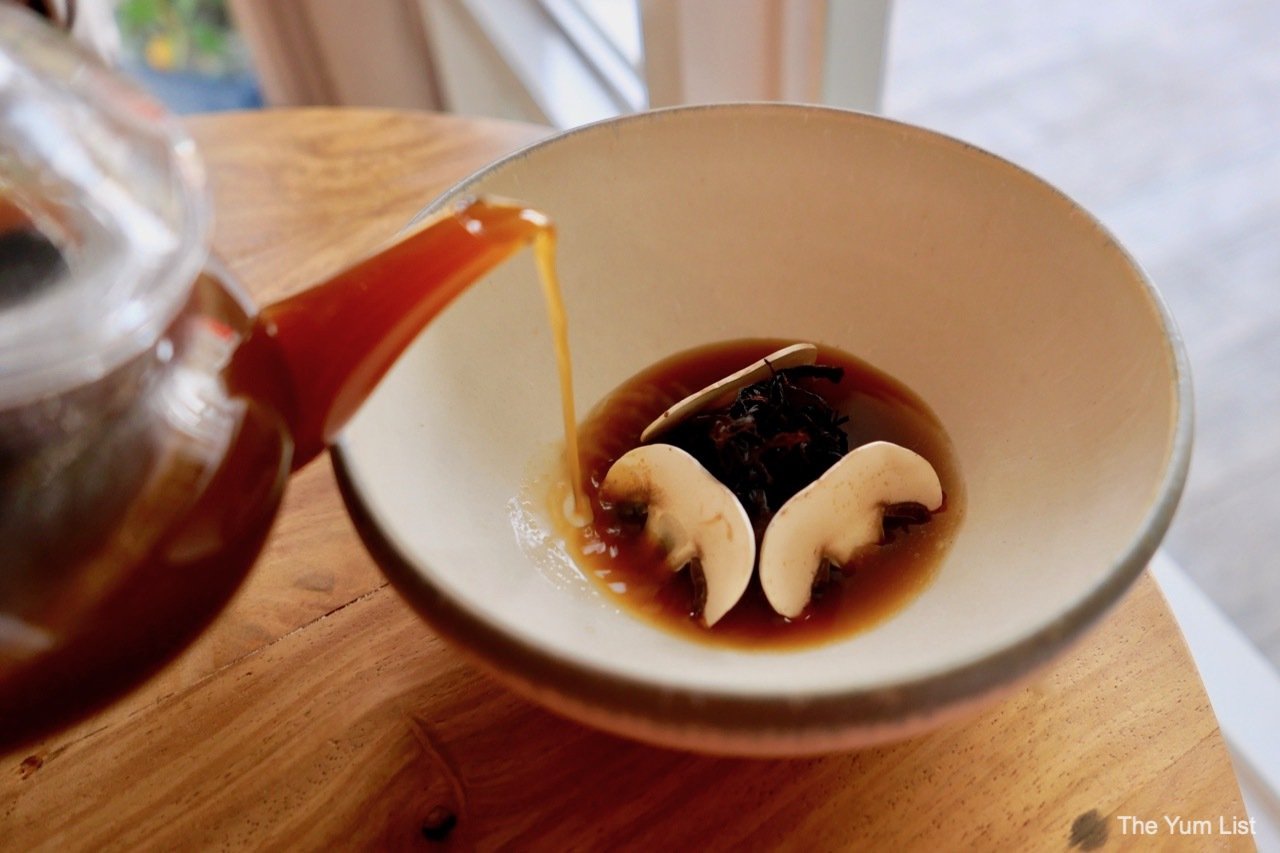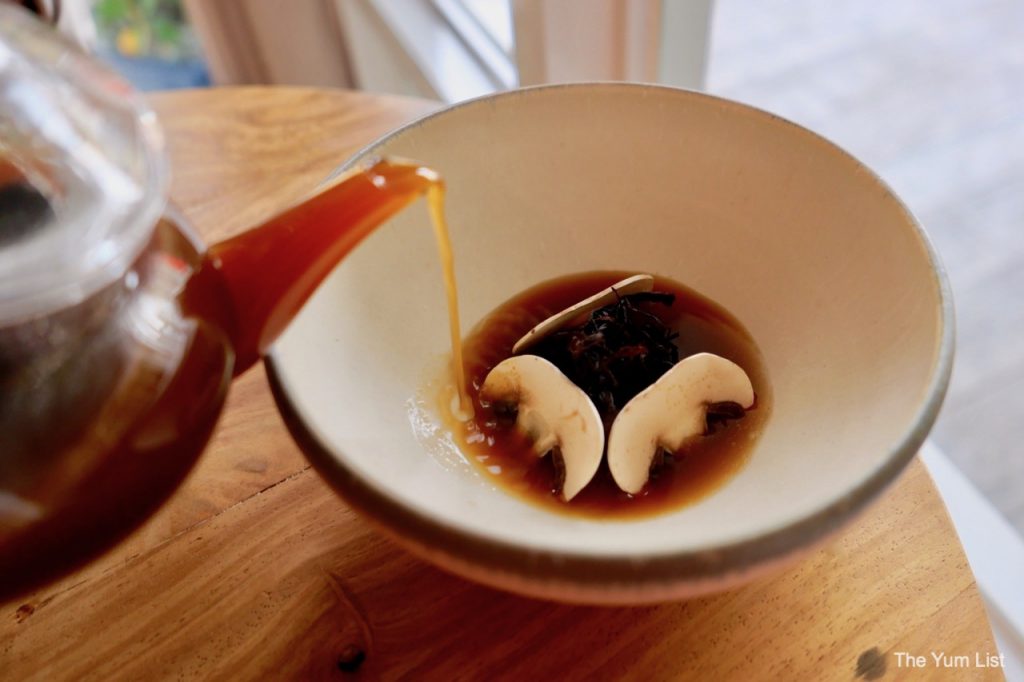 Pineapple, Soy Sauce, Chilli
Chef's childhood memories of enjoying fresh pineapple with soya sauce and chilli bridge the savoury courses to dessert. Being a snack his mum fed to him when he was young, this combo is often found on the menu in some form or other.
It's wonderfully fresh belying its creamy appearance. Diced pickled pineapple beds layers of pineapple gelato, coriander powder and soya chilli sauce cleverly swirled to write gēn 根 in Chinese characters. Give it a good mix around before consumption, as the sauce can be overwhelming on its own. The cloudy, Rudy ginger beer, a local artisanal brew, picks up on the spice in the pre-dessert but softens it at the same time with its sweet finish.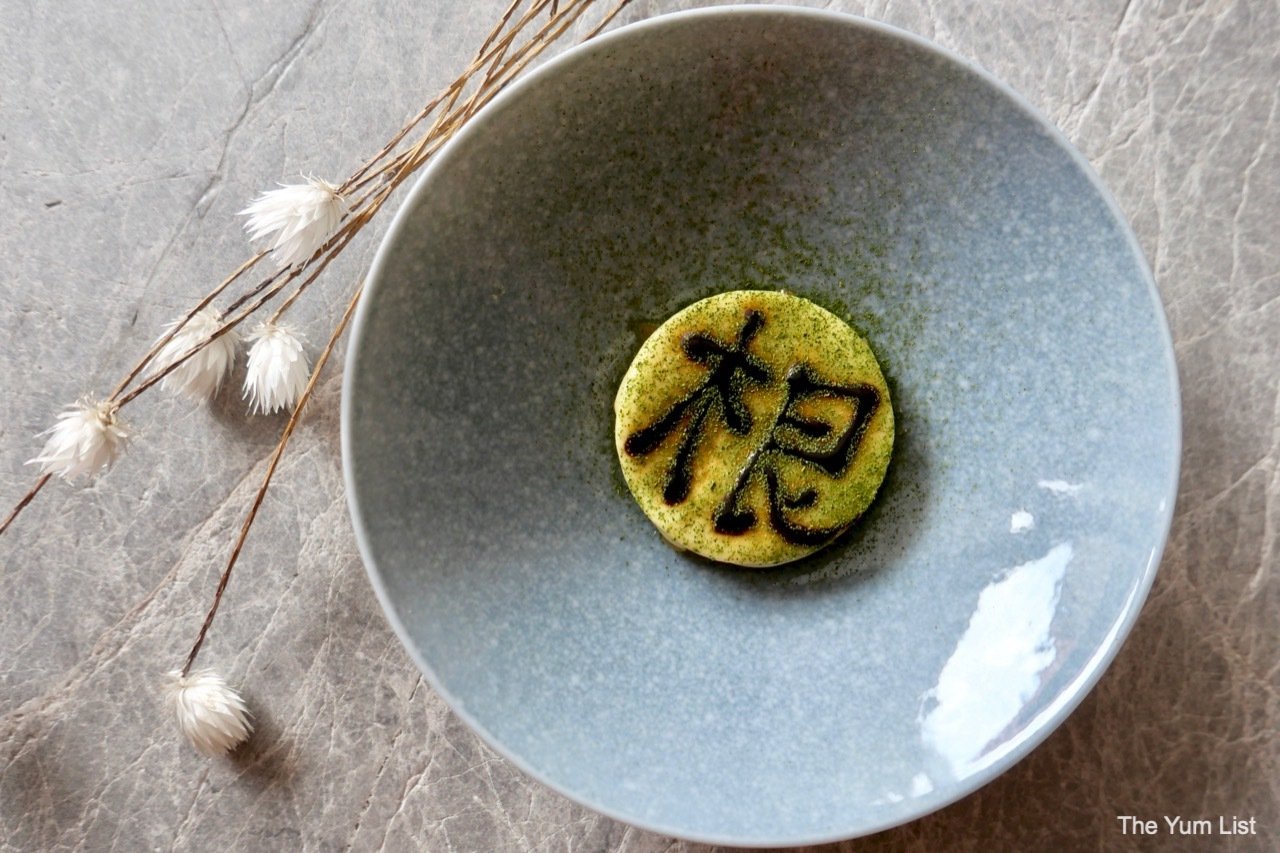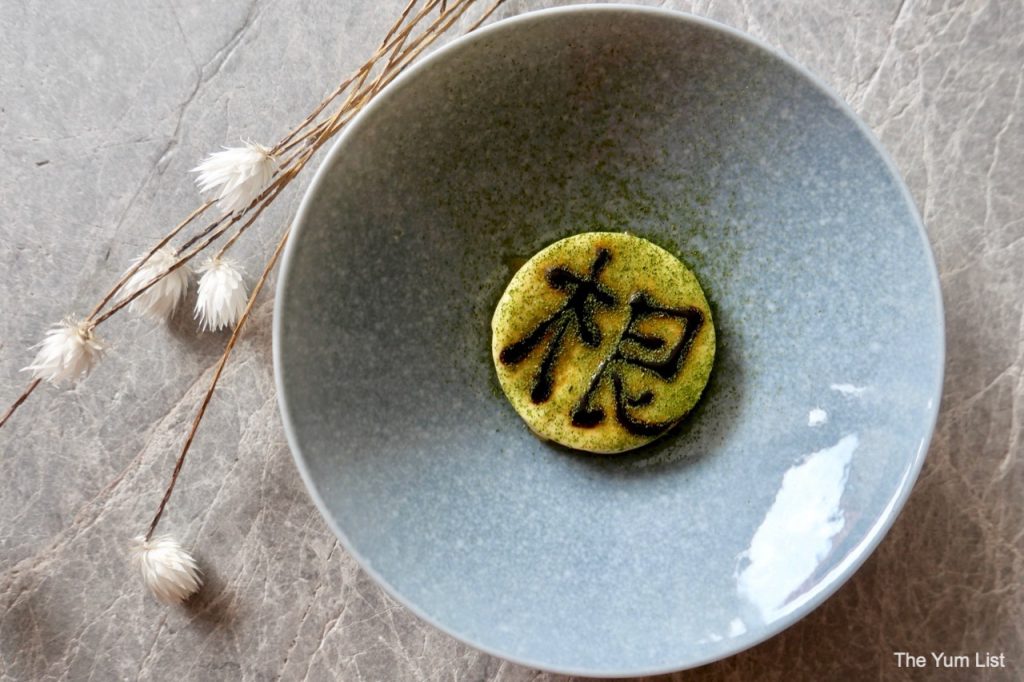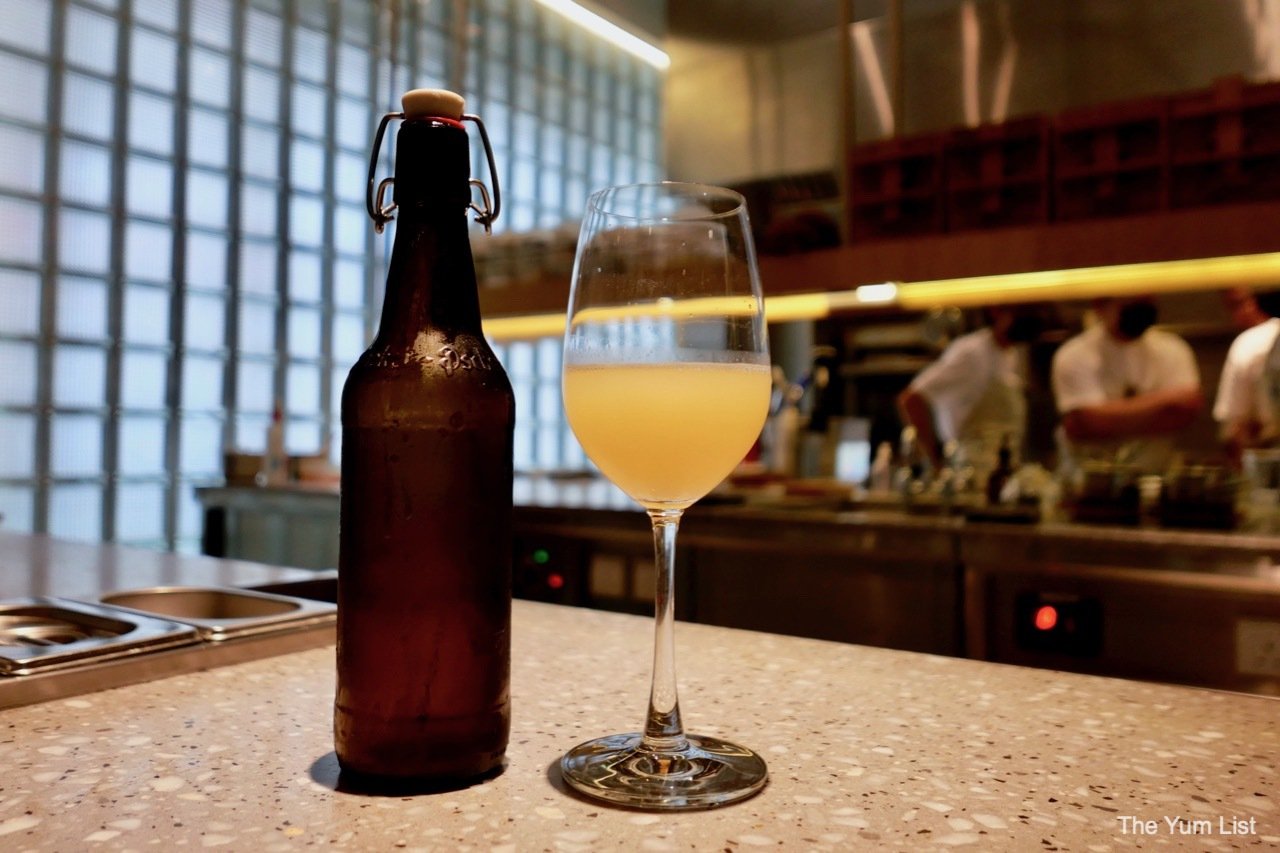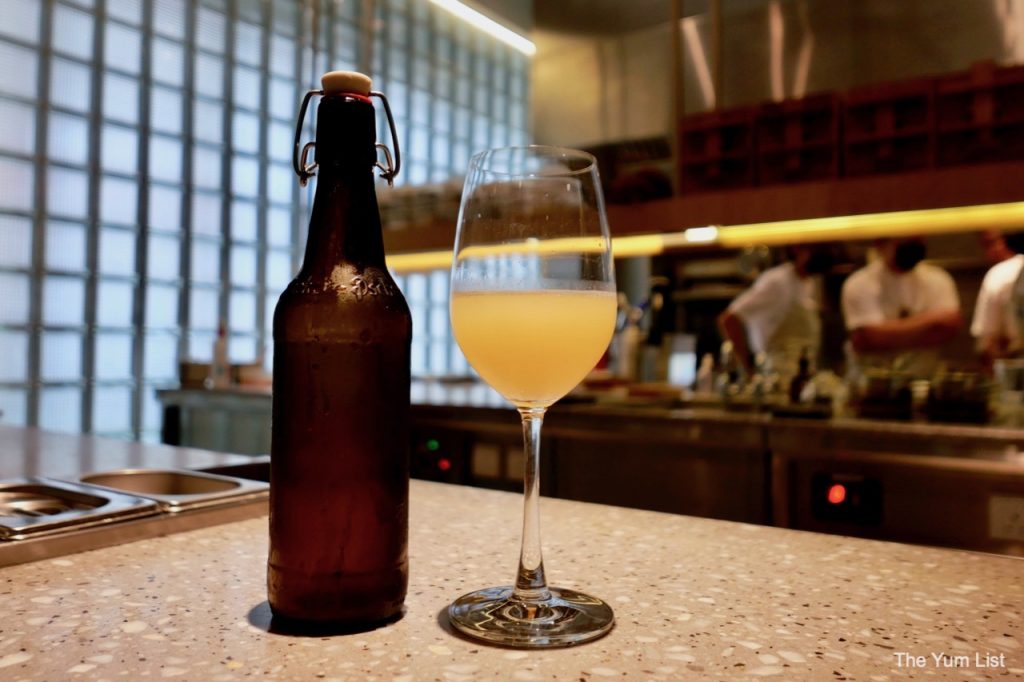 Bird Nest
From chef Johnson's hometown of Johor, the birds' nest is processed in house, cooked with chrysanthemum, goji berries and red dates to make a gently sweet drink. It's recommended to first sip the liquid and then pour a little on the egg custard. Wow! With the warm custard, it's fantastic. I rarely finish more than a spoon of dessert, but this disappears in its entirety.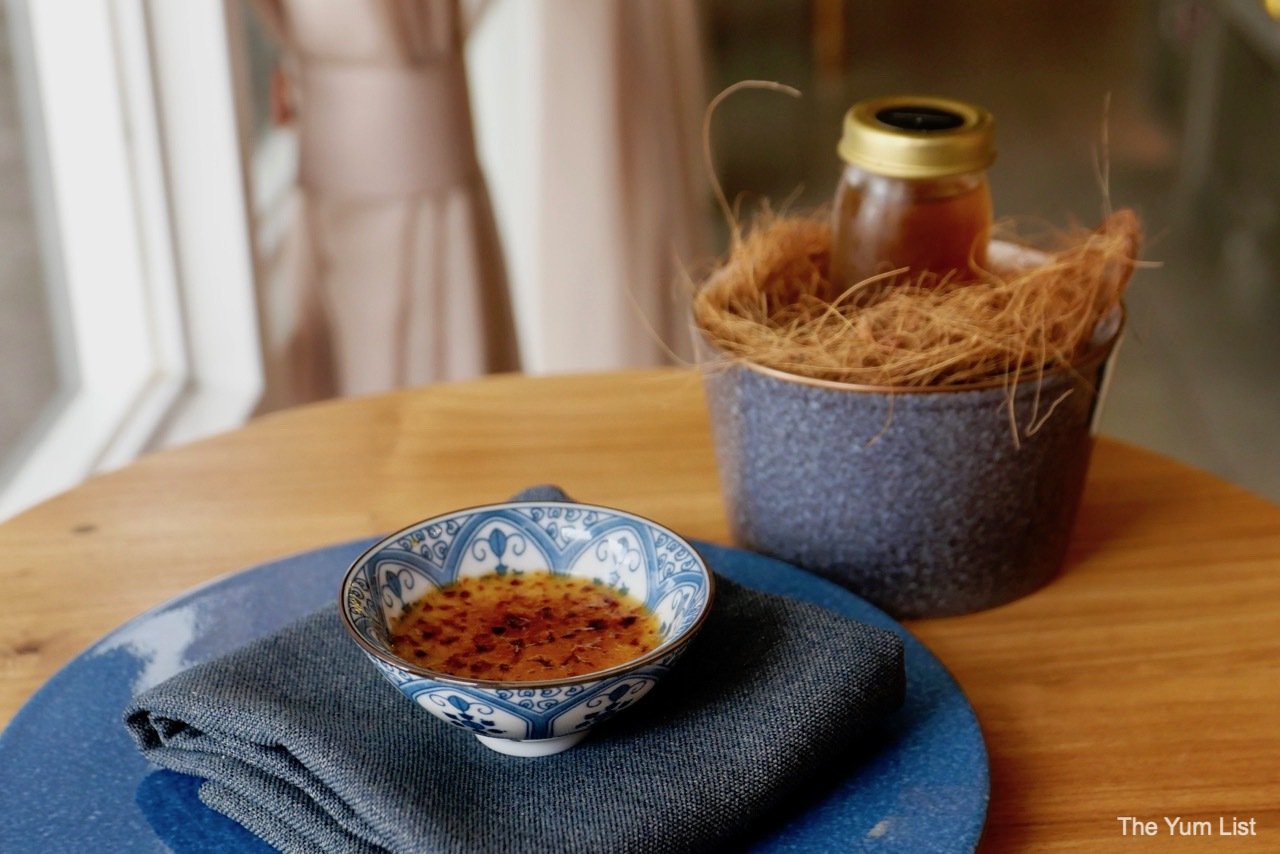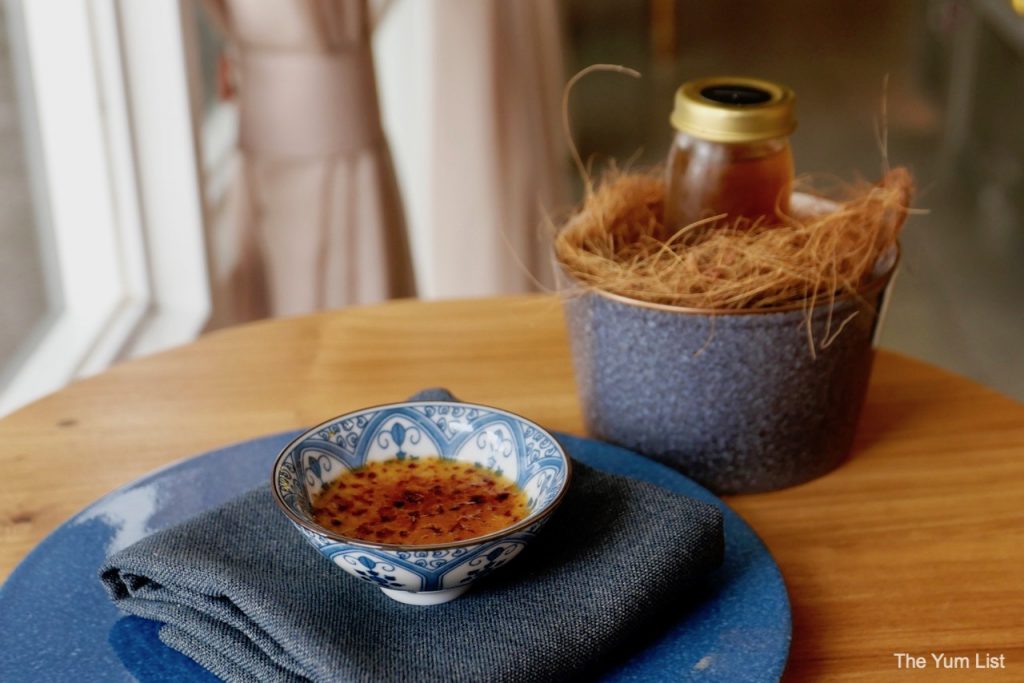 Rose, Guava and Pandan
Finishing the meal suitably for the treasure hunt it has been, rose, guava and pandan are presented in separate draws of a jewellery box. Bite-size spheres of parfait should be eaten: the first guava with sour plum; next, rose with a dusting of rose powder; and lastly, deep-fried ice cream with kaya-banana, pandan and chocolate powder. Even though we've had three desserts, each was light and not too rich, which left us feeling nicely satiated (as opposed to stuffed) at the conclusion.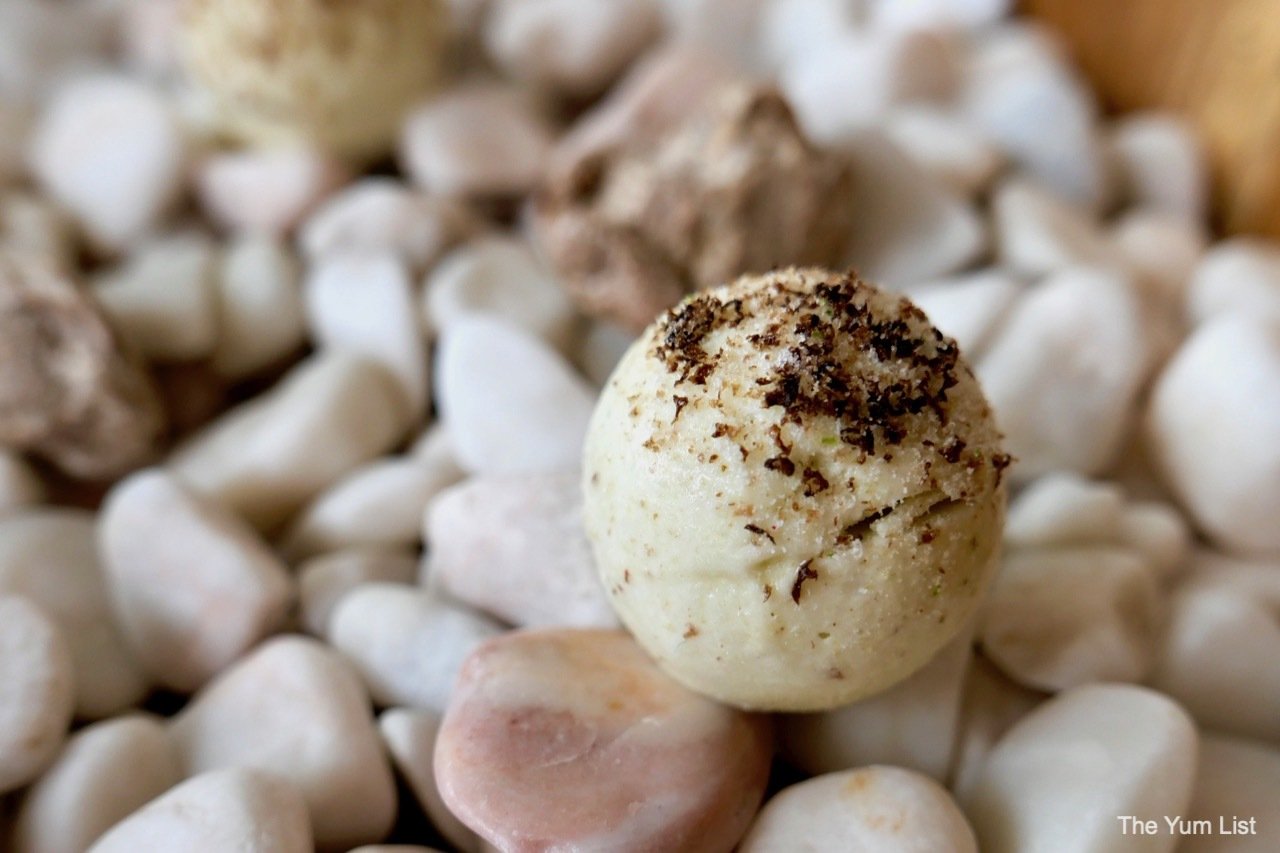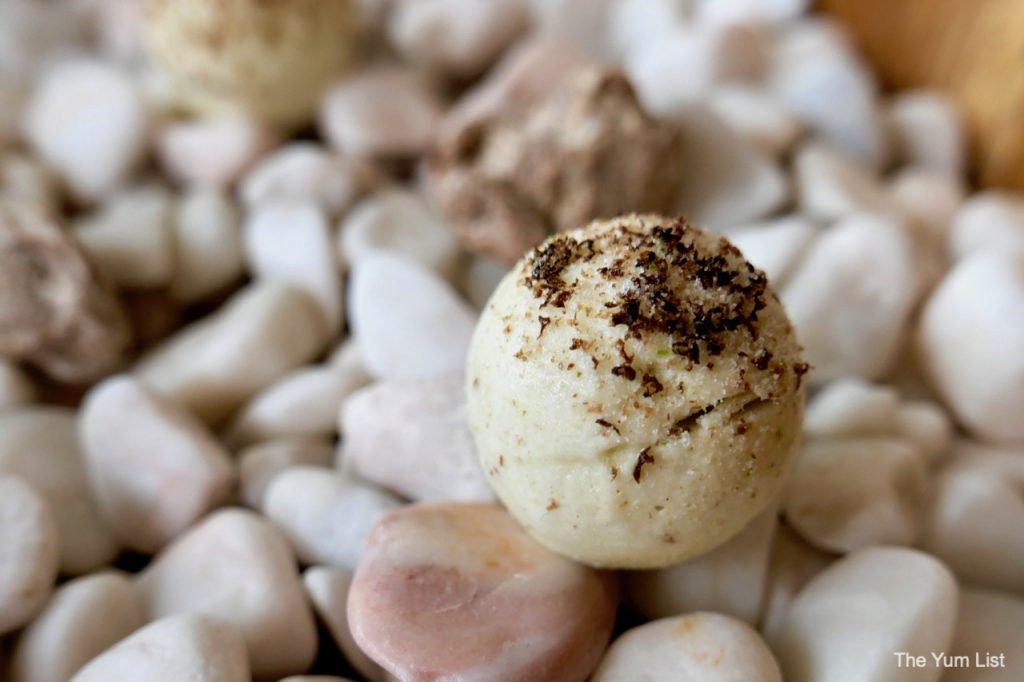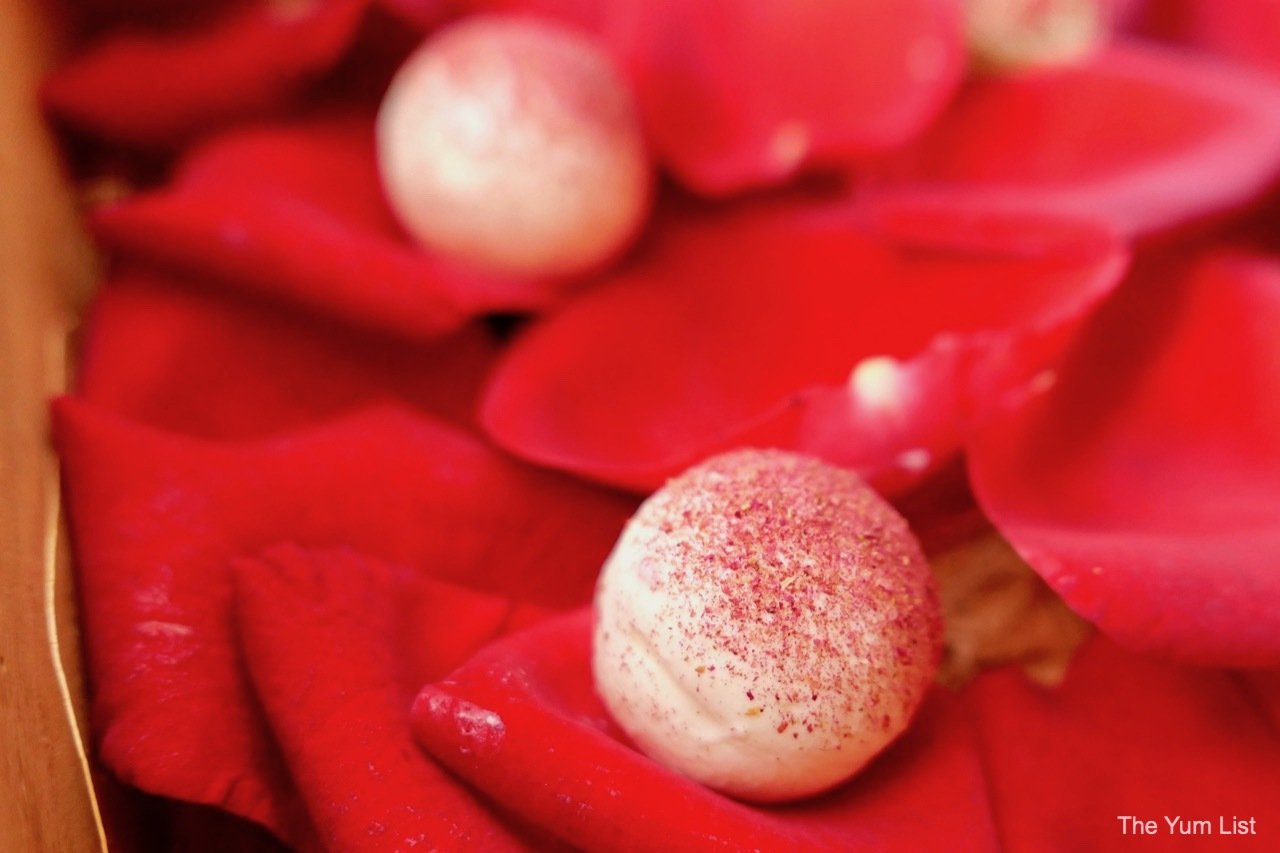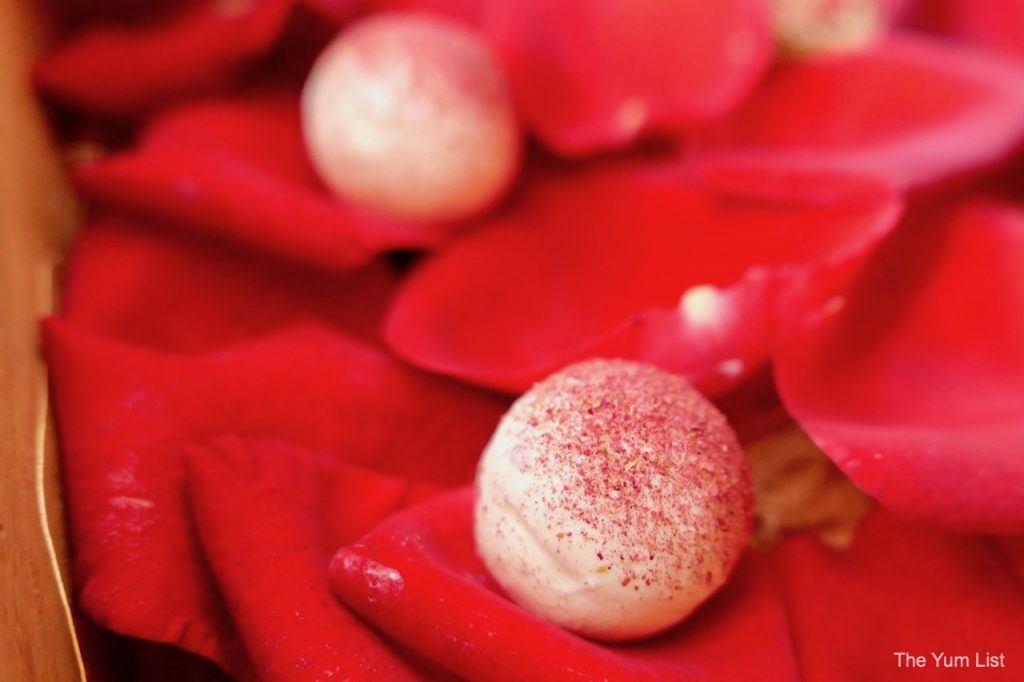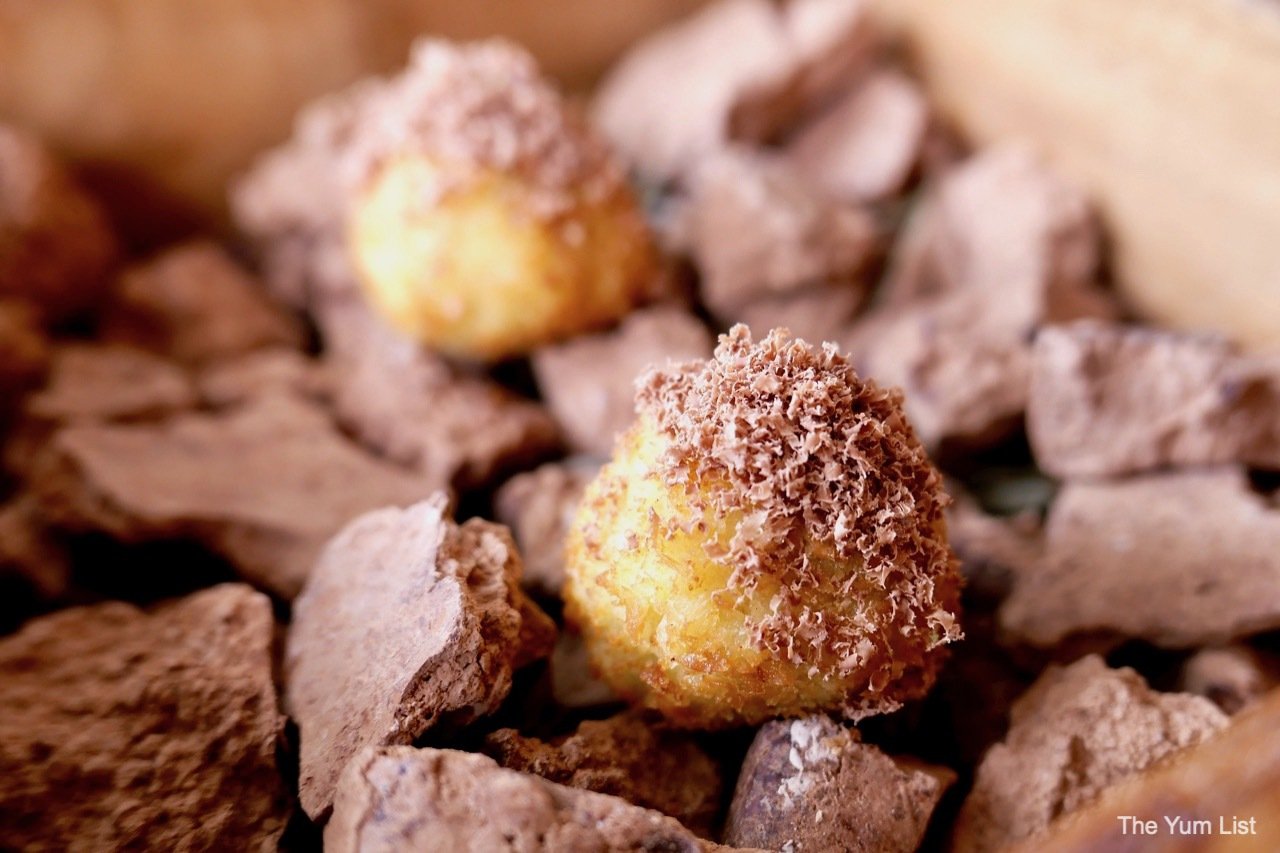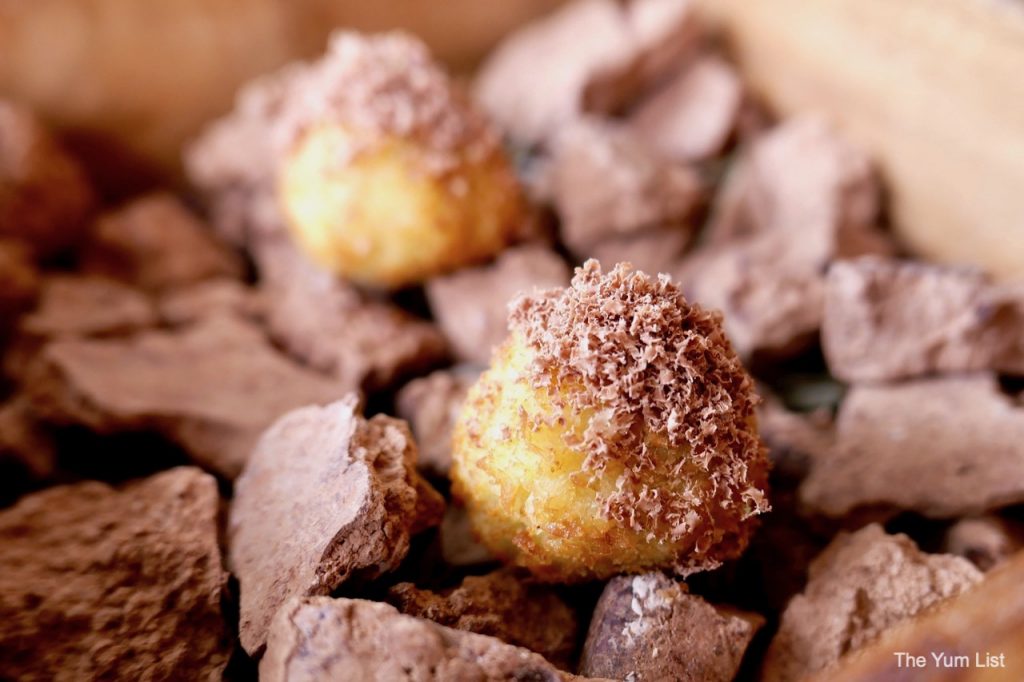 gēn 根 – The Prestige Hotel Review
Eating at gēn 根 in The Prestige Hotel is a gastronomic adventure. We love being whisked off to another culinary dimension, and chef Johnson does this expertly through his, "My Malaysian Stories" menu. Gourmets should definitely book a table.
Reasons to visit gēn 根 The Prestige Hotel: a magical meal full of surprises; expert wine pairing.




gēn 根 The Prestige Hotel
Unit 6, 8, Gat Lebuh Gereja,
George Town, 10300 George Town
Pulau Pinang, Malaysia
+6 012-511 3323
www.genpenang.com
gēn 根 The Prestige Hotel Opening Hours
Closed Wednesday
Lunch: 12 – 3 pm (last call 2 pm)
Dinner: 6 – 11 pm (last call 9:30 pm)
Find more Penang hotspots here and stay up to date with the latest food and beverage happenings in KL here and here.