The Pomelo Ipoh
Monica Tindall
Set overlooking thermal hot springs and enveloped in the lush green rainforest, the setting of The Pomelo at The Banjaran Hotsprings Retreat is peaceful and uplifting. We've been repeat visitors for the past seven years and delight in seeing the place develop and continually refine.
It began as an open-walled restaurant with a high thatched roof and ceiling fans. An air-conditioned section has since been added, and there's a giant HELI fan in the garden entrance supplying a pleasant draft. Natural timber is used in a variety of forms for décor. Installation artworks, shelving, tables and hanging wall pieces take advantage of the organic beauty of wood and provide a connection to the surrounding pristine environment.
Chef Boon is currently head of the kitchen and finds excitement in growing more and more ingredients on site. We take a tour of the farm and find an abundance of organic herbs, fruit and veg in production. He has also recently acquired bees and is tenderly caring for them hoping to farm honey in a few months. You've probably guessed by now that with such a focus on "growing his own," Boon's menu is fresh and wholesome. As part of our stay at The Banjaran Hotsprings Retreat, we enjoy both lunch and dinner in The Pomelo.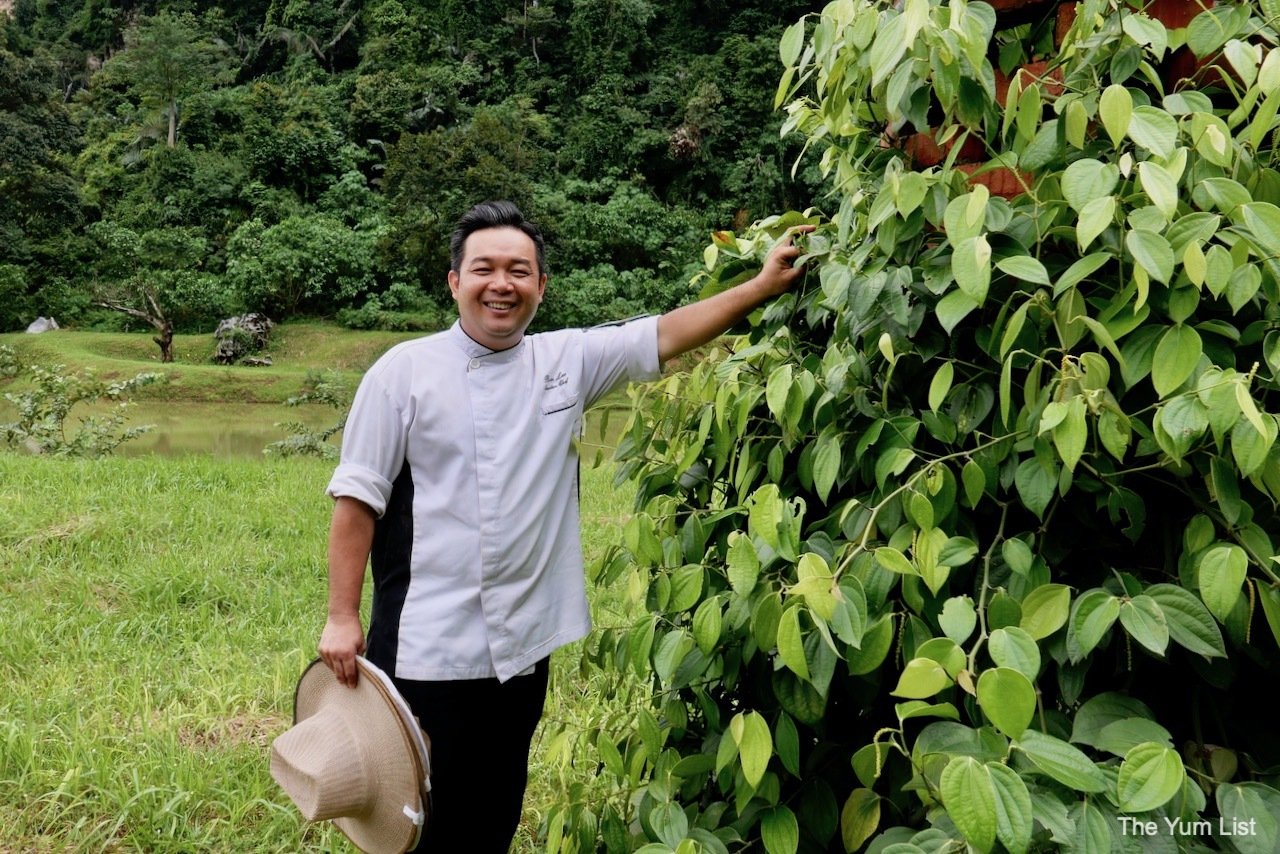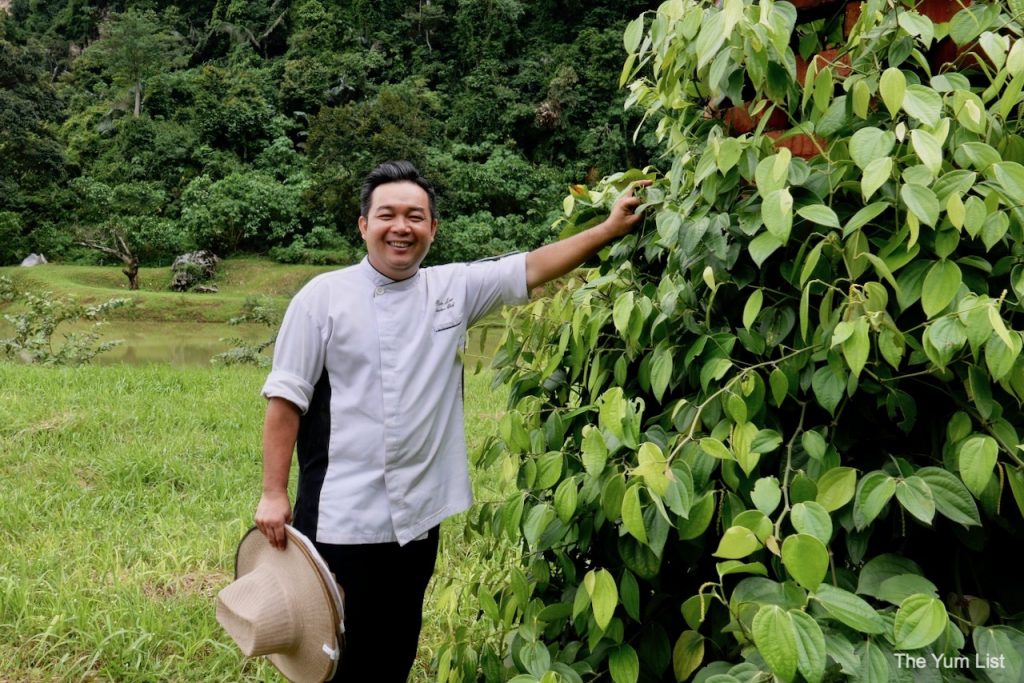 The Pomelo Ipoh Menu
Soup
Hubby reckons you can't go wrong with Malaysian Oxtail Soup (RM45). Slow-braised oxtail fills every corner of the mouth with its ample spice mix. The broth is thick and rich with potato, carrots, crispy shallots and coriander.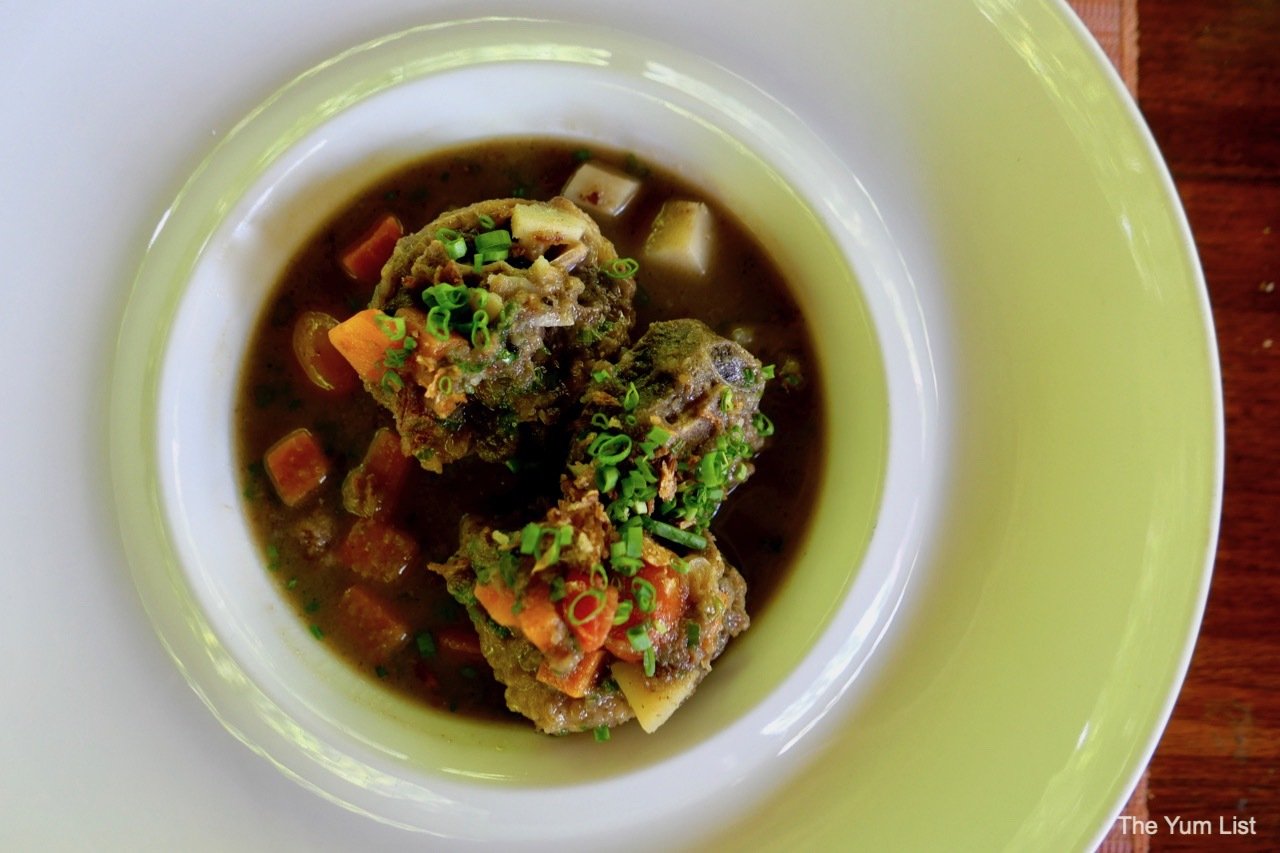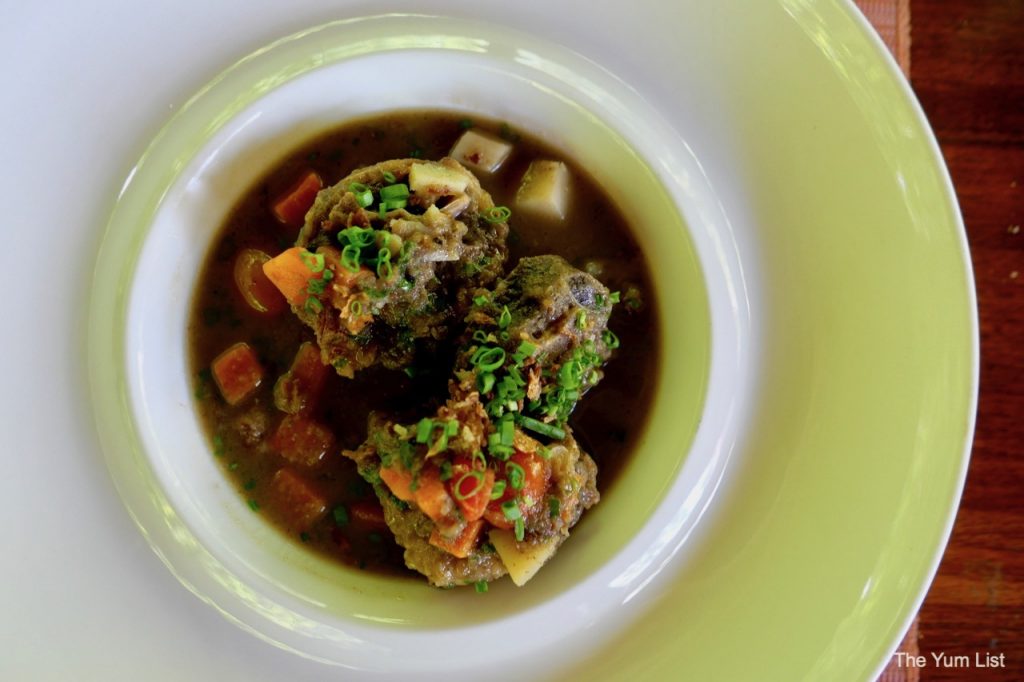 My Thai Pumpkin Soup (RM40) is exciting. The sweet creaminess of the pumpkin is spiced up with chilli oil, ginger and cilantro pesto. Toasted coconut adds texture. Yum!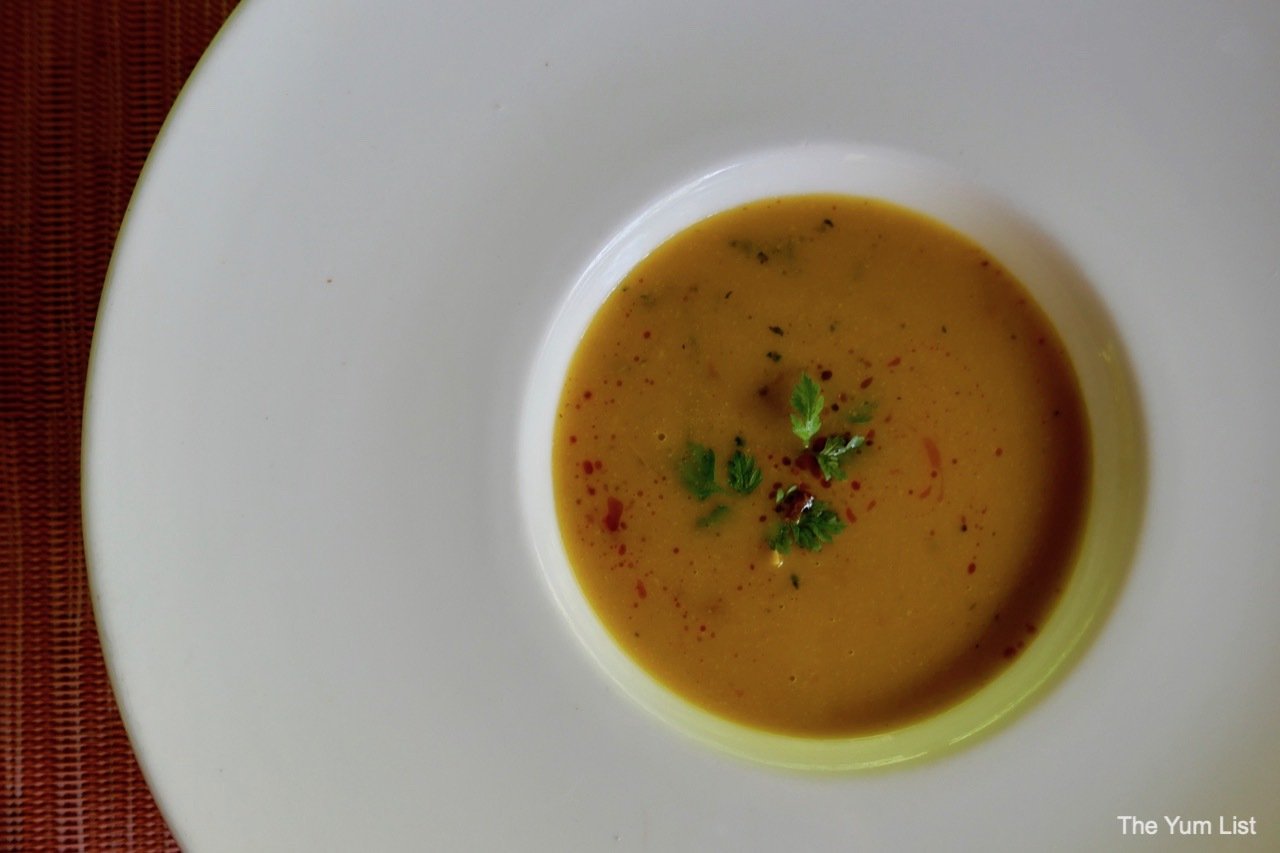 At another meal, we pick the Wild Mushroom Soup (RM45) and can also attest to its high quality. The thick soup is textured with an assortment of mushrooms poured over a truffle tapenade and dusted with porcini powder.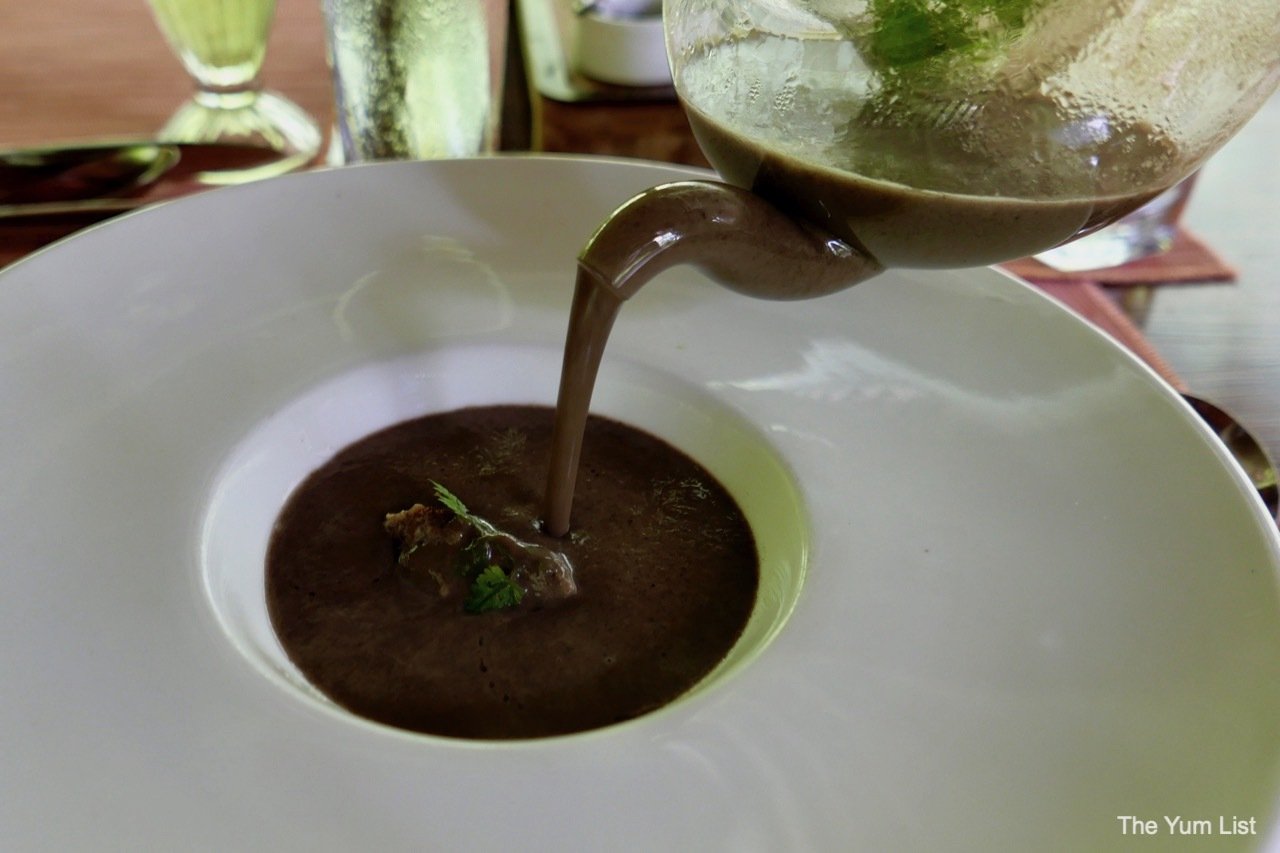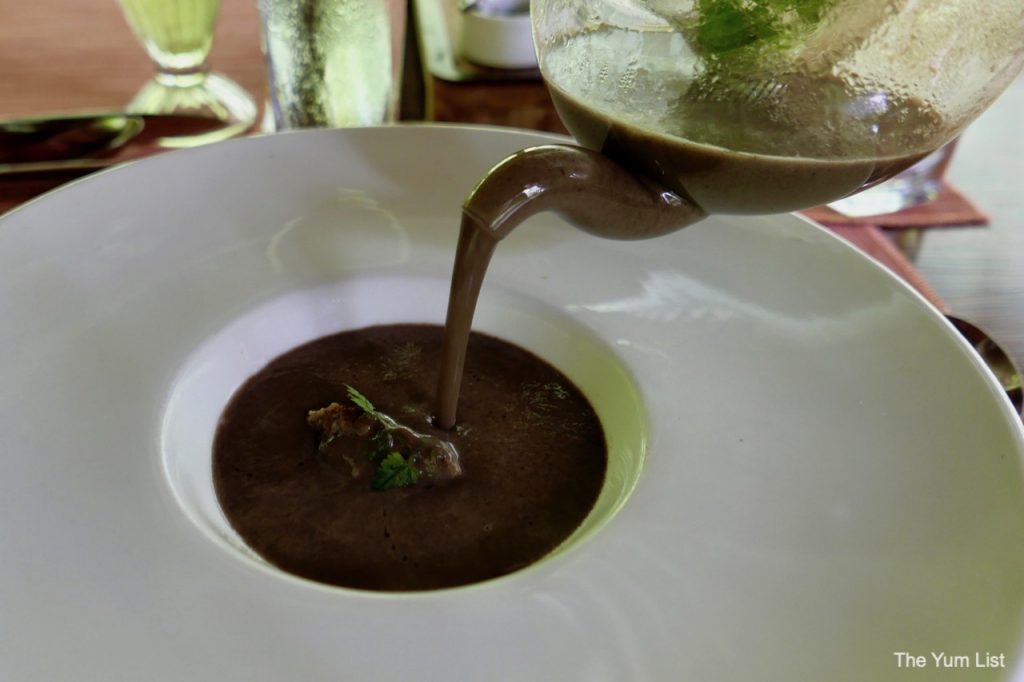 Vegetarian
From the short vegetarian section, we try a Braised Vegetable & Mushroom Bowl (RM45). As the name suggests, steamed jasmine rice is sided with braised mushrooms and mixed vegetables. A mild woody thread comes from bamboo shoots, and the bean curd skin absorbs the character of the sauce.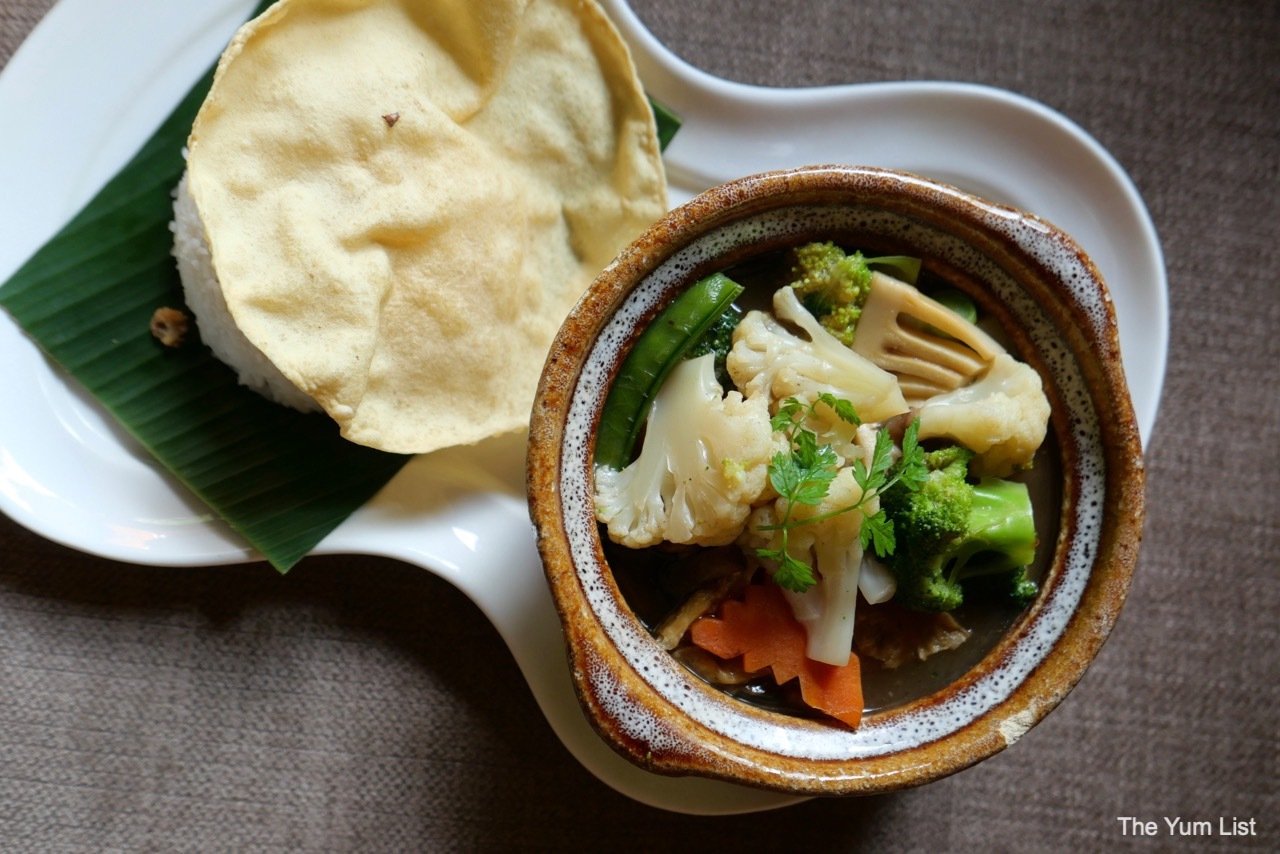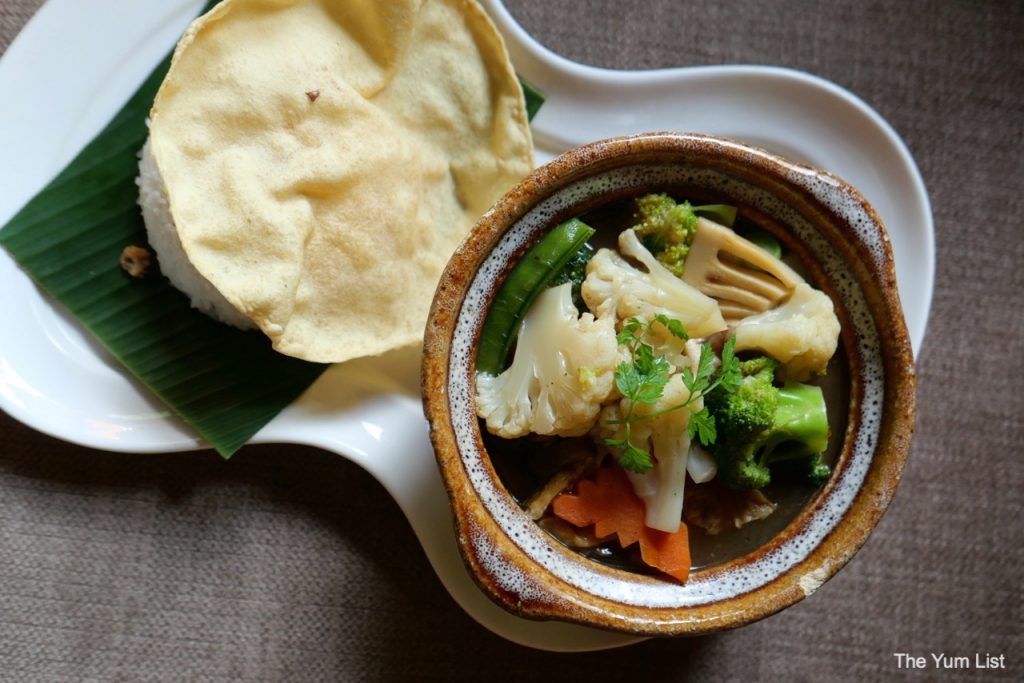 Salad
There's a handful of salads to choose from, but the only meat-free item is Pear & Blue Cheese Salad (RM45). The sharp, pungent saltiness of blue cheese paired with the crisp, clean, juiciness of pear is a classic combo for a good reason. Additionally, toasted walnuts and arugula offer a thread of bitter and a honey mustard vinaigrette softens them all.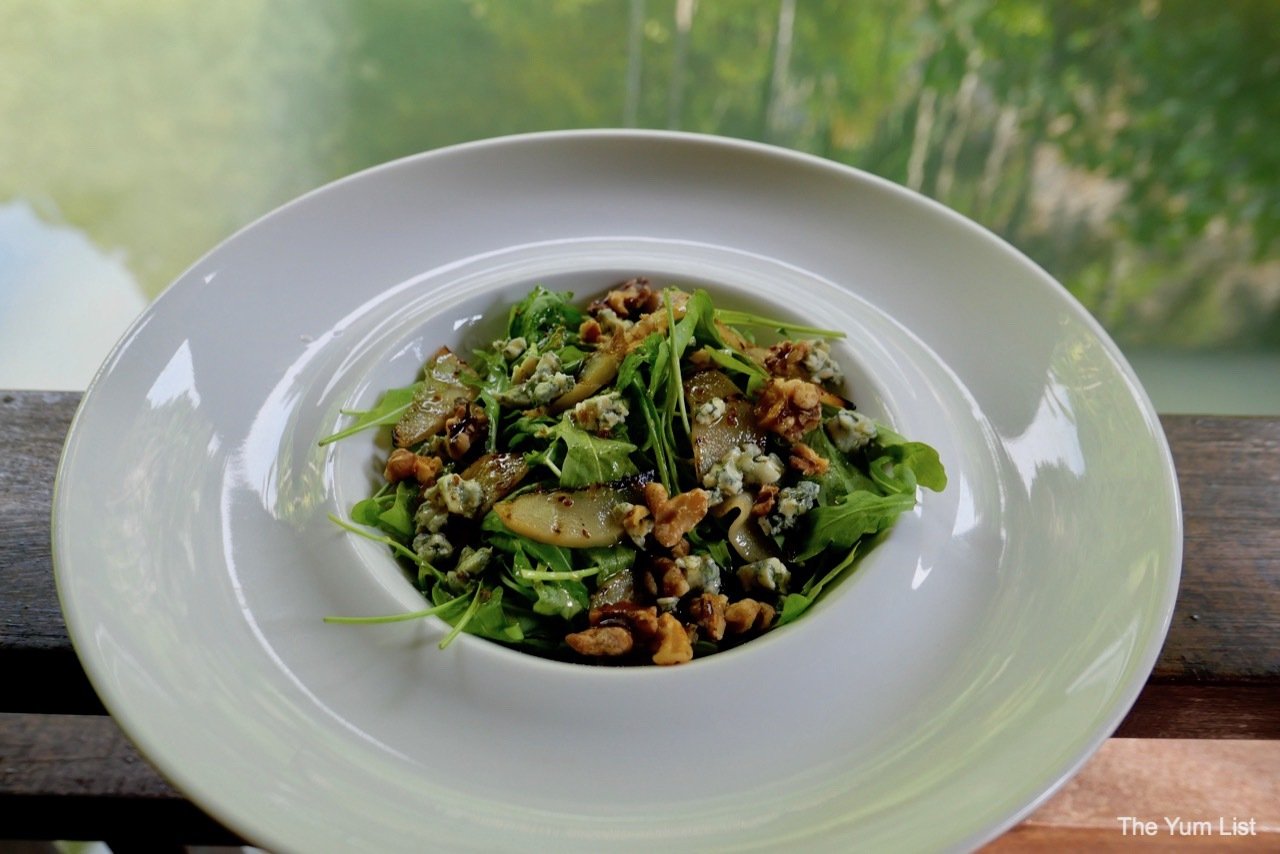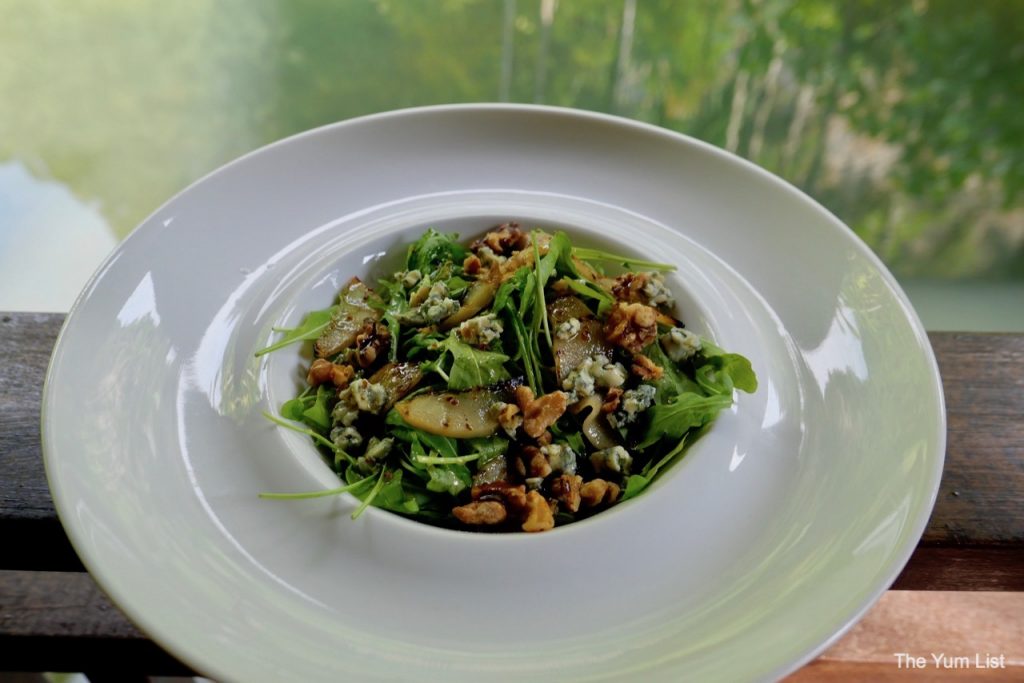 I'm able to make the Pomelo Salad with Grilled Prawn (RM65) meat-free by requesting it without the prawn. Ipoh is known for its plump, juicy pomelos, so this is an excellent choice. The pulp is accompanied by fresh grapefruit, coriander, ginger cashew nuts, chilli and sesame seeds.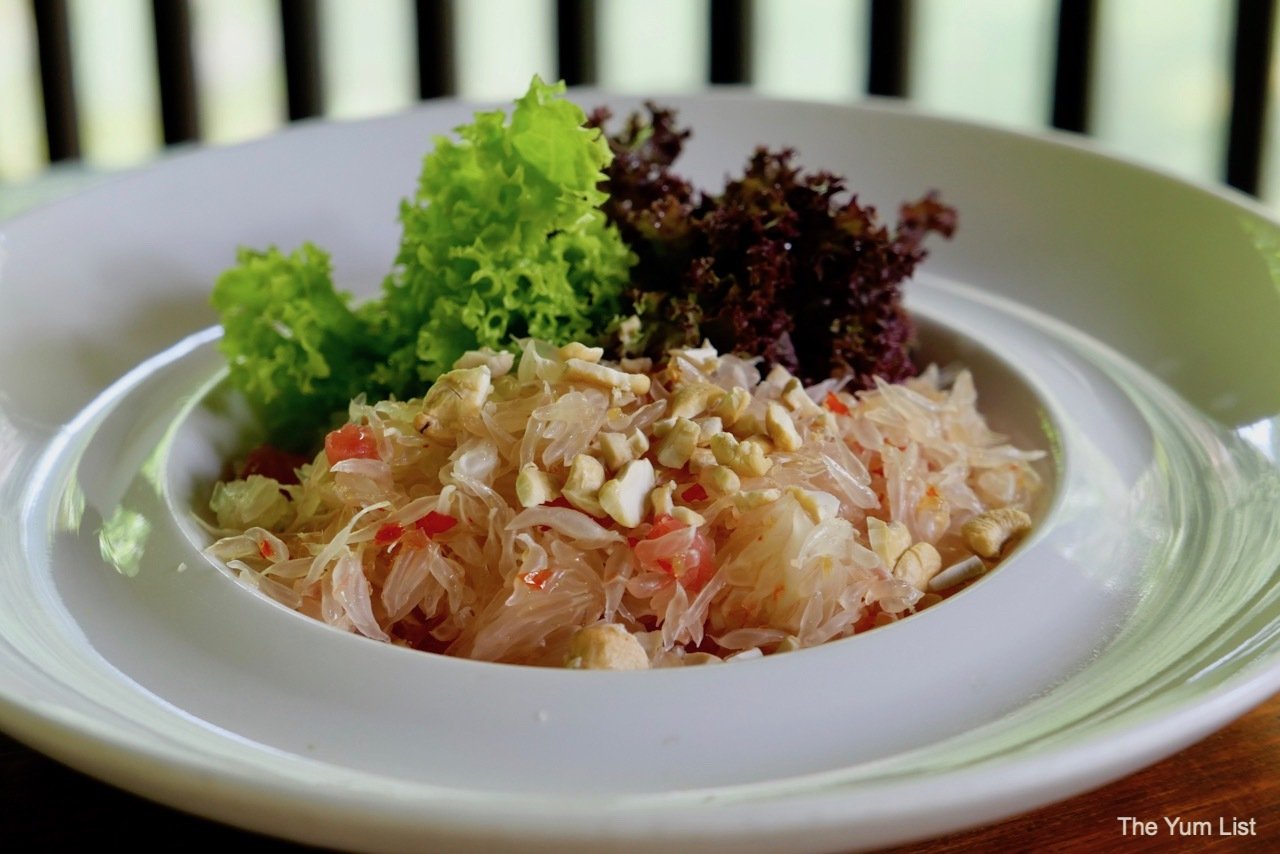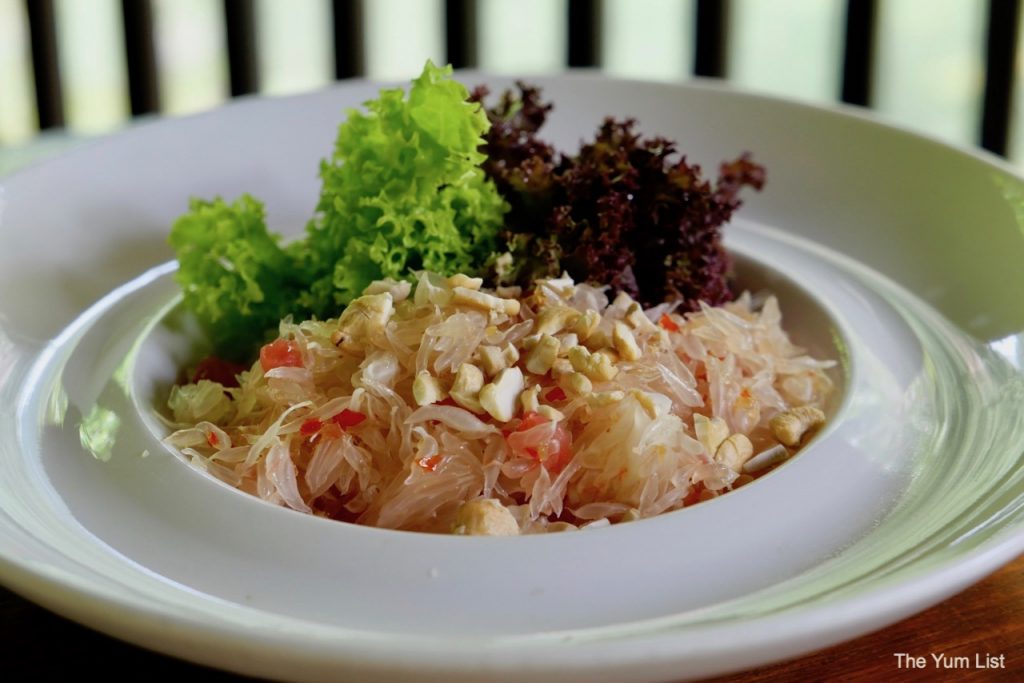 Hubby vouches for the heartiness of the Octopus Salad (RM65). With its generous portion of baby potatoes and sauteed octopus, it could easily stand as a meal on its own. Red Onions, heirloom tomatoes, mixed leaves and a mildly spicy lime and ginger dressing complete it.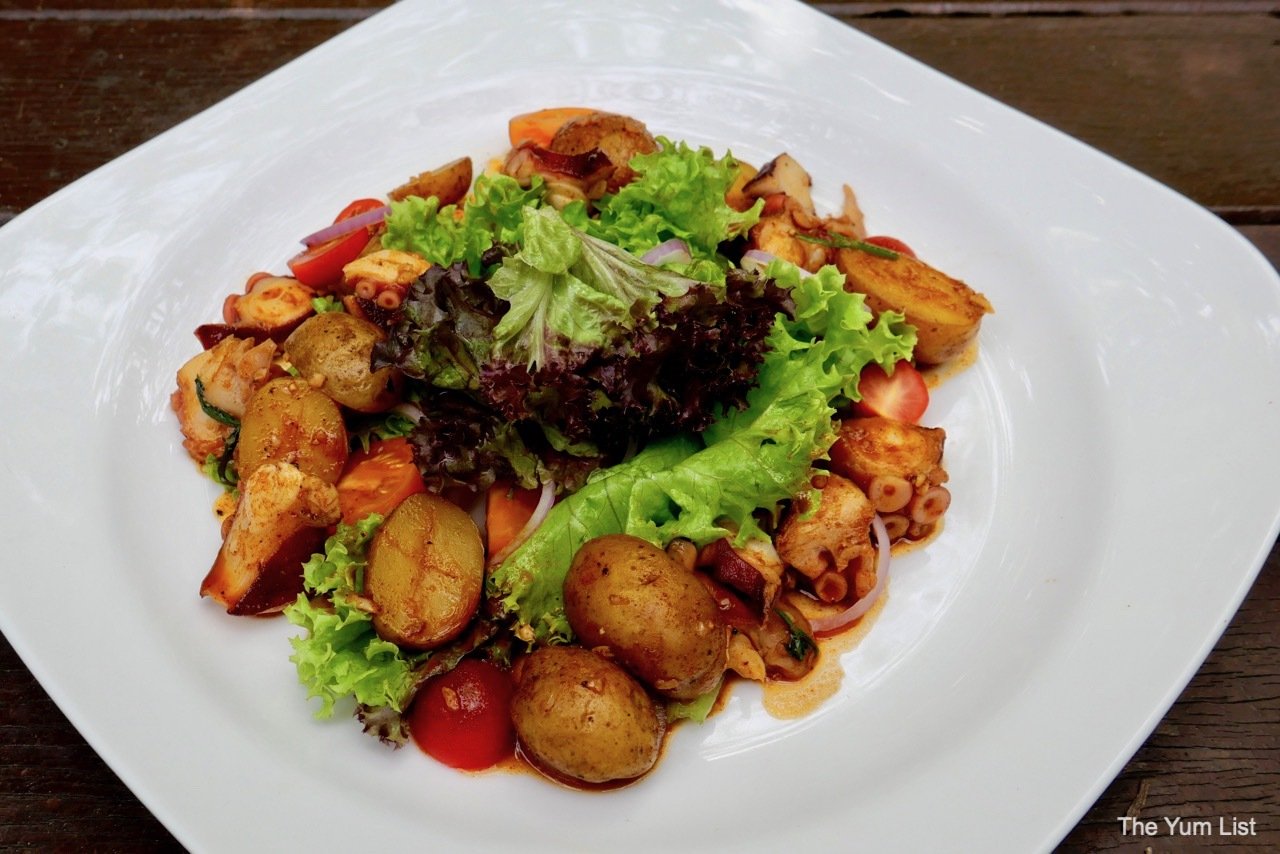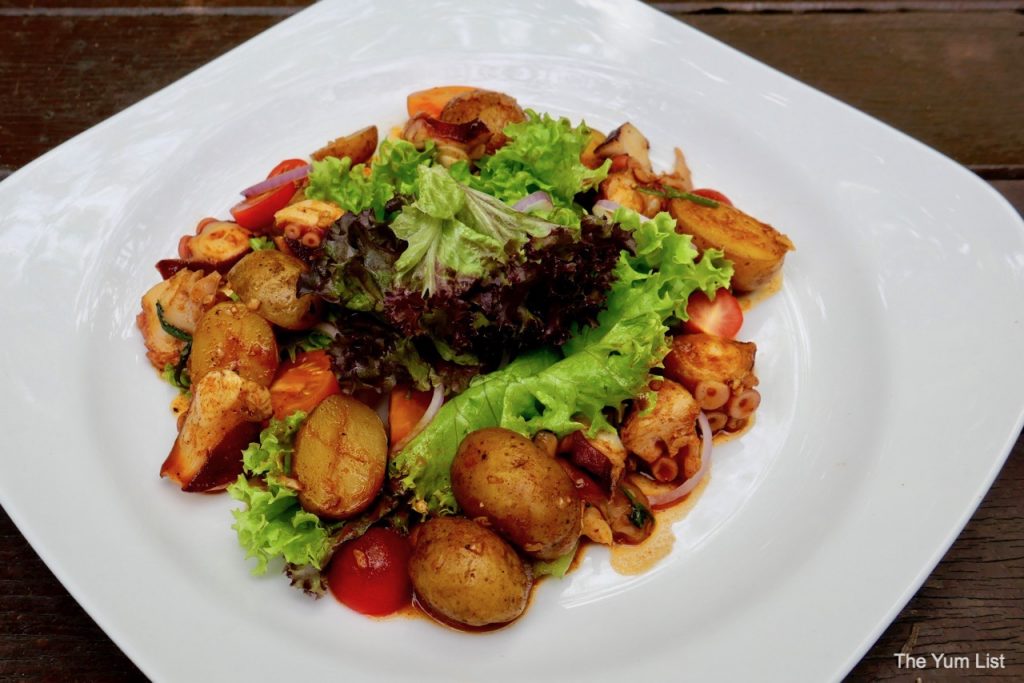 As with most salads in Malaysia, chefs are generous with their dressings. I'd recommend asking for all sauces on the side and adding at your own will.
Burgers
Just like the salads, there are five burgers to select from. Hubby goes with a traditional Black Angus Beef Burger (RM80) and pretends to be healthy by opting out of the fries. The house-made patty is nicely charred sitting juicily between a soft sesame-seeded bun. Slices of cheddar cheese melt seductively into the meat and caramelized onions, gherkins, tomatoes and mixed salad finish it off. A little supplemental tang can be found in the grainy mustard mayo.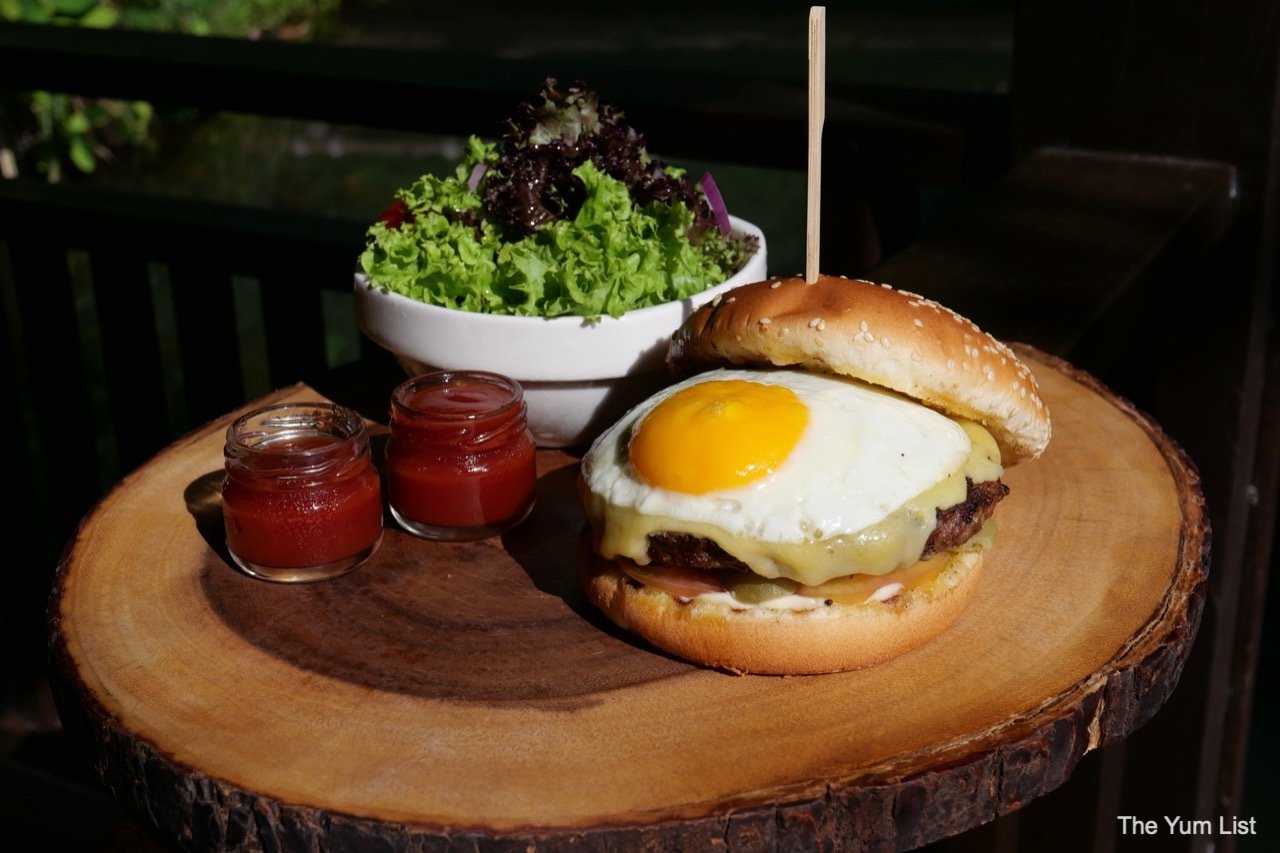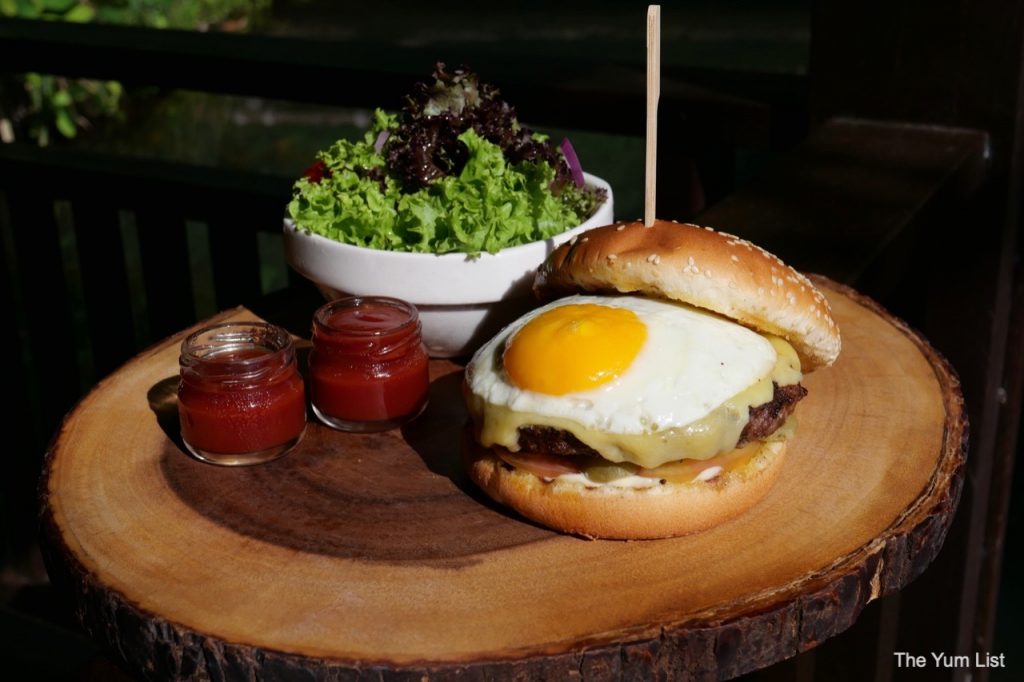 The Josper Oven
The kitchen team at Pomelo are fortunate to have a fabulous Josper oven – a Spanish invention using charcoal and allowing precision in temperature. The Seabass Acqua Pacca (RM75) comes highly recommended. It sports a moist, flaky fillet on a white grape reduction with heirloom tomatoes, black olives, parsley, lemon juice, garlic, chilli and sweet basil. The side of steamed rice is an ideal tool for soaking up the liquid.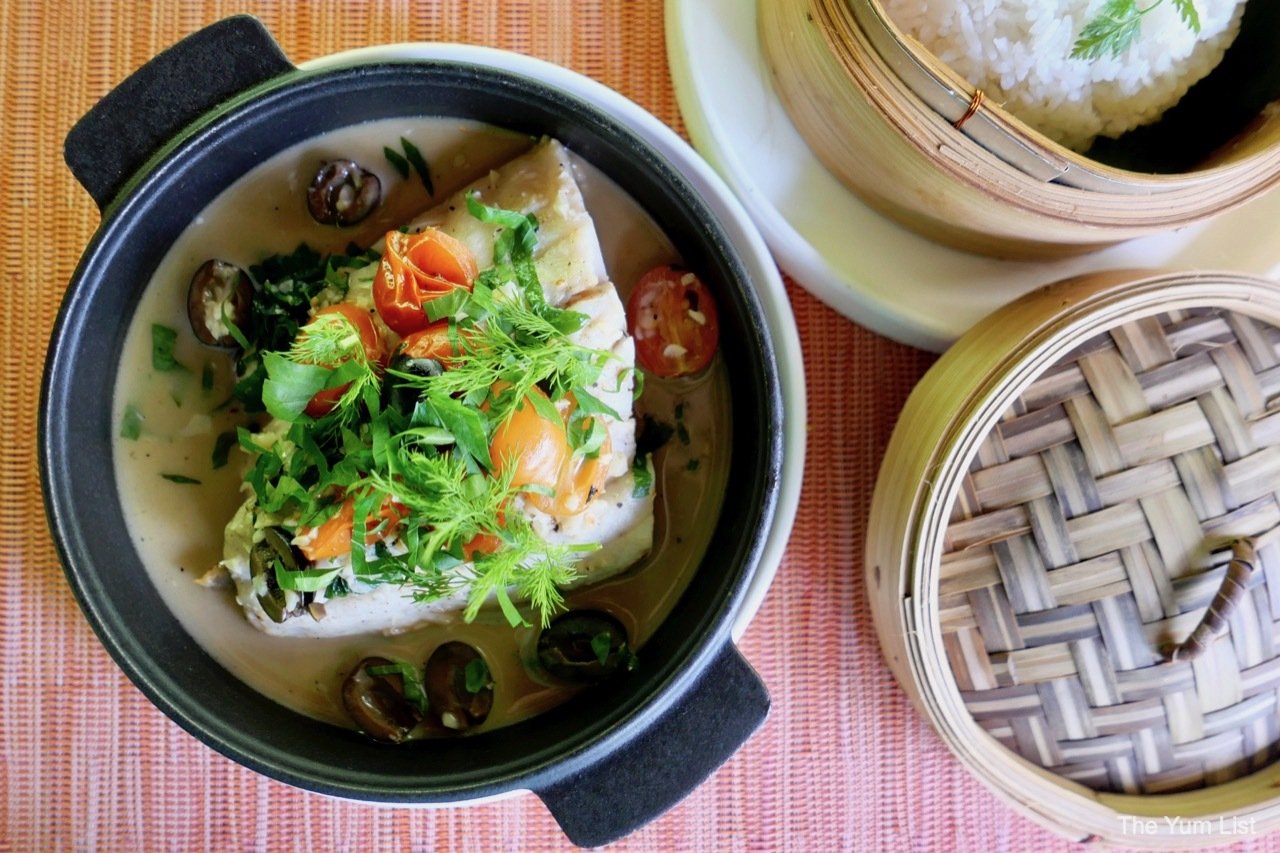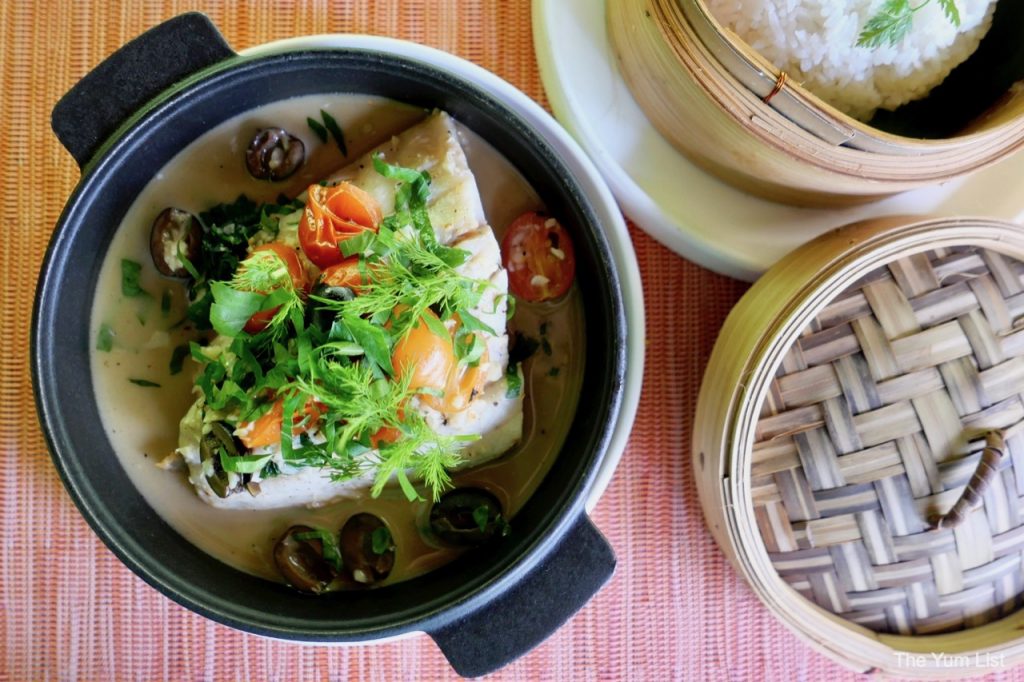 Reasons to visit The Pomelo Ipoh: beautiful setting amongst the tropical rainforest overlooking hot springs; quality menu made on fresh, wholesome ingredients.
The Pomelo Ipoh
The Banjaran Hotsprings Retreat
1 Persiaran Lagun Sunway 3
31500 Ipoh, Perak Darul Ridsuan
Malaysia
+6 05 210 7777
www.thebanjaran.com
The Pomelo Ipoh Opening Hours
Daily
Breakfast for in-house guests
All-day dining from 11 am – 10 pm for both in-house and visiting diners
Find more Ipoh hotspots here and stay up to date with the latest food and beverage happenings in KL here and here.