Pangkor Laut Resort
Monica Tindall
With summer plans realigned for domestic travel, we have a chance to return to some of our favourite Malaysian properties. Pangkor Laut Resort is possibly the most well-known luxury stay in the country. Ask anyone who's lived here for any length of time, and it is bound to be mentioned as one of the top in the region.
Location
Roughly three and half hours by road, the trip from KL to Pangkor Laut's jetty is part highway and part village roads. The second half meanders through small villages, and we take the opportunity to buy fresh farm produce (mostly tropical fruits) along the way. Wooden kampung homes with carved awnings and vernacular roofs fringe the roads amidst lush growth and plantations. It's quite pretty; a definite change of pace from the city.
Boats from the mainland to Pangkor Laut Resort depart from Marina Island Jetty (usually between 1 and 3 pm), and passengers are loaded on a first-come-first-served basis. We're relieved of our luggage and check-in is done at the port meaning later we can head directly to our room.
The last section of the drive from KL to the jetty had already relaxed us somewhat. Still, the final 15-minute ride across the sea serves to completely sever the umbilical cord from the big smoke and set our minds 100% on vacation.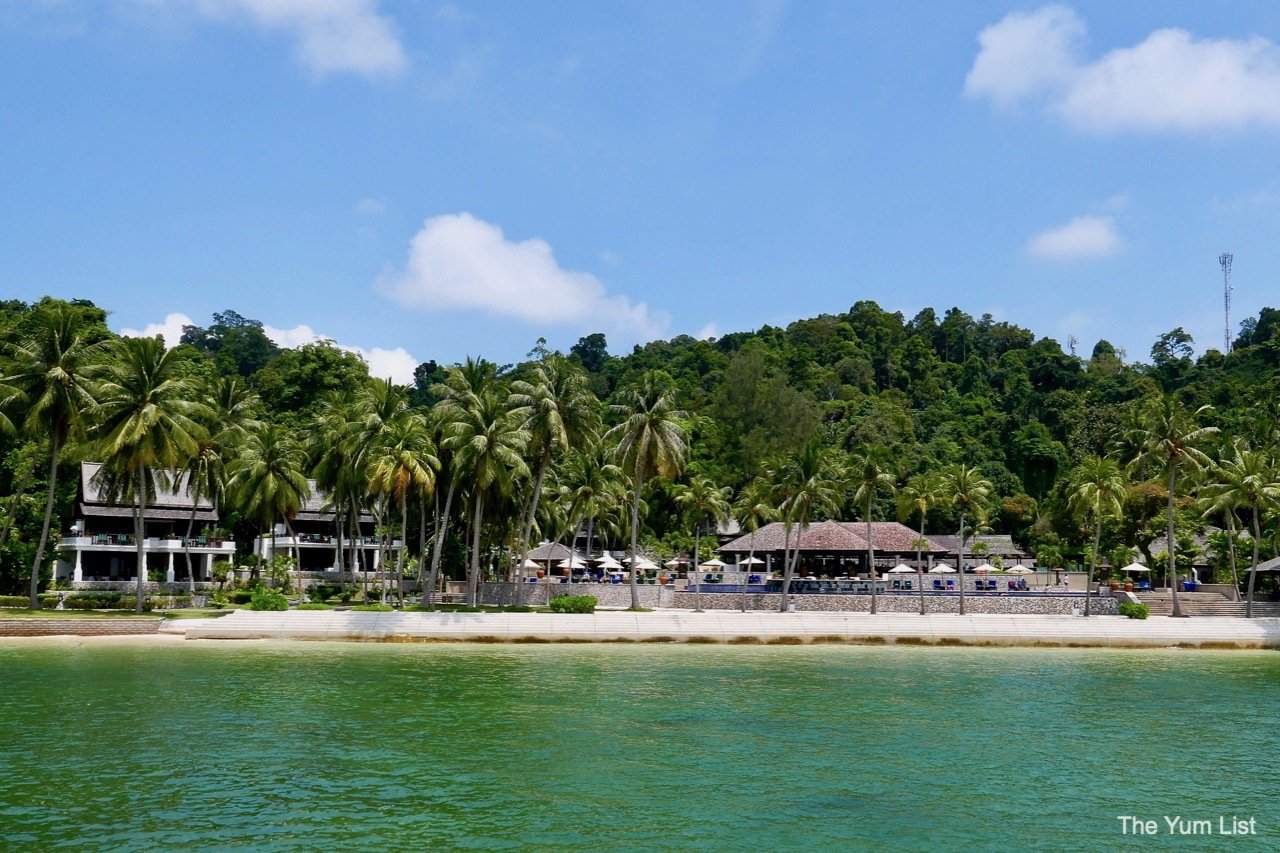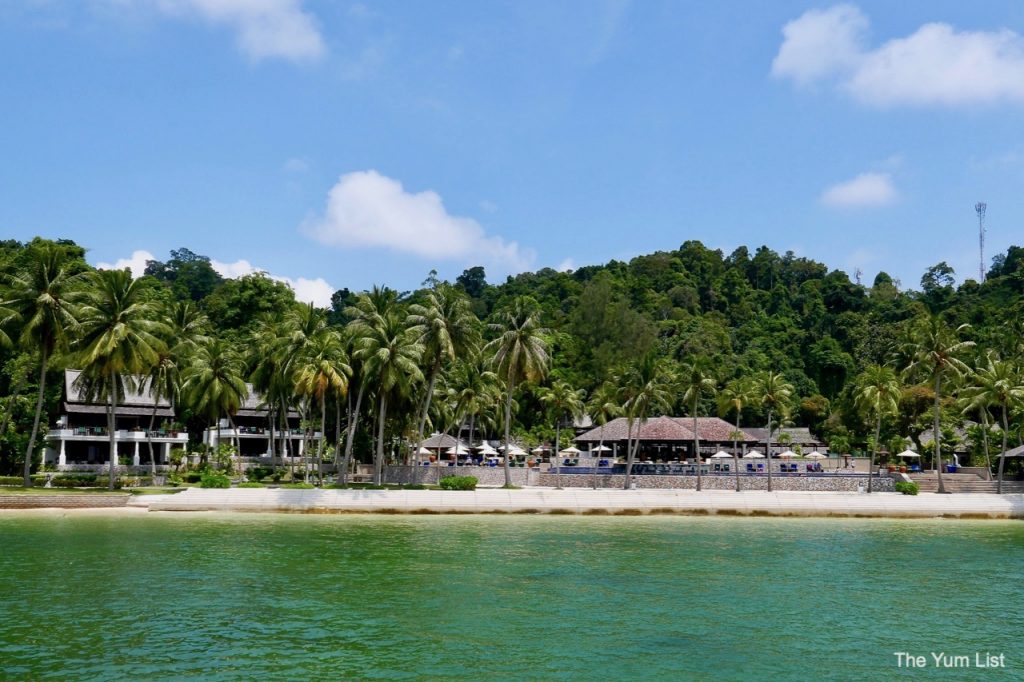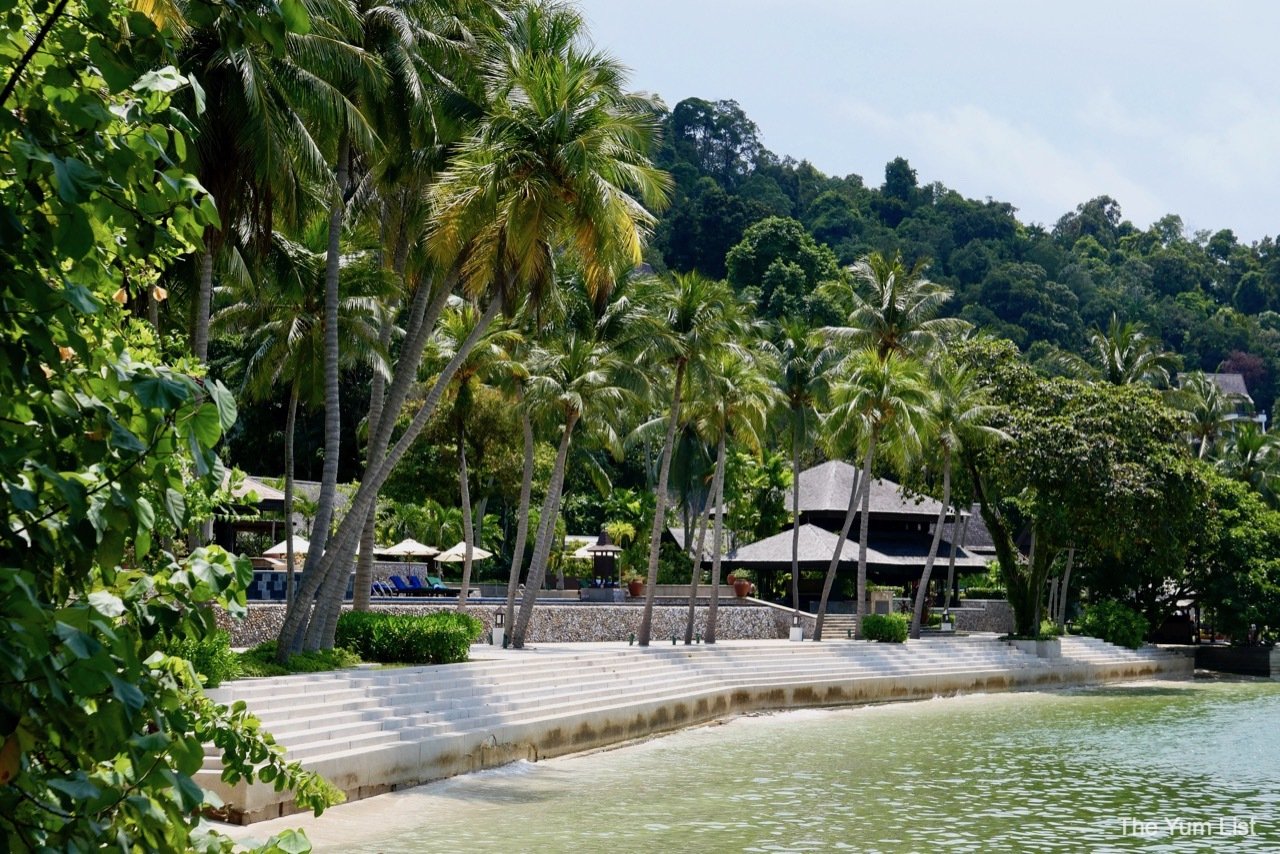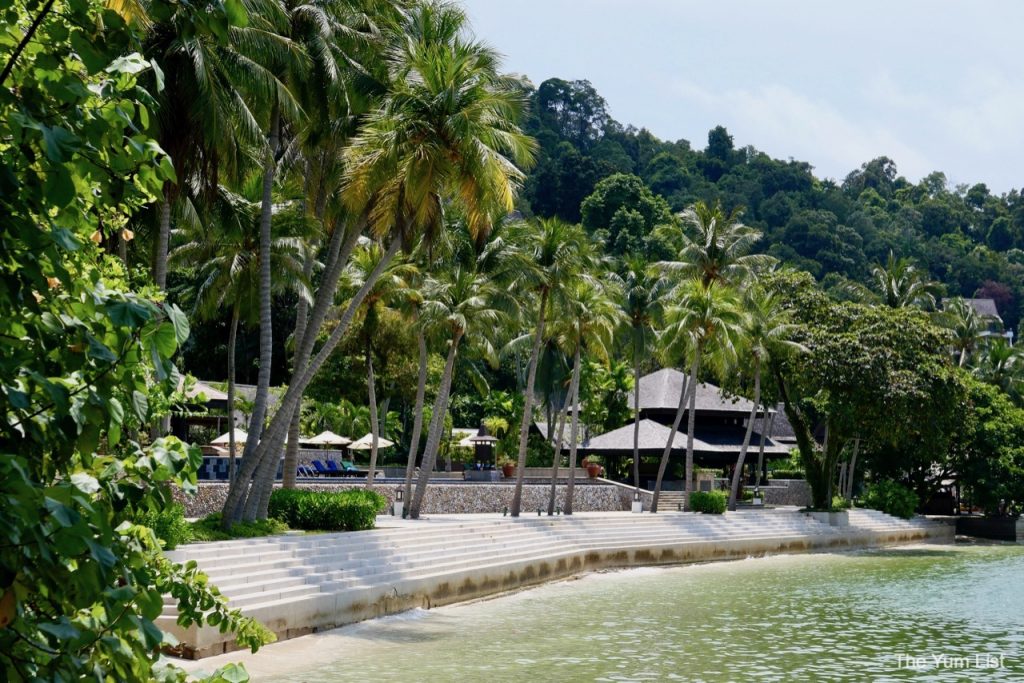 Pangkor Laut Resort
Pangkor Laut Resort is built on its very own private island amongst 200-million-year-old rainforest, rocky outcrops, emerald waters and white sandy beaches. Approaching the jetty, the majesty of the jungle rises above. From the water, the sea villas and those nestled in the hills seem interwoven with the natural beauty of the island. Structures are built on stilts in and around the jungle, often with trees and rocks protruding, allowing the earth to take prime place; humans adapting around it.
Beach Villa
A Beach Villa is our haven for this two-night stay. Manicured gardens embrace our balcony and the sunchairs on our deck with views to the sea soon become our favourite roost.
In addition to the porch, the room consists of an outdoor bathtub and separate bathroom, dressing and sleeping areas. A good night's rest is assured with deluxe bedding and the sounds of a sea lullaby crooning us to sleep. It's resourced as any 5-star resort with tea and coffee making facilities, mini-fridge, safe, hairdryer, gowns, TV, safe and so on. We hardly spend time in here, however, as the outdoors is so enticing.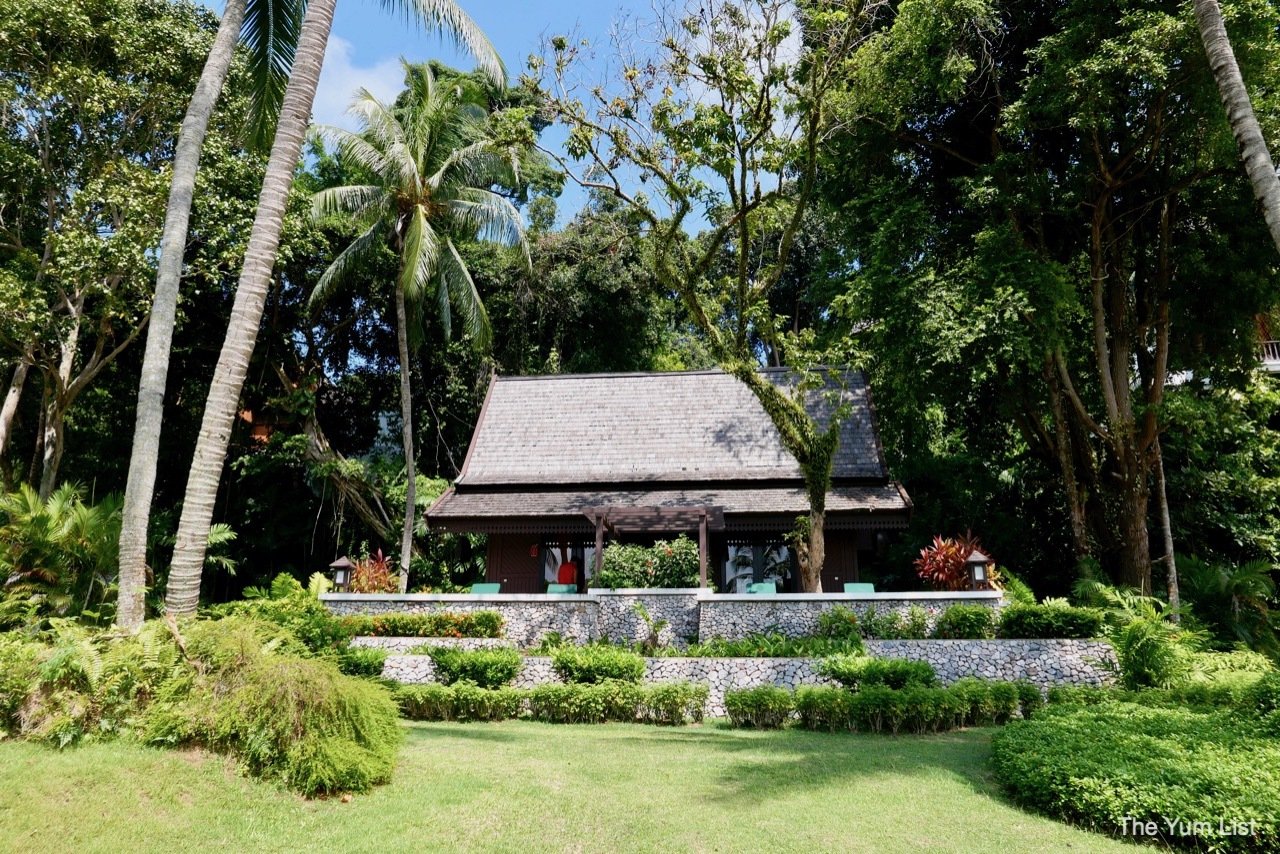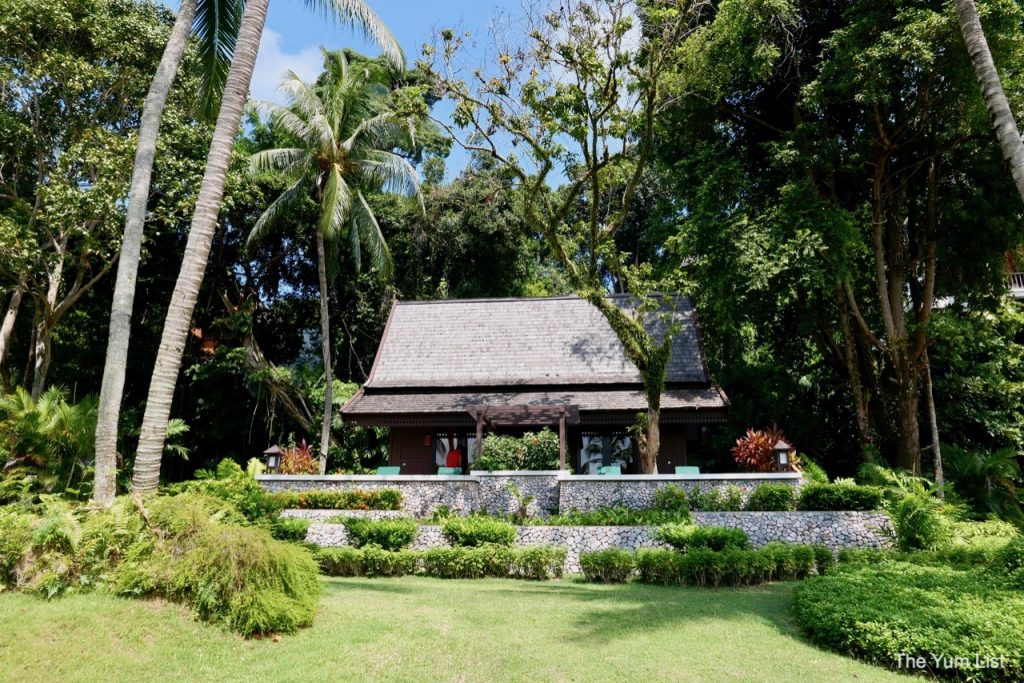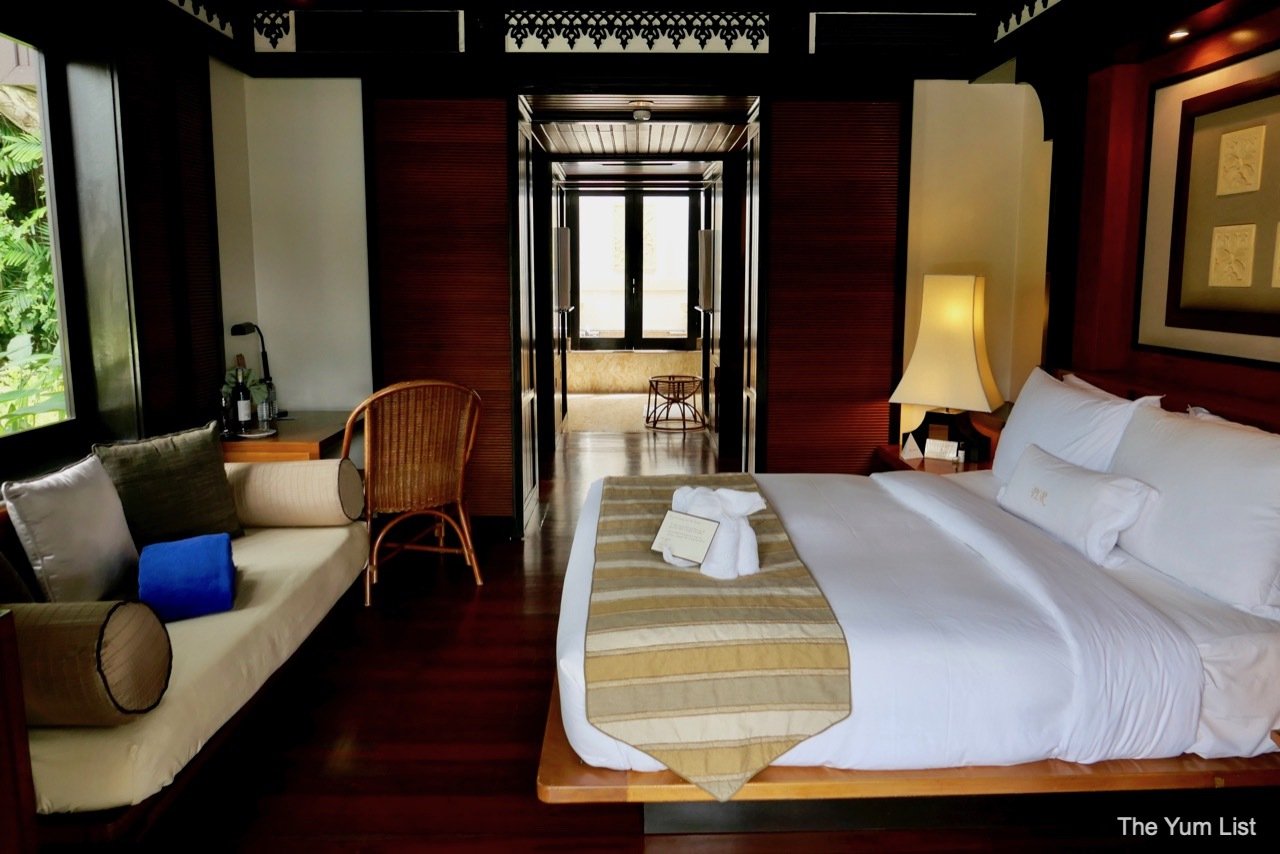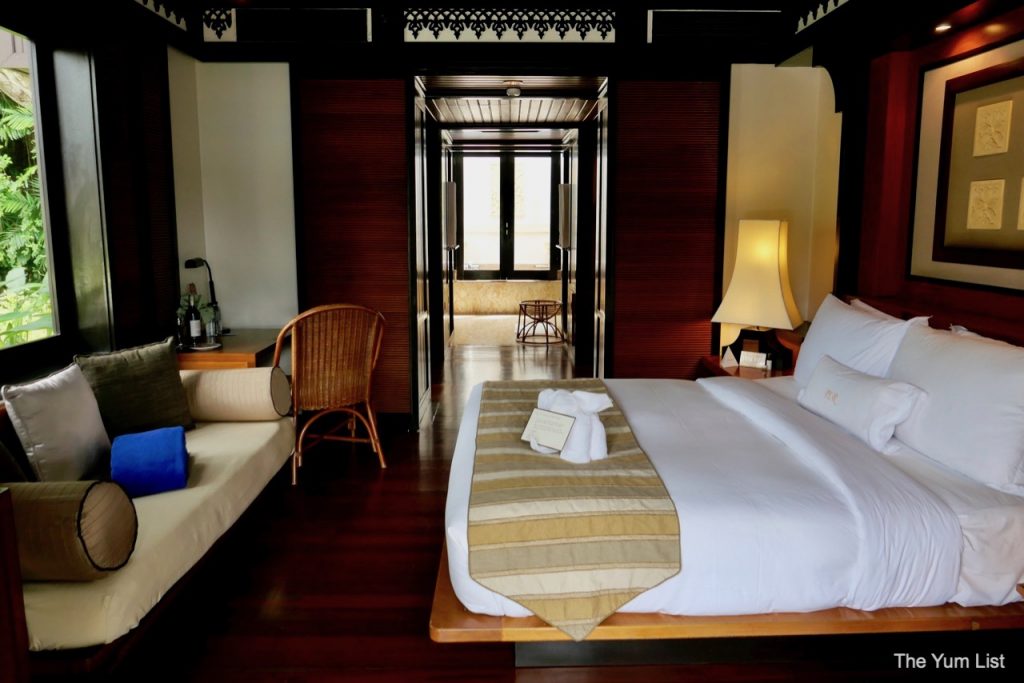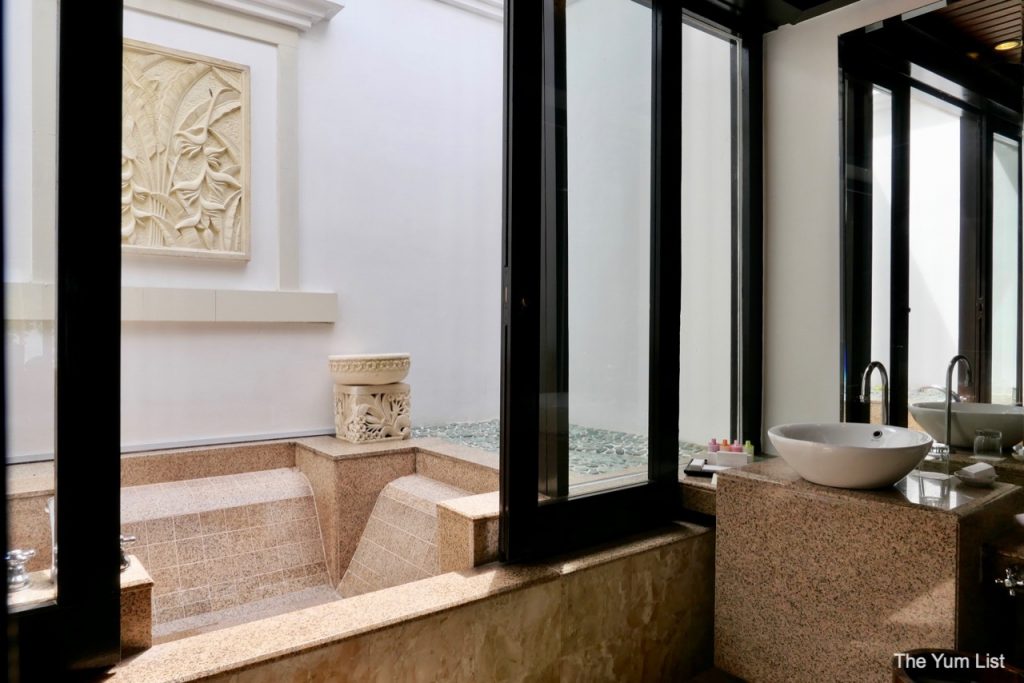 Facilities
Spa Village
We're here during the RMCO as the resort slowly returns to capacity. Currently, the Spa Village is not yet open. This is, however, our fifth visit, so we've previously had the pleasure of the complete experience. If you happen to arrive when it's in full swing again, DO book a treatment. It is one of the most outstanding spas in Asia, if not the world.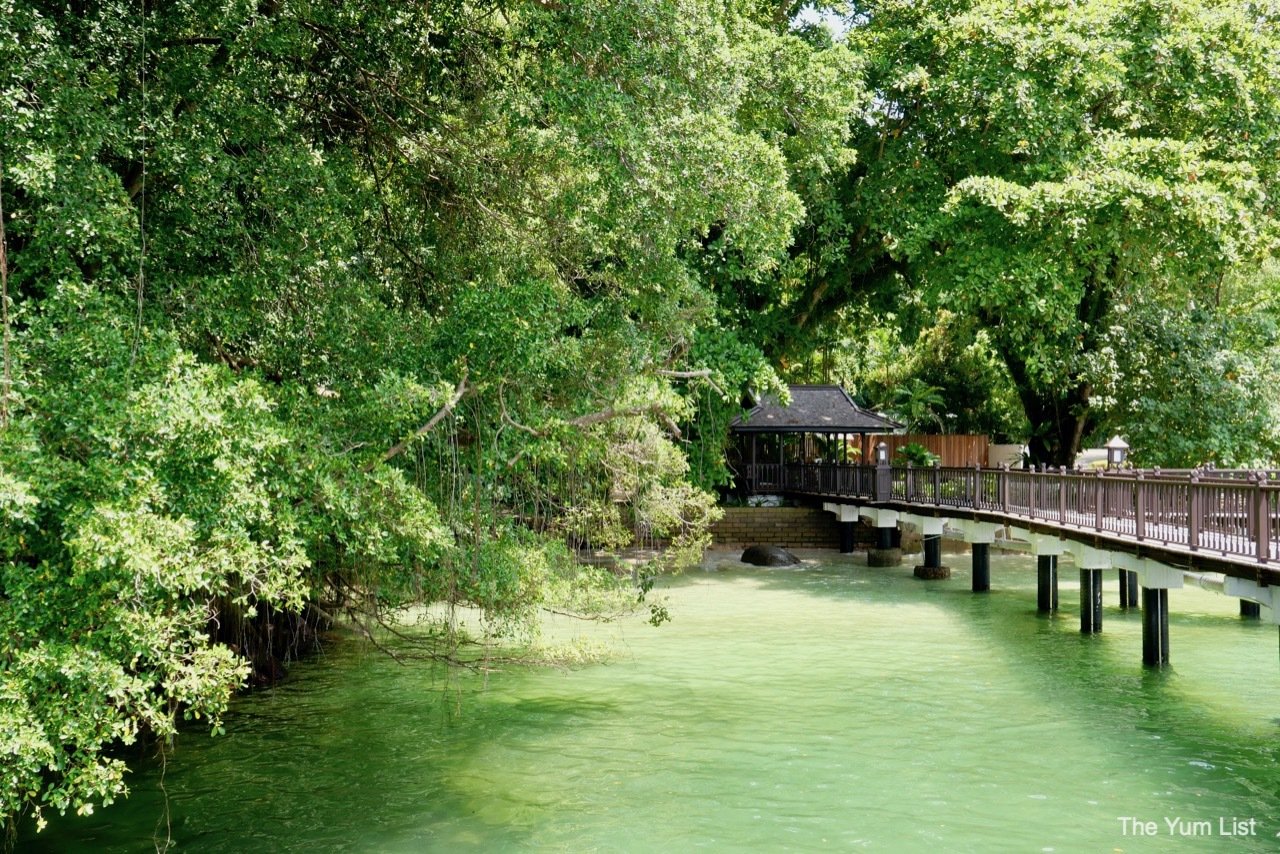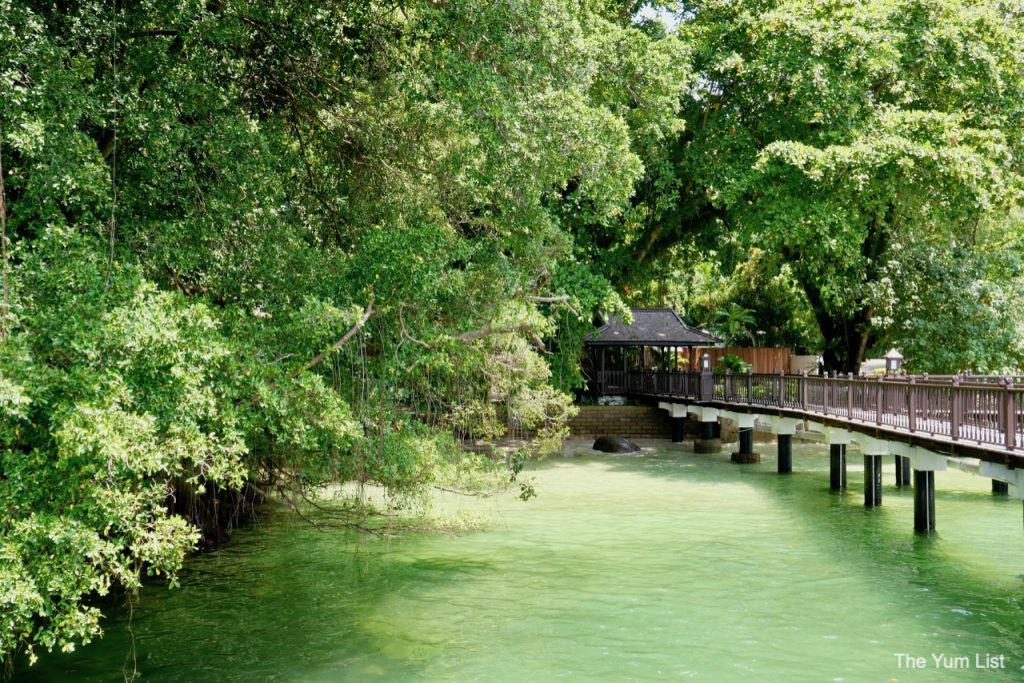 Get Active
A fully equipped gymnasium is glass-walled and overlooks the garden and sea. Water sports and tennis and squash courts challenge the active, and trails through the jungle offer further opportunities to move. A naturalist leads daily walks, and making the guided trail is an excellent way to learn more about the local ecosystem. My favourite morning workout though is a hike up the steep hill that leads to Emerald Bay and then a run up and down the sandy beach. With social distancing in practice, numbers allowed in the gym is limited, but I can run anytime I please.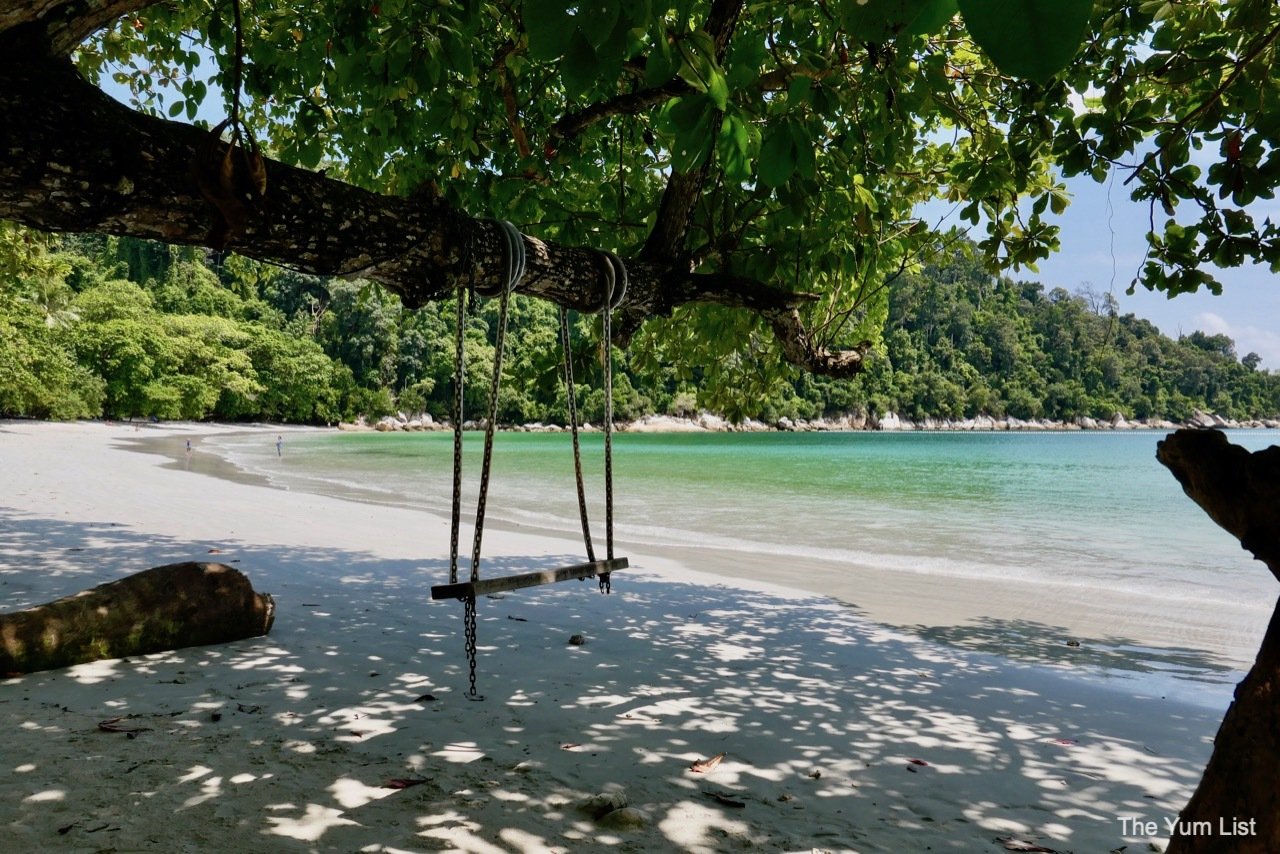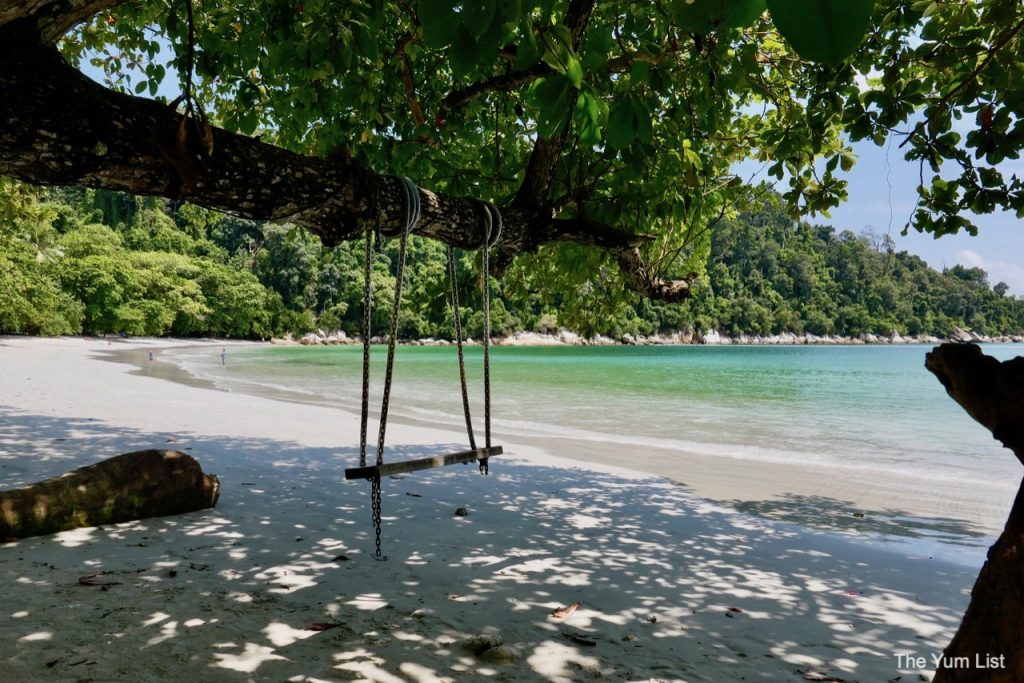 For swimming, the main pool is on the resort side of the island serviced by the team at the Royal Bay Beach Club. There's a kids' pool as well as loungers and umbrellas. Most, however, end up at the beach on Emerald Bay on the other side of the island. You can trek up and over a steep hill to get there, or a shuttle runs continuously from morning to night.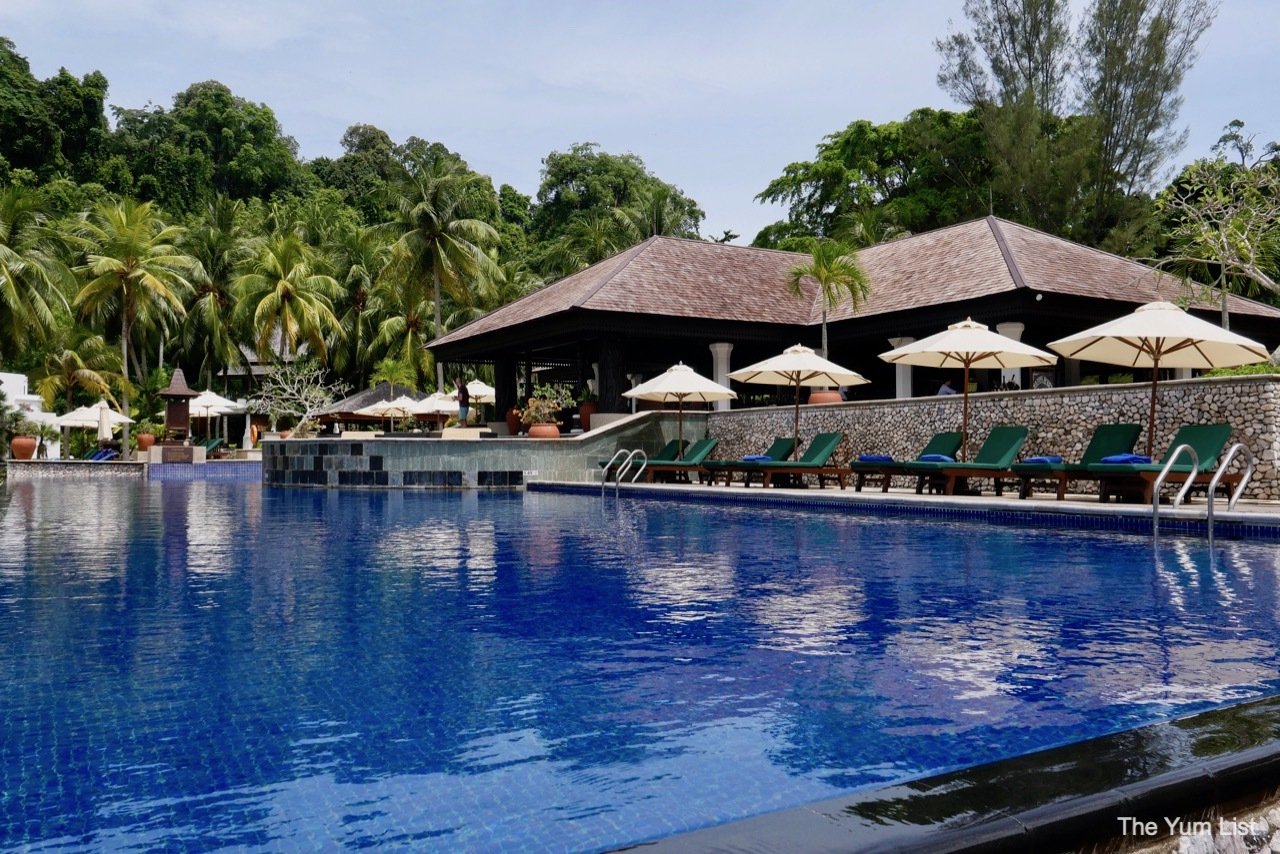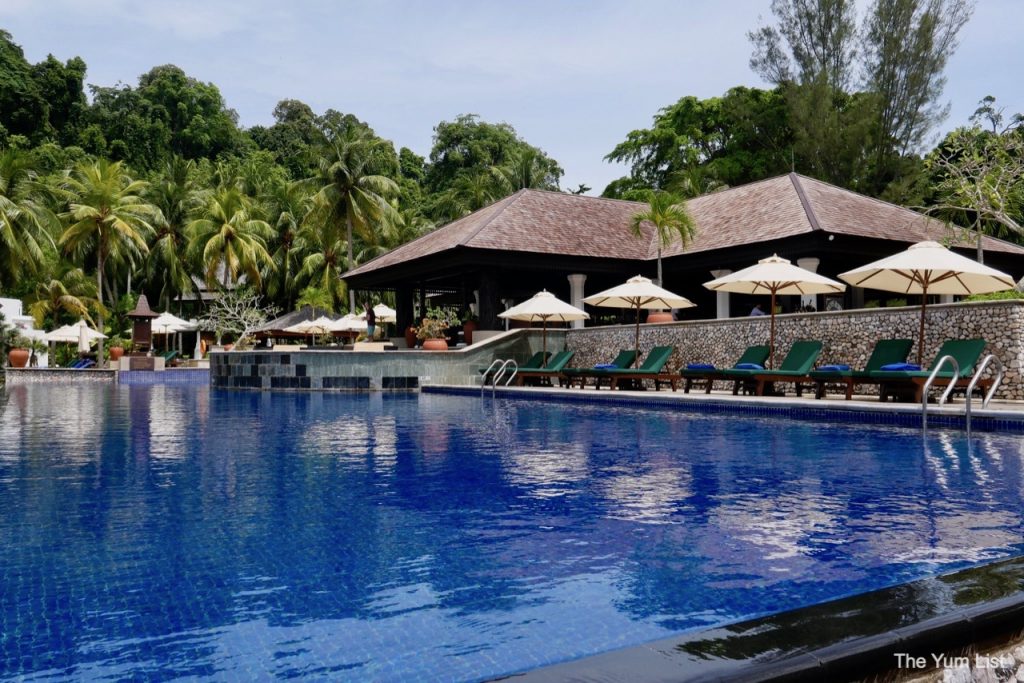 Food and Beverage
Restaurants at Pangkor Laut Resort provide a variety of cuisine and experience. From laid back casual seaside dining with burgers and salads to specially crafted private beach barbecues, the kitchen team can arrange just about anything.
Feast Village
The one outlet on the island that everyone is sure to visit is Feast Village, the place for brekkie. Our preferred seats are on the deck overlooking the water. The breezy location is a great morning wake-up. Tables inside are a little cooler with air-conditioning, and out back in the garden, there are also several spots for two.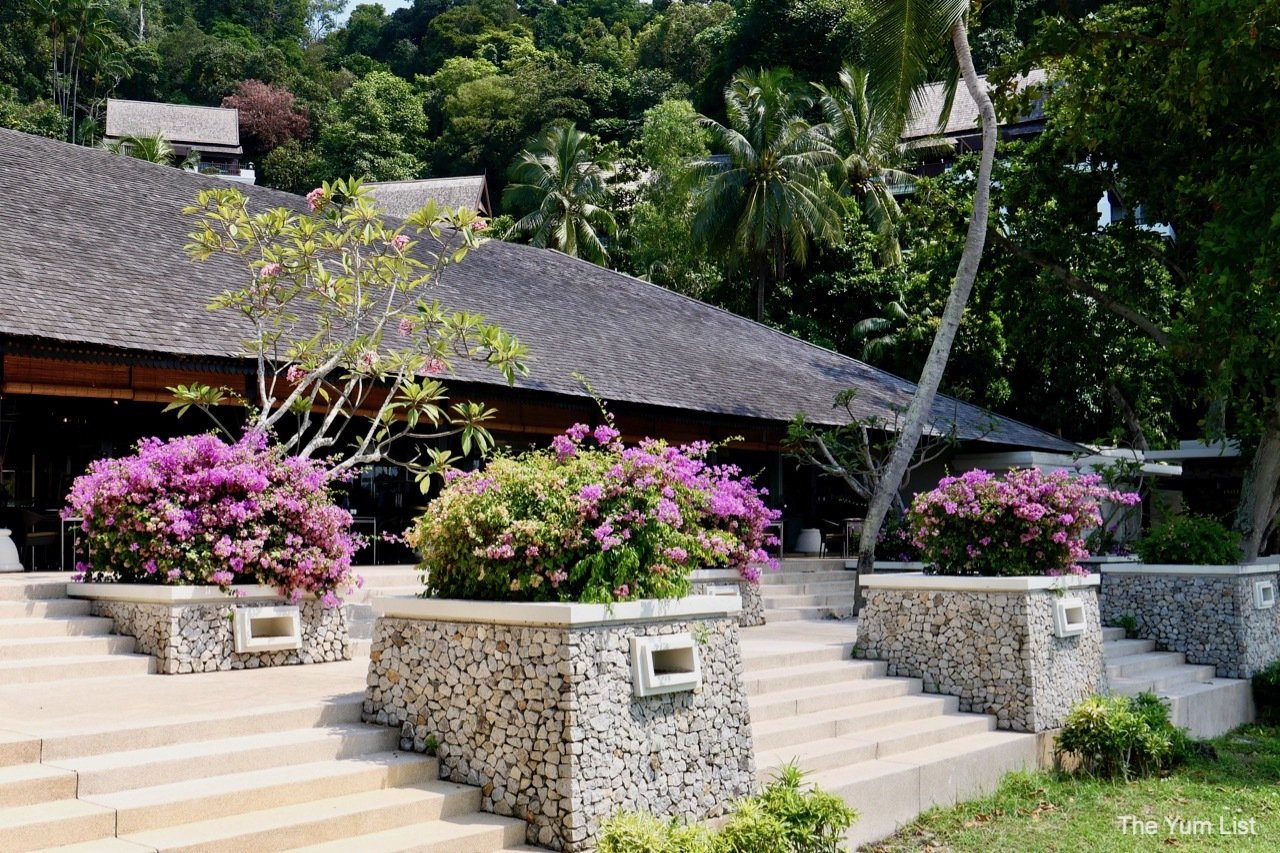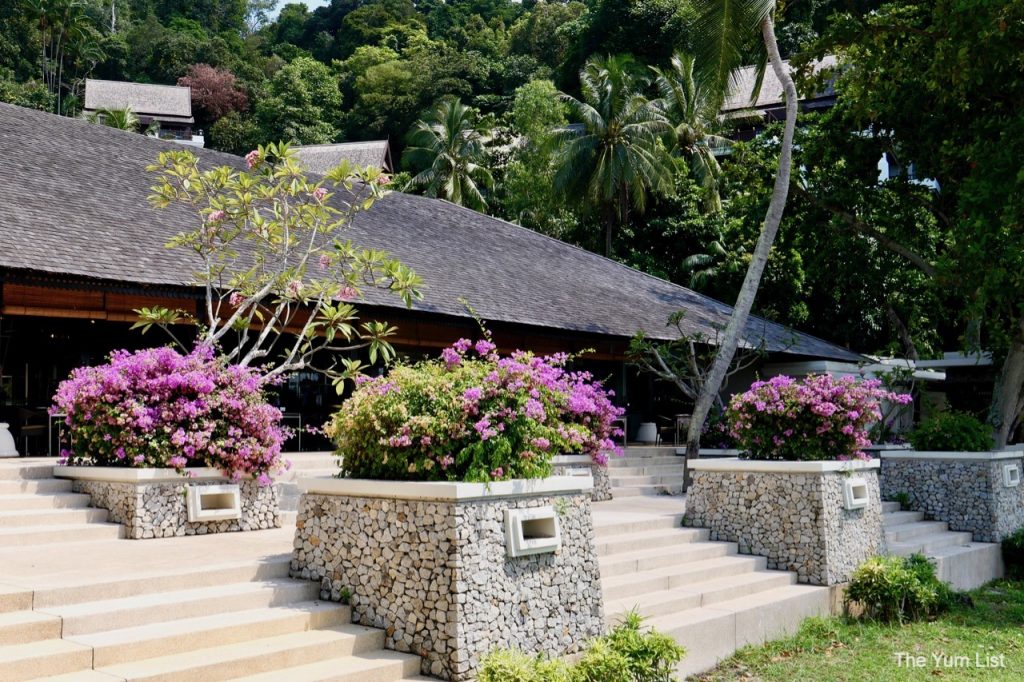 Due to COVID-19, buffets have been done away with and replaced with an a la carte selection. Guests can still order as much as they can finish, but it's a more sophisticated set-up with table orders and avoids so much waste. We're big fans and do hope this continues. Our most-loved brekkie here is a local twist on pancakes with gula Melaka and coconut. Yum!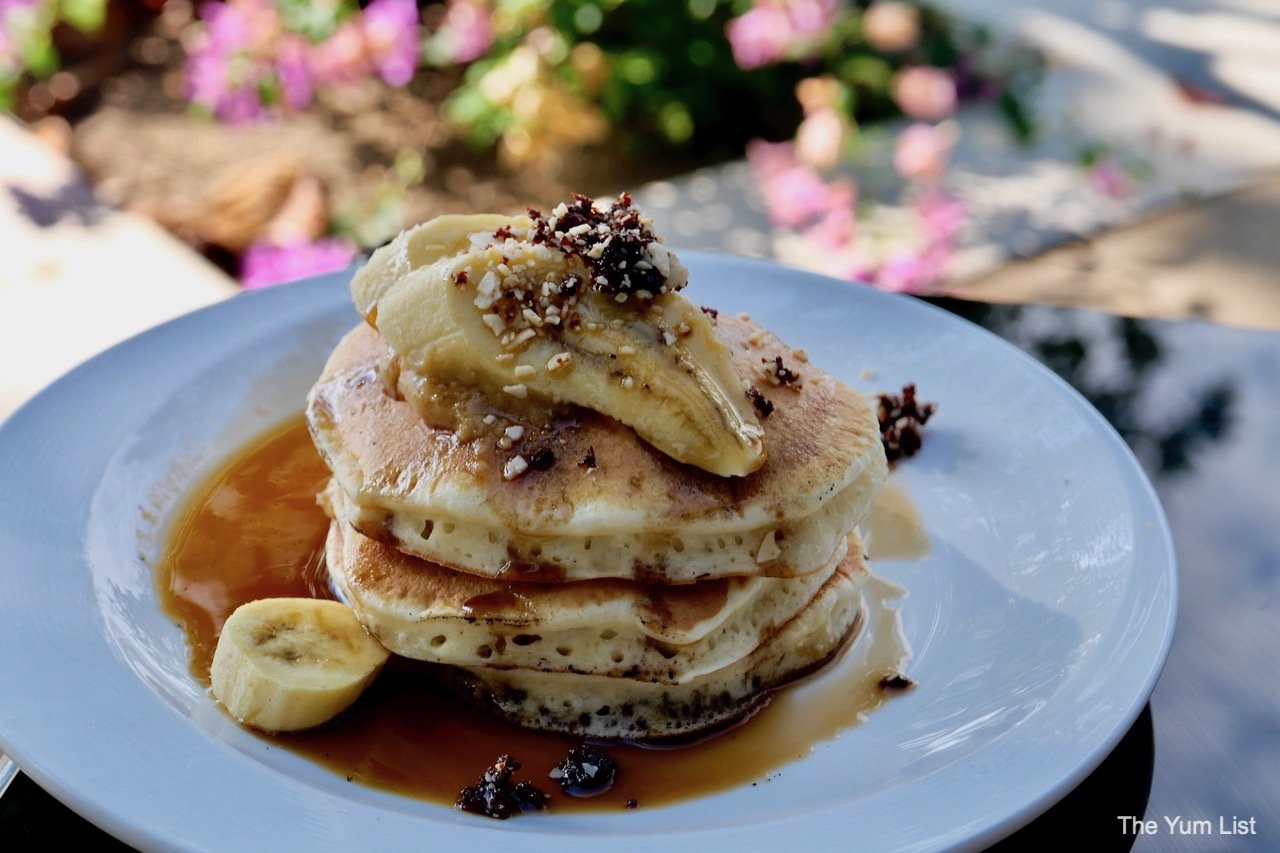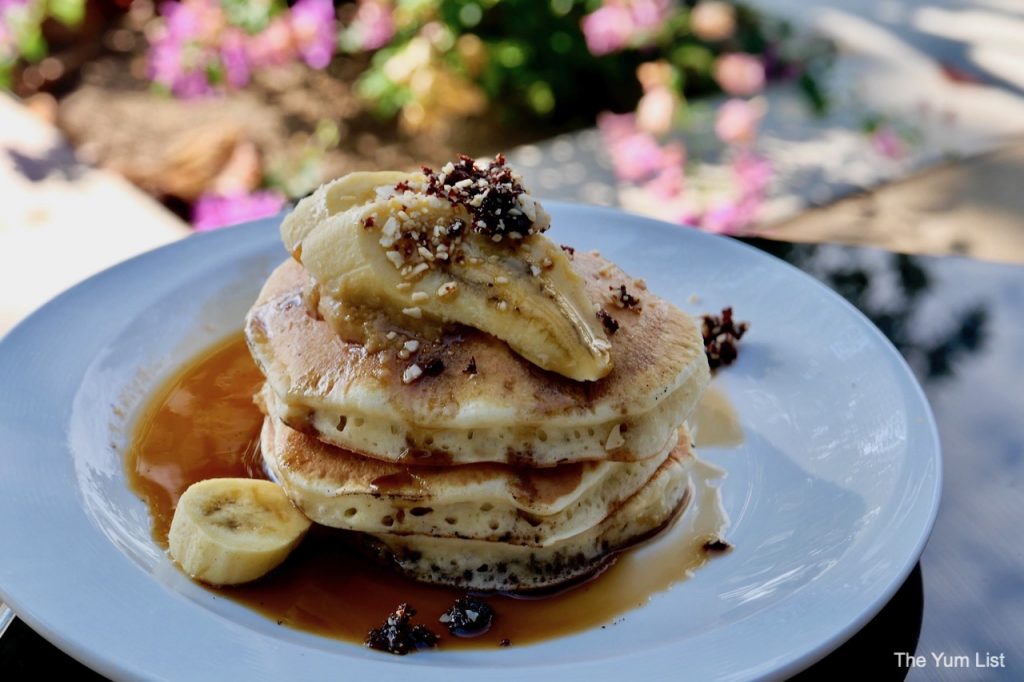 Chapman's Bar
At sunset, you're sure to find us at Chapman's Bar on Emerald Bay. With spectacular views of the day turning to night and excellent happy hour deals (50% off wine by the glass, cocktails and beer), there's no other place we'd rather be. Mojitos, margaritas and wine backed up with a brilliant show of colour close our days. Furthermore, it's exciting to imagine the namesake of the bar, British Colonel Frederick Spencer Chapman, make his dramatic escape from Japanese soldiers in 1945 via submarine on this very bay!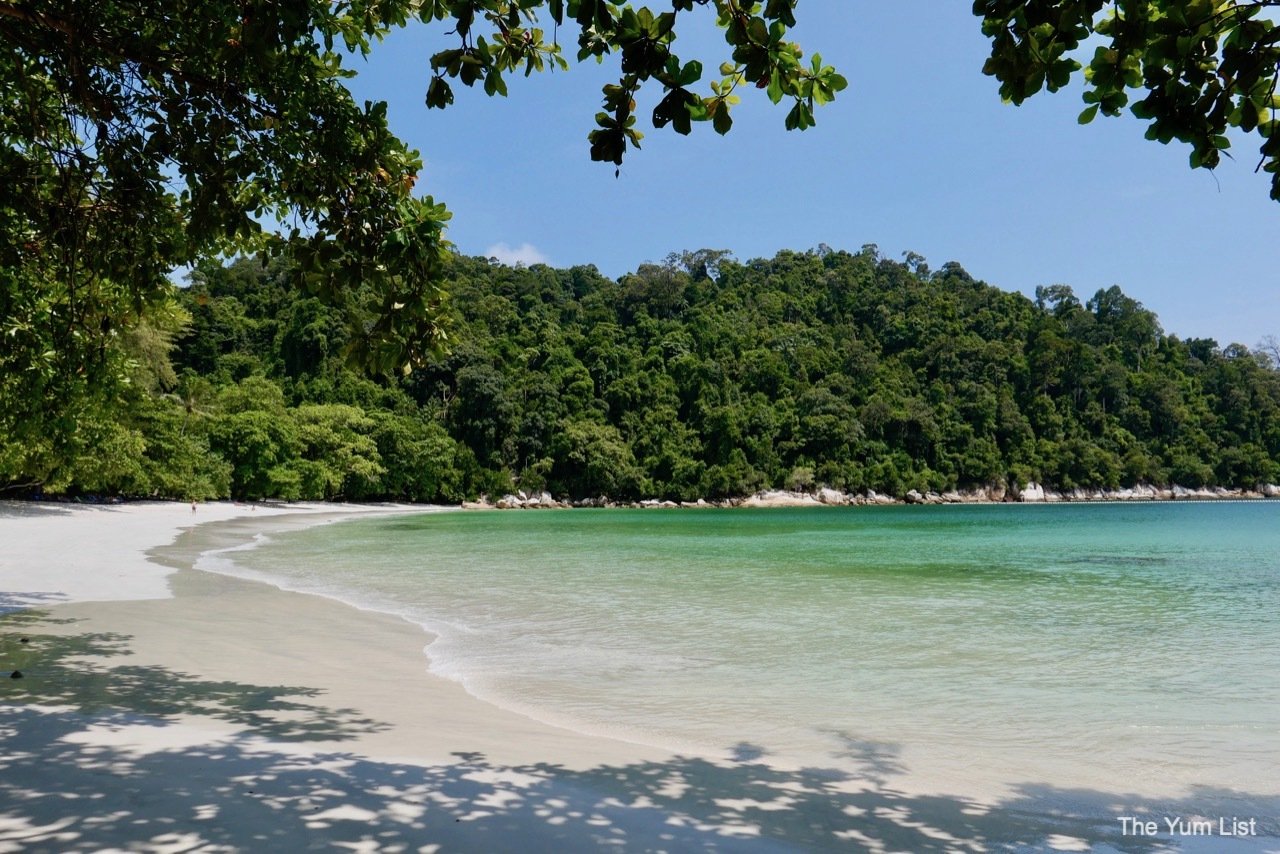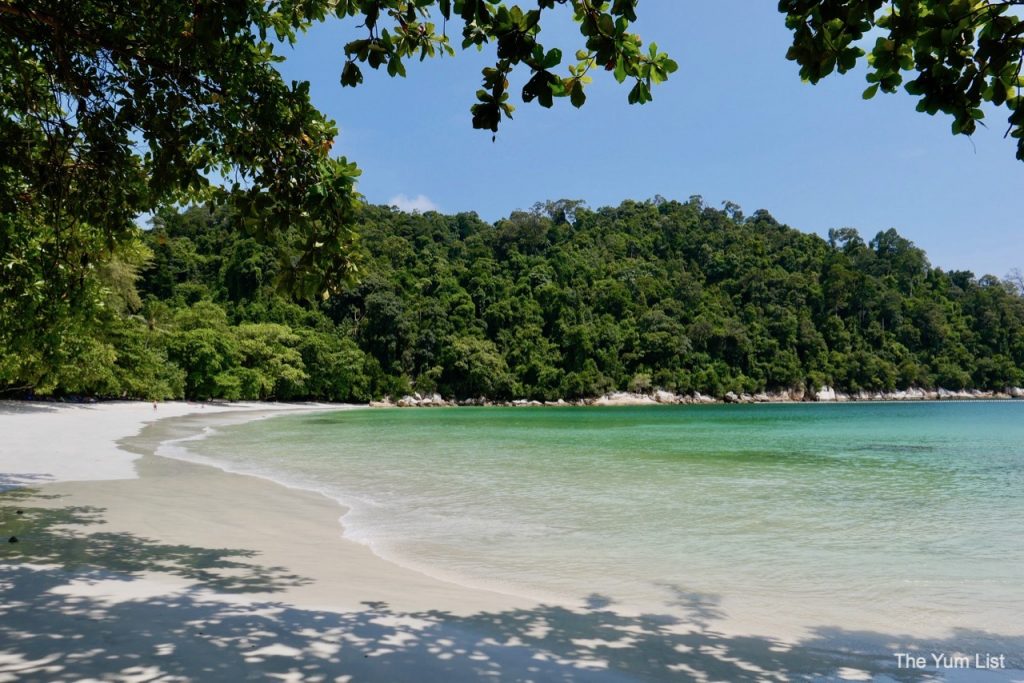 As we spend most of our time at Emerald Bay, we have lunch here too. A blackboard menu based on fresh seasonal produce offers uncomplicated choices. The day we dine, we find banana leaf curry, fish and chips, burgers, salads and toasties. Hubby tries the chicken burger with slaw and fries, and I go for the healthier Emerald Bay poke coconut prawn salad.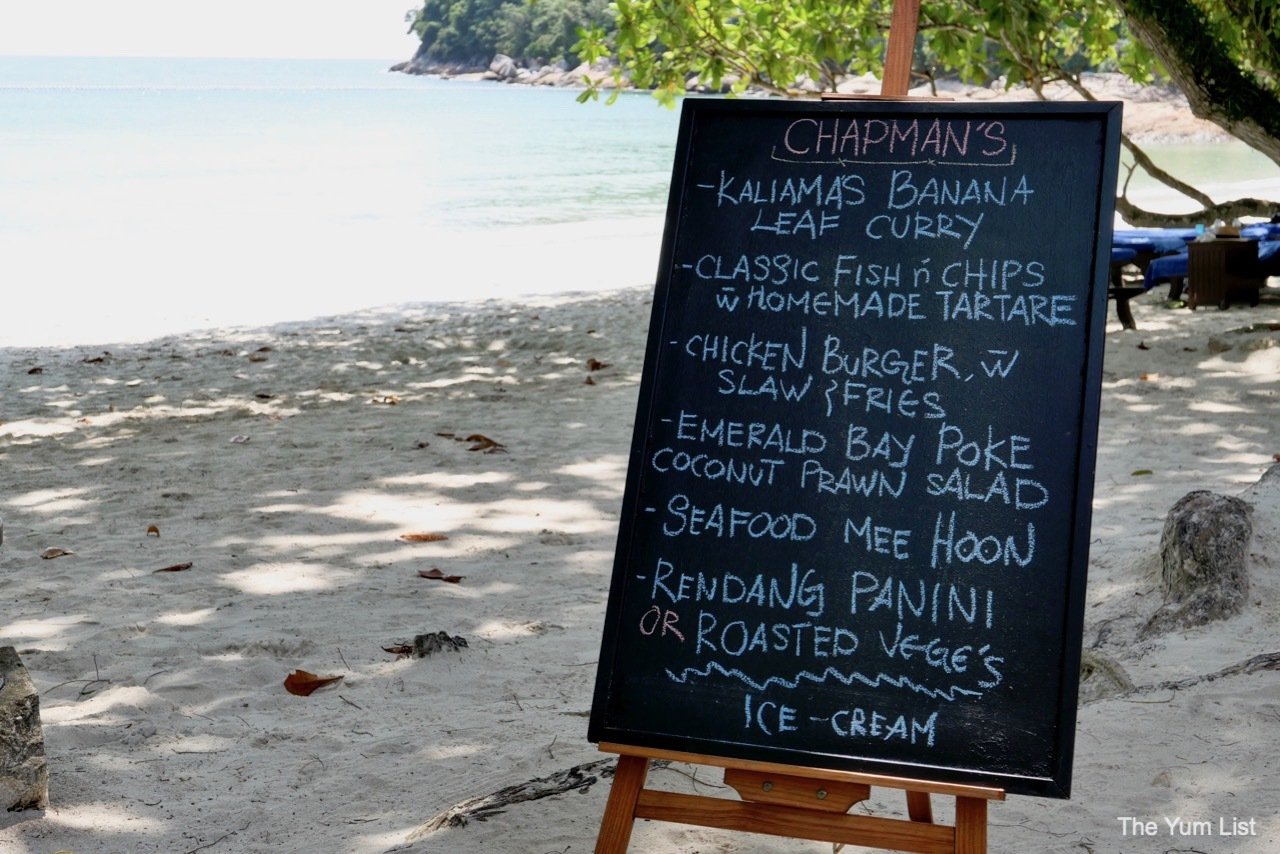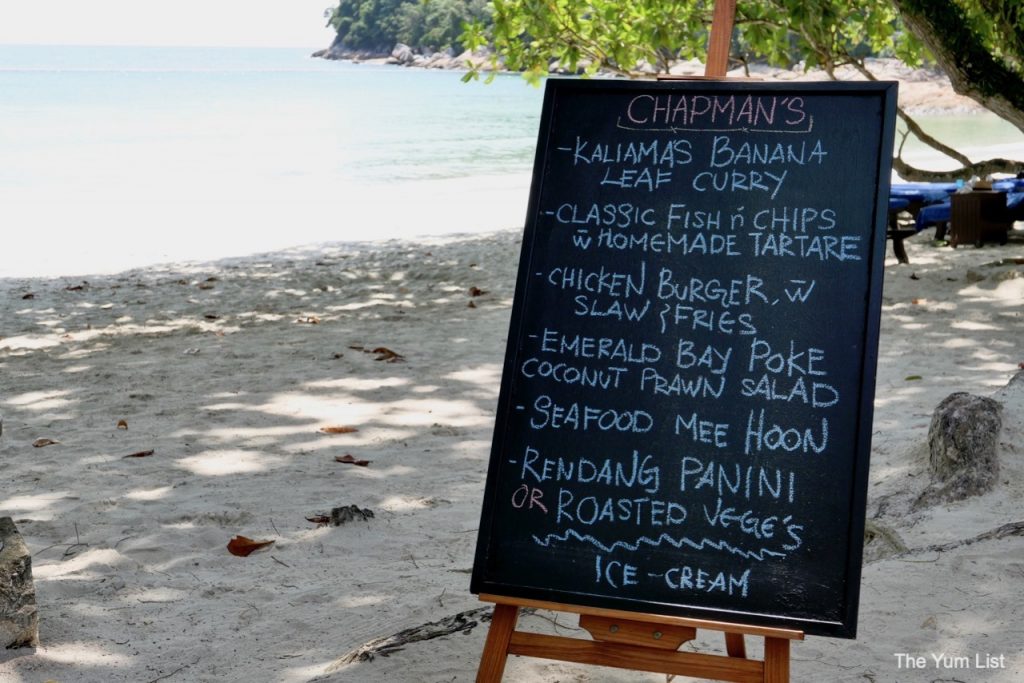 Royal Bay Beach Club
Either shaded on the terrace or on a sun chair on the deck, lunch at Royal Bay Beach Club offers views of the pool and sea. An easy-eating menu of salads, burgers, sandwiches, pizza and noodles makes choosing a breeze. I opt for the light and fresh Jungle Bowl. It's a mix of salad leaves, julienned veggies, strips of chicken, avocado, herbs and seeds with a deliciously creamy and tangy jungle dressing (I'm guessing tahini and lime as key ingredients). Alternatively, hubby thinks the Pangkor Beef Burger is an excellent recipe. A juicy patty, cheese, tomato, lettuce and onions are hugged by a soft sesame seed bun. Meals are straightforward; simply done using good quality ingredients.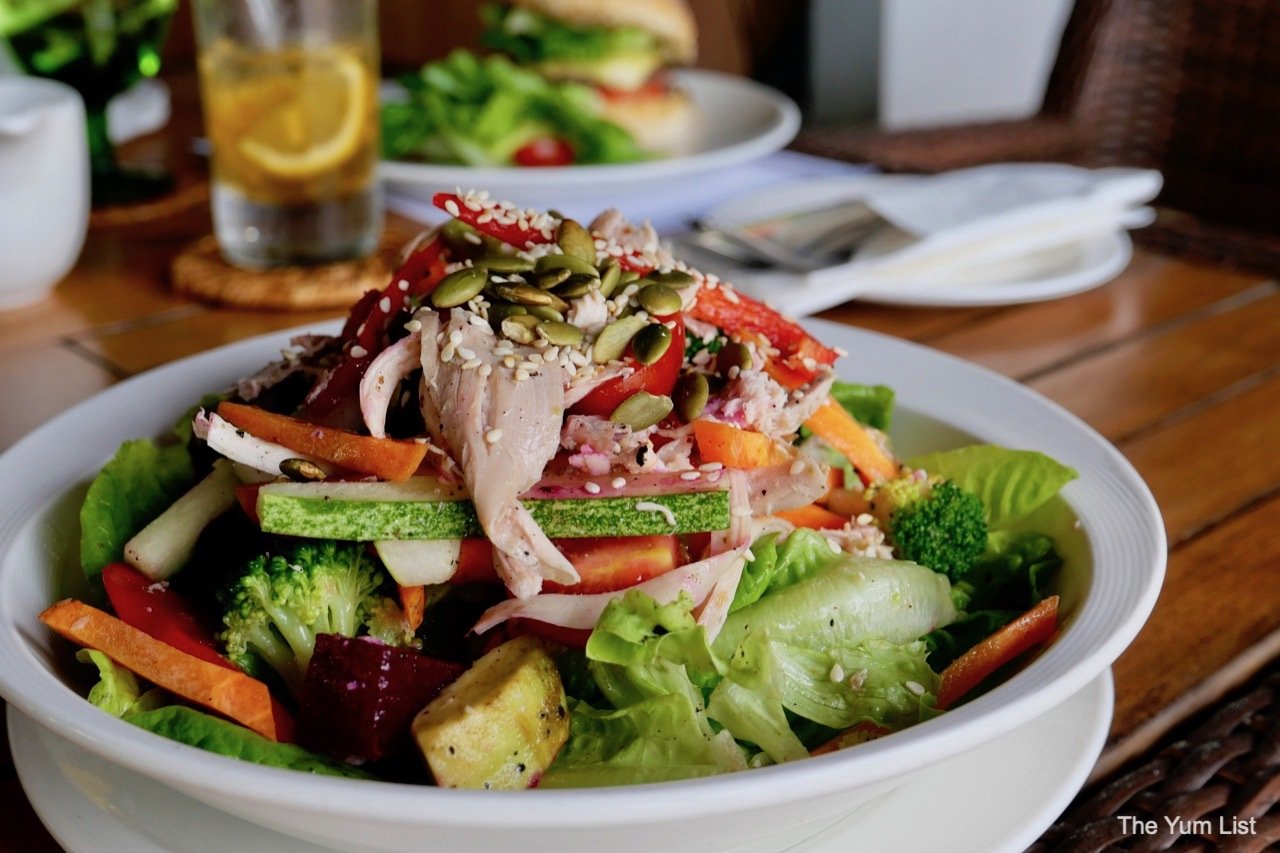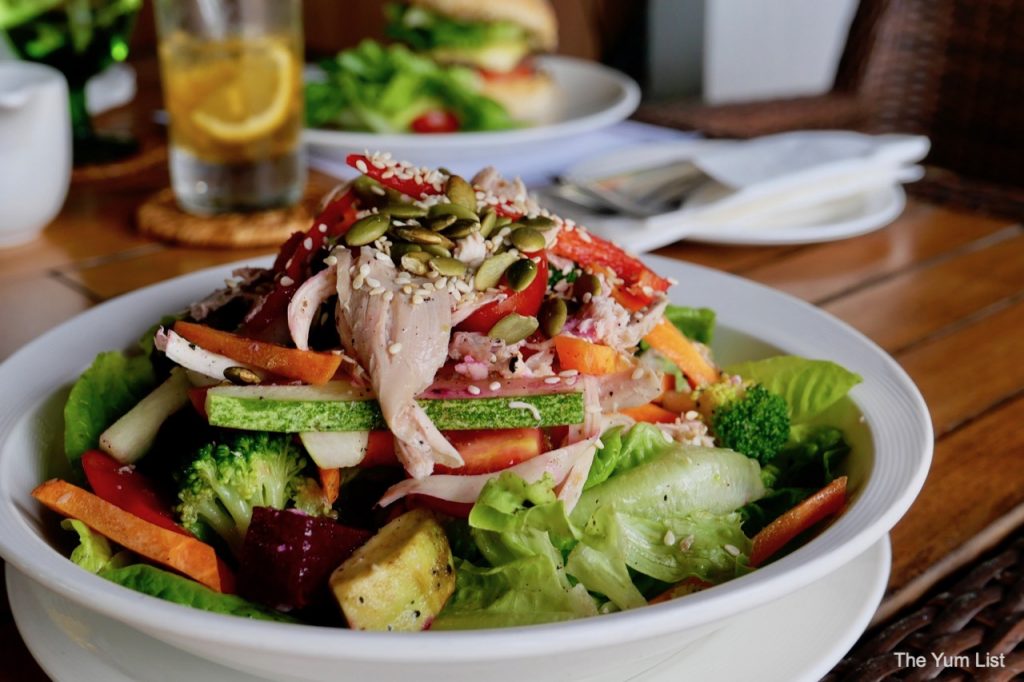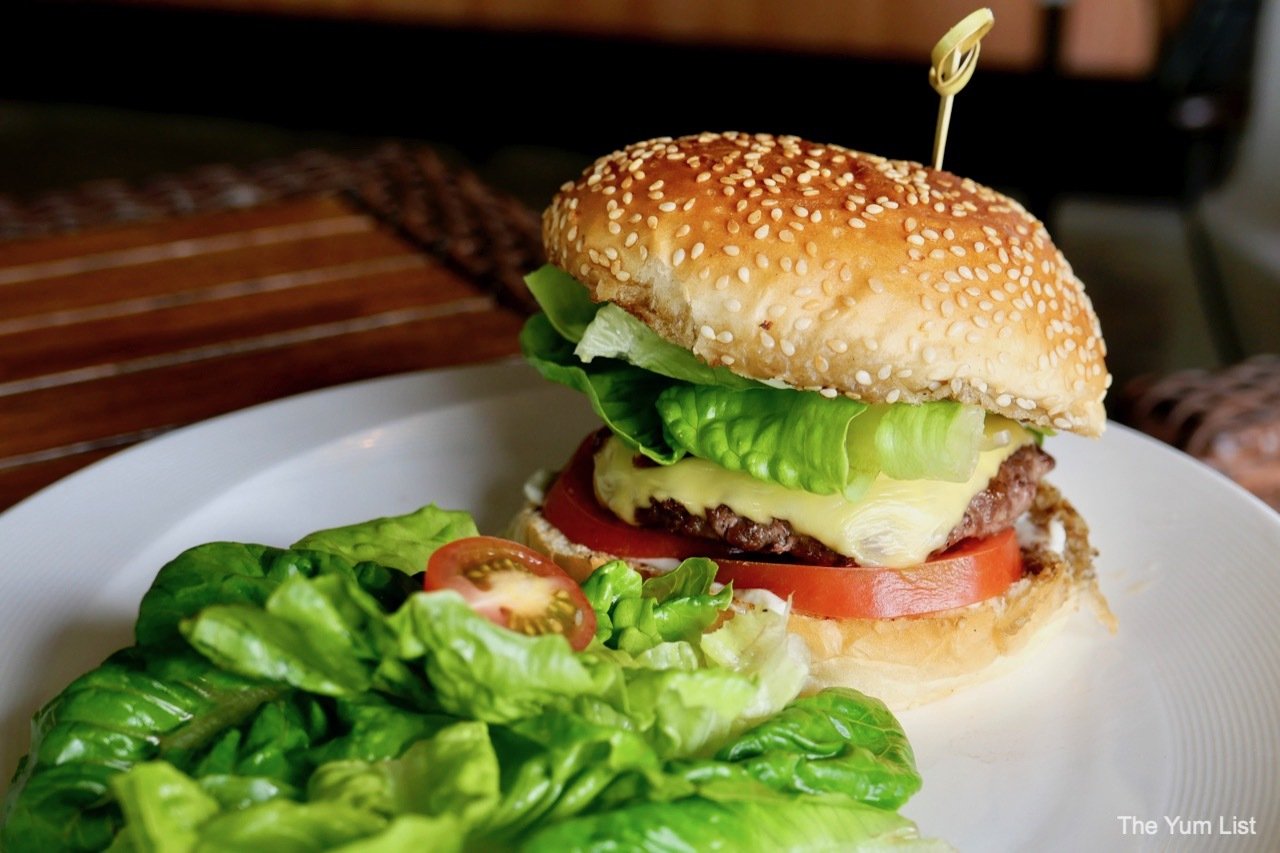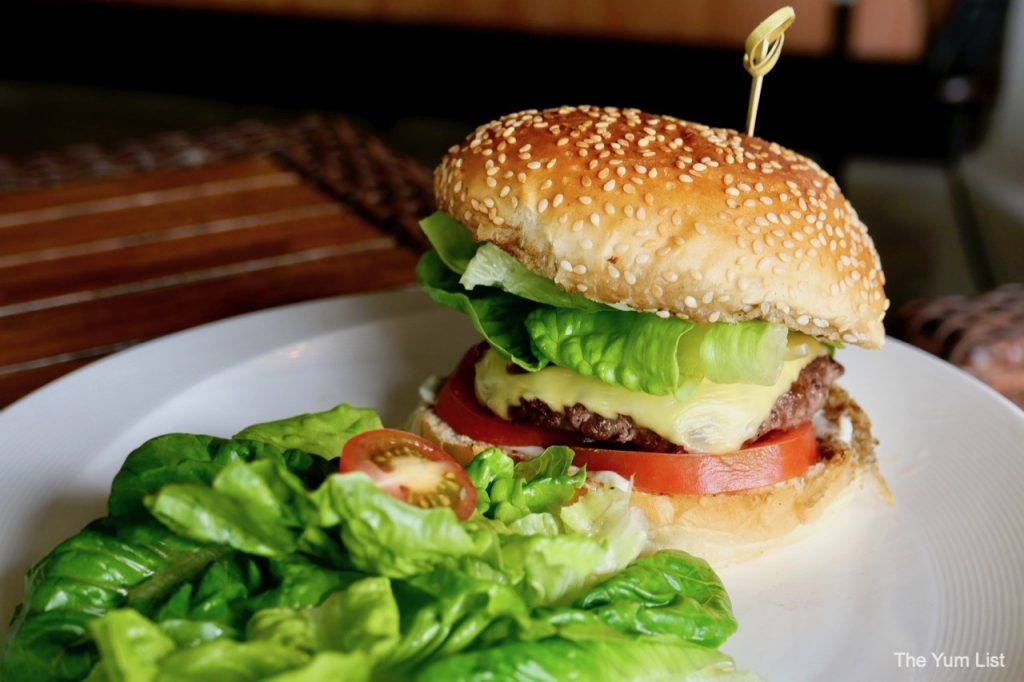 Uncle Lim's
Uncle Lim, now 92, has been with the resort from the beginning. The chef still lives on the island. Although he is not so active in the kitchen anymore, he can still be seen daily in his chef's whites shuffling around, overseeing it all. If you fortune the chance to come across him during the day, he is sure to ask if you've eaten ("dah makan?") and promise you fresh fish if you visit his restaurant in the evening. We do indeed enjoy a fresh catch from Uncle Lim's and highly recommend the Hong Kong-style fillet steamed with ginger, scallions, garlic and soy sauce.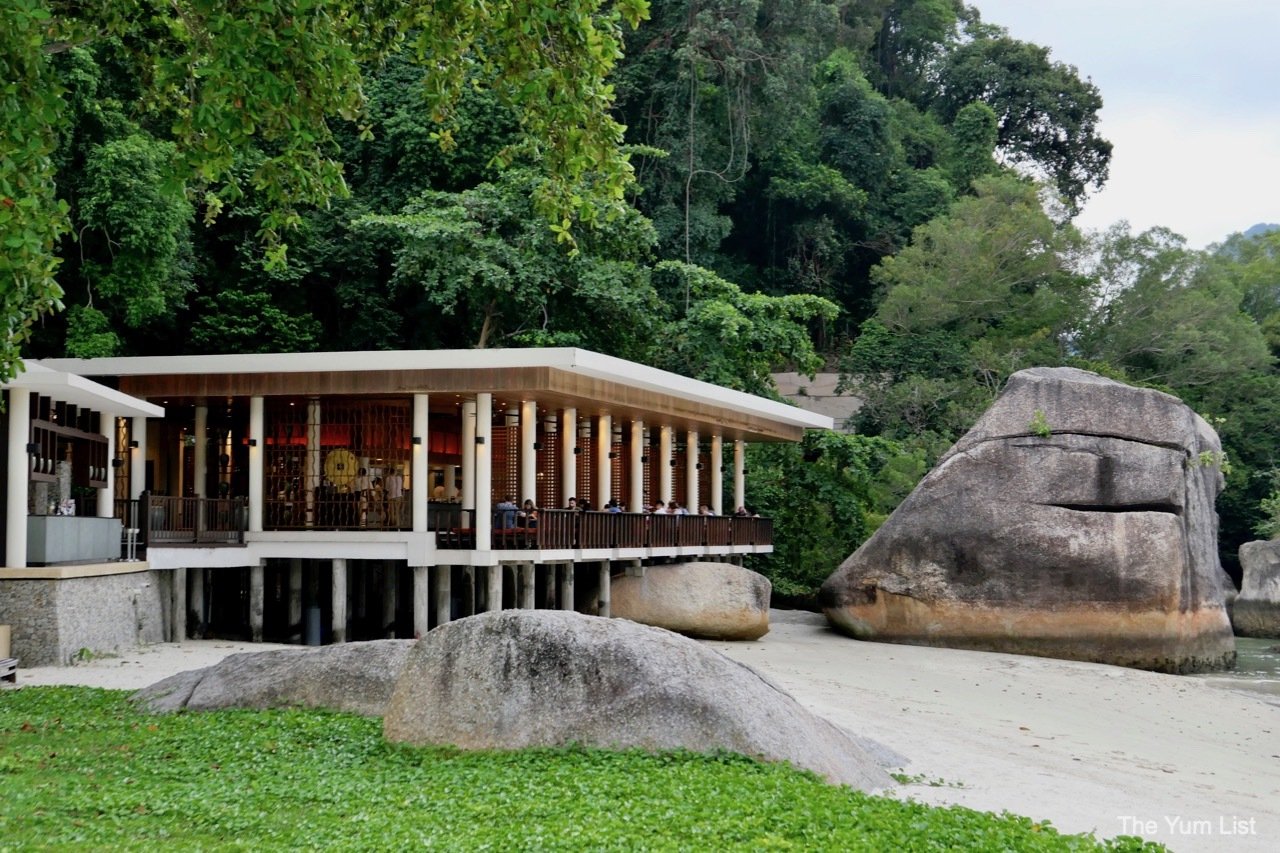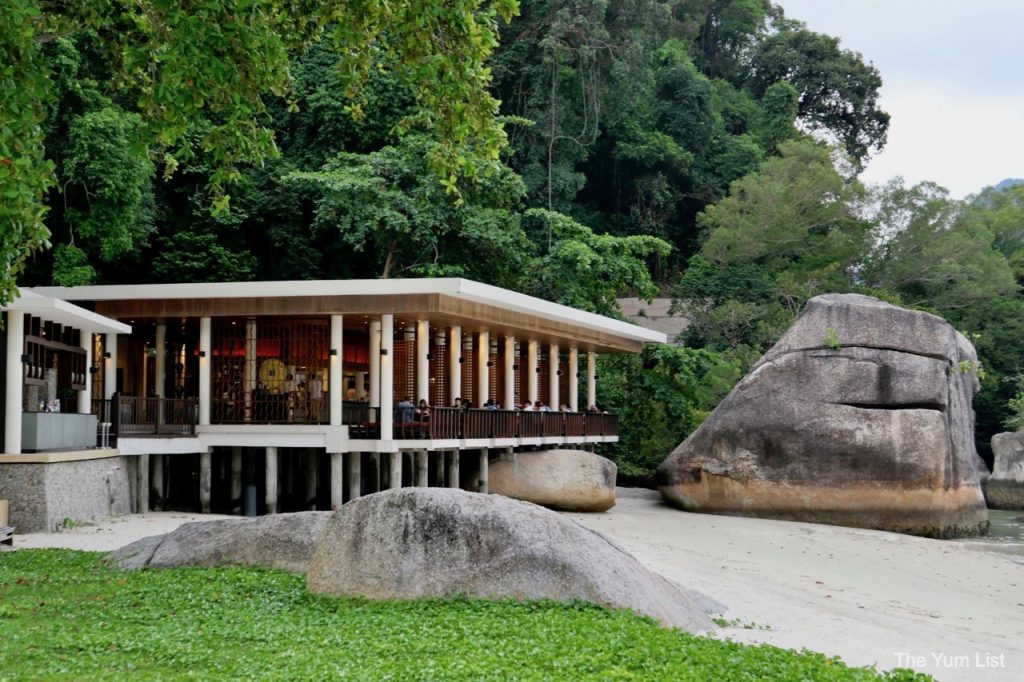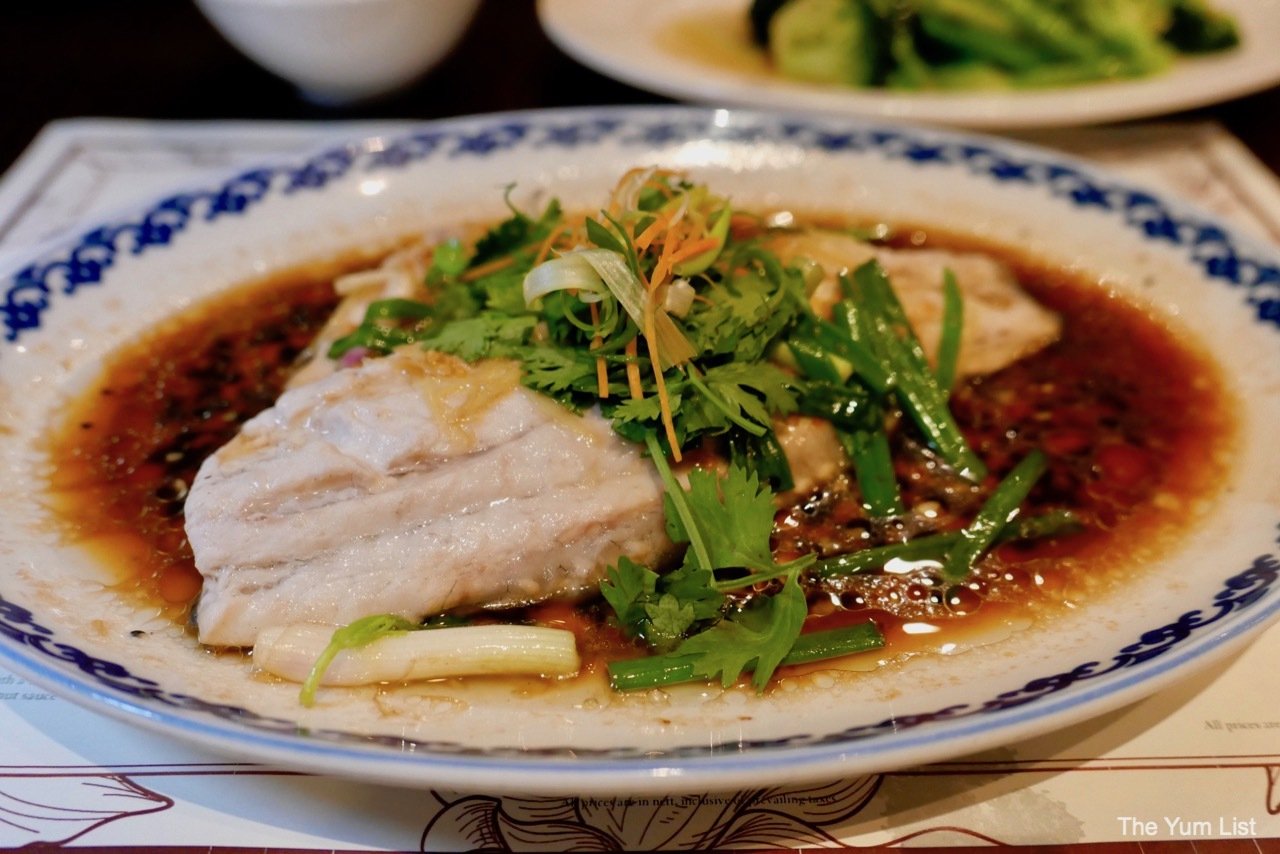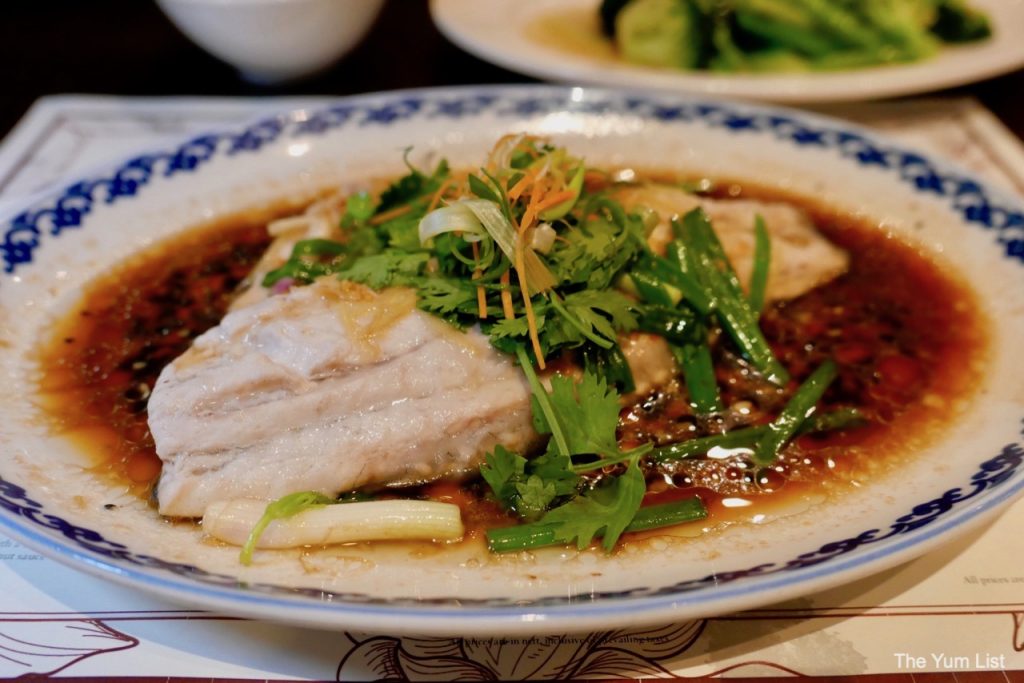 Seafood Barbecue
Pangkor Laut Resort offers plenty of variety in cuisine to keep guests entertained for several days. For more extended stays, or those wanting to impress a special someone, a seafood barbecue in a chosen location can be arranged. From the beach to a private pavilion, you can have the chef's attention all to yourself and a delicious menu to match.
Taking precautions with cloudy skies, we dine in a pavilion in the water garden behind Feast Village. Surrounded by fish ponds, wooden walkways and soft lighting, we're far enough removed from the crowds but close enough to not have to trek too far from our villa.
What better aperitif is there than an Aperol Spritz? This Italian classic of Aperol and prosecco topped up with soda is thirst-quenching, and its mild bitterness achieves its job of opening the appetite. Just as our cocktail is a suitable beginning, so too is our soup, a chilled tomato gazpacho. This Spanish recipe is perfect in hot weather with its refreshing acidity and cool temperature.
With dinner, we switch to a Spanish Chardonnay, with the organic Jean Leon from Penèdes (RM60 glass). Tropical fruits on the nose and a vibrant, fresh and fruity palate, this wine is an excellent match to our seafood dishes. The story behind the wine is a fun one too. The label, 3055, is a tribute to the man's humble beginnings as a taxi driver and is the number plate of his cab. He dreamed of creating a famous restaurant in Hollywood and a namesake wine to go with it. Vision accomplished; we are now the beneficiary of his passion.
Smashed date, cucumber, radish, mint and lettuce make a unique and delicious salad as a side to our barbie. It's almost as good as the chunky cubes of beetroot with a light tamarind dressing that comes along with it.
The star of the show, however, is a magnificent platter of grilled seafood with a giant local lobster taking centre stage. Prawns, calamari and sea bass all come from Pangkor waters and with the quality of seafood this good, I am wondering why Malaysia imports anything from overseas. Tender, fresh and expertly cooked, it's a fantastic meal. Lime and lemon halves, as well as mango chutney and sambal, are tasty but unnecessary complements.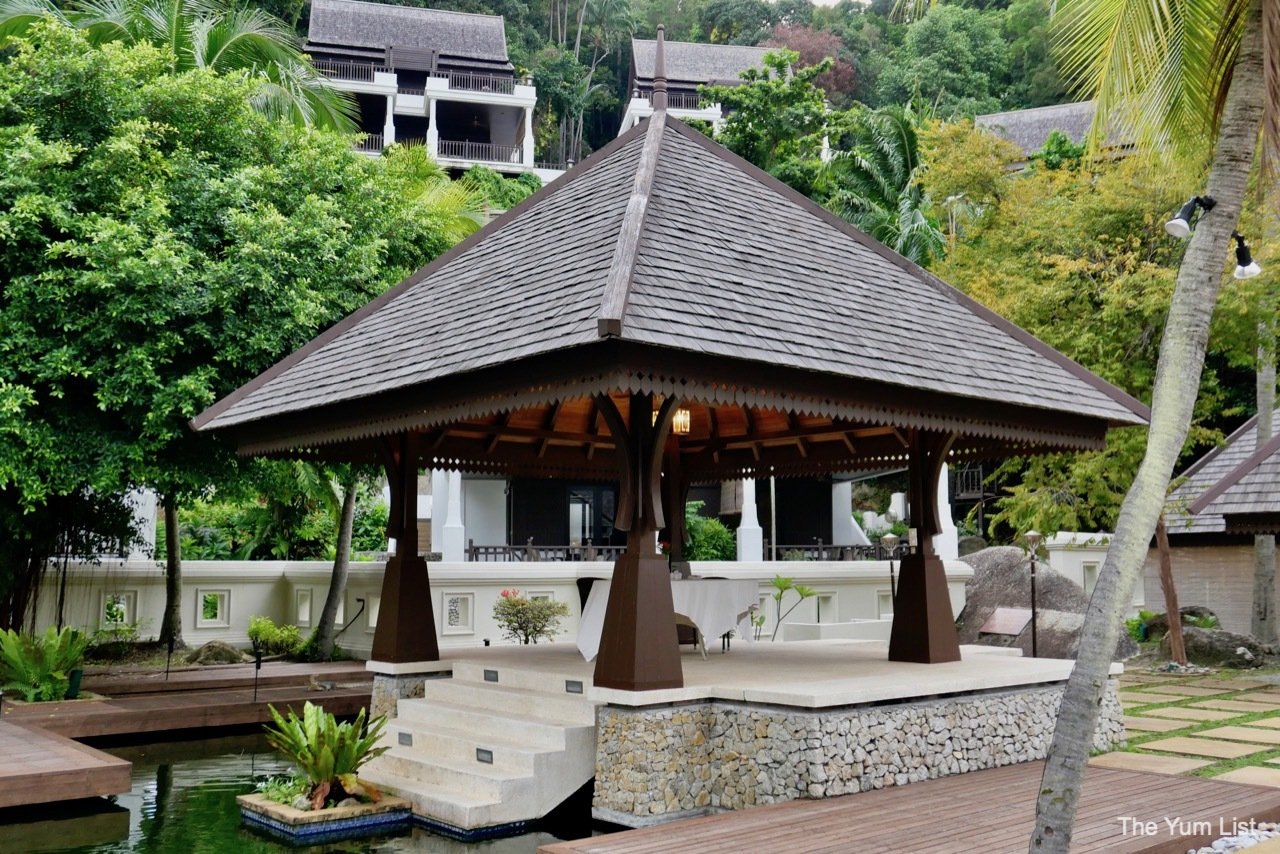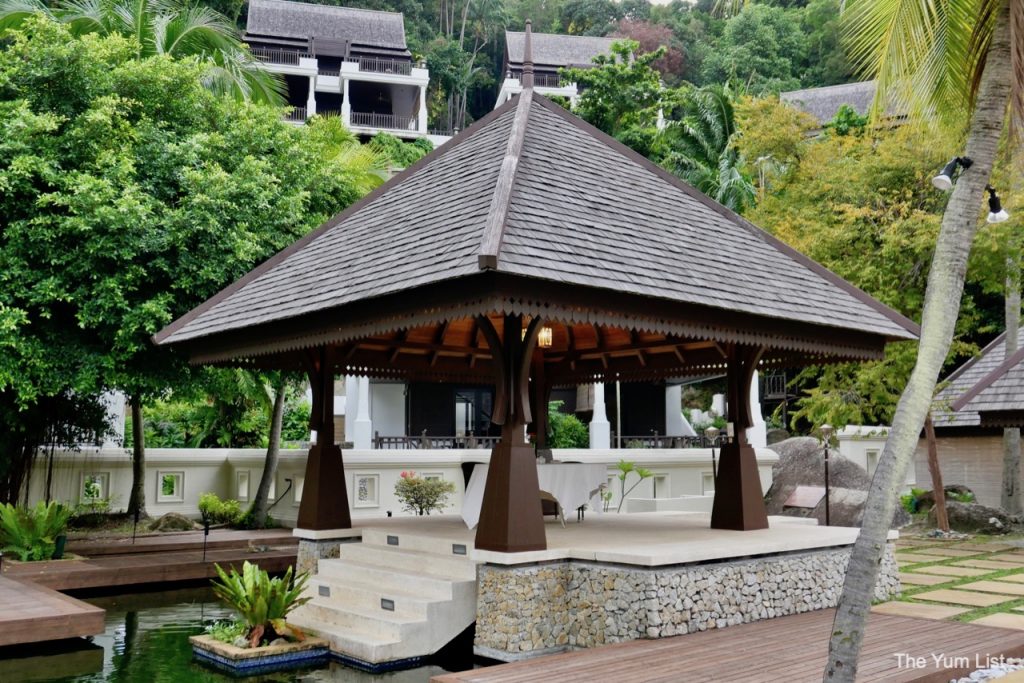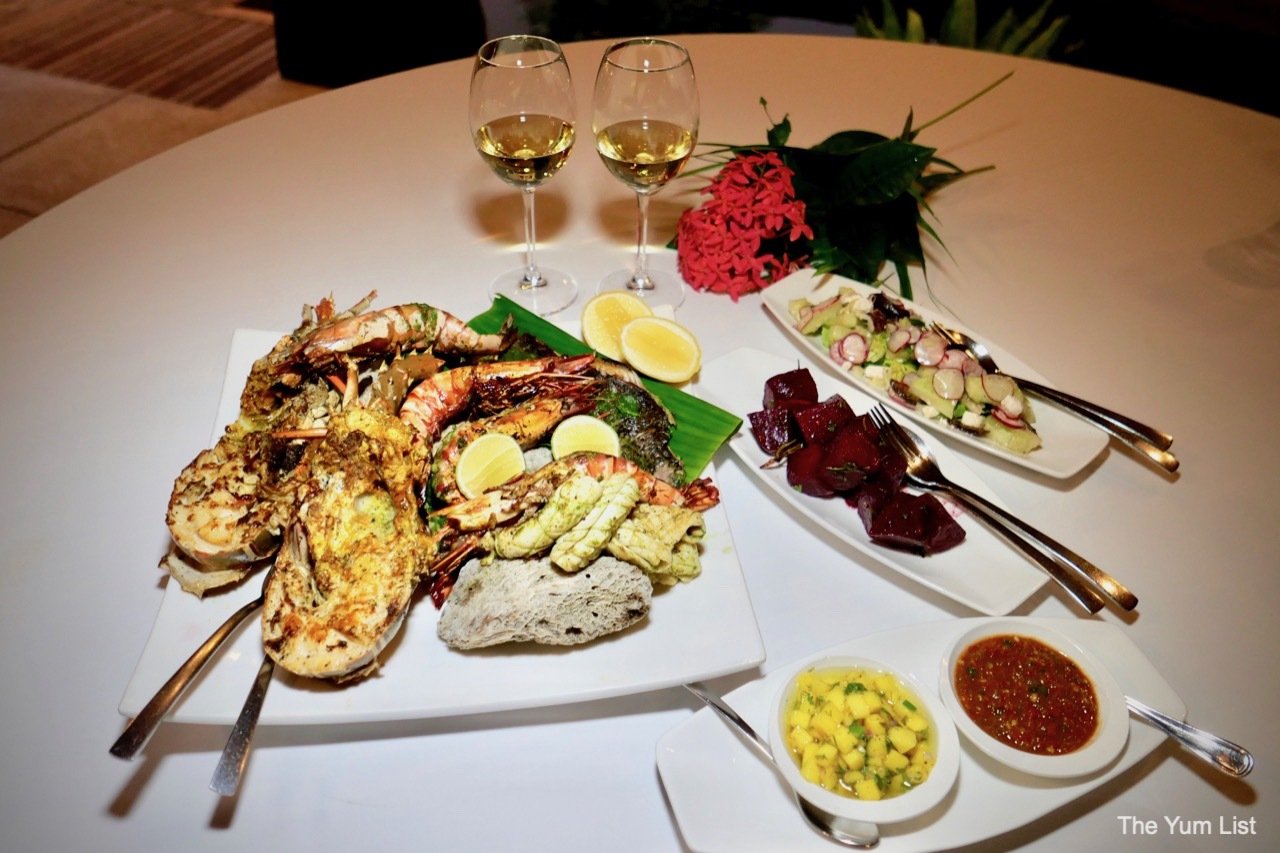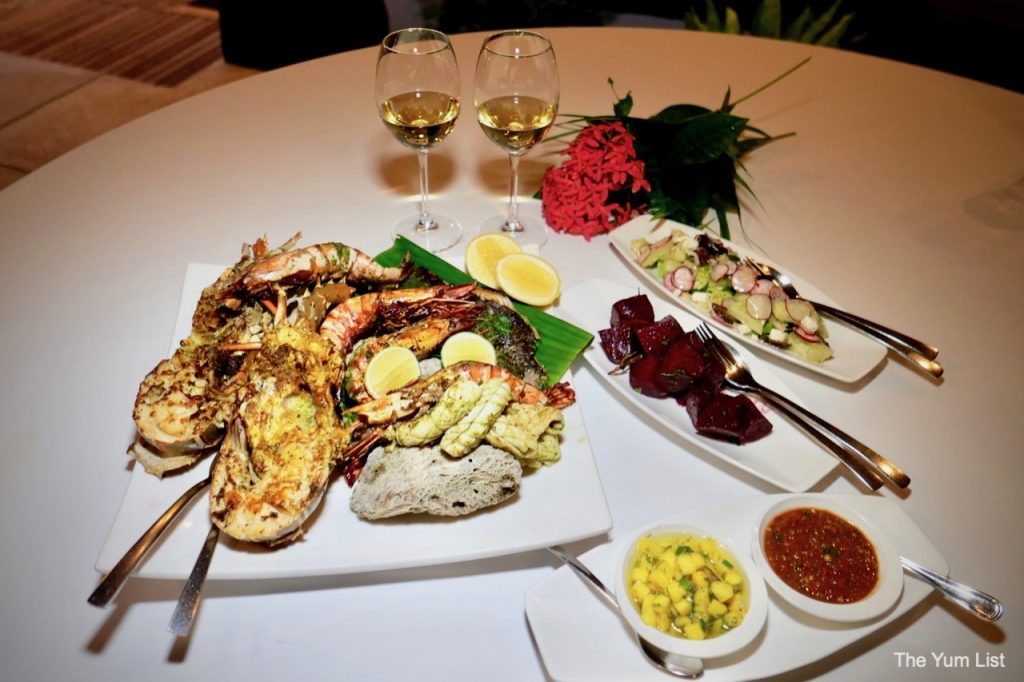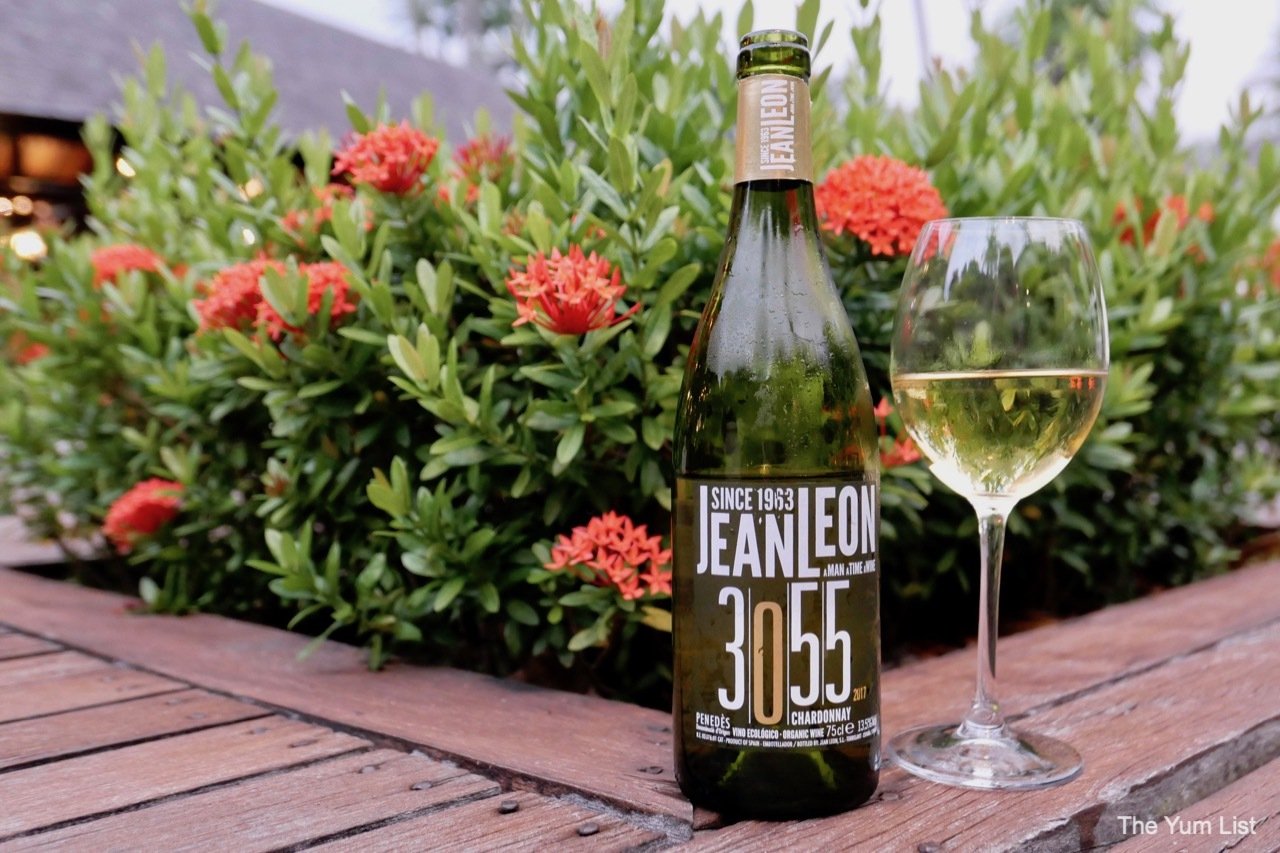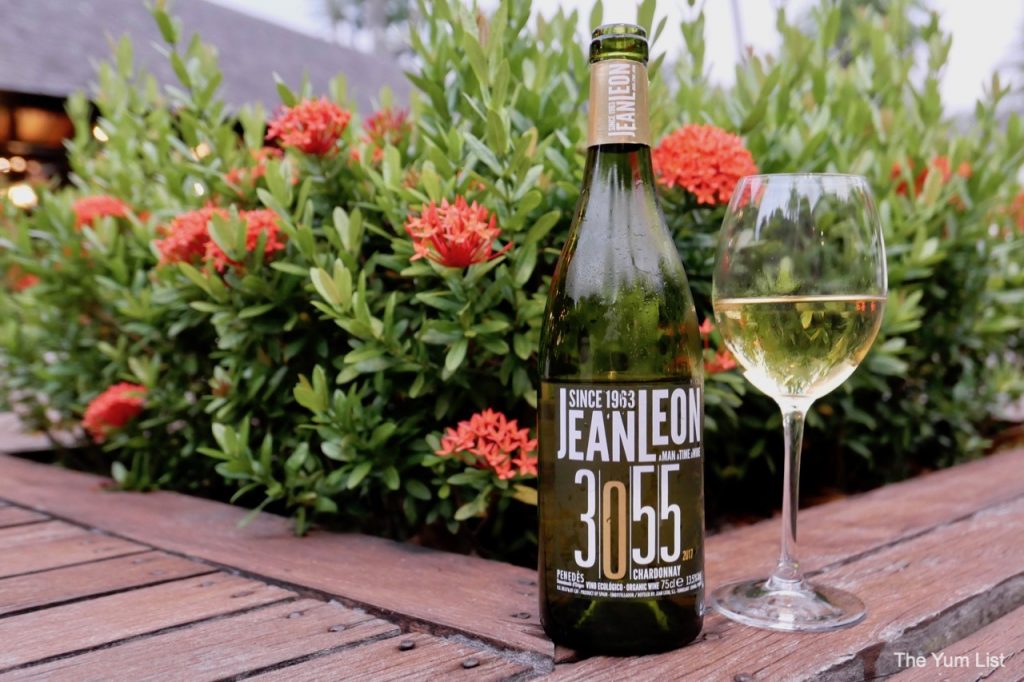 Pangkor Laut Resort Review
Tummies satisfied, minds filled with inspiration from nature, and hearts warmed by the genuine, caring service from the team at Pangkor Laut Resort, the switch to domestic travel this summer has been nothing short of remarkable. Malaysia truly has much to offer, and while times are challenging, this opportunity to refocus has been a blessing.
The Details
Pangkor Laut Resort is about a 3 ½ hour drive from Kuala Lumpur to Marina Island Jetty followed by a 15-minute boat ride to the resort. Although the distance makes it doable for a weekend, the setting is so luxurious, peaceful and green that ideally, we'd stay on for a month or more. Resident packages are value for money and the best way to enjoy all of the resort's offerings without taking out a loan. Various packages include return boat transfers, accommodation and full board. Visit www.ytlhotels.com or call the Travel Centre at +60 3 2783 1000 to get the latest deals.
Reasons to visit Pangkor Laut Resort: a luxury stay set amongst tropical gardens, rocky outcrops, emerald waters and beautiful rainforest; friendly staff; less than 4 hours by road from KL.
Pangkor Laut Resort
Pangkor Laut Island
32200 Lumut, Perak, Malaysia
+6 05 699 100
[email protected]
www.pangkorlautresort.com
YTL Travel Centre
+6 03 2783 1000
[email protected]
Find more travel recommendations here and stay up-to-date on the latest in the hospitality scene here and here.