The Banjaran Hotsprings Retreat Ipoh
Monica Tindall
Hubby says I have two buttons, "On" and "Off." I wake at 5 am every morning and start the day running (literally, I exercise as soon as I get up). I'm at work before 7 am. I don't take any breaks. I eat lunch over the computer or during a meeting. I stay until 5 pm, race home, shower and then head out to a restaurant or event for The Yum List. I usually return home around 9 pm, and mere minutes after my head hits the pillow, I'm out like a light.
I plan ahead, do my best to optimize every minute and never waste a second just hanging out. All actions and thoughts are carried out with purpose. Truth be told, I find it hard to relax. I have no motivation to pause to smell the flowers because I want to smell all the flowers, not just these ones here, but those ones over there, and the ones across the paddock too. I feel sincere pressure that life is short, and I want to do, see and experience it all before my time is up. I admit it. I have a bona fide problem unwinding.
Even when I'm writing about gorgeous 5-star spa resorts that are purposefully designed to create mental repose and slow breathing, I scurry around from morning to night: taking photos, not missing an angle; talking to the chefs, the management, the staff; researching online; taking copious notes of my impressions and small details I want to recall for my write up. I often leave a magical place feeling just as exhausted as I did when I arrived because I work my way through the entire experience.
Not this time, though, through no effort of my own, I got "Banjaran-ed."
The Banjaran Hotsprings Retreat Ipoh
Unbearable high temperatures and a few days without rain had caused the city to compress. Traffic, heat and humidity threatened to cause the metropolis of Kuala Lumpur to implode. Added to a stressful week behind us and a niggling tummy upset tormenting my health, the concrete, the roads, the traffic, the air – it all felt suffocating.
Bags packed with plans to refresh we escaped the maelstrom. A straight, easy trip on an excellent highway had us at The Banjaran Hotsprings Retreat in around two hours. Entering Ipoh, already the air felt cleaner, the traffic lighter and the space less constricted.
A clearly marked exit and well-placed signboards made signage in Kuala Lumpur look non-existent. A smaller urban road soon led us to the lush entrance where we turned off the main strip and followed a jungle-lined path to The Banjaran Hotsprings Retreat.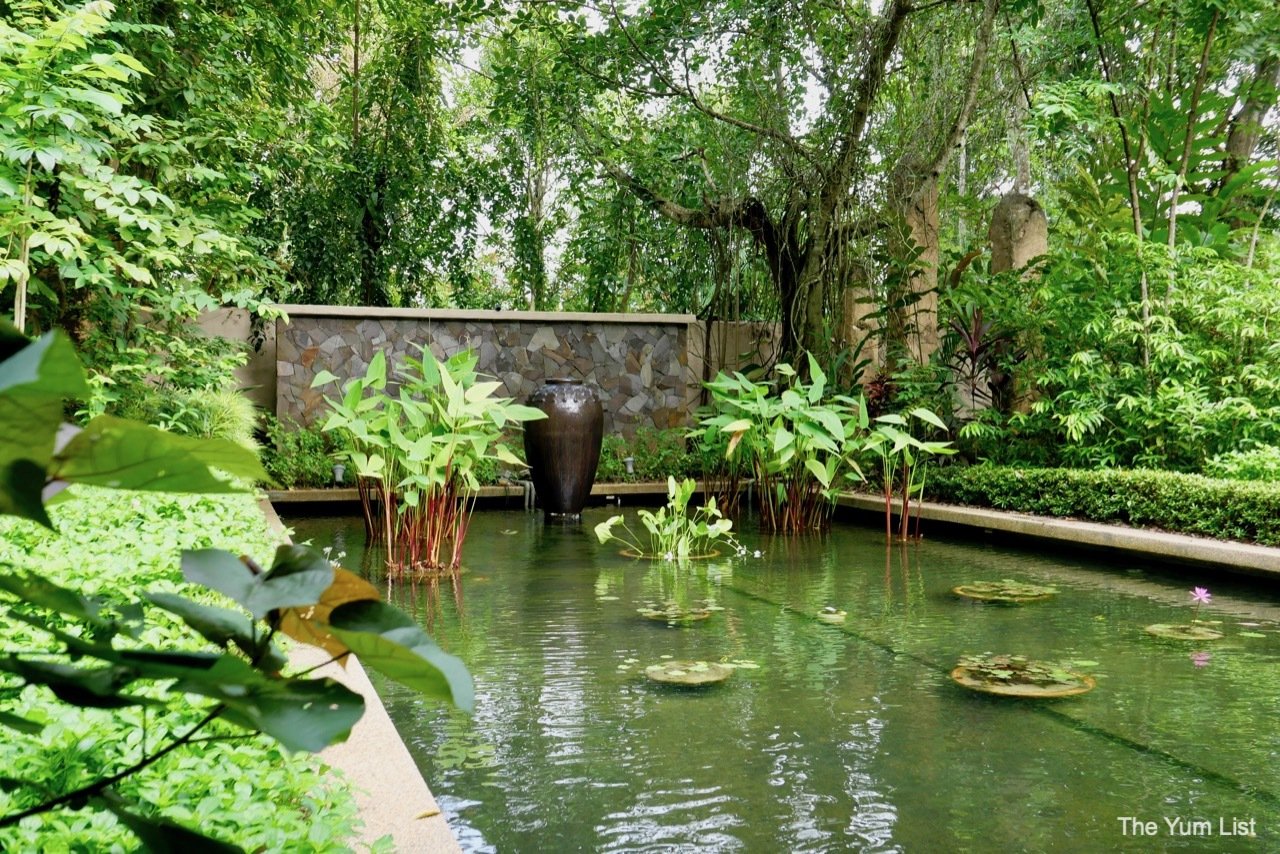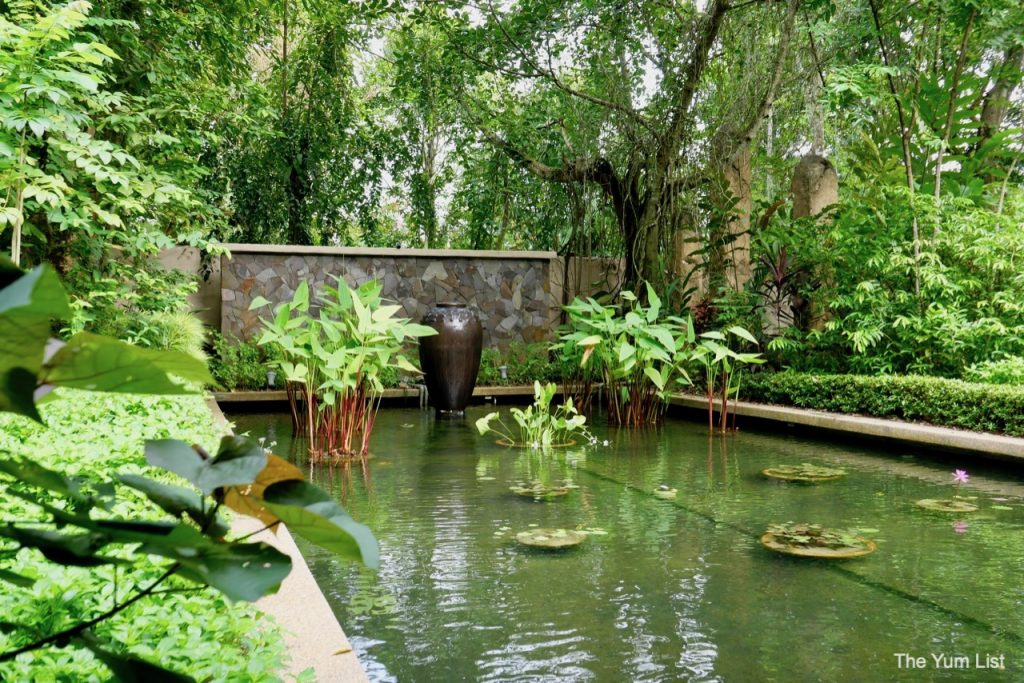 Limestone Outcrops & Geothermal Hot Springs
Dramatic 260-million-year-old Paleozoic limestone formations presented a striking backdrop to the retreat. Cascading waterfalls, geothermal hot springs, natural caves and an abundance of native flora and fauna are housed by these rainforest-covered hills. Already I had my camera out and had taken no less than 30 shots before reaching the reception.
Greeted by the general manager himself, Michael Schar, our first impression was of warm hospitality and genuine happiness that we had come for a visit. Relieved of our luggage, we followed him to the reception where we were refreshed with a herbal beverage while our check-in was registered. Laptop out, I began my notes on our ingress.
Organic Design
Scanning the lobby, I noticed natural woods used both for furniture and decoration. Huge ceramic pots spilling liquid stood proudly as centrepieces for a water feature and, lily-filled ponds bordered the walkways from the lobby to the rest of the resort. Small barrique-shaped lampshades hung from the ceiling glowing warm golden light. Trickling water whispered in the background. Juggling computer and camera, I continued to record my experience. At the same time, hubby seemed oblivious to my scuffle as he banged a large gong in the foyer marking his arrival.
A butler patiently waited for hubby to strike the metal disk a few more times (ensuring the entire resort was aware of his presence) before ushering us into a buggy for transport to our villa. Recording devices readied, I took my seat and listened carefully to our guide's orientation.
The Banjaran Hotsprings Retreat Facilities
A reading room filled with books, newspapers, magazines, TV and lounges on our right was neighboured by two compact meeting rooms accommodating up to 20 guests. The all-day-dining restaurant, The Pomelo, on our left, looked casual and breezy with its thatched roof and open walls. Paths led to private dining cabanas surrounded by water, and I'd already noted them as possibilities for small celebrations or romantic interludes.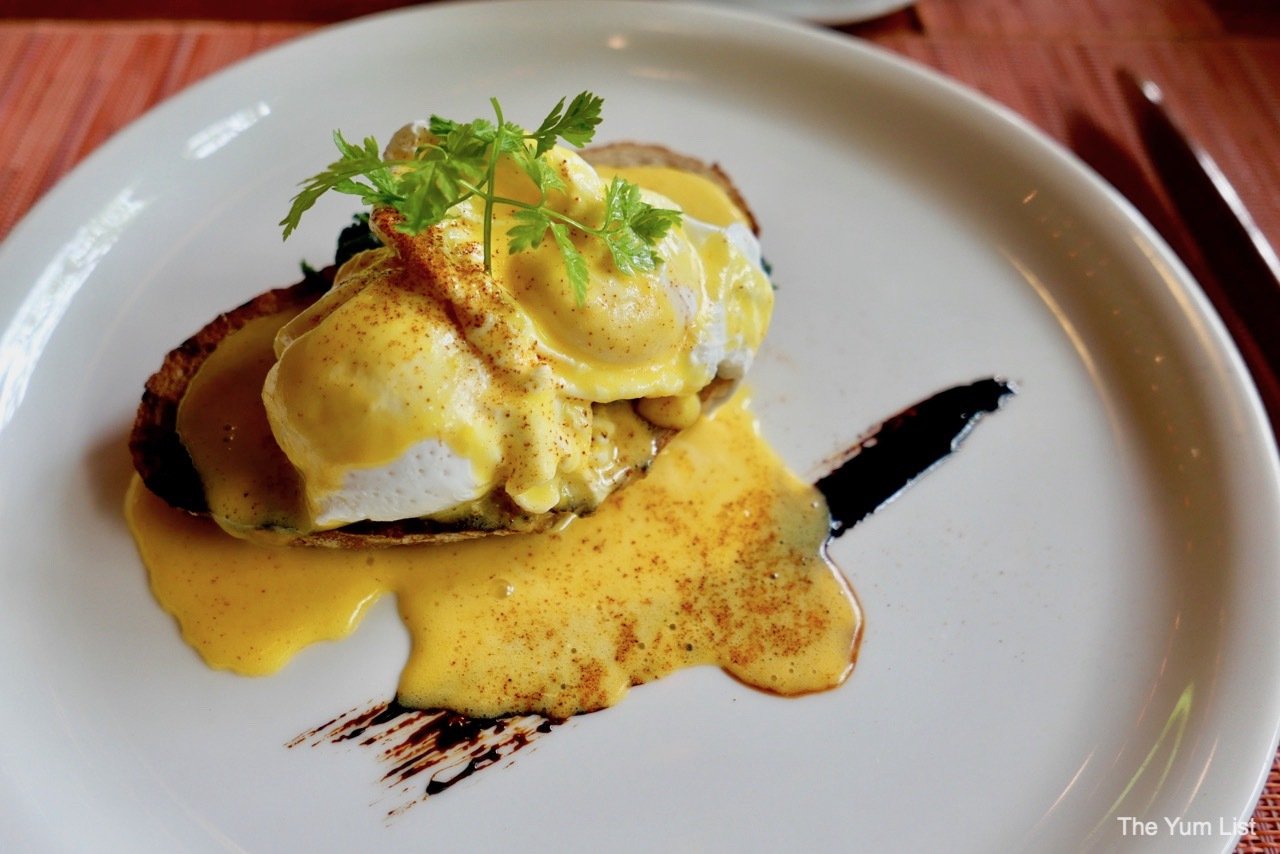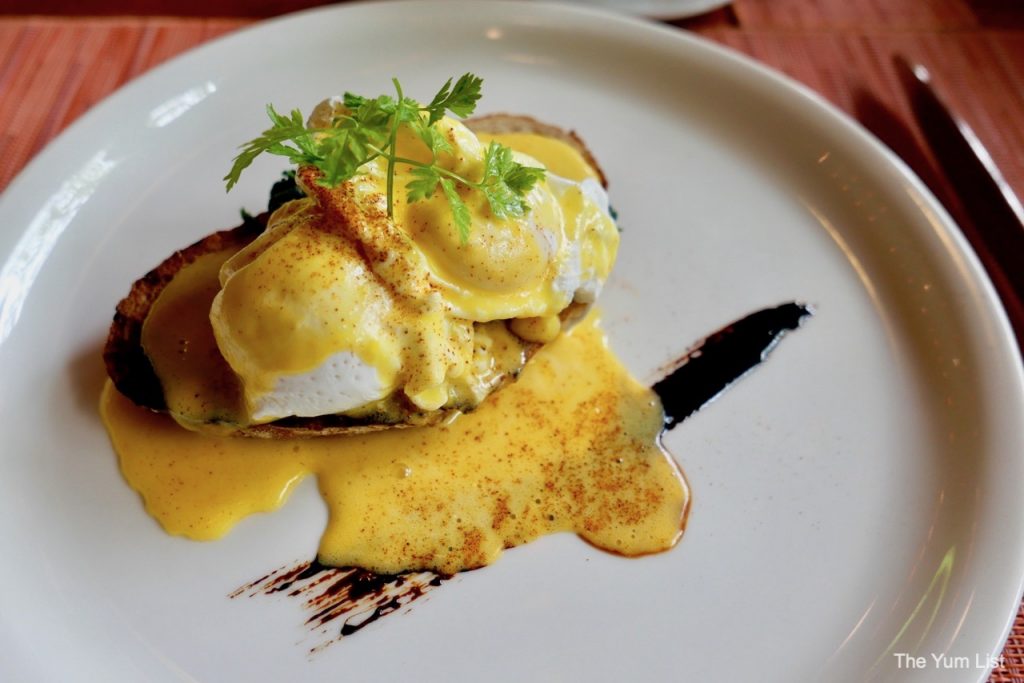 Further along the path, we discovered wild yet trim gardens and water occupying every non-man-made space. We rounded a bend, and a dazzling scene stole our breaths. Even hubby halted his chatter, speechless at the beauty before us. I too paused taking in its beauty before dashing off the buggy to capture it from every angle.
Geothermal Lake
The centrepiece of the retreat was a large emerald-shaded geothermic lake. It was hemmed by a gushing waterfall on one side, natural caves on another and towering forest-covered rock formations rising from the background. The heated waters were producing water vapour; slowly rising from the surface and disappearing into the air about a metre above. This warm mist and stunning natural backdrop were nothing short of spellbinding.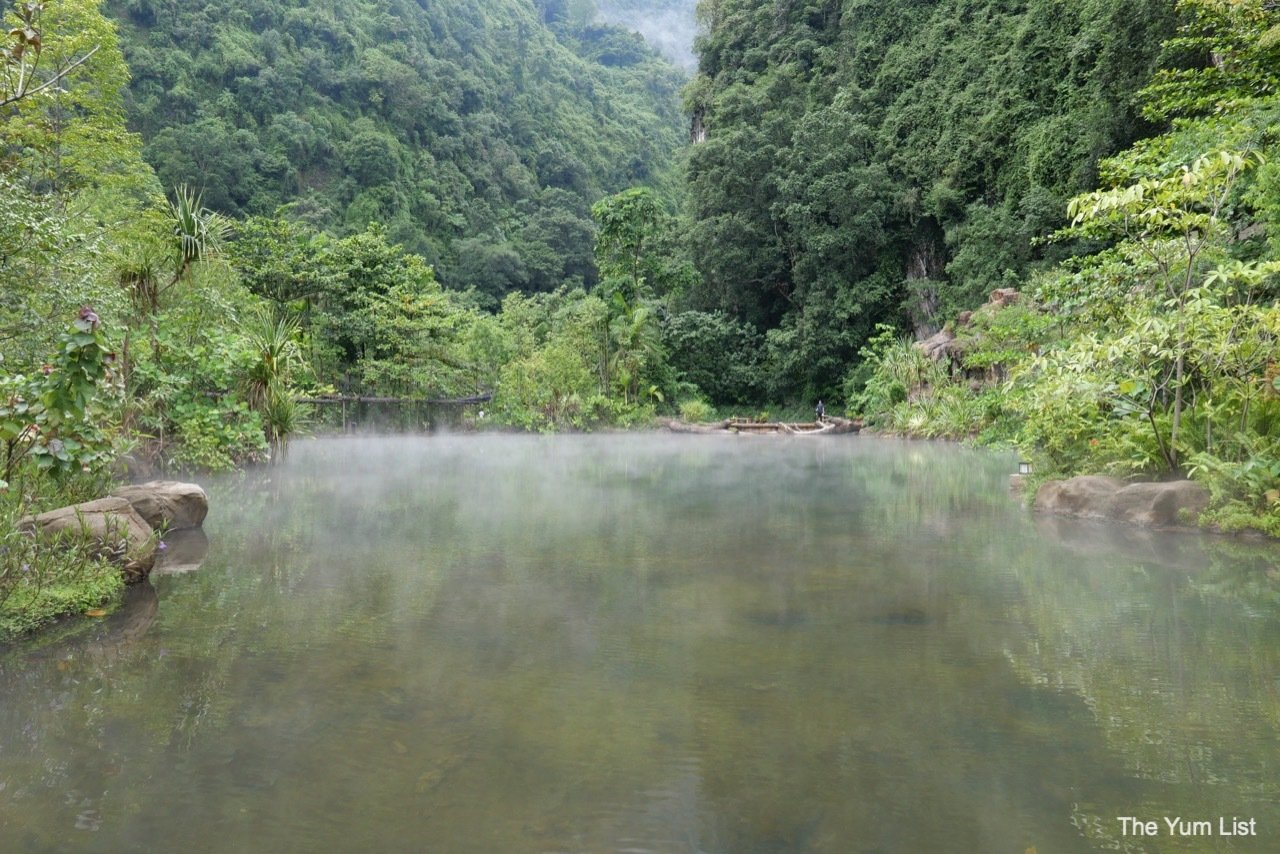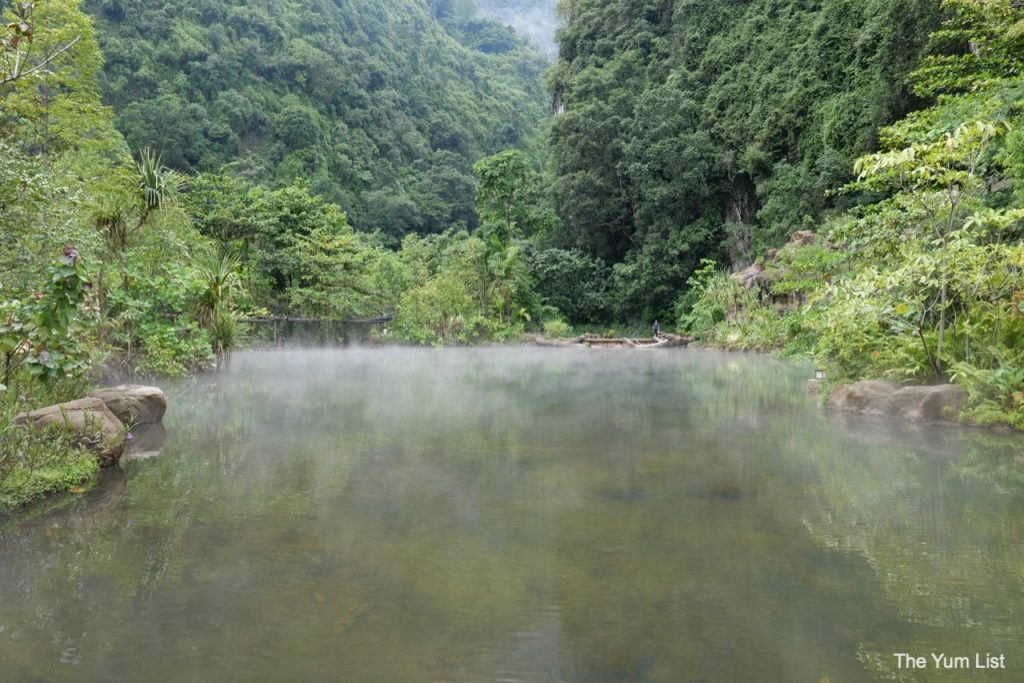 The Banjaran Hotsprings Retreat Villas
Enveloped by lush greenery, 45 villas – lake (81sqm) water (155sqm) and garden (260sqm) – were hidden from view. Still, knowing the resort was full, we were wondering why we seemed to have this paradise to ourselves. Discovery of our room held the answer.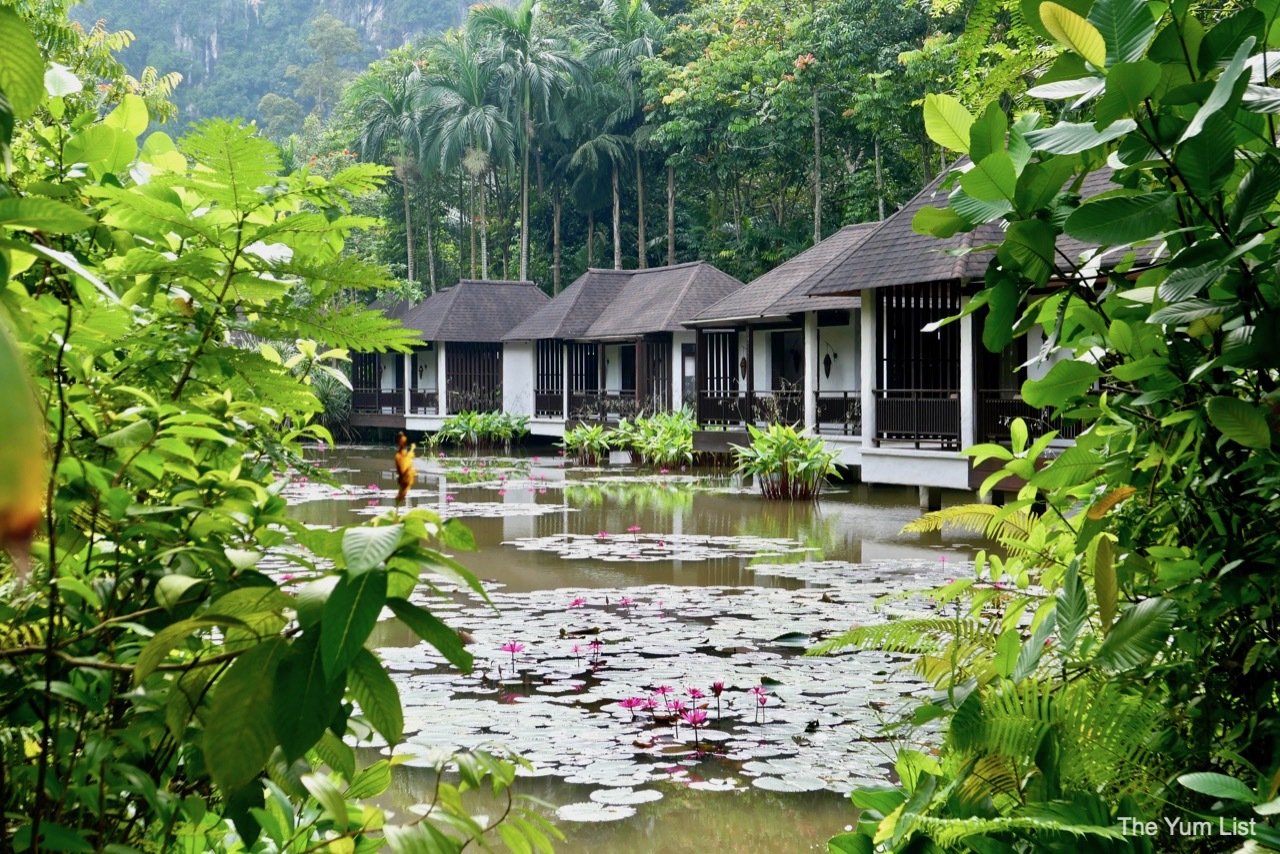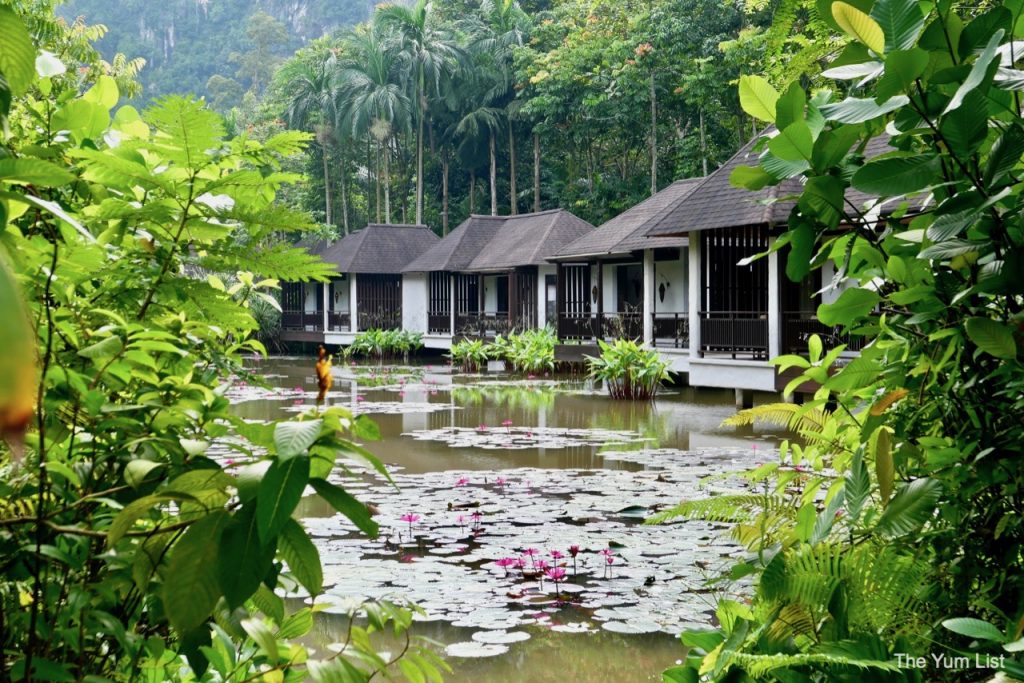 A dark wooden door opened up to a private ice-blue plunge pool and a Jacuzzi filled with geothermal waters from the hot springs. Sided by a verandah overlooking the lake and lily pond, it quickly became clear as to why guests were not leaving their villas.
A covered but open living area furnished with a dining set, coffee table, low lounges and media station, was cooled by old fashioned ceiling fans and natural breezeways. A traditional Perak water pitcher, labu sayong, sat on the table offering cool refreshment in the hourglass-shaped clay pot. Claims that liquid held in these gourds have healthful properties such as reduction of cough and chest ailments was an added advantage to the elimination of the use of plastic water bottles. (Water in plastic bottles is provided, but please avoid them. Mineral water from Ipoh is exported as quality drinking water to the world; there is absolutely no need to use single-use plastic to get it.)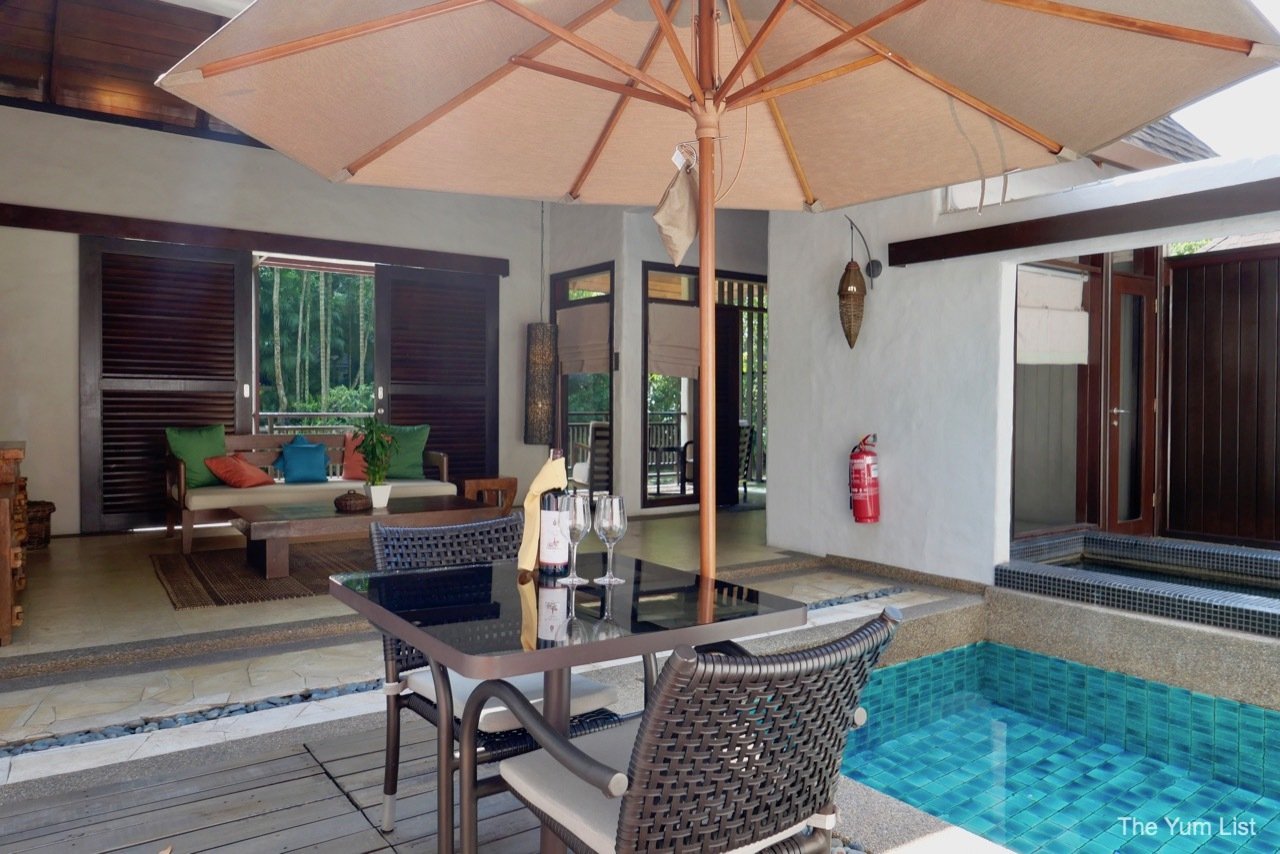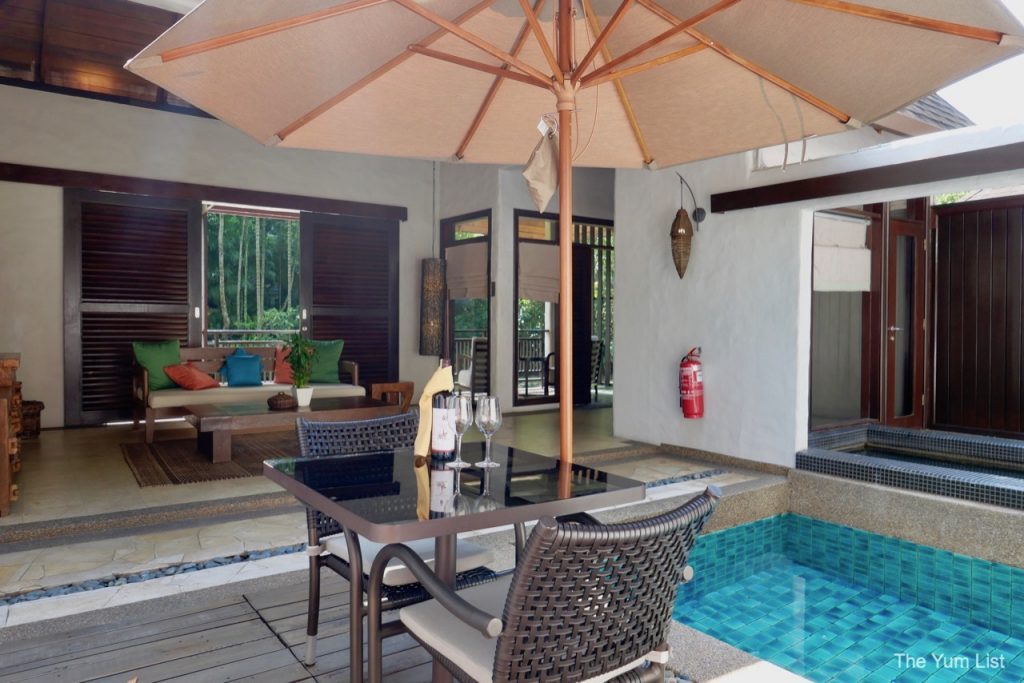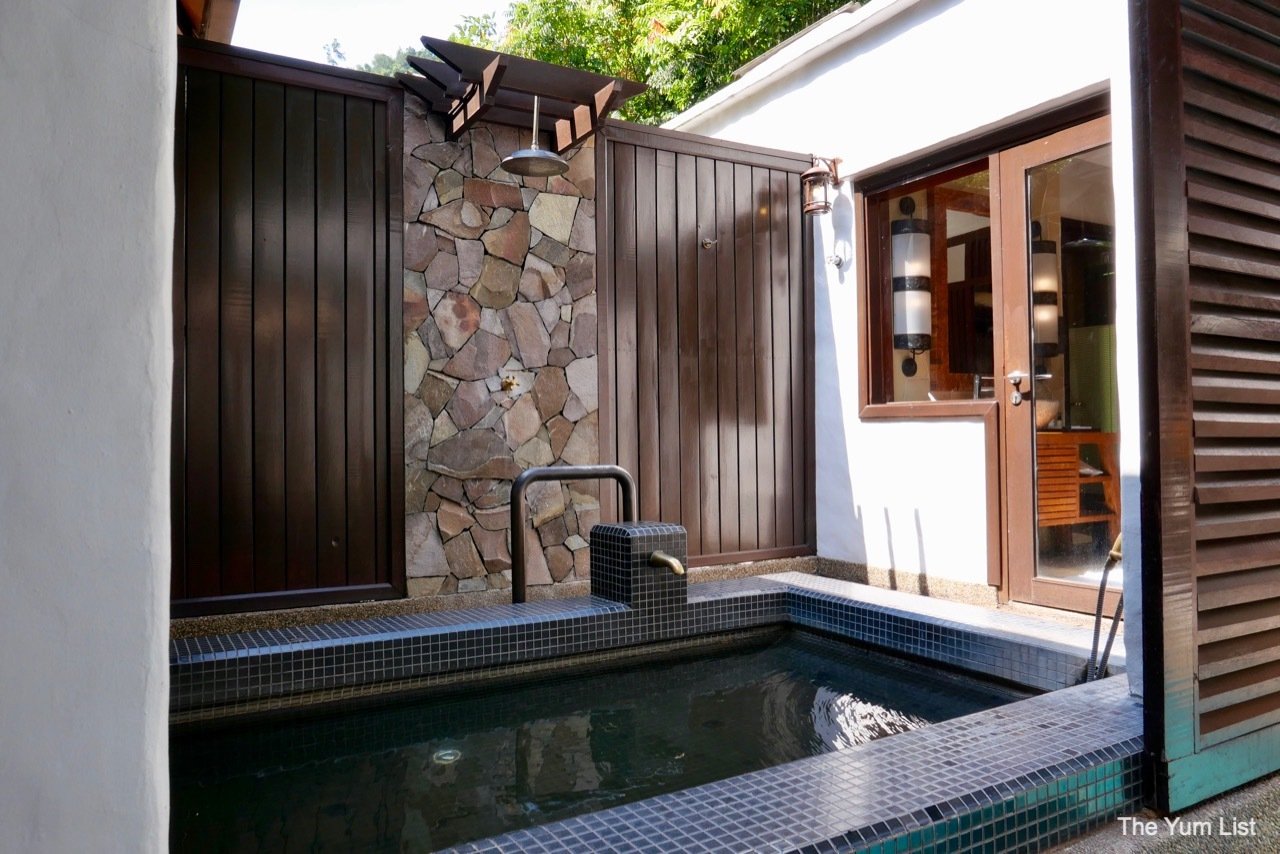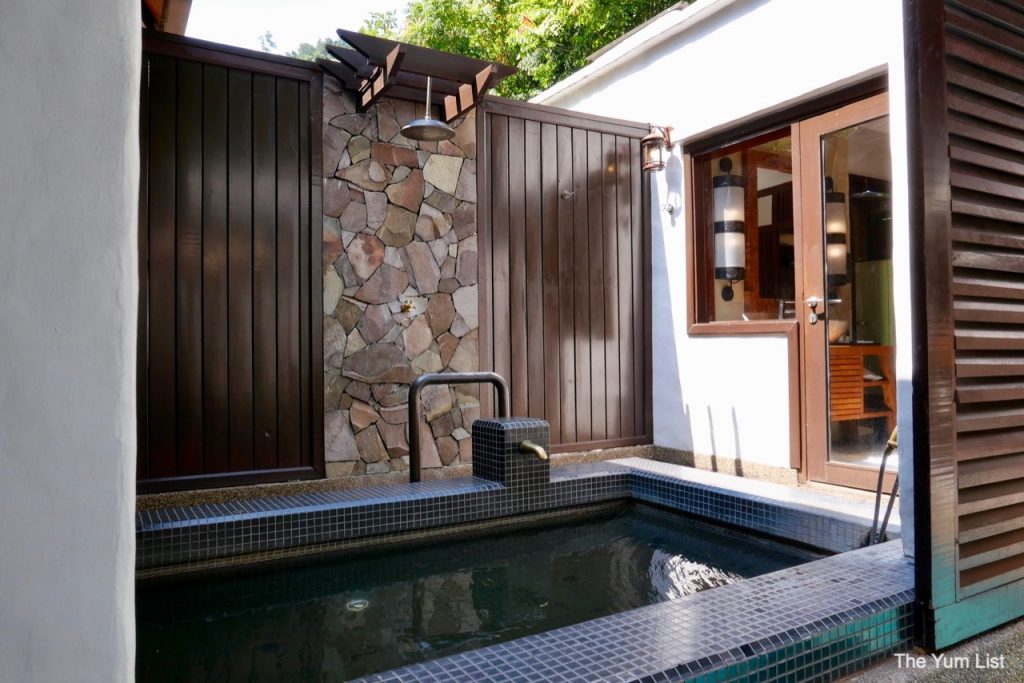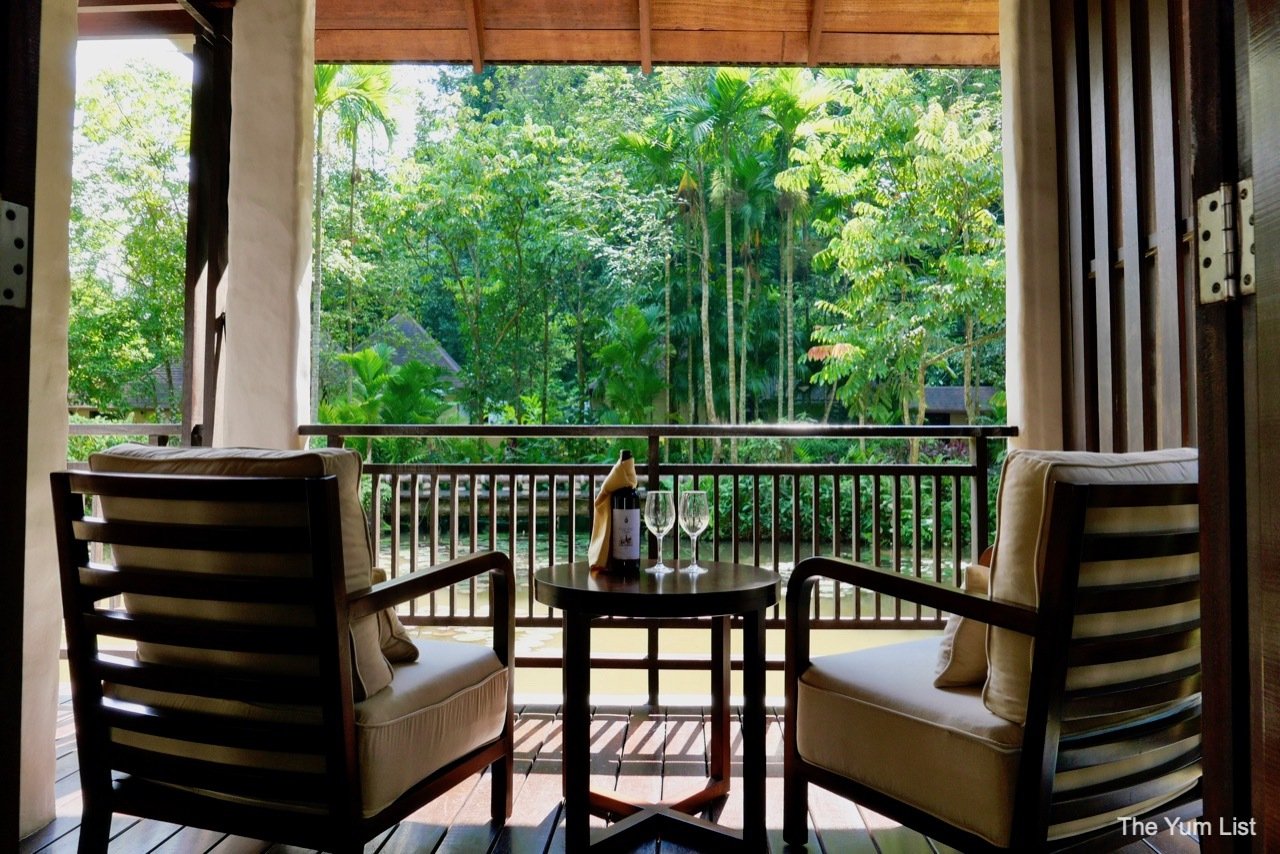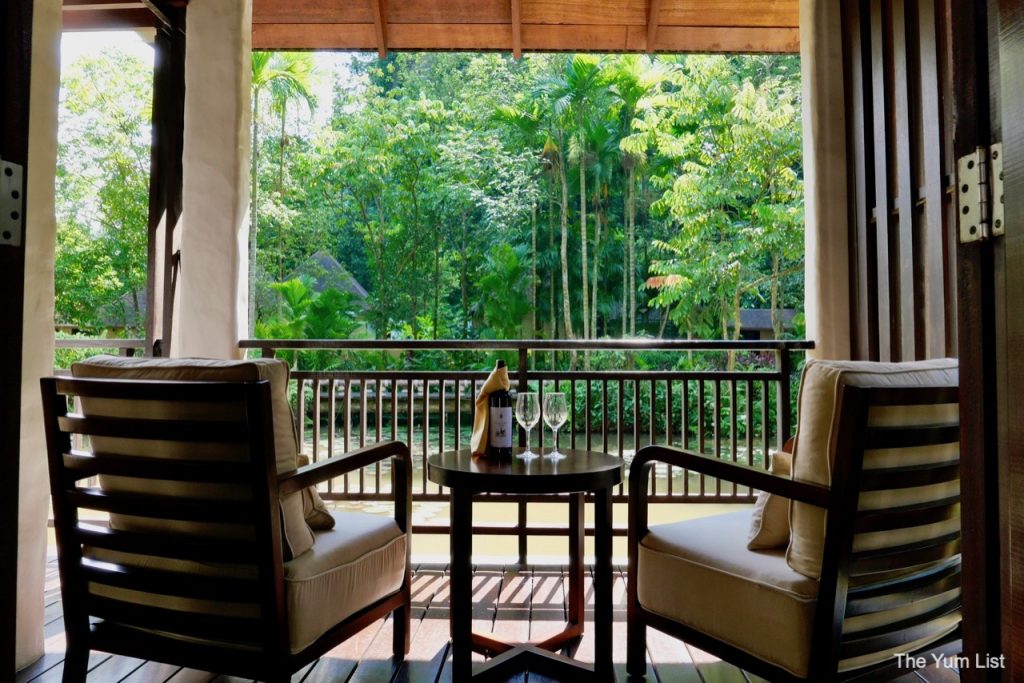 Set Up for a Sound Sleep
The bedroom, large and spacious, featured a pyramid thatched roof and glass windows giving direct views to the pool deck. The large TV, while possibly a hit in many homes, I bet didn't get much use at this retreat. An oversized king bed, with a 10cm thick feather-topped mattress, feathered-down duvet, cotton linens and hypoallergenic pillows (there's a pillow menu too for further customization), looked inviting. It offered more than enough room for my hyperactive hubby to wiggle about without disturbing me.
Wood-panelled doors opened up to yet another space, the bathroom. Twin basins are always a good sign, and organic bath products earned a favourable review. Slippers, thongs, bathrobes, umbrellas and so on made the stay even more comfortable.
Earthy hues, natural stone, wood, glass and tropical furnishings transited the outdoor environment to the in. Abundant views of vegetation and running water brought the revitalizing characteristics of nature to the living space, creating both a calming and rejuvenating setting. I think my pulse was beginning to slow.
The glass windows and doors of the bathroom looked over the villa's most prized feature – an outdoor sunken Jacuzzi with a direct hook-up to the geothermal hot springs. Star-filled skies can only be made better with a skinny dip in the bubbling bath, allowing the healing properties of the water to do its magic.
Excited by the artistry, I snapped away, bid farewell to our butler and readied to set out to explore the rest of the retreat on foot. Dragging hubby along before I lost the daylight hours, we were soon out the door again.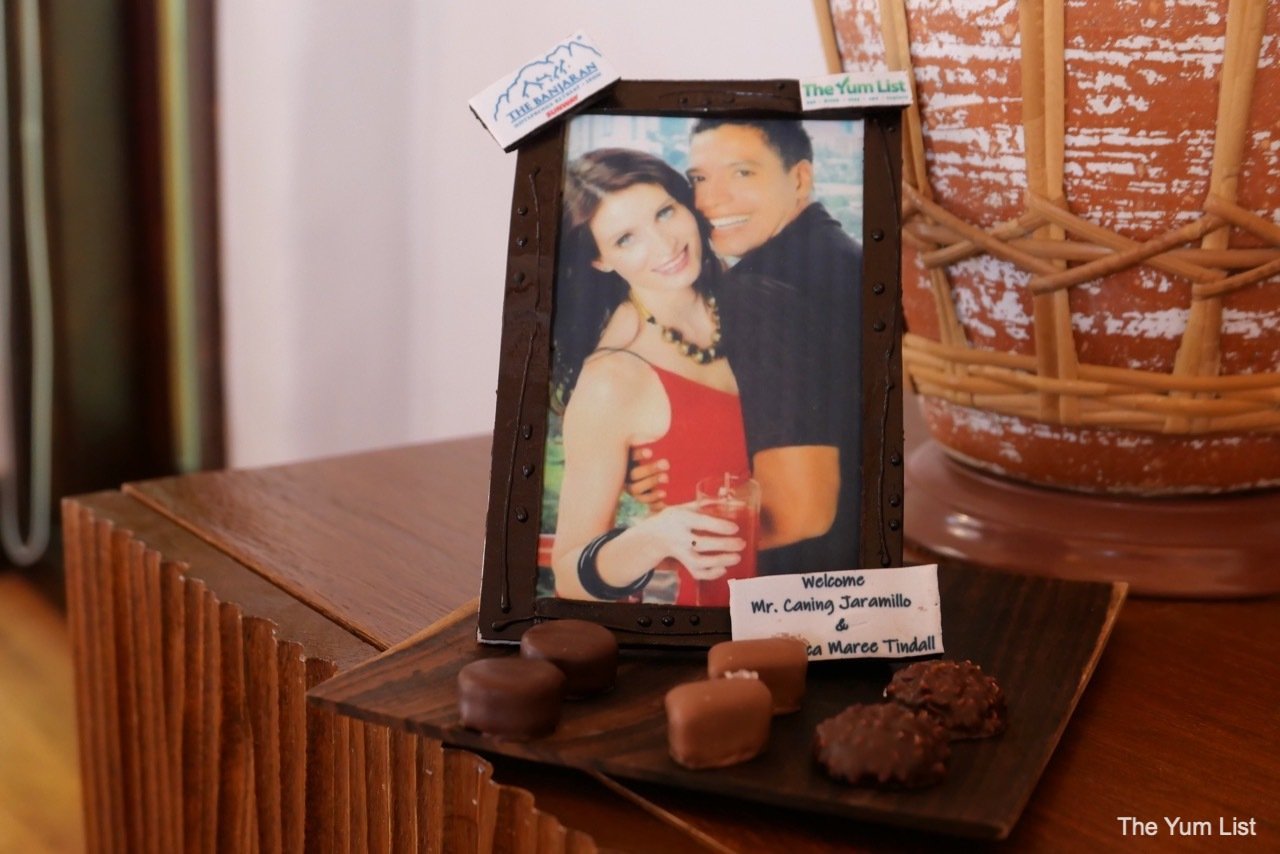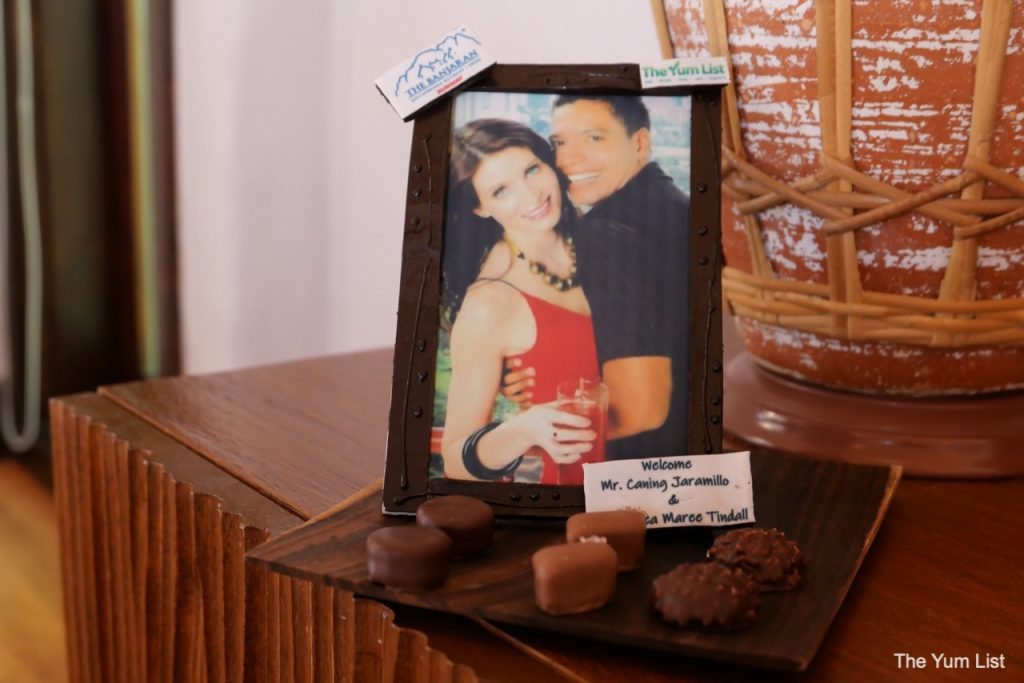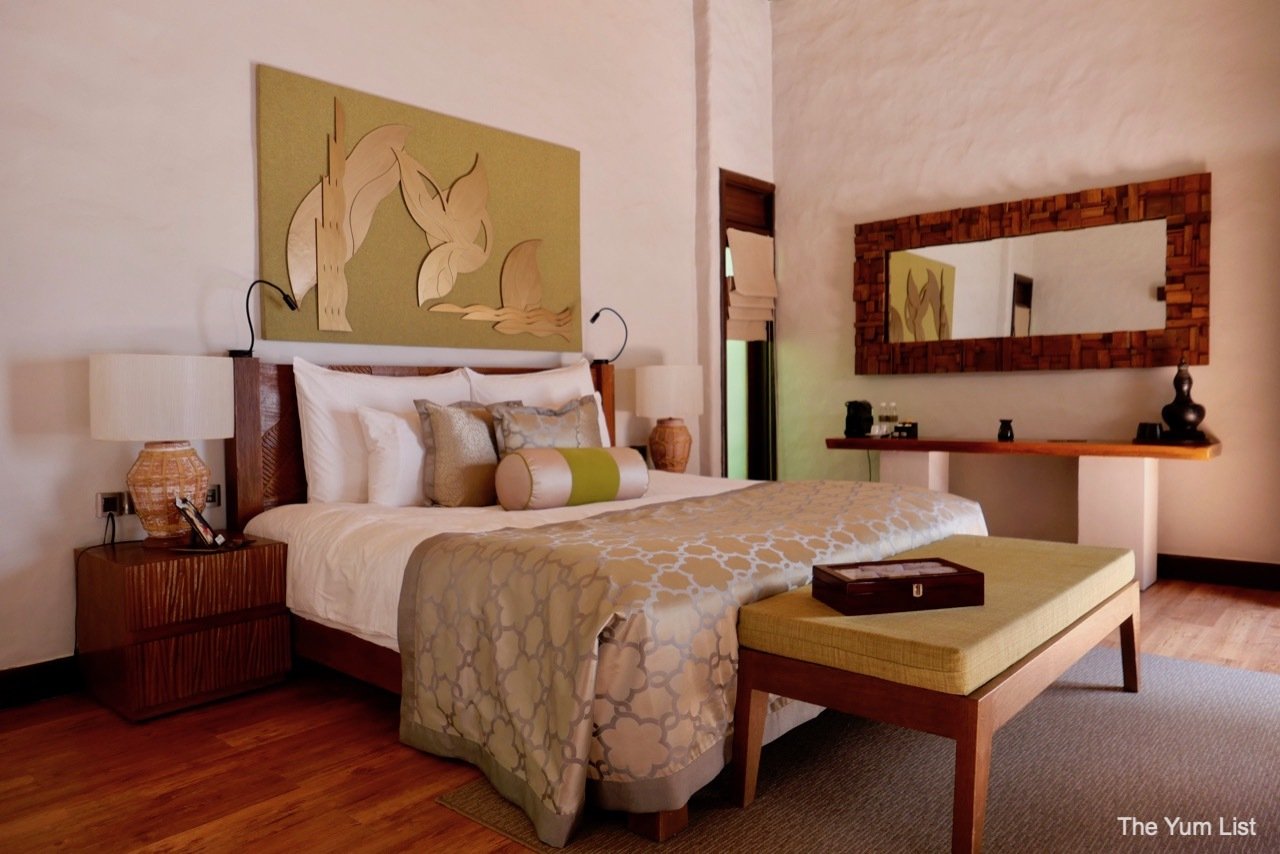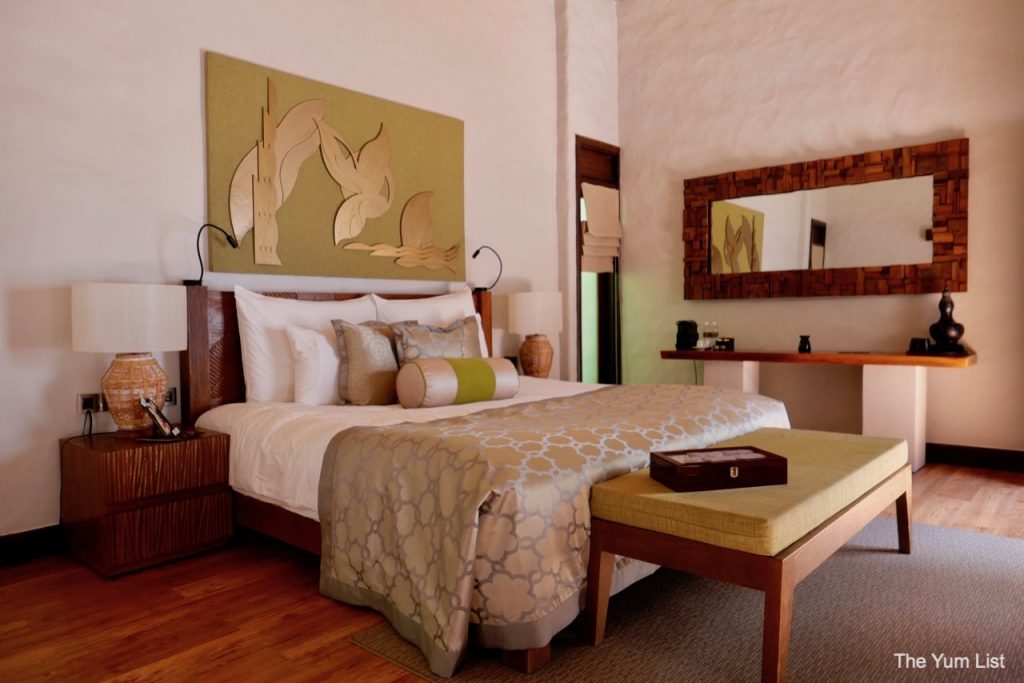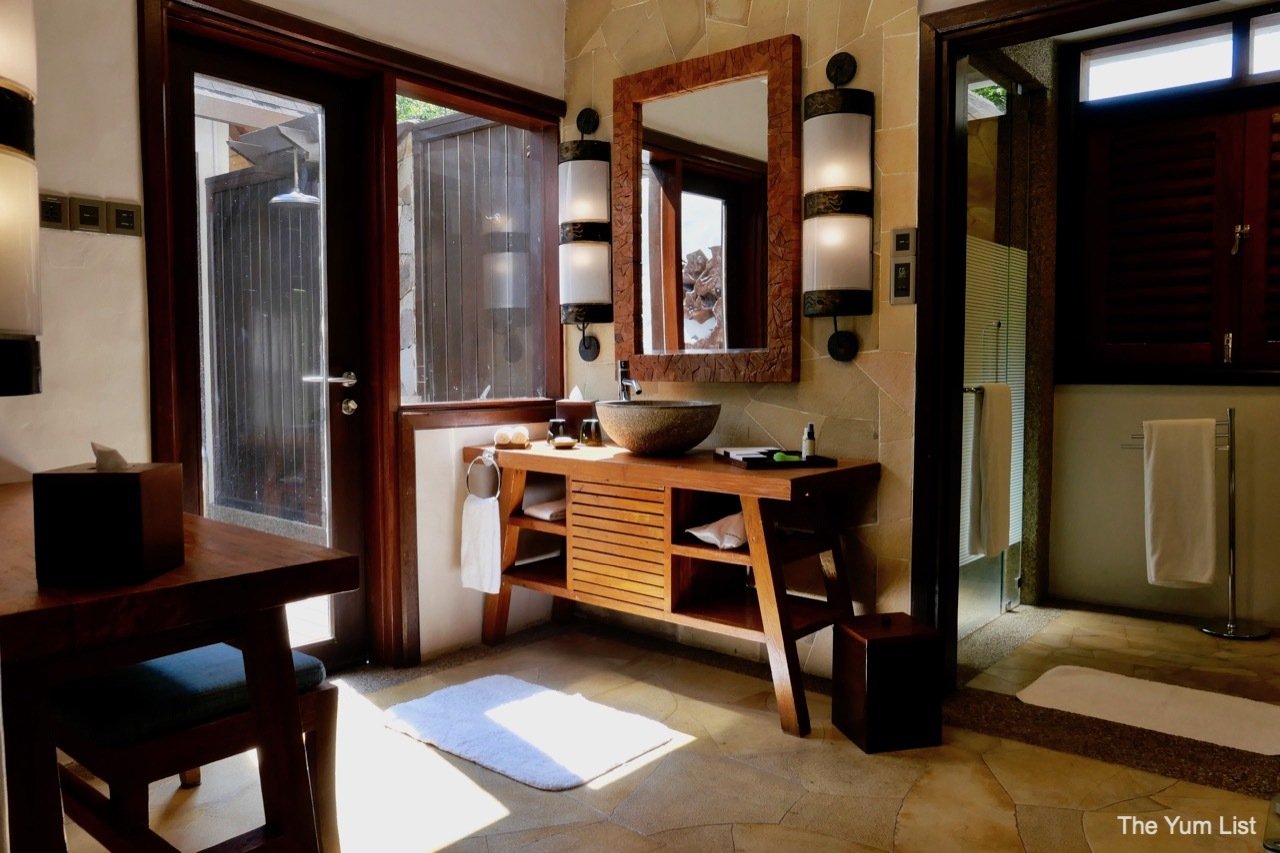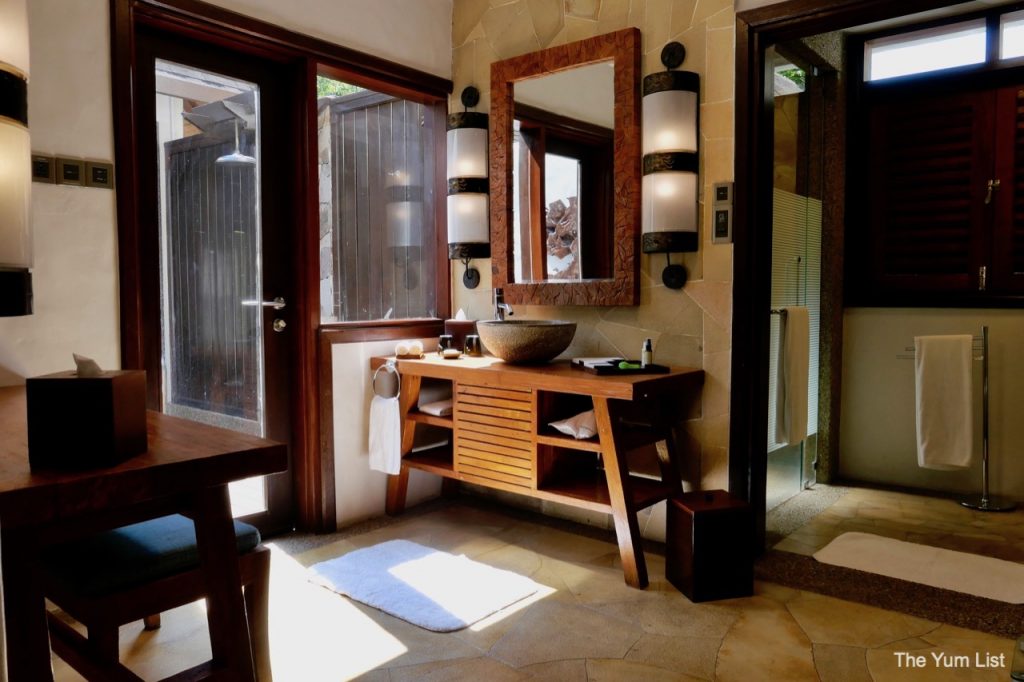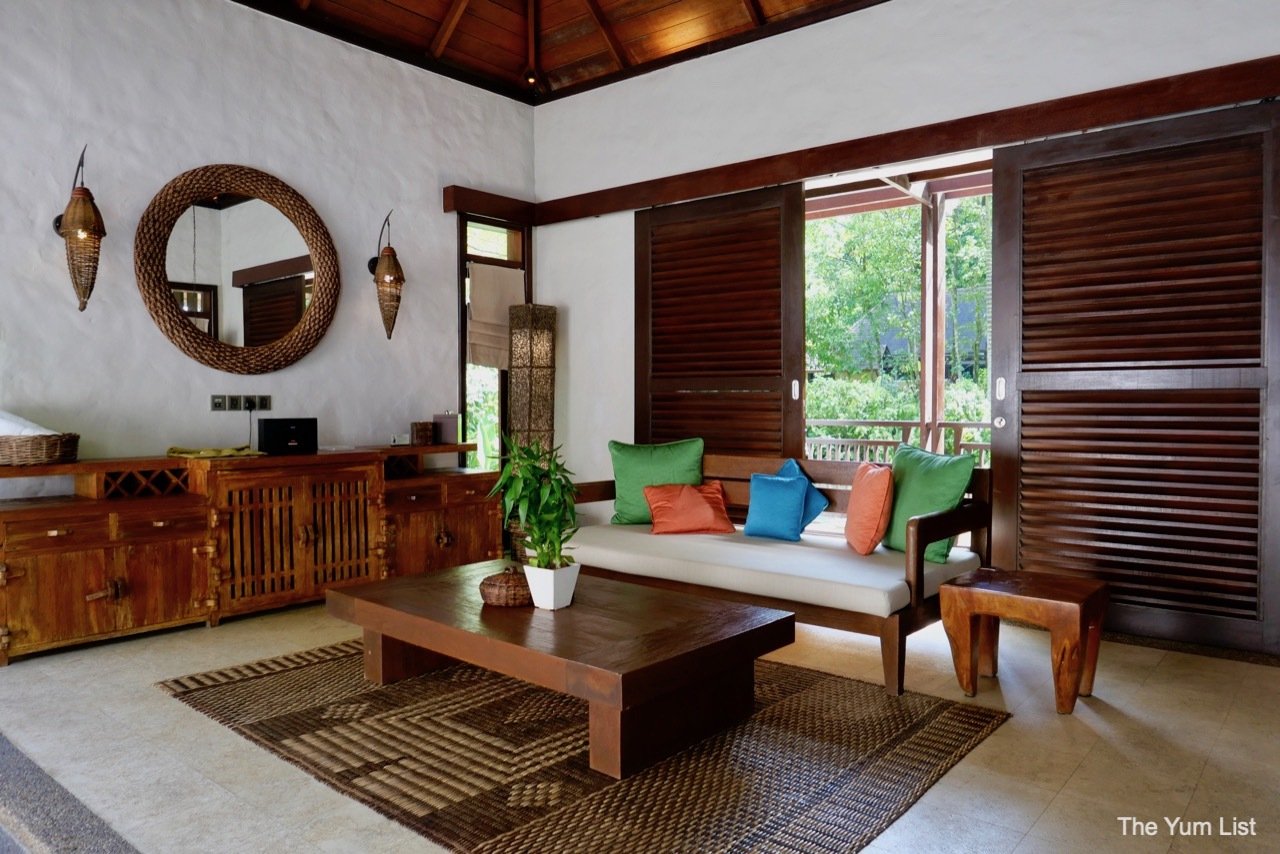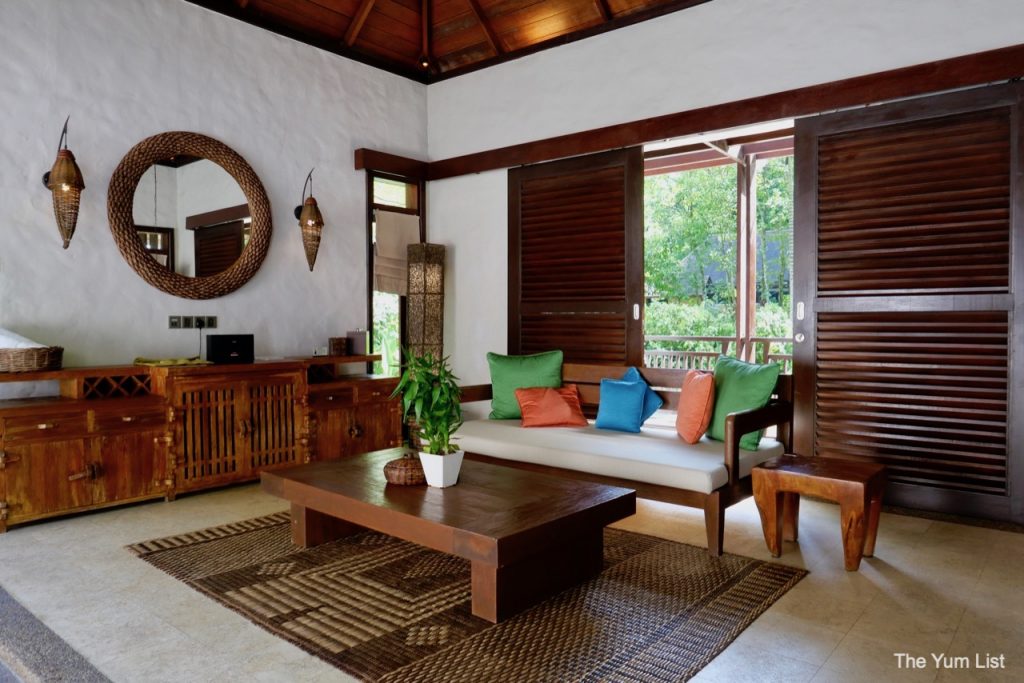 Facilities
One extraordinary discovery after another followed, each surprising and further delighting us, as I carried on with my documentation of The Banjaran Hotsprings Retreat.
A sufficiently equipped fitness centre was the first stop on our path, and I made a mental note of what my 5 am workout would comprise. Beyond the gym was the jungle trail. A short, well-marked passage through the bush would be ideal for hubby, but merely a warm-up for me. I too made plans to conquer that one in the morning. Also on the agenda was a swim in the main pool and a treatment at the spa.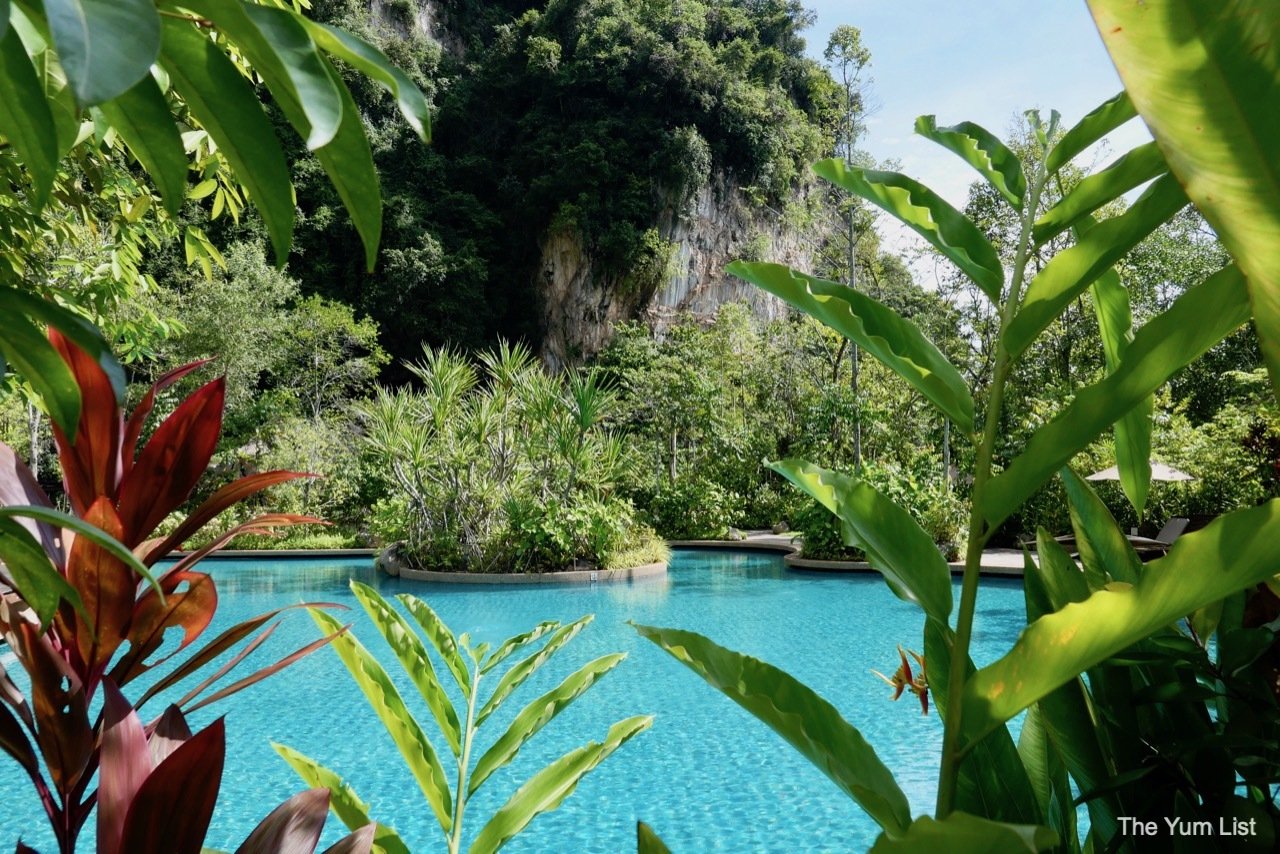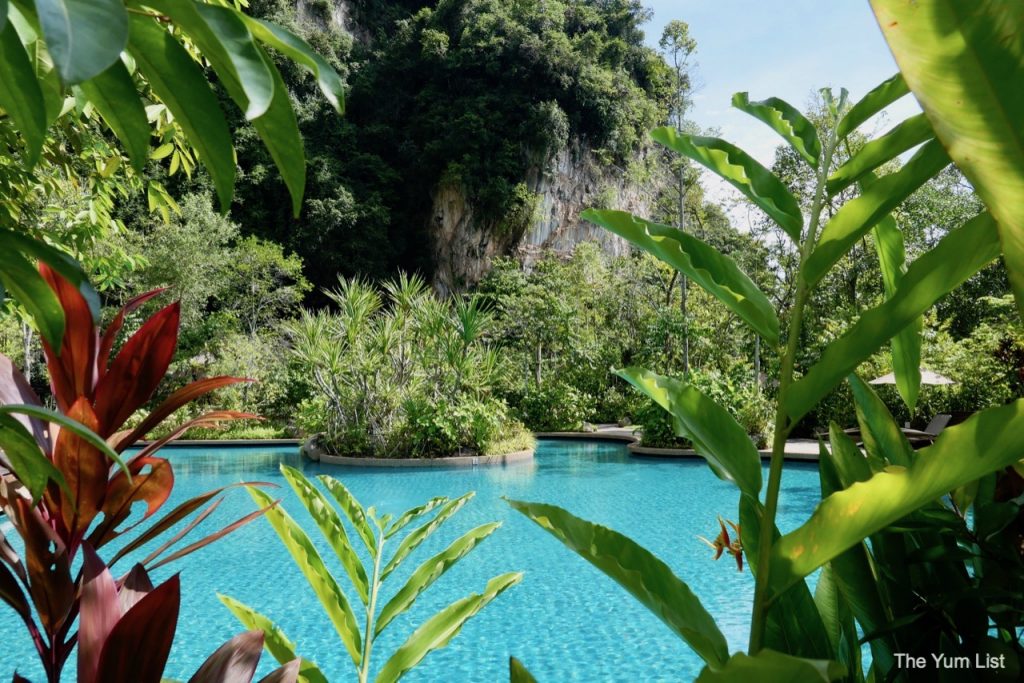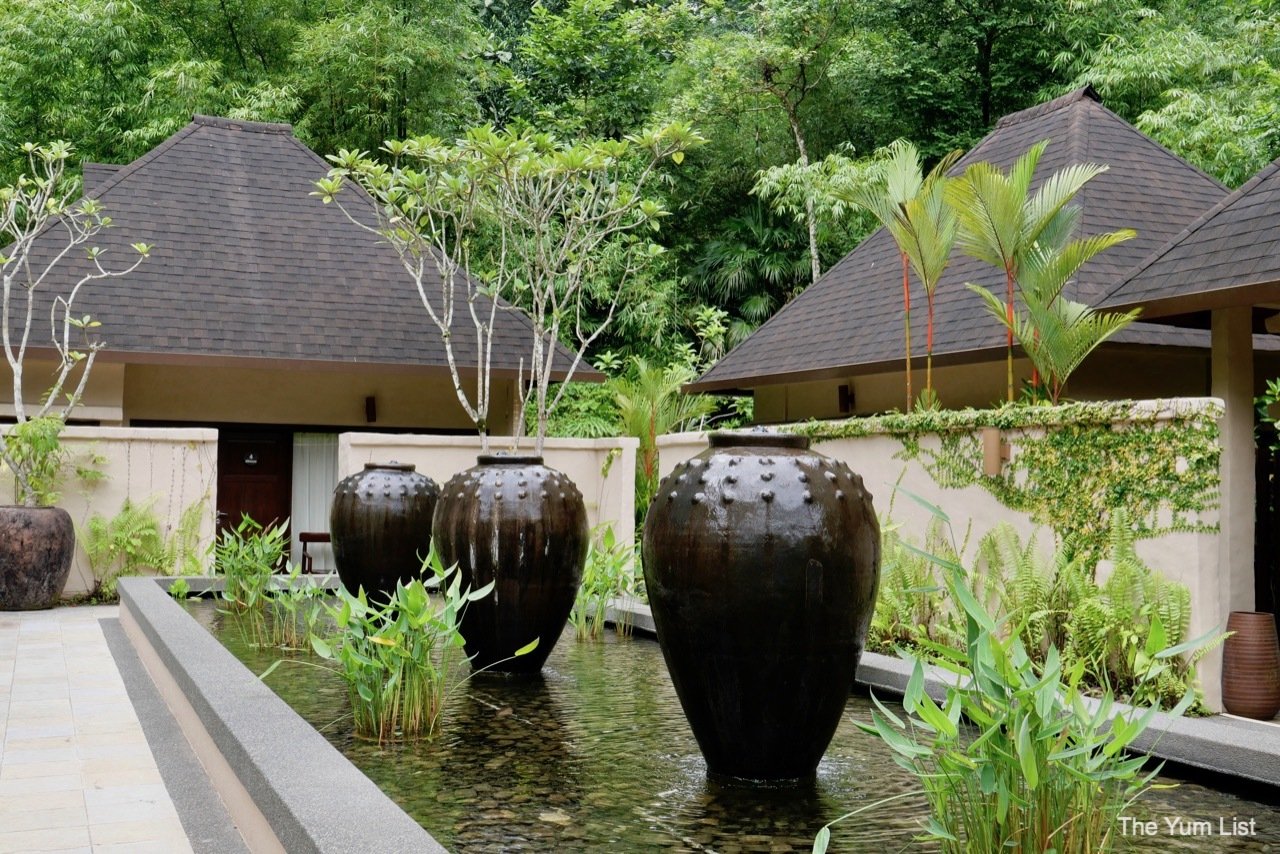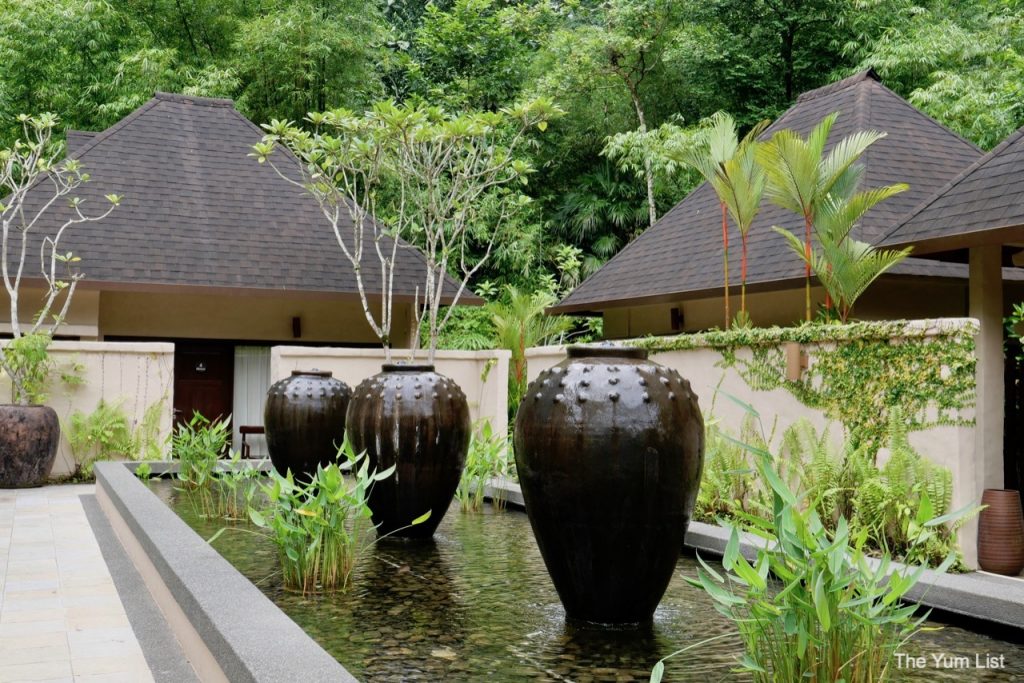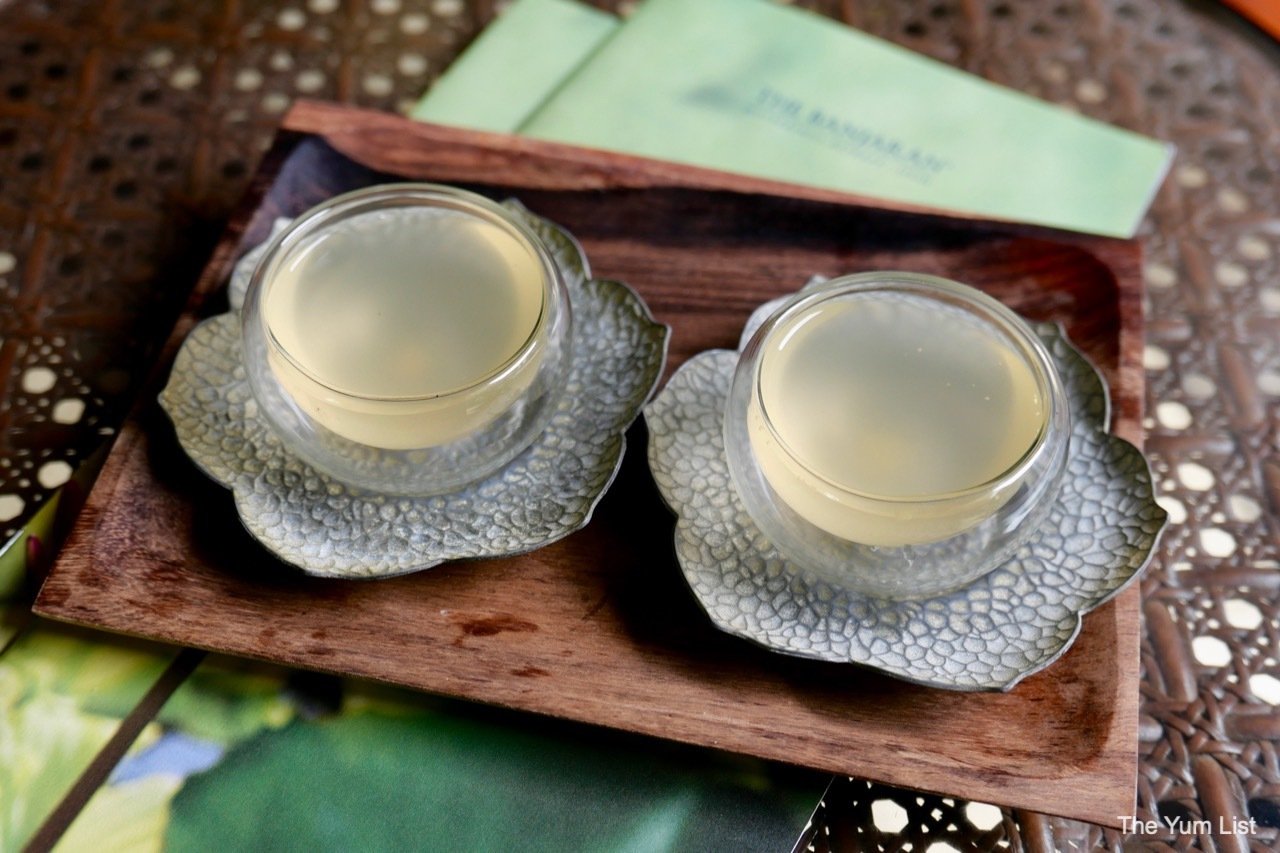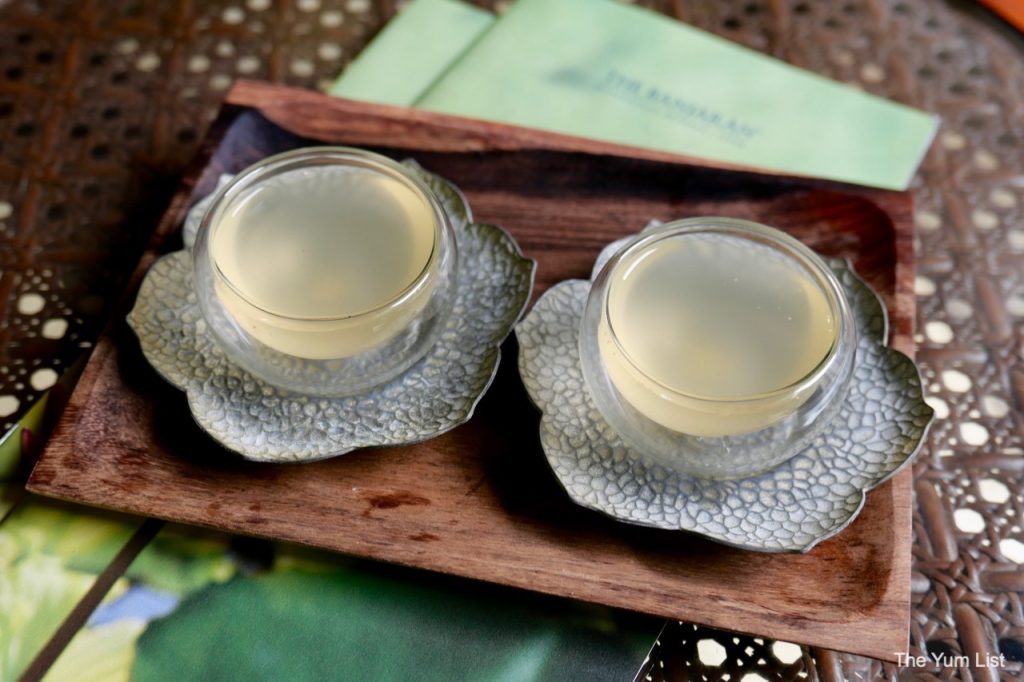 Caves
Set at the base of the hills, The Banjaran Hotsprings Retreat is bordered on two sides by a connection of caves. Simple enhancements through subtle lighting and guide rails saw the conversion of the naturally forming limestone caves on the property into deluxe havens of peace and wellness.
The Meditation Cave was streaked with shades of grey from smoky to charcoal, polished sections as a result of a once flowing river, and lofty ceilings. It, at once, served to diminish any worries I might have had at the time to minute importance. Appointed with simple cushions and seating, it seemed an awe-inspiring refuge for seclusion, to focus the mind in silence and, for complete relaxation and contemplation.
The Crystal Cave, a much smaller space, glittered with both naturally-developing and man-installed amethyst and quartz crystals. Laid with floor cushions, it suggested a calm but energized grotto.
Hubby's attention was soon drawn to the Thermal Steam Cave. This natural sauna was made people-friendly with the installation of a platform overlooking the pristine hot springs with temperatures floating between 65°C to 70°C.
Directly above the sauna, a pathway led to the Sky Bar, a relaxed cave setting made into a lounge and bar with sweeping views of the entire retreat. Jaws still gaping, my stride may have decelerated as we moved to the final cave open to guests on the property.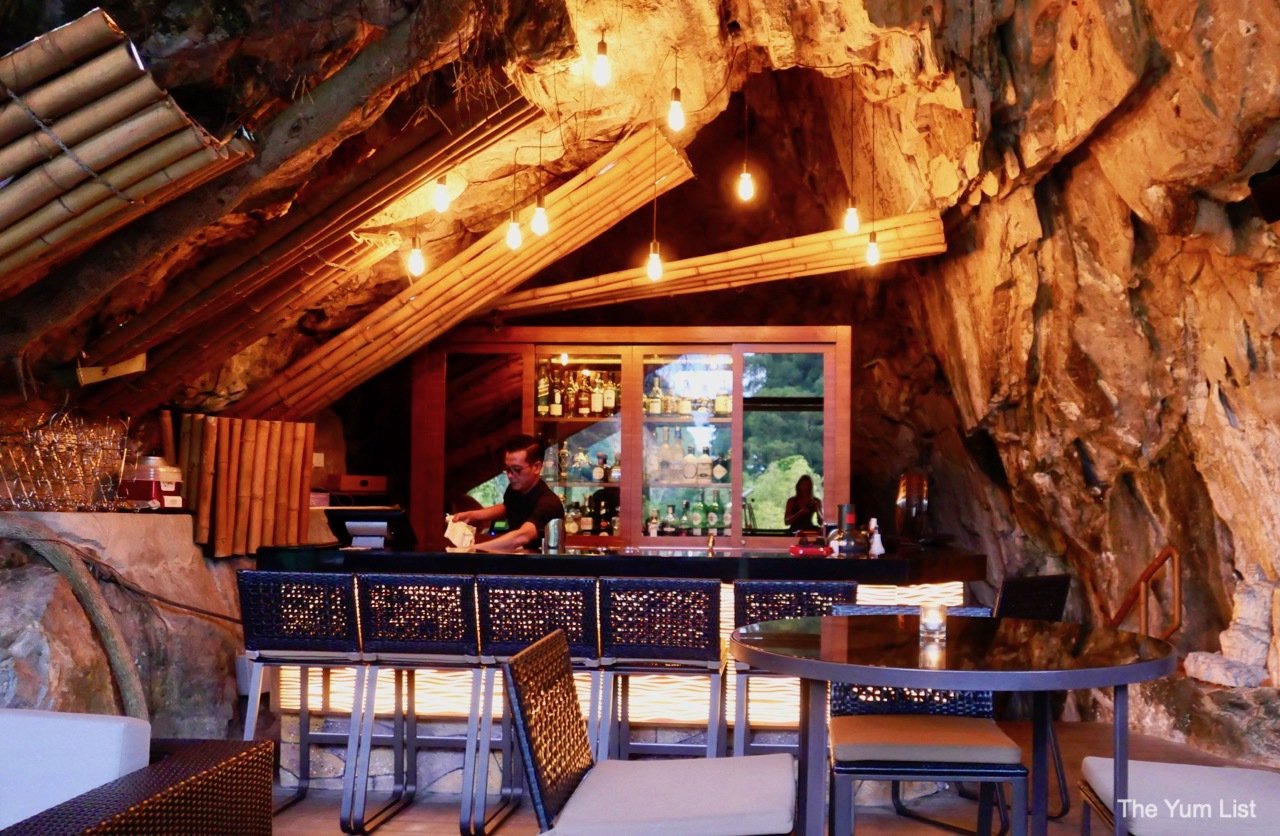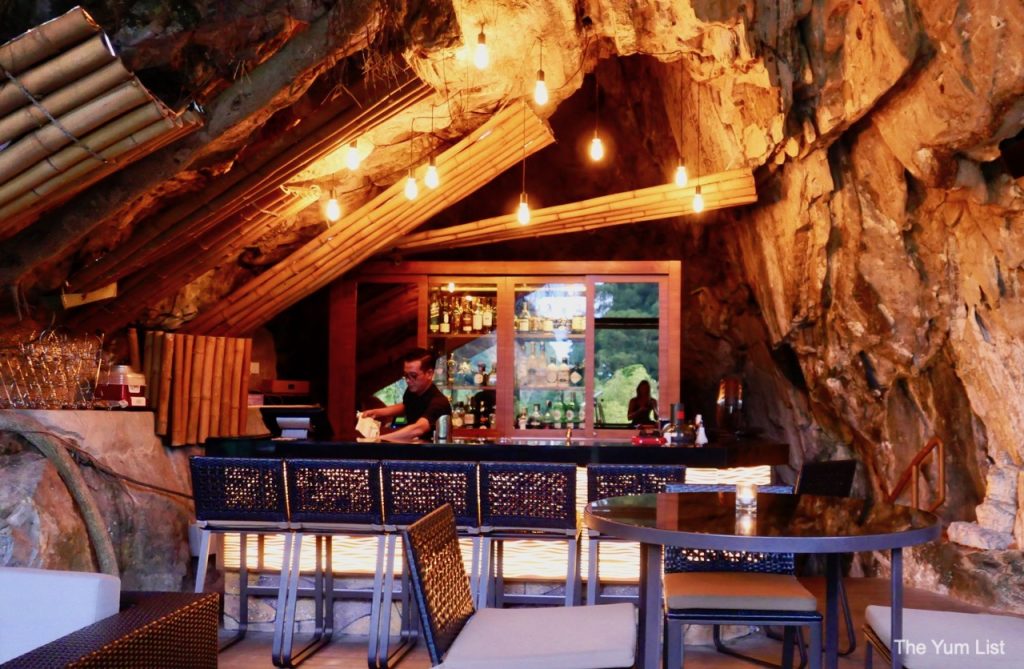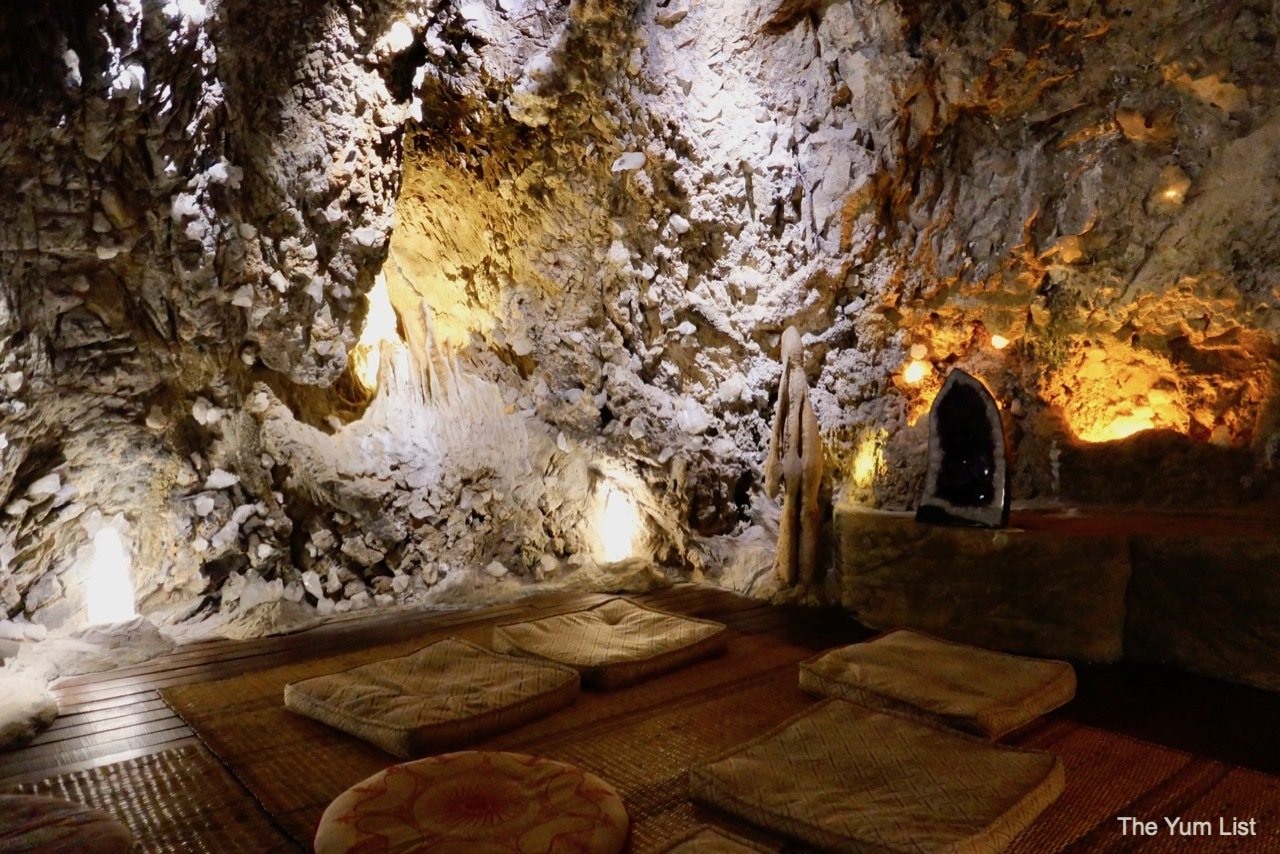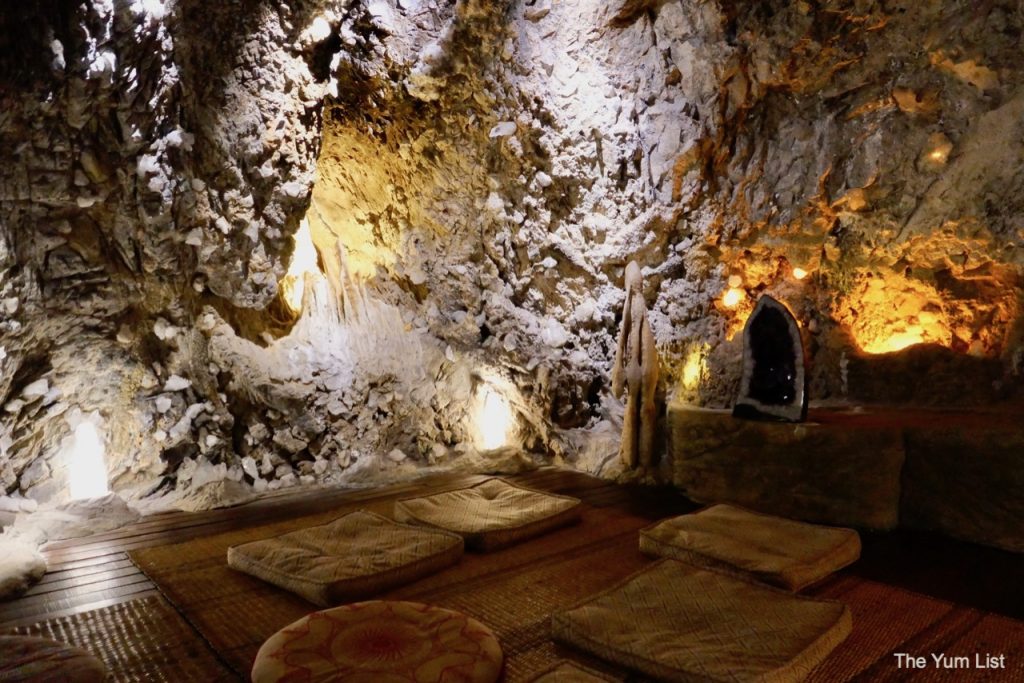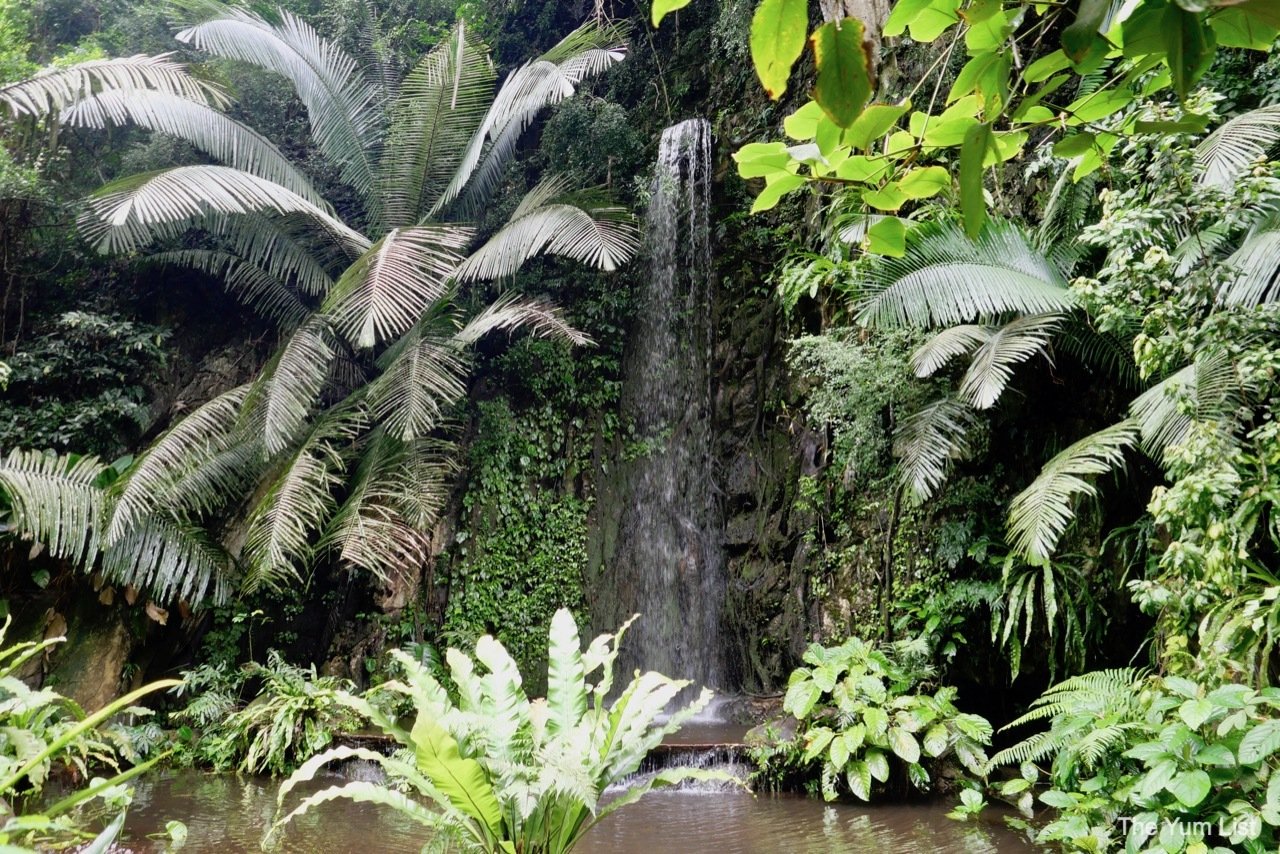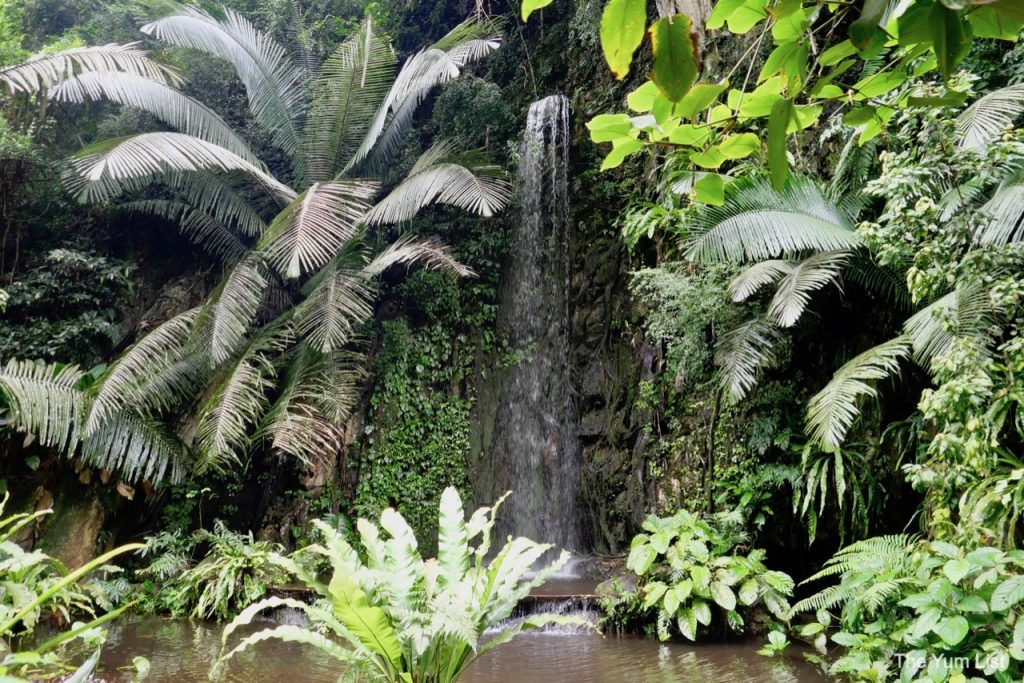 Jeff's Cellar
No words could have prepared me, though for what was next. The entrance to Jeffs' Cellar was marked in medieval fashion with tall inky metal gates carrying double crests and coffee-bean-coloured wooden doors. Tilted oak barrels, an old horse-drawn buggy's wheel and, timeworn wine bottles rested upon one another in a display of intrigue. We ascended the stone steps and drew open the entryway doors.
A tunnel lined with wine bottles and soft lighting led us further into the cave. The mouth opened into a grand chamber furnished with leather lounges and low tables. Further in, a 12-seater dining table was dressed in splendid adornment and marked a contrast to the natural stone enclosure. On another level, a bar and various seating dotted the rest of the enormous space. It seemed futile to try to capture the enchantment of the cavern in words. Remarkable, entrancing… they didn't even come close.
Changing the battery in my camera, we sauntered, thinking to chronicle the rest of the grounds before dark.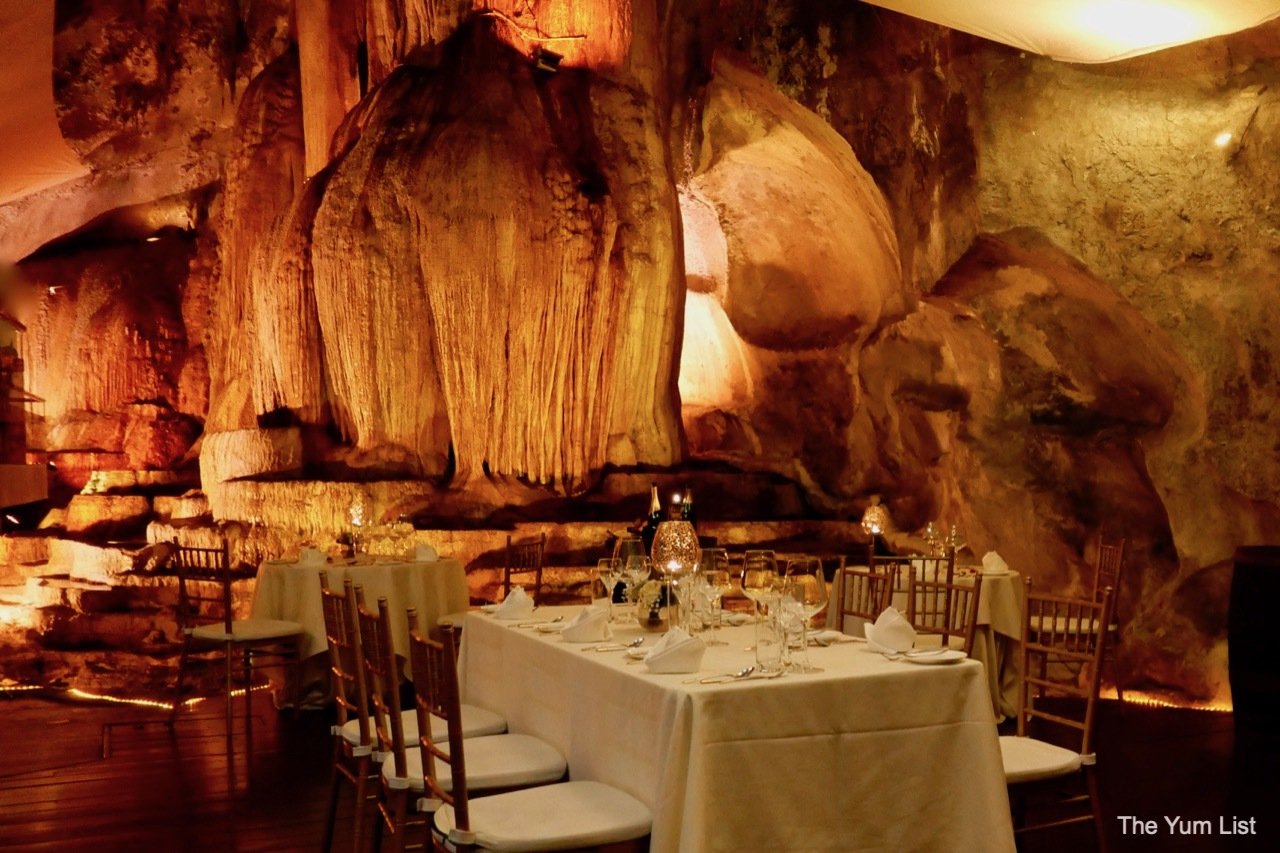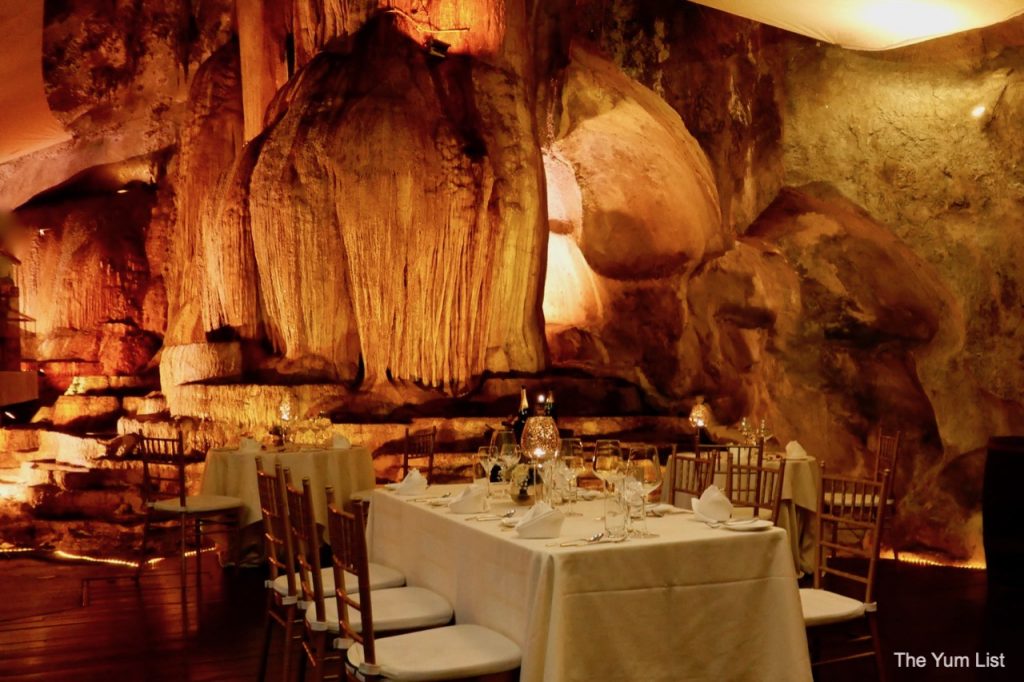 Fish Spa & Reflexology Pool
Next, we allowed time for a dip in the Doctor Fish Pool, not just a photography session. Containing the exotic red Garra fish known for their adoration of nibbling on the dead skin cells of people's feet, it essentially provides an organic exfoliation. Beside it, a foot reflexology pond laid with hundreds of therapy-inducing pebbles massaged our then smooth, bare feet. These pleasant distractions were leading to the star interest, the Hot Springs Dipping Pools.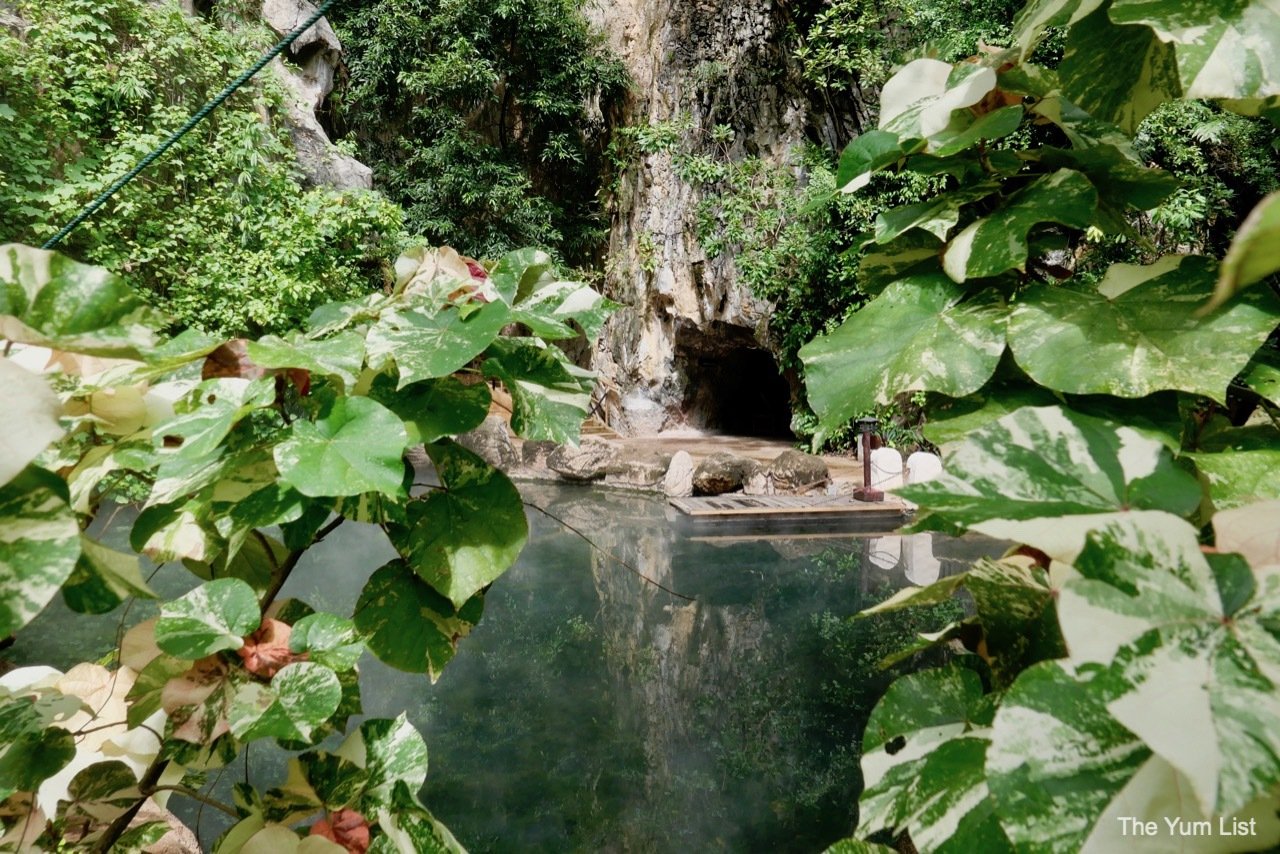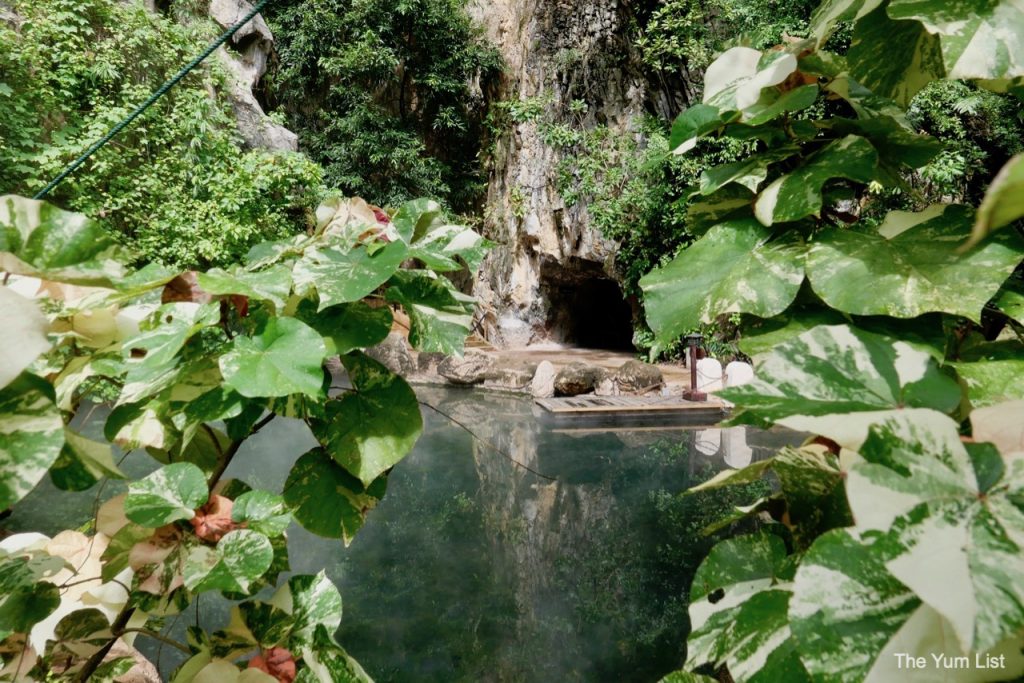 Hot Spring Dipping Pools
Ideal for stressed muscles and aching joints, round tubs had been carefully constructed along the edge of the natural springs. Raw materials such as slim tree branches were used to support a rustic canopy sheltering bathers while maintaining a homogenous blend with the natural surrounds. Water temperatures posted at each site showed a range from 39°C to 42°C. Hubby set himself a challenge to immerse in them all (and I may have been tempted to do the same).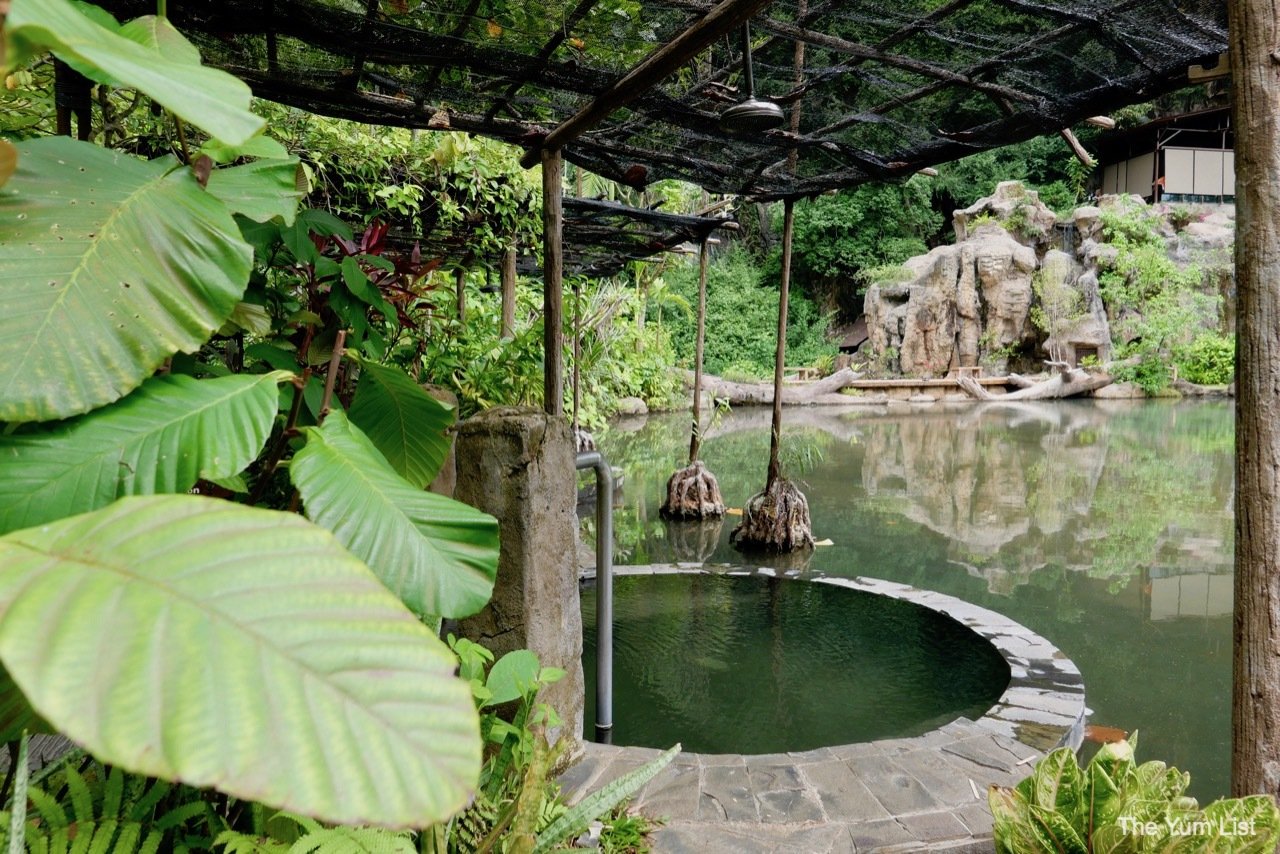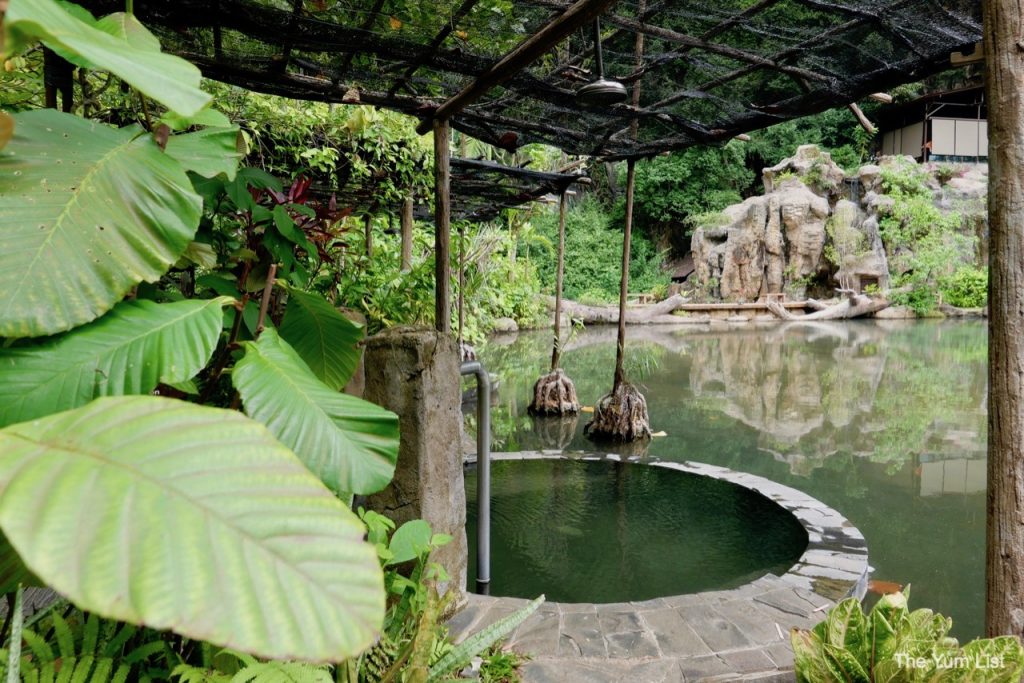 "Banjaran-ed"
Returning to our villa, I thought about recording my thoughts, but utterances of pleasure soon sprang from our private geothermal Jacuzzi. Hubby had already immersed with bubble jets on full power and had opened a bottle of wine beside it… maybe I could take a break for a bit.
By then, the sun had set, and the stars had revealed themselves. The jets caused the water to steam even more, and The Banjaran Hotsprings Retreat was literally soaking into my skin. With a soft bed to dream in and hot springs to heal in, my pace lessened. I may not have fully converted to five gears, but definitely added a tempo in between solely "On" and "Off."
Waking the next morning and for the rest of the stay, work stayed aside. I bathed. I slept. I had a massage. I appreciated some of the flowers without having to find them all. I breathed deeply. I had been "Banjaran-ed."
Reason to visit The Banjaran Hotsprings Retreat: luxury eco-resort in a stunning and unique setting, geothermal hot springs, Jeff's Cellar, first-class spa.
The Banjaran Hotsprings Retreat
1 Persiaran Lagun Sunway 3
31500 Ipoh, Perak Darul Ridsuan
Malaysia
+6 05 210 7777
www.thebanjaran.com
Find more recommendations for Ipoh here, and stay up-to-date on the latest gourmet and travel happenings around Malaysia here and here.