Gooddam Review
Words: Monica Tindall  Photos: Rich Callahan
Don't visit Gooddam expecting traditional Italian cuisine just like Italian grandmothers make. Do visit Gooddam if you like to be excited by original recipes, executed exceptionally well and plated to please the senses.
Chef Daniel Yap founds his dishes in Italian cooking techniques but his own heritage and the availability of local, seasonal produce have equal influence. If you open your mind to the larger concept of Italian food, you'll understand the cuisine at Gooddam. At its core, Italian food is using the best of what is grown in your own backyard, honouring the natural character of quality ingredients and not overcomplicating recipes with too many components. This is precisely what the team at Gooddam aspire to.
And, when they say team, they truly mean it. Partners, Miki Lie and Chef Daniel strive to create a workplace where employees feel just as important as their guests and the fare they serve. Promising that everything is made from scratch, including relationships, the overall vibe of the restaurant is extremely positive.
Previously running a pop-up dining concept, Miki and Daniel set roots close to two years back in a corner lot at The Hub in SS2. Cool grey walls, timber and soft natural light create a serene setting. Potted fig trees and microgreens break the neat, streamlined environs with an occasional spot of wild. It's an attractive scene at night with its soft, warm downlighting, but during the day hours, as muted rays filter through the neighbouring trees, it's very appealing.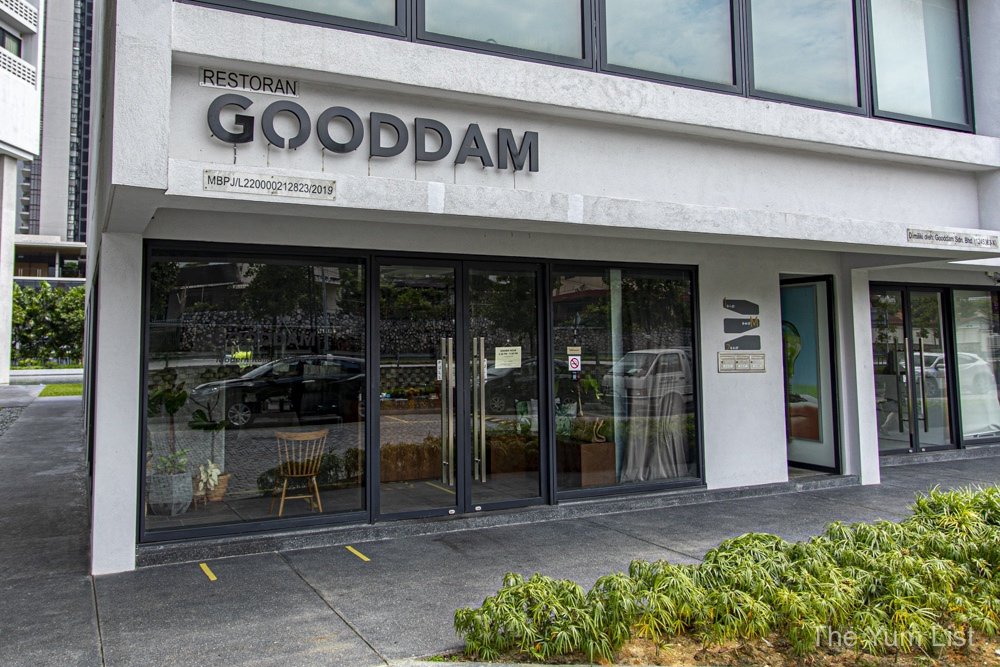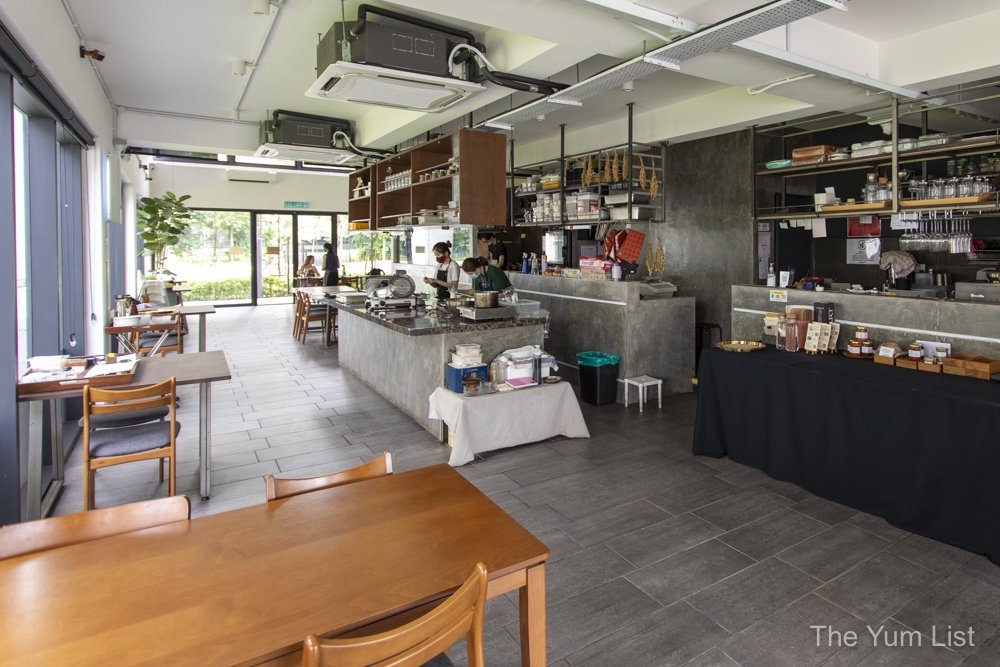 Gooddam Menu
Currently, the team at Gooddam offer a three-course dinner menu with a choice of two starters, two desserts and four mains at a value-for-money RM109 per person. By August, however, they will also be opening for weekend brunch. This will see a casual, a la carte menu serving more of the rustic favourites many are more familiar with when considering Italian fare. We're here to gain insight into chef Daniel's interpretations and so partake in the three-course dinner menu.
To Begin
House-made focaccia, still warm from the oven, is served with a wonderfully tasty black olive and anchovy butter. It's partnered with an unusual "carbonara" passionfruit tartlet. A tart shell of carbonara cream with pork bacon (house-made) is crowned with a passionfruit sphere. Tricking the eye, it resembles the egg yolk found on a traditional carbonara. When it pops in the mouth, though, an explosion of soft acidity slices through the creamy nature of the sauce filling the palate. Just as it's supposed to, appetites are enticed and we're wanting for more.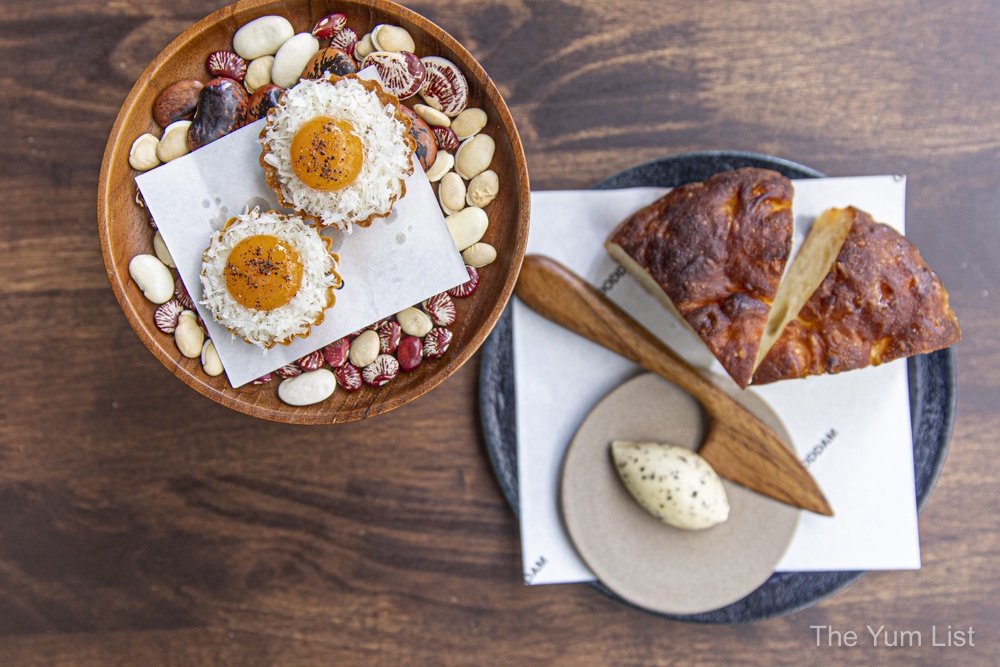 Starters
Warm sweet corn soup with grilled baby corn, ricotta and salmon roe is the soup option of the starters. The grain sports an alluring char from the grill, the liquid has a gentle sweetness and the home-made ricotta and roe balance the profile with a savoury finish.
Alternatively, the cold salmon crudo (+RM15) is also an excellent option. Seasoned with citrus and bottarga (salted cured fish roe) and given crunch with puffed buckwheat (and also a mild nuttiness), this dish is light and fresh and ever so inviting. Do pay attention to the beautifully pink fish. It has been lightly cured with kaffir lime, a little bit of garlic, salt, sugar and lime zest and topped off with some drops of basil oil.
Just as the appetizers are well-balanced, so too is our wine companion. A lovely blend of Trebbiano and Chardonnay, E'got Bianco, 2018, from Romagna Italy (RM24) is vibrant, crisp, smooth and fragrant. It hangs around in the mouth wearing a lengthy finish; a pleasant bridge to the mains.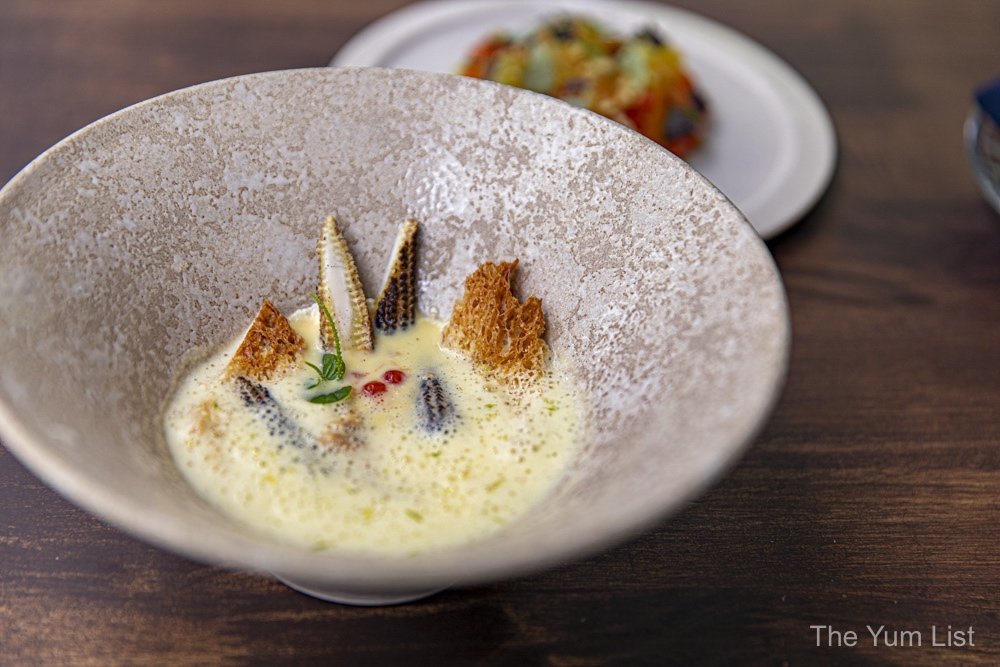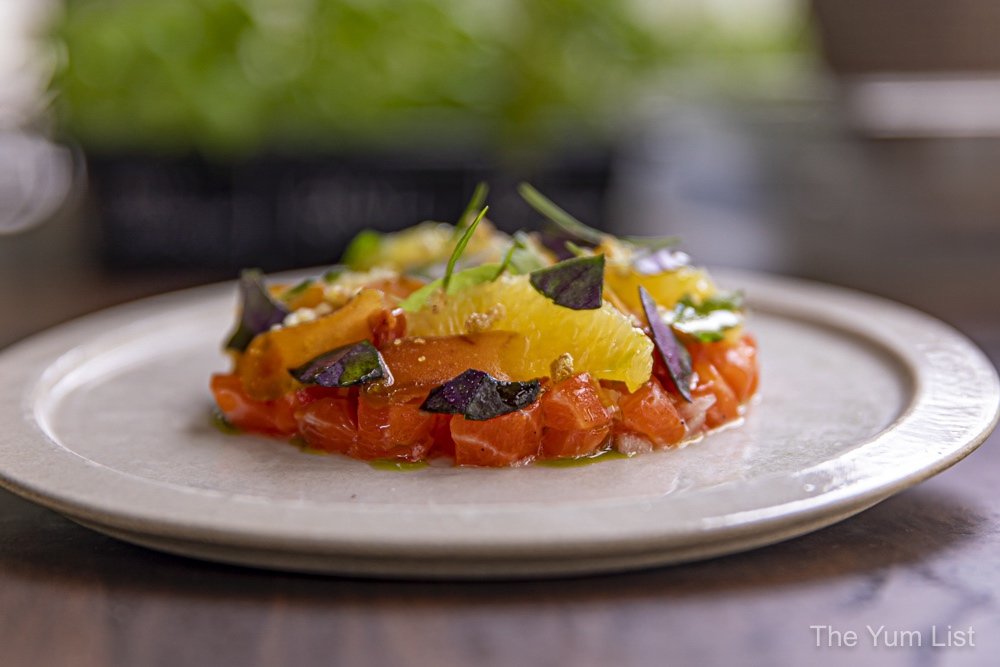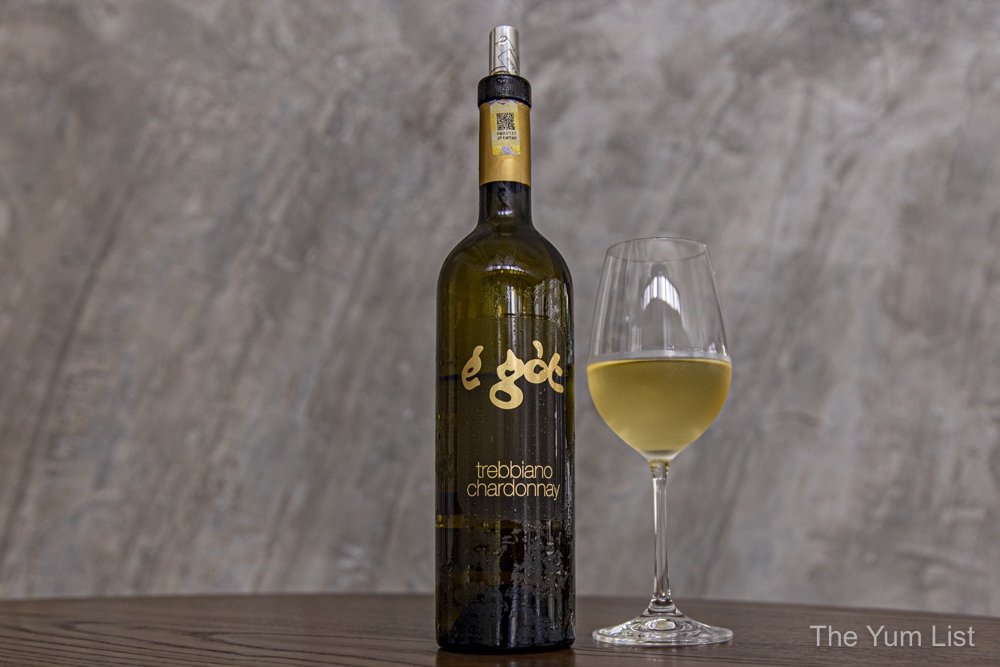 Mains
Many will be excited to learn that Gooddam is indeed an Italian restaurant serving pork. One of their star dishes (on the menu since forever), is the balsamic-glazed pork shoulder. Using a local hog from Johor, it's treated delicately with the glaze curtailing the distinct aroma. Accompanied by lentil and mortadella cream, a pickled salad of stem of parsley and jicama, and three types of basil (Thai, lemon and sweet), it's best to fork a morsel of each and savour it in one bite. The hearty profile of the pork is harmonized by the freshness of the leaves and pickles. It's a fabulous dish. We can see why it has stood the test of time and remained on the menu for so long.
The duck choice looks simple but actually takes eight to nine days to prepare! Local duck is cleaned and then basted daily with a balsamic glaze. It's hung to dry with the coat giving it a dark hue and intensifying the flavours. Ageing breaks down the meat making it more tender over time. The aromas tempt our noses as the course is delivered. Truffle and Chinese-style salted bean jus offer further layers of complexity, and delicious caramelized cauliflower cream (buttery and nutty), as well as slow-roasted cauli go with. An enchanting marriage of east and west, the first bite is, wow! Pepper, acidity, and the moist, soft flesh of the duck permeate every nook in the mouth. This too is clearly a favourite for good reason.
We move slightly nearer the north for the wine pairing. Uggiano, Prestige, Chianti Classico DOCG, 2015 from Tuscany, Italy does everything a good Chianti should. It's dark and mysterious in the glass and fragrant with ripe plum and a faint aroma of violet. Dry, balanced, fruity and silky, this wine has the strength to stand alongside the more robust profile of the mains but would too be a terrific mate to cheese.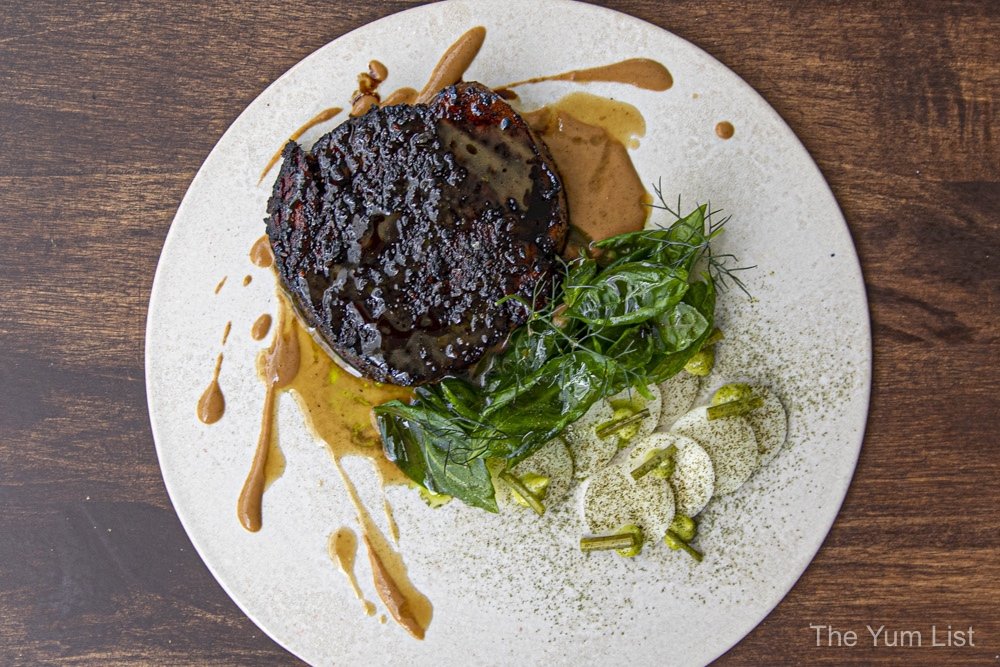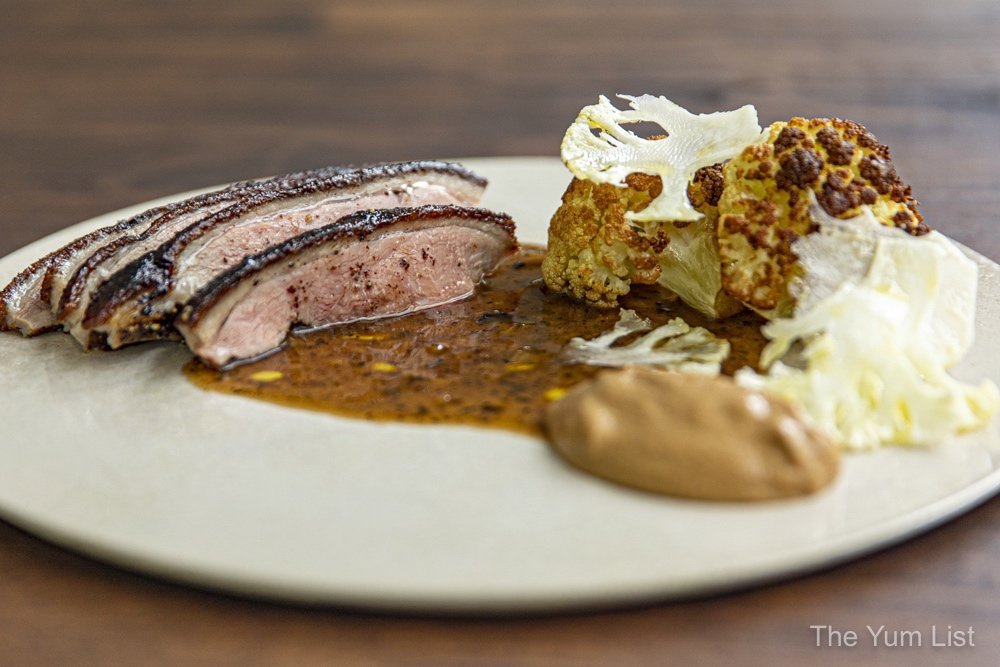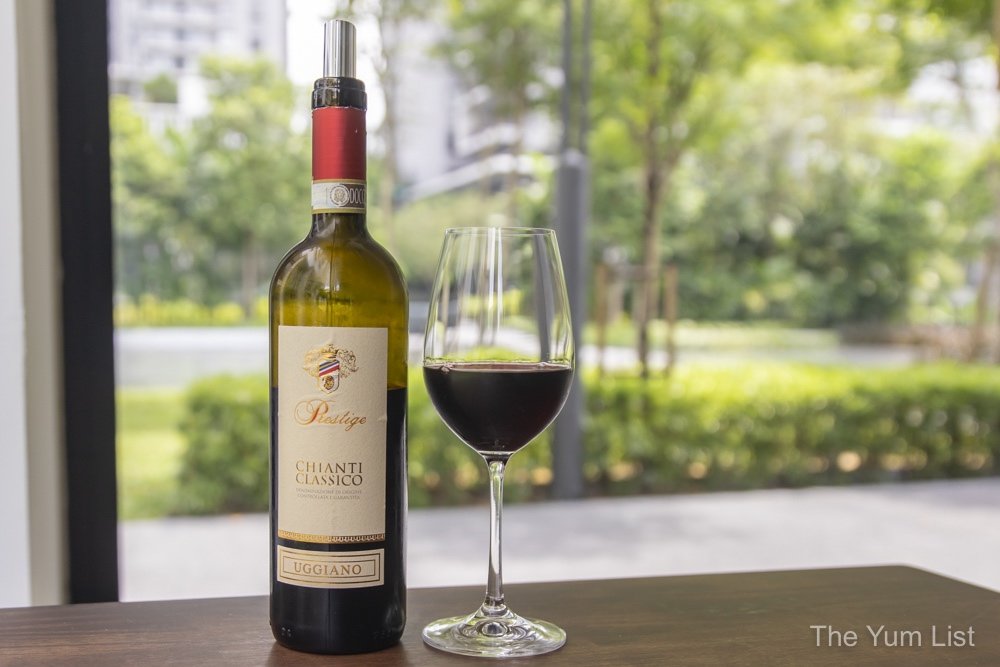 Dessert
With two sweet options, the choice is obvious; both! The salted coconut panna cotta sounds too enticing to decline. Savoury with sea salt, not too sweet, paired with pandan oil and strawberry compote, it's a fine conclusion.
Semai chocolate ice cream is an equally satisfying choice. Grappa-keluak braised pear centres the plate with a juicy, sweet and tart combination. It provides a deliciously sticky base that clings to the teeth as the cool ice cream melts over it. A fort of chocolate tuile surrounds the dessert, and a pretty butterfly pea acts as adornment.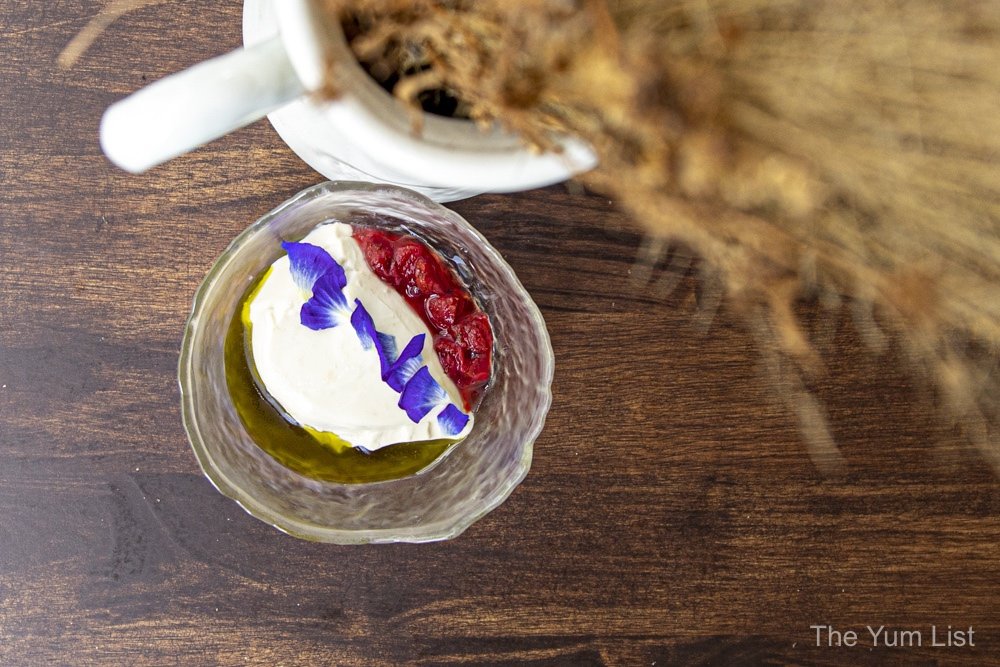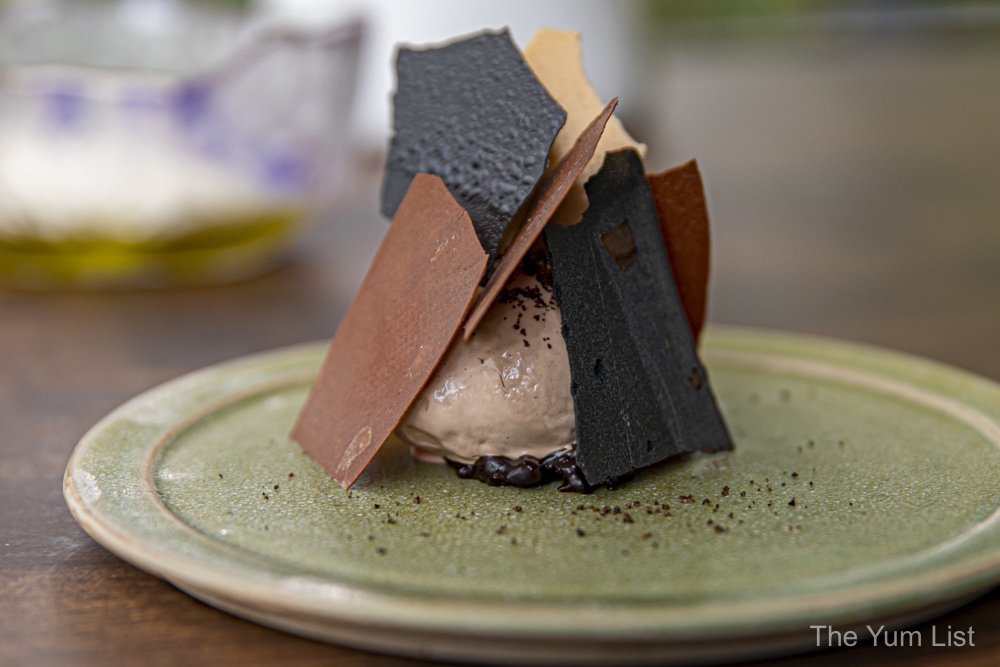 Gooddam Review
The menu at Gooddam changes regularly. As with all good Italian cuisine, recipes are based on the best local supplies. A three-course dinner is priced at RM109 per person and guests generally have an option of two starters, four mains and two desserts. The dishes are expertly curated with each component complementing the other without any one ingredient dominating. While it's not what many may stereotype as typical Italian, the menu embraces the overarching philosophy of the cuisine with quality seasonal produce honoured in every dish.
Reasons to visit Gooddam, The Hub SS2: reasonably priced three-course dinner menu; compact but thoughtful Italian wine selection; exciting original recipes well-executed and expertly crafted.
Gooddam
Italian Restaurant
Lot B-G-07, The HUB SS2
19 Sentral, Jalan Harapan
Seksyen 19, 46300 Petaling Jaya
Selangor, Malaysia
www.facebook.com/Gooddamco
[email protected]
Gooddam Opening Hours
Dinner: 6:30 pm – 9:30 -pm
Closed Tuesday
Weekend Lunch 11:30 am – 2:30 pm (last order 1:30 pm)
Find more Italian restaurants in KL and PJ here and stay up to date with the latest food and beverage happenings in KL here and here.