Tour of Malaysia Menu
Words: Monica Tindall   Photos: Rich Callahan
Just as we've been seeing quite a bit of the country due to relaxed restrictions, the reopening of Beta KL takes us on a Tour of Malaysia with their latest menu release.
You can consider a jaunt around the nation with the Taste of Beta for a very reasonable RM128. Alternatively, take the full excursion, the Tour of Malaysia for RM300. Hop on board for a cocktail pairing for RM99 for three drinks or RM128 for four.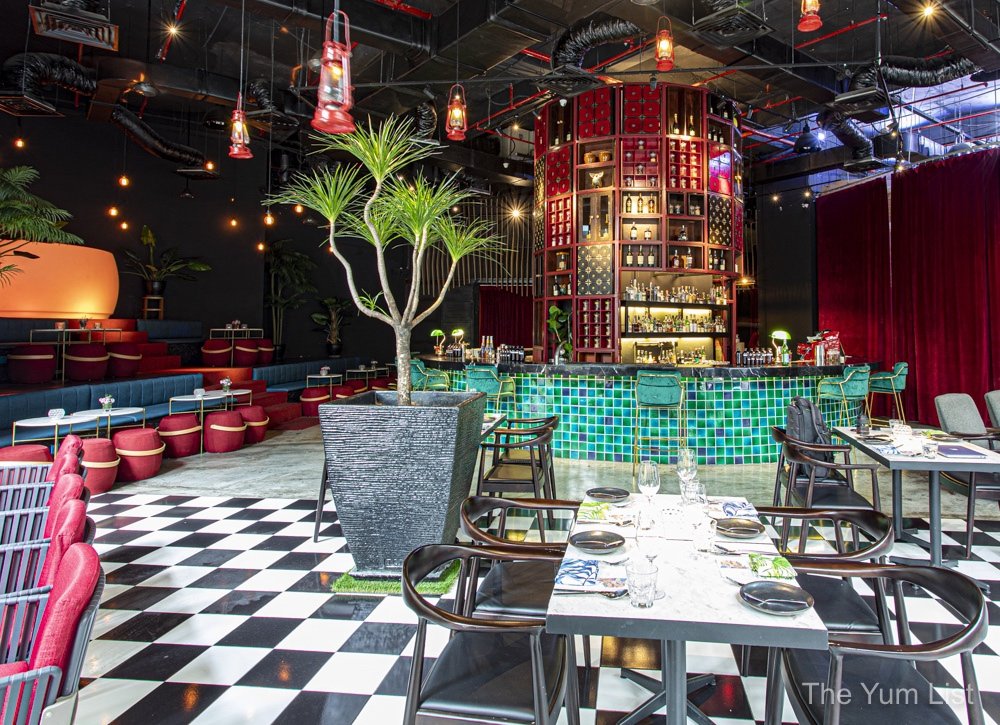 Snacks
Five snacks represent a handful of states in the launch of the Tour of Malaysia menu. Featuring Kelantan, winged beans, budu (fermented fish paste) and anchovies are petite bites of yum in a spring roll skin-pastry tart. From Northern Kedah comes cucur udang (prawn fritters). These are savoury in style in a batter of flour and eggs with fermented fish paste delivering a soft umami character.
Not letting the lack of truffles in Malaysia be a problem, the team at Beta have created their own. These warm, satisfying balls look just like the real thing with a mushroom middle, black shell and sprinkling of sea salt (love). Really lushing things up is the rendang foie gras bao, standing in for Negeri Sembilan. The liver is mixed with chicken liver pate and seasoned with rendang spices. Choux pastry with its buttery goodness serves to lift the intensity. Wow.
Lastly, toeing the line for Brickfields and a signature of Beta KL is the inverted karipap. Possibly the most graceful of all the snacks, it enters the palate gently and exits with a slow burn.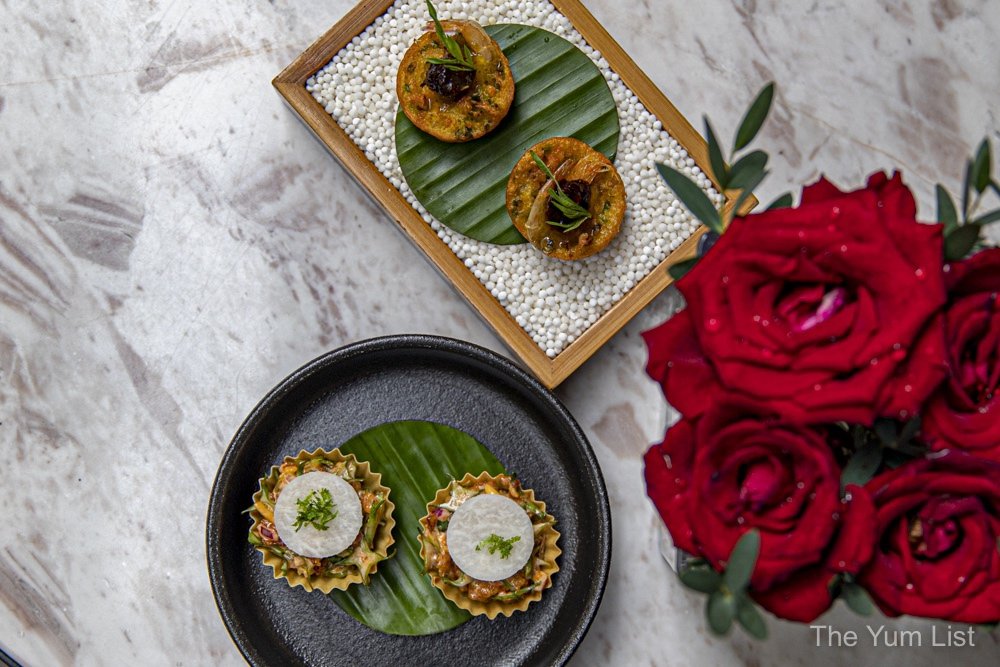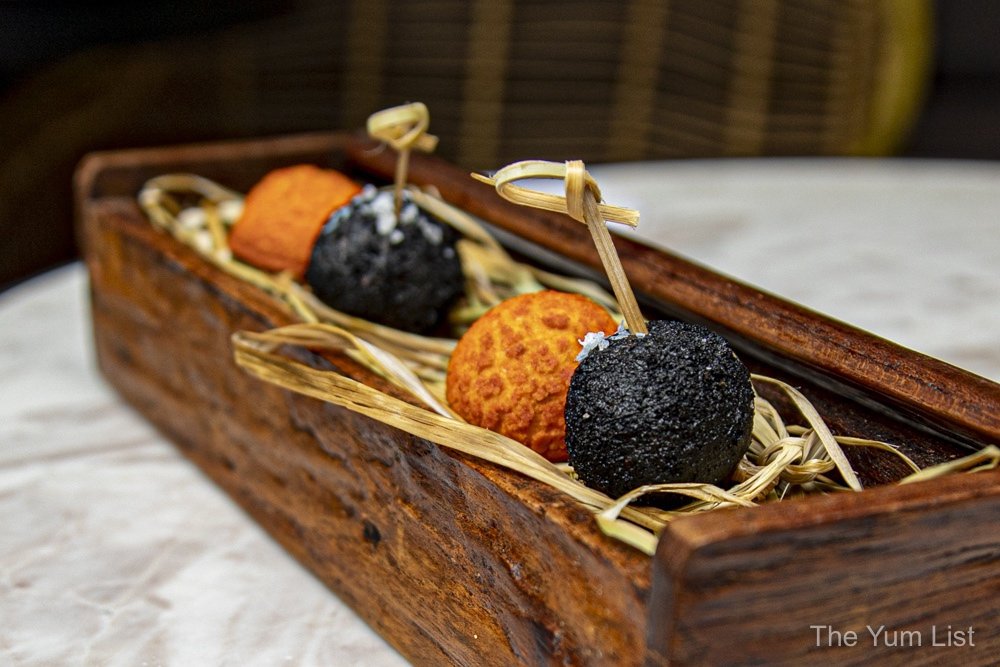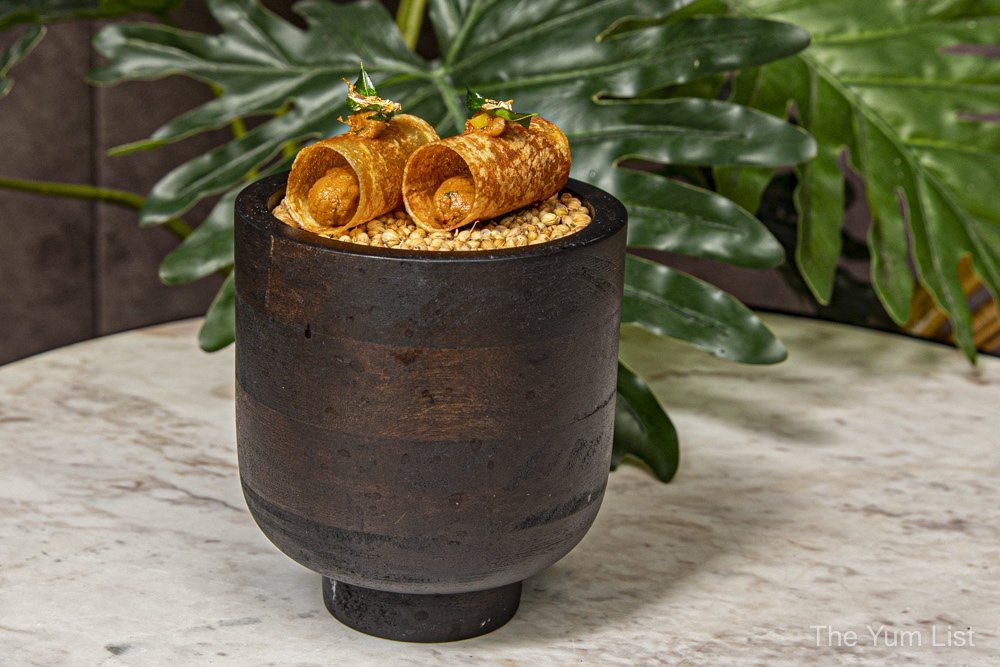 Pollo-Me
If I could have a drink to welcome me home after work each day, it would be the Pollo-Me. Taking inspiration from pomelo production in Perak, the cocktail has a base of pomelo gin with green Chartreuse (mint syrup) and lime. Mint and citrus peel garnish the drink and nosing gets the essential oils from zest making mouths salivate even further.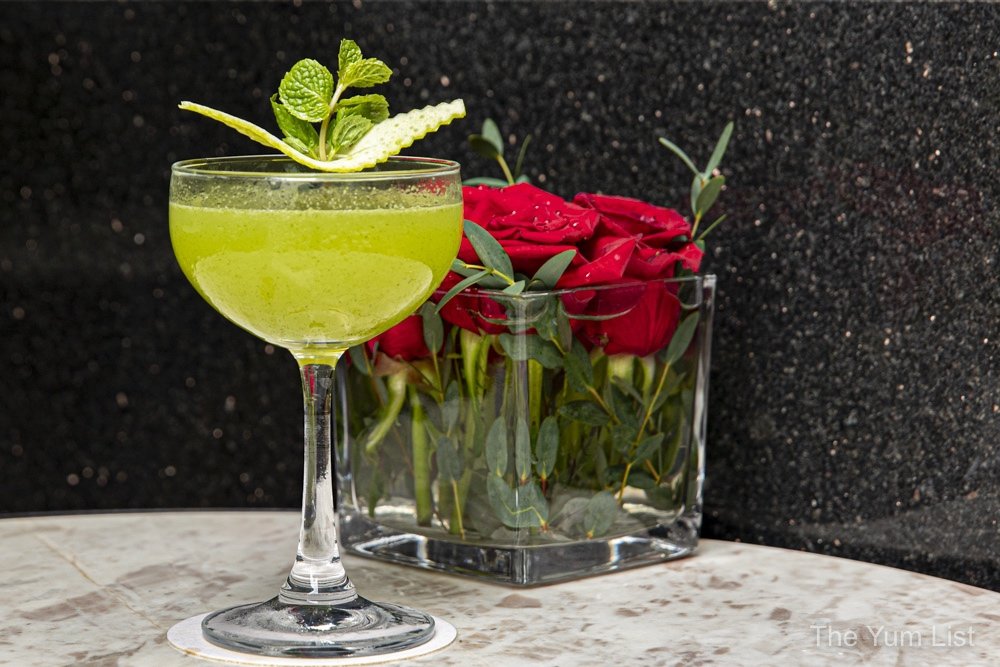 Clams
If you visit Penang, you'll find kedondong (ambarella) juice with asam boi (sour plum) as a typical beverage. It's super refreshing and the invigorating sweet and sourness is replicated in this recipe. Thin shavings of white radish, juicy clams and ulam raja (local salad leaf) are tossed with the most addictive ambarella granita that melts into a sauce that makes us want to pick up the bowl and slurp every last drop from the side. Dual purposed, it serves both as an appetizer and a palate cleanser.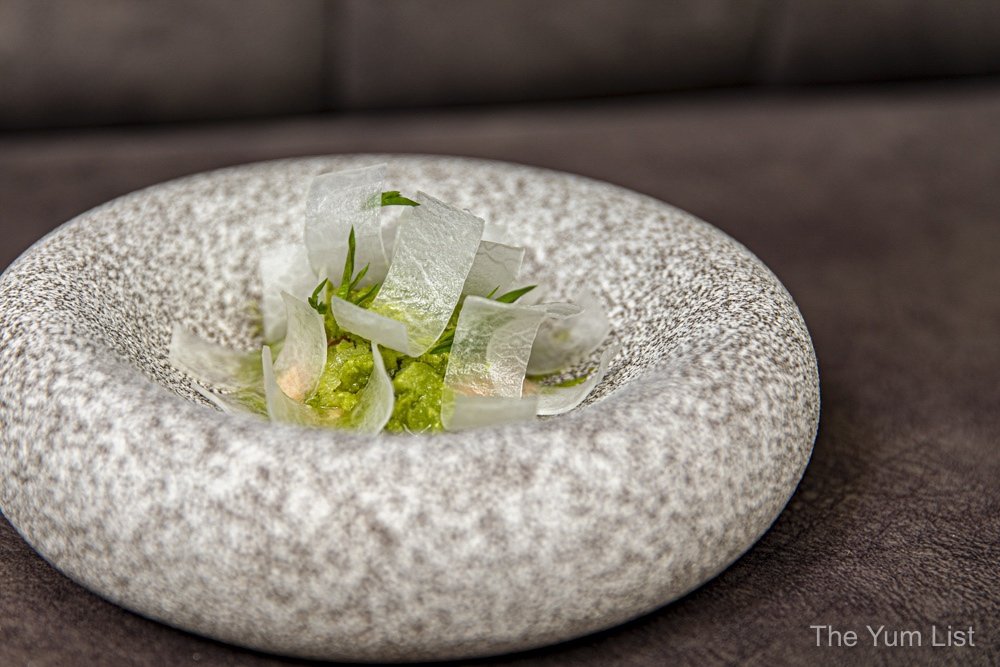 Paddy Terroir
As we discovered this summer, if you walk along the rice paddies of Kedah, you'll be met with layers of green fields, dotted with coconut trees against the backdrop of deep blue skies. The next bevvie, Paddy Terroir, harmonizes the natural coalition of rice wine (giving a fermented finish, a recipe learned from Chef Raymond's grandmother), Malibu (representing the coconut trees), a squeeze of lime for acidity and a creamy egg white foam.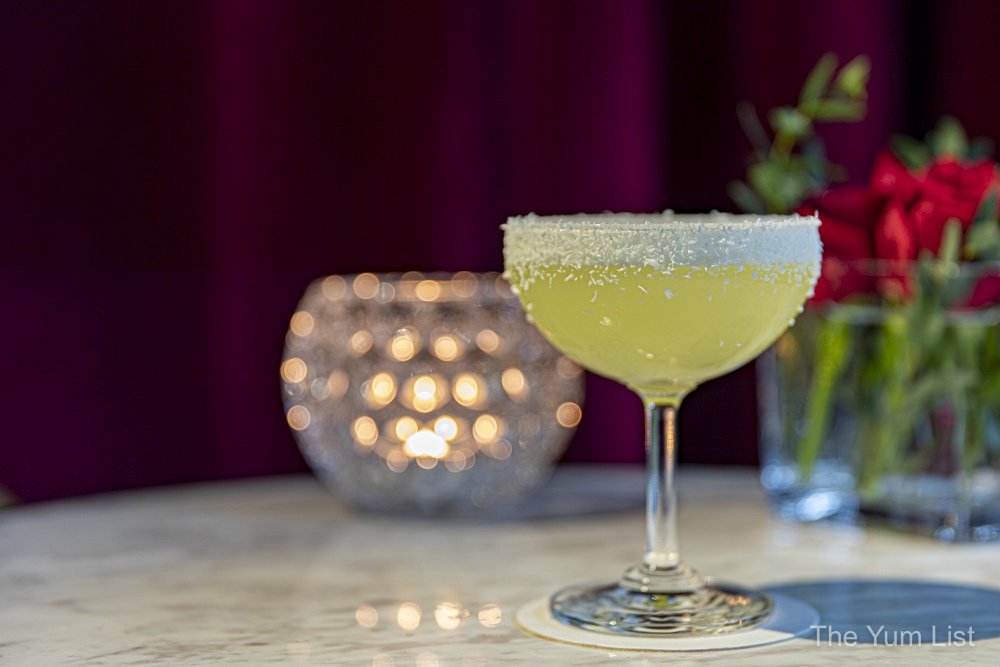 Aubergine
I didn't think I'd find a dish better than the clams on this menu, but the aubergine quickly changes my mind. A beautiful yellow curry, masak lemak, (a staple of Negeri Sembilan) of turmeric, coconut milk, chicken floss and several herbs and spices is deliciously comforting atop fried and baked eggplant. The warmth is broken by crunchy sourdough croutons, puffed quinoa, chervil leaves and pickled kyuri and shallots.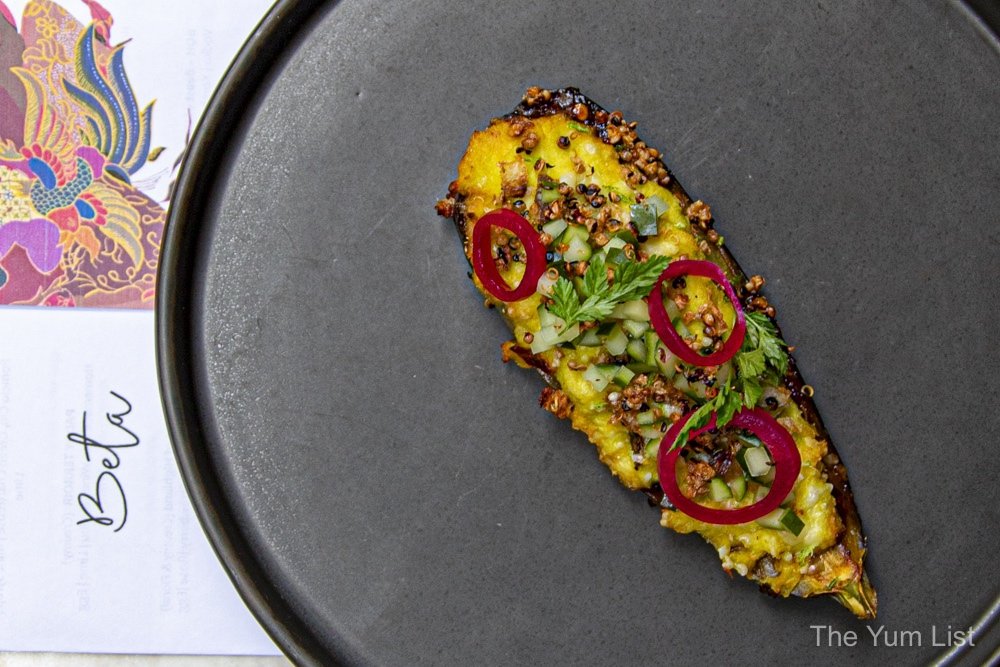 Crab
Who has the best chilli crab, Malaysia or Singapore? We know the correct answer is hands-down Malaysia, and in this course, the Tour of Malaysia proves it. A velvety crab and egg custard is textured with crab flesh and puffed quinoa. The topping of chilli crab foam verifies the verdict for me and the clever crab-shaped tuile, reminiscent of childhood snacks of murukku fish crackers, seals the deal. First, let the cracker crumble in your mouth. Next mix the dob of XO sauce that remains on the wooden spoon into the custard (non-spice takers should discard the sauce). Mix it all together and see if you can stop before hitting the bottom. The spice hits the back of the throat. Quick, take a sip of the cocktail to ease the burn!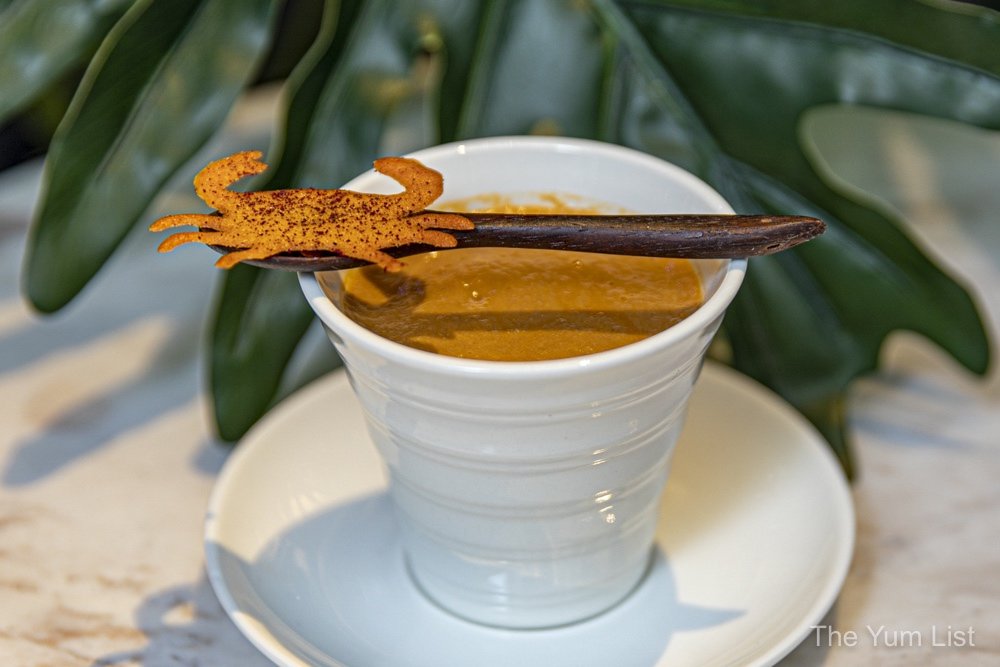 Boh – Beast of Highland
What comes to mind when you speak of Cameron Highlands? Tea, strawberries and roses? Both creamy and floral, Boh – Beast of Highland, has an exciting mix of kombucha (fermented tea), vodka nuanced with strawberry and rose, and is rounded off with an egg white foam. Its fruity foamy finish tempers the spice in the crab.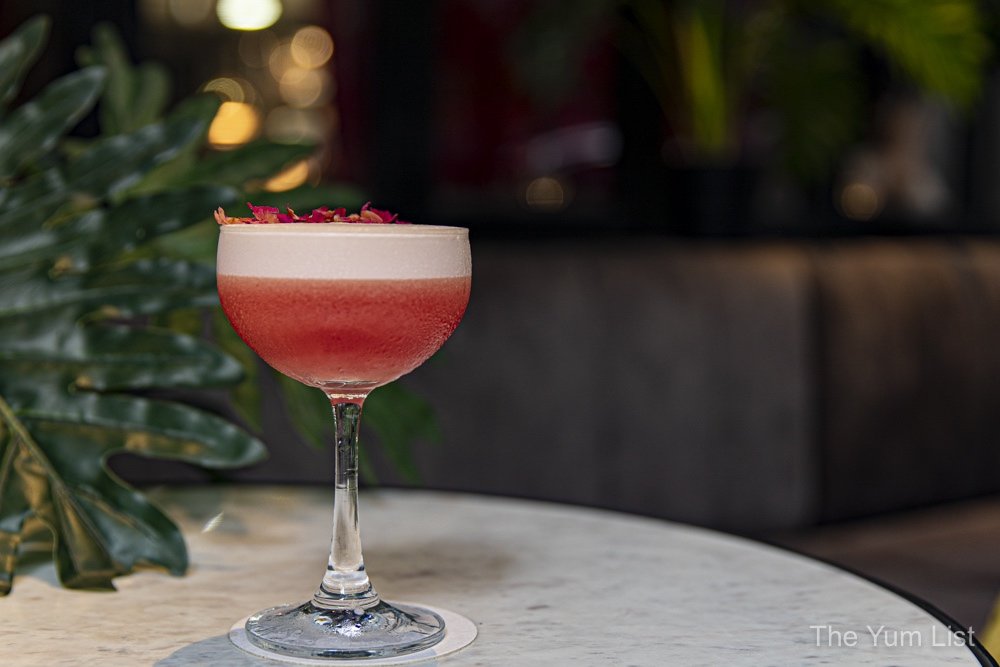 Mains
Fish, lamb or wagyu (additional RM140) are the choices presented for the mains. As the lamb is the most popular and you may have already seen it online, we try the fish and the wagyu.
Fish
Claiming its place for the East Coast and the ever-popular ikan bakar, the fish with kerabu salad is an excellent choice in the Tour of Malaysia menu. It's fresh, flavourful and of a generous portion. A slight tang in the profile is achieved by marinating the fish in the lees from the rice wine. Do contemplate the work that goes into the salad too. Bamboo shoots from Cameron Highlands need special preparation. The shoots contain cyanide so must be boiled and soaked in water to make them safe for consumption. Nothing is ever simple at Beta KL.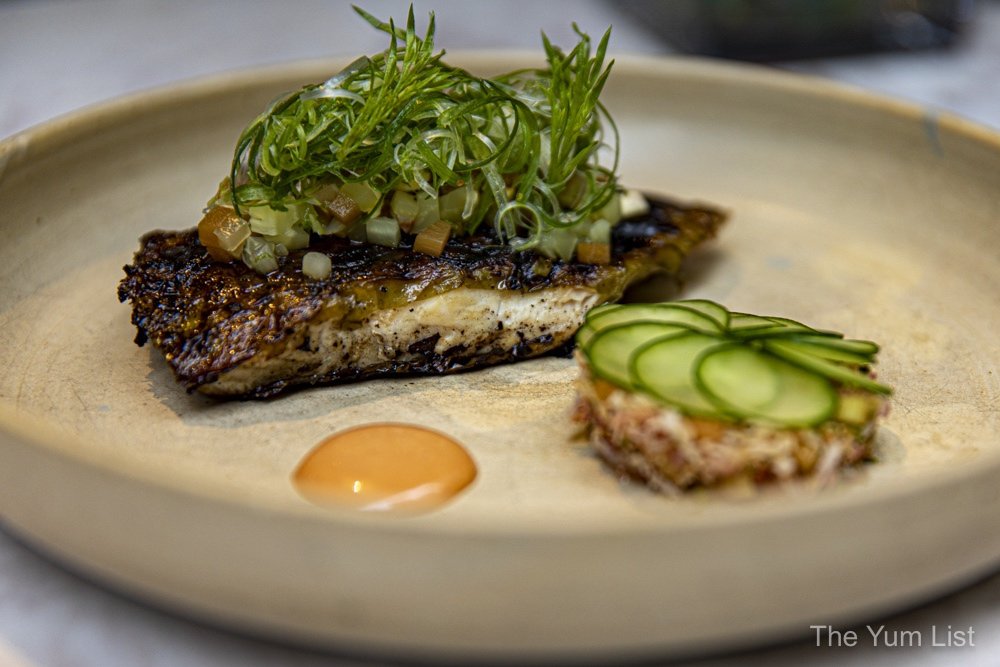 Wagyu
The wagyu striploin offers two plump cuts of steak. The fermented black bean sauce takes two days to prepare and should be soaked up no holds barred (except for maybe licking the plate). Marinated in kōji (their home-grown mold usually used to saccharify grain to make alcohol), gives the beef an umami flavour; it's addictive and there's no stopping once you've had the first taste.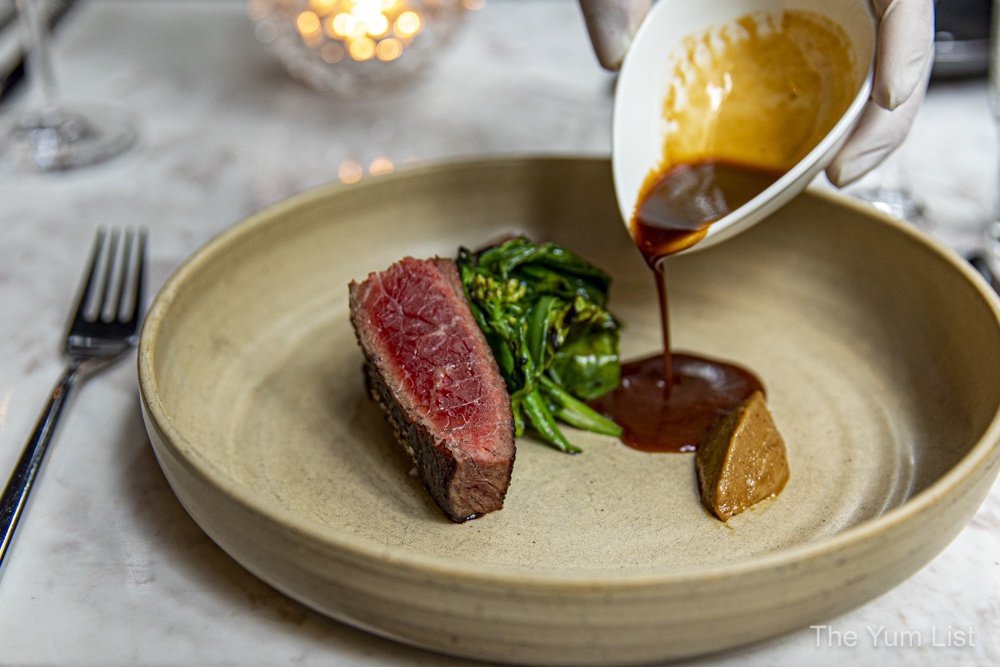 Ayam Buah Keluak
Cocktails also present a trio of alternatives with varying profiles to match the mains. It's not often you see "chicken" in a cocktail so I'm curious to try the Ayam Buah Keluak. It's a piquant combo of chicken fat-washed brandy, buah keluak infused rum, spiced red wine and tamarind syrup. Buah keluak (candlenut) is another ingredient requiring much time to prepare for human consumption. Eaten raw, it can be lethal. Various processes of underground fermentation, soaking and heating are needed to rid the product of poisonous hydrocyanic acid. Best to savour every sip and consider the work gone into making an enjoyable and exciting Tour of Malaysia for you.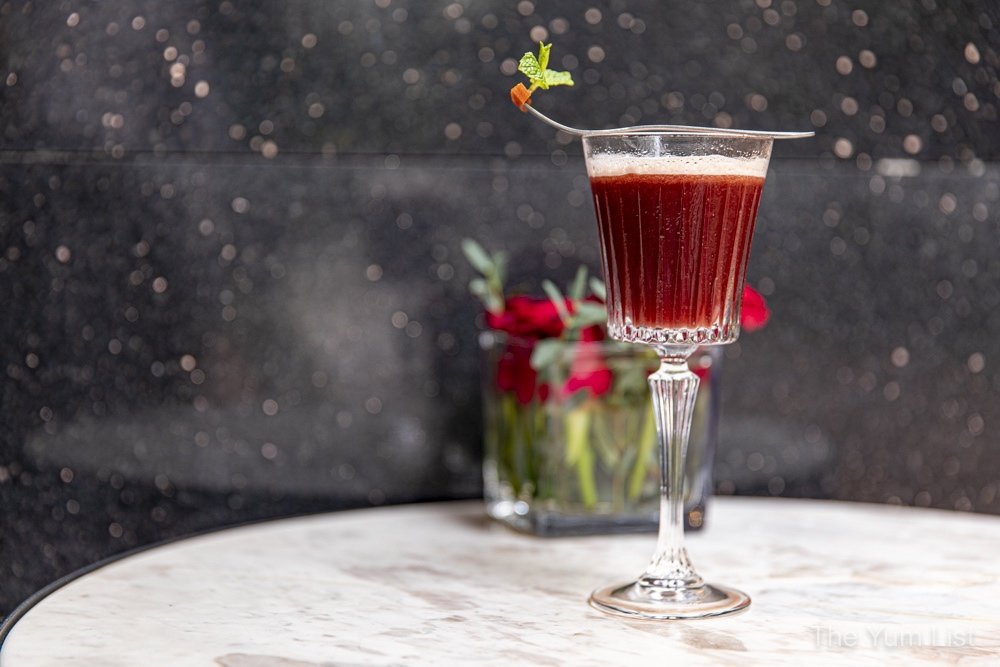 Dessert
Birdnest is said to have many health-giving properties and here we see it in a refreshing combination with lychee and lime. Served tableside, a bowl of lychee granita is topped with coconut and pandan (screwpine) snow. Lastly, the birdnest is added. It's best enjoyed all together as the different textures melt at varying speeds layering the complexities and readying the palate for the grand finale.
Musang King with Pahang single-origin chocolate is surely going to be the culminating highlight for many. I just cannot bear the smell and pungent taste that repeats for days on end. The team graciously allow me to replace the Tour of Malaysia sweet ending with the Taste of Beta, Kaya and Kopi.
Inspired by the popular Malaysian brekkie of coconut screwpine jam on toast with rich, thick coffee, the Kaya and Kopi is a comforting conclusion. Use the banana leaf as a serviette to pick up the kaya toast, take a bite, then dig to the bottom of the accompanying cup. Bubbles of coffee foam mesh with a lusciously smooth and dense mocha mousse. Bite and scoop alternatively to get the best combo crunchy, velvety, bitter and sweet.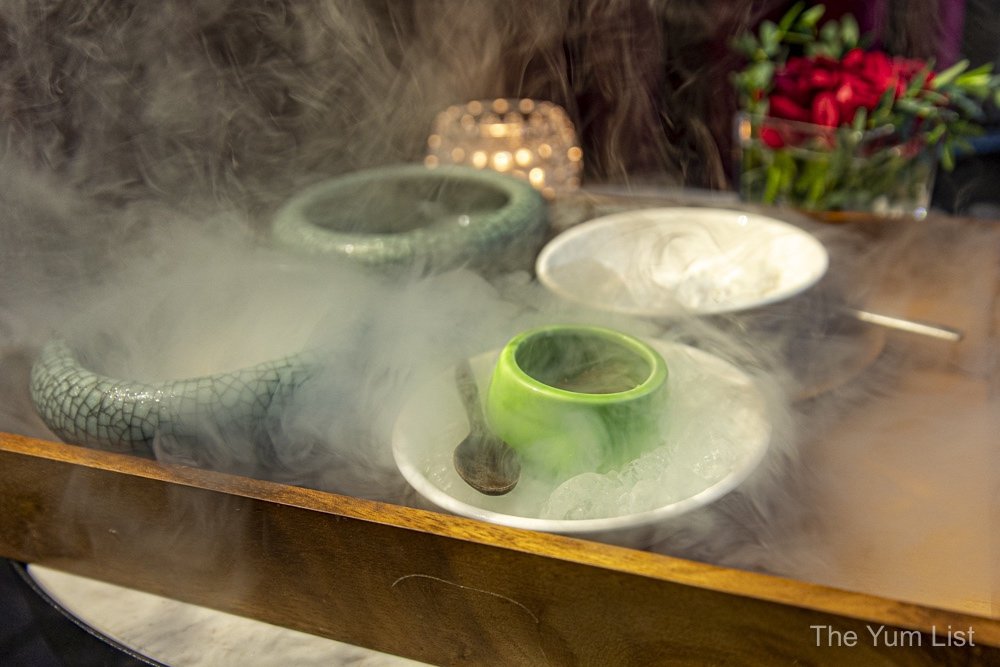 Reasons to try the Tour of Malaysia menu at Beta KL: an exceptional and exciting dining experience celebrating wonderful local ingredients; expert technique and preparation; I recommend going the whole hog; loved the fish main, and if you are an adventurous cocktail drinker, sign up for that pairing too.
Tour of Malaysia Menu
Beta KL
Restobar – Contemporary Malaysian Cuisine and Cocktails
163 Fraser Place
10 Jalan Perak
Kuala Lumpur, Malaysia
+6 03 2181 2990
www.facebook.com/betakualalumpur
Check out other contemporary restaurants in KL here and stay up to date with the latest food and beverage happenings in KL here and here.