Bulldog Malacca
Monica Tindall
Bulldog Malacca, a modern Peranakan restaurant and bar, came highly recommended by several trusted foodies. With repeated recommendations, it quickly moved to the top of our list to visit on this trip.
The restaurant has an industrial feel with its cement floors, white-washed walls, high ceilings and metal frames. A stage with a drum kit centres the space across from the bar, hinting at the fun that was once had and is just waiting to happen again.
It wasn't always this clean and minimalist though. Those who visited when it first opened six years ago might remember more of a hipster design with plants, a pond, an outdoor space and antiques. Evolving over the years, they've stripped it back to make the focus on the food, removing excess clutter. It feels good to be here.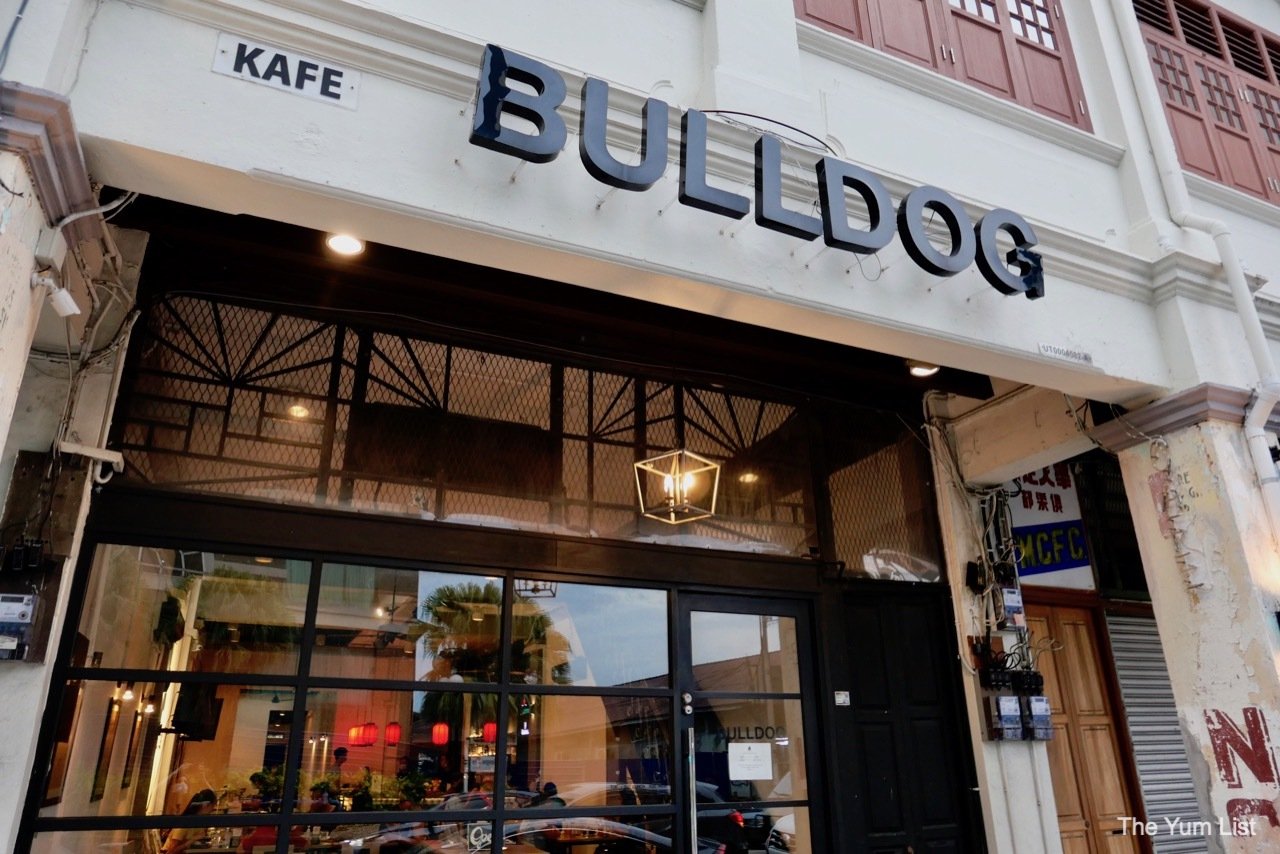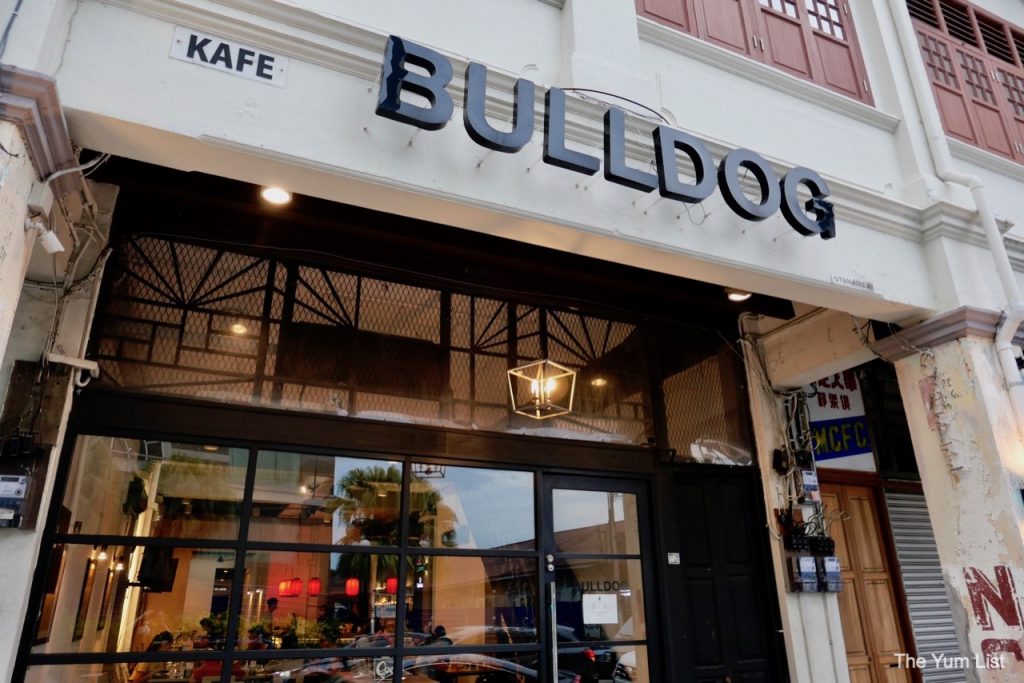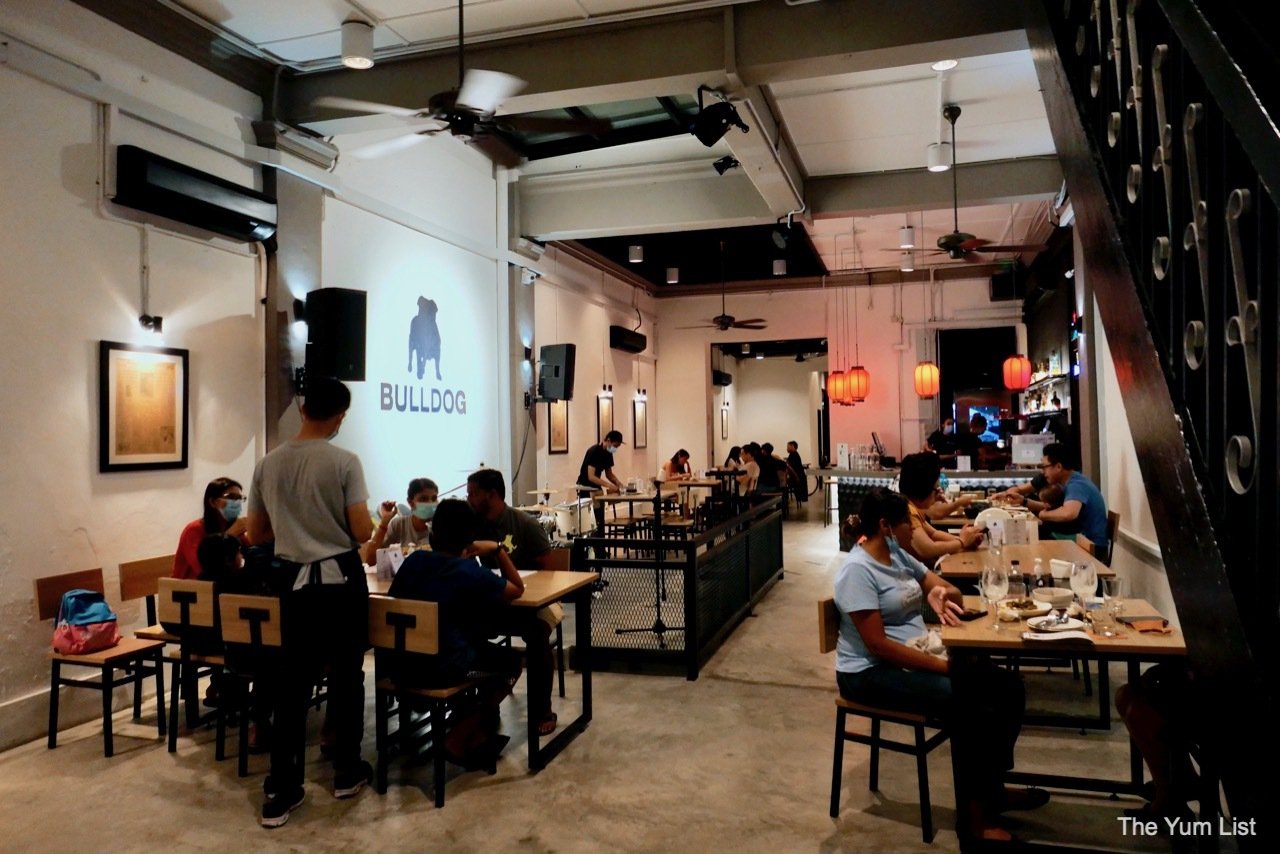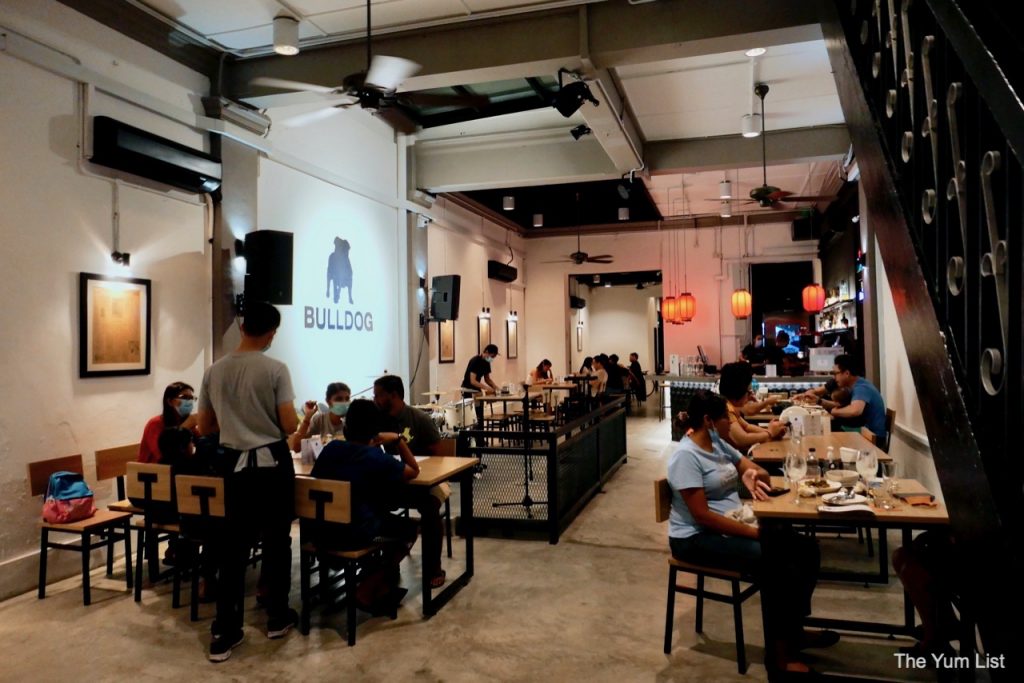 Bulldog Malacca Menu
Chef Gene prepares fresh Peranakan cuisine that is ideal for sharing and paired with jasmine rice. Locals love his food but it's also an excellent introduction for foreigners as his young hands have a lighter touch when it comes to intensity and heaviness in recipes compared to tradition. Portions are moderate in size encouraging several different orders for variety. It's best to come in a group to try more.
Starters
Nyonya Pai Tee (RM 15), sometimes also called "top hats" for their distinctive shape, are light and luscious. The pastry is paper-thin only barely containing its plump filling. Turnip, shrimp, omelette and fried shallots fill the 'hat.' Home-made chilli sauce and deep-fried pastry crumbs side the bundles for adding to individual taste.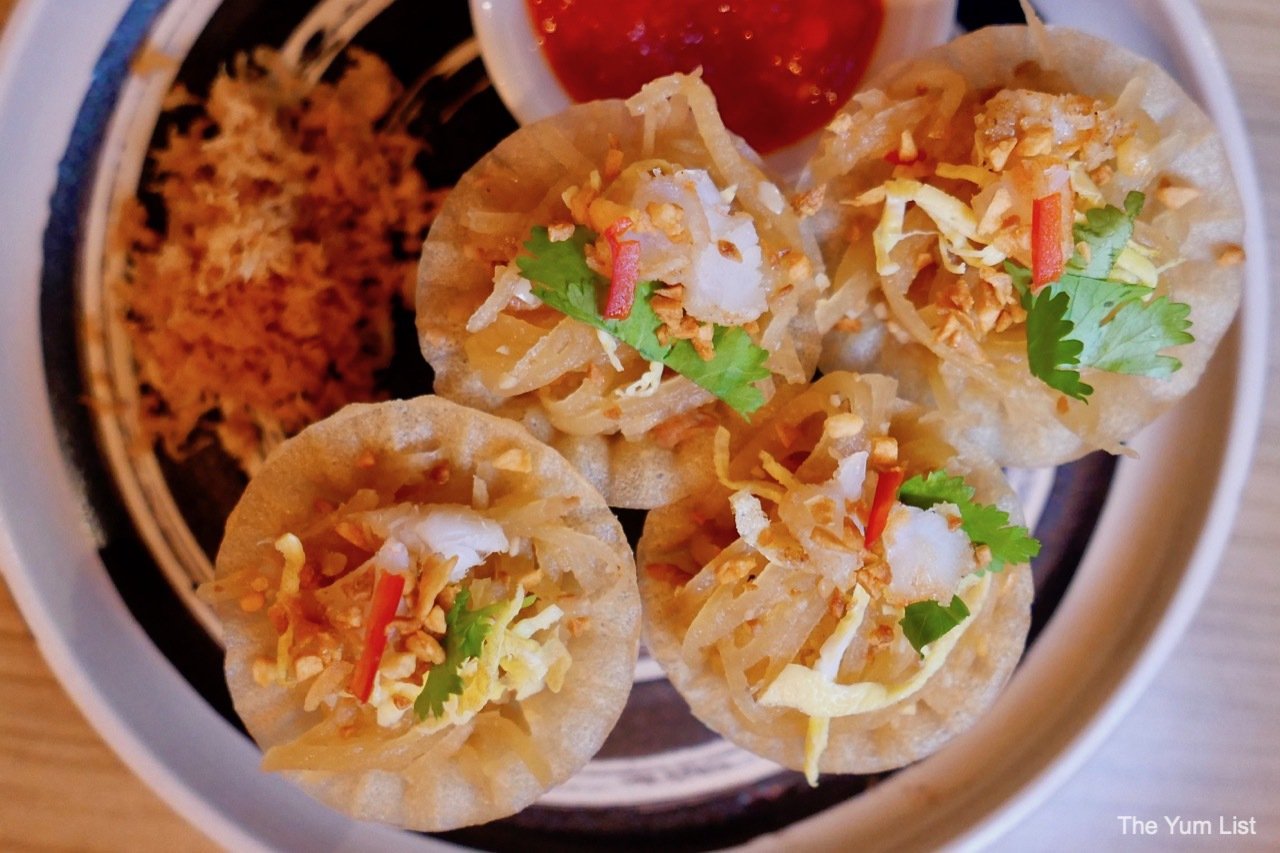 Mains
Nyonya Pongteh Chicken (small RM 10, medium RM 20) is a stewed dish with a dark, sweet and savoury soybean gravy. Ulam raja contrasts the brown bowl of gravy with its vibrant green. It's not spicy at all. It feels like something a mum would make lovingly for a child. The dish of belacan on the side, however, soon turns it adult. Fermented soybean is the base flavour but an undertone tempered by gula Melaka gives a gentle sweetness.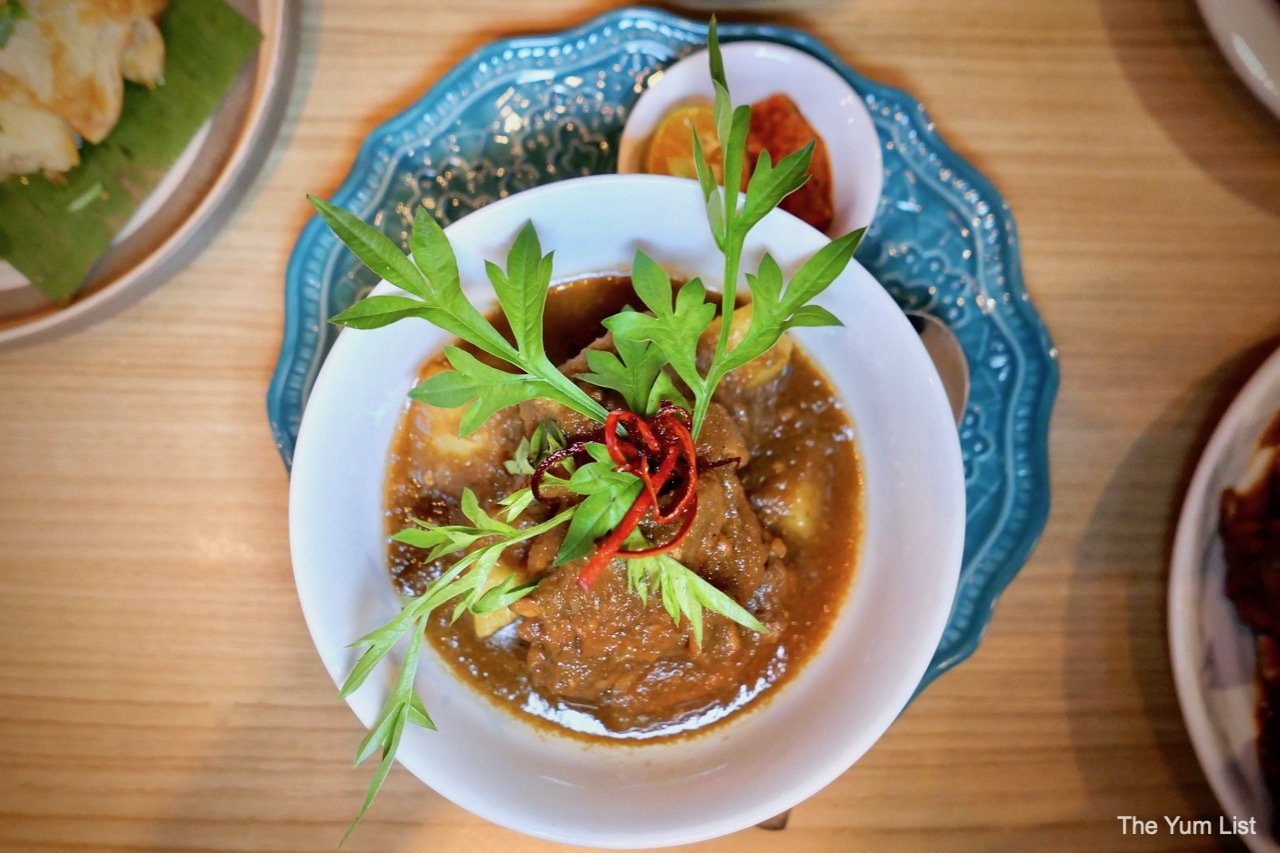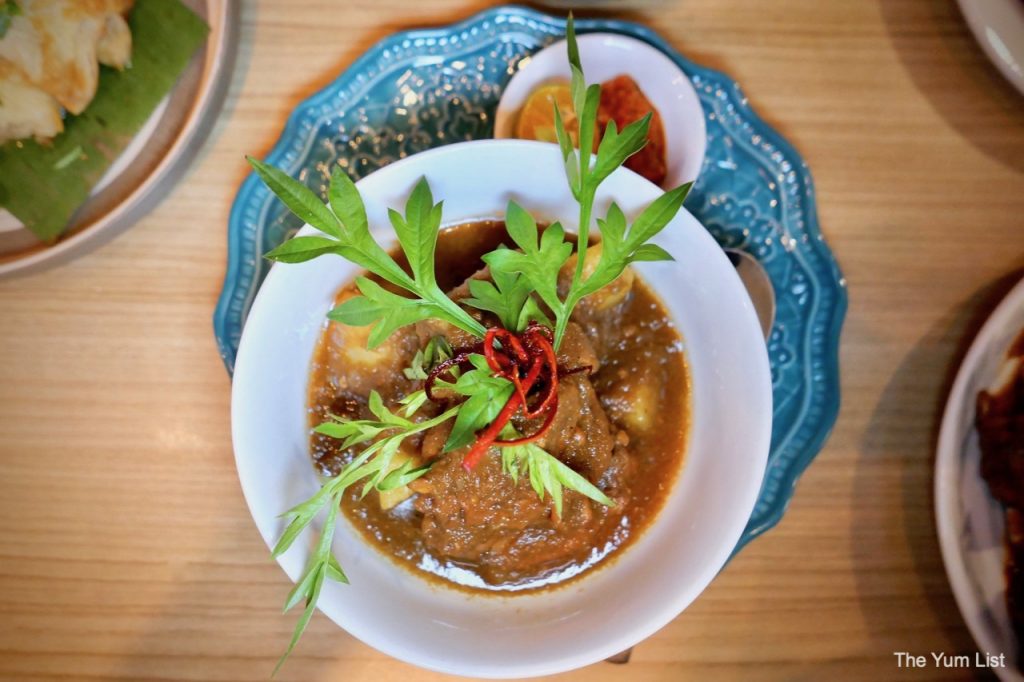 Lamb Shank Keluak (RM 64 – 68 depending on the size) is a must-try. Made with the special keluak nut from Indonesia, the flavours are unique. First, take the nut and scoop out the softened middle with a teaspoon. You'll find a paste similar to black olive with a light thread of bitterness. Then take the meat from the bone and drown your rice in the gravy. So good!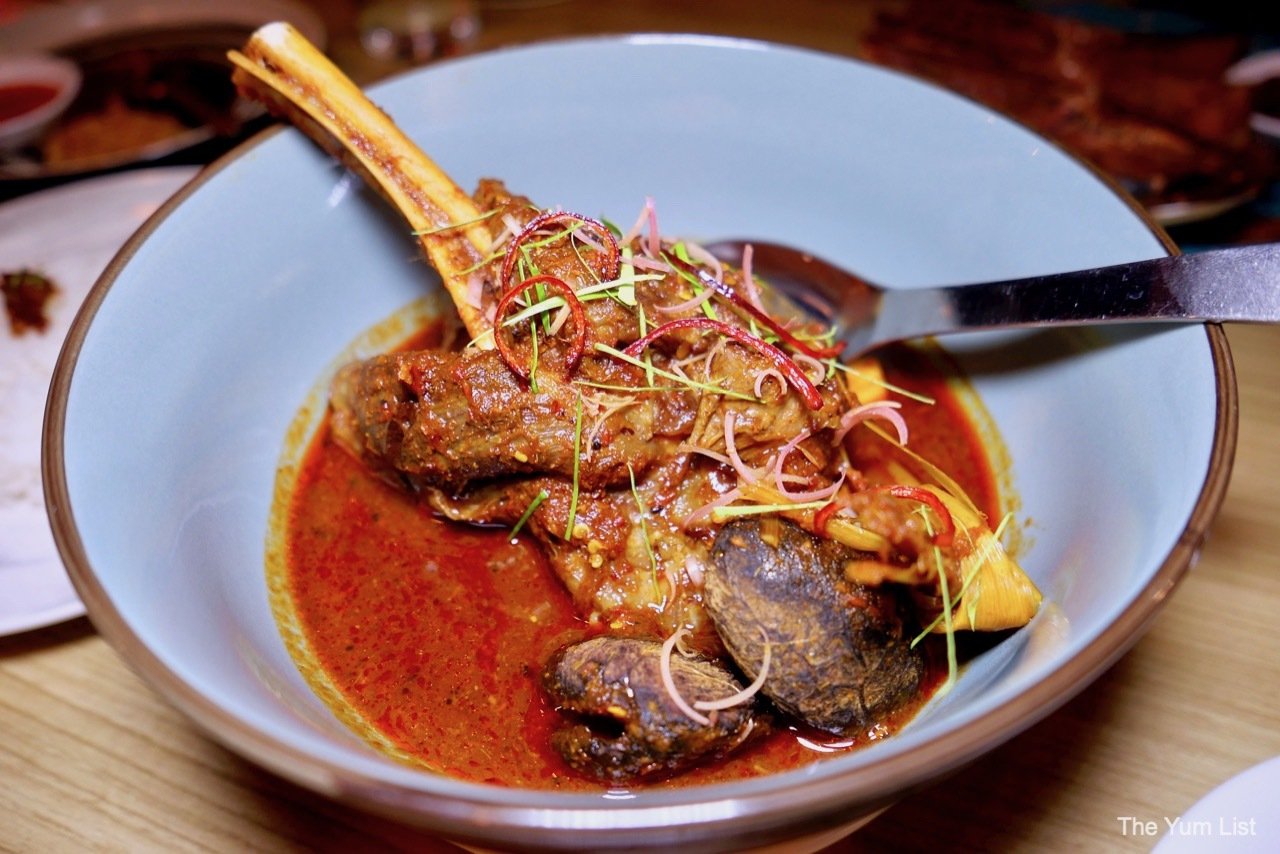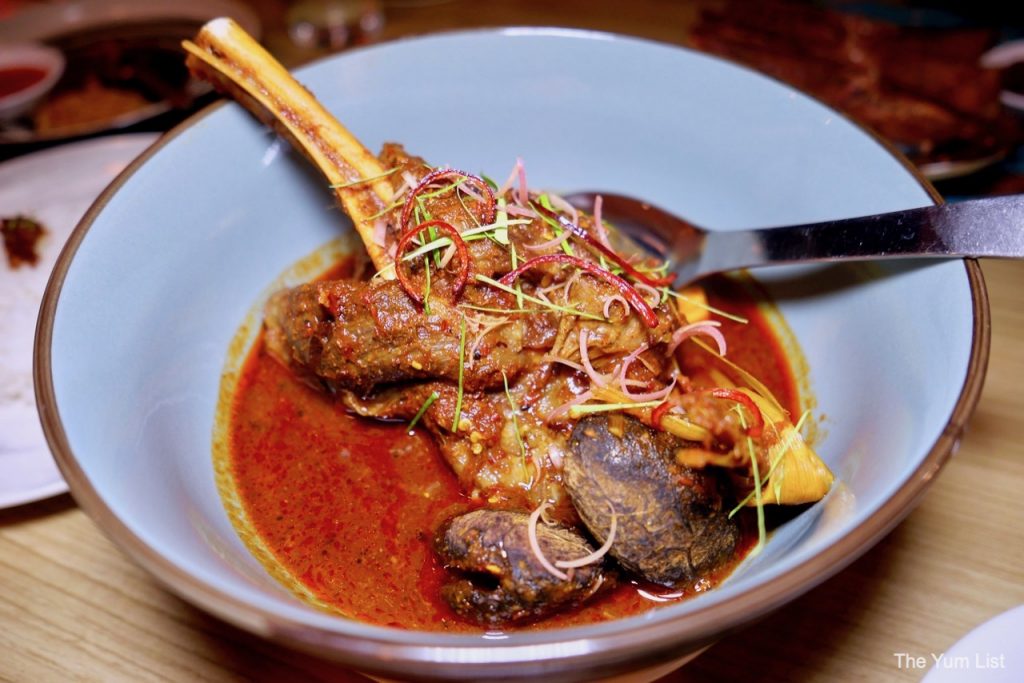 Plain Omelette (RM 6) is actually two folded on top each other with a sprinkling of herbs over the crown. It does well in between the more complexly seasoned dishes.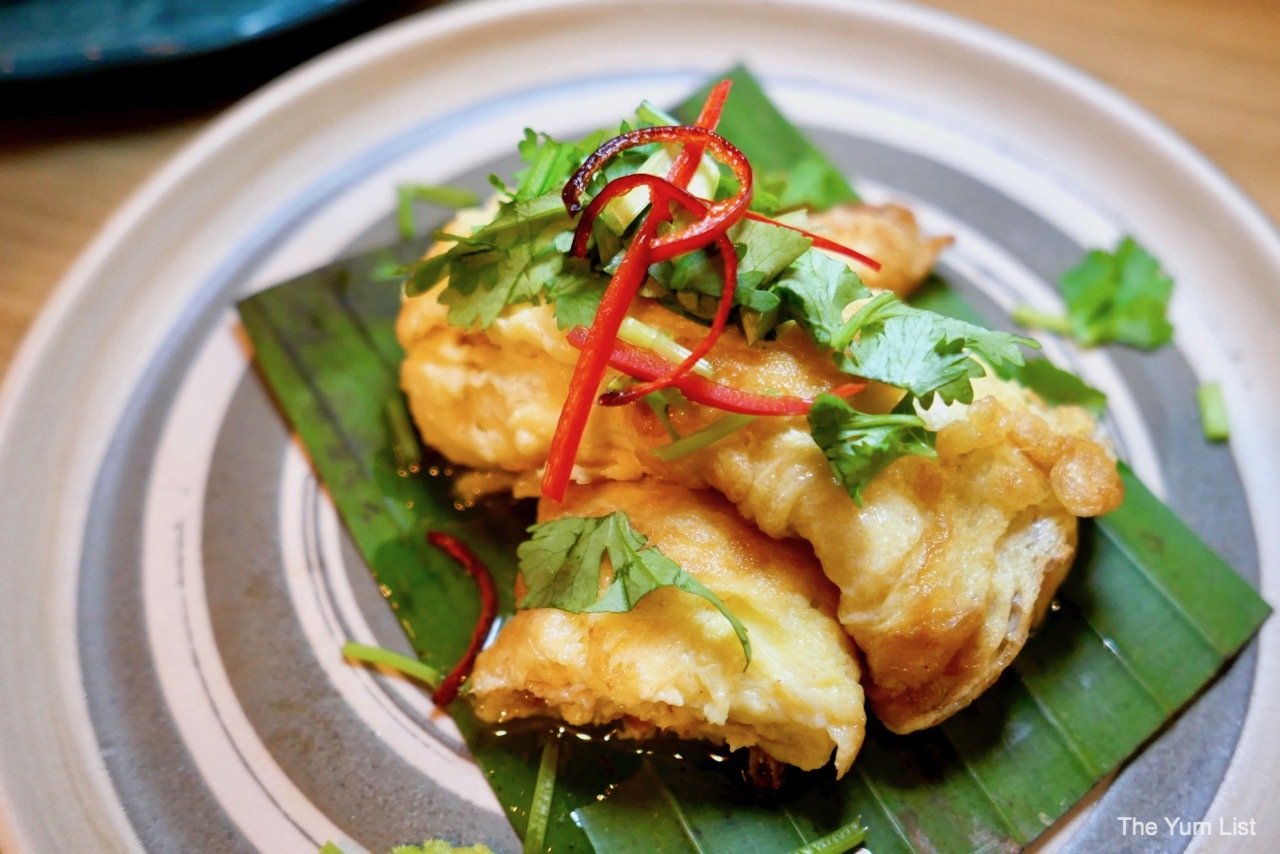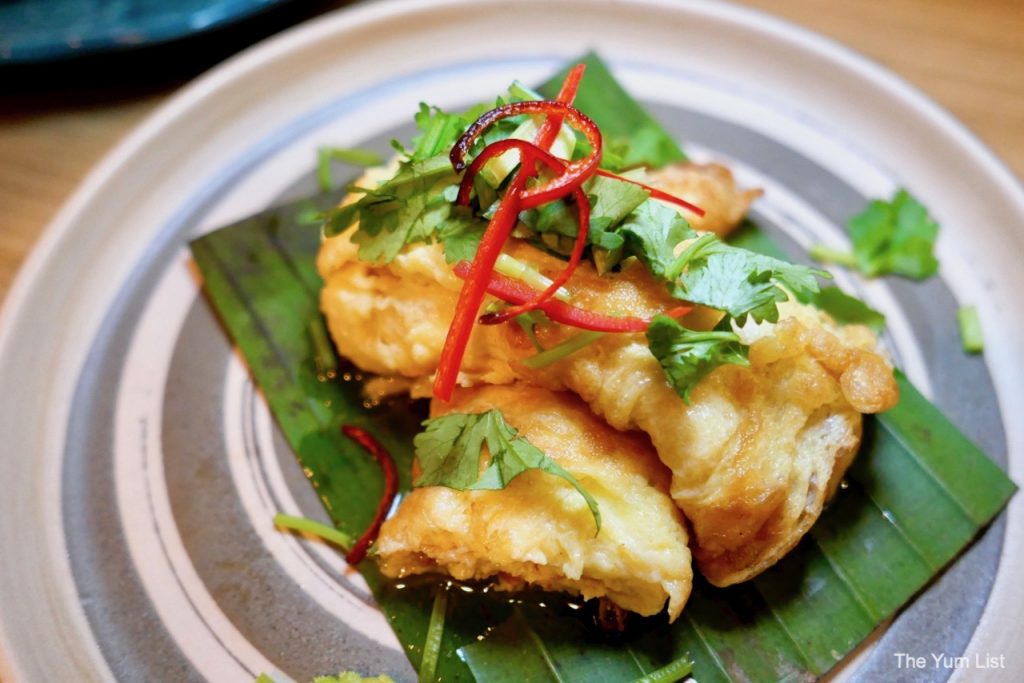 Vegetables
Fried Brinjal (RM 10) with a tangy chilli paste – usually spread on top but served on the side for us to cater to hubby's spice aversion – is delicious. Actually, the sticks of soft eggplant are well-seasoned on their own and make tasty bites even without the sauce.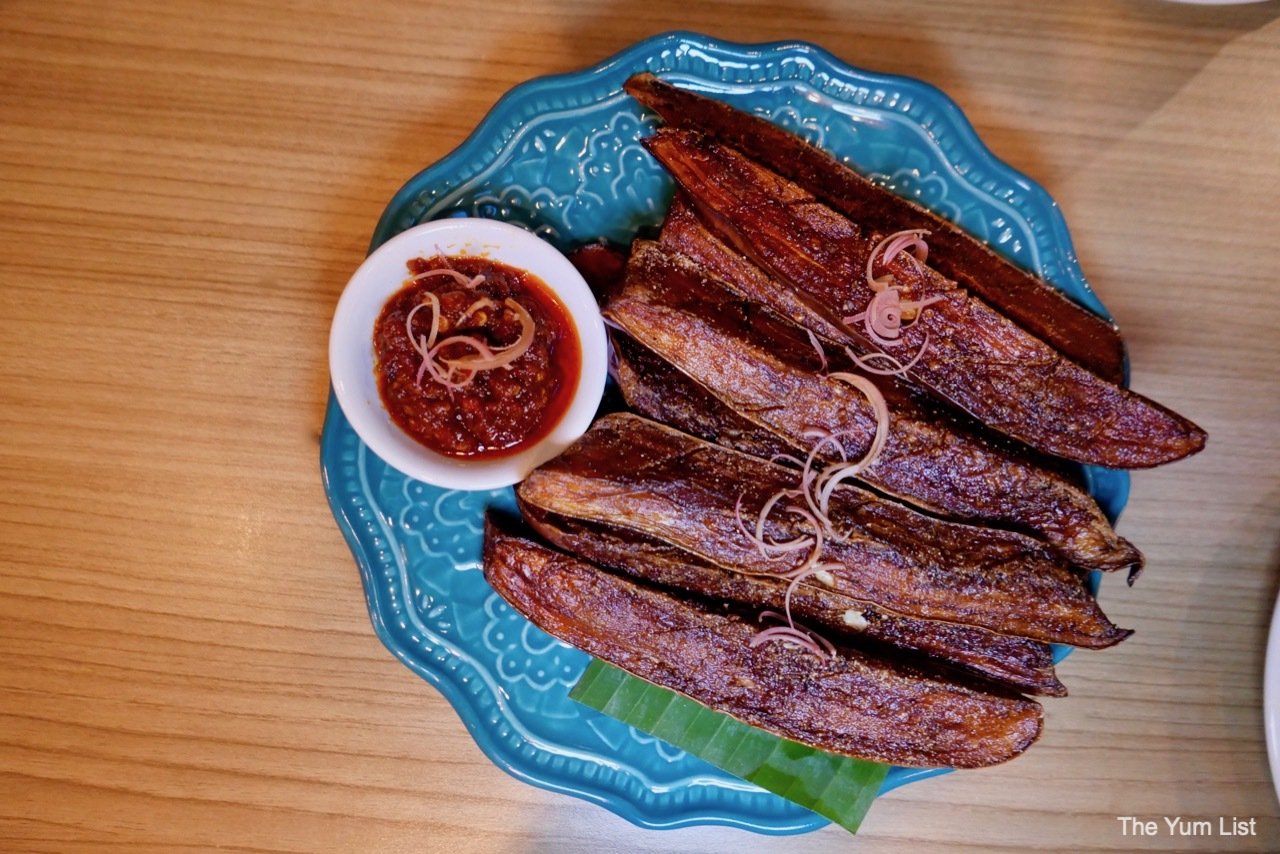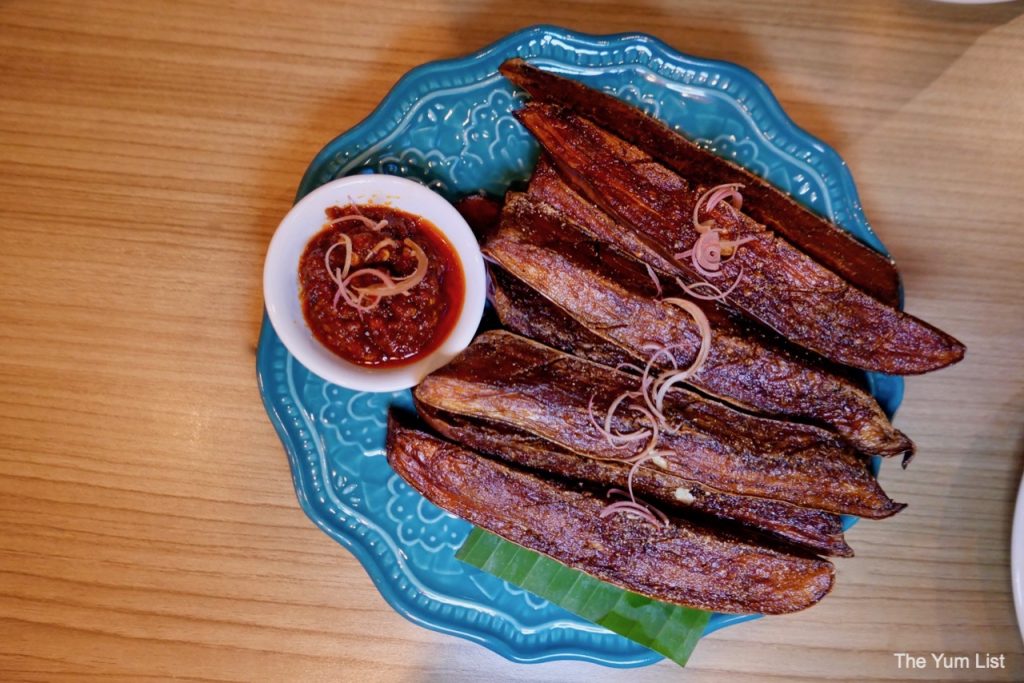 Fried Kangkung (RM 10) sees water spinach stir-fried with fresh garlic and belacan (fermented dried shrimp chilli paste). It's a generous tangle of obviously very fresh greens and makes us feel balanced in our dinner selections.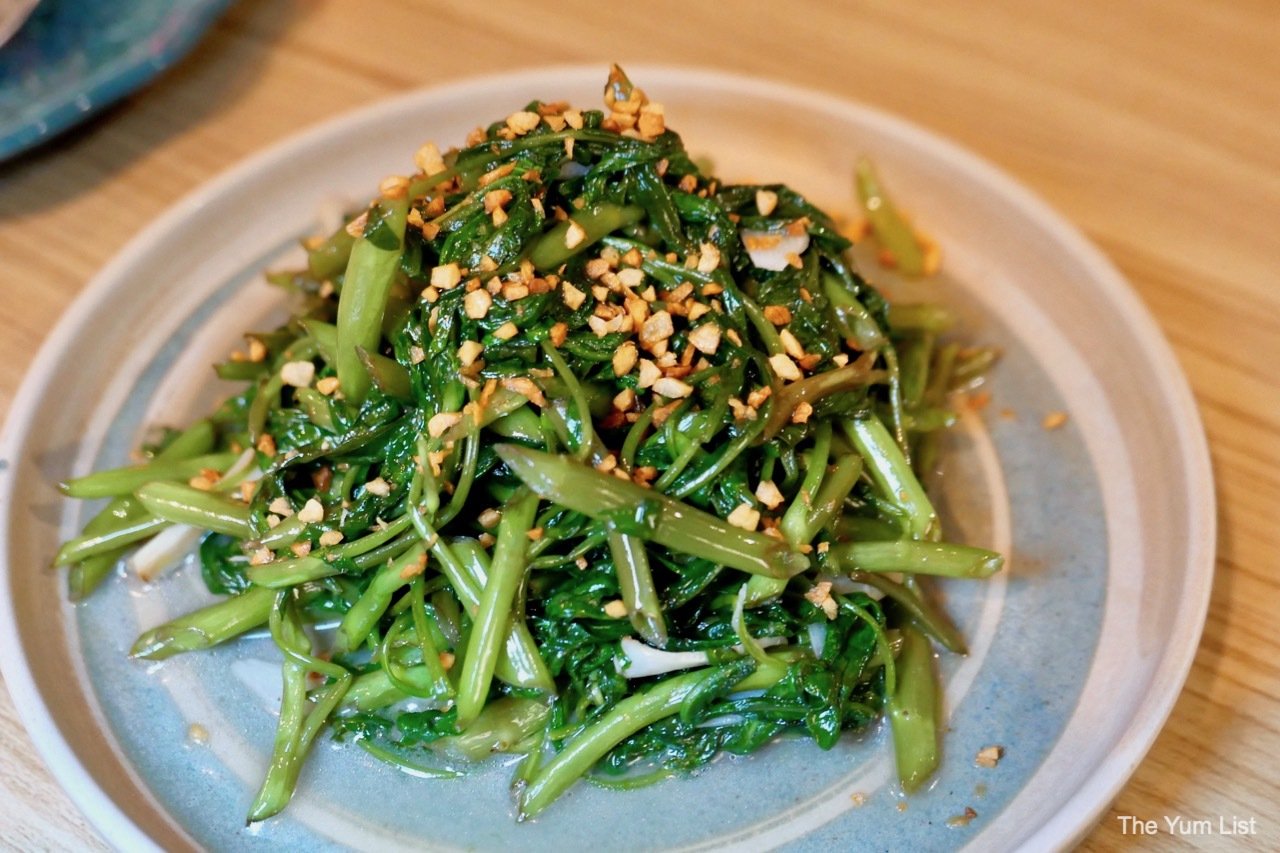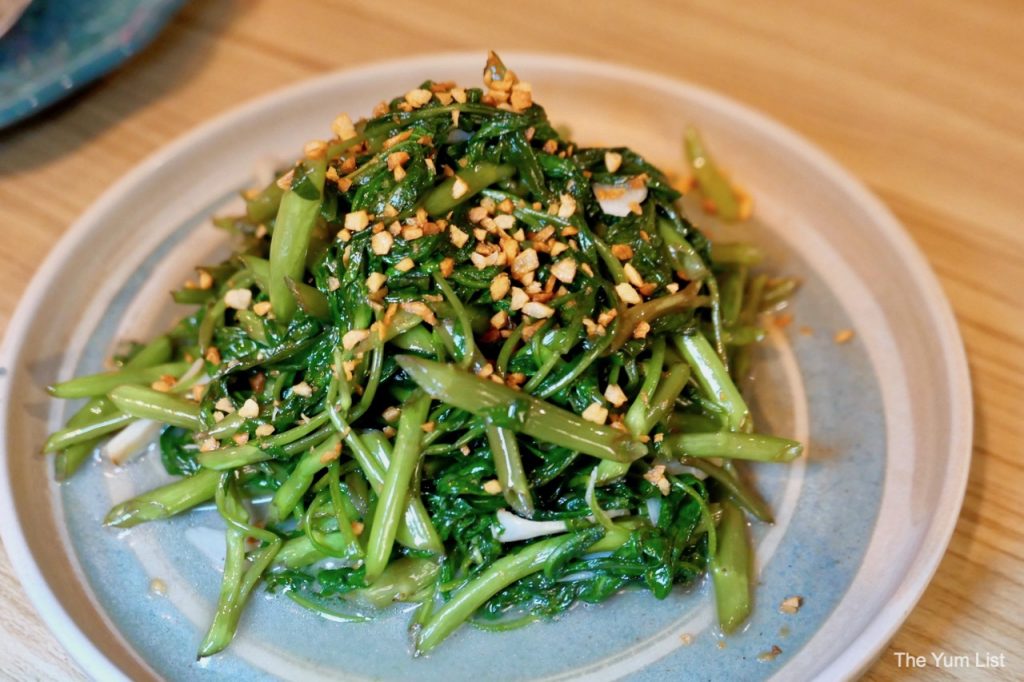 Another local veg dish, Nyonya Chap Chai (RM 14), I imagine could be a meal on its own for some. Stewed mixed vegetables are tossed through glass noodles and bean curd in a dark soybean paste. Earthy flavours thanks to fermented soybeans come to the forefront.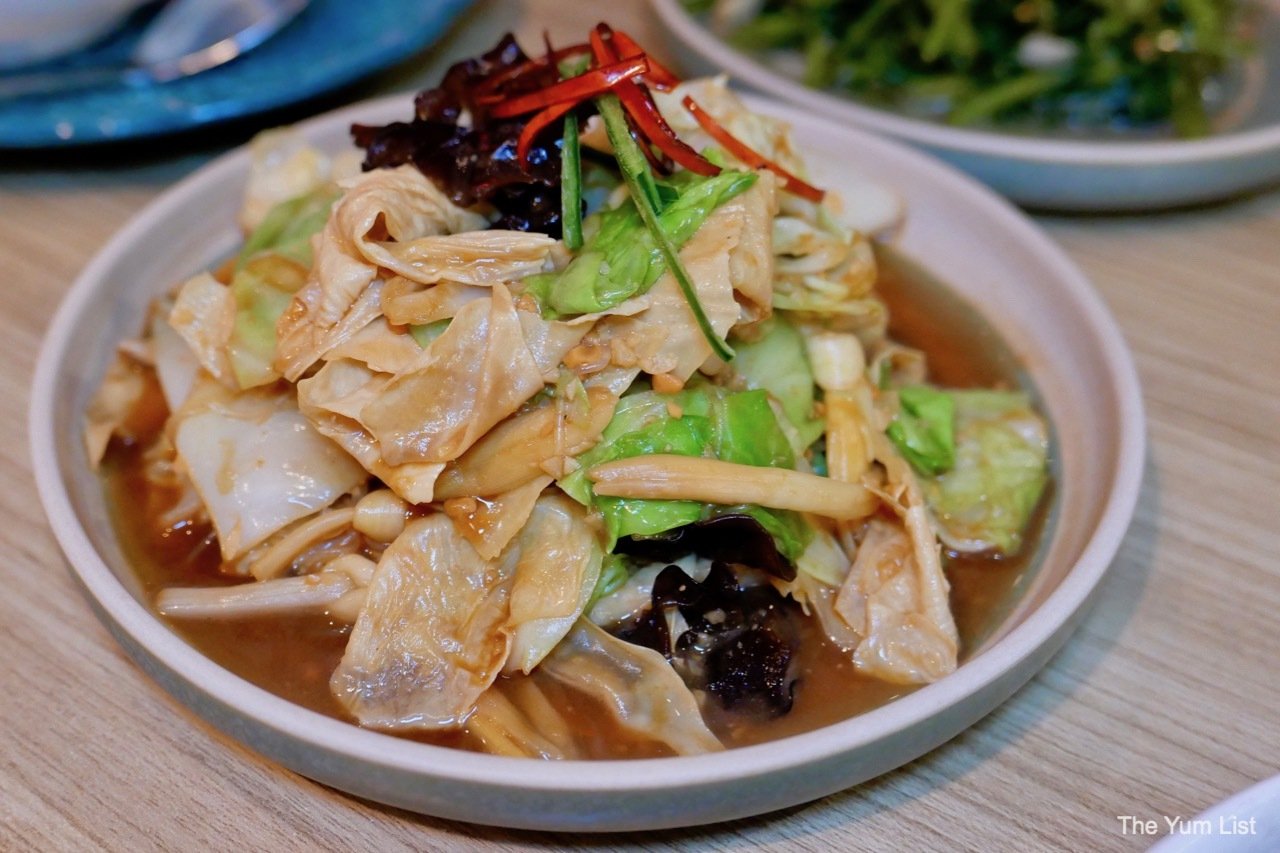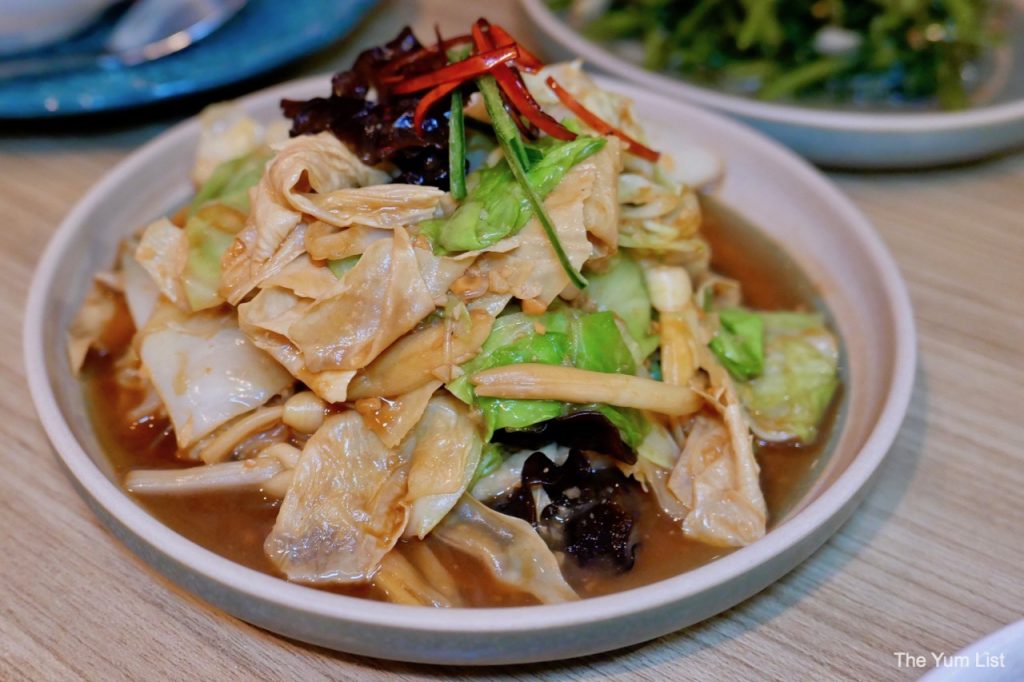 Dessert
We couldn't end a Peranakan meal without Cendol (RM 7) and here it can be livened up to be a digestive and dessert all in one with a shot of with Baileys (RM 16). Hiding underneath a mountain of shaved ice drenched in coconut milk and gula Melaka is a bed of pandanus jelly and red beans. Scoop in deep to dig up the treasures and do try it on its own before adding the Baileys. The shot of liqueur brings it all together with creaminess but a gentle sharpness also softens the power of the sugar.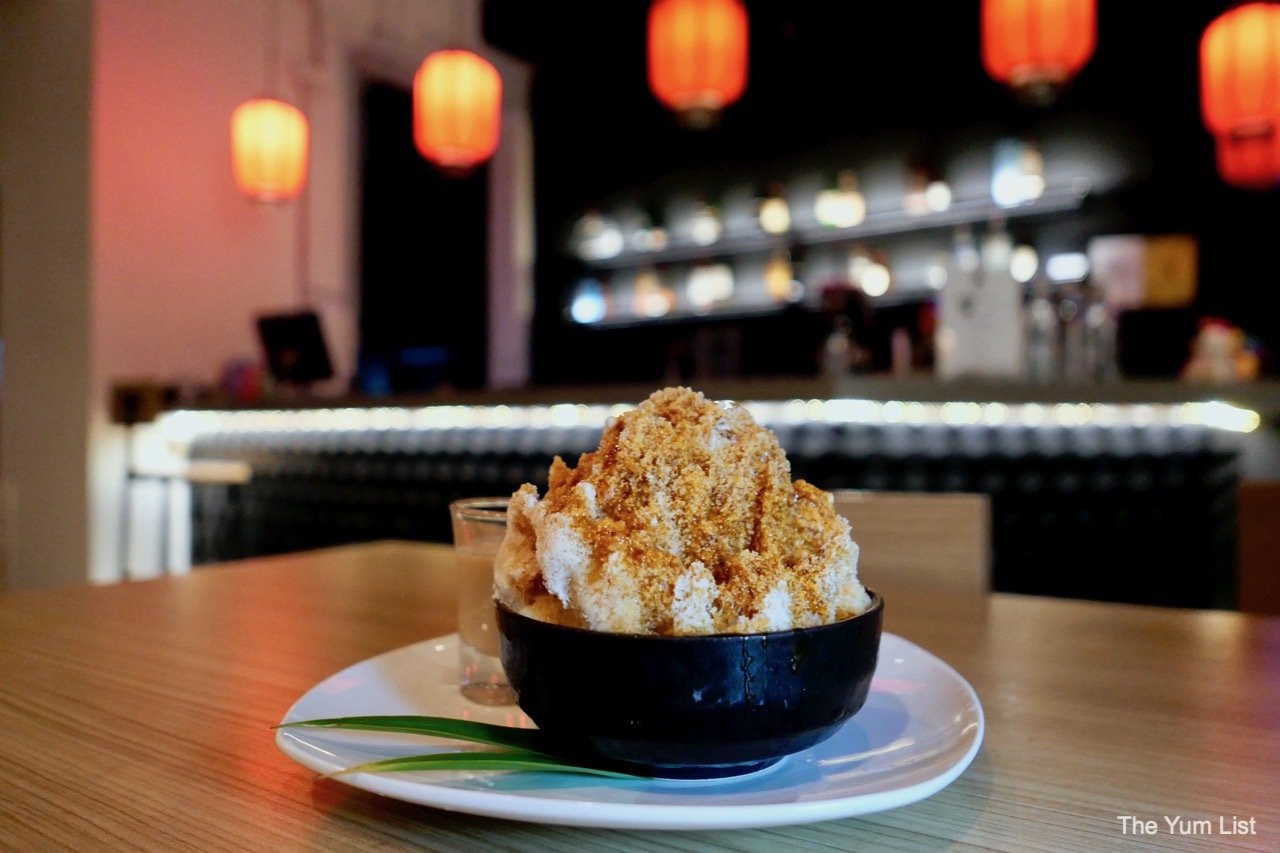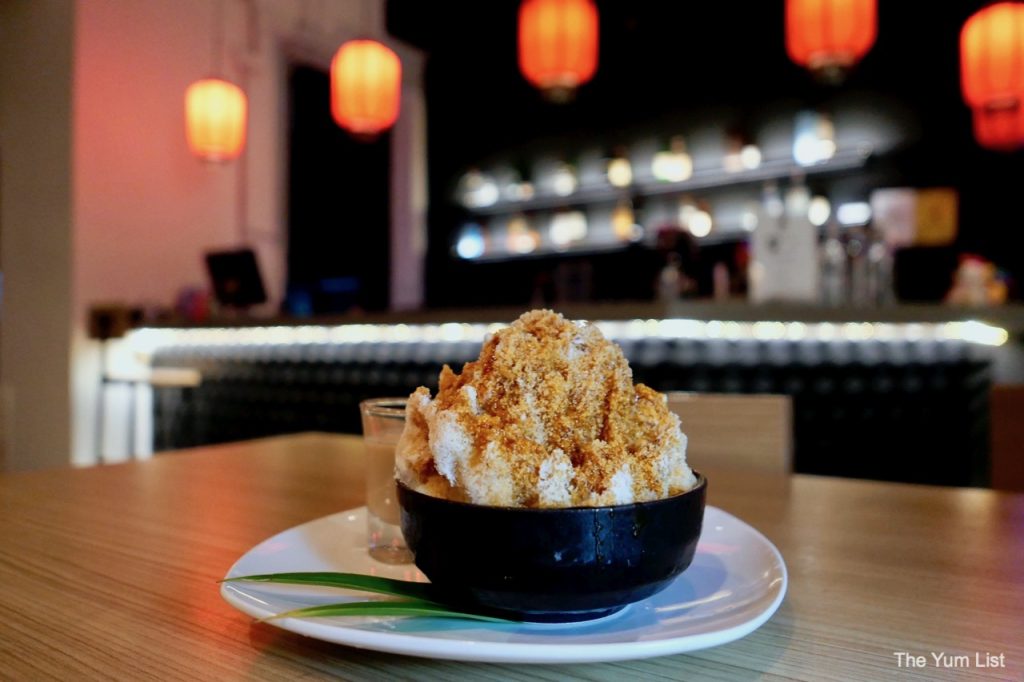 Reasons to visit Bulldog Malacca: cool, clean and contemporary setting; an excellent introduction to Nyonya cuisine; must must must order the Lamb Shank Keluak and Cendol.
Bulldog Malacca
145 Jalan Bendahara 75100
Malacca City, Malaysia
www.facebook.com/BulldogMalacca
+6 019 655 2373
[email protected]
Bulldog Malacca Opening Hours
Monday: 12 noon – 3pm
Tuesday: Closed
Wednesday to Sunday:
Lunch – 12 noon to 3 pm
Dinner – 6 pm – 8:45 pm
Find more spots to explore in Malacca here and stay up to date with the happenings around Malaysia here and here.